This orange cranberry loaf could easily have been called easy holiday quick bread! With orange, cranberry, cinnamon and nutmeg it full of all the flavours we love during the holiday season.
What I love about this recipe is that I can make it on a whim! This quick bread is made without buttermilk or any special flours or nuts.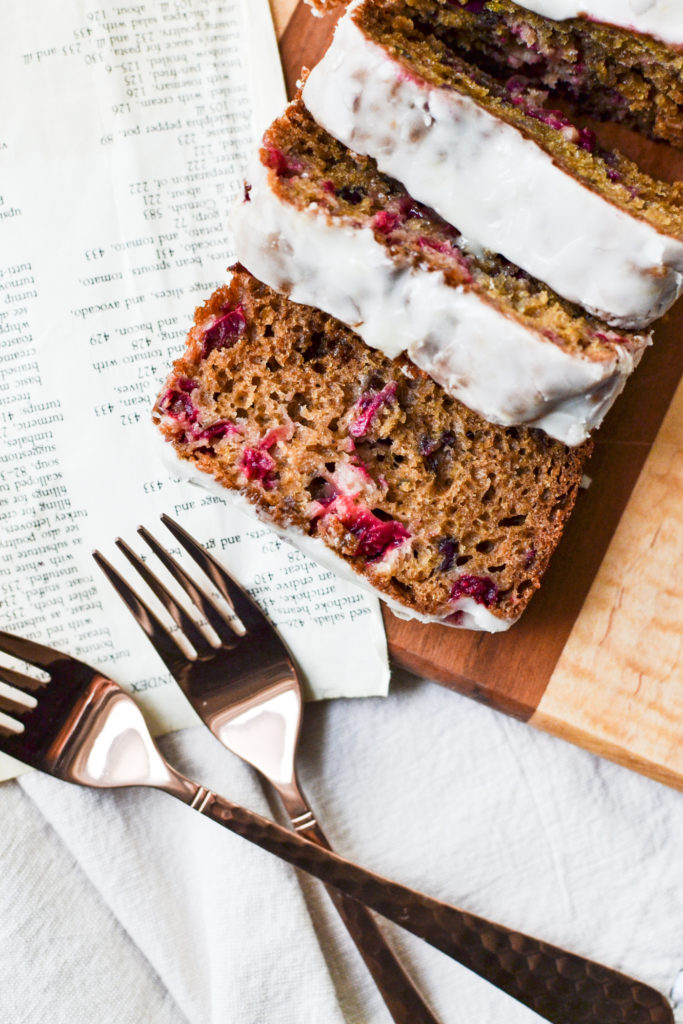 Autumn is a great time to bake with cranberries. Frozen berries are definitely an option for this recipe, but I like to use fresh whenever possible. This time of year you will easily find fresh cranberries in the produce section of most grocery stores.
I always use fresh squeezed orange juice for a more bold orange flavour, but the bottled variety is just fine too!
4 Tips for making the perfect quick bread
Don't overmix the batter. Using a spatula blend the wet ingredients into the dry just until incorporated
Spray pan with non-stick spray and line loaf pan parchment for easy removal
Cool the loaf in the pan for 10 minutes before removing to cooling rack
If adding a glaze or frosting be sure the loaf is completely cooled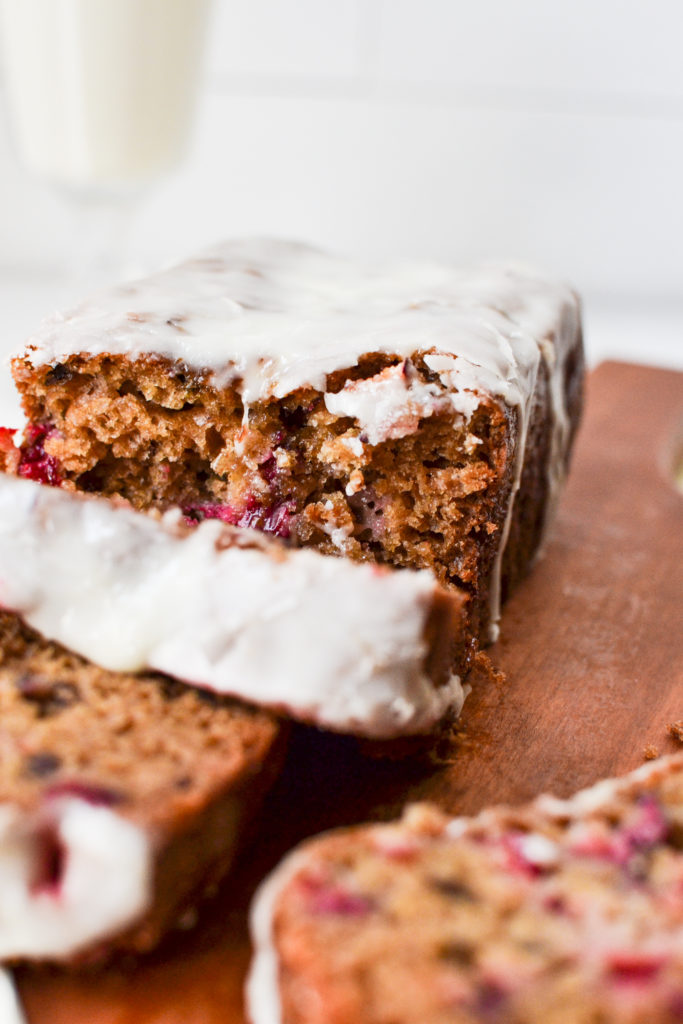 I love the layers of flavours in this Orange Cranberry loaf. Initially you get the sweet flavour of orange, followed by the tartness of the cranberries and then the hint of spice from the cinnamon and nutmeg come through.
Quick breads also make the perfect hostess gifts during the holidays. This Very Best Lemon Loaf is another great option for gift giving to neighbours and friends.
How to make Orange Cranberry Loaf
I always gather and measure my ingredients before I begin any recipe, and this orange cranberry loaf was no exception. There is nothing worse than starting a recipe only to realize you are missing a key ingredient!
I use my clear glass mixing bowls whenever I am making something that gets mixed by hand.
A microplane grater is great for zesting oranges and other citrus fruit!
Just 4 simple steps
Step One: Combine sugars, flour and spices in a mixing bowl
Step Two: Whisk together eggs, milk, orange rind, orange juice and oil
Step Three: Add dry ingredients to wet, and stir just until combined
Step Four: Fold in cranberries and pour into prepared 8 x 4 inch loaf pans
Bake at 350 degrees for 40 to 45 minutes, or until toothpick comes out clean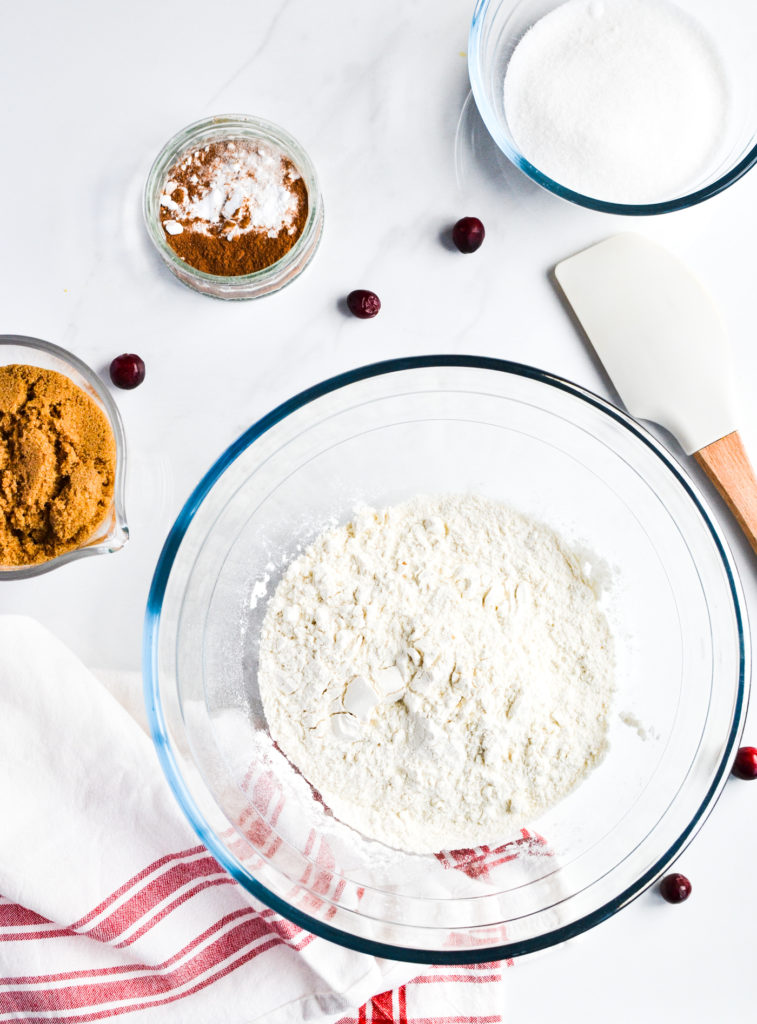 Step One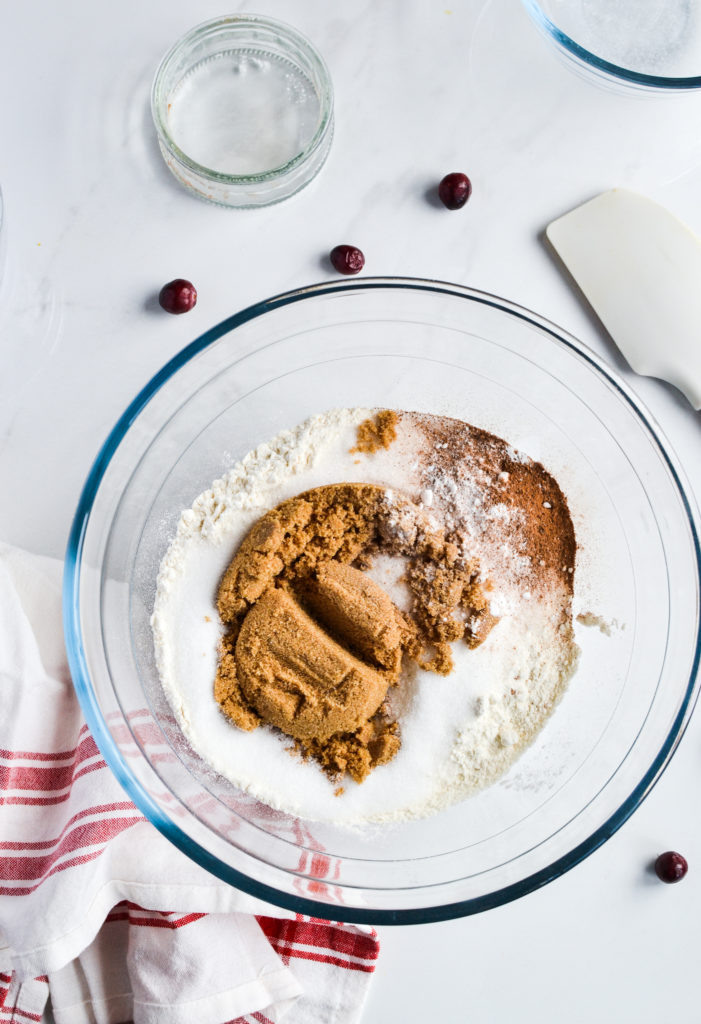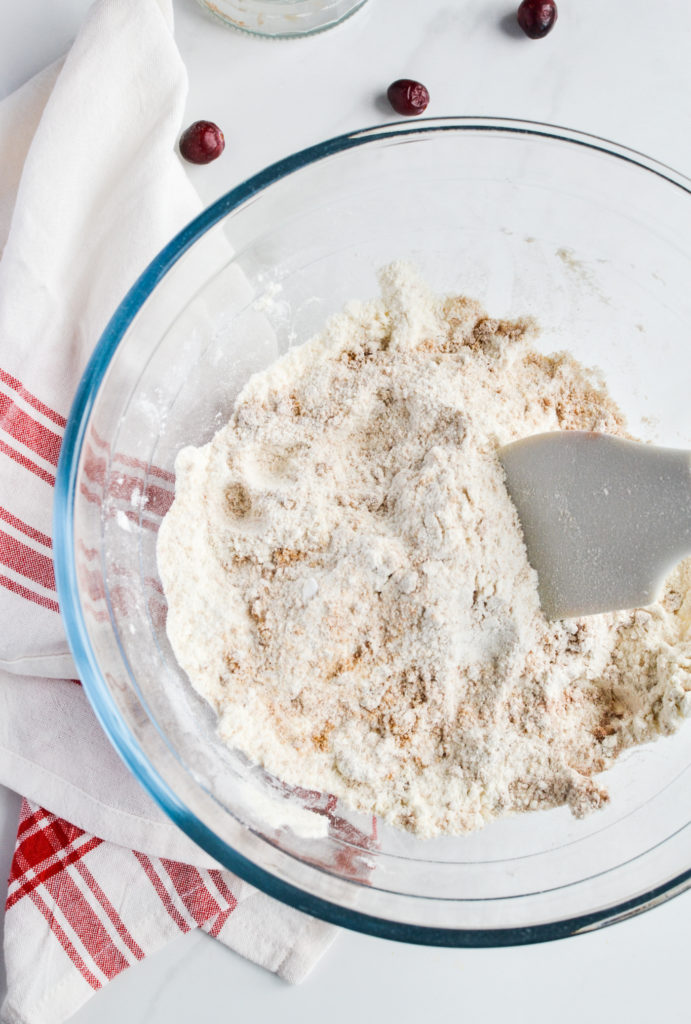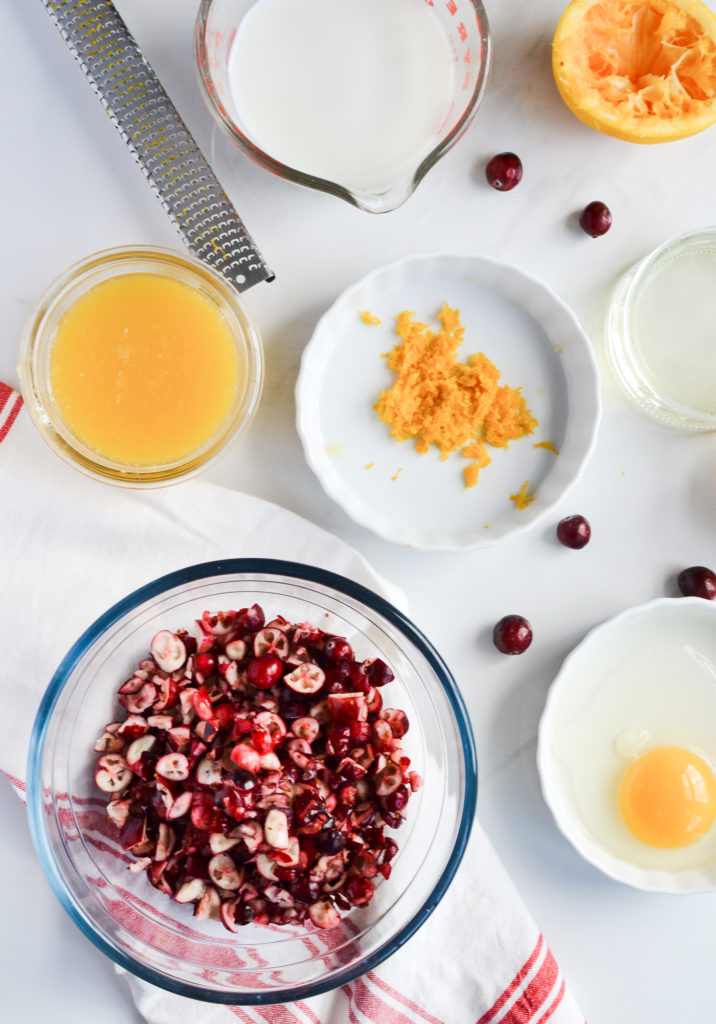 Step 2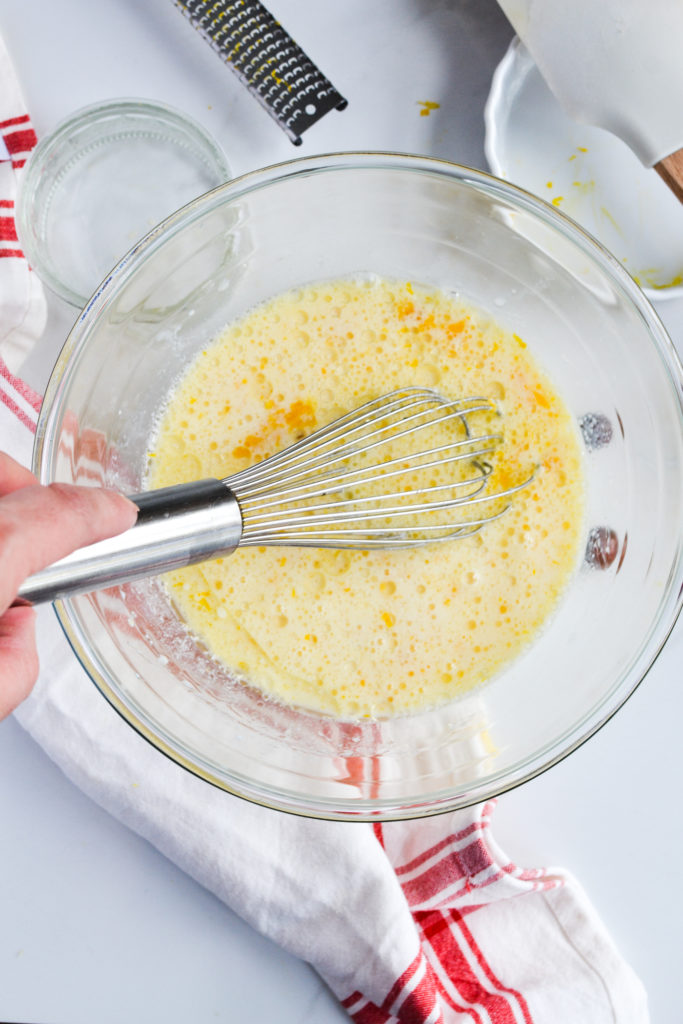 Step 3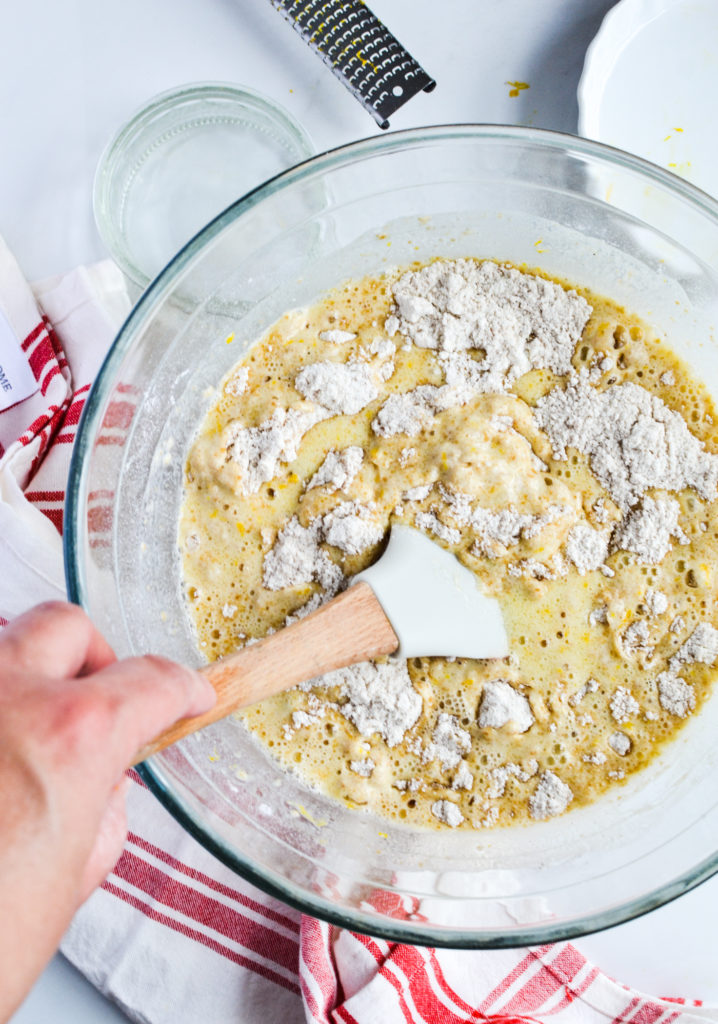 Step 4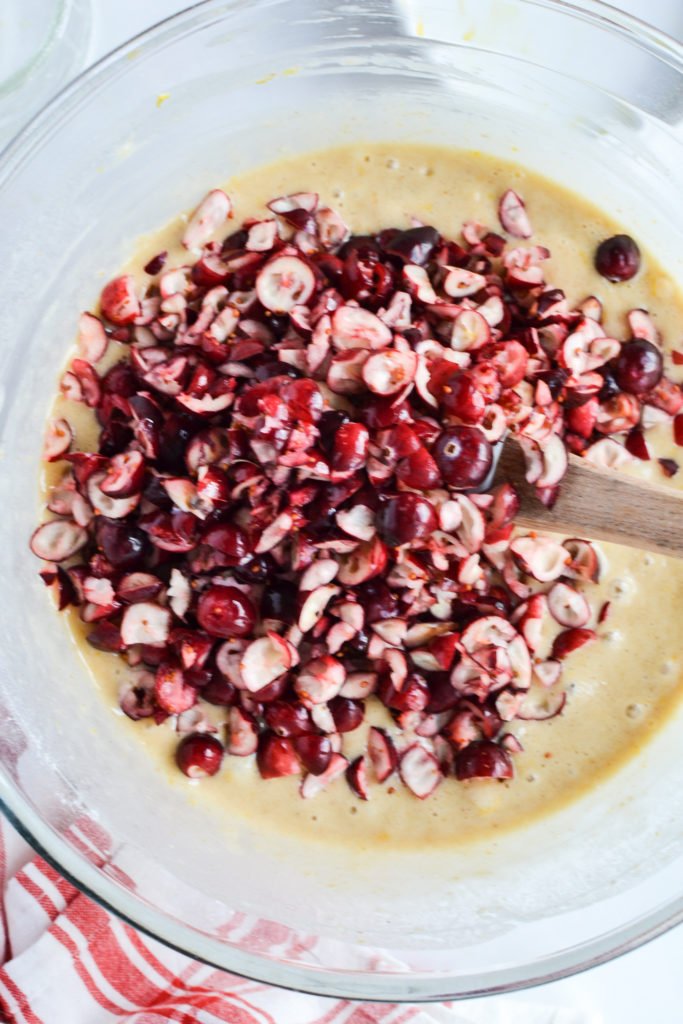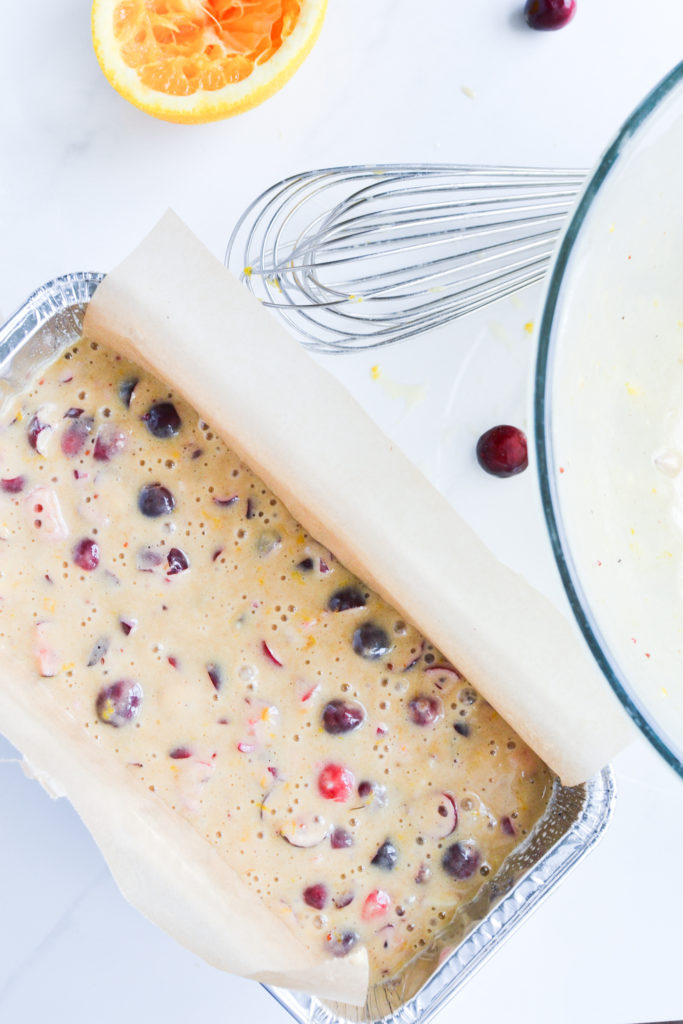 Oh, and having a couple of these loaves baking in the oven will fill your home with the most delicious scents. The cinnamon and nutmeg plus the sweet smell of orange is heavenly!
The loaf is so moist and delicious, and if Christmas was a flavour I think this would be it!
The simple orange glaze is completely optional, but totally worth the extra bit of effort.
Simple Orange Glaze – Whisk 1/4 cup orange juice with 1 cup sifted confectioners sugar. Adjust amounts for a thinner or thicker glaze as you like it!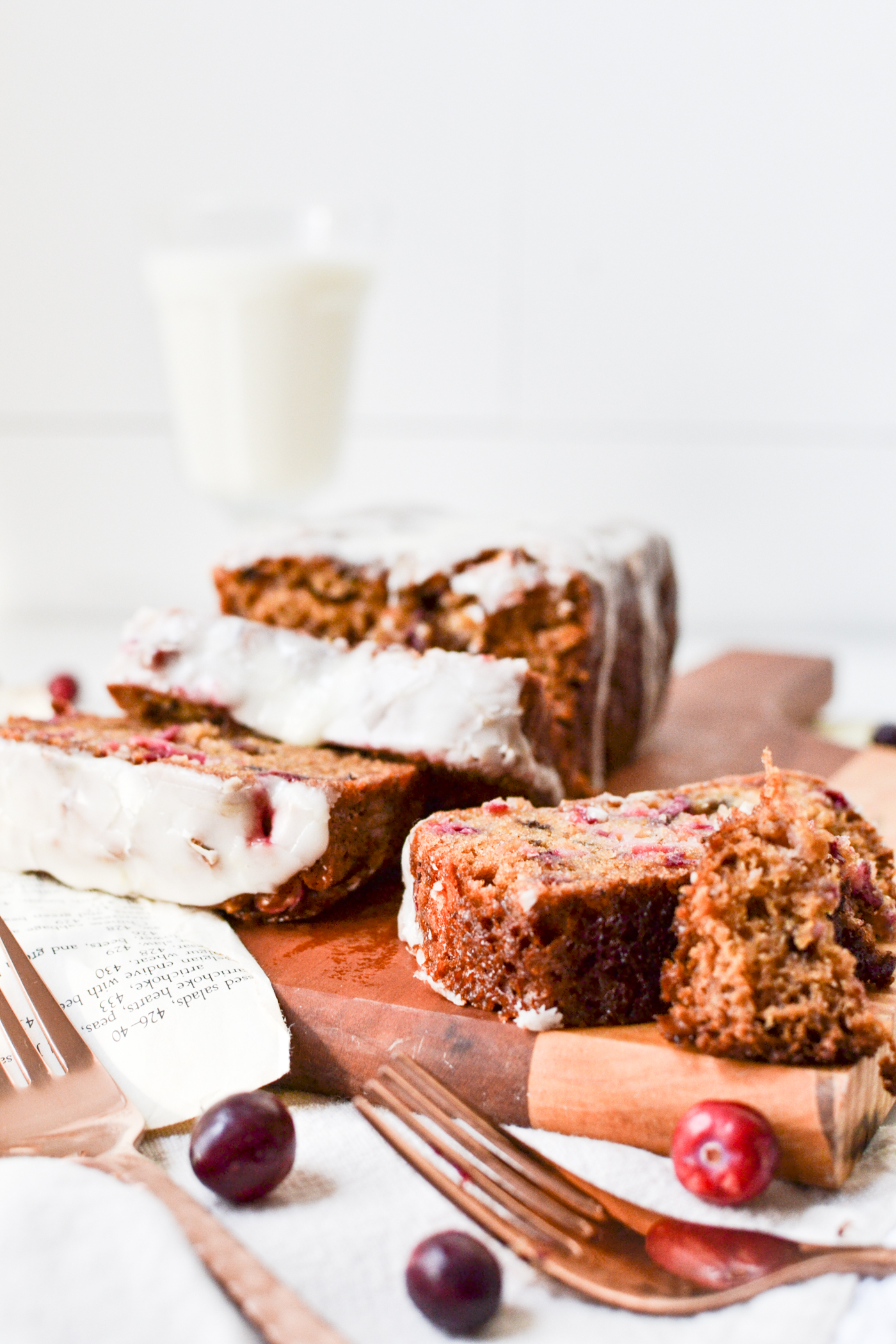 Now you are ready to slice and enjoy this yummy bread. Simply wrap in plastic wrap and it will keep for 2 to three days. If it lasts that long 😉
Since this recipe makes 2 loaves, I always wrap one well in plastic wrap, pop it into a freezer bag and freeze it for later. Simply defrost on the counter when you are ready to eat it.
Try these other quick bread and muffin recipes!
Strawberry, Date & Pecan Quick Bread
Bran Muffins made Without Buttermilk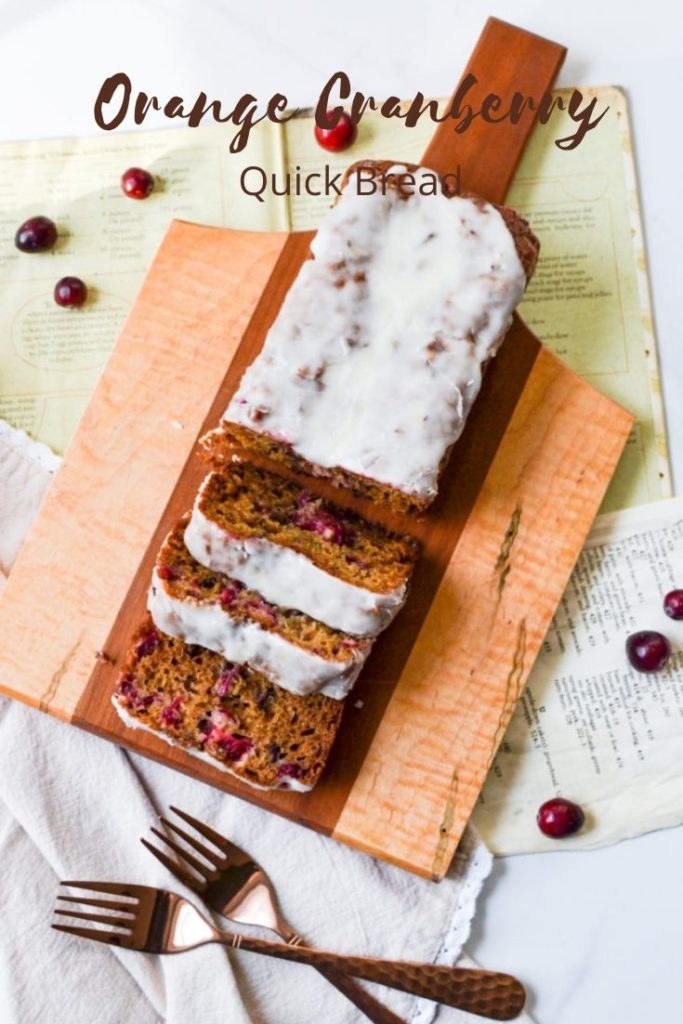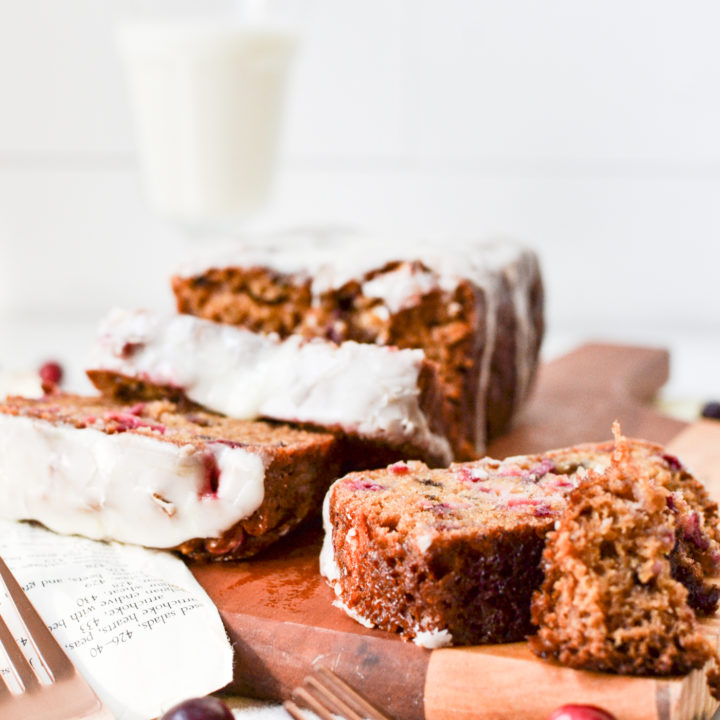 Orange Cranberry Loaf with Cinnamon & Nutmeg
Cook Time:
50 minutes
45 seconds
Total Time:
1 hour
45 seconds
This yummy Orange Cranberry Loaf is an easy quick bread that, if Christmas had a flavour this would be it! Loaded with fresh orange juice, tart cranberries and subtle flavour of cinnamon and nutmeg!
Ingredients
2 3/4 cup all purpose flour
2/3 cup granulated sugar
2/3 cup packed brown sugar
2 1/2 teaspoons baking powder
1 teaspoon salt
1/2 teaspoon cinnamon
1/4 teaspoon nutmeg
1 large egg
1 cup milk
1/2 cup orange juice (fresh squeezed if possible)
3 tablespoons vegetable oil
grated peel from one large orange
2 cups coarsely chopped fresh or frozen cranberries
Instructions
Preheat oven to 350 degrees and line 2 - 8 x 4 inch loaf pans with parchment (or just non-stick spray is fine)
In a large bowl combine flour, granulated and brown sugars, baking powder, salt and spices. Whisk until well blended.
In a second bowl combine the egg, milk, orange juice oil and the grated orange peel.
Add try ingredients to the wet and using a spatula, fold in just until combined. Do not over mix.
Add cranberries and gently fold in.
Pour batter into 2 prepared loaf pans.
Bake at 350 degrees for 45-50 minutes or until a tester stick comes out clean.
Cool in the pans before removing to a cooling rack to cool completely before glazing
Notes
This Orange Cranberry Loaf is delicious just as it is, but is extra yummy with a simple orange glaze. Combine 1 cup sifted confectioners sugar with 1/4 cup fresh orange juice and whisk to combine. Add more sugar or juice to reach desired consistency.
This loaf freezes well. Wrap snuggly in plastic wrap and then place in a freezer bag before freezing for 2 to 3 months.