Cherries are finally in season in Southern Ontario and I am a happy camper!  I have been watching the cherry trees as we drive by the orchards and have been so tempted to pull over and pick a handful.  But I waited patiently.
We have so many fruit stands in our area and we stopped at one this morning and got a basketful of just picked sweet cherries for only $10.00!
I love cherries in my smoothies, in pies, in brownies and in these cherry crumble bars!
My favorite tool this time of year is my Oxo cherry pitter!  It gets the job done fast and clean.  It took me only 5 minutes to pit 4 cups of cherries for this recipe!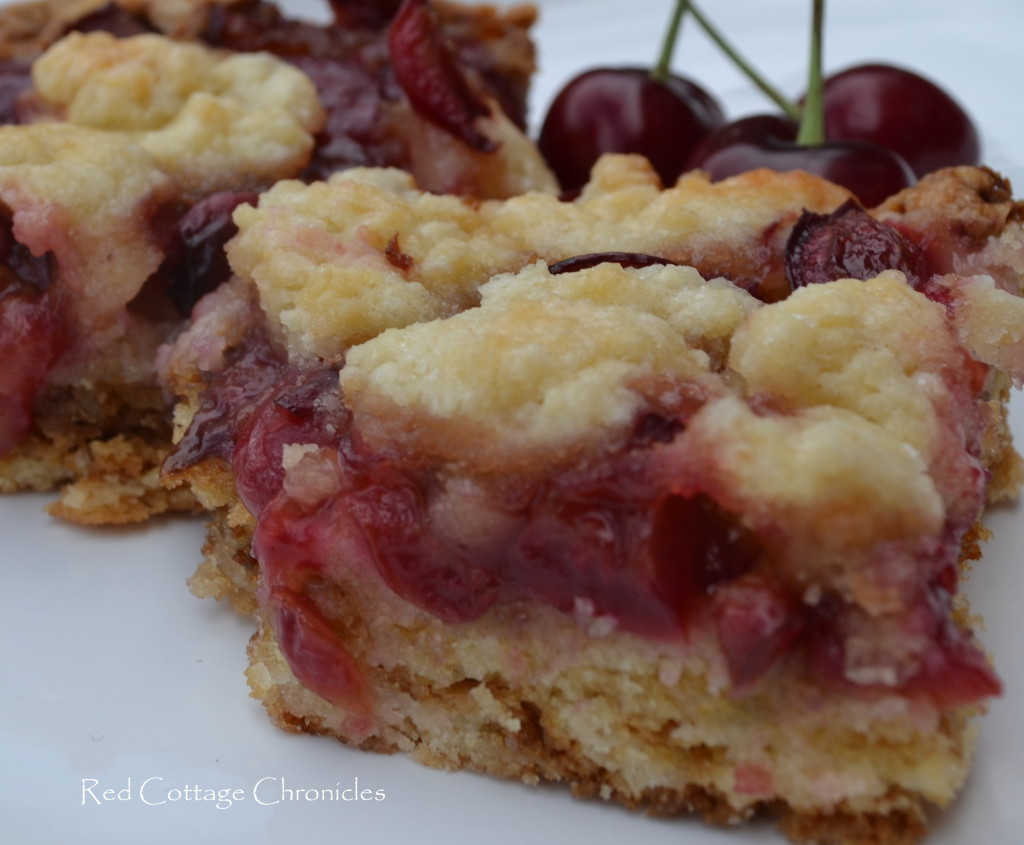 It makes a large 9 by 13 pan.  I like to cut them large and enjoy with a scoop (or two) of ice cream!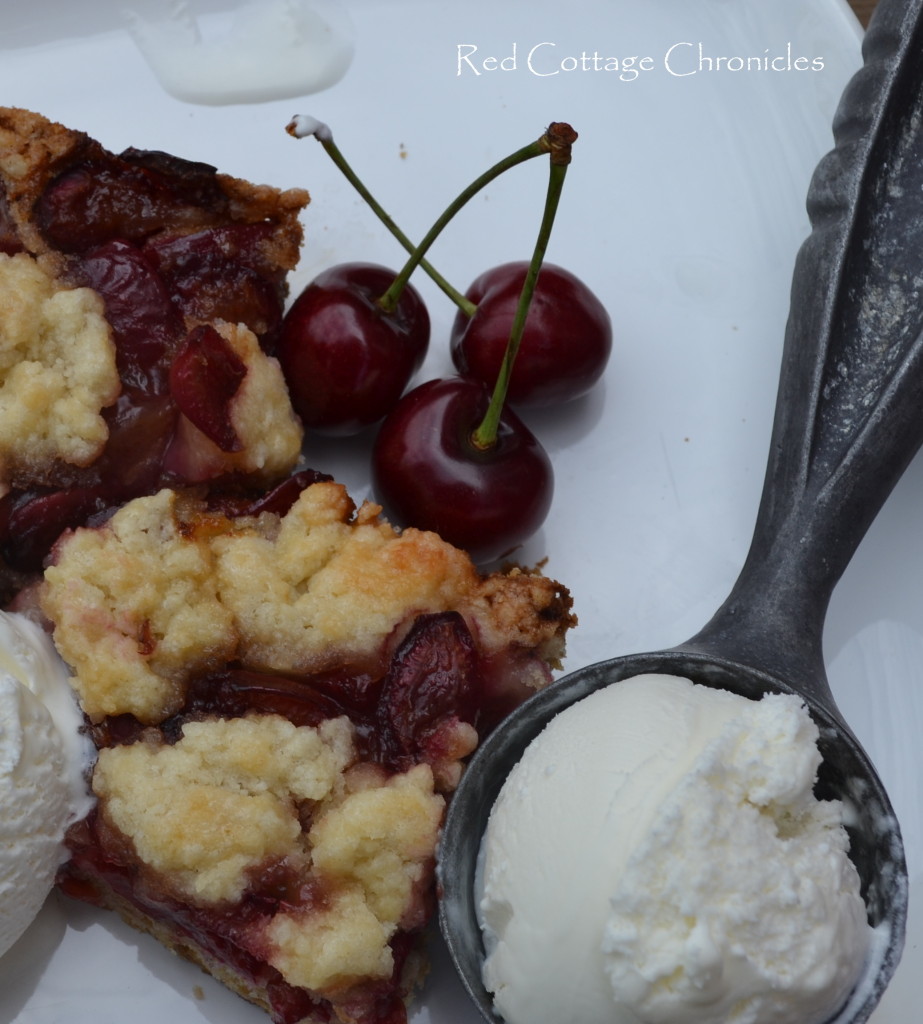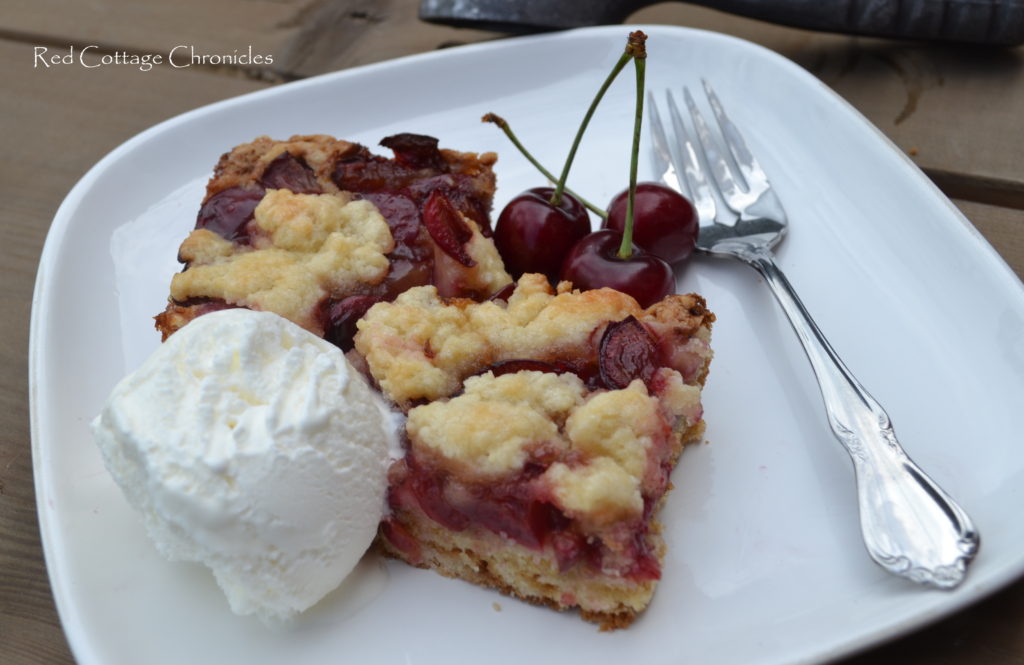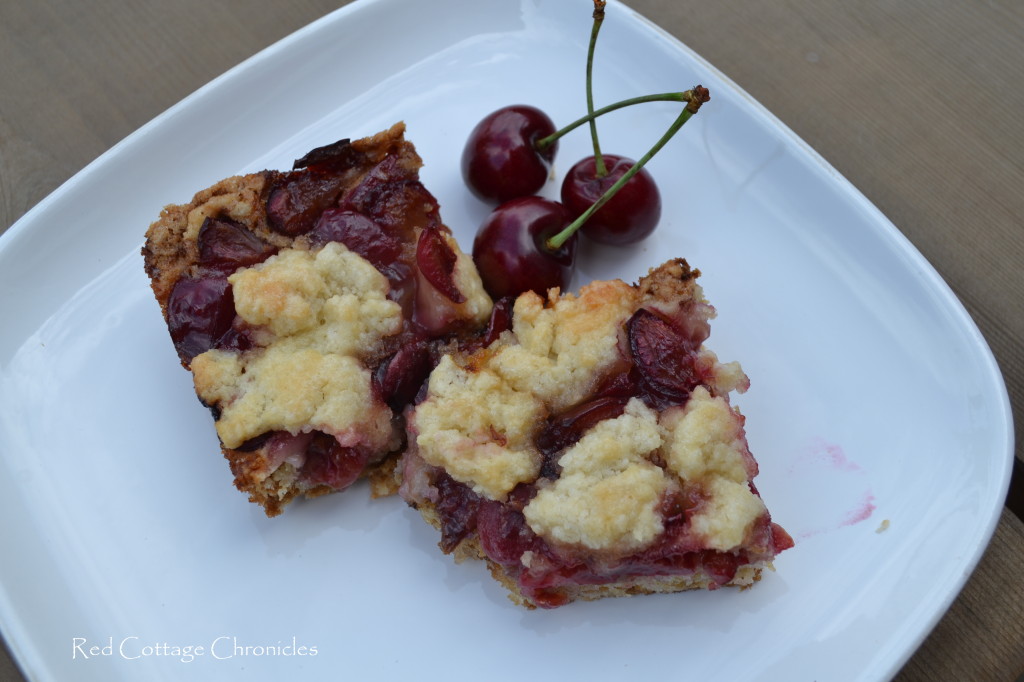 What is your favorite way to enjoy fresh cherries?
Happy Monday!
ENJOY!
Cherry Crumble Bars
Author:
Prep time:
Cook time:
Total time:
Ingredients
1 cup granulated sugar
2 1/2 cups all purpose flour
1 1/4 cups cold butter cubed
1 egg, beaten
1 teaspoon baking powder
pinch of salt
4 cups cherries, pitted and quartered
1/2 cup granulated sugar
3 teaspoons cornstarch
Instructions
Preheat oven to 375 degrees.
Grease a 9 by 13 inch cake pan.
In a large bowl combine flour and sugar. Cut in butter with a pastry cutter. Cut in beaten egg. Divide dough in half.
To one half add baking powder and pinch of salt and mix until well combined, and press into prepared baking pan to make the crust.
To the cherries add 1/2 cup sugar and cornstarch and mix gently to coat the cherries completely.
Spread the cherries evenly over the crust.
Crumble the remaining dough over top of the cherries.
Bake for 50 minutes (or until top is just lightly browned).
Cool before cutting into desired size.