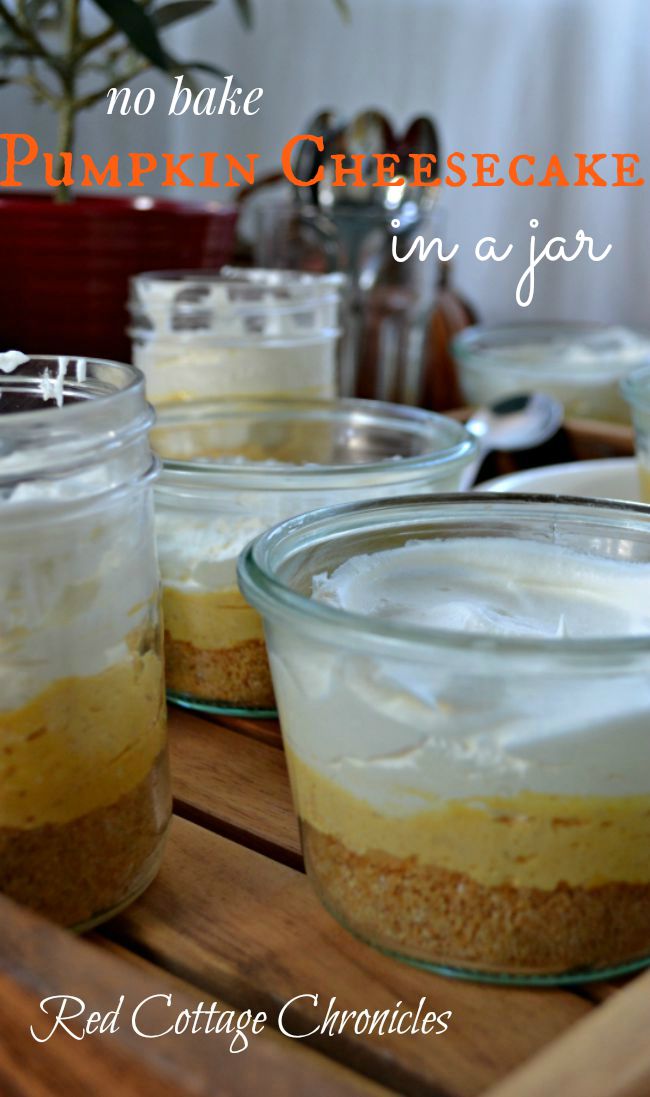 Oh how I love the autumn! My husband frowns every time I express my glee as the fall sets in, the leaves change, we visit the apple farm, and start to snuggle in on cool evenings!
Canadian is Thanksgiving right around the corner. This weekend I will be posting recipes that include pumpkin. First up I have decided on a low fat no bake pumpkin cheesecake in a jar! Not only is it lower in fat and so delicious, but it is super easy to make!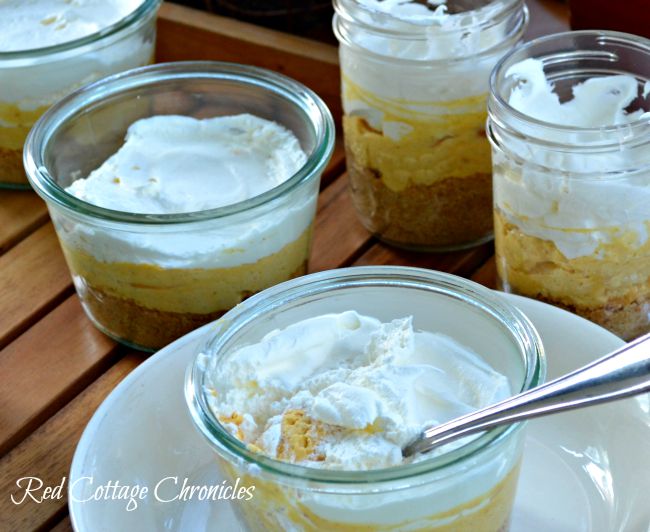 It is so incredibly easy to prepare, light tasting, yet incredibly pumpkiny….if that is even a word! It was very tempting not to eat it right from the mixing bowl.
While it is best chilled, it doesn't require anymore than about 30 minutes in the refrigerator before serving so it is easy to make last minute.
While most people are excited to see the relaxed schedule of summer arrive, I have always found summer way too hectic and always look forward to August coming to an end.
Weekends in the fall are spent slowing down and enjoying the many local activities. Lazy Sunday afternoons spent walking the dog at St.John's conservation area or along the river are topped off with a hearty dinner which has been slow cooking in the Crock Pot. Having pumpkin cheesecake in a jar makes the perfect finish to an autumn meal.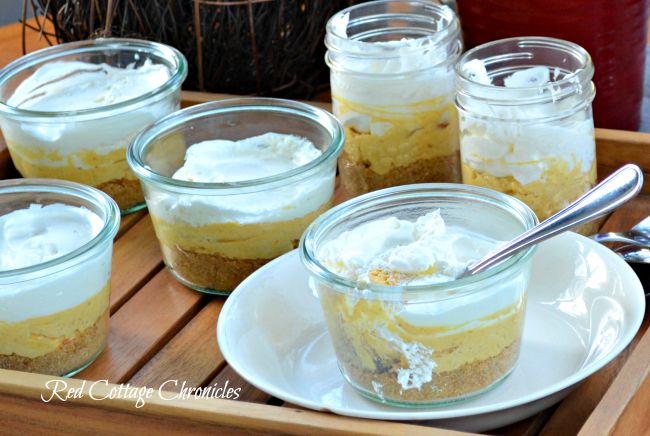 Evenings are spent curled up in blankets in the screen porch enjoying lively conversation while dessert is enjoyed.
Its' a given that someone will claim the last pumpkin cheesecake as their own and the negotiating begins!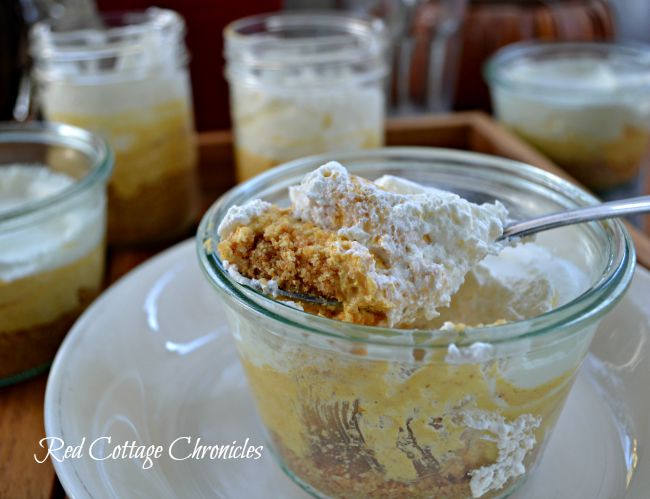 If I remember, I will have already tucked one away deep in the refrigerator all for myself before bringing them out to share!
I can hardly believe that when I was growing up I would not so much as touch any pumpkin desserts. I would turn up my nose at pumpkin pie and whip cream. What was I thinking?!
Now I can't get enough! I have collected quite a variety of pumpkin desserts that I make often through the autumn, and this pumpkin cheesecake in a jar is no exception. I love that it is portable and easy to just snap on a lid and pack it in lunches.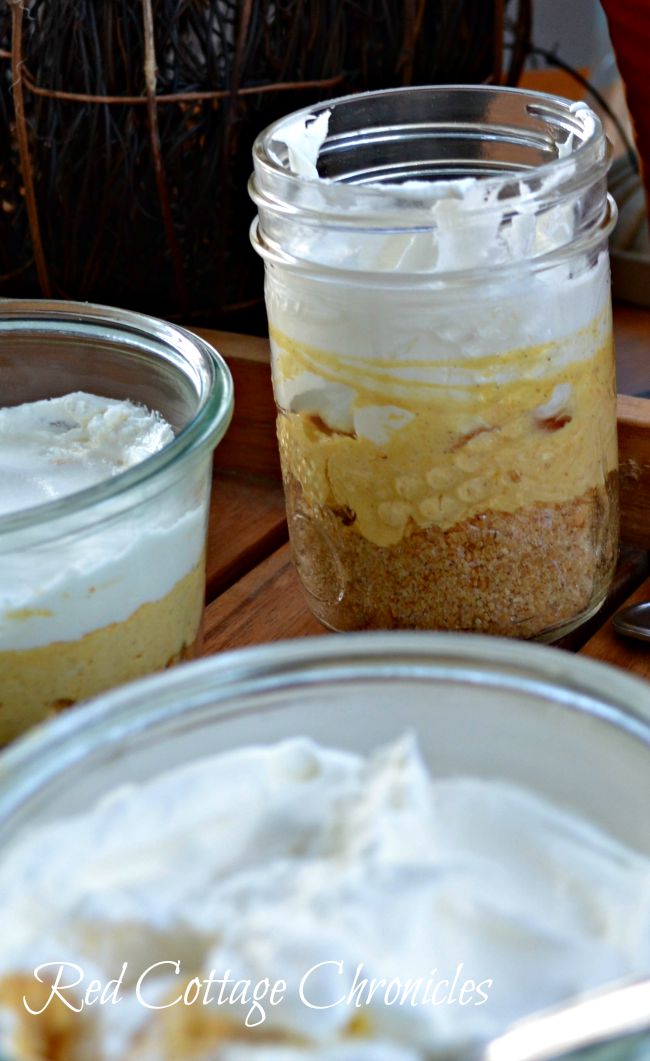 What is your favorite pumpkin dessert?
Until next time….

No Bake Pumpkin Cheesecake in a Jar
Prep time: 3
Ingredients
1 1/2 cups graham cracker crumbs
3 tbsp. low fat margarine, melted
2 tbsp. sugar
8 ounces low fat Philadelphia cream cheese
heaping 1/3 cup sugar
1/2 cup canned pumpkin (not pumpkin pie filling)
1/2 tsp pumpkin pie spice
1 cup low fat Cool Whip + more for topping
Instructions
In a medium bowl combine graham crumbs, sugar and margarine until combined and crumbly
Divide prepared crumbs between 6 jars and press down firmly. Set aside.
In bowl of electric mixer whip cream cheese until fluffy.
Scrape down the sides as needed.
Add sugar and continue beating until well combined.
Add pumpkin and pumpkin pie spice and mix until very well combined and smooth.
Fold in 1 cup of Cool Whip whipped topping gently just until combined.
Divide pumpkin mixture between the 6 jars, smoothing the tops. About a heaping 1/4 cup each.
Top each with 3 tbsp Cool Whip to cover the pumpkin filling and place in the refrigerator for 30 minutes or until ready to serve.
Tune in tomorrow as I take it up a notch and make a baked pumpkin cheesecake with a marshmallow sour cream topping……definitely not low fat!!