Marshmallow Pumpkin Cheesecake #PumpkinWeek
I am back for another Pumpkin Week recipe! Today's pumpkin specialty is marshmallow pumpkin cheesecake! Even if you have never made a cheesecake before, I encourage you to try this one!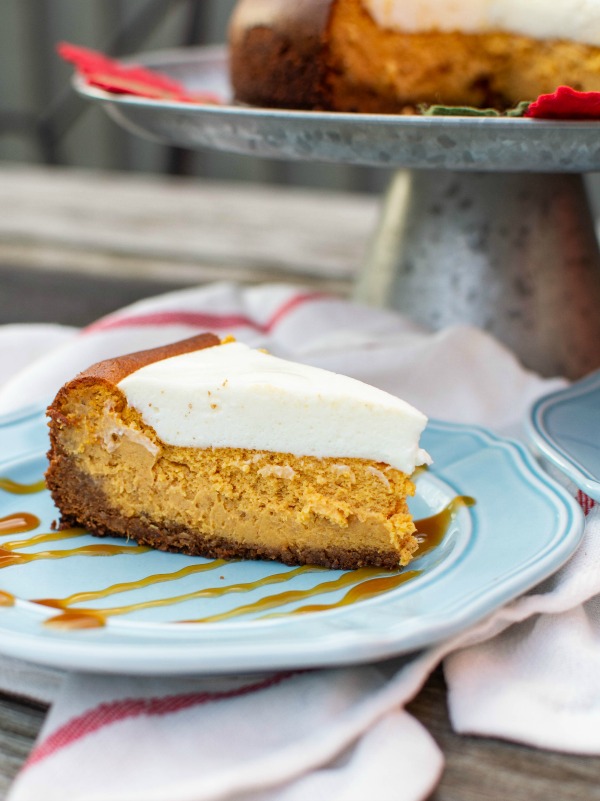 I have to admit, one of my favorite things about this cheesecake is that it doesn't matter if the top cracks, which can often with cheesecake! It is going to be hidden by a cloud of marshmallow sour cream topping!
In fact, as it cools, the centre of the cheesecake will drop down a bit, creating a perfect well to fill with the deliciously sweet, but slightly tangy, marshmallow cream.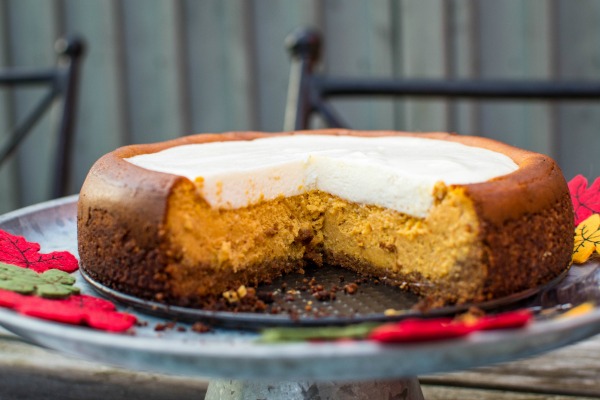 A break from the traditional graham cracker crust, I made this crust using gingersnap cookies and pecans. I love the mild ginger flavor paired with the pumpkin.
When it comes to baking, I find the quality of ingredients really impacts the final outcome! For instance, the first time I attempted to make Grampie's Favorite Squares, I ignored my mom's notation to use only a certain quality brand of butterscotch chips, and I purchased them from the bulk store. It was nothing short of an epic fail. I learned my lesson!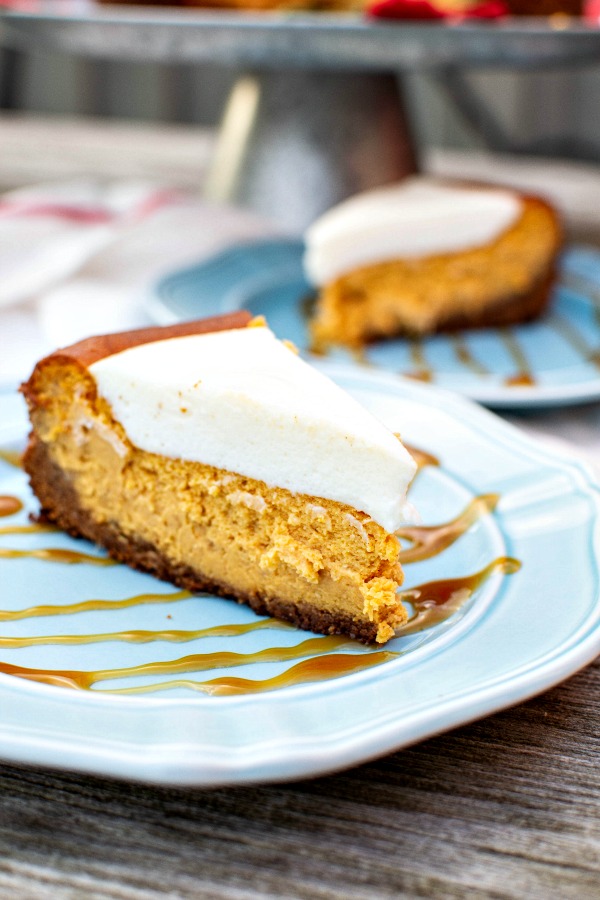 You'll want to prepare this pumpkin cheesecake a day in advance to allow it to completely chill in the refrigerator before adding marshmallow topping.
The recipe is up next, but don't forget to scroll down to check out all the fun prizes and enter for your chance to win! (US residents only)
Pin this Marshmallow Cheesecake Recipe for Later!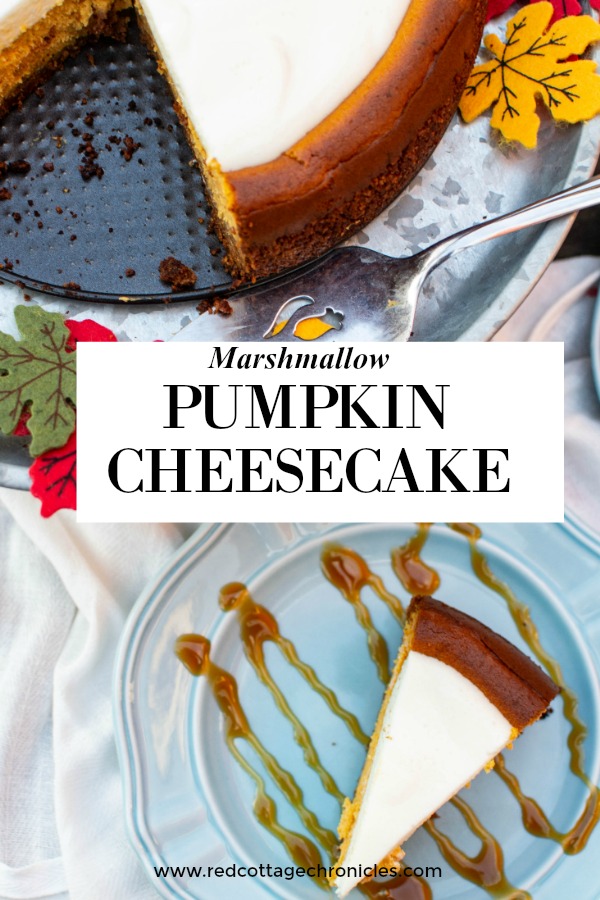 Be in the know! It may be a delicious recipe, a stunning tablescape, or decor tips to make your house a home! Simply click here to subscribe. I never sell or share your information, and you can unsubscribe at any time!
Until next time…..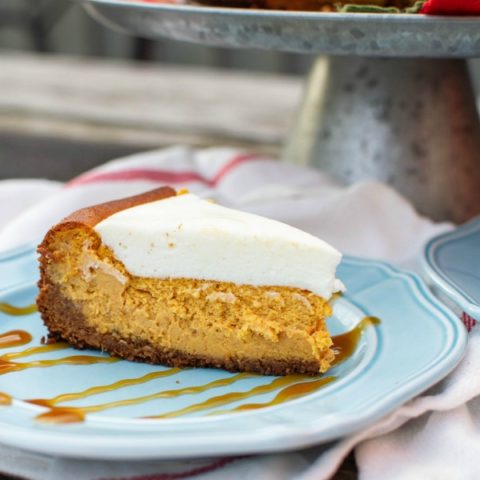 Marshmallow Pumpkin Cheesecake
Cook Time:
1 hour
10 minutes
Total Time:
9 hours
40 minutes
The quintesecential autumn dessert! Smooth fluffy cheesecake topped with deliciously sweet yet slightly tart topping
Ingredients
Crust
2 cups gingersnap cookie crumbs
1 cup pecans (I used chopped)
1/4 cup golden brown sugar
2 tbsp chopped crystalized ginger
1/4 cup unsalted butter, melted
Filling
4 8 ounces packages of cream cheese, room temperature
2 cups sugar
1 15 ounce can of pumpkin
5 large eggs
3 tbsp all purpose flower
1 tsp ground cinnamon
1/2 tsp ground ginger
1/4 tsp ground nutmeg
1/4 tsp ground allspice
1/4 tsp salt
2 tbsp pure vanilla extract
Topping
2 cups white mini marshmallows (or large marshmallows cut into 1/2 inch squares)
1/4 cup whole milk
1 tsp vanilla extract
1/8 tsp salt
1 cup sour cream
Instructions
Preheat oven to 350 degrees. Spray a 9 inch springform pan with 2 3/4 inch sides with non-stick cooking spray.
Add cookie crumbs, pecans and ginger to the bowl of a food processor and pulse until nuts are finely ground.
Add melted butter and pulse until crumbs come together.
Press crumb mixture on bottom and 2 inches up sides of springform pan. Bake crust for approximately 10 minutes or until set and lightly browned. Cool completely on a wire rack.
Keep oven preheated to 350 degrees.
In the bowl of an electric mixer blend cream cheese and sugar for about 2 minutes or until light and fluffy. Add pumpkin and mix until well incorporated. Add eggs, 1 at a time, blending on low speed after each addition, scraping down bowl occasionally. Add the flour, spices and salt and beat to blend. Beat in vanilla.
Pour filling into cooled crust, filling to just above top of crust.
Bake until edges begin to crack and filling is just set in the centre. Filling should move just slightly in the center when pan is gently shaken. This should take about 1 hour and 20 minutes. Cool for one hour on wire cooling rack. Cut around edges to loosen cake and cool in the cake pan over night.
Combine marshmellows and milk in a large saucepan and heat over low heat until marshmellows are melted. Remove from heat and stir in vanilla and salt. Cool mixture to room temperature, stirring occasionally. Gently fold sour cream into marshmellow mixture. Pour topping over cheesecake leaving a 1/2 inch border around edges. Chill for at least 1 hour to set topping. If there are any cracks in the cheesecake, this topping will cover them up!
Remove springform ring when ready to serve
Notes
When it is time to serve, cut the pumpkin cheesecake with a thin blade knife dipped into hot water.  Dip the blade and wipe it clean between each slice.  This will keep the filling from sticking to the blade.
Enjoy these #PumpkinWeek recipes from our bloggers:
Pumpkin Drinks:
Pumpkin White Chocolate Mocha
from The Redhead Baker
Pumpkin Breakfasts & Baked Goods:
Chocolate Pumpkin Swirl Quick Bread
from The Crumby Kitchen
Fresh Pumpkin Quiche with Bacon and Sage
from Palatable Pastime
Pumpkin Pancakes
from Karen's Kitchen Stories
Pumpkin Pop Tarts
from Jen Around the World
Pumpkin Spice Cinnamon Roll
from Seduction In The Kitchen
Pumpkin Sweet Rolls
from A Kitchen Hoor's Adventures
Pumpkin Waffles
from 4 Sons R Us
Savory & Snack Pumpkin Recipes:
Loaded Pumpkin Soup
from Food Above Gold
Pumpkin Mac and Cheese
from For the Love of Food
Pumpkin Pie Chex Mix
from Seduction In The Kitchen
Pumpkin Sausage Cheese Ball Bites
from Strawberry Blondie Kitchen
Pumpkin Desserts:
Butterscotch Pumpkin Pudding
from Daily Dish Recipes
Easy Pumpkin Bundt Cake
from The Bitter Side of Sweet
Pumpkin Brownies
from Cindy's Recipes and Writings
Pumpkin Cheesecake with Marshmallow Creme
from Red Cottage Cottage
Pumpkin Chocolate Chip Oat Bars
from Sweet Beginnings