It is that time of year again! My favourite time of year for slowing down and snuggling up. I set this simple autumn tablescape to celebrate the start of my favourite season.
It is really feeling (and smelling) like autumn around our home. Not only is it time for our autumn tablescape blog hop, but I have been happily busy in the kitchen baking up some yummy recipes for next weeks Pumpkin Week.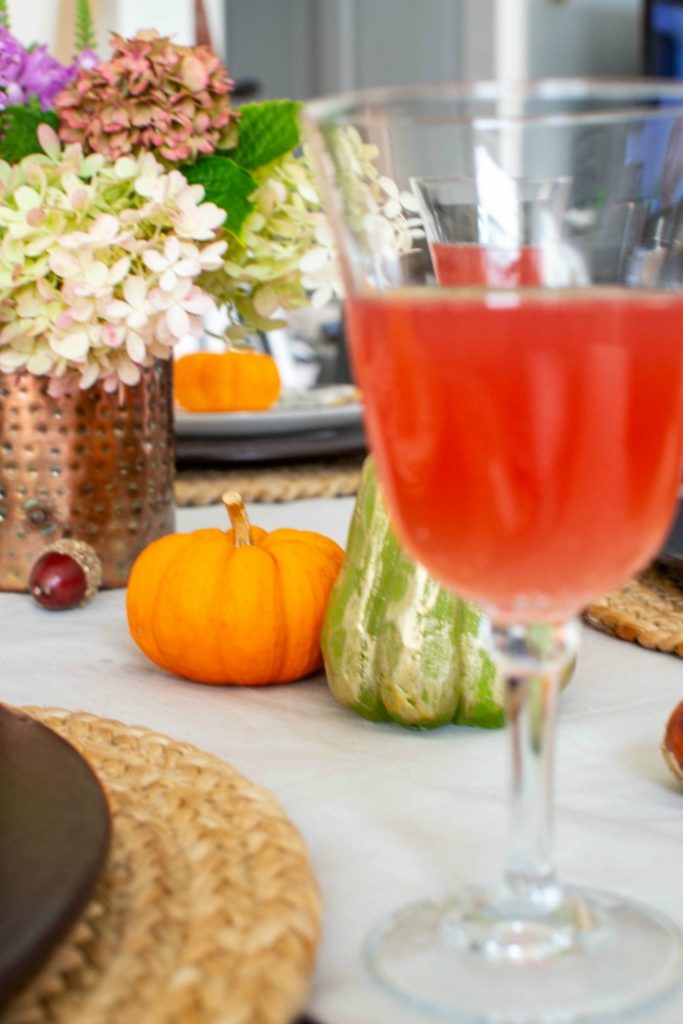 I managed to sneak in some time to set this simple autumn tablescape for this week's autumn tablescape blog hop. Every day this week a new group of very talented table styling bloggers have been sharing their vision for the perfect autumn table and you can find all the links below!
Given the hub of activity going on in the kitchen, I wanted a calm and uncluttered table where I could sit down for a delicious meal of my favourite cool weather comfort foods, like this Maple Roasted Butternut Squash Soup!
Use what you have whenever possible when setting your table
The only things I purchased for my autumn table this year were these pretty plates and 4 tiny pumpkins for $1. The rich tones of plum, orange and a muted green of the plates really speak to the colours of fall. They were only $3 each at the grocery store and I know I will get a lot of use our of them throughout the fall.
How to create a layered place setting for your fall table
Layered place settings need not be formal. And, there are so many combinations the possibilities are endless.
Start with a table covering or opt for placemats, or both.
Ideas for table coverings
traditional fabric tablecloth
table runner
round, square or rectangle placemats
quilts
For this table I decided to forgo the tablecloth in favour of a soft grey linen runner down the centre of the table and round jute placemats at each place setting.
These placemats that worked perfectly well with this patriotic summer table, also reminded me of the farmers fields still dotted with feed corn yet to be harvested later this fall.
Use charger plates as the base of your plate stack
Charger plates can match the plates, compliment or contrast them.
I used these dark wood chargers I have had forever. Being a natural material, they compliment the natural rattan placemats underneath them. The provide a nice contrast to the vibrant colour of the plates.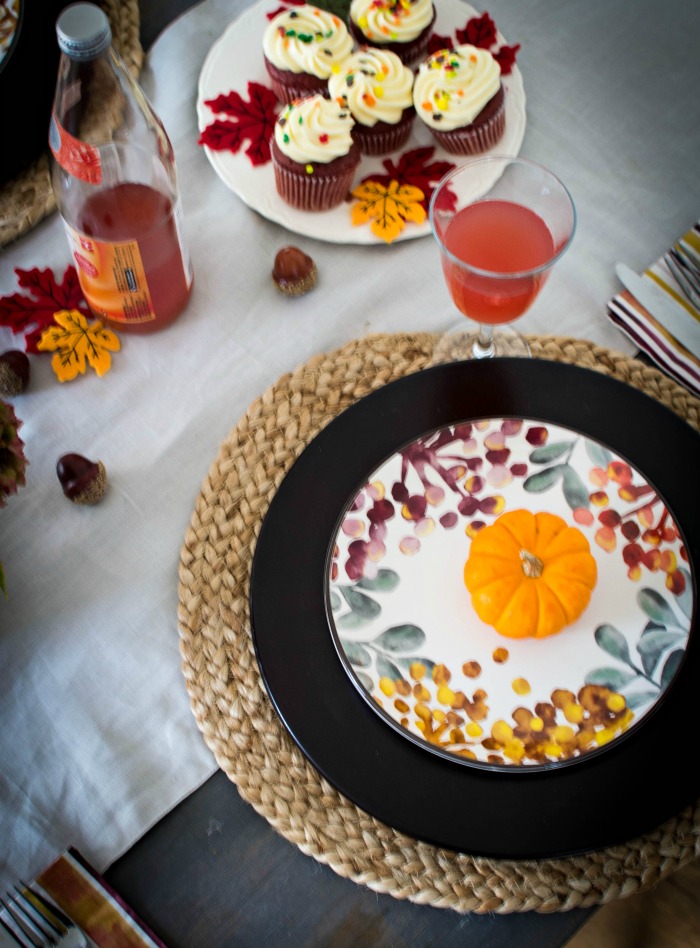 I have created place settings with lots of monotone layers, like this elegant Christmas table from a couple of years ago. And, I have created simple place settings with just one or two elements, like this simple everyday tablescape.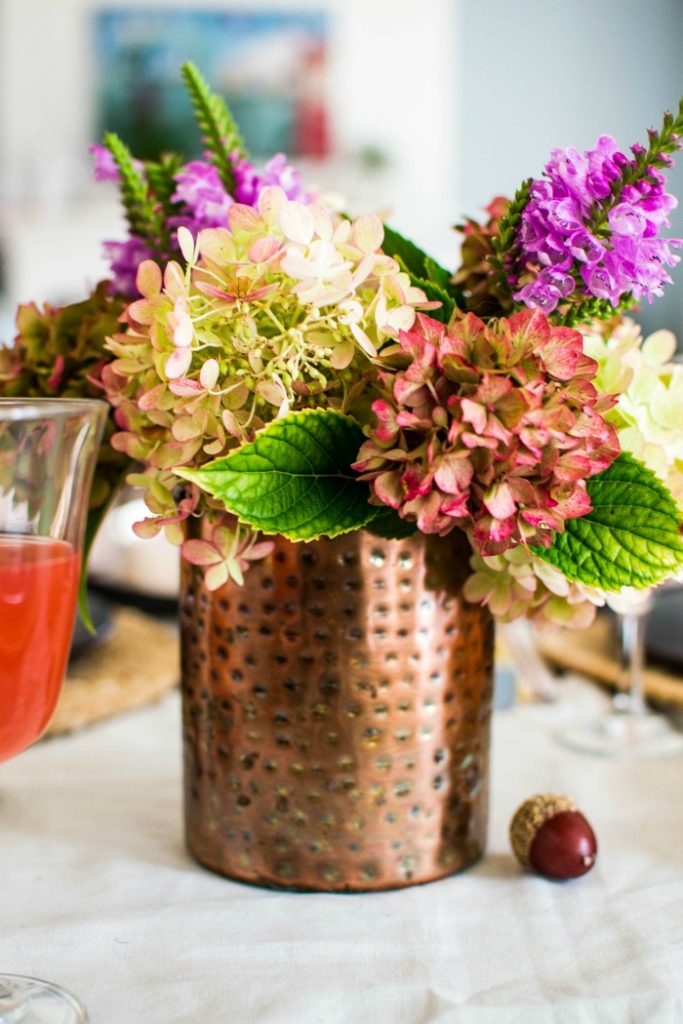 Layering plates
For this simple autumn table I went with just one plate, as dinner was a casual occasion served family style. This eliminates the need for multiple plates.
If I was serving several courses separately then use as many plates as necessary. For example, you may need an appetizer plate, a salad plate and of course, a dinner plate. Such is the case with this gorgeous black magic halloween tablescape. In addition to the 3 course plates, I added a dessert plate at each place setting too.
Napkins
Napkins add colour and style to a plate stack, and again the possibilities are endless. There are so many ways to fold a napkin, but for the most part I like to keep it fairly simple. Layering the napkin between the plates, or tucking them underneath the plate with one end hanging down the edge of the table.
Another simple way to present a napkin and add flare to your plate stack is to simply tie the napkin in a loose knot and place it across the plates.
Add a bit of whimsy
Add some personality and whimsy to each place setting by adding a seasonal element.
A miniature pumpkin adds a bit of whimsy and colour to each place setting, yet took no effort at all.
I have used shiny apples, pears and watermelon slices depending on the season.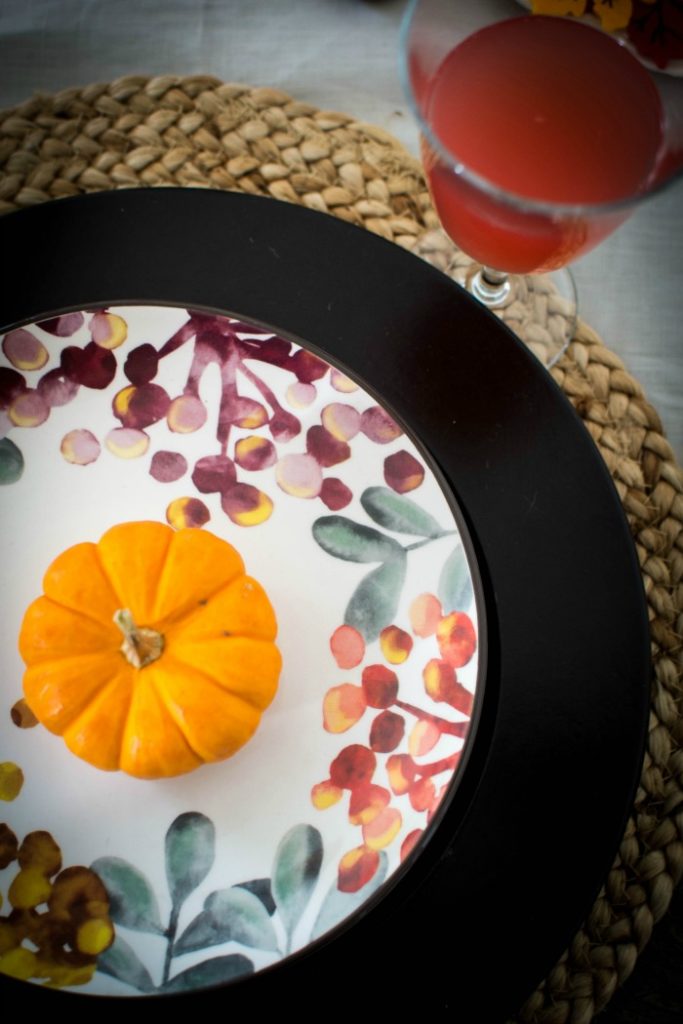 Consider adding something your guests can take home. I added a freshly baked cookie that complimented this Christmas tablescape and it was a big hit. It looked amazing to!
Clear glass stemware finish off each place setting.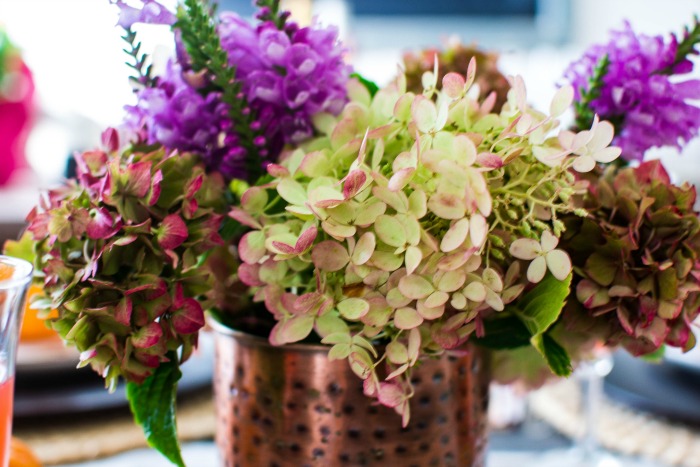 The linen table runner provides a simple backdrop for a low key centrepiece made with hydrangeas from my garden. The hammered copper canister was a thrift store find.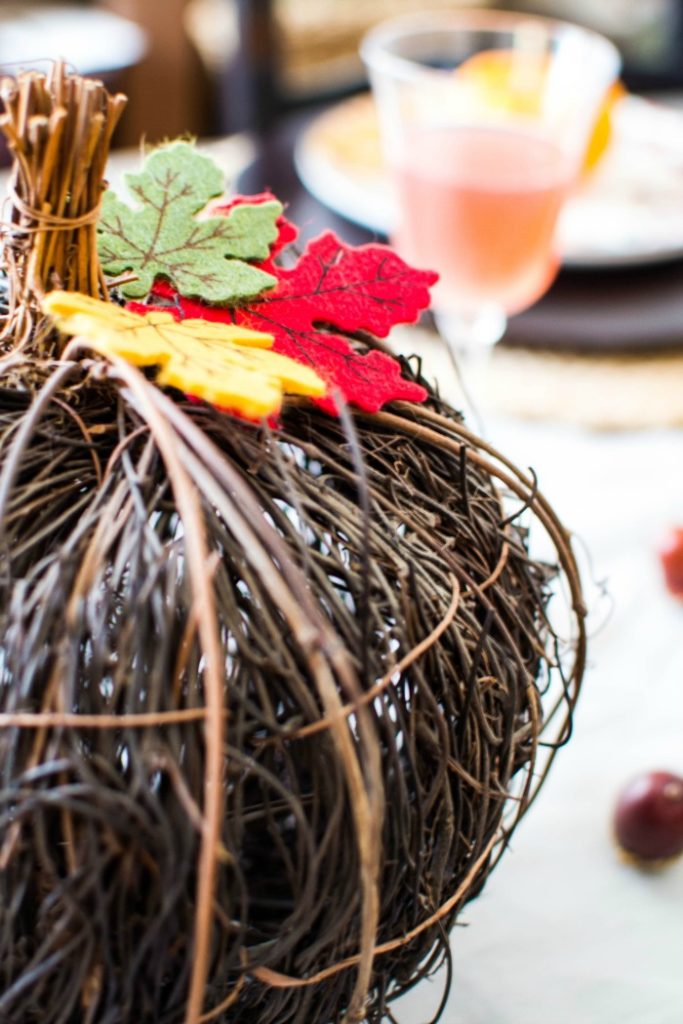 This big wicker pumpkin I have had for several years and always use it in somewhere throughout the house when decorating for fall.
I spruced it up with a couple of felt leaves left over from this autumn Mason jar project. It is an effortless seasonal element that adds some texture and interest to the table.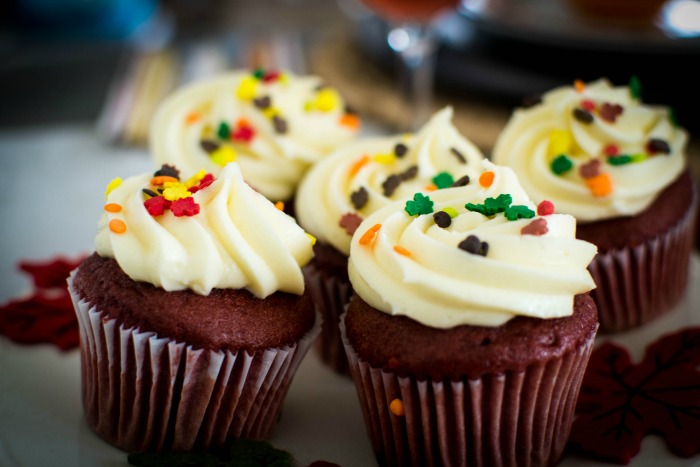 Red velvet cupcakes decorated for fall will make a light dessert. Again, keeping things simple, I purchased these at the grocery store instead of going than making them myself.
I am so happy I decided to keep it simple, and set a calm and cozy autumn table. I am all for an elaborately styled table, but this season it just felt right to keep it low key. It still reflects the autumn season as we settl in to cooler temperatures but warmer colours!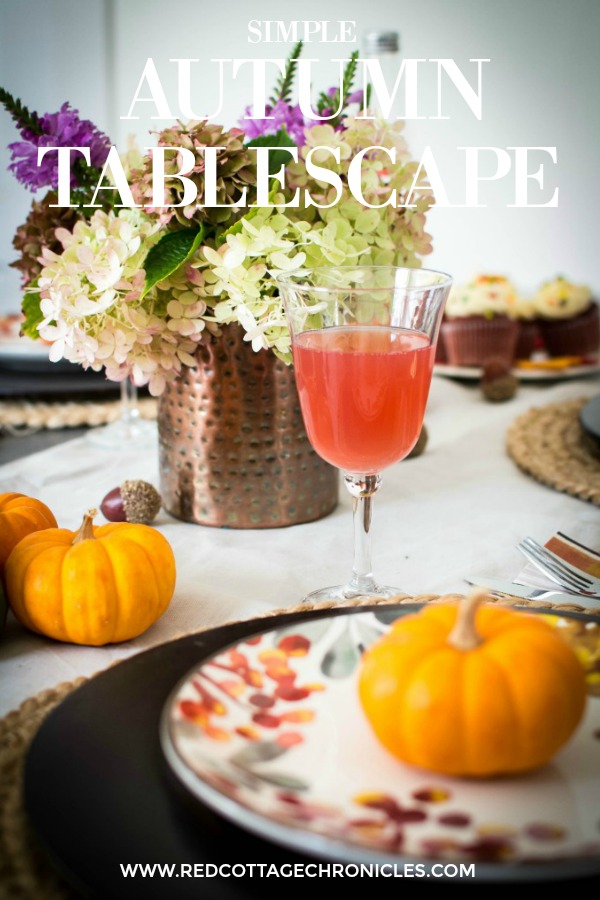 Now it's time to check out all of this weeks autumn tablescapes! All the links are below so grab yourself a beverage and settle in for lots of seasonal inspiration!
Monday
The Little Yellow Corner Store | A casa di Bianca | Corner of Plaid and Paisley
My Thrift Store Addiction
Tuesday
Life and Linda | Home is Where the Boat Is | Sweet Pea | Panoply | Everyday Living
Wednesday
Bluesky at Home | Debbee's Buzz | The Painted Apron | Celebrate & Decorate
Thursday
Living With Thanksgiving | White Arrows Home | Intelligent Domestications | Our Crafty Mom
Friday
Follow the Yellow Brick Home | Red Cottage Chronicles | Zucchini Sisters | Katherine's Corner | My Family Thyme