These vegan banana muffins are free from dairy and egg, but are so moist and delicious you won't believe it!
It has been a while now since we adopted a plant based lifestyle. But, we I still found ourselves loading up on sugary, processed vegan (and in Tim's case vegetarian) foods. Tim's poison is the salty snacks like potato chips!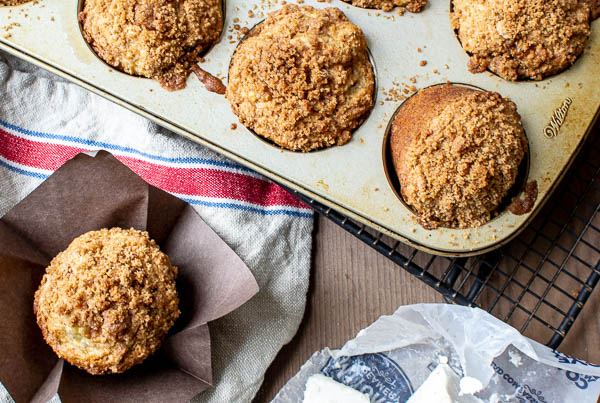 In an effort to start eating more whole foods, I have really kicked it up a notch in the kitchen. We love this quick cashew vegetable fried rice for a quick weeknight meal. But, trying my hand at baking without eggs, butter and healthier flours have had me a bit intimidated.
Banana crumb muffins are a favorite treat, but the original recipe was filled with melted butter, eggs and all-purpose flour.
I decided if I was going to satisfy my sweet tooth I needed to dive in. I went ahead and made a few easy ingredient switches, and the result was these delicious vegan banana muffins.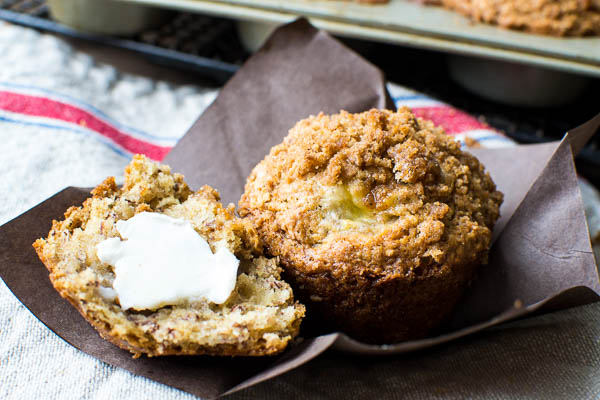 Not only do they not contain any dairy or eggs, I also switched out half of the all purpose flour with whole spelt flour for some added goodness. They bake up nice and big, just like a bakery muffin.
A buttery crumb topping with a hint of cinnamon gives it a little something extra! Sprinkle it with a wee bit of confectioners sugar and you will impress everyone with your baking skills!
Warm from the oven, spread with our favorite vegan butter, these muffins are the perfect treat.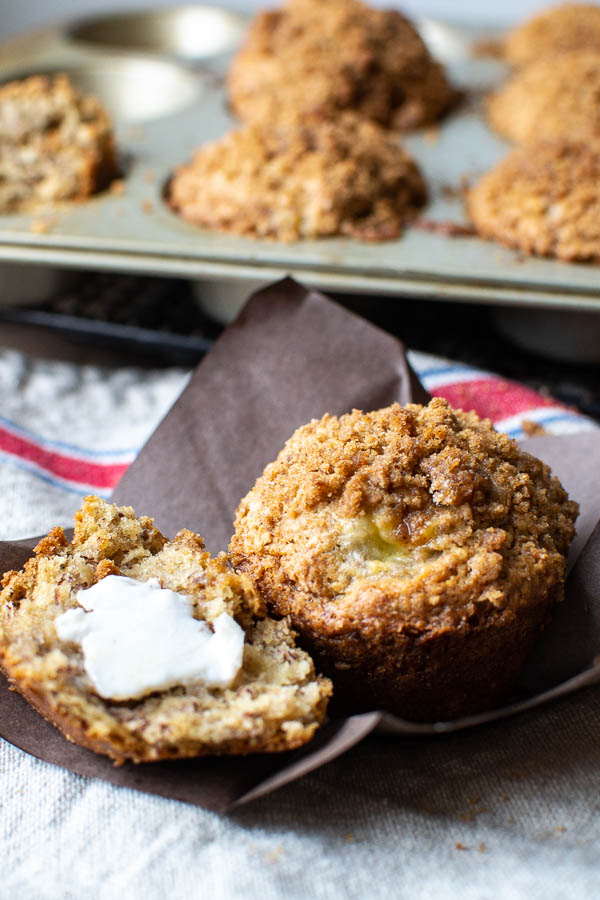 I am by no means an expert, but I am having fun trying to convert some of my favorite treats to ones that are dairy and egg free.
The best part of preparing all our meals (and snacks) at home is that I know exactly what goes into the food we eat. And, these yummy muffins are no exception.
They do have some sugar, but considering they also have whole grain spelt flour, a bit of flax, and no animal products, having one as a special treat every now and again still aligns with our overall goals without sacrificing taste.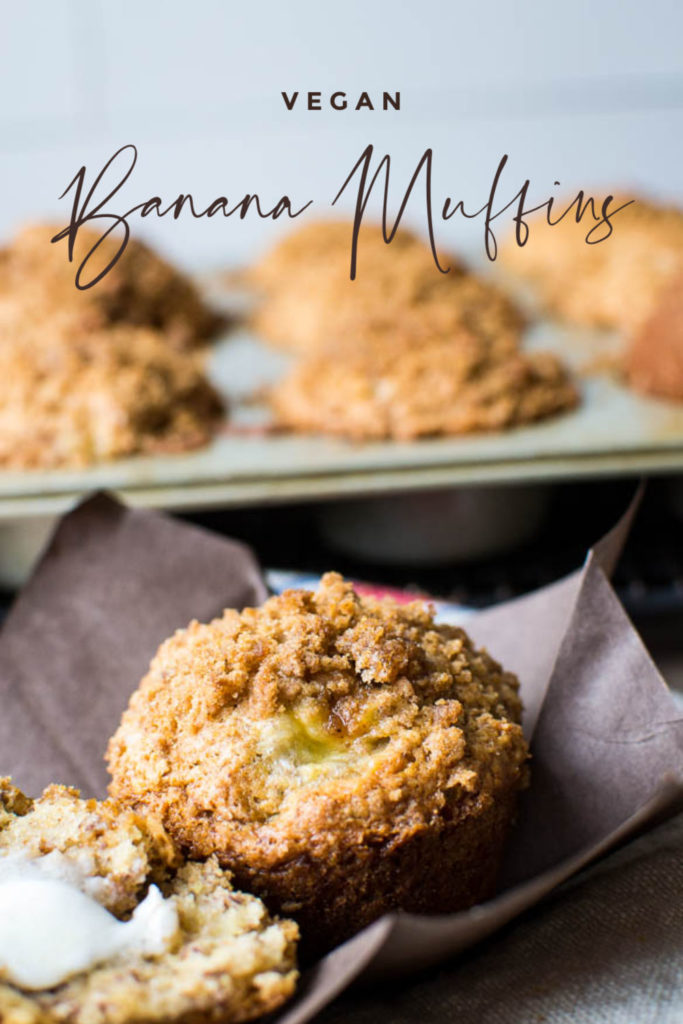 Even if eating plant based isn't your thing, I dare you to bake up a batch of these crumb topped vegan banana muffins and not want to eat the whole pan!
Another easy vegan sweet treat are these vegan Lavender Shortbread Cookies! Simply switching out regular butter for a good quality vegan butter creates a shortbread so delicious you won't miss it!
Be in the know! It may be a delicious recipe, a stunning tablescape, or decor tips to make your house a home! Simply click here to subscribe. I never sell or share your information, and you can unsubscribe at any time!
Until next time…..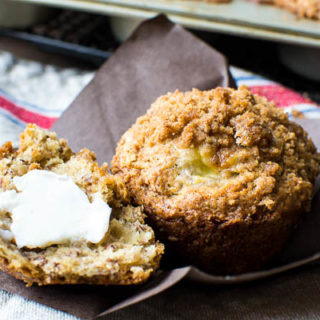 Vegan Banana Muffins
Yummy vegan banana muffins that rise up light and fluffy just like ones from the bakery
Ingredients
1 tbsp ground flax
3 tbsp water
3/4 cup all purpose flour
3/4 spelt flour
1 tsp baking soda
1 tsp baking powder
1/2 tsp salt
3 small ripe bananas, mashed
3/4 cup granulated sugar
1/3 cup plant based butter, melted
1/3 cup packed brown sugar
2 tbsp spelt flour
pinch ground cinnamon
1 tbsp plant based butter
Instructions
Preheat oven 375 degrees and spray 10 muffin tins with non-stick spray
In a small bowl combine flax and water and set aside for about 10 minutes
In a mixing bowl combine flours, baking soda, baking powder and salt
In a separate bowl whisk together sugar, bananas, melted butter and flax mixture
Add the liquid mixture to the flour mixture and fold together just until combined.
Divide between prepared muffin tins
Combine brown sugar, 2 tbsp spelt flour and cinnamon. Cut in butter with a fork and sprinkle evenly over muffin batter
Bake for 18 to 20 minutes, until toothpick inserted in centre comes out clean
Remove from oven and allow to cool 5 minutes before removing from tins