The two things I look forward to every spring at the Farmer's Market is finding local fresh fruit and flowers. With this in mind it was easy to choose a theme for my spring tablescape!
I am delighted to be joining Rita from Panoply and 16 other table stylists as we share our tablescapes with a spring and/or Easter theme! You will find all the links below that will have you inspired to style your own beautiful spring table!
If you are arriving from Me and My Captain, welcome! Spring is definitely in the air even though we still have snow in the forecast!
As mentioned above, I was inspired to create a lush and colourful fruit and flowers tablescape to celebrate the long awaited arrival of spring after a recent visit to a local Farmer's Market.
Living in Southern Ontario, we are blessed with many local greenhouses that grow many varieties of both fruit and flowers, that are shipped all over North America.
In fact, on one of our visits to New York City, our tour guide pointed out all the beautiful flowers for sale outside the corner shops. Most of which were shipped in fresh from farms right in my local area!
Fruit and flowers aren't just for gift giving!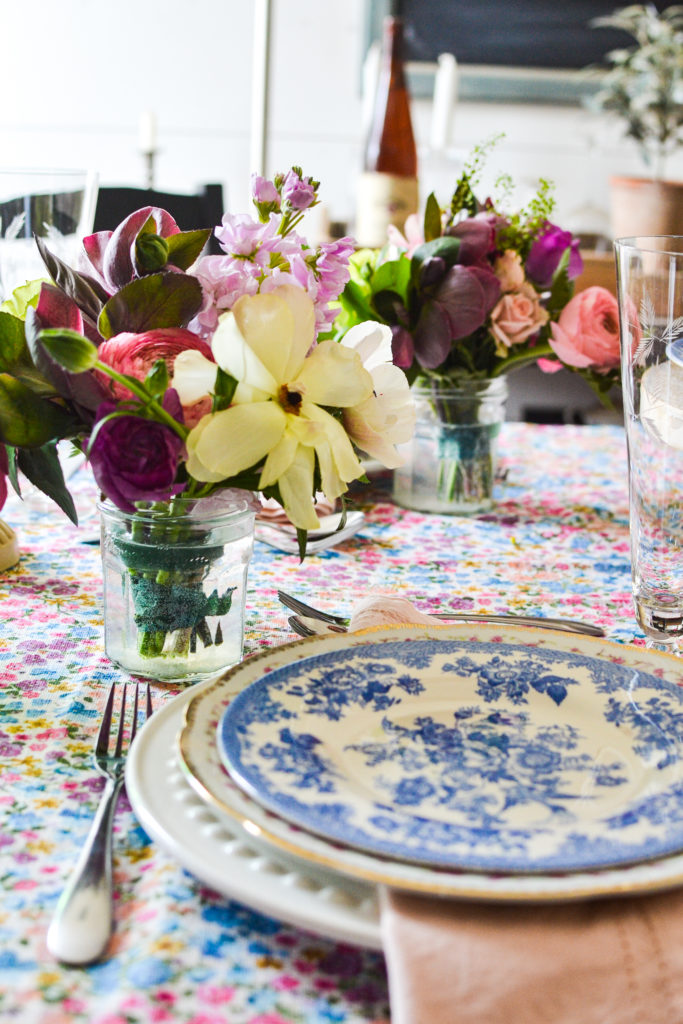 How to use fruit and flowers to decorate a table
Flowers always make a stunning centrepiece. I am still swooning over this flower filled basket from last year!
Cakes also make beautiful centrepieces. This cake decorated with flowers made a stunning centrepiece.
You can also use fresh fruit to decorate each place setting. A single slice of watermelon on a contrasting plate is a showstopper for sure.
Another great idea is to have a footed cup or champagne coupe on each plate filled with seasonal fresh fruit! Or, a charcuterie board with the focus on the fruit.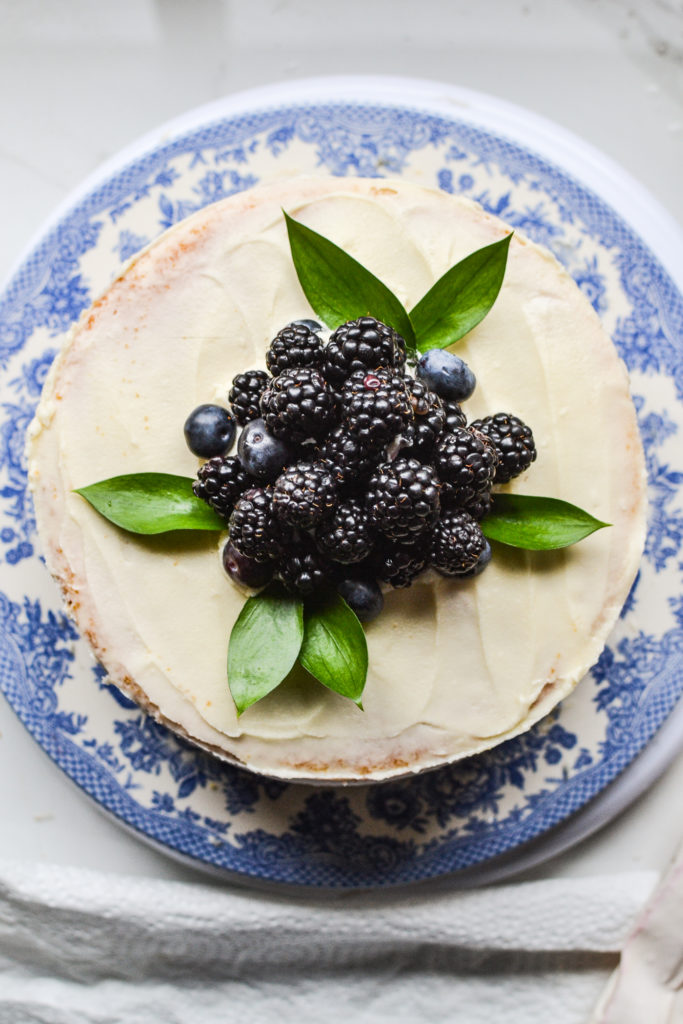 Or make the centrepiece a simple cake decorated with fresh fruit
I love "naked" cakes for their simplicity and rustic charm. I made a simple blackberry cream cake, and was so happy with how it turned out, I decided to make it the centrepiece.
The deep purple of the fresh blackberries, the juicy blueberries and fresh green leaves all remind me of spring! And, did I mention the blueberry filling?!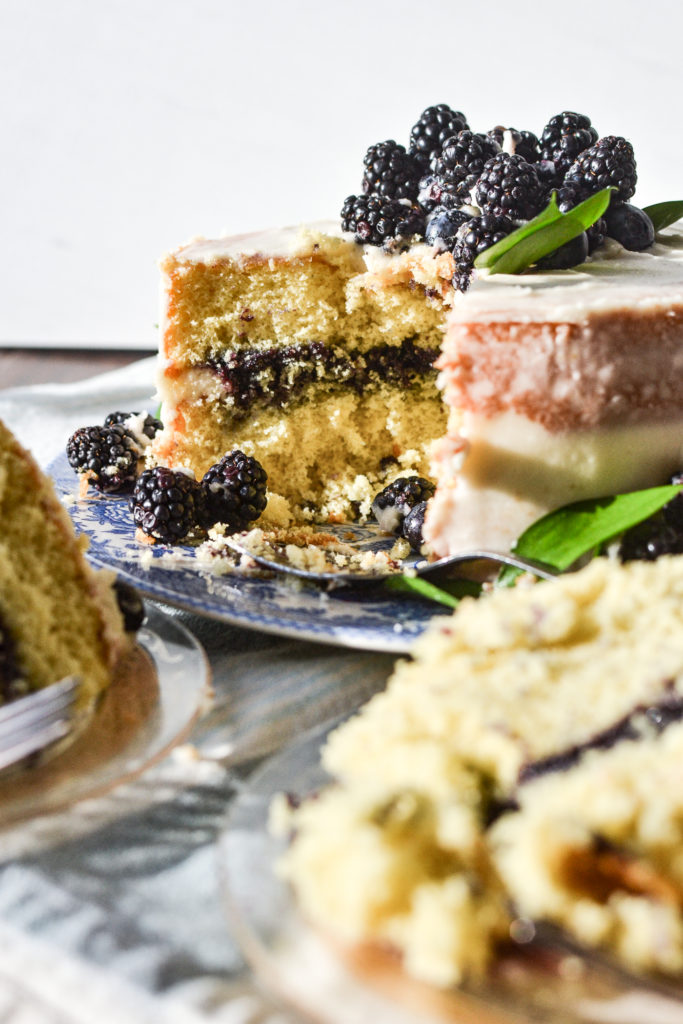 Use fresh flowers as take-away gifts for guests
I love the look of dainty posy's. Just a few flowers hand tied together make a lovely gift for your dinner guests to take home. A nice reminder of the lovely time spent together.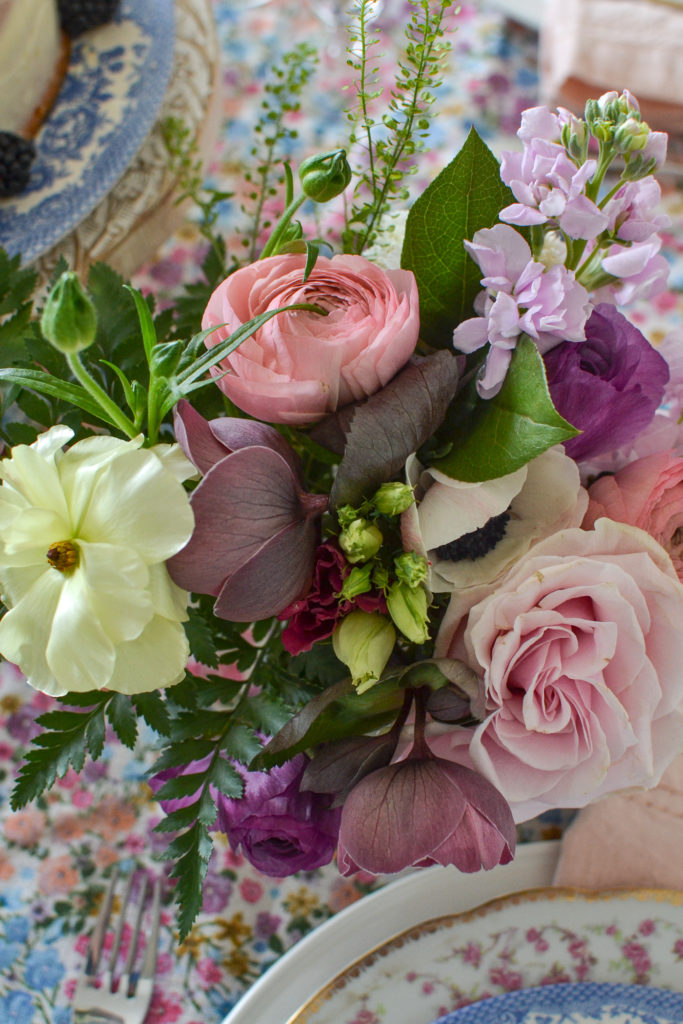 I used ranunculus, roses, hellebore and stock flowers and placed them in Bonne Maman jam jars that I have been saving over the winter. These lovely florals are not only a part of the table decor but a thoughtful little extra for your guests!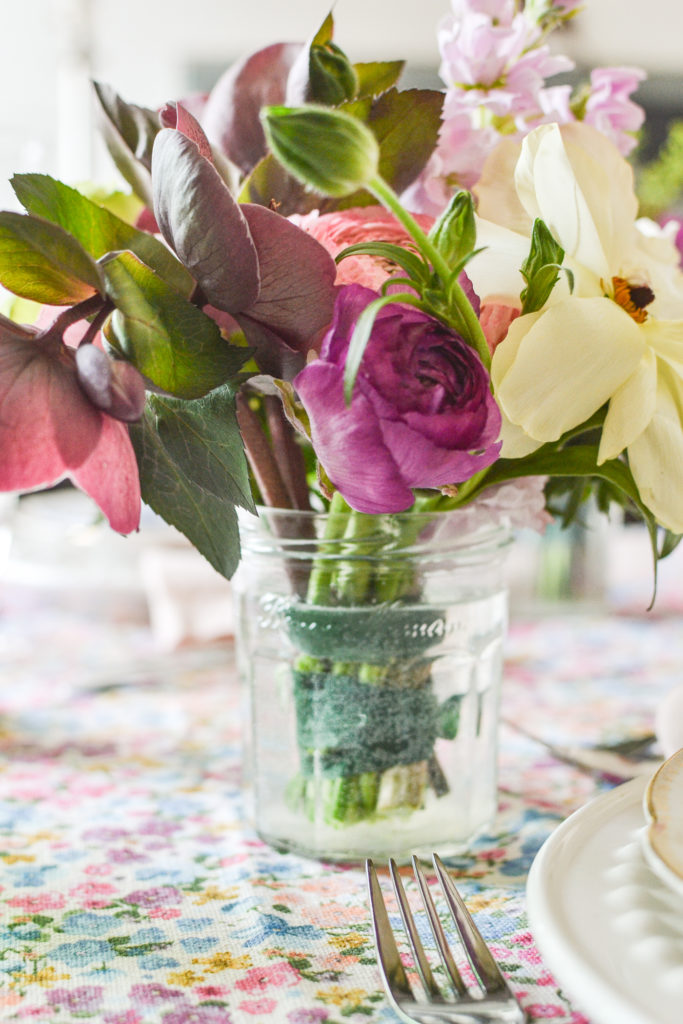 How to layer floral patterns on a spring table
I love the look of wildly different floral patterns on a table.
For this spring table I wanted a bold tablecloth that just oozes spring floral and was lucky to find exactly what I wanted at a local Homesense store. The bold, vibrant colours that are the perfect backdrop for a plate stack that is is equally vibrant and floral!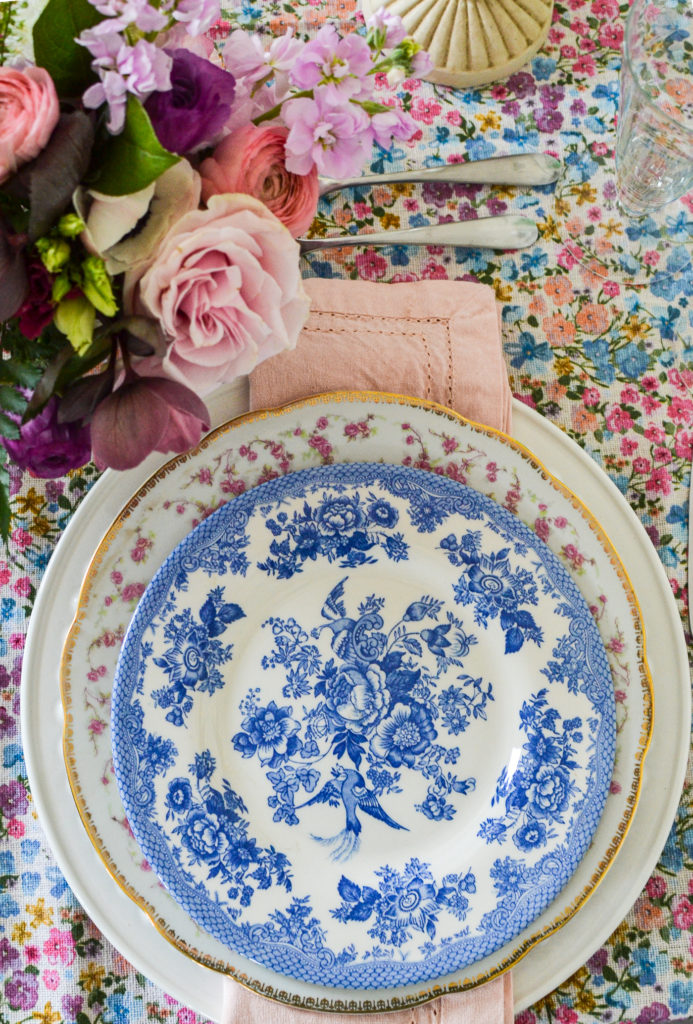 I used my favourite white dinner plate as a base, and to provide a buffer between the bold tablecloth and the floral patterned plates.
The pink floral plates I picked up at a local antique shop several years ago. I used them in pretty this summer garden tablescape too, and love the romantic tone they set.
The blue floral plates were purchased last year for my summer dinner party tablescape. They have quickly become a favourite, and were so inexpensive I use them often.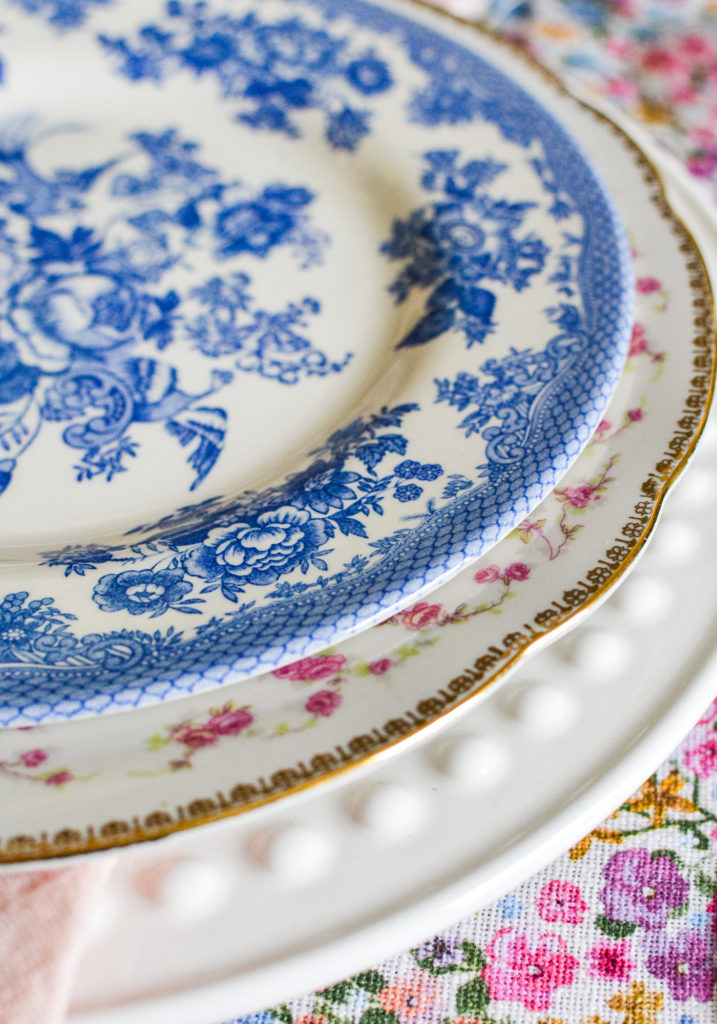 Even though the tablecloth is extra colourful, each plate pulls from those colours making it all work together.
A simple pink napkin is layered between the white plate and the pink floral plate so as not to compete with the plates themselves.
I used our everyday simple flatware, and tall crystal etched glasses that simply blend into the scene. Filled with fresh fruit juice though, they will add to the overall colour story.
I have really leaning towards keeping my tablescapes simple lately. I used to struggle with trying to fit too much on the table just to drive the theme home.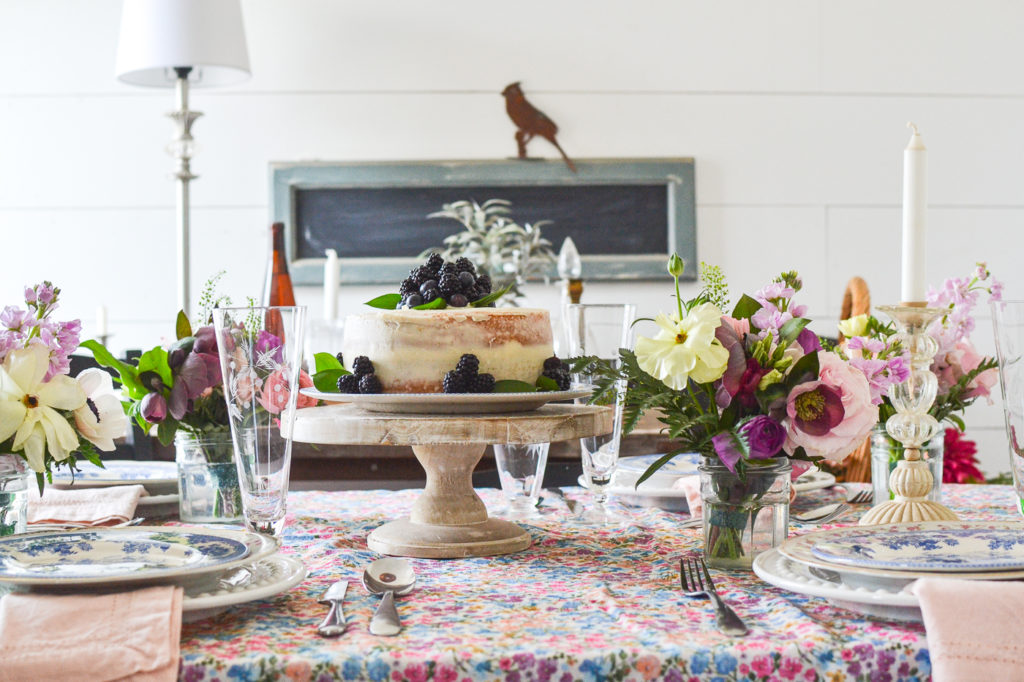 When I stood back to admire and confirm the fruit and flowers theme was well represented, although I had a few other things I had considered adding, I really felt it was perfect just as it was.
Bright and vibrant, yet a simple and relaxing. A space to enjoy an early spring meal with family and friends!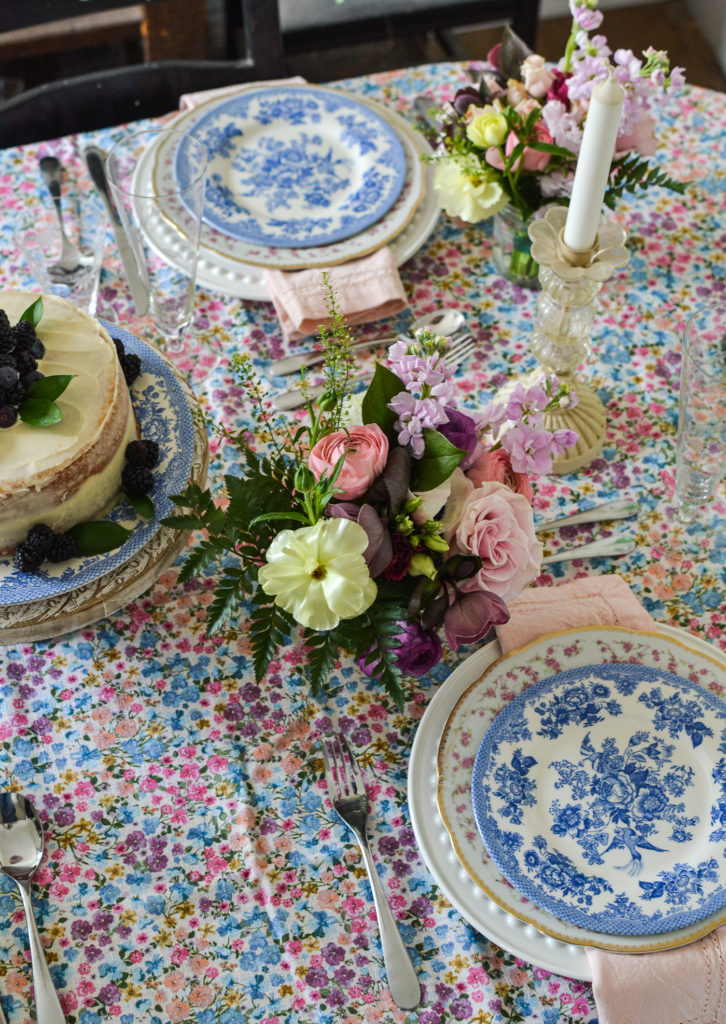 I hope you I sparked your imagination and creative spirit, but most of all inspired you to combine fruit and flowers the next time you set the table.
Before you go, be sure to check out the links below for more spring and Easter table decor ideas!
Everyday Living – The Joys of Easter
The Little Yellow Corner Store – Funny Bunny Fern and Her Breakfast Tablescape
Me and My Captain – Spring Is In the Air
Red Cottage Chronicles – Fruit and Flowers Spring Tablescape
Living with Thanksgiving – The Joy of Spring
Life and Linda – Bunnies Pedaling Toward Easter
Hyacinths for the Soul – Garden Party on the Terrace
Home Is Where the Boat Is – Hop To It
Panoply – Blissful Signs of Spring / Easter Tablescape
My Hubbard Home – Busy Bunny Easter Table
My Thrift Store Addiction – Rabbits and Roses Garden Tea for Two
Thrifting Wonderland – Easter Table in Black and White
Karins Kottage – Children's Easter Table in Bright Colors
The Painted Apron – Spring Piggy Party!
Corner of Plaid and Paisley – Bunnies in the Garden
Dinner at Eight – A Field of Tulips on a Spring Table
The Bookish Dilettante – Casual Easter Tablescape
Pandora's Box – Here Comes Peter Cottontail