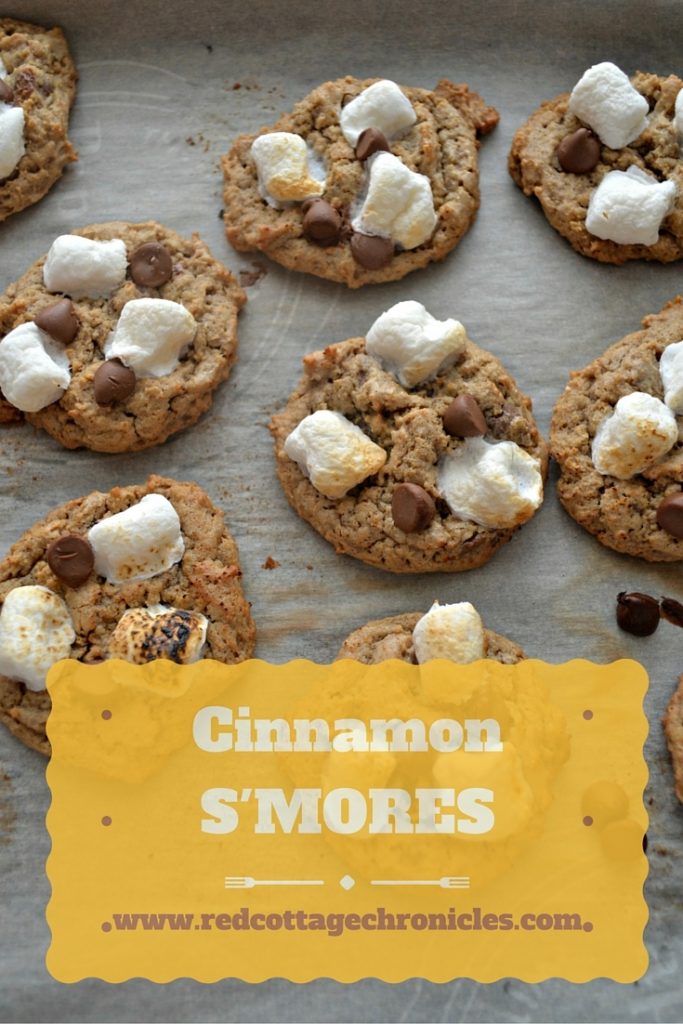 Happy Monday everyone! I hope your weekend weather was cooler than ours. We continue to hit temps of 40 degrees celcius or above for days on end. And no measurable rain at all! Our lawn that was lush and green in the spring now crunches under foot.
We are officially in a drought, and our town (and most of those around us) have imposed a ban on open fires. This includes campfires.
How does one get through the summer without at least one campfire? No campfire means no S'mores with chocolate and marshmallows toasted over the flames.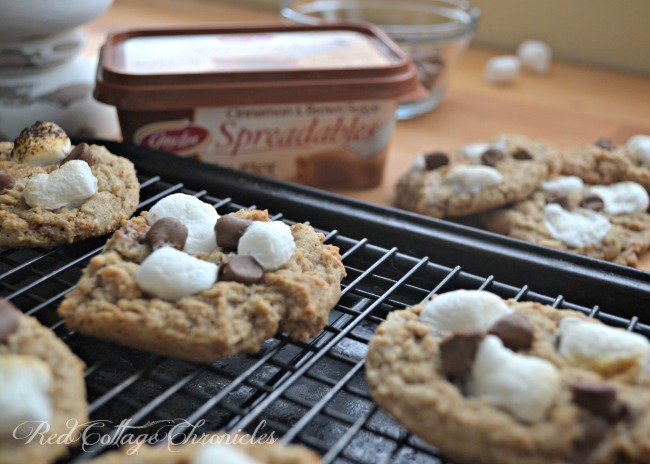 I love the combination of chocolate, toasted marshmallow and graham crackers so I decided to make some S'mores cookies instead. That is until I discovered I had no butter or margarine on hand.
What I did have was Gay Lea Spreadables in Cinnamon Brown Sugar flavour. I really didn't want to head out in the heat to get butter, so I figured why not!
Gay Lea Spreadables is real creamy butter with the addition of unsaturated canola oil to keep it spreadable. That meant I didn't have to wait for it to soften up before I began!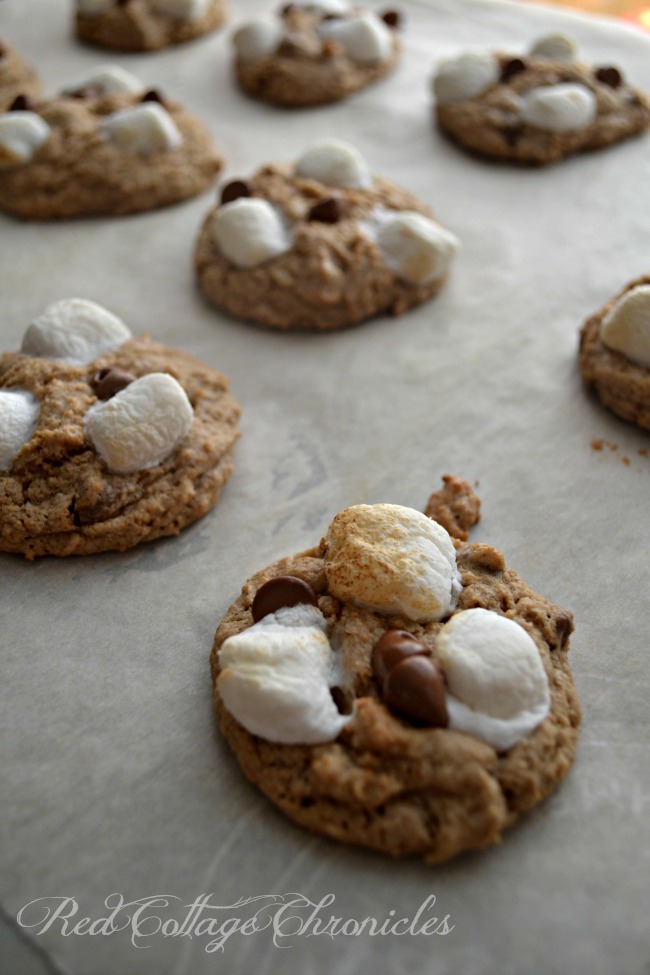 I always have Gay Lea's Spreadables in the fridge for that very reason! It spreads easily without ripping your toast apart! While Cinnamon Brown Sugar is my favourite, it also comes in regular and light varieties and tastes amazing on my toasted English muffin bread!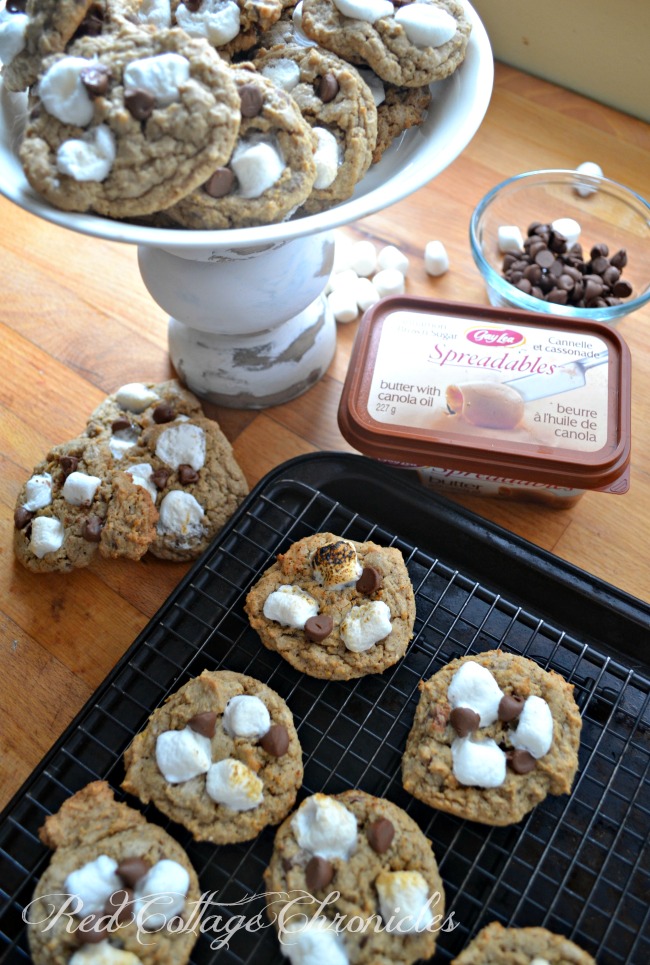 This was my first time baking with it, but I can guarantee I will be trying it again in other recipes. For starters, the crumble for my apple crisp. Yum!
Be sure to follow Gay Lea on Pinterest for loads delicious recipe ideas! And visit Gay Lea on line for more product information and to sign up for their newsletter!
Until next time……

"Disclosure: I am part of the Gay Lea Ambassador Campaign and I receive special perks as part of my affiliation with this group. The opinions on this blog are my own."
Cinnamon S'mores Cookies
2016-07-24 14:37:08
A chewy delicious cooking that captures the flavour of summer campfire s'mores
Ingredients
2 cups all purpose flour
1 1/4 cup graham cracker crumbs
1/2 teaspoon baking powder
1/2 teaspoon baking soda
1/2 teaspoon salt
1 container Gay Lea Spreadables Cinnamon & Brown Sugar Spreadables (227 grams)
1 cup granulated sugar
1/2 cup packed light brown sugar
2 eggs
1 1/4 cup milk chocolate chips
1 1/2 cups mini marshmallows
Instructions
Heat oven to 325 degrees. Line cookie sheets with parchment paper.
Whisk together dry ingredients.
In the bowl of electric mixer, cream cinnamon & brown sugar spreadable butter with granulated sugar and brown sugar until light and fluffy.
Beat in the eggs until well combined.
Reduce mixer speed to low and gradually add flour mixture, mixing just until combined.
Stir in 1 cup of the chocolate chips.
Drop onto prepared cookie sheets by the tablespoon full, leaving room for cookies to spread between each.
Bake for 9 minutes, remove from oven, carefully and quickly press 2 to 3 marshmallows and 2 or 3 chocolate chips onto the top of each cookie, return to oven and bake for an additional 5 minutes.
Remove from oven, allow to cool for a minute or two before transfering to a wire rack to cool completely
Red Cottage Chronicles https://www.redcottagechronicles.com/