Peach season here in Niagara is always a treat! With the first peaches of the season I made this peach upside down cake and it was a huge hit!
Welcome to Farmer's Market Week! This week, I am partnering with several food blogging friends to bring you recipes inspired by fresh fruit and produce from our local farmer's markets.
At the bottom of this post you will find links to over 15 recipes both sweet and savory to help you make the most of ingredients from the Farmer's markets in your area!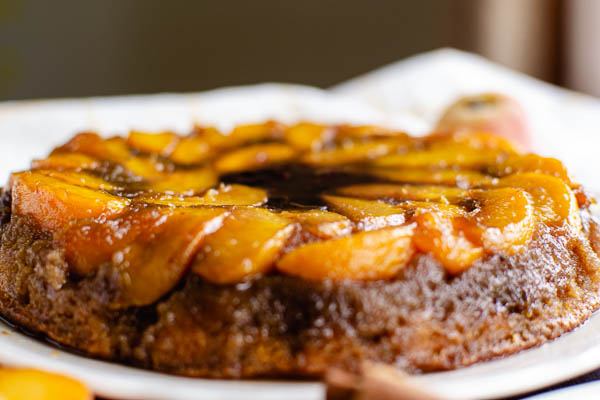 I am always happy to see the arrival of peach season. It signals the start of August, which really is just the gateway to fall. And if you know me at all, you know fall is my favorite season!
I am lucky to live in an area with lots of on farm markets where produce is picked and only has to travel up to the roadside farm stand. Peaches are just one of the crops in season right now, so you are in for a treat this week!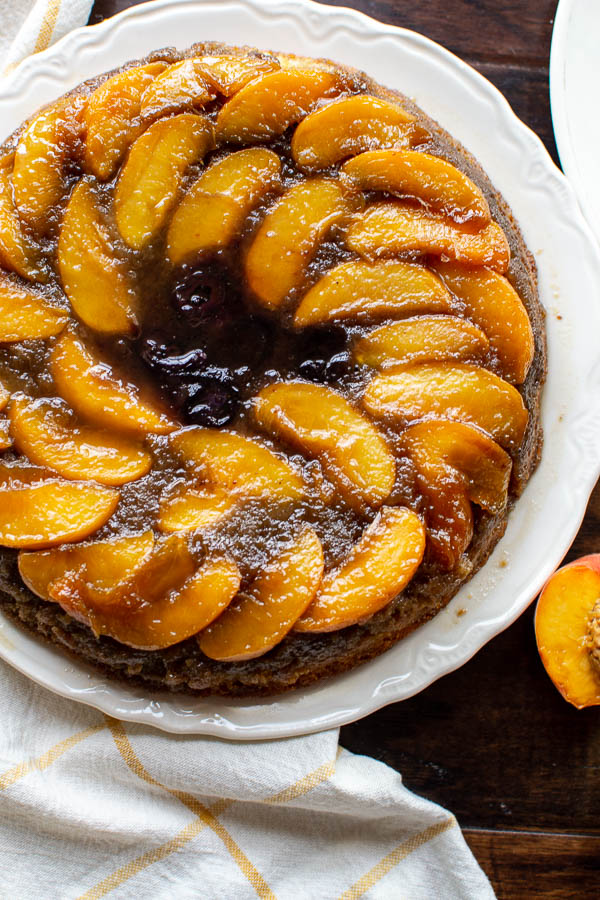 Peaches are so popular here in Niagara, there is a street festival every year to celebrate the harvest! Unfortunately this year it has been cancelled due to COVID, but will be back better then ever next year!
When I set out to create this peach upside down cake, I only hoped if was half as good as this delicious pineapple upside down cake, then I would be really pleased!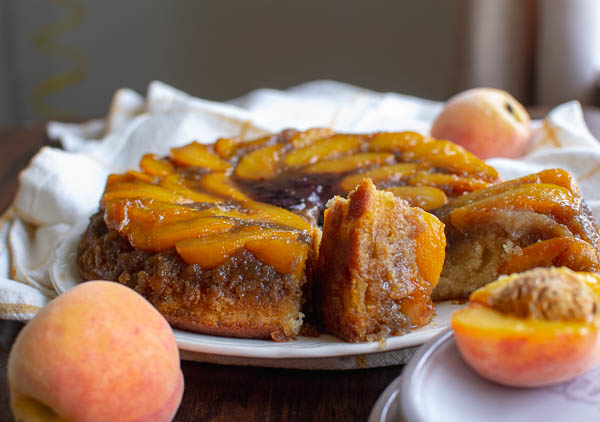 Well, I am sure my entire family will agree that this is every bit as good!
A hint of cardamom in the batter gives the cake a wonderful flavour. The juicy peaches baked up to a tender perfection, while their juices carmalized the brown sugar creating a scrumptious, moist layer!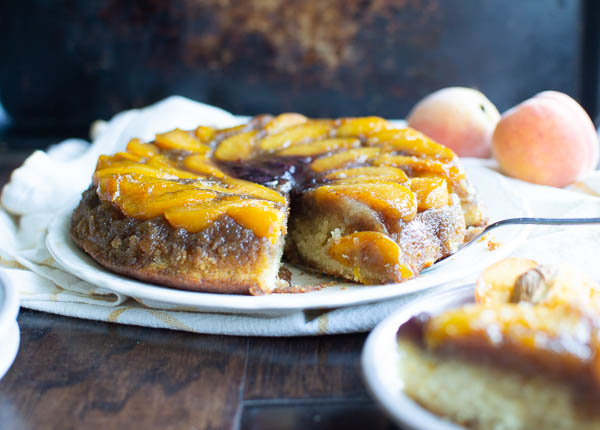 To add a decorative touch, I used a few fresh blueberries to fill in the centre of the cake. But, these are completely optional.
I think you'll find this peach upside down cake will leave you s-peach-less!!
You'll definitely want to "pin" this recipe for later.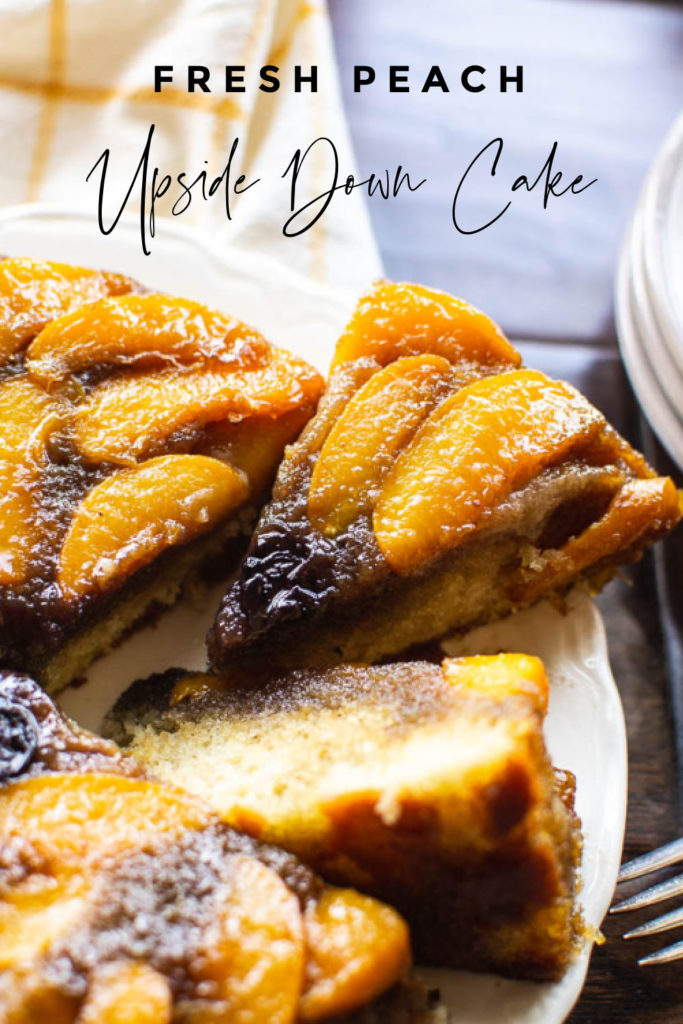 Looking for more peach recipes? Why not try this Peach Almond Tart or this Peach Iced Tea Cocktail!
I sincerely appreciate you stopping by today and would love to have you come back often! Please consider subscribing to Red Cottage Chronicles. I will keep you up to date with an email whenever a new post goes live.
It could be flowers, a recipe, a stunning tablescape, or another fun project to make your house a home! Simply click here to subscribe. I never sell or share your information, and you can unsubscribe at any time!
Don't forget to scroll down for this recipe, plus many more recipes inspired by ingredients found at your local Farmer's markets!
Until next time….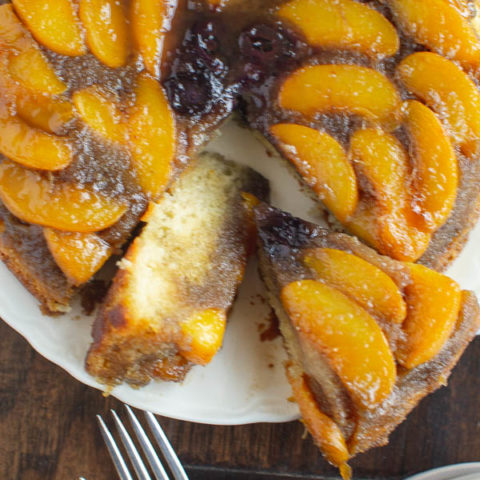 Peach Upside Down Cake
Peach season here in Niagara is always a treat! With the first peaches of the season I made this peach upside down cake and it was a huge hit!
Ingredients
5 to 6 fresh peaches, peeled and sliced
1/4 cup fresh blueberries (optional)
12 tablespoons butter, divided
1 cup dark brown sugar
1/2 cup milk
2 large eggs
1/2 tablespoon vanilla extract
1 1/2 cups all purpose flour
2 teaspoons baking powder
1/2 teaspoon salt
1 cup granulated sugar
1/2 teaspoon cinnamon
1/2 teaspoon cardamom
Instructions
Preheat oven to 350 degrees
Spray a 9 inch round cake pan with 2 inch sides with non-stick spray
In a small saucepan melt 4 tablespoons of the butter with the brown sugar, and stir until sugar is dissolved. Pour into bottom of prepared cake pan.
Arrange peach slices in a circular pattern in one layer over the brown sugar mixture. Arrange blueberries in the centre if you are using them.
Add remaining 8 tbsp (half cup) butter and the granulated sugar to the bowl of electric mixer and beat until light and fluffy.
Add eggs one at a time, beating well after each addition. Add vanilla and beat until combined.
In a large bowl sift together the flour, baking powder, salt and spices.
Add 1/4 cup milk and half of the flour mixture to the bowl and beat until combined. Add final remaining milk and flour mixture and beat for 1 to 2 minutes.
Carefully pour batter over top of the peaches and gently spread to cover peaches completely. Smooth with a spatula
Bake at 350 degrees for 40 to 50 minutes, or until toothpick comes out clean.
Notes
If you don't have a 9 inch cake pan with high sides, simply use a regular cake pan, filling about 3/4 full and then use the remaining batter to make cupcakes. Reduce bake time of cake to 30 to 35 minutes, testing with a toothpick to come out clean.
Monday's Farmers Market Week Recipes