How to Plan the Perfect Summer Dinner Party Tablescape
Looking for some fun summer dinner party ideas? Look no further, as I share my own tips for setting the perfect summer table starting with planning the table decor.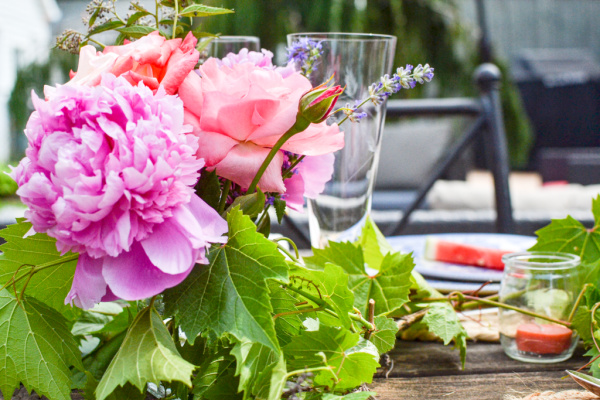 Dinner parties shouldn't be a source of stress! I have a few simple tips that will make setting a stylish summer table easy and affordable! I may have taken a few too many photos, but I really hope you enjoy them as much as I do!
Joining me today with their own summer celebration dinner table decor are 16 lovely ladies who always provide some beautiful ideas for summer celebrations! If you have just popped over from Life and Linda, welcome!
I was really excited about planning this summer celebration tablescape. When Rita from Panoply reached out about sharing summer celebration table ideas, I jumped at the chance. We could choose to share a patriotic tablescape or just style a table that represents the summer season.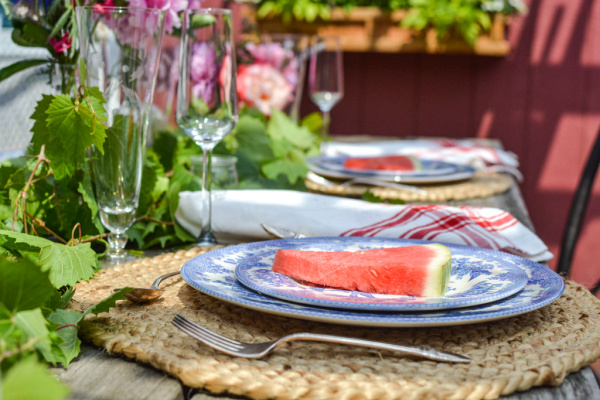 I will be sharing a new patriotic tablescape later this month. Today I wanted to style a table the celebrates the summer season.
It was a photo I had saved on Instagram that would become my inspiration!
So that brings me to the first of 6 simple tips to help you style your summer table…
Summer Dinner Party Ideas
Tip # 1 – Finding your Table Decor Inspiration
If you aren't using the Instagram save feature, be sure to start now! You can organize your saves under different headings to make them easy to find when you want to refer back to them. And, don't just save photos of tablescapes you love, but any photos that light a spark in your imagination.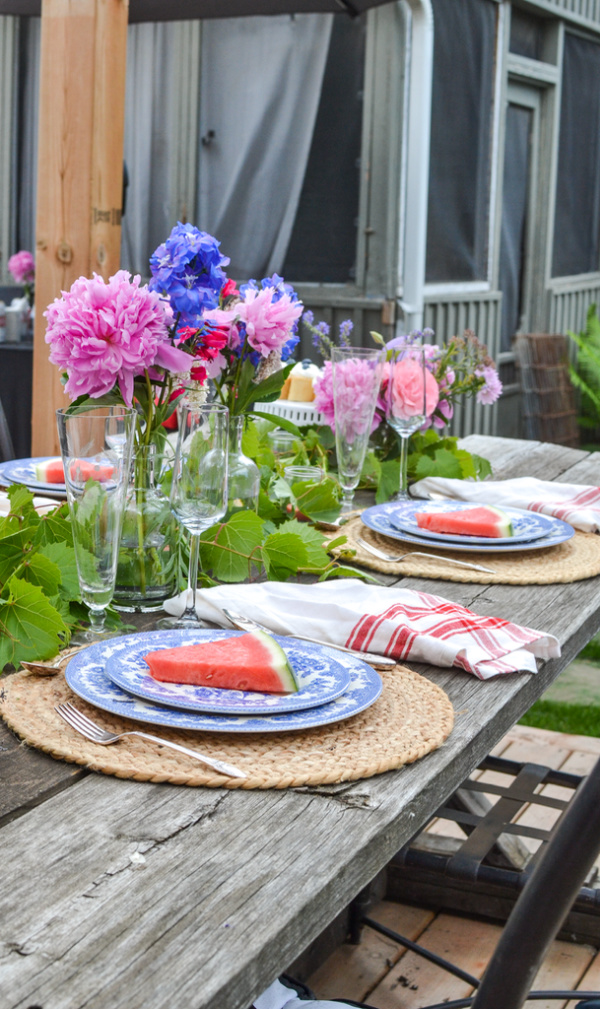 The photo that I had saved is from one of my favourite photographers on Instagram, Christina Greve. A flat lay scene of a random plate and slice of watermelon, with a few other "props" in the photo. But, I was really drawn to the pattern on the plate paired with the watermelon slice.
This became my jumping off point for my table decor.
Tip # 2 – Keeping Costs Down
I hate to sound like a broken record, but SHOP YOUR HOME before you buy anything for your table.
There will likely be times where you have a specific theme in mind. Or maybe you have an idea that requires you make purchases to complete your vision. But, I can't stress enough to always shop your house first.
I did need to purchase the plates for this table, but truth be told, I would have purchased them anyway. I adore the pattern and they were such a low cost, and I will use them everyday, they were worth the expense.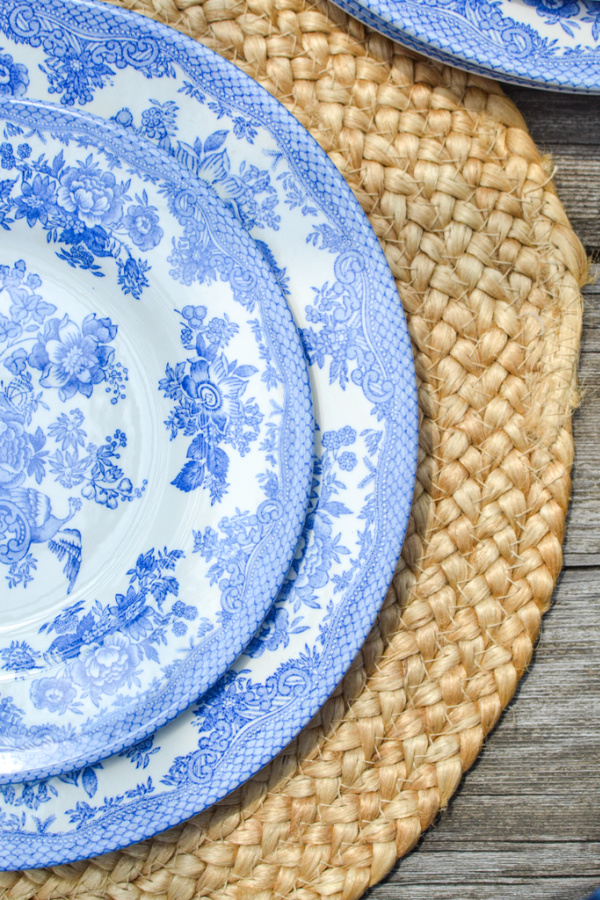 Tip # 3 – Turn Fancy into Casual
One my favourite summer dinner party ideas is to pair fancy with not-so-fancy! You will notice that the pattern on these plates lend themselves to a fancy or formal dinner party.
But, I deliberately left the tabletop undressed. No table cloth or fabric table runner. I simply used a very un-fancy, but very summery rattan place mat under each plate giving them a more casual vibe.
I used simple white cotton napkins with a red stripe pattern throughout. This further gives the table a casual summery ambience. Almost picnic like!
Leaving a touch of tarnish on my good silver is the perfect balance of fancy-casual.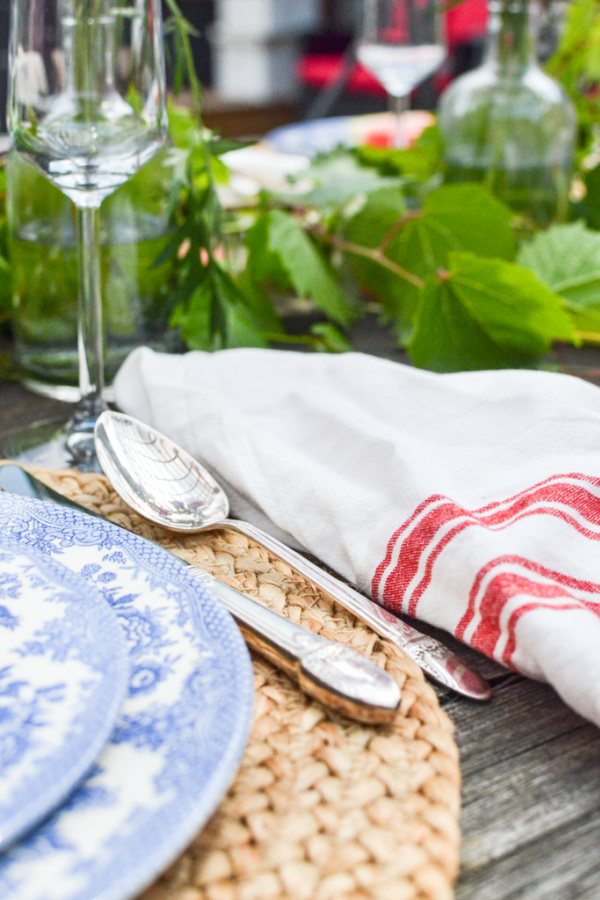 Tip # 4 – No cost summer dinner party decor
Save those unique jars and bottles!
Don't go overboard and hoard every glass jar that you find, but have a good look at them before they hit the recycling bin!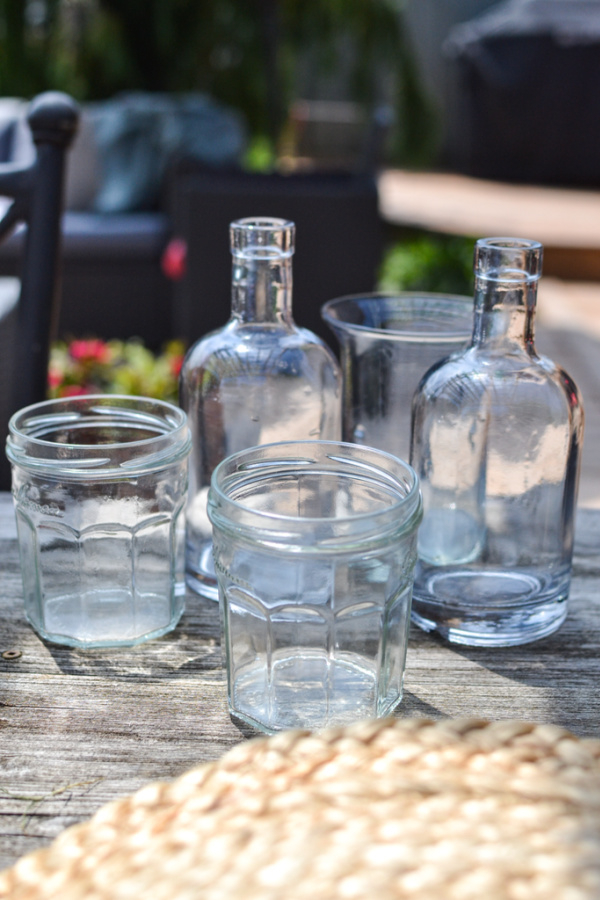 How cute are these glass gin and whisky bottles from a local distillery. I love the shape and simplicity of them. Bonne Mamon jam jars make perfect little flower vases. And their jam is so good too!
Glass yogurt containers serve as tealight holders. Admittedly I do kind of hoard those yogurt jars (I lost count at 20!). You can never have enough candles on the table!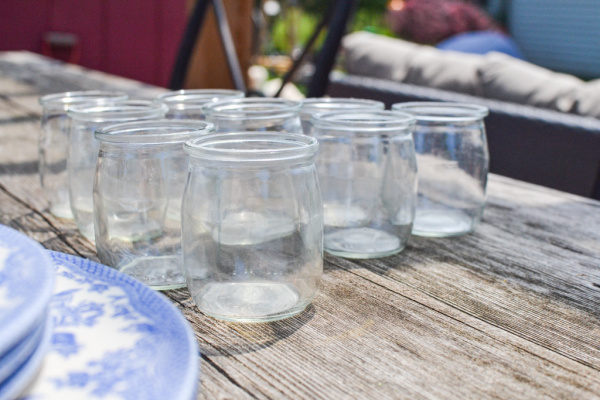 Tip # 5 – Free Flowers for the table
Shop your garden (or maybe a neighbors garden with permission) to source flowers and greenery for the table. Summer is the highlight of garden season and there is a shortage of gorgeous blooms!
I used peonies from both my own garden and a neighbours, roses from my brother's garden, Delphinium and a few other flowers that have just come into bloom in garden.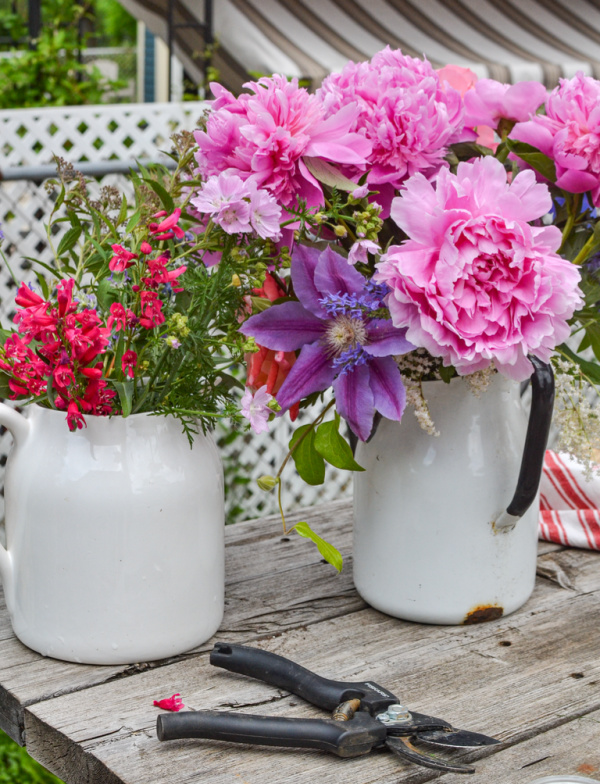 I also used a random vine that started growing along our fence as a table runner! My husband was about to pull it all out when I stopped him and clipped a length for the table.
If you don't have a garden, consider taking a walk along a nature trail and see what is available to clip. I'm not going to lie, I think there may be an unidentified flower I suspect is a weed in my arrangements! Otherwise, pick up a few bunches of flowers at the market and check out my easy tutorial how to arrange grocery store flowers!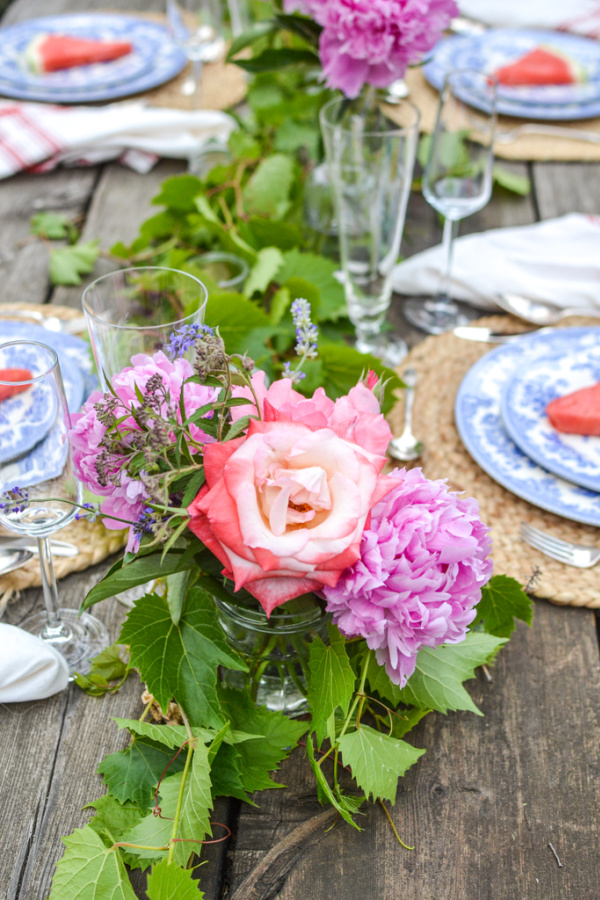 Tip # 6 – Summer dinner party menu shortcuts
When planning the menu for your summer party you want to make sure not to overburden yourself! I often will visit the deli table at the grocery store and pick up fresh olives, some nuts and cheese, and throw together a quick appetizer plate.
Pick the part of the meal that stresses you the least and concentrate on making that homemade, while choosing simpler options for the other food elements!
I had actually planned to make strawberry shortcake this week, but the temperatures sored and the last thing I wanted to do was turn on my oven! Instead I purchased some individual rolled cakes, cut them in half and topped them with fresh whipped cream and blueberries!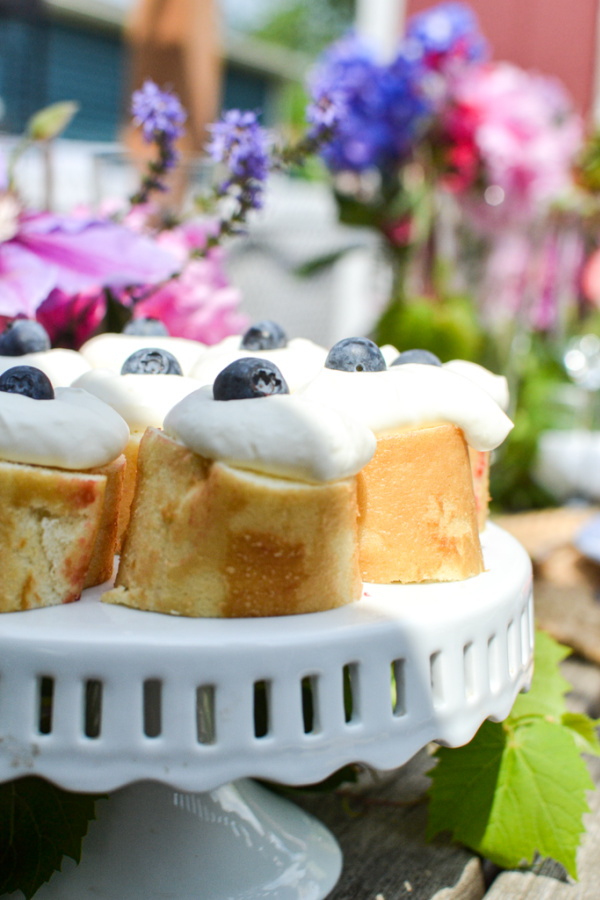 Following these simple summer dinner party ideas and make celebrating the season a breeze. Even on the hottest of summer days!
A few more photos that capture our first celebration of the summer!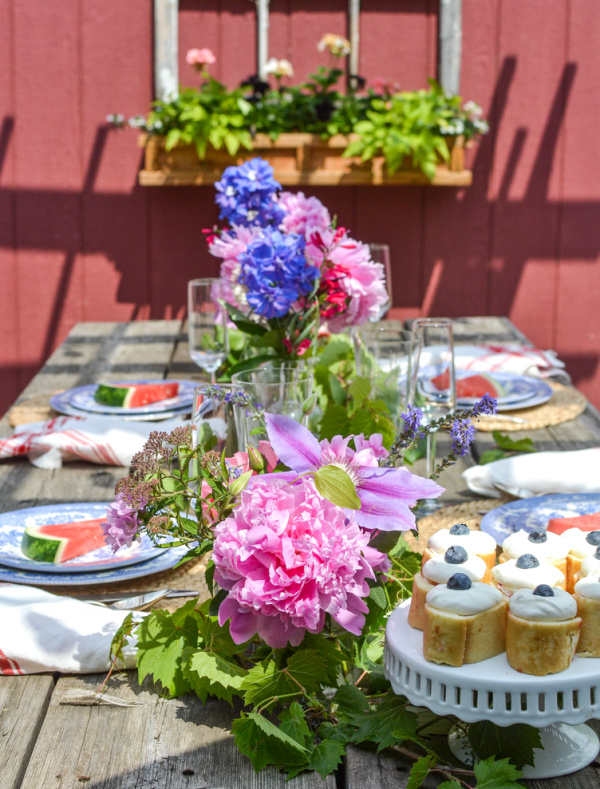 Since my mom passed two years ago, my brother still lives in the family home and I am so proud of how he is tending her gardens! He was pretty proud that her roses are producing an abundance of blooms this year.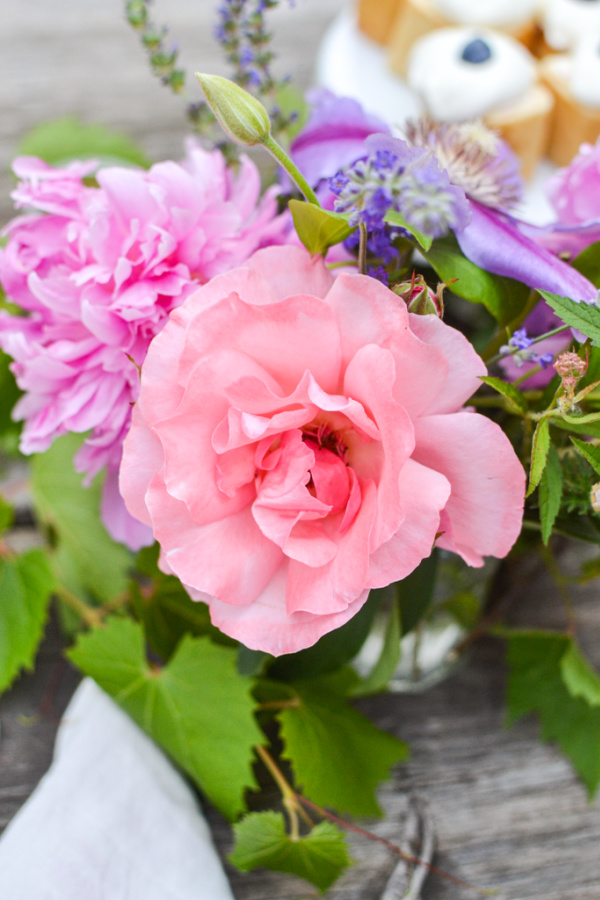 Can you see why I was drawn to the combination of the blue and white plates and the slice of watermelon? The fancy plates really take on a casual feel topped with the green and pink slice!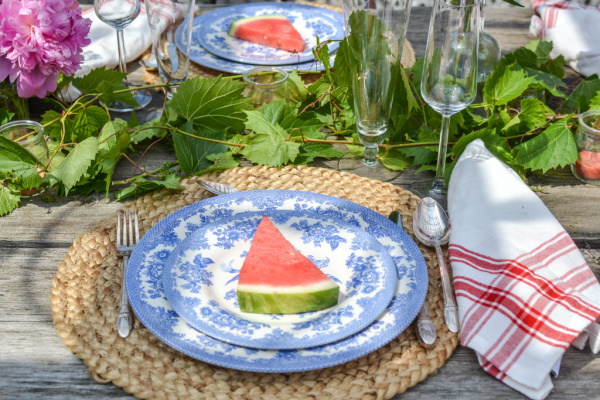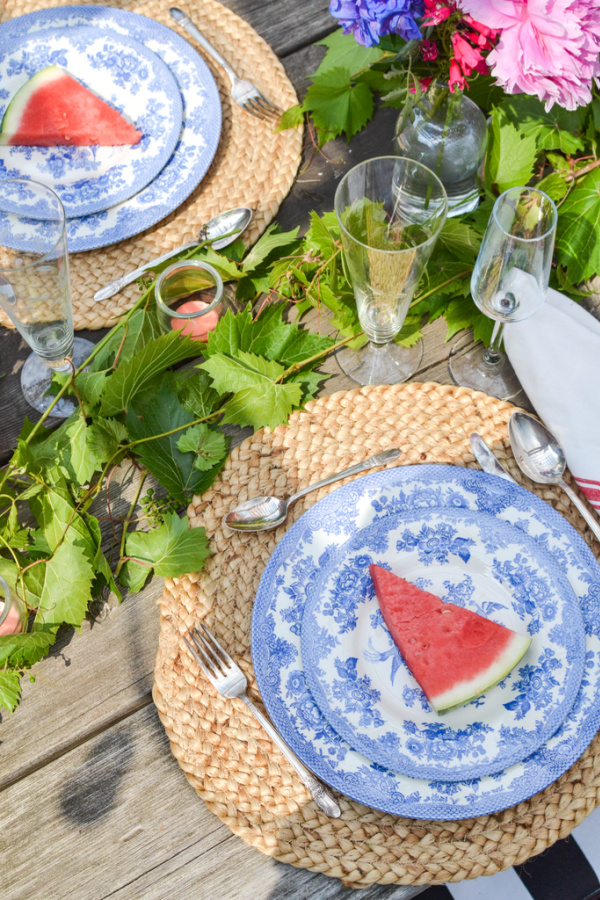 I truly hope you have enjoyed the tour of my own alfresco table today, and maybe picked up a few tips to make your next dinner party easy and stress free!
Next up is Sarah from Hyacinths for the Soul! But be sure to visit 16 over very talented table styling bloggers who are sharing their own summer tables today! You are in for a real treat!
17 Summer Dinner Party Ideas for Your Table Decor
Home is Where the Boat Is – Dockside Nautical Table Life and Linda – Mermaid Kisses and Starfish Wishes Red Cottage Chronicles – How to Plan the Perfect Summer Dinner Party Tablescape Hyacinths for the Soul – Summertime, and the Livins Easy! My Thrift Store Addiction – Lemons and Jadeite Summer Garden Tea for Two Bluesky at Home – Summer Blue and White Table for a Dinner Party Celebrate and Decorate – Nautical Tablescape for the Fourth of July Corner of Plaid and Paisley – Sweet Peach Summer Table My Hubbard Home – Cottagecore Citrus Tablescape Ideas for Summer Entertaining Belle Bleu Interiors – Welcoming Summer With an Outdoor Tablescape The Painted Apron – Shells on the Beach Living With Thanksgiving – Patriotic Table by the Pond Debbee's Buzz – Fun Flamingo Tropical Table Everyday Living – A Welcome to Summer Zucchini Sisters – Lobster Table Setting for Two on the Dock The Little Yellow Corner Store – A Bold, Striking Summer Magnolia Tablescape Inspired by Nature Panoply – Summer Seaside Scenes Tablescape
And, if you want to see my inspiration photo by Christina Greve, click here! I highly recommend you give her a follow!
Until next time….