Winter Woodland Christmas Tablescape
I almost hate to ask, but are you ready for Christmas yet? I wish I could say I was! Thankfully though there are just a couple of gifts to pick up and a thorough cleaning of the house, which will both be done this weekend.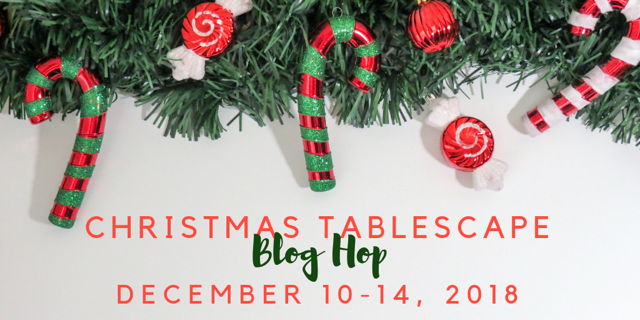 Thanks to Chloe from Celebrate and Decorate and this years Christmas tablescape blog hop, I do have my Christmas tablescape all set. This year I wanted something to compliment our Christmas mantel, as well as my husbands Christmas village. I came up with the idea of setting a winter woodland Christmas tablescape.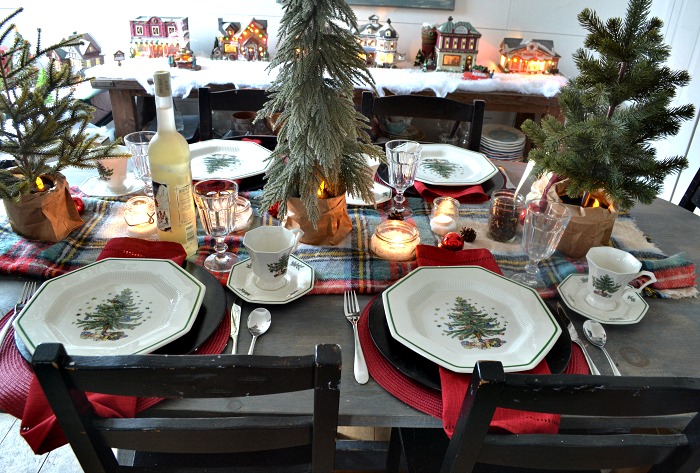 Just like my Thanksgiving tablescape, I rounded up things that I already had instead of buying new. It is such a good feeling when I step back and take it all in knowing it didn't cost anything AND I don't have a bunch of new things I need to find storage room for!
My daughter's plaid blanket scarf made the perfect table runner when folded. Note to daughters: this is what happens to your things when you move out and leave them behind!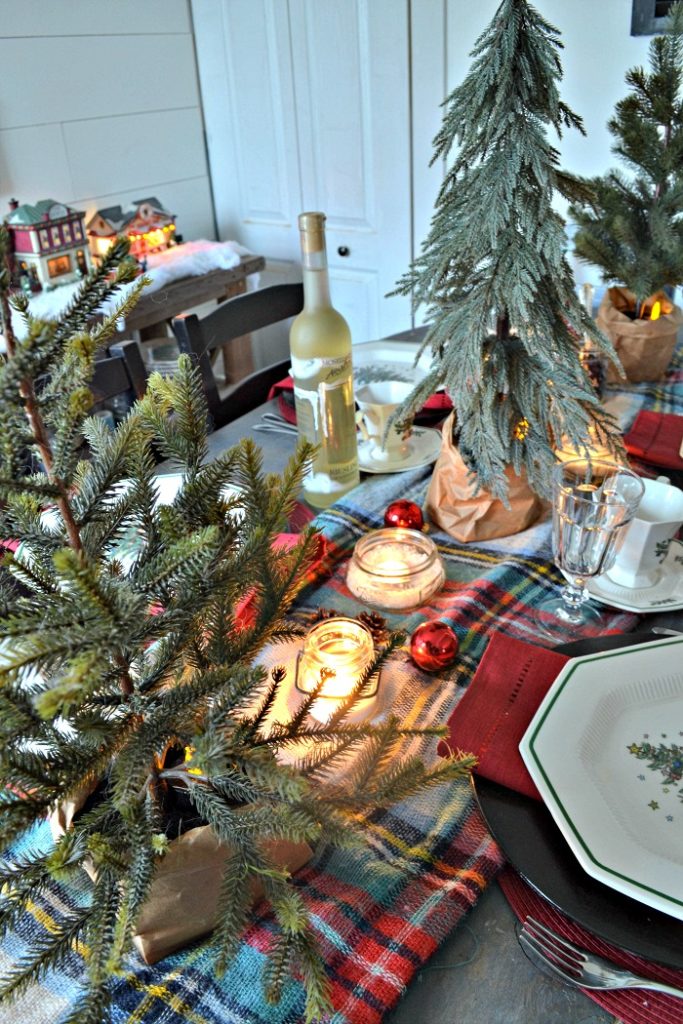 I selected three of the faux Christmas trees I have purchased from Ikea over the last few years. I was going to put them in three different pots, but I remembered the paper lunch bags I had tucked away in a kitchen drawer. I simply rolled them down and placed each tree in a bag.
Since the trees are all very tall, I placed one right in the centre and the other two near either end of the table to avoid interrupting sightlines across the table. There is nothing worse than trying to hold a conversation with someone across from you and not being able to see them!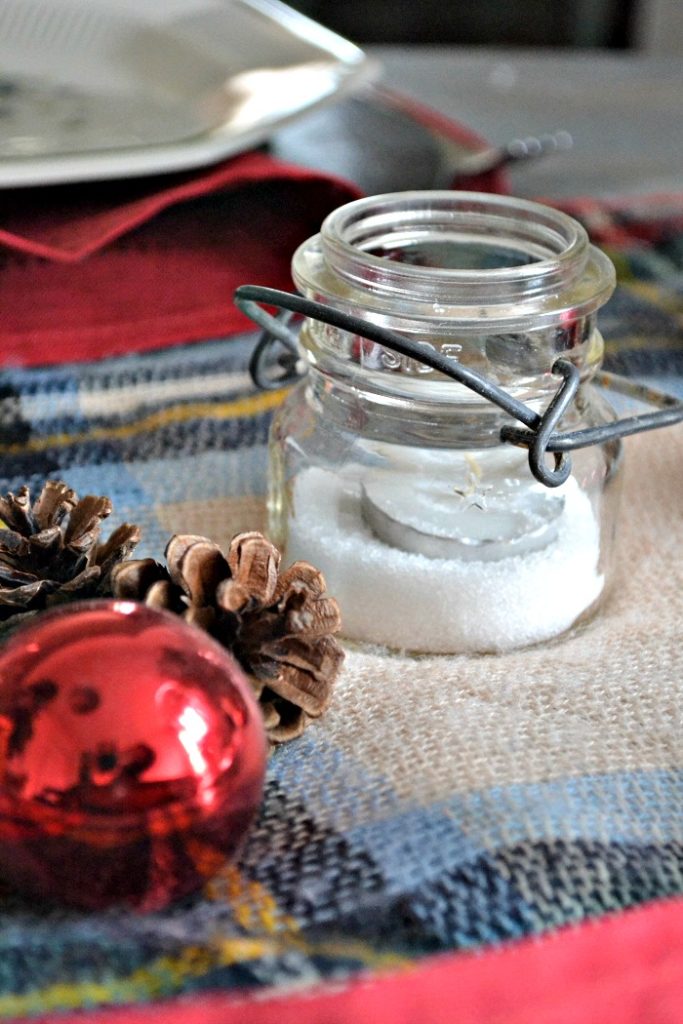 To keep things low between the trees, I selected a few little glass jars from the cupboard to hold tea light candles. Two I filled with salt and two I filled with faux snow bits.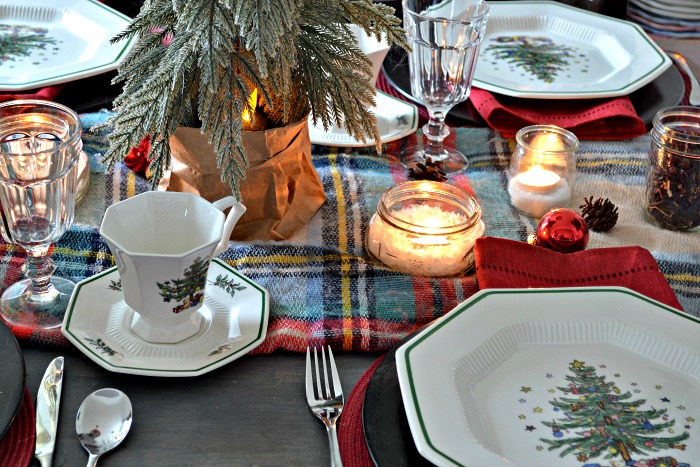 The dishes I have had for years. I purchased it at an auction for just $10 dollars. It only has the four dinner plates and for cups and saucers, but I really love the pattern and the shape. I use them during the holidays every year.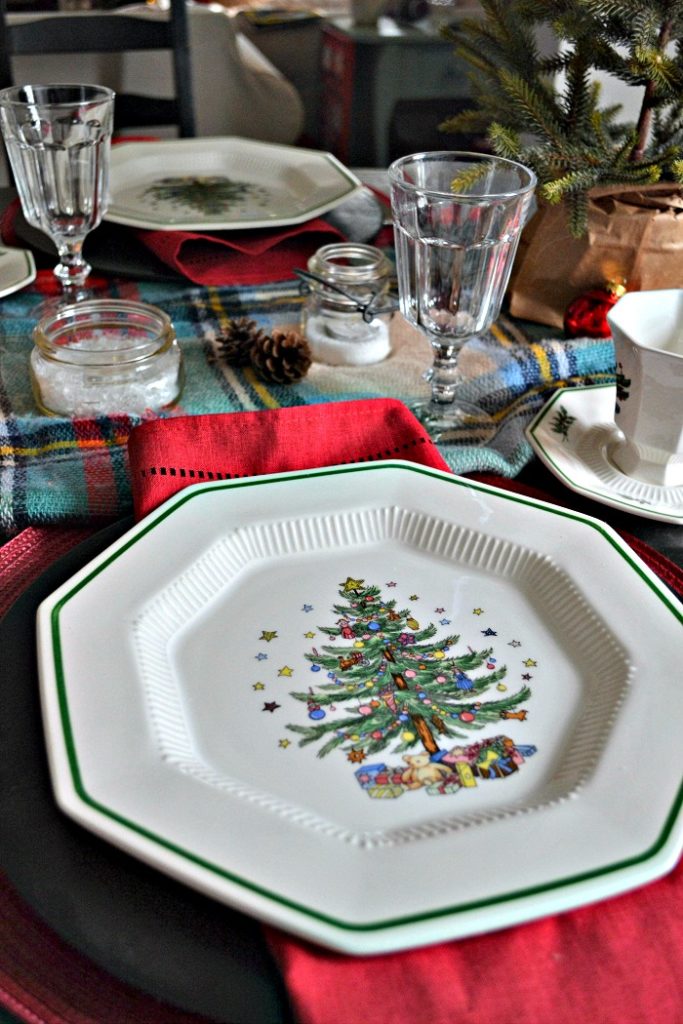 Wood chargers anchor the woodland theme, and are stacked with red rattan place mats, red Hemstitched linen napkins and the Christmas tree plates.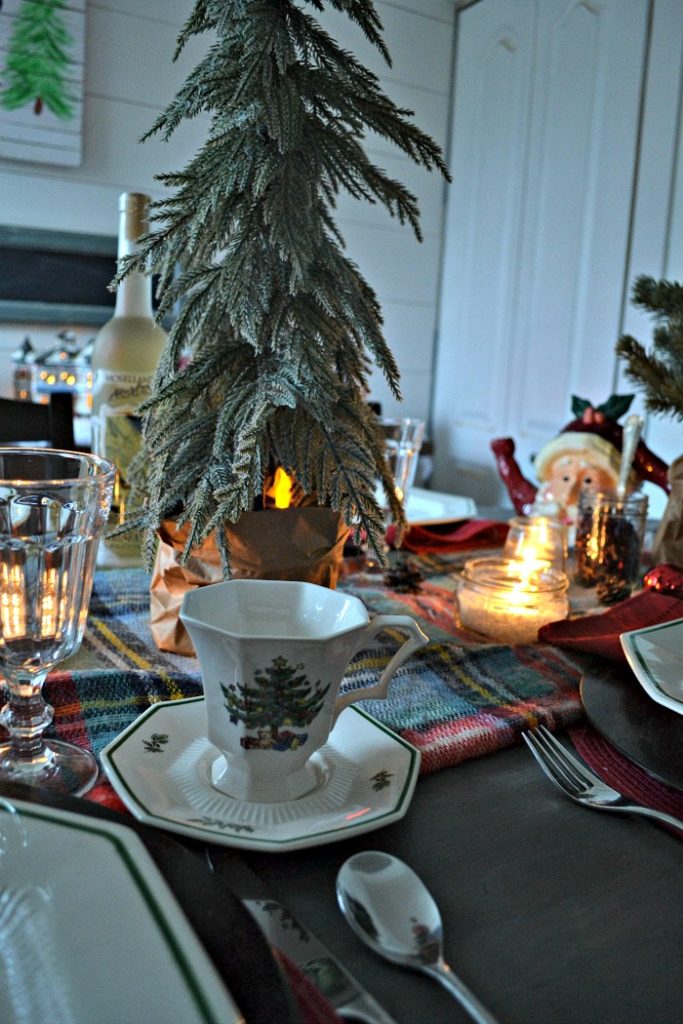 Inexpensive Ikea stemware round out each place setting. Perfect for serving this Reisling from Germany. Riesling is one of my favourite wines, but in this case it was the fun wine bottle that caught Tim's eye! The image of the kids playing pond hockey is a familiar sight in Canada. It is actually on the back of the bottle projected through the wine. Makes for a whimsical winter scene!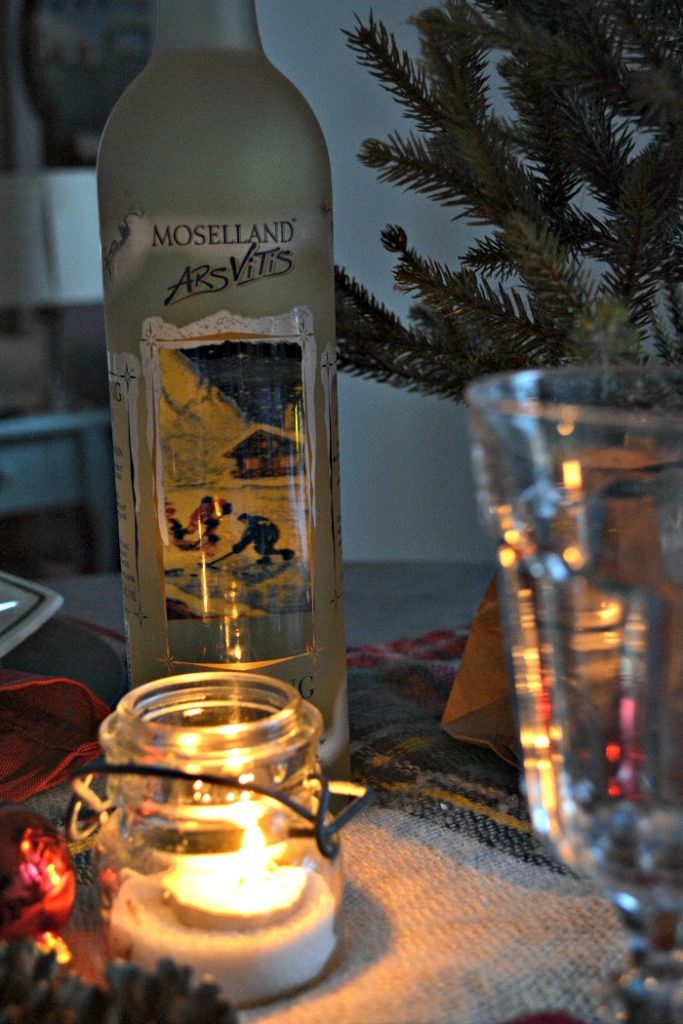 Hockey is very much a part of Christmas in our family. The World Junior tournament is held every year beginning on Boxing Day and no matter where in the world it is being hosted (which sometimes means the games are broadcast live in the wee hours of the morning) you will find us watching whenever Canada is playing!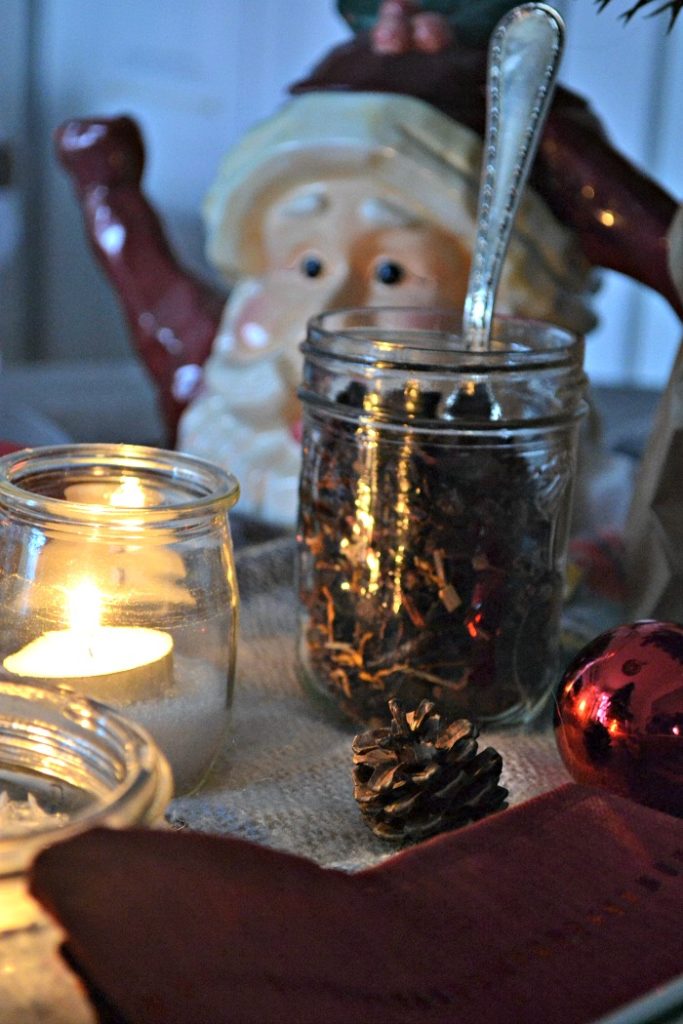 My old Santa teapot awaits boiling water to be poured over cranberry Christmas blend tea leaves. They smell so wonderful dry, I can imagine how delicious the tea will taste.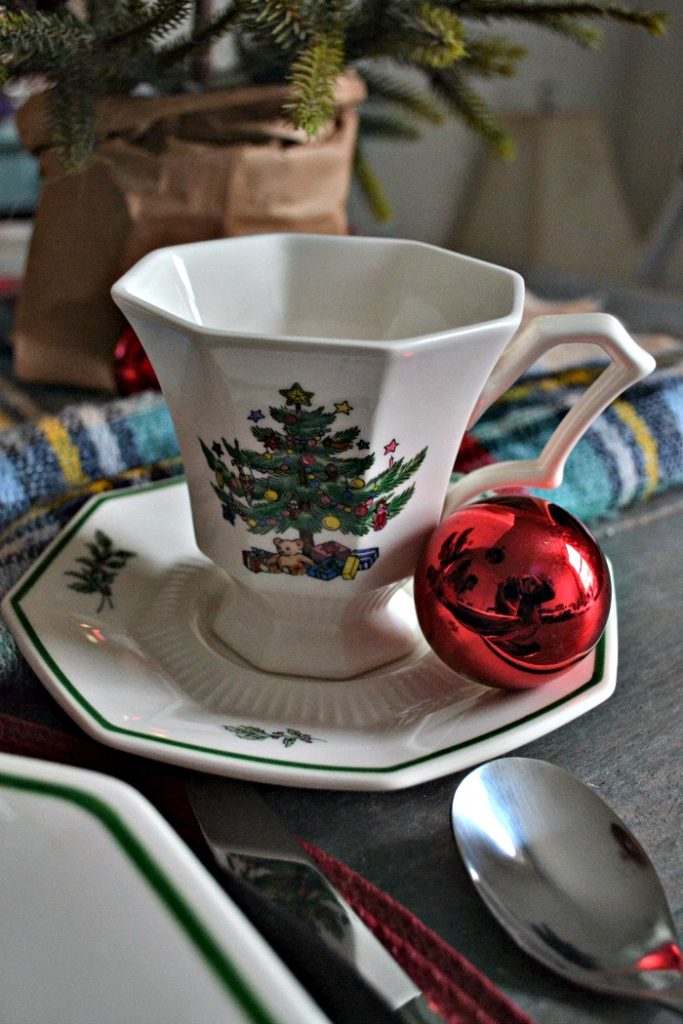 And finally, a few red Christmas balls add some sparkle and shine against the candlelight!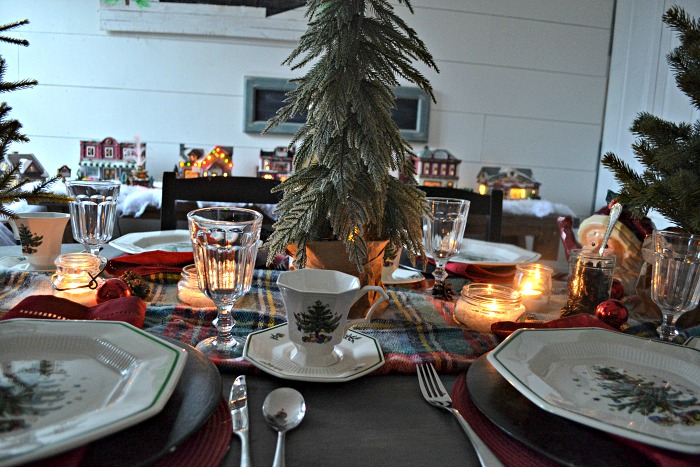 I hope you have enjoyed my Winter Woodland Christmas Tablescape, and maybe even gleaned a few ideas for your own.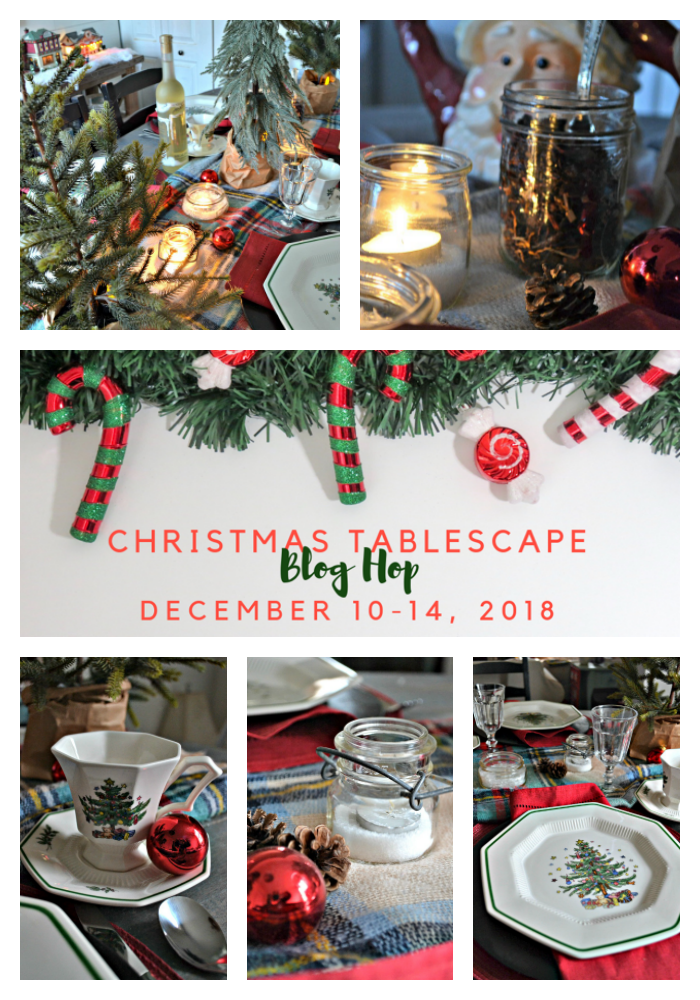 Did you know I have a tablescapes page where you can find links to all my seasonal and special occasion tables!
And, don't forget to visit all the participants in our Christmas tablescape blog hop! All the links are below. Stop by and have a look at all the different styles and ideas.
Until next time….


Monday
Home is Where the Boat Is | Everyday Living | Knock it Off Kim | A casa di Bianca
Tuesday
Life and Linda | The Painted Hinge | Panoply | Corner of Plaid and Paisley
Wednesday
Debbee's Buzz | Follow the Yellow Brick Home | Living With Thanksgiving
Home and Gardening With Liz
Thursday
Red Cottage Chronicles | The Painted Apron | Our Crafty Mom | Celebrate & Decorate
Friday
From My Carolina Home | Sweet Sensations | Me and My Captain
Zucchini Sisters | Bluesky at Home