Market Flower Monday – Hand Tied Bouquet
Welcome to another edition of Market Flower Monday! This past weekend was a stellar weekend for early spring weather and for fresh flowers at the market! The selection was much better than it has been in a long time and I may have gone a little over budget. I did however have enough flowers to make this beautiful hand tied bouquet plus some for next time!
In fact, the weather was so nice I actually did all my flower arranging outside and even managed to record a video that I have included down below to show you the process! It wasn't long before I started day dreaming about enjoying dining al fresco again!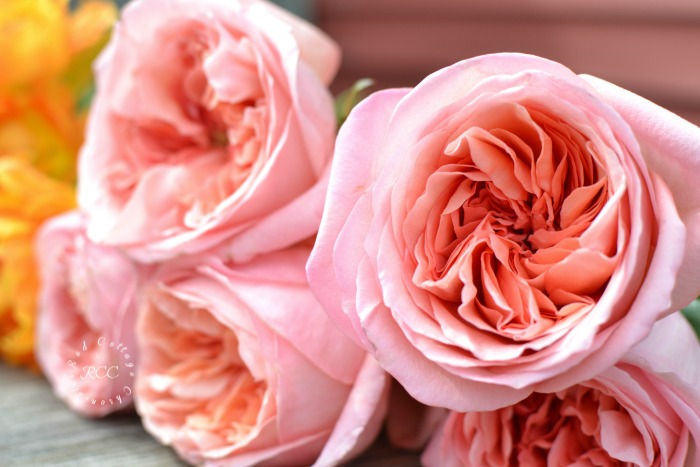 I could not believe it when I saw these gorgeous garden roses reduced to just $3.00 a bunch. I have never seen these roses at our local market before, and to say I was a little excited was an understatement. I am not sure of the variety of this rose, but it looks like the Alnwick Rose from David Austin. This year we are planning a cutting garden, and a David Austin rose bush is on my list of must have plants!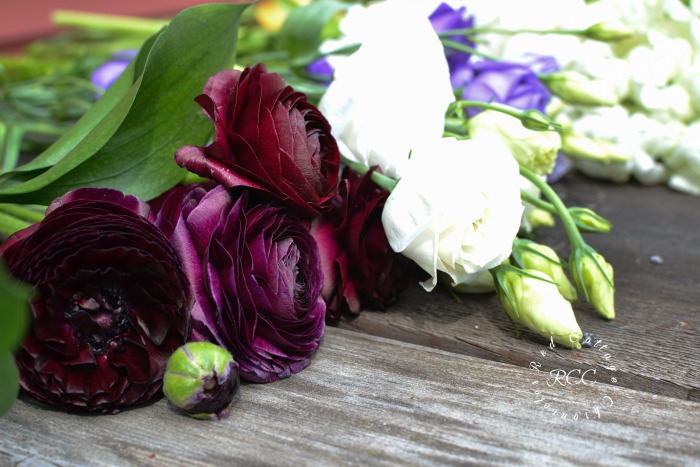 These deep velvety purple of rununculus are gorgeous. White and purple lisianthus also caught my eye.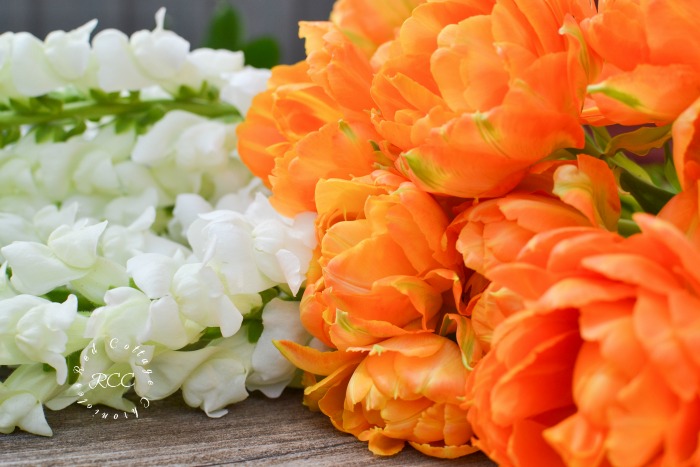 I bought the snow white snap dragons for their graceful height and to balance all the vibrant colours. These bright orange double tulips were just the pop I was looking for.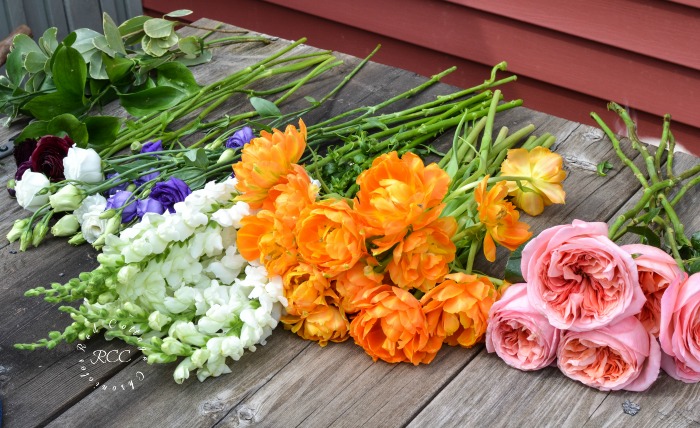 Can you tell that colour was the theme of this week's Market Flower Monday?! When I headed out I knew that I wanted to create a colourful, joyful, bouquet reminiscent of an English country garden.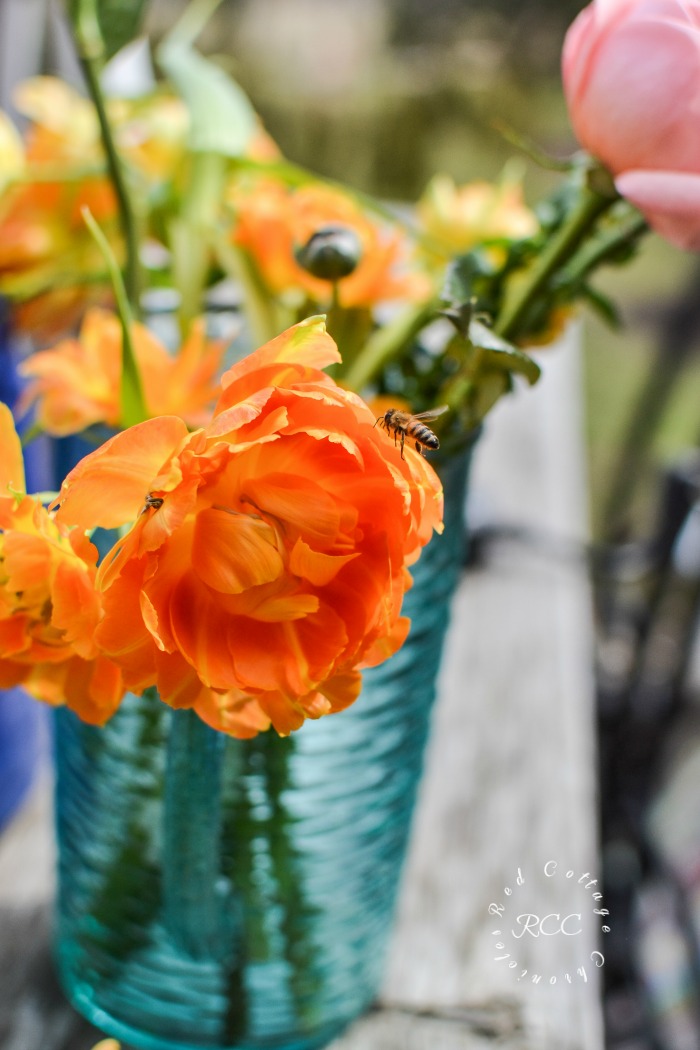 It was such a beautiful day even the bees were out enjoying my flowers! This little devil was in and out of the tulips the entire time. It was a little unnerving, so I finally set some aside to give him his own space.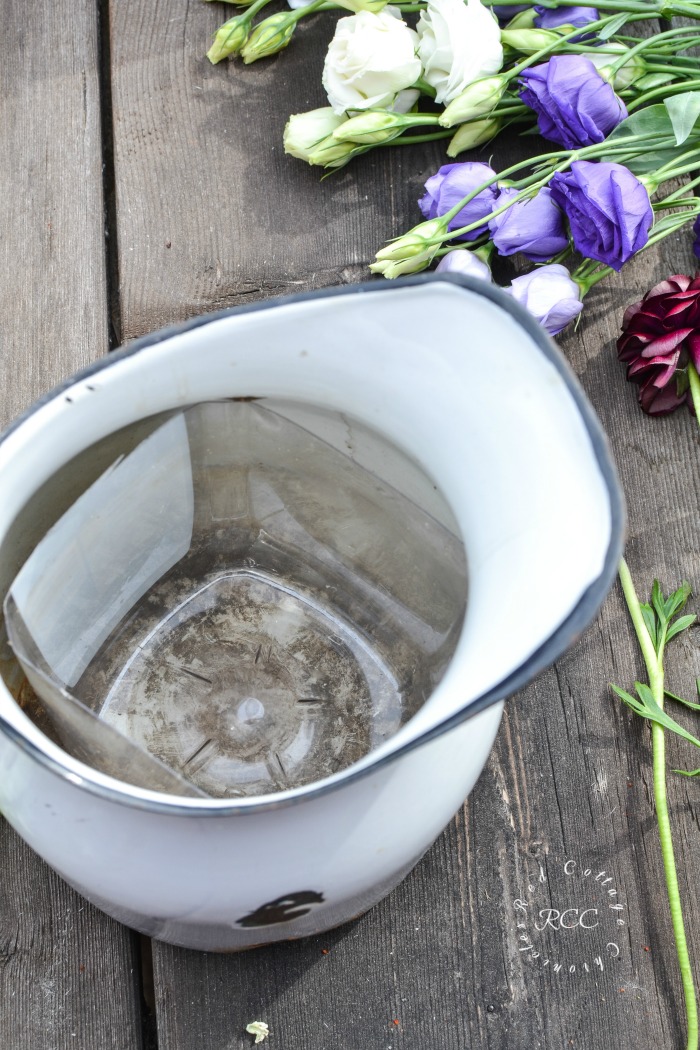 When the bouquet was all ready, I used this old enamel jug to hold them. It is rusted straight through in a few places so I always line it with the bottom of an old plastic juice bottle.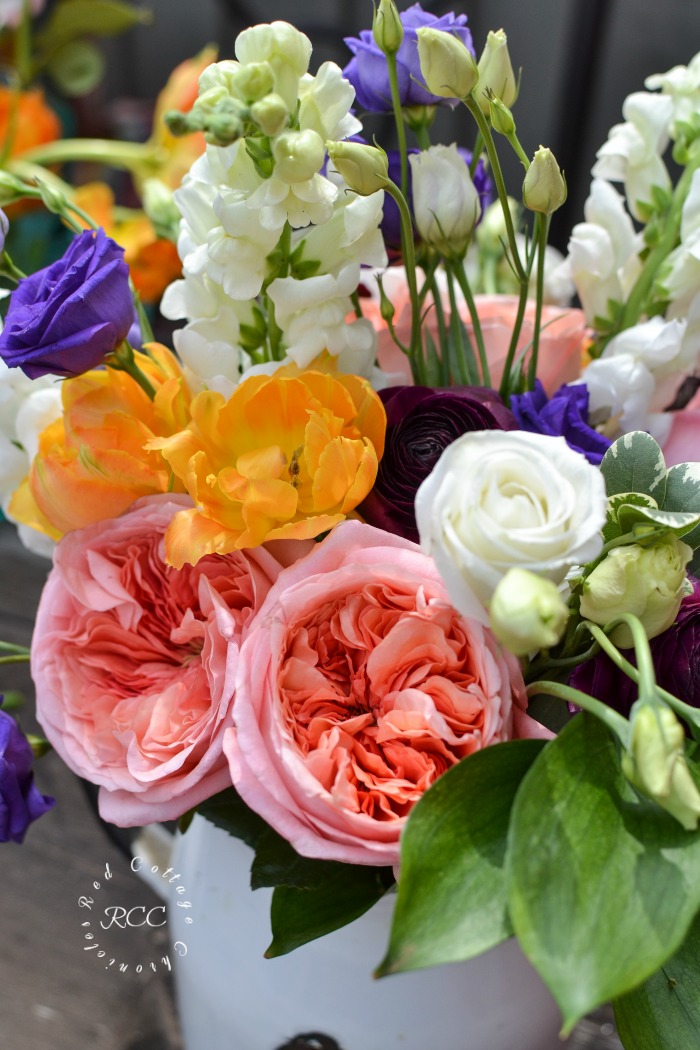 So pretty, don't ya think?! It definitely has a country garden feel, which just happens to be my favourite kind of flower arrangement. It's casual, laid back, and looks like the flowers have just been plucked from the garden!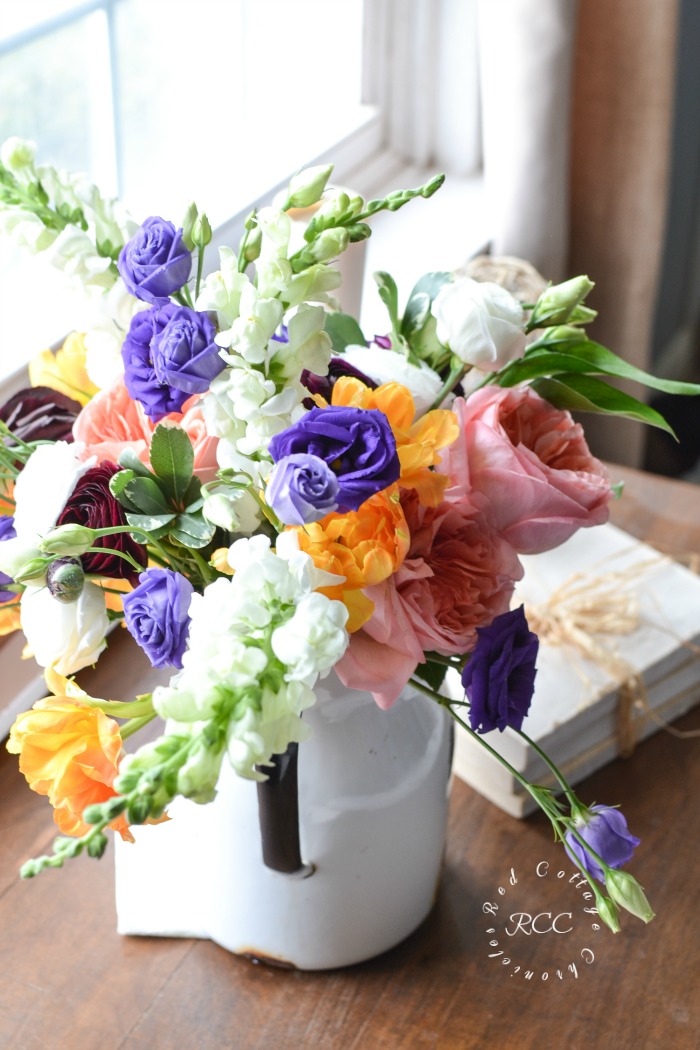 As I mentioned in the last Market Flower Monday post, tulips are a wonderful addition to any bouquet. They tend to have flexible stems that spill over the edge of the pitcher. The lisianthus also have long graceful stems and when the smaller blooms are snipped off the main stem, the smaller stems also gently drape over the sides.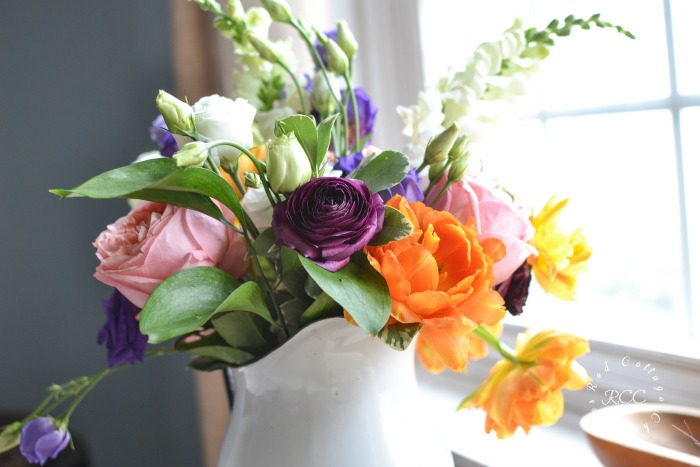 Using the hand tied bouquet technique is an easy way to arrange flowers in a informal and carefree way. When you have arranged all the blooms to your liking you can tie it snugly to make a tight and symmetrical arrangement. Or, like I did with this one, keep the pressure loose and pull some stems up higher than others to add dimension and the feeling of movement.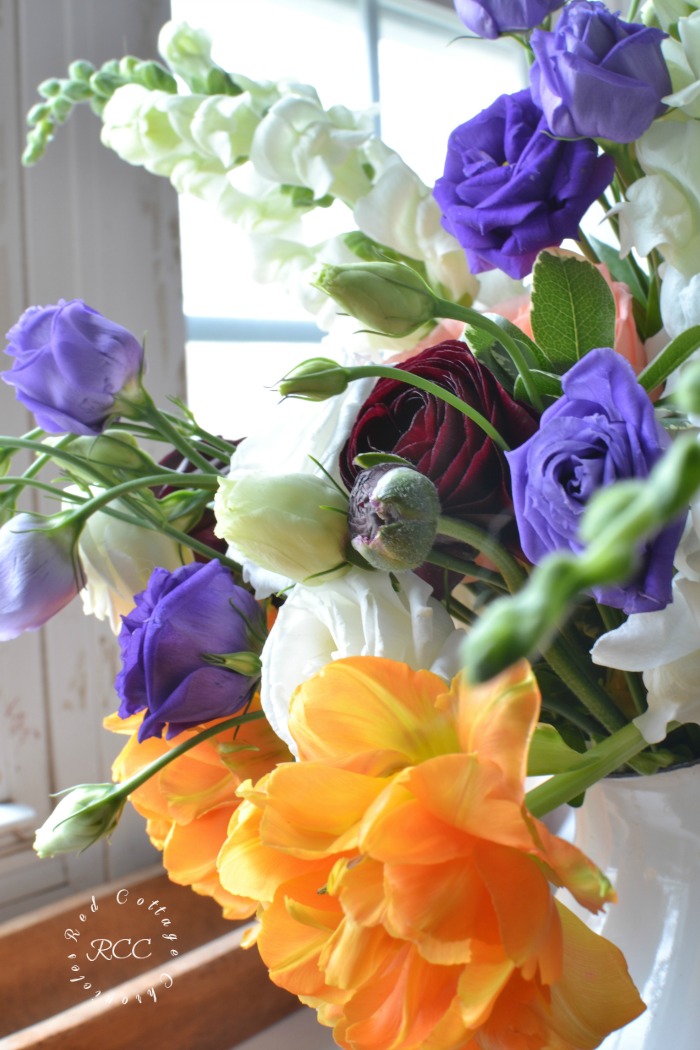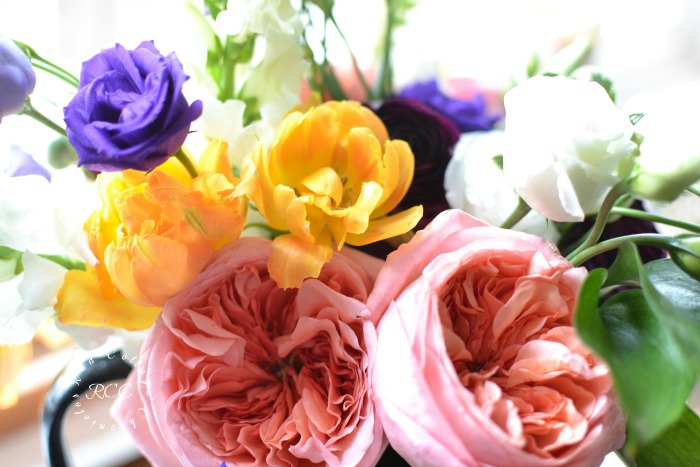 Tips for arranging a hand tied bouquet:
prep all the flowers before you begin. Strip all the leaves and thorns off. It is also a good idea to snip off the extra stems that usually are attached to ranunculus blooms, and separate the longer lisianthus stems.
Create a circle with your thumb and index finger by touching them together tip to tip
Begin by placing three or four stems of greenery in the circle
Next add the blooms, one at a time sliding it into the circle of your fingers. I always begin with one of the sturdier stemmed flowers. In this bouquet it was the roses.
Continue to slip the stems into the circle and arranging them to your liking
Keep a loose grip with some wiggle room for the stems. A too firm grip may result in breaking some stems
As the bouquet begins to come together feel free to re-position any blooms that may have shifted out of place
Tie off the bouquet using floral tape, ribbon on twine. I prefer to use floral tape and keep the arrangement a bit loose to create an airy arrangement, but feel free to tape or tie it snuggly if you prefer
I have recorded a video of how I made this hand tied bouquet to give you a visual of how it came together!
A hand tied bouquet is also the perfect way to share flowers with friends. Simply add a pretty ribbon and wrap the whole bouquet in simple Kraft paper. All the recipient has to do is add water to a vase and set the flowers in.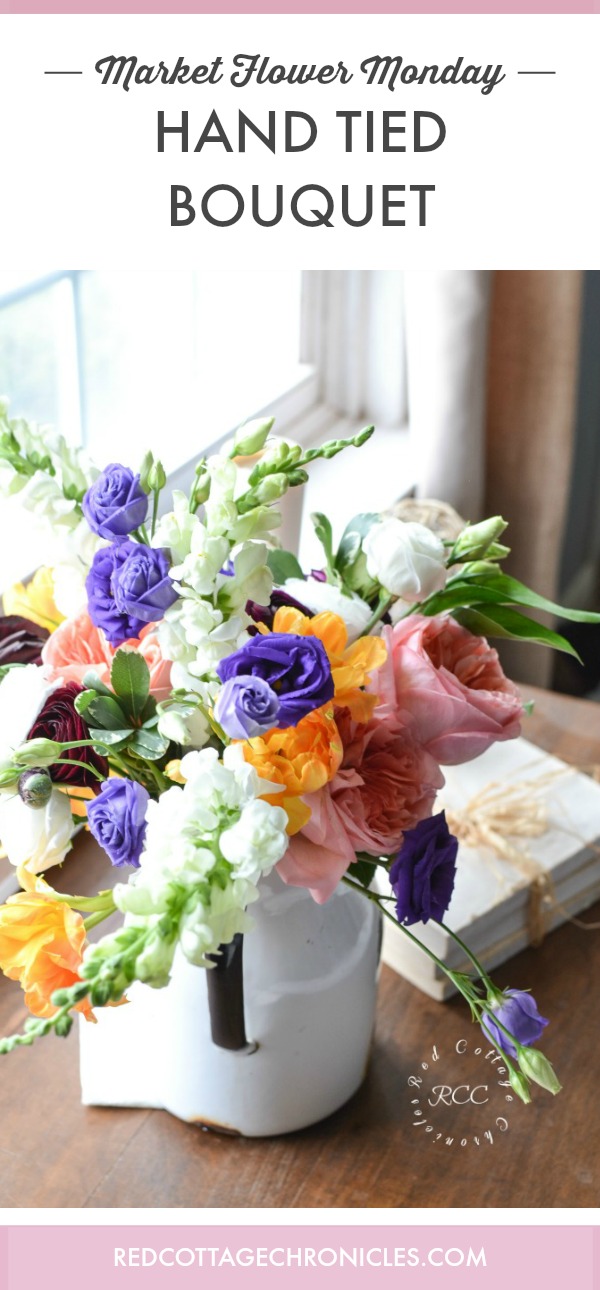 I sincerely hope that you have enjoyed this edition of Market Flower Monday! I have a fun flower arrangement project in the works for next time. Until then you might enjoy a peek at this bright and cheerful market flower arrangement.
Until next time…..