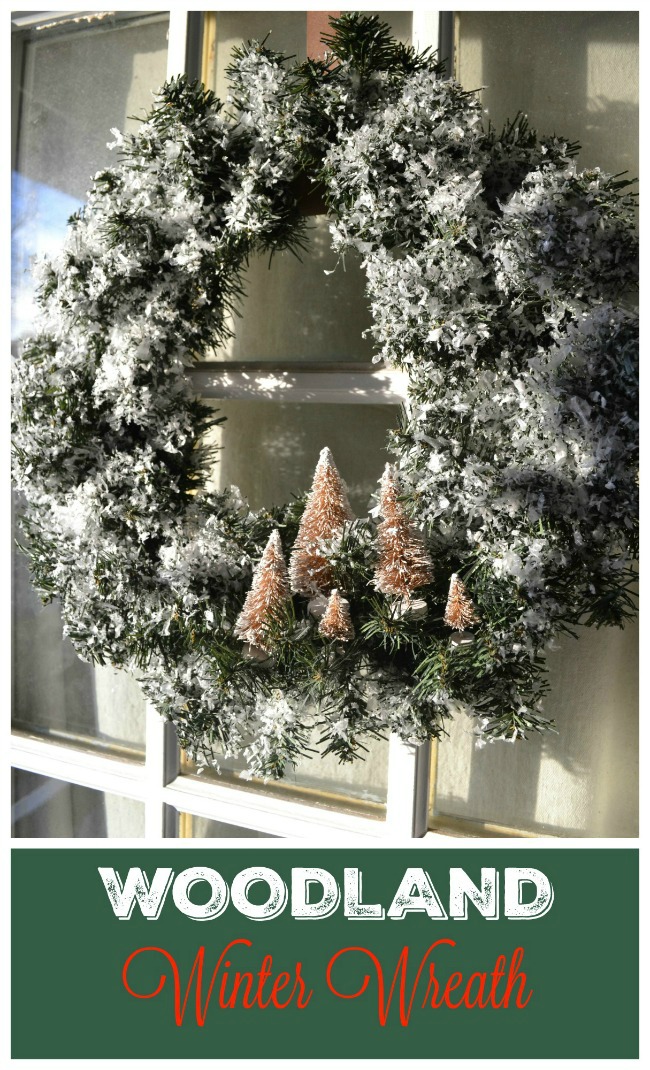 Well, the seasons have officially changed at my house! I have hung my winter wreath on the front door!
Usually I hang a Christmas wreath, but this year I wanted something that is going to work throughout the entire winter season, while still setting the mood for our Christmas décor theme. And, since this year I am trying to keep it simple and outdoorsy, I knew this wreath would be the perfect fit!
I am also limiting my spending on décor this year and this was more motivation to keep it simple and a bit more versatile to last beyond the Christmas season.
I already had the wreath, which I purchased last year for $2.99 at Michaels. The tiny natural evergreen trees came in a package of 6 in assorted sizes for $4.99, but I used a 40% off coupon to lower the cost! I also picked up a bag of "plastic" snow flakes at Walmart for $3.00. If you don't have spray adhesive, you can also pick it up pretty cheap at Michaels with a coupon as well.
The other great thing about this winter wreath is that it is beyond simple to make!
Step One: Gather your supplies, making sure to fluff all the branches of your wreath and plug in your glue gun. (I always rest mine in a metal disposable pie plate)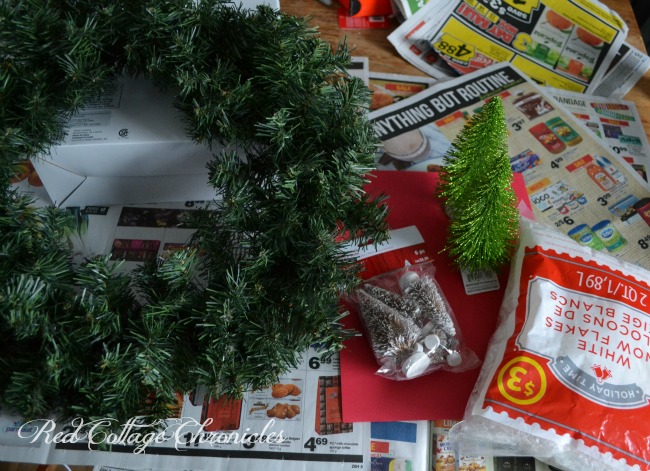 Step Two: Stand up the wreath and rest it against a box or something sturdy to keep it upright while you work. Arrange the trees to your liking.
( I had some green glittery mini trees, but really didn't want to use them when I saw how pretty it was with just the natural ones.)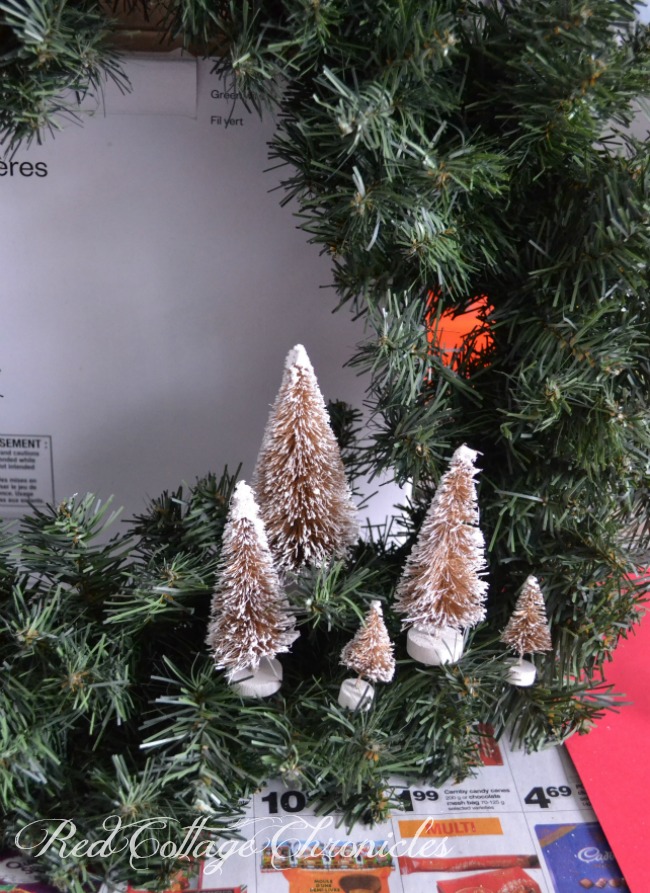 Step Three: Using a glue gun, carefully add a dab of glue to the bottom of each tree base and secure in place.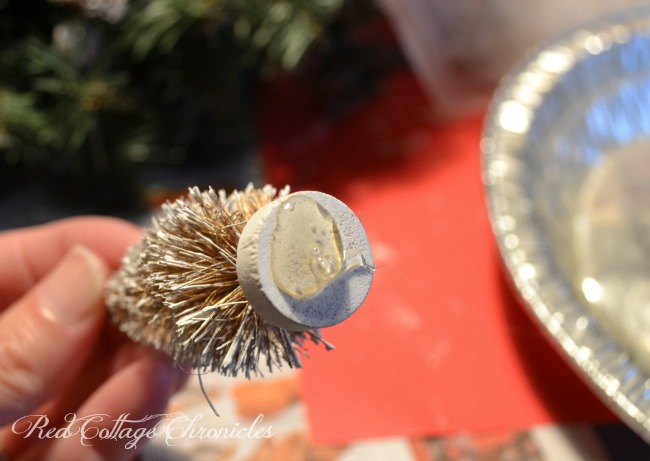 Step Four: When all your trees are secured in place, lay the wreath flat on the table. Make sure the work surface is covered in paper to protect it from the spray adhesive!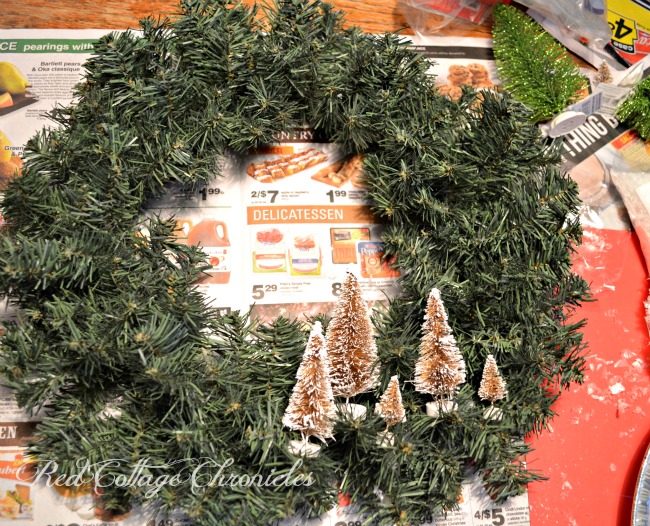 Step Five: Working in sections, spray the wreath thoroughly with adhesive. Sprinkle with "snow", and continue all around until the wreath is covered. Be careful not to spray the trees themselves.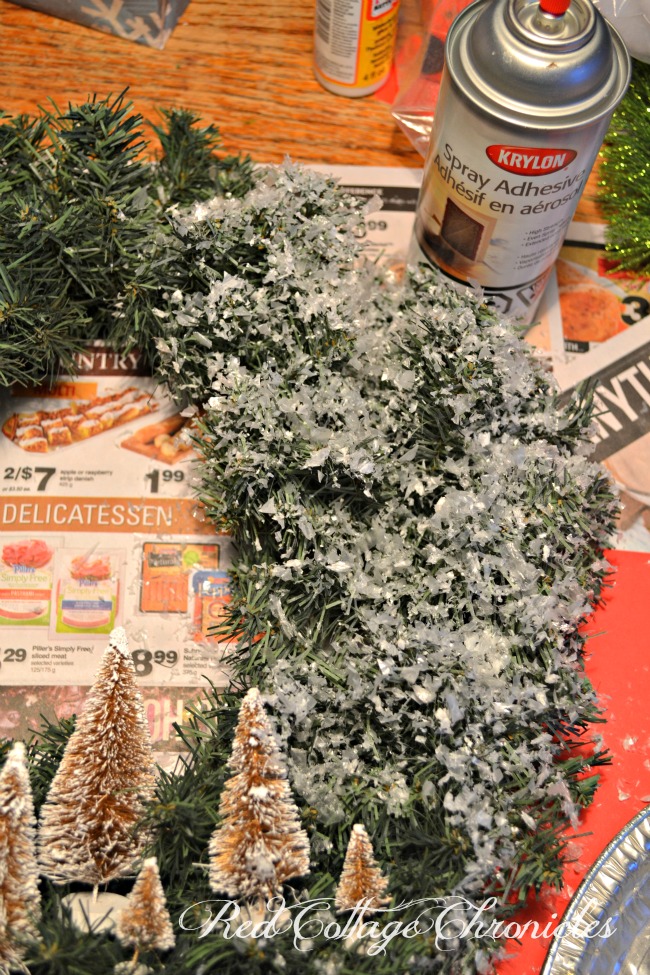 That's it! Now shake off any excess "snow" and hang your masterpiece on your door for all to enjoy!
No need to pack it away after right after the holidays. Since it so neutral it is meant to enjoy the entire winter season!
Now, if we could just get some real snow around here maybe it would actually start to feel like Christmas. I have to admit I have not exactly been feeling full of the Christmas spirit and it has been hard to get started decorating this year. With temperatures way above average I have been slow getting into the swing of things!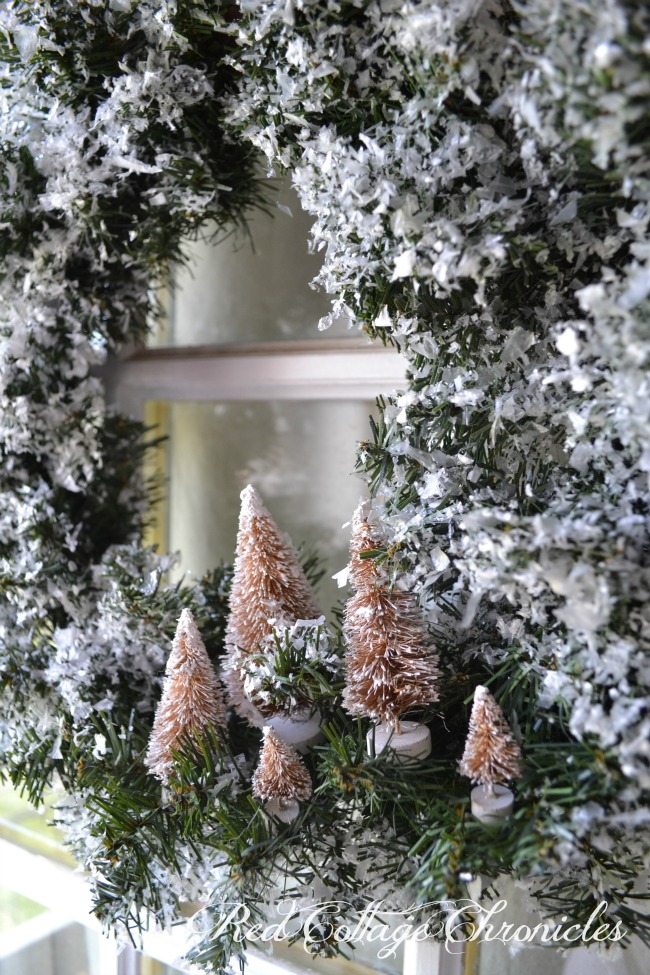 Making this easy and inexpensive winter wreath has ignited a bit of a spark, and with our annual kick off to Christmas weekend starting with the Candlelight Stroll on Friday and then the House Tour on Saturday, I should be firmly immersed in the holiday spirit by this time next week!
Until next time…
Maureen