Holiday Home Tour Blog Hop My Christmas Kitchen
When do you start decorating your home for Christmas? Since we get a live tree every year, we really don't start decorating in earnest until the first weekend of December. It has always been our official Christmas Kick-Off Weekend. We start by attending the annual Candlelight Stroll always held on the first Friday of December, followed by the Rotary Club House Tour on Saturday. On Sunday is the day we purchase our tree, set it up and decorate it!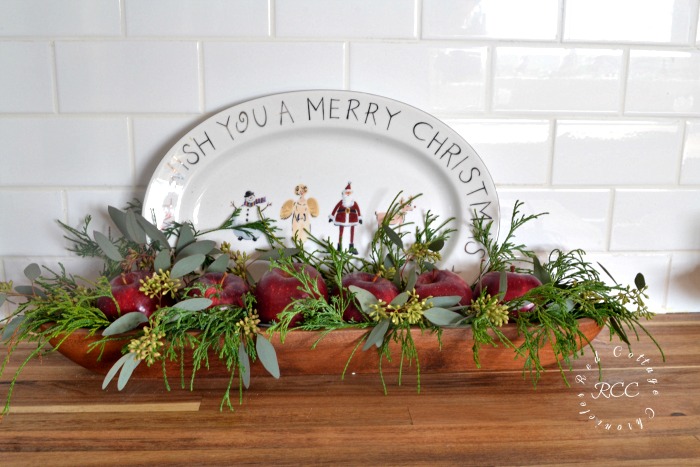 However, I am always ready to start decorating in late November. Since I spend so much time in the kitchen I start with that room first! I don't go overboard with the Christmas décor but I do add some festive touches both fresh and faux that get me in the spirit.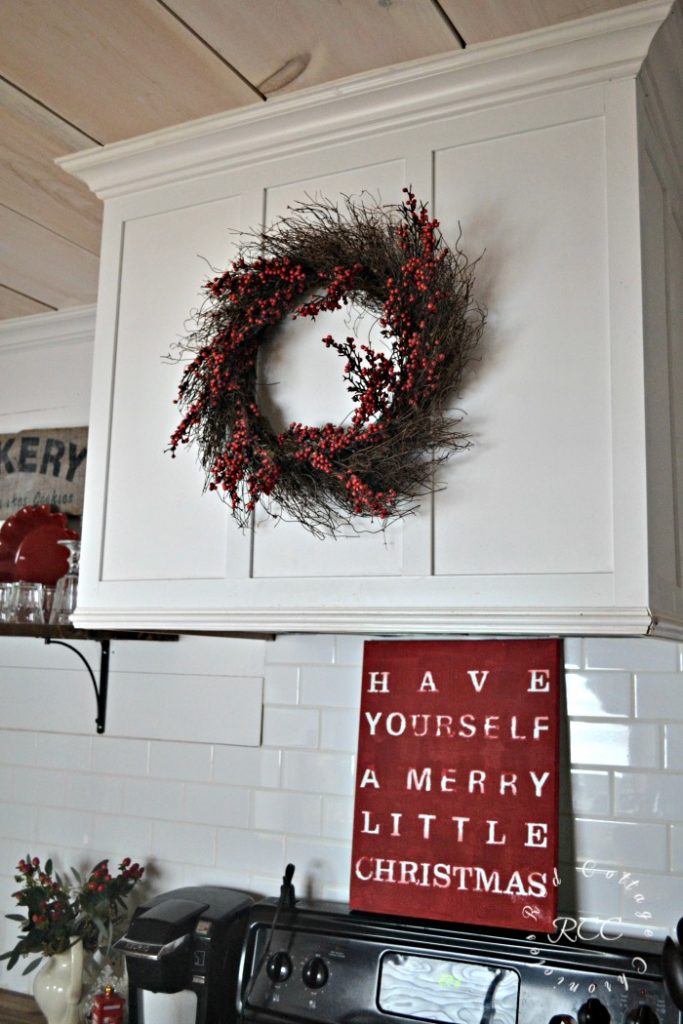 As you scroll through the photos you will notice fresh apples, eucalyptus and berries I picked up at the Farmer's Market on Saturday. A grapevine wreath was a thrift store find that I decorated with faux berries from the dollar store.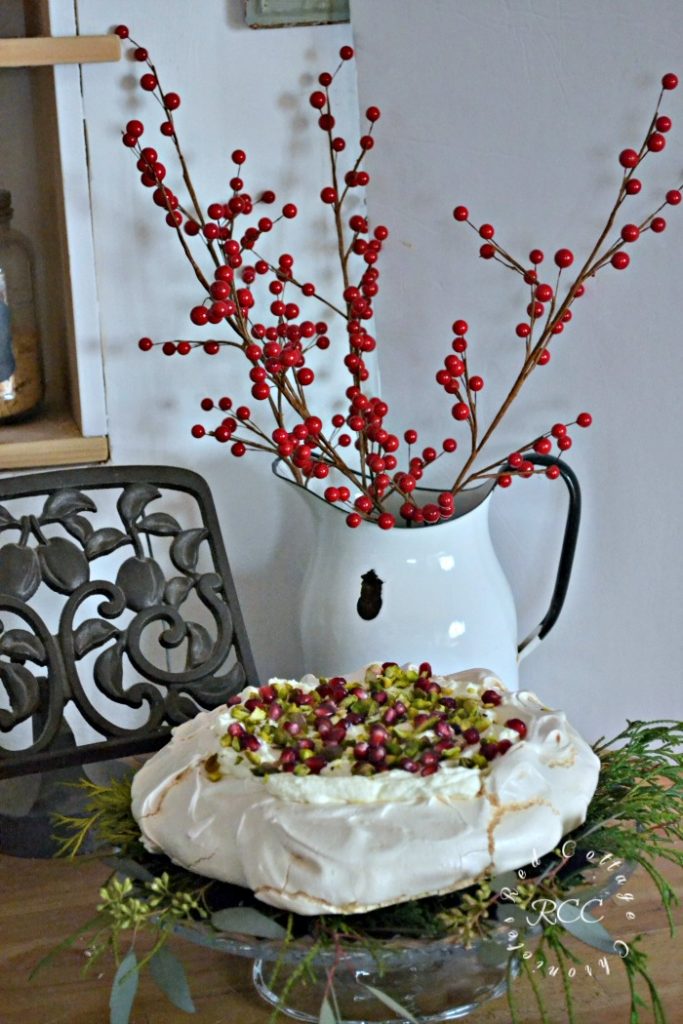 A few branches of faux berries purchased at Michael's for 70% off on black Friday contrast nicely with an old white enamelware jug I have had forever. I happened to have just finished making a white chocolate pistachio pavlova which adds a whole other level of festive! And, boy was it delicious.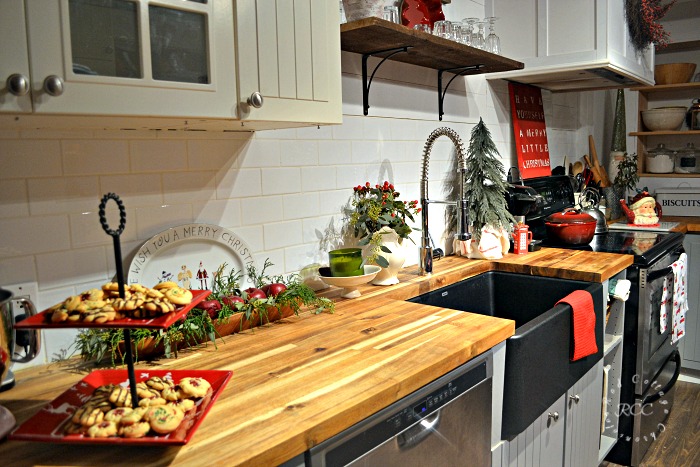 While I love this time leading up to the holidays, I loath the darkness that starts to set in around 4:30 each afternoon. It makes it very difficult to get decent photographs!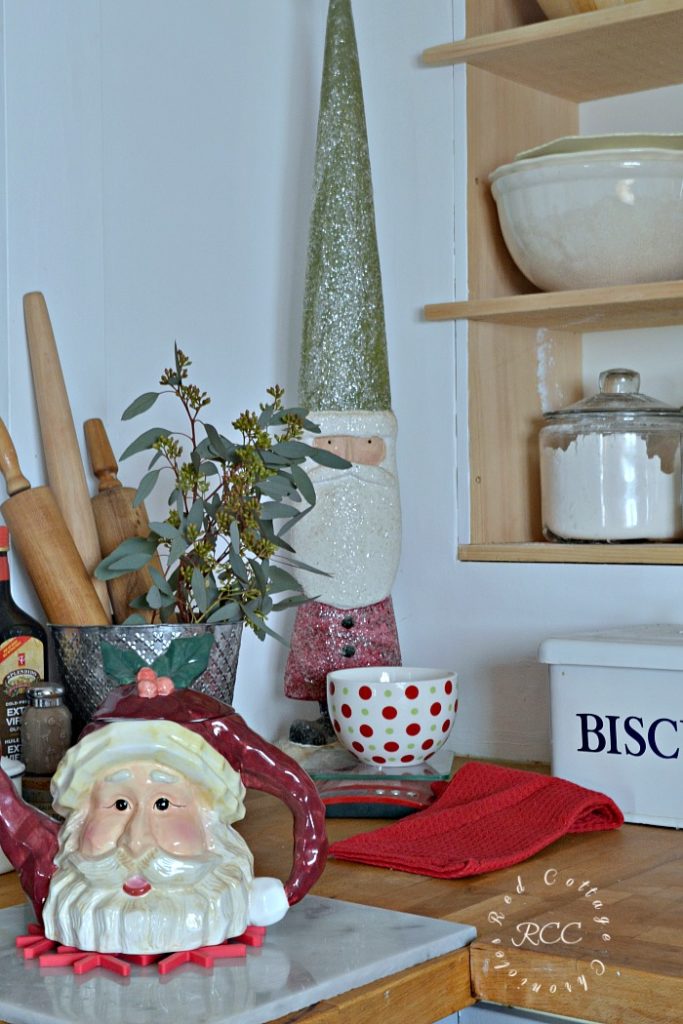 The tall Santa Claus in the corner is one of two that usually flanks our fireplace. I thought I would change things up and use one of them in the kitchen. I am sure I will find somewhere to use the second one too!
I love the Santa teapot. I have had it for as long as I can remember. In fact, I think it is one of the first Christmas things I bought when we got married 32 years ago.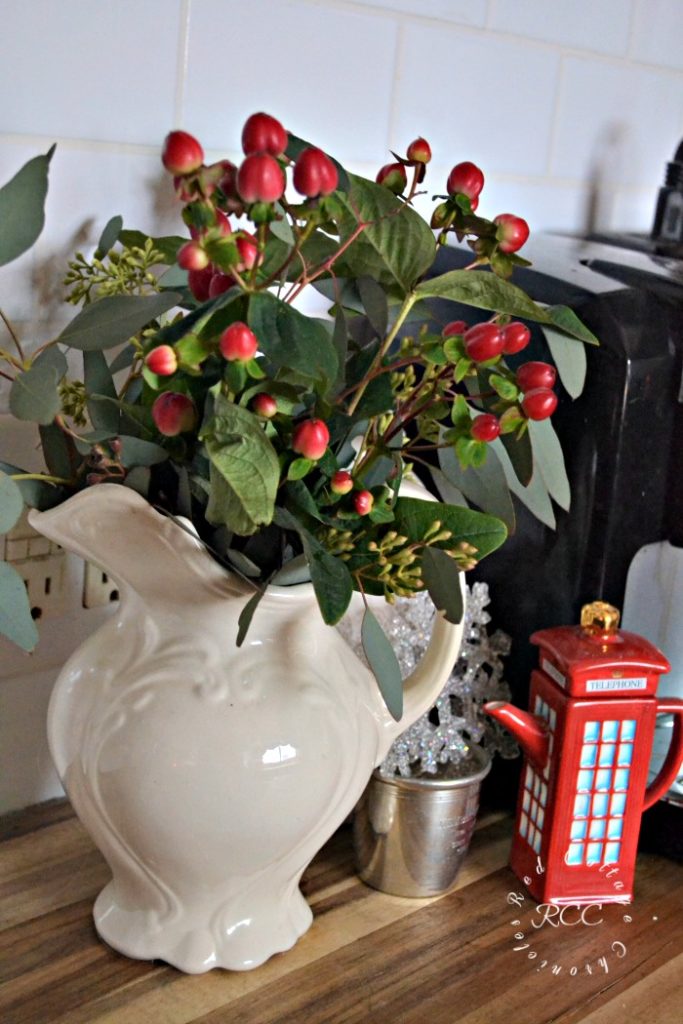 I always have fresh flowers by the sink. These red berries add a festive touch that will last for a few weeks.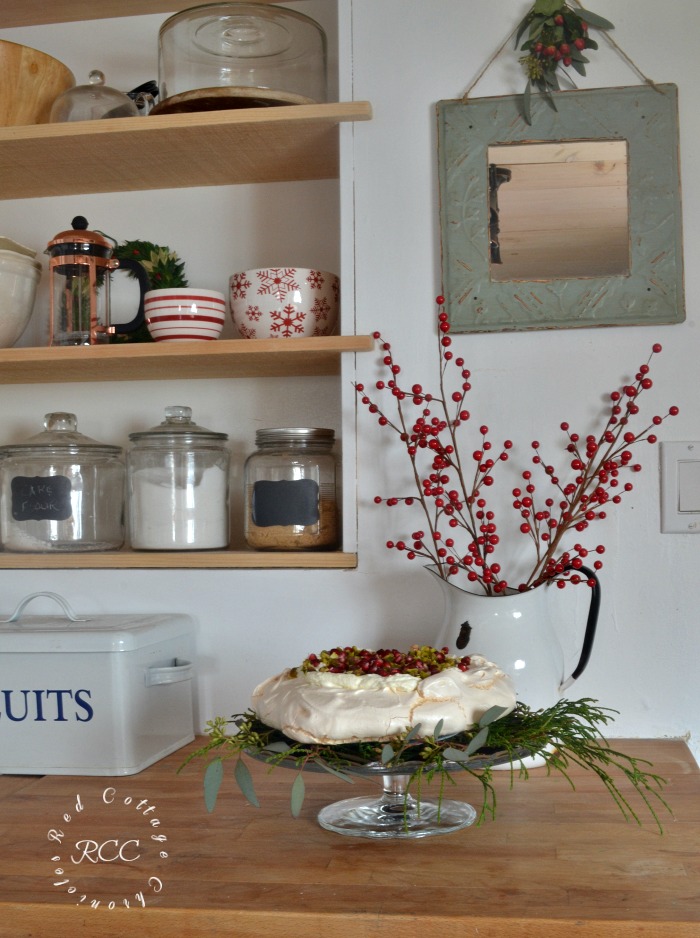 A few Christmas themed mixing bowls adorn the shelves, along with a paper wreath which is another long time Christmas decor piece!
A few more pictures, just for fun…..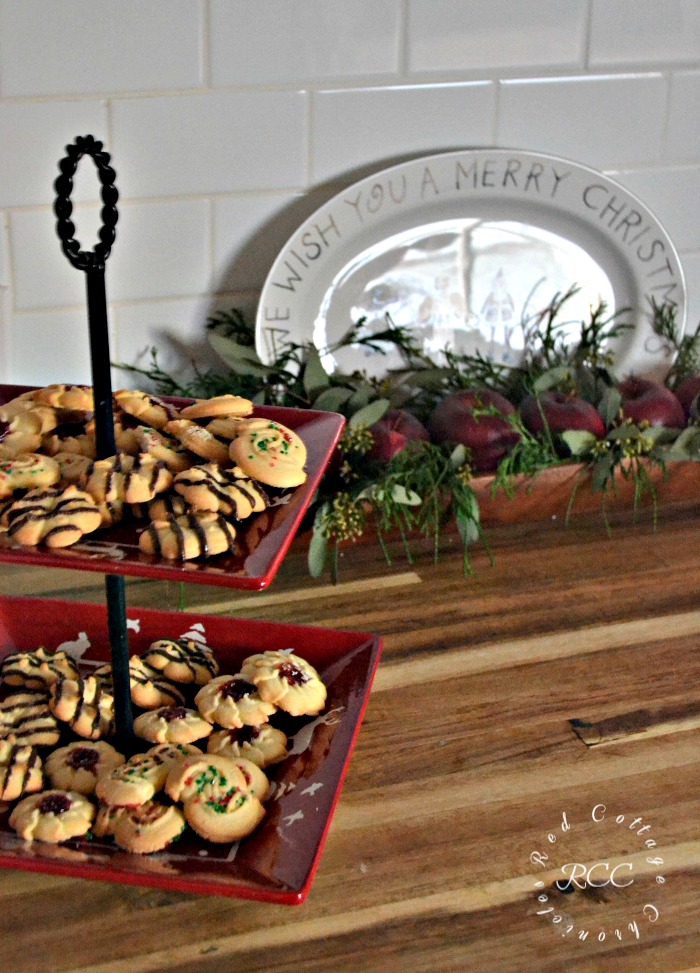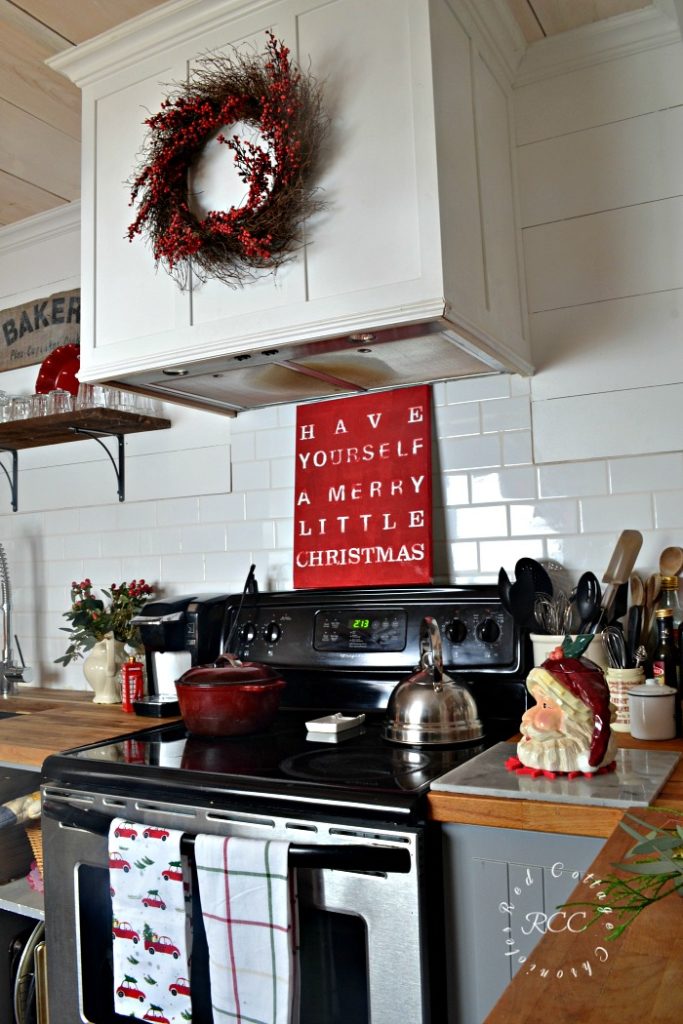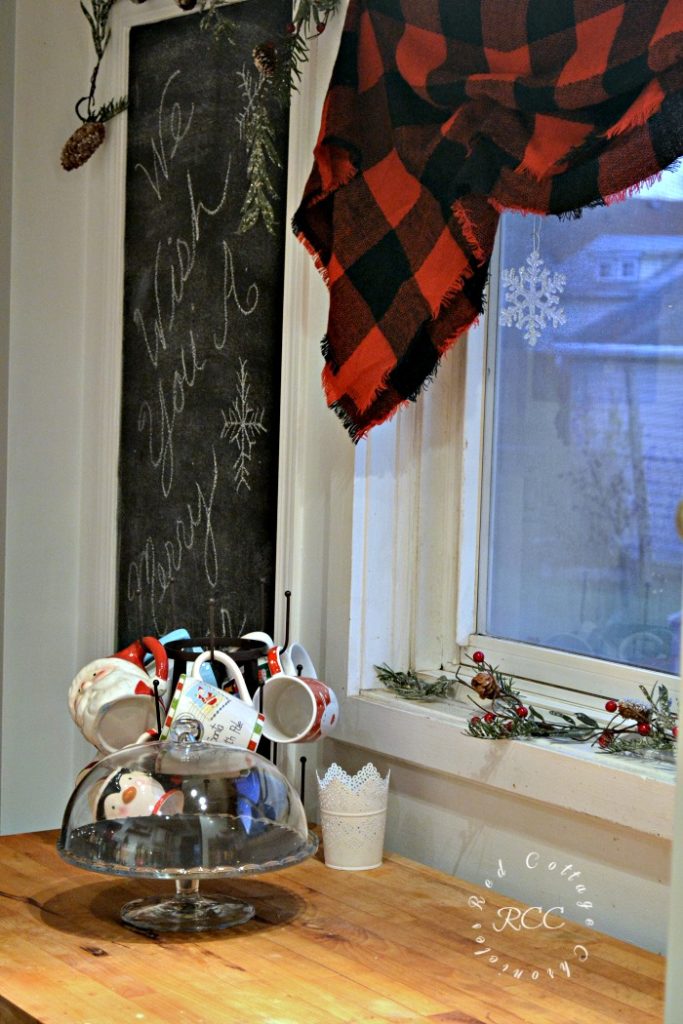 I needed something to dress the top of the window since I still haven't decided on window coverings since we did the kitchen reno for the One Room Challenge. I resorted to a buffalo check blanket scarf held in place with tacks and swagged with clothespins!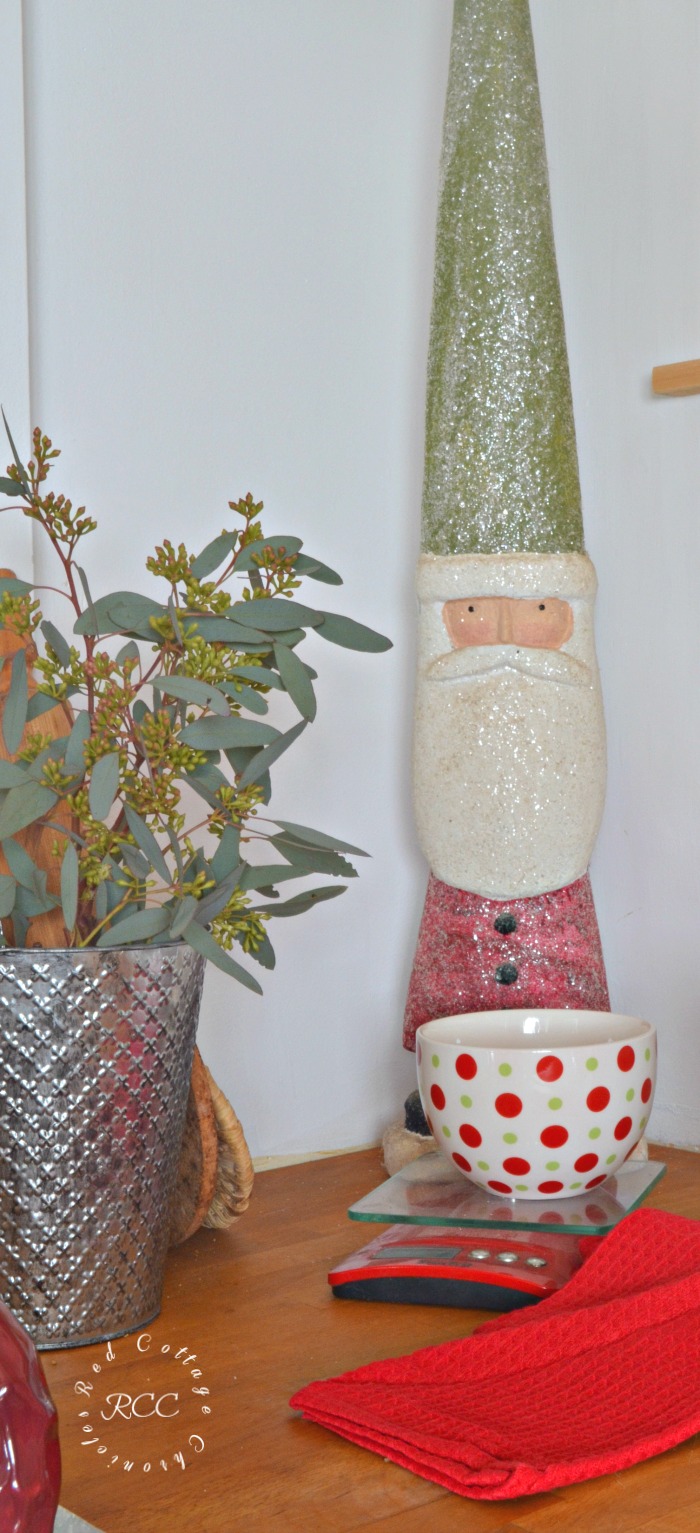 My philosophy when it comes to Christmas decor is that it doesn't have to be expensive or too fussy. It really only has to make you happy.
My kitchen is still completely functional and the decorations don't get in the way. I always have bowls of fruit on the counter, so adding a bit of seasonal greens to the apples was easy and inexpensive.
The mugs on the drying rack get used daily for coffee, tea and hot chocolate. The teapot brews a nightly cup of sweet orange tea.
I hope you have found an idea or two to get your Christmas decor started. Be sure to scroll down to visit all the bloggers participating in the Holiday Home Blog Hop for even more inspiration!
Until next time…..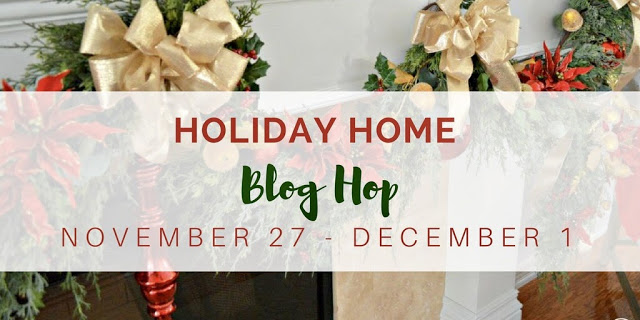 Monday
Everyday Living | My Kentucky Living | Panoply
Tuesday
Savvy Apron | Hey Fitzy | Celebrate & Decorate
Wednesday
Belle Blue Interiors | Red Cottage Chronicles | Dining Delight | Bluesky at Home
Thursday
The Painted Apron | Corner of Plaid and Paisley | Living With Thanksgiving
Friday
From My Carolina Home | Supper Table Talk | Me and My Captain | Our Crafty Mom