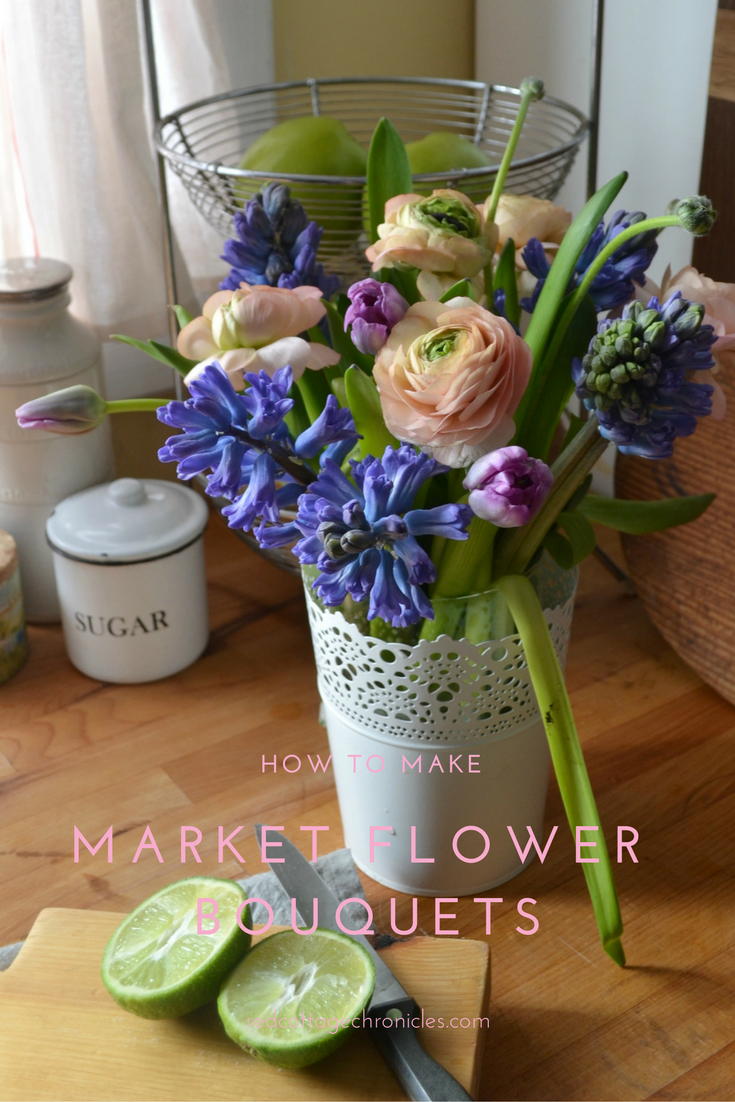 Here we are in the long, cold, dark month of January. With reports of snow and ice in the south and lake effect snow all around the Great Lakes, it is hard not to feel chilly just thinking about it.
One thing I have always felt warms up a home in the winter is fresh flowers! We popped by our local farmers market on Saturday and I was greeted by sleeves of gorgeous blooms that had me dreaming of spring.
A picked up a few bunches of colorful blooms and today I will take you through how easy it is to create your own fresh market flower bouquets. Farmers markets are a great place to get inexpensive flowers. It won't be until well into summer until I can making summer bouquets with my own garden flowers.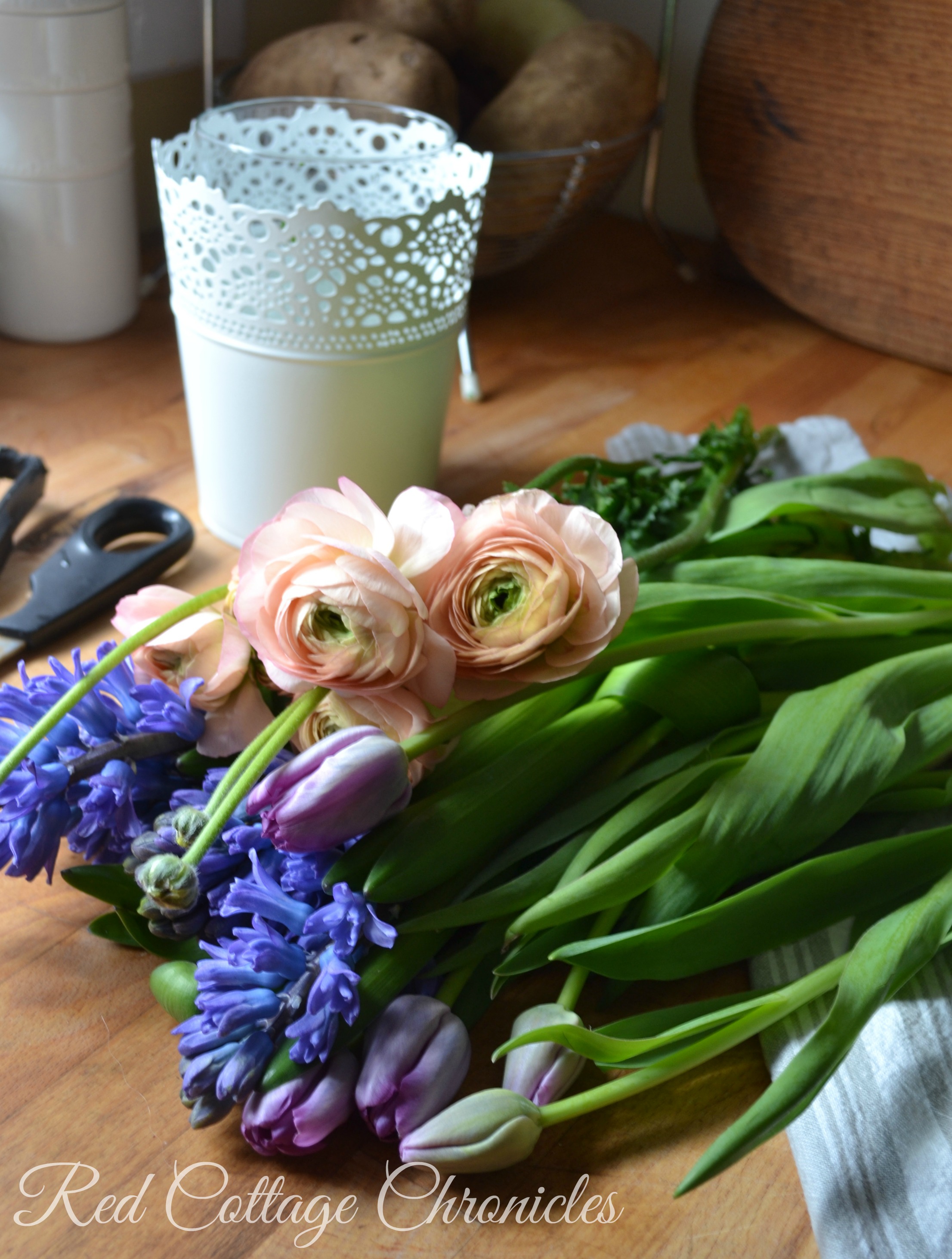 I chose a small bunch each of light purple tulips, pale pink ranuculus and the grower pointed out the wonderful fragrance of the deep purple hydrangeas, and I just had to have some of those too. With proper care they should last at least a week.
I chose a tin pot cover from Ikea and placed a clear glass container inside to hold the water. After cleaning the glass container really well, I added a package of flower freshener that came with the flowers. To ensure long lasting blooms change the water every two days and remove any waterlogged (slimy) greens before adding fresh water.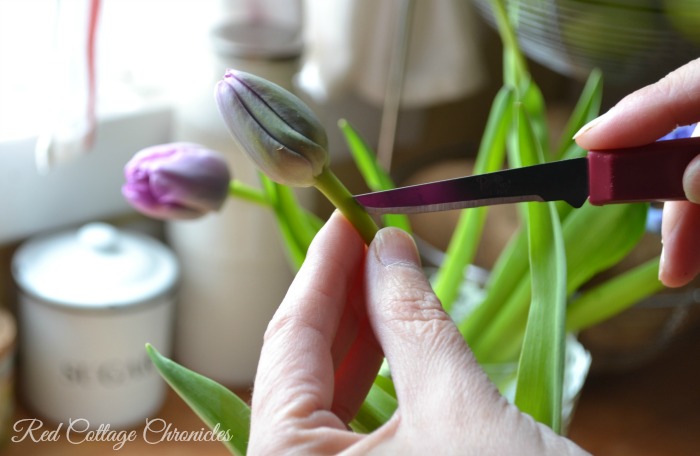 You probably know that tulips are one flower that continue to grow even after they have been picked. They tend to grow towards the light, and at a pretty rapid pace. A trick I learned several years ago is to make a small slit with a sharp knife about 1/2 inch below the bloom. This should help to keep them the same size as you have cut them for your arrangement.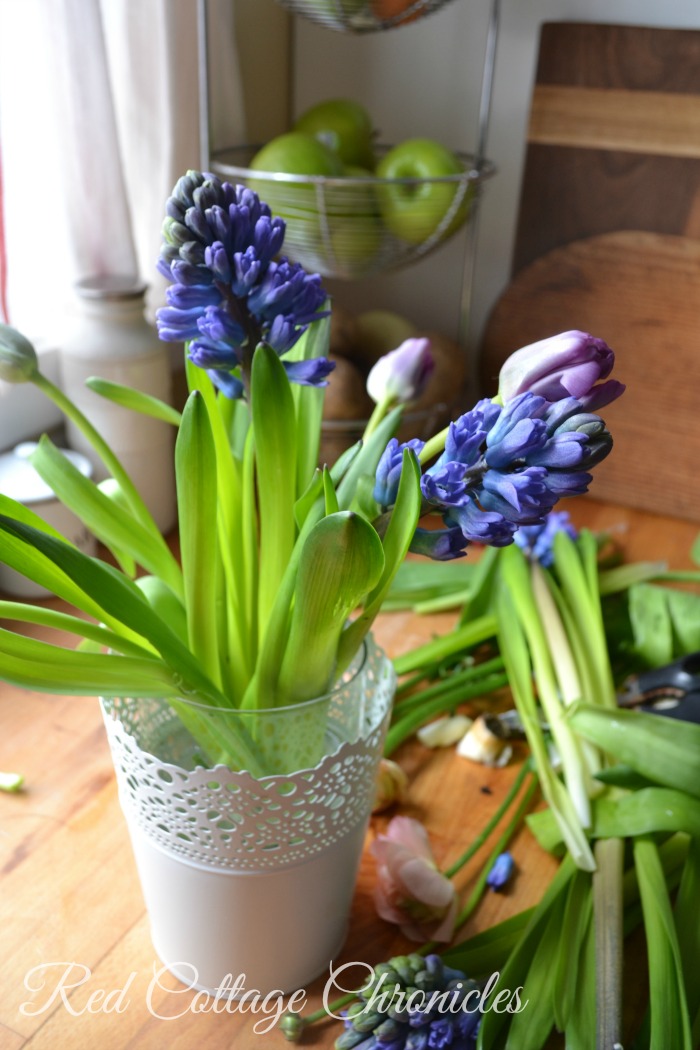 I cut the blooms to equal lengths with a sharp paring knife. The loose greens were pulled off, but I will use them as fillers.
In my opinion there really is no wrong or right way to arrange flowers. I first put the tulips in the vase and then added the hyacinths one at a time, being sure they weren't just clumped together.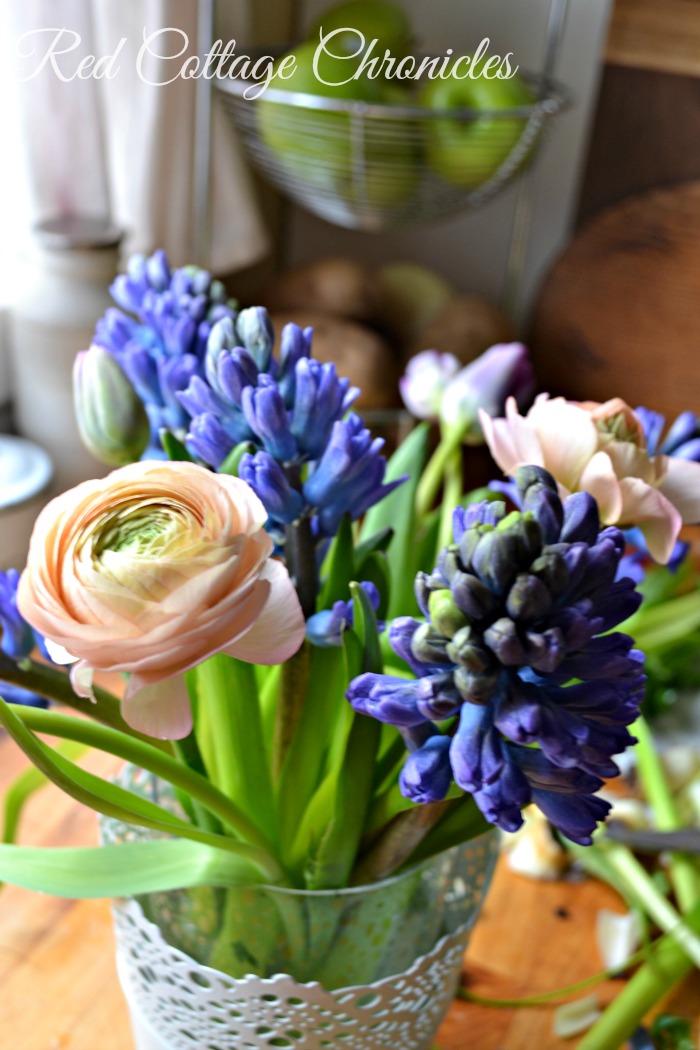 Before I added in the ranunculus I added some of the leaves from the hyacinths tucked down in to help keep the blooms separated.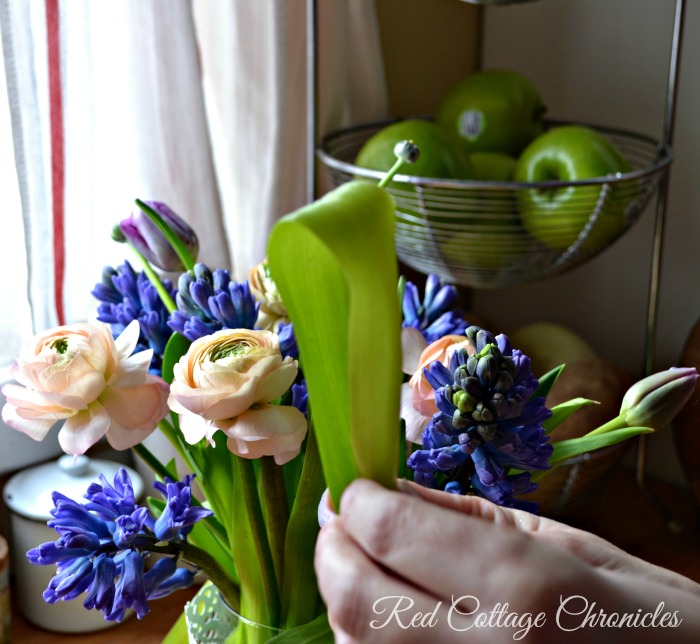 When all of the blooms were in place I used the extra tulip leaves, looped in half to add as fillers.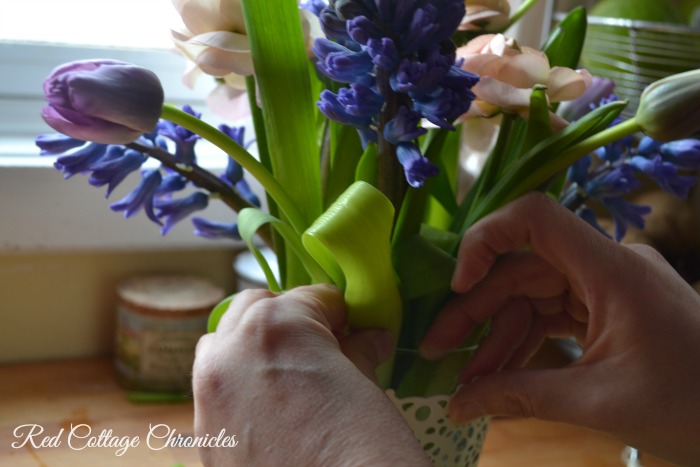 A final adjustment of the blooms so they are randomly arranged, and you have yourself a beautiful bouquet!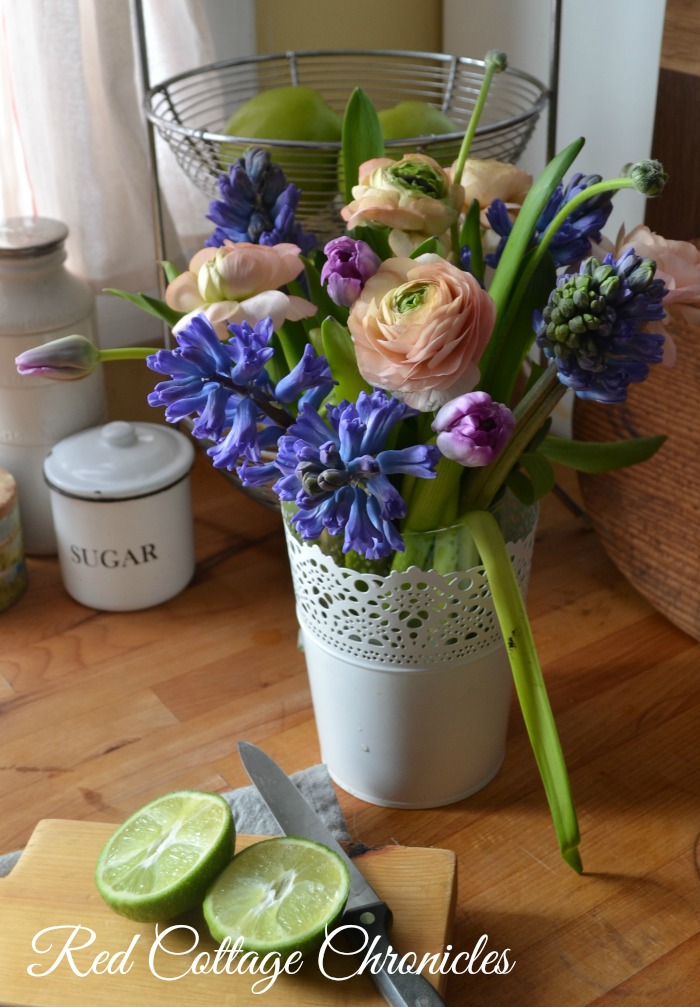 While I love receiving a pretty bouquet from the flower shop every now and again, making your own market bouquet is an inexpensive way to add color and fragrance to your home. Even flowers from the grocery store work just fine.
A few simple tips to making your own market flower bouquets
choose the freshest flowers available
use a clean vase or other container that has been washed with soapy water and rinsed thoroughly
if you are not using just one type of flower, it is a good idea to use odd numbers of different blooms
change the water every day or two, giving each bloom a fresh cut and disposing of any slimy greens
avoid placing your arrangement in direct sunlight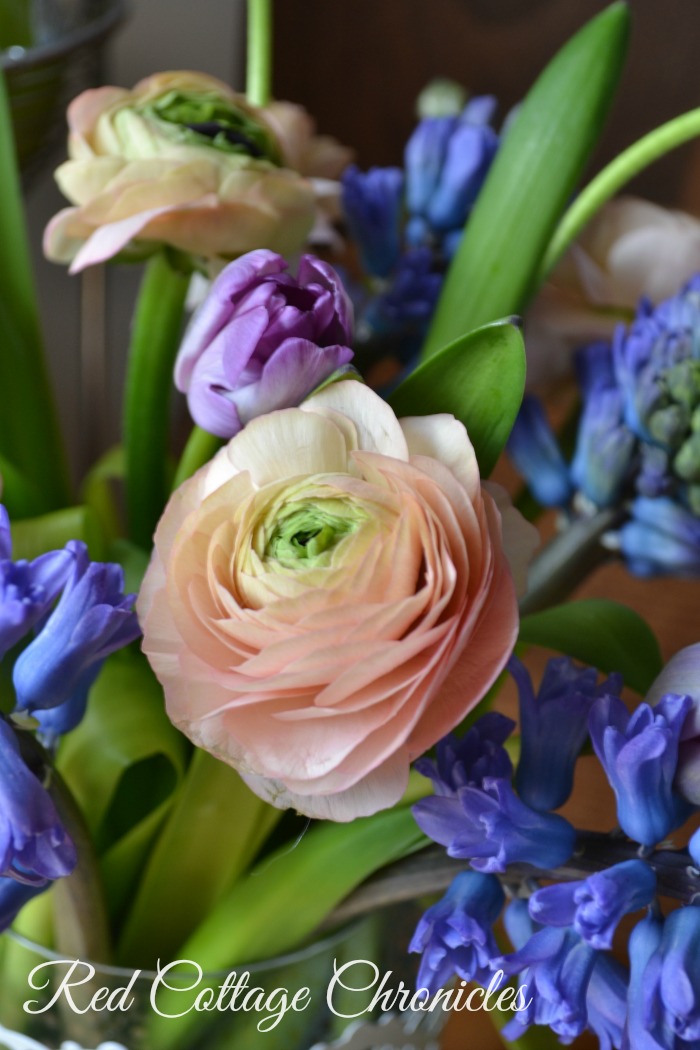 Since I spend so much time in the kitchen, my flowers are on the counter that I do all the prepping. The fragrance of the hyacinths is such a welcoming scent on a cold winter day.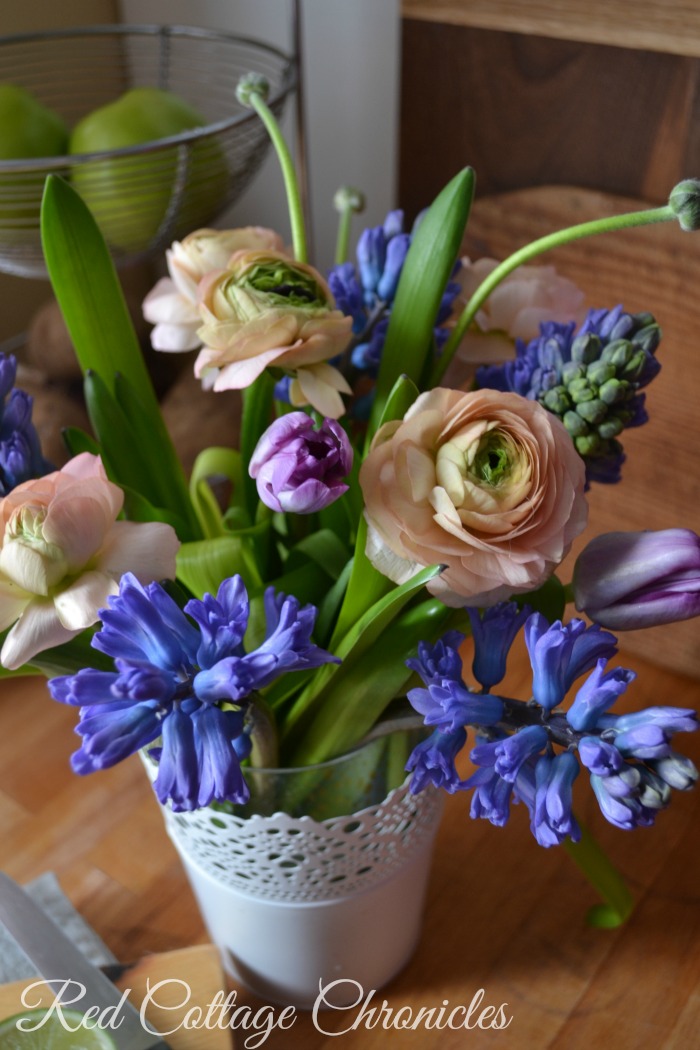 While I don't like to rush the months away, they certainly lift my spirit and send my thoughts to spring. To the days getting longer and the sun getting warmer.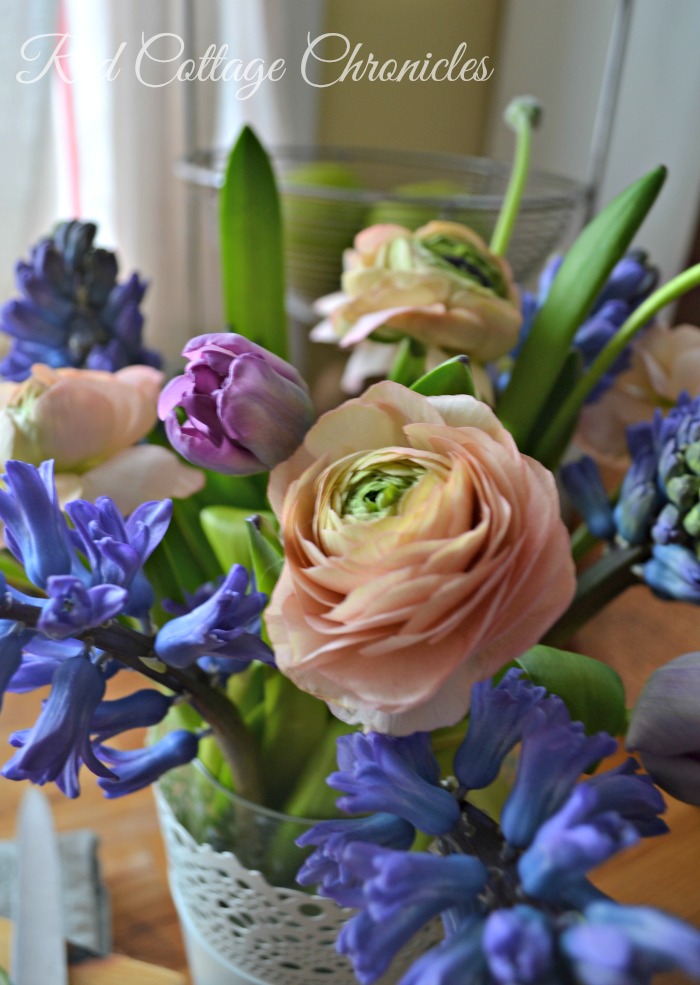 Do you have a farmers market in your neck of the woods? Why not pay it a visit and treat yourself to a little preview of spring!
Until next time…..

Want to stay up to date with all the happenings at the Red Cottage? Simply click here to subscribe!