English Country Garden Arrangement
While I dislike the heat and humidity of summer, I do love the long days and abundance of colorful flowers at the market each week. This week's Market Flower Monday features a pretty English country garden arrangement.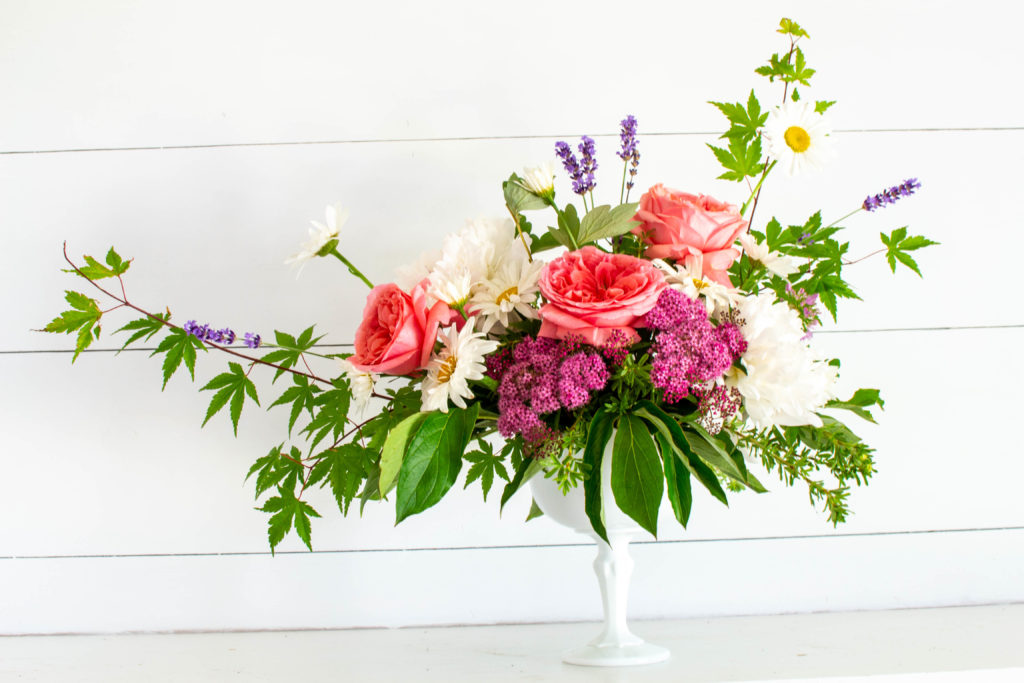 I couldn't believe my luck when I was at the market this Saturday and they had these beautiful English roses. You may remember them from this hand-tied bouquet I did earlier this spring. They are rarely available so I bought both bunches even though I knew I would only need a few for today's arrangement.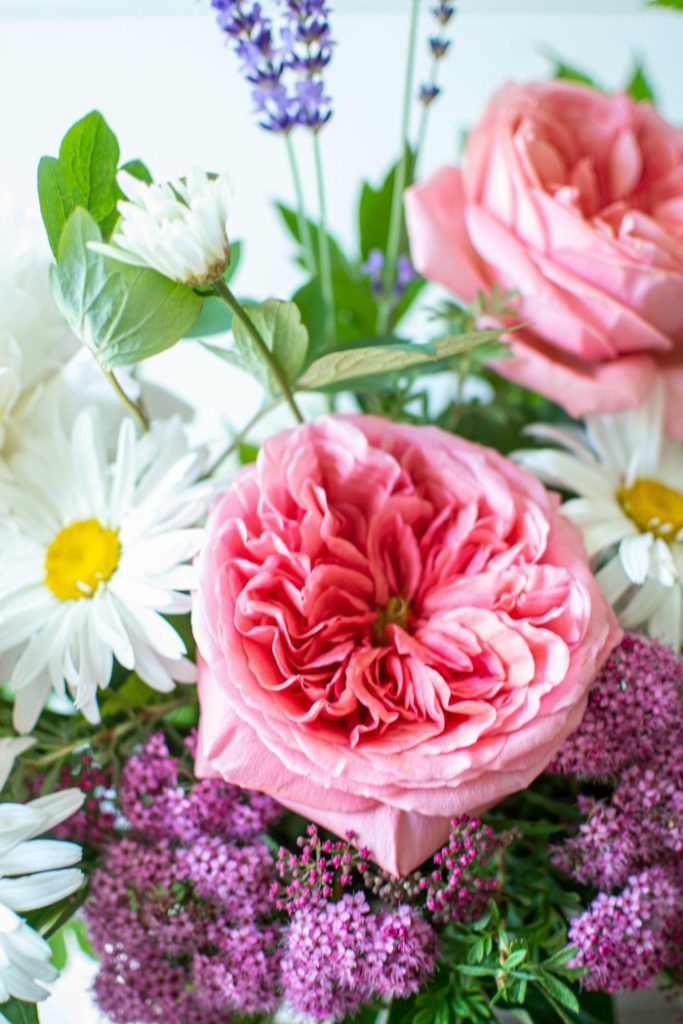 The others will be put to good use. If you follow me on Instagram you are sure to see how I used them throughout the week!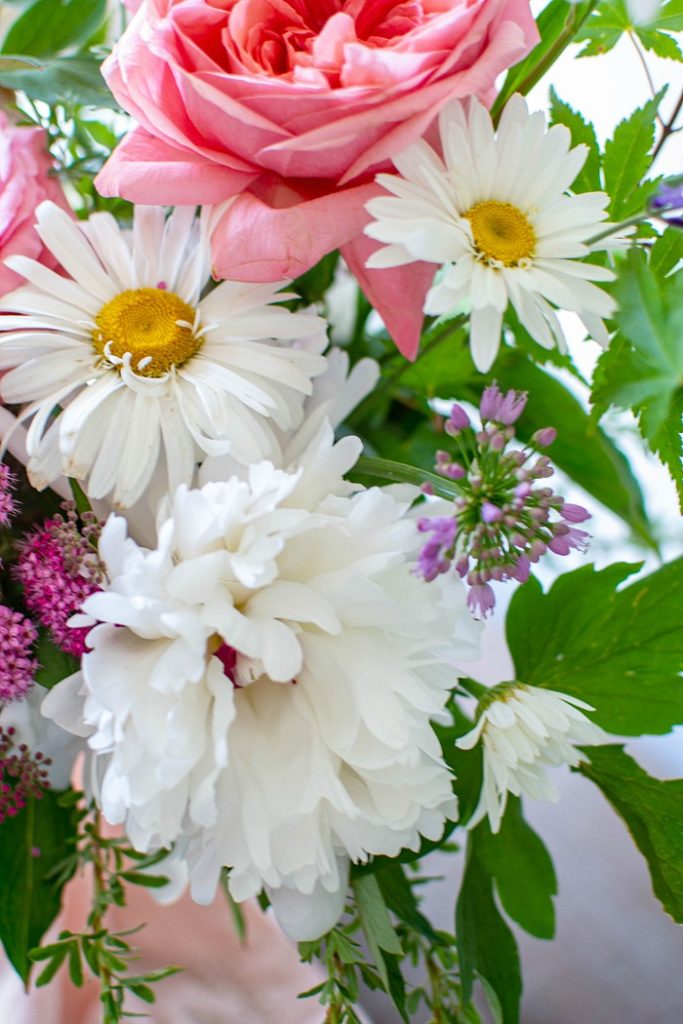 Peonies are coming to an end and may not be available next week. It was only $4 for a bunch of these pretty white ones. I love the ruffled edges and the deep purple peaking out from the centre.
To supplement my market flowers I clipped some Shasta daisies and pink spirea from my own garden and some lavendar from my mother's garden. I used the peony leaves, a few clippings of foilage from my bleeding heart, some sucker branches from my Japanese red maple (which are green and needed to be snipped off) and some clippings from a small green shrub that I have no idea what it is!
I wanted this arrangement to be relaxed and not symmetrcialy styled. Since I made it for my sideboard, it is a one sided arrangment as opposed to one that is meant to be viewed from all sides.
How to create an English country garden arrangement: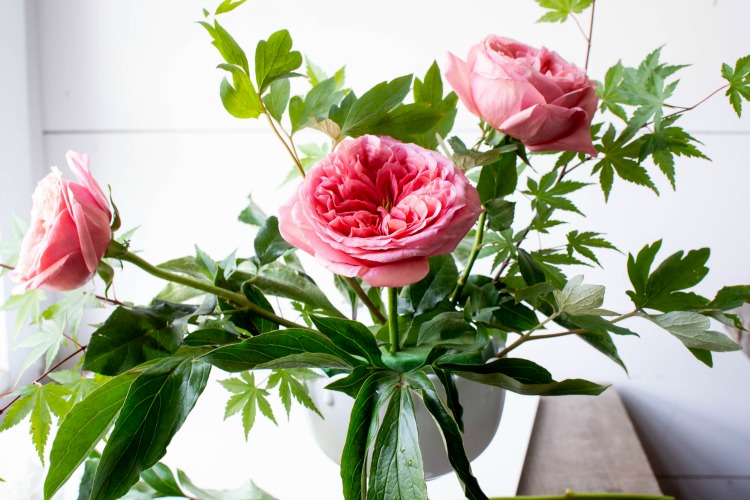 Begin with your greens. Create the overall shape of your arrangement and fill in around the rim of your vessel.
I used a simple footed compote to hold a cut to fit piece of wet flower Oasis that had been soaked for about 15 minutes in fresh water.
For this arrangement I went with a loose reverse L shape, with height on one side and length on the other.
After the greens were in place I arranged three English roses that are fully open, following the overall shape.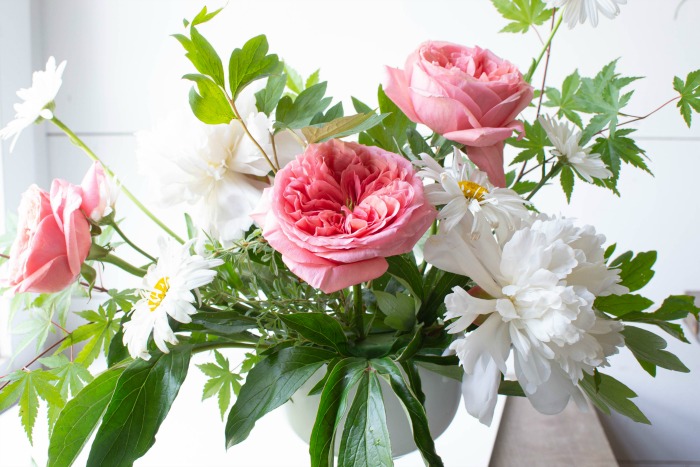 Next, I added two white peonies to compliment to balance the roses. One low and to the right of centre and a second one, back and left of centre.
I then tucked a few Shasta daises into the arrangement to fill in wide open spaces. I cut a few daises with longer stems and arranged them to follow the L shape of the greenery.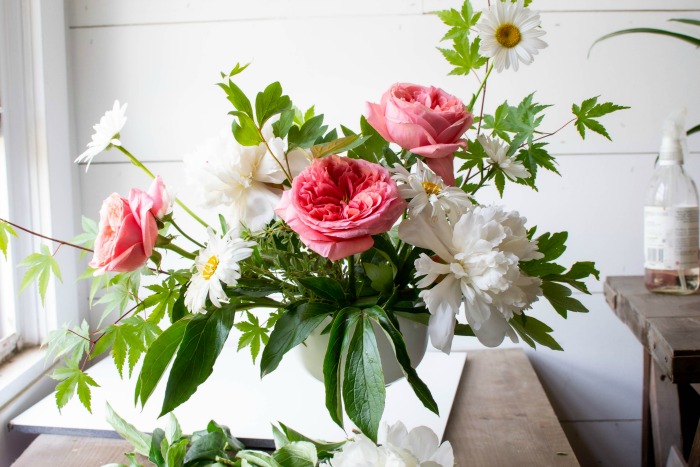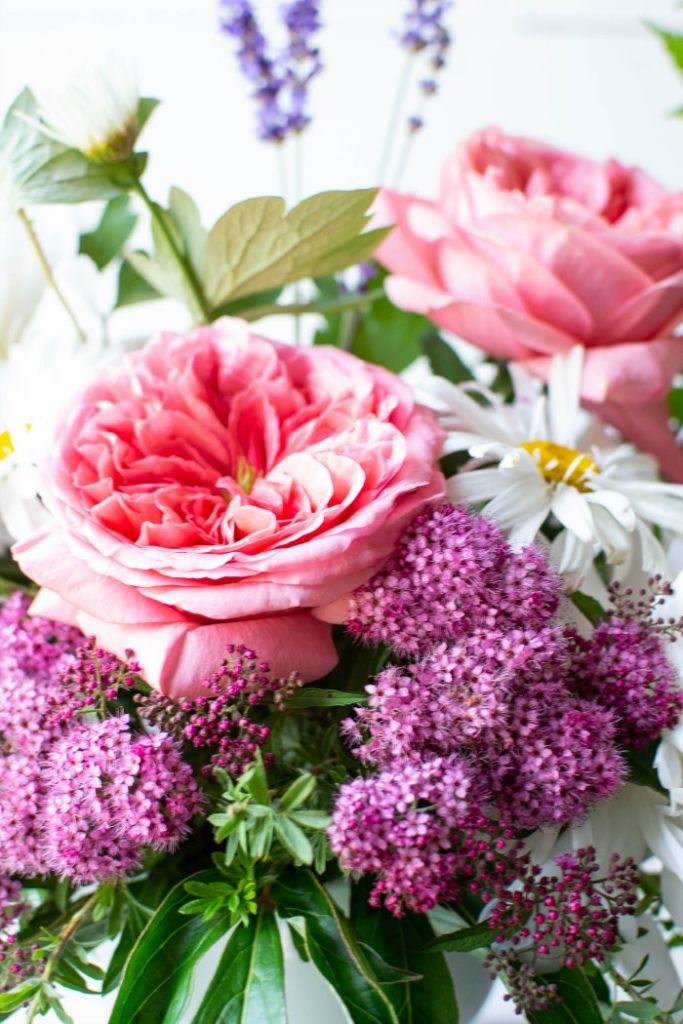 Finally, I filled in the centre front with two spirea clippings. I added the slender lavender stems, and a few gathered together throughout the arrangement.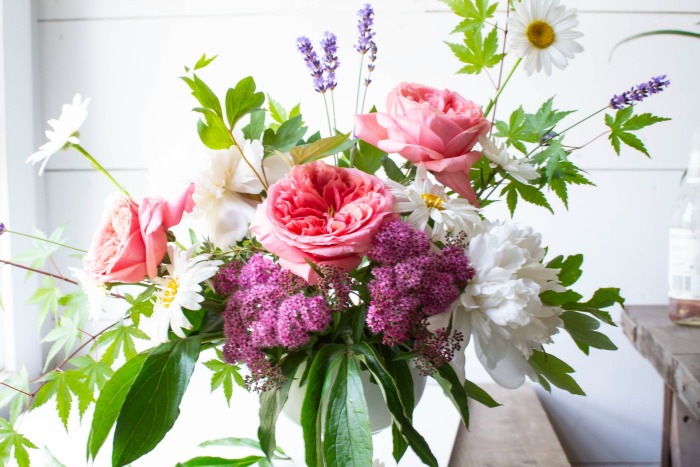 I like how the stems of lavender and long daisy blooms give the arrangement a sense of movement.
Filling in a few spots with a bit of greenery creates balance and finish.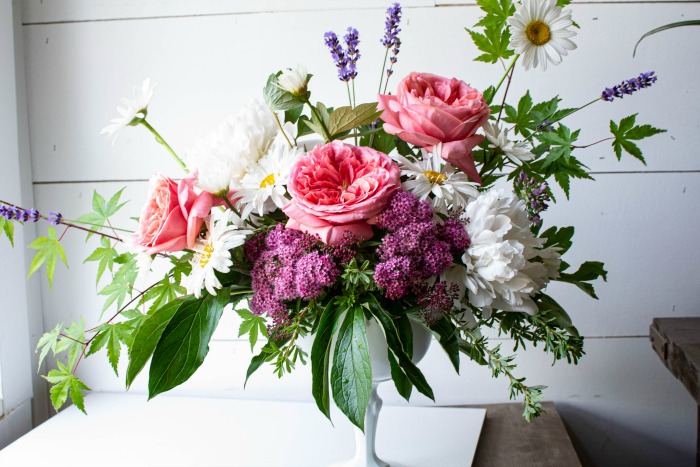 I am so pleased with how it turned out!
Sometimes it is easy to be too heavy handed and just keep filling, but practicing restraint and knowing when to call it done can make a huge difference on the finished arrangement.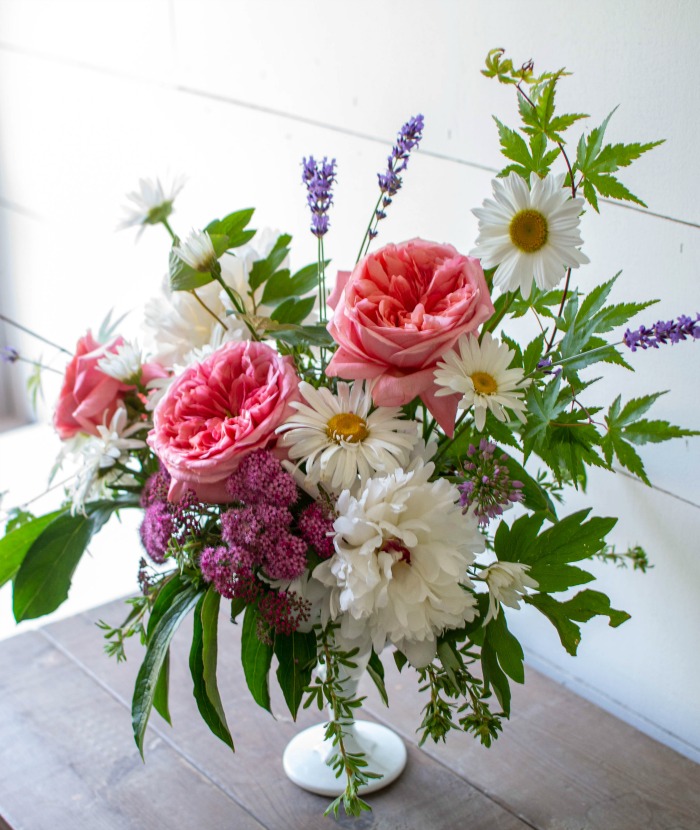 One day I aspire to have my own lush English country garden. I love the romance and informality of all the different blooms.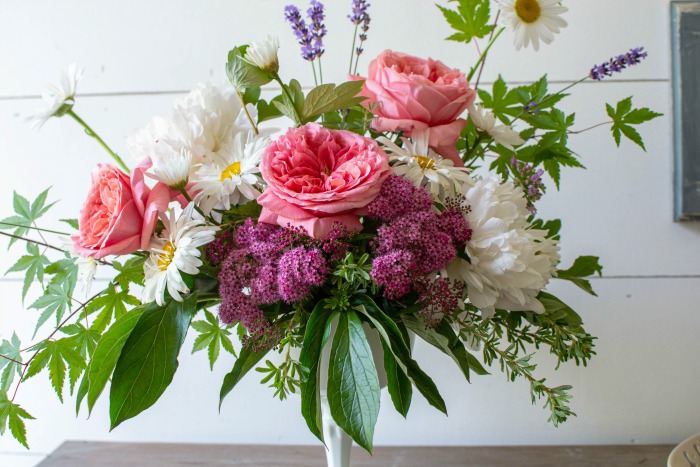 Something I love about the garden roses is how long they last. Even though they are fully opened, they will still look great for up to a week or longer. Just be sure to keep your arrangement watered daily.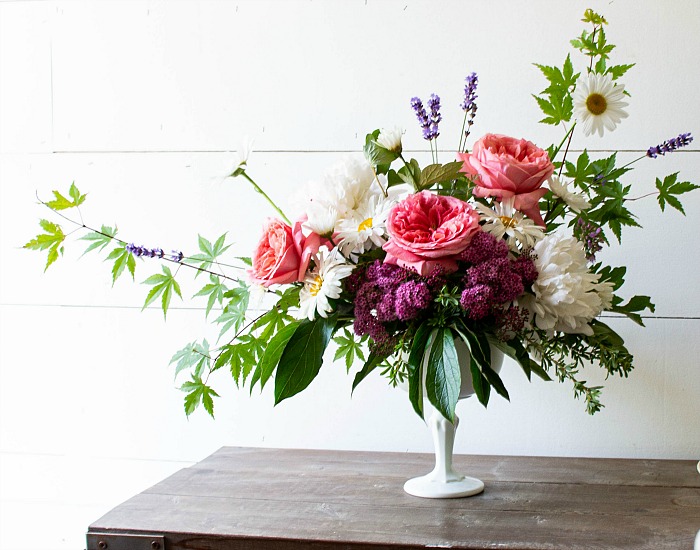 I hope I have encouraged you to visit your local market or grocery store and create your own English country garden arrangement. Or, maybe you are lucky enough to have your very own cutting garden!
At the very least if you grow some daisies, peonies and spirea, all very easy carefree garden plants, you have the makings of a beautiful English country garden arrangement!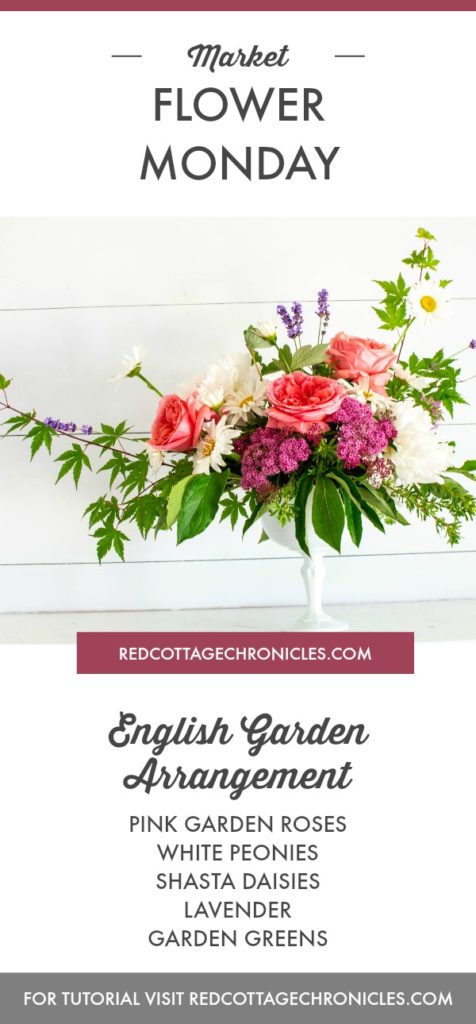 Before you go, why not take a second to subscribe. You can unsubscribe at any time and your information is never shared. I sincerely appreciate each and every reader and welcome your comments too!
Until next time….