Market Flower Monday Garden Flower Arrangements
If you are just finding us for the first time, welcome! Every 2nd Monday is Market Flower Monday here at Red Cottage Chronicles. I showcase a simple arrangement made from flowers from our local Farmer's Market or grocery store that you can make yourself!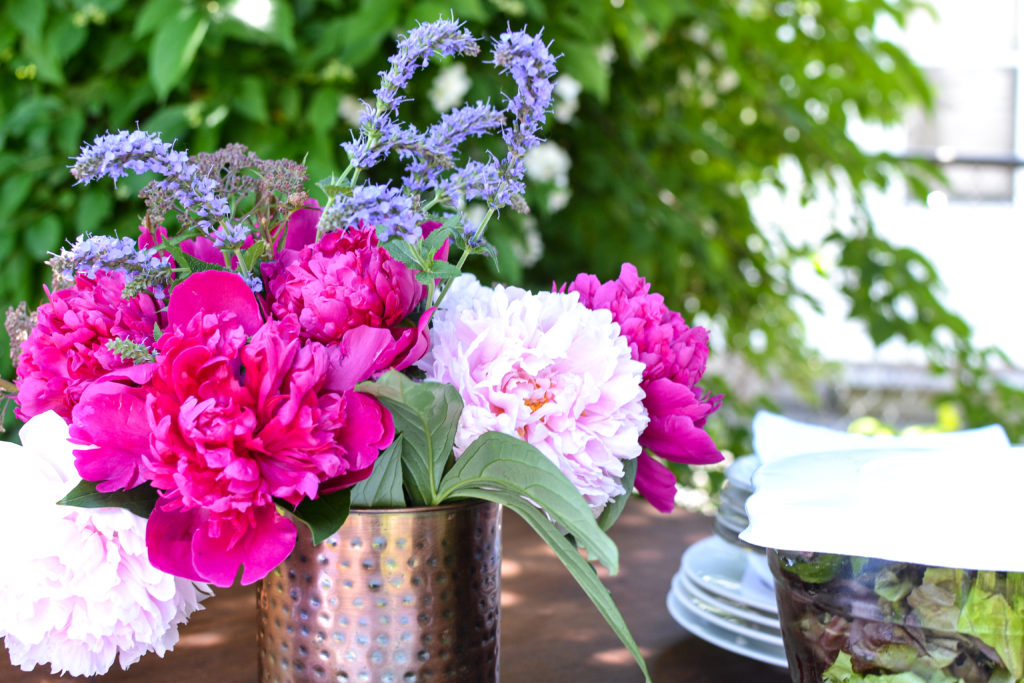 Do you grow peonies in your garden? Without fail, every single year, as soon as my peonies start to bloom it starts to rain! Not light rain. Heavy downpours for 3 days! I wanted today's Market Flower Monday to focus on garden flower arrangements and I was lucky enough to snip a few pale pink peonies before all was lost.
Unfortunately not enough to create a nice full arrangement though, so I supplemented with a $5 bunch of gorgeous fuschia coloured peonies.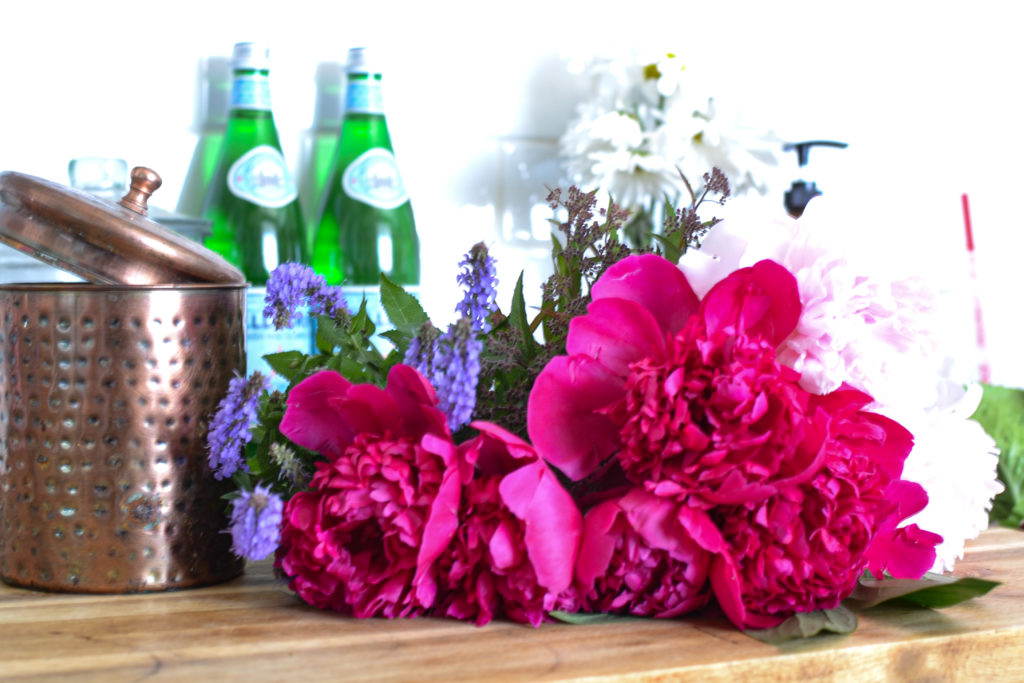 In my front yard garden I have planted mostly pink and purple flowers. With some white daises, because every garden needs daisies! The only things blooming so far are the peonies and the Russian sage. Soon the hydrangea will be blooming in both pink and purple!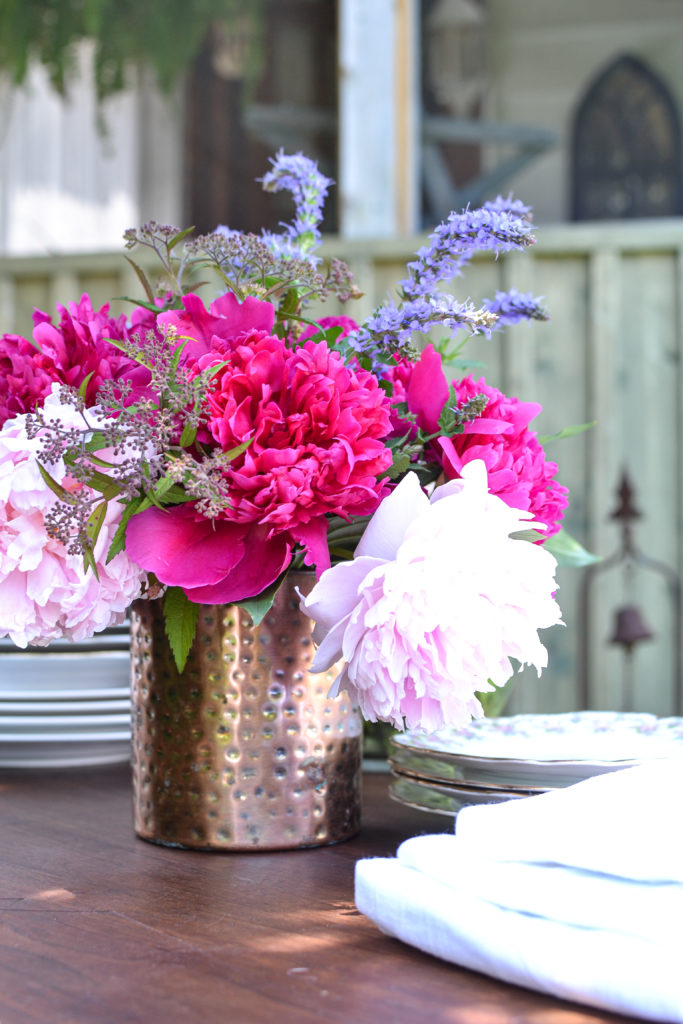 I clipped a bit of Magic Carpet Spirea that hasn't quite come to bloom yet, but I like the texture it adds. That is what I love about garden flower arrangements, just use what you have and it will be stunning!
When I am arranging flowers I always shop the house for containers to use as vases. This time I used a small copper canister that holds our teabags. It holds water and is just the right size for the small arrangement I made.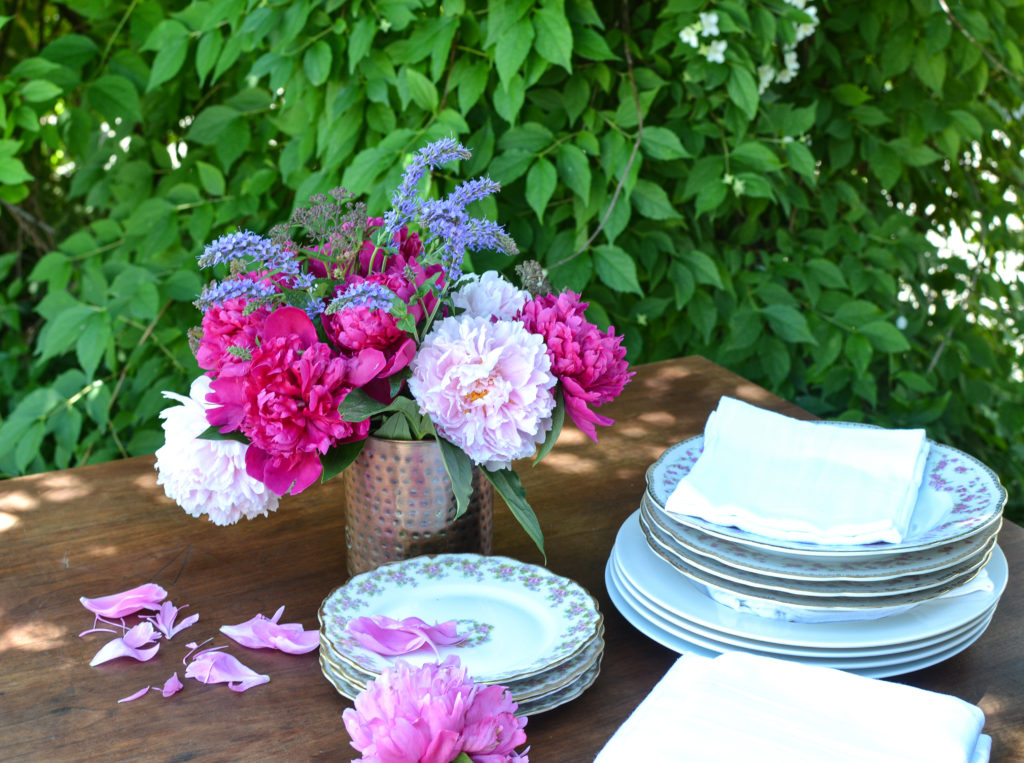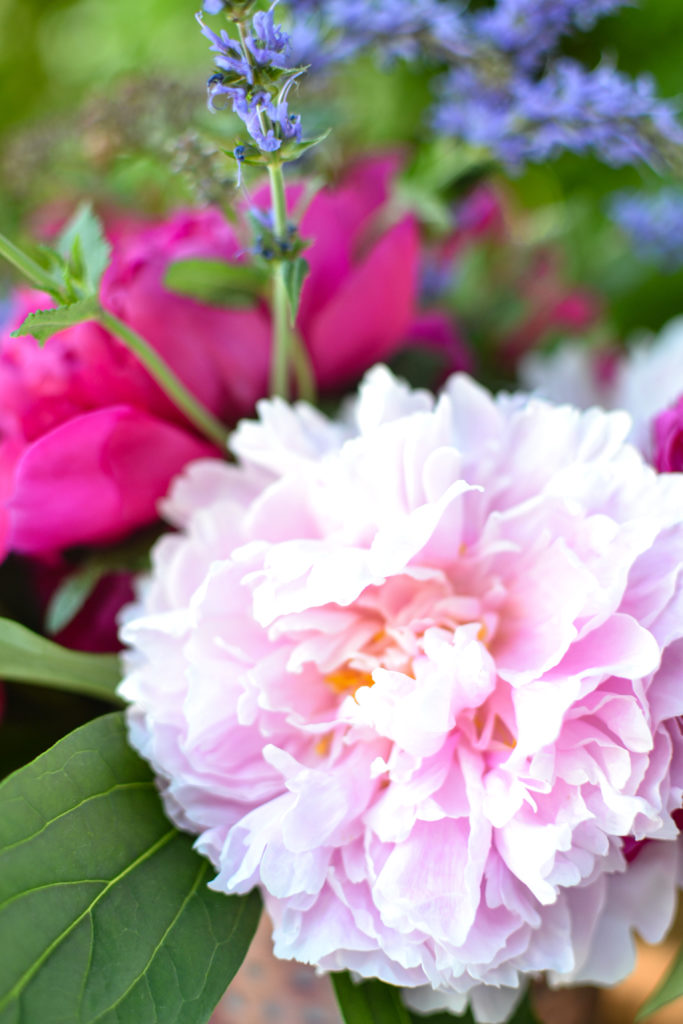 We have had the most wonderful first weekend of summer as far as the weather goes. It was perfect for spending time in the garden. I dead-headed my window box annuals, and some spring blooming perennials.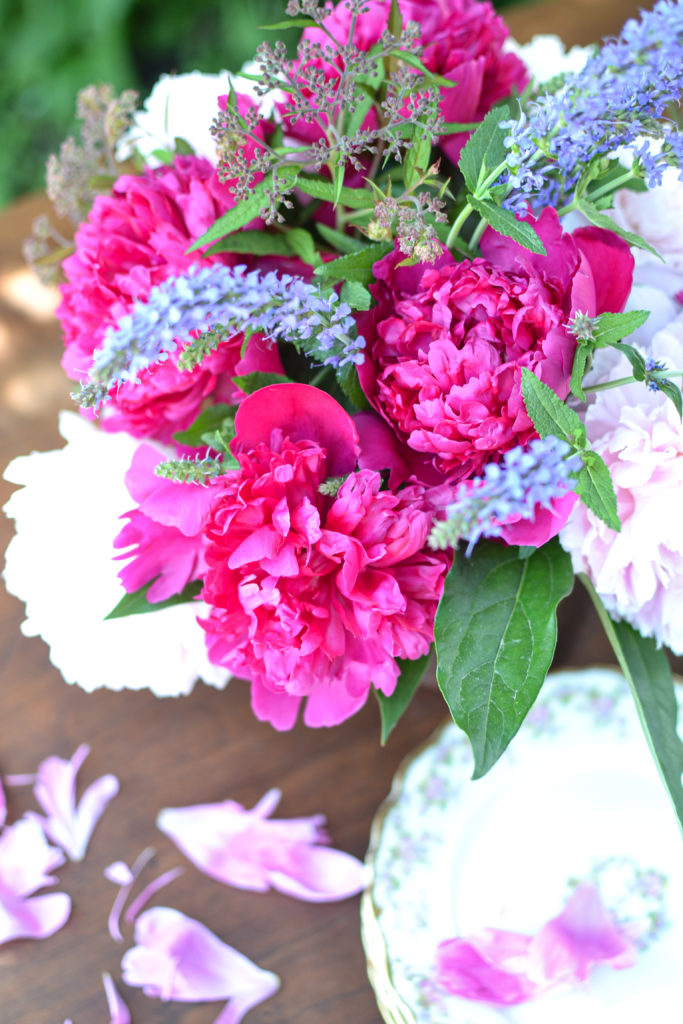 I also had the chance to style a table in my friend's garden, which I will be sharing with you later this week. Garden flower arrangements are perfect for such tables. Simple and relaxed, yet striking as a centrepiece on a garden table.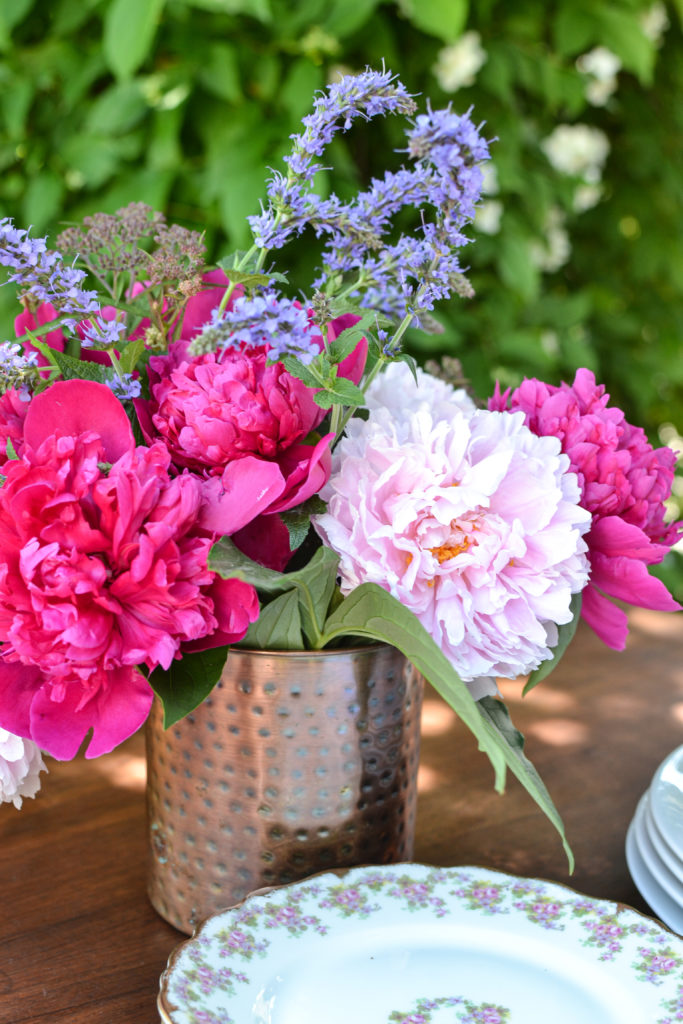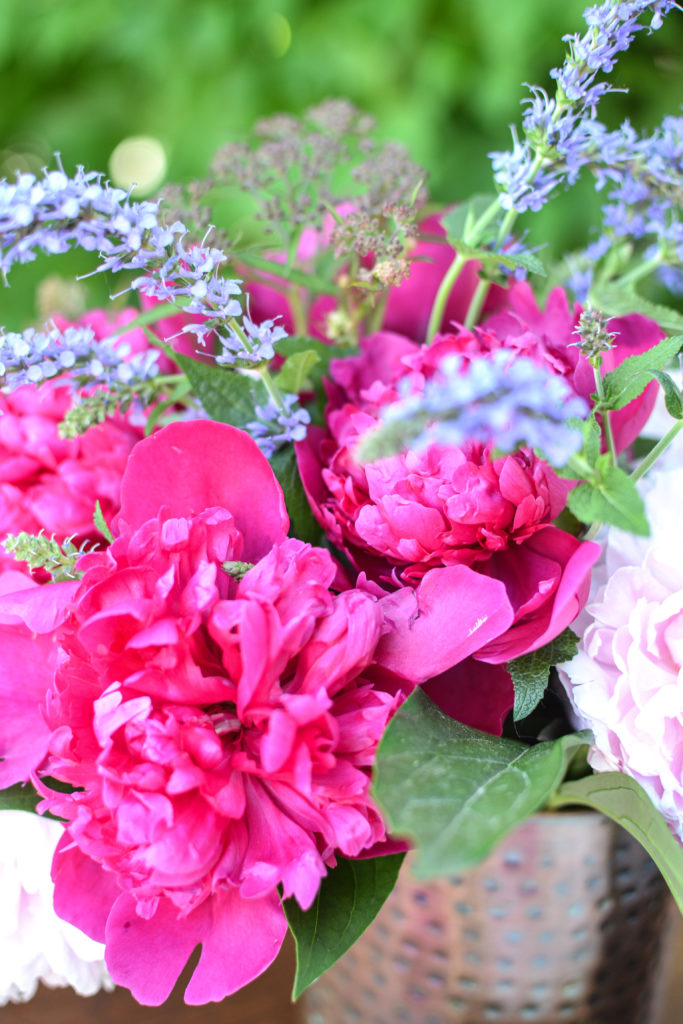 I don't want to wish my life away, but I am looking forward to this upcoming three day holiday weekend. Celebrating Canada Day is always a highlight. I am just happy that the Mr. is off this weekend. There are so many activities and events in our area it will be hard to choose just one!
The following weekend a local town is hosting a garden tour. Fingers crossed the weather will cooperate!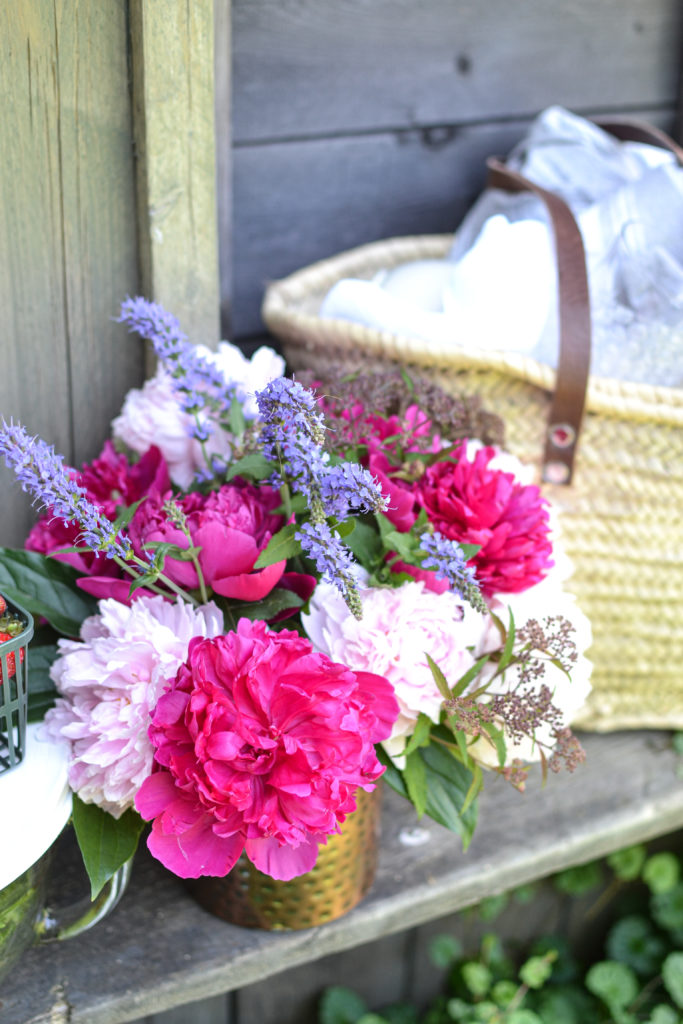 One things is for sure, I am hoping we can get to the park for a picnic lunch. There is always shade, a breeze, and it is the perfect way to spend an afternoon!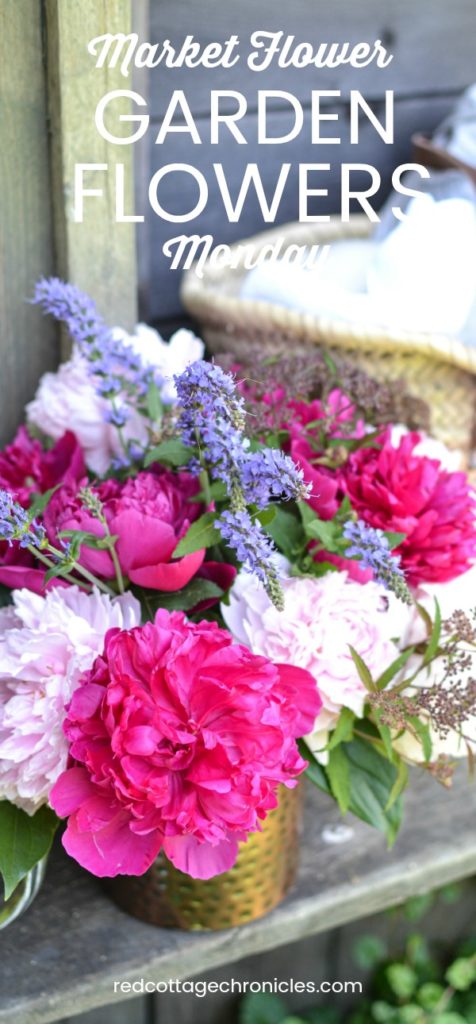 In the meantime, I hope I have inspired you to get out into your garden (or maybe even plant one if haven't already) and harvest some blooms for your own arrangement.
Oh, also, I invite you to subscribe to Red Cottage Chronicles! Not only will you get notified whenever a new post goes live, but I will also send you a password to access our VIP printable library as a thank you!
Until next time….