Happy Monday Friends! Monday's are always a little bit easier to take when you know they are leading up to a long holiday weekend! Today is extra special because it is the first day of our week long Red, White and Blue Tablescape Blog Hop where a group of very talented bloggers share their patriotic tablescape ideas! I am honored today to be sharing my Canada Day Tablescape ideas with you!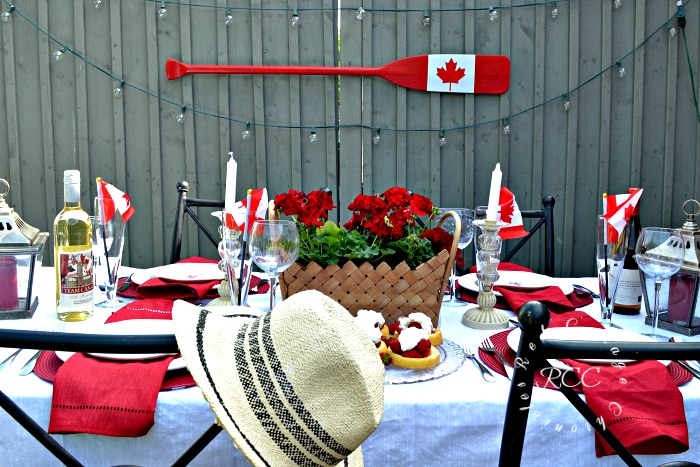 Now, while my table decor is all about Canada Day tablescape ideas, a few simple changes and some touches of blue and you would have an equally patriotic tablescape for your 4th of July celebration too!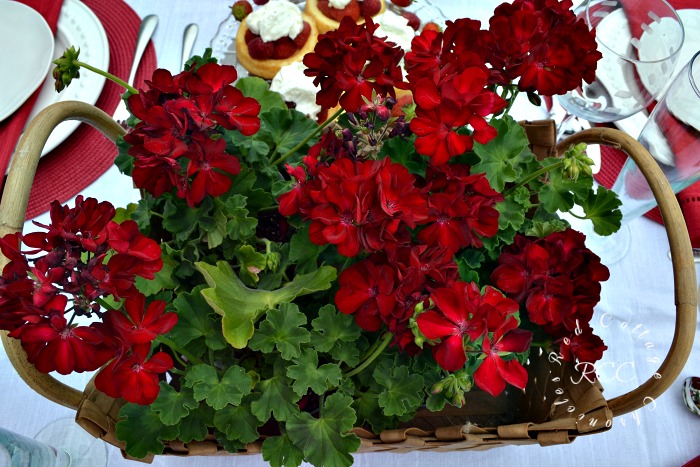 Canada Day in Niagara is full of events and activities but we will always end up in the backyard of family to enjoy a summer meal!
A patriotic tablescape does not need to be a budget buster. In fact, most of the tablescapes I do start with shopping the house and flying by the seat of my pants until I have a look that represents the theme or season I am decorating for.
Flowers are always a must and red geraniums that will be planted in the garden were a bargain that I couldn't resist. I simply plunked the four pots into a wicker basket to use as a centrepiece!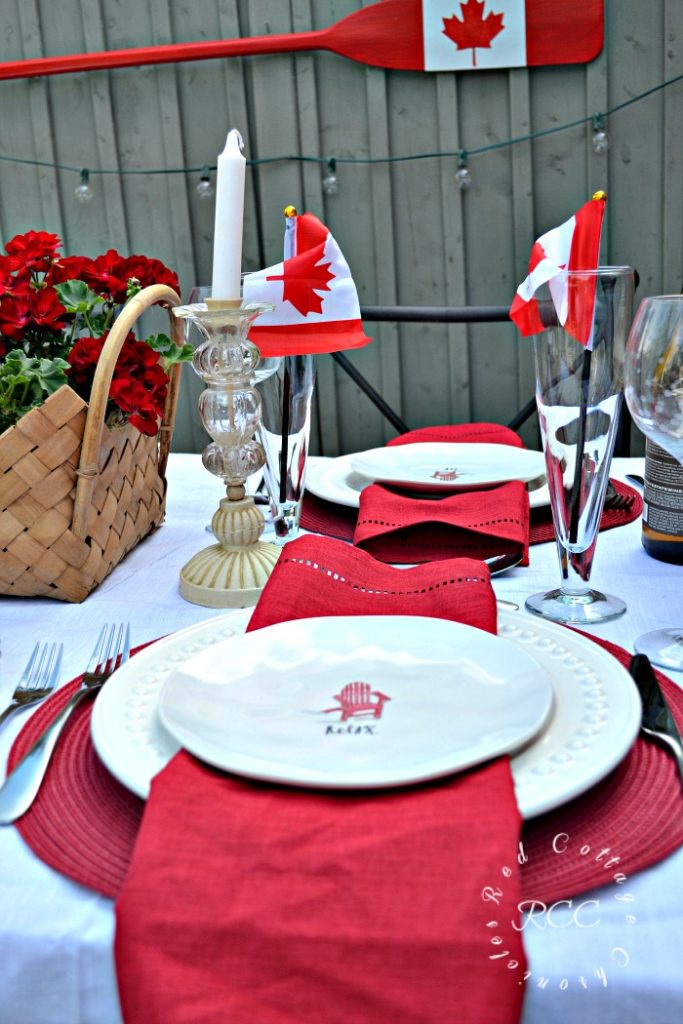 A trip to the dollar store and sometimes a little splurge at Homesense is all it takes to pull everything together. I bought 4 little Canada Flags at the dollar store, and some really fun Canada themed melamine Rae Dunn plates at Homesense!
How cute are these……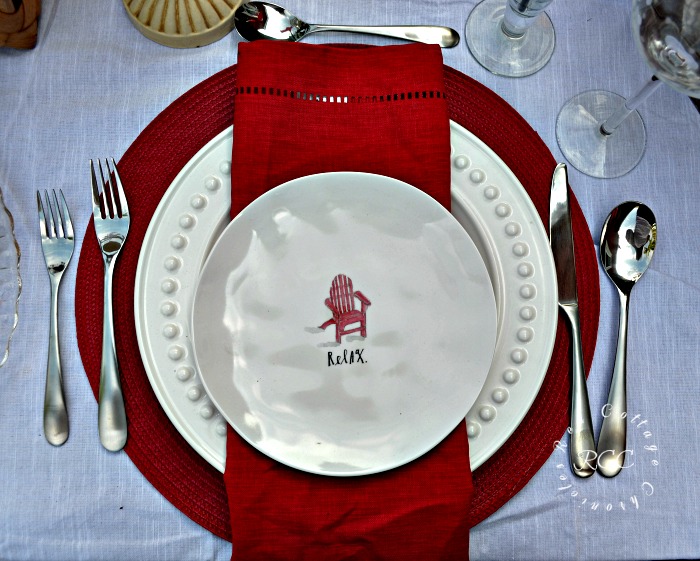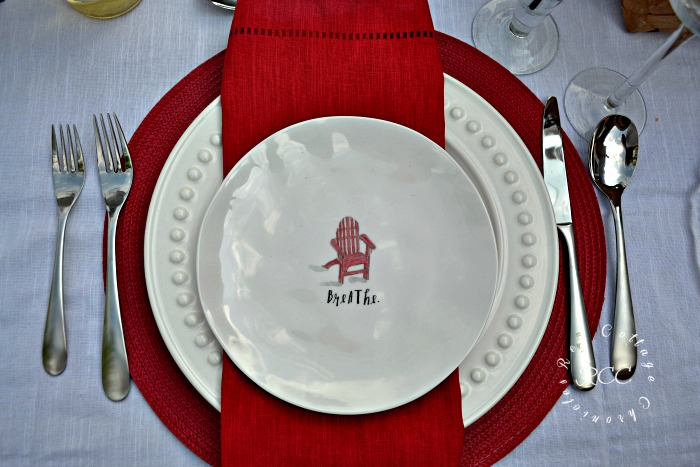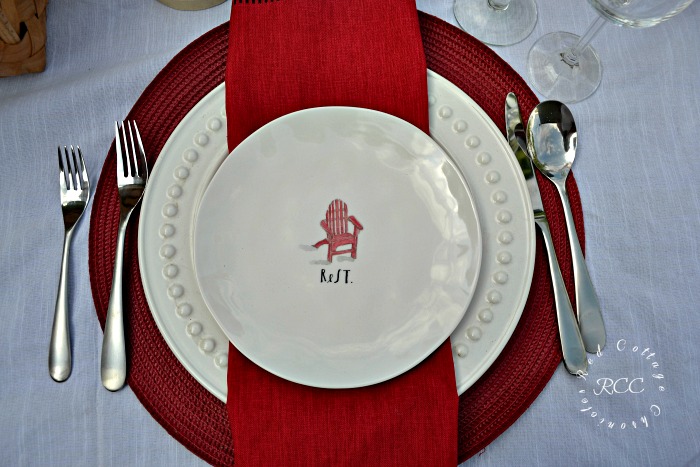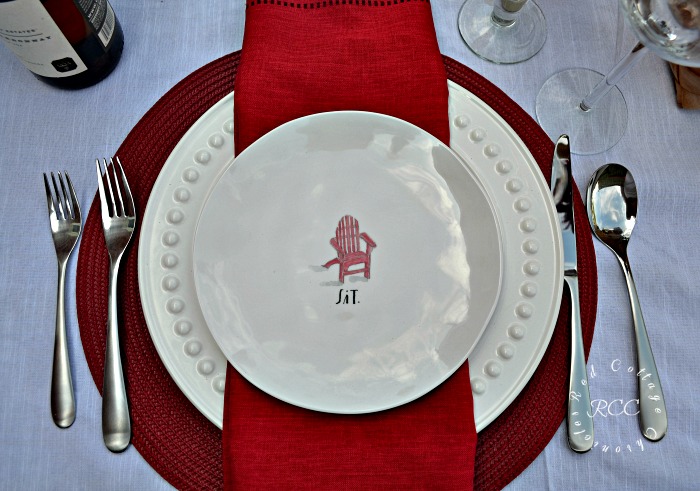 …….is there anything more Canadian than red Muskoka chairs?! And, paired with words that encourage us to slow down and enjoy the summer! Couldn't resist! If you can't find them near you, I have seen them here on Amazon, but definitely check out Homesense and Marshalls in Canada, because I didn't pay anyway near this price! But, I hear Rae Dunn is in demand and tends to go for way over sticker price for harder to find pieces!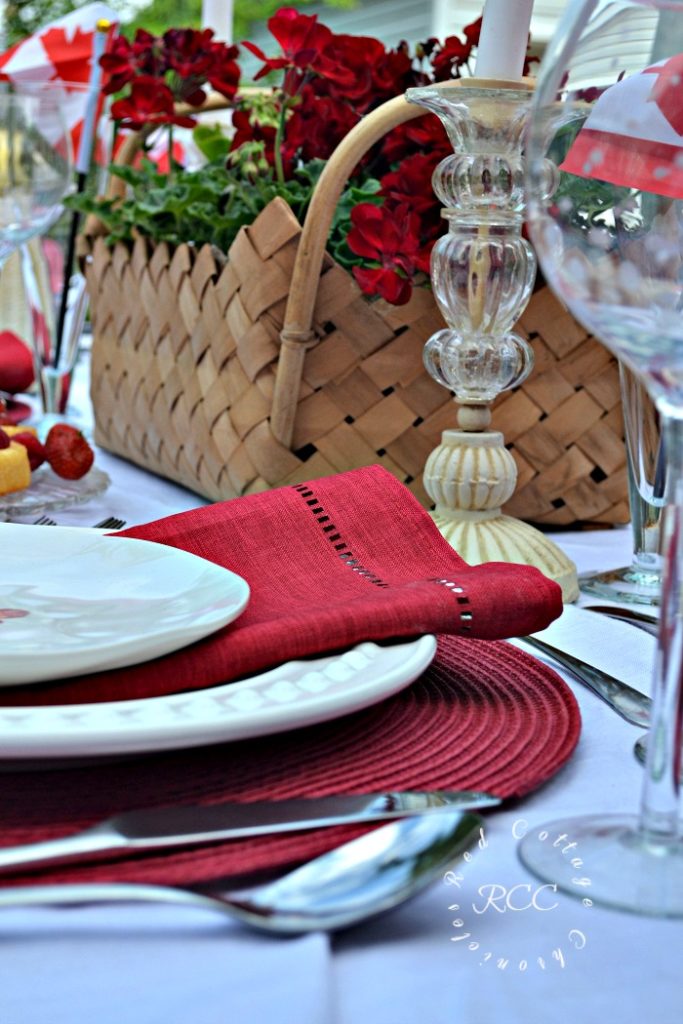 I stacked them on top of beaded rim dinner plates and red hemstitched napkins I already had. Round red wicker place mats from the dollar store completes each place setting. A white hemstitched washable poly/cotton blend linen tablecloth anchors the entire table and is easy to through into the washing machine after.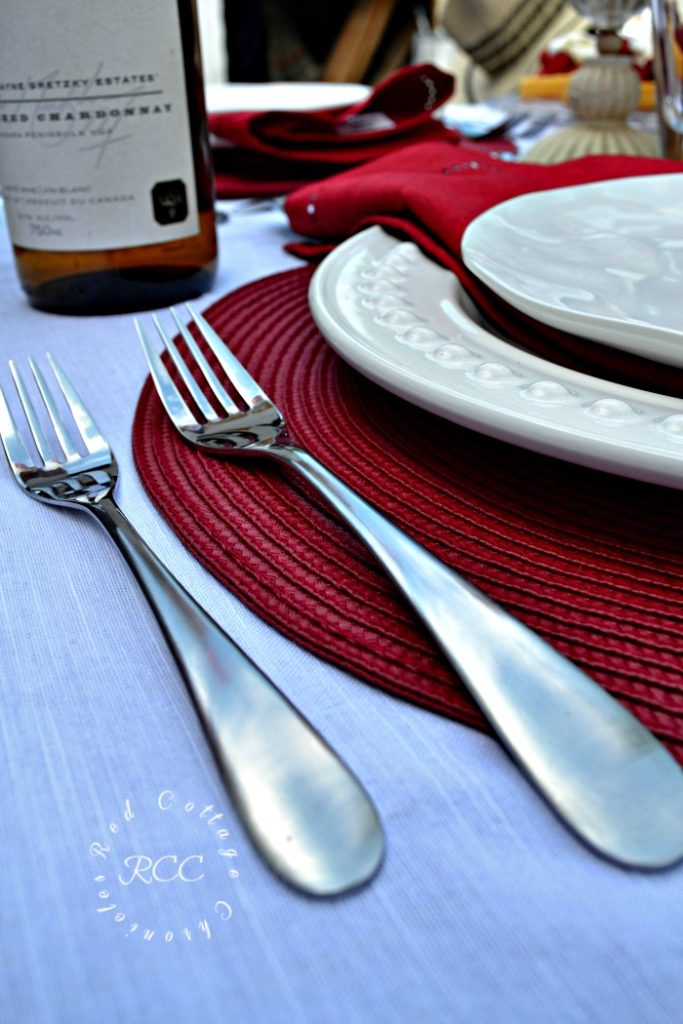 I find that simple brushed sliver flatware goes with pretty much any occasion. I like the simplicity of this style.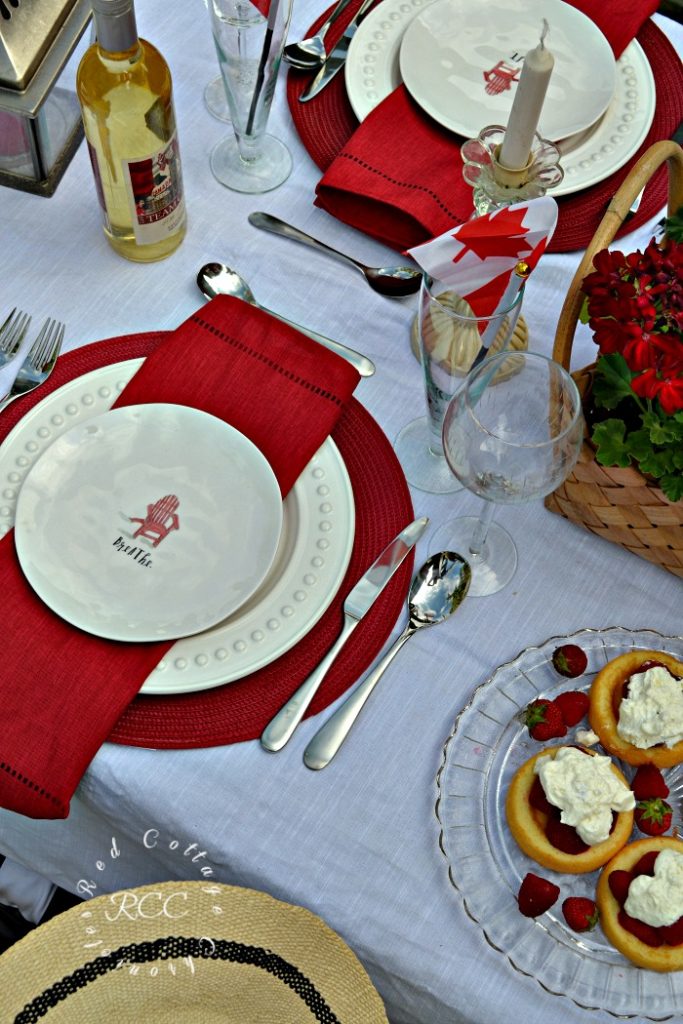 Tall beer glasses with the tiny dollar store Canada flags add a patriotic touch. Over sized wine glasses will be filled with wine, a cool summer cocktail.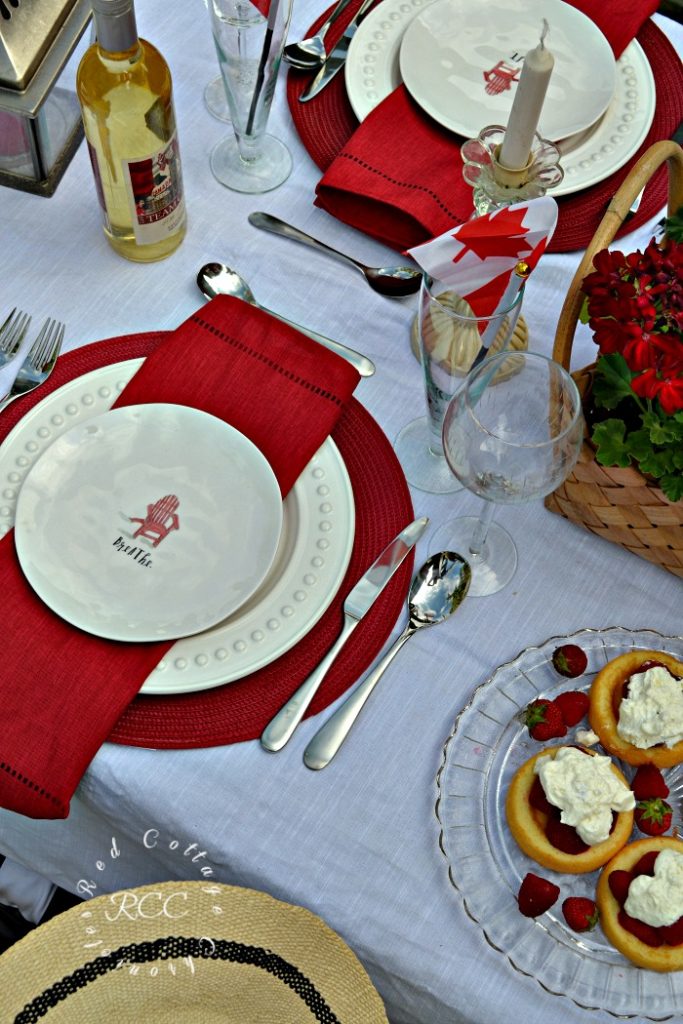 Speaking of wine, you can't get more Canadian than a bottle of wine from Wayne Gretzky's winery or a bottle representing Canada's National hockey team!!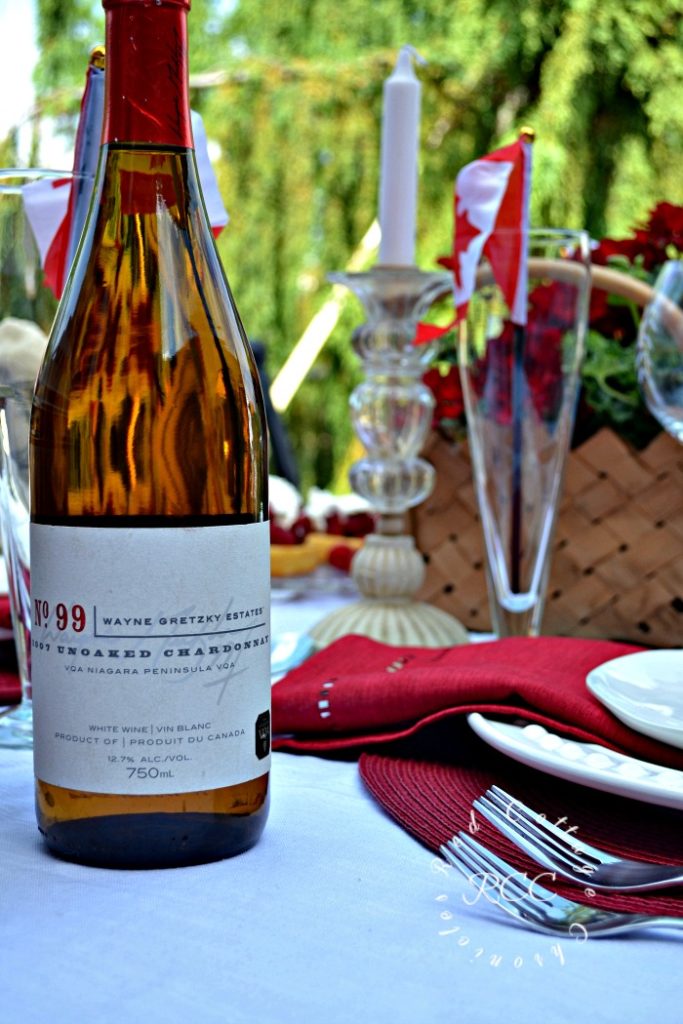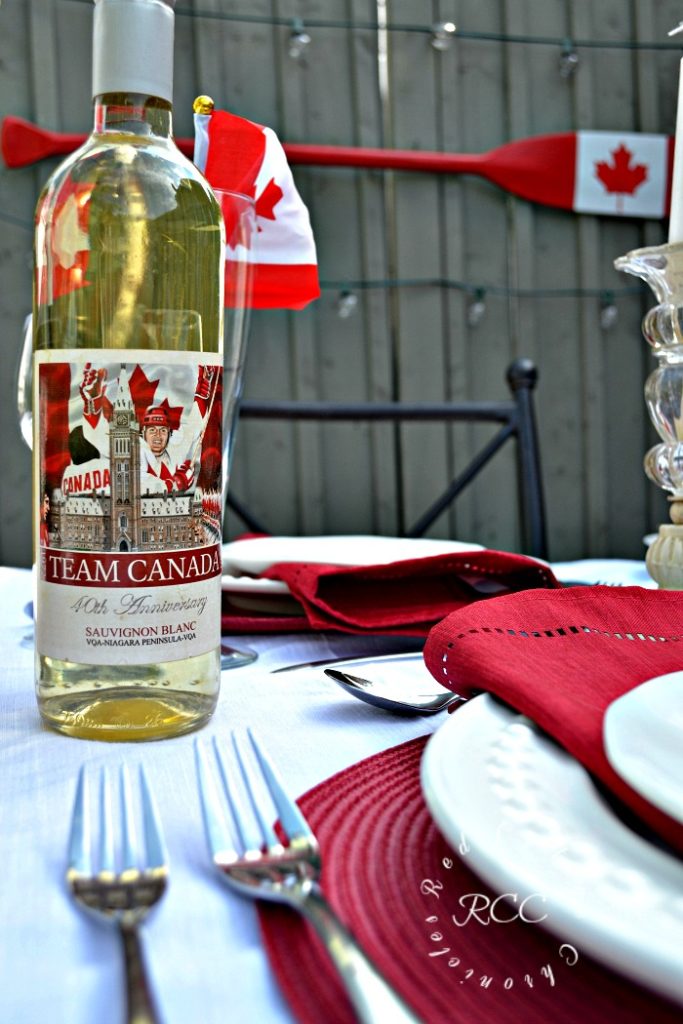 Simple Canada Day Tablescape Ideas:
begin by shopping your home for things that fit your colour scheme/theme
use potted potted geraniums as a centerpiece and then plant in your garden after
check out the dollar store for a great selection of Canada themed accessories
red napkins, whether cloth or paper add a pop of colour
using fresh fruit also adds a pop of colour for very little cost, plus it doubles as dessert
"splurge" on themed salad plates to pull the look together (mine plates cost only $19 for 4)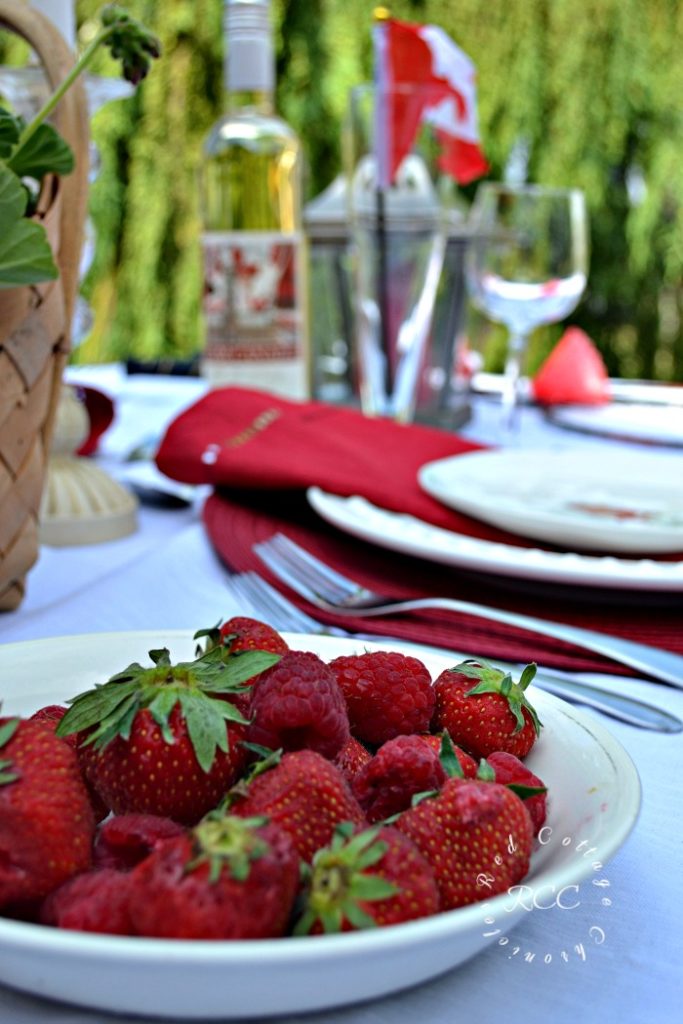 Fresh fruit and other sweet treats are always a great way to add colour to your tablescape. Local strawberries and a few raspberries add a pop of red, while provided a little snack!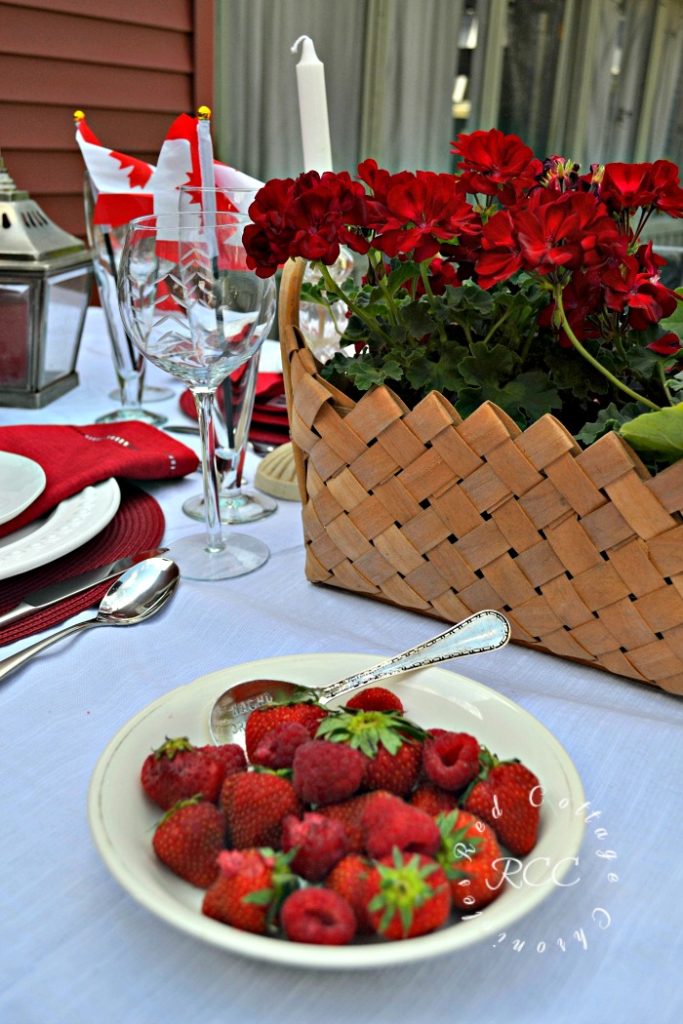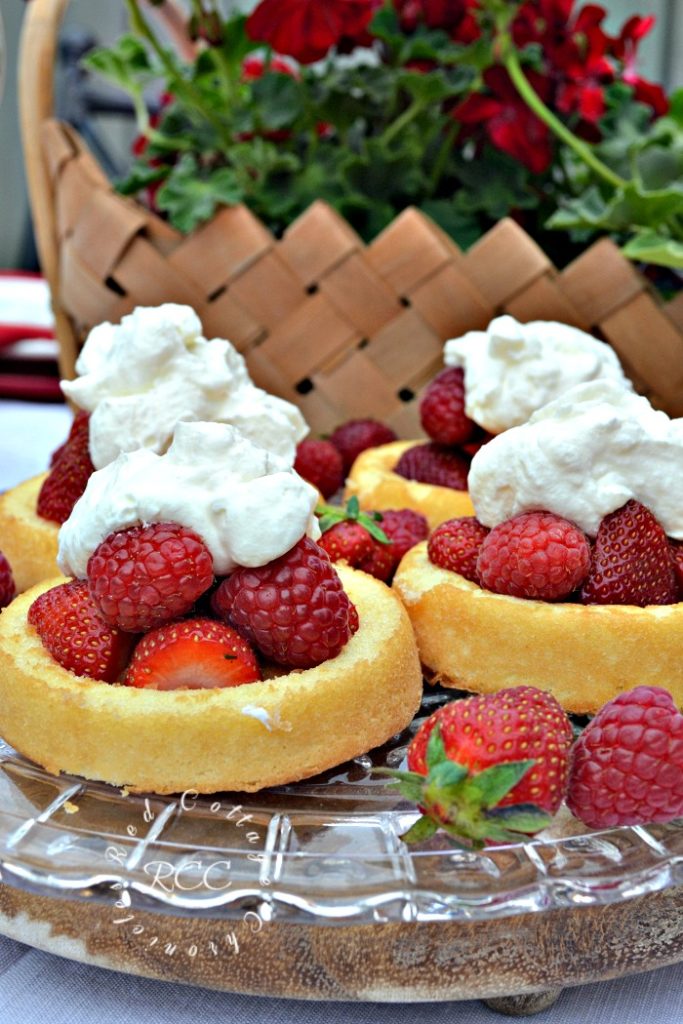 Of course, a little strawberry shortcake never hurt anyone!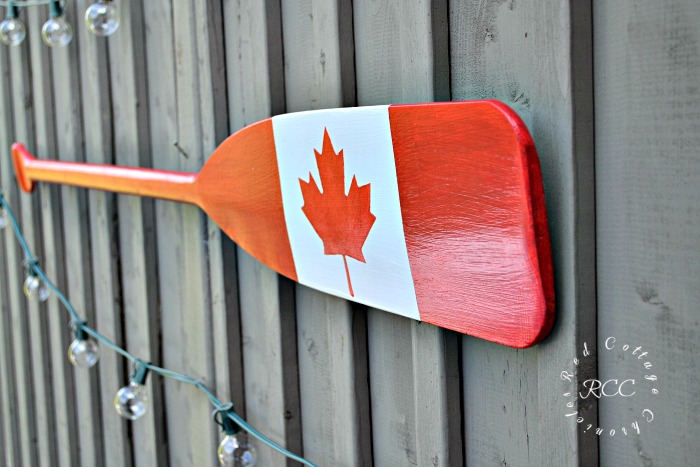 This oar, which had been painted blue and once used in the living room was given a coat of paint left over from this project, and stenciled with a maple leaf. This will be its' home for the summer!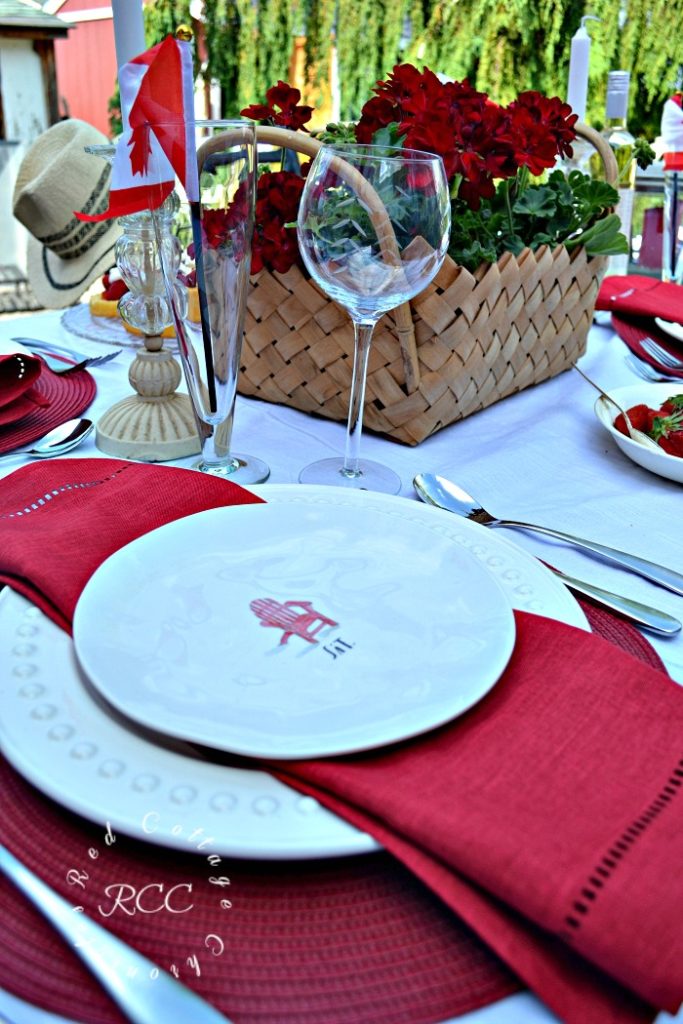 I had such fun coming up with these Canada Day tablescape ideas and putting it all together. Although my husband may not agree! At one point it started to rain and we had to quickly get everything into the screen porch! And, the rain showed no signs of stopping. It wasn't until the next day that we had a 2 hour window to get everything set out again!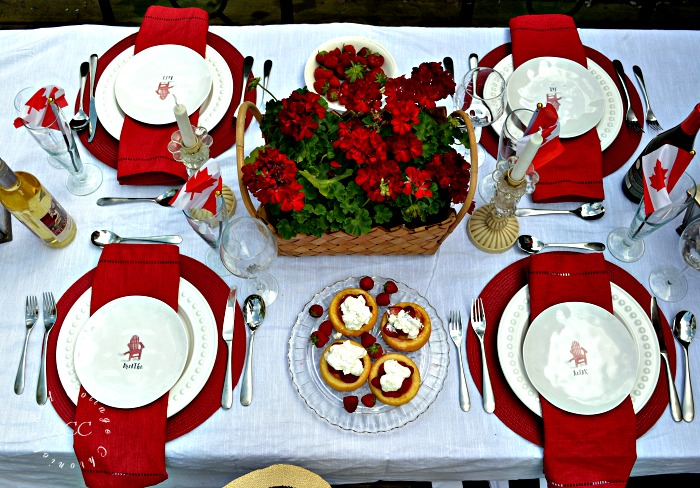 Thankfully, this weekend the weather calls for clear skies, sunshine and really warm temperatures! A stellar long weekend in Canada indeed!!
Whether you will be at the cottage, at the beach or just enjoying time with family and friends in your own backyard, I hope you have found some inspiration to set your own patriotic tablescape be it Canada Day or the 4th of July!!
Thanks so much to Chloe from Celebrate and Decorate for hosting this fun Red, White and Blue Tablescape Blog hop! Be sure to check back every day as the links go live on their appointed day! Scroll down for all of Monday's Patriotic inspiration!
Until next time…..