(Almost) Life Size Red Truck & Christmas Tree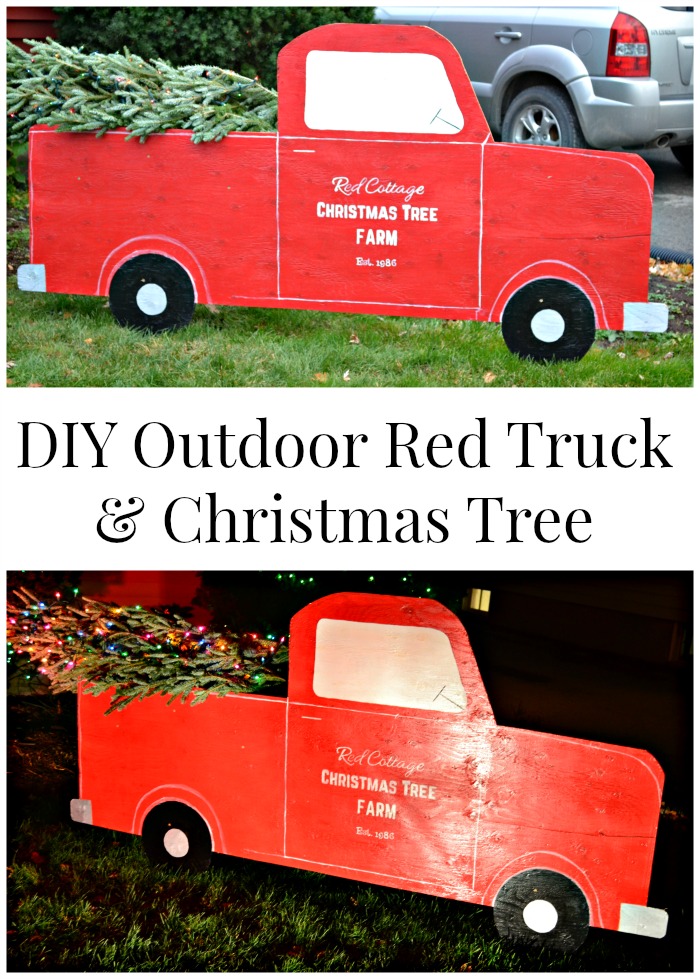 Have I mentioned that I am married to Mr. Christmas?! As soon as Labour Day is past he starts thinking ahead to Christmas. One September day he mentions that he would like something "fun" for the outdoor Christmas decorations. Something different that no-one else in the neighborhood has. I (half-joking) suggested we build a life size version of the classic red pick up truck and Christmas tree.
Well, didn't he jump all over that idea. It wasn't until just a week ago that we finally got around to getting the project underway.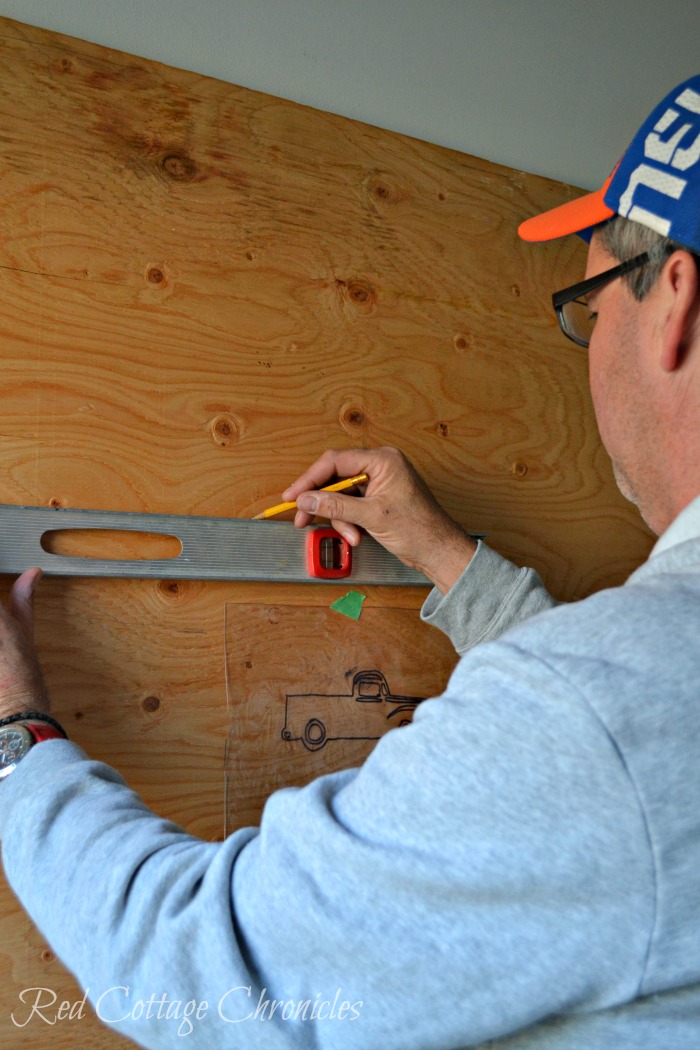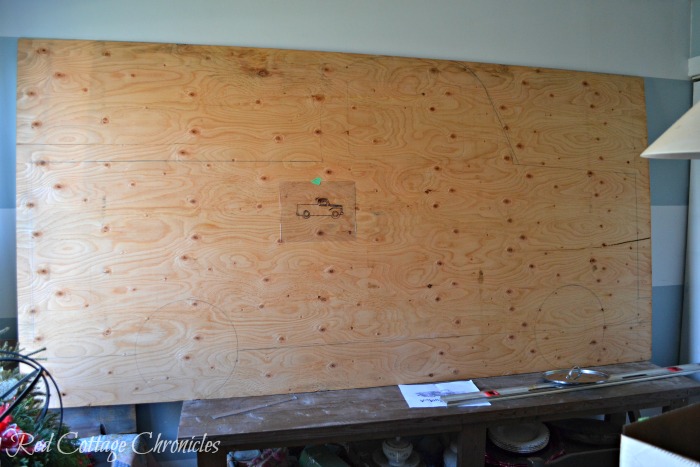 I first found a printable image of a pick up truck that we would use as a rough guide. Using a ruler and a level we drew out the body shape onto the plywood.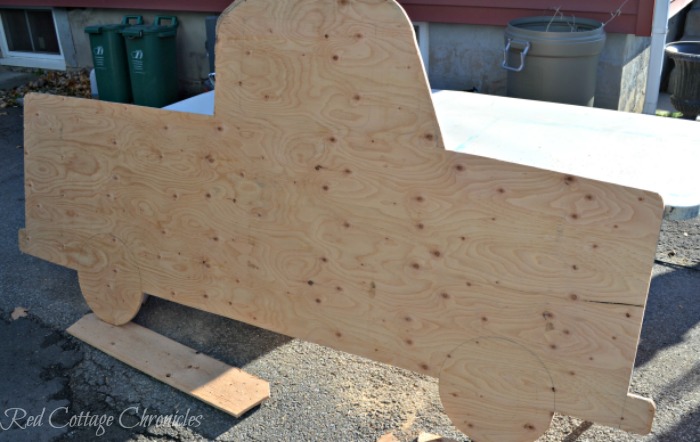 Next, Tim brought the plywood outside and using a jigsaw, cut out the shape of the truck.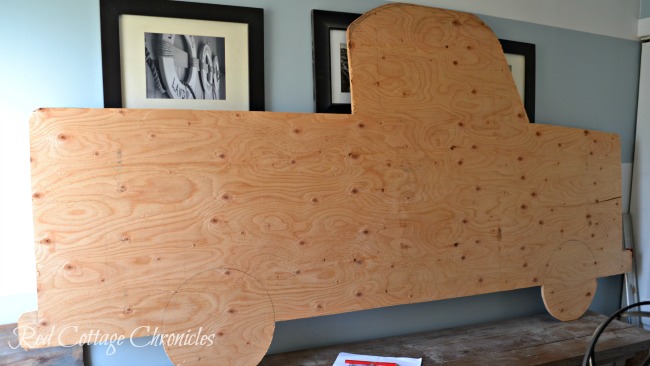 We then carried it back into my workshop (otherwise known as the dining room!) and I got to work painting it. I didn't really want to invest a ton of money just in case it turned out horrible because we all know my artist skills are rather, well, lacking!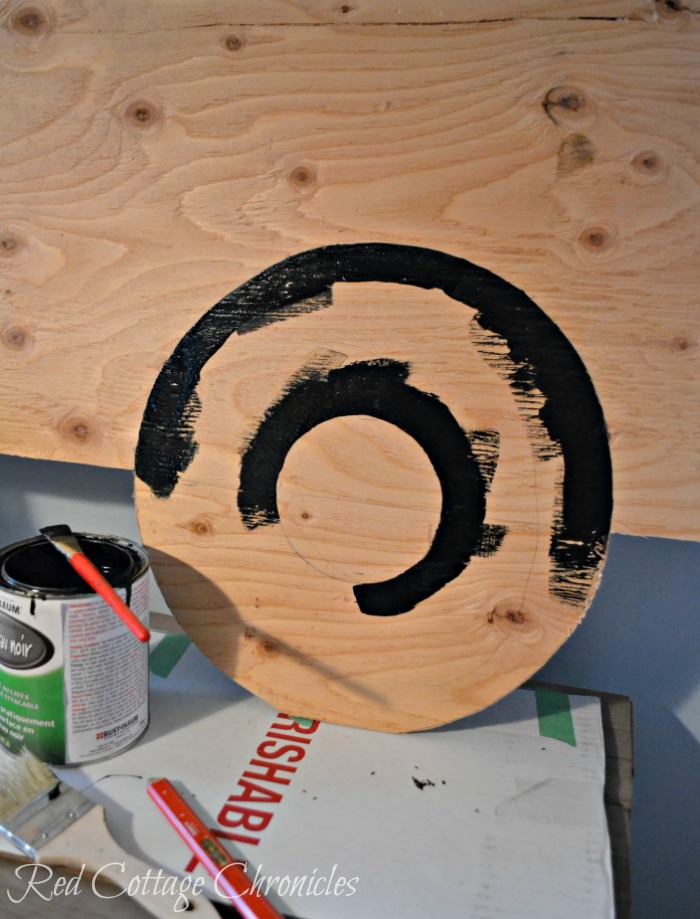 I started painting in the tires with black chalk paint that I had on hand. I didn't bother taking any photos of painting the red body of the truck. I used Rona exterior paint in Amazing for the body. The bumpers were painted with some leftover Rust Oleum Metallic Accents in Sterling Silver. I then used some Rust Oleum Chalked paint in Linen to draw lines to accent and define the trucks body, and fill in the window.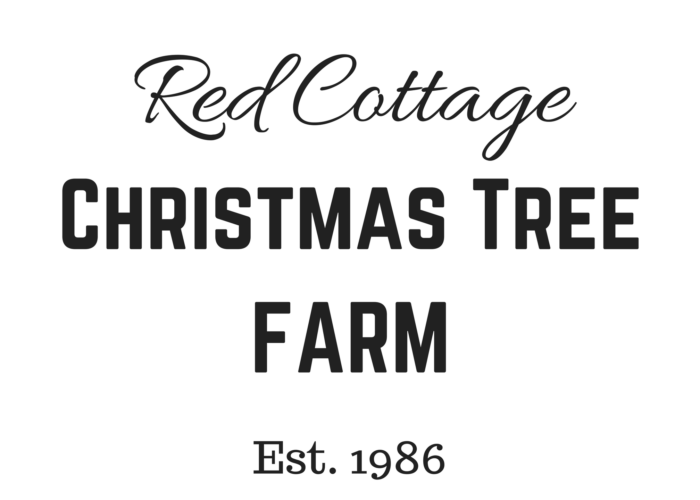 I used Canva to design an emblem for the door of the truck. I wanted it to measure approximately 15 inches high by 21 inches wide. Red Cottage is done using Allura in 120. Christmas Tree Farm is Norwester in 96 and Est. in 1986 is Trocchi in 48. After I designed it, I took it to Staples to have it printed to size.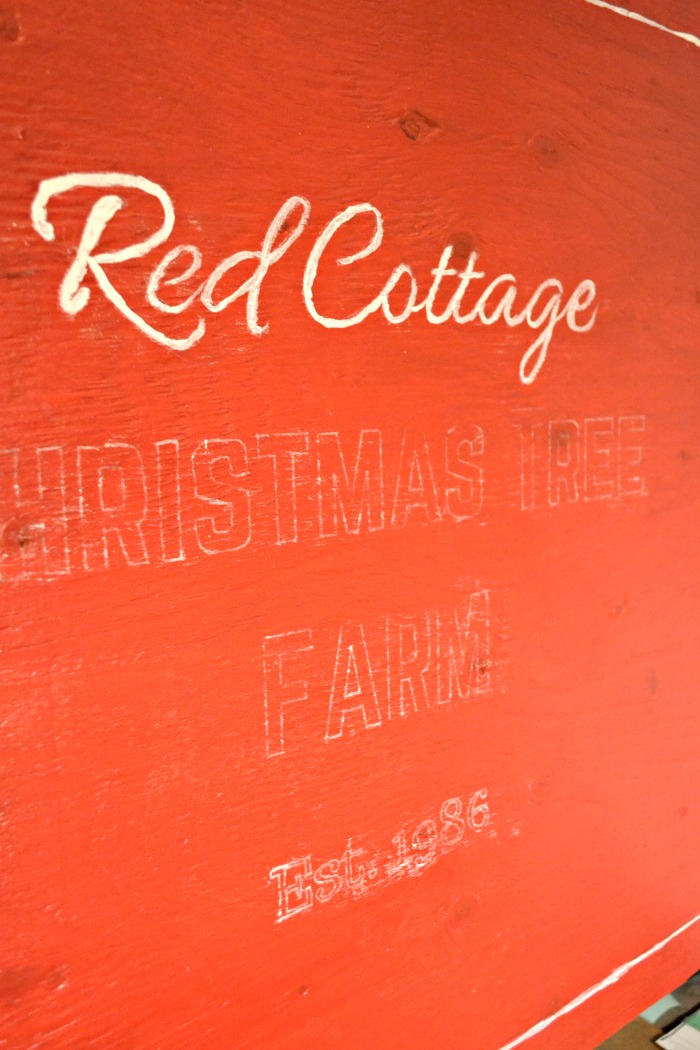 I was planning to use the pencil transfer method, but the pencil lead wouldn't show up on the red paint when I tried to trace the letters. I used white chalk to colour all over the back of the print and then taped in place before tracing over each letter to transfer to the truck door. I then used the Linen chalk paint to fill in the letters.
I sealed all the chalk paint with a clear sealer to protect it from the weather.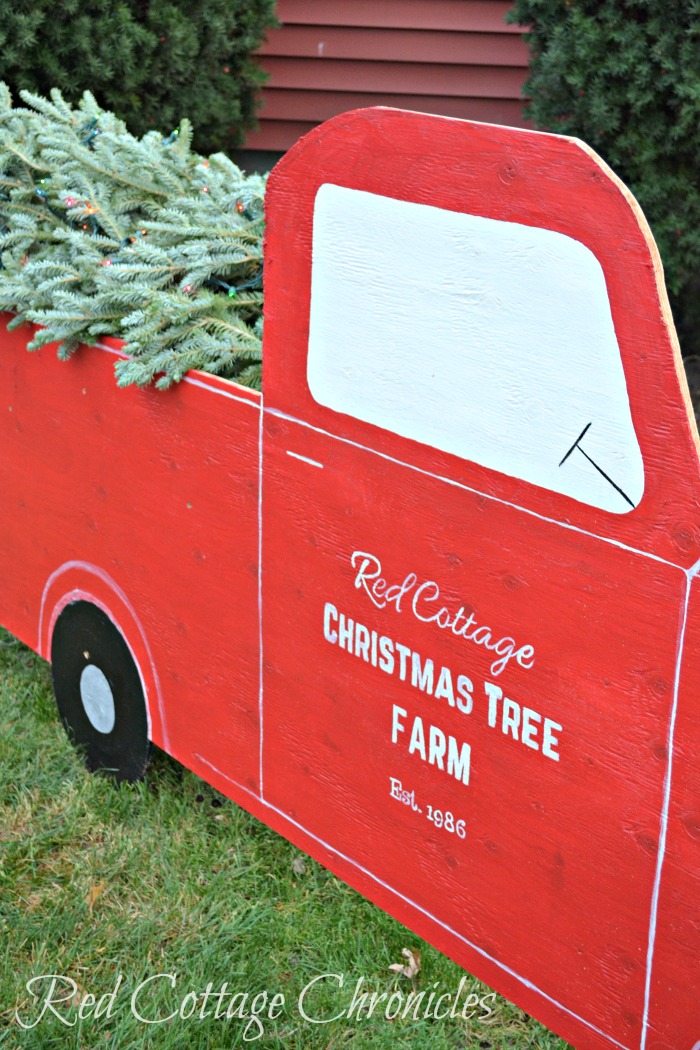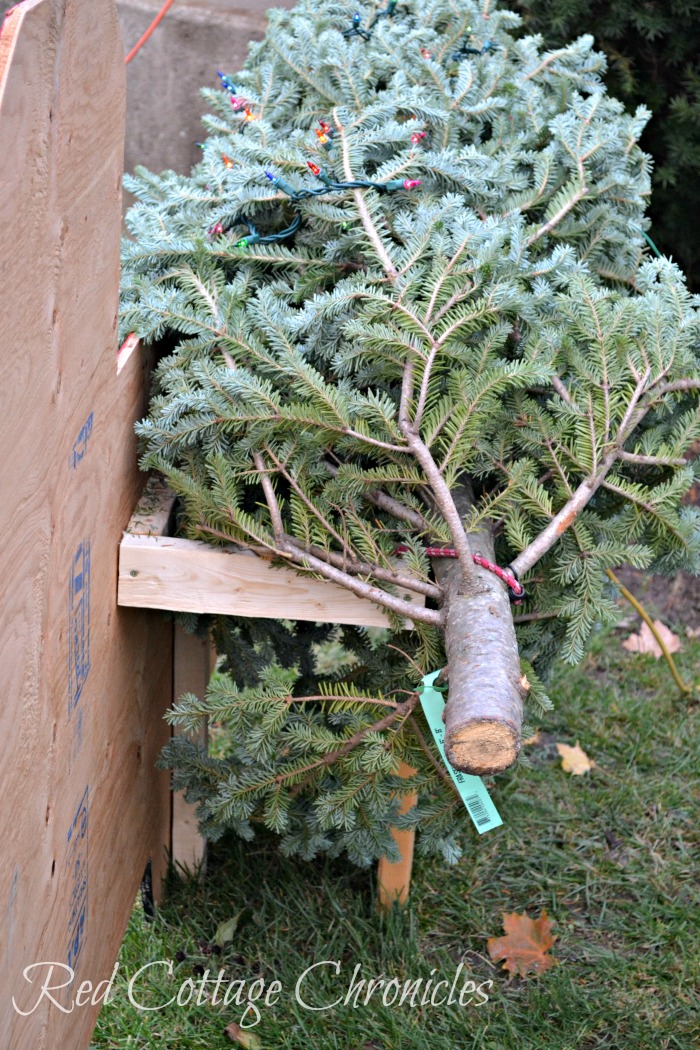 Setting it up outside was easy. Tim simply used some leftover 2 x 3's cut to approximately 3 feet. He measured the distance between the tires and used this distance to hammer each on approximately 1 foot into the ground. He then screwed the truck to the stakes. He also used 2 x 3's to build a frame on the back to hold the Christmas tree and used bungee cords to secure it in place. It is a real tree we picked up at the grocery store and strung with an extra set of lights. I should mention that you can't see the back of it from the street!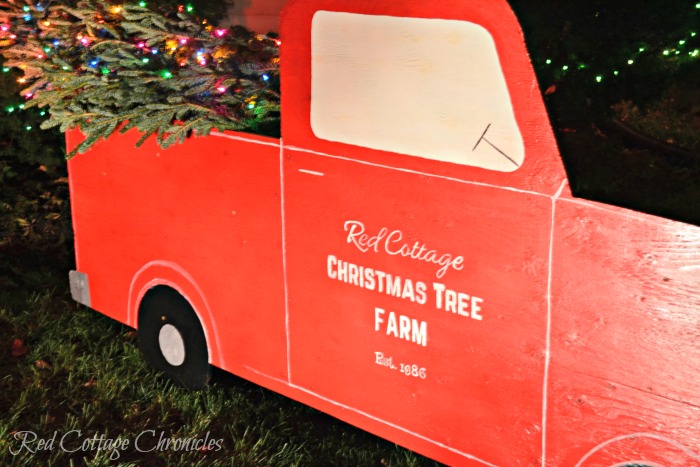 I just love how it looks at night, all lit up. Tim focused a clear flood light on the truck door. We always have solid colour lights on the shrubs in the garden, so the multi-coloured lights on the tree in the truck stand out.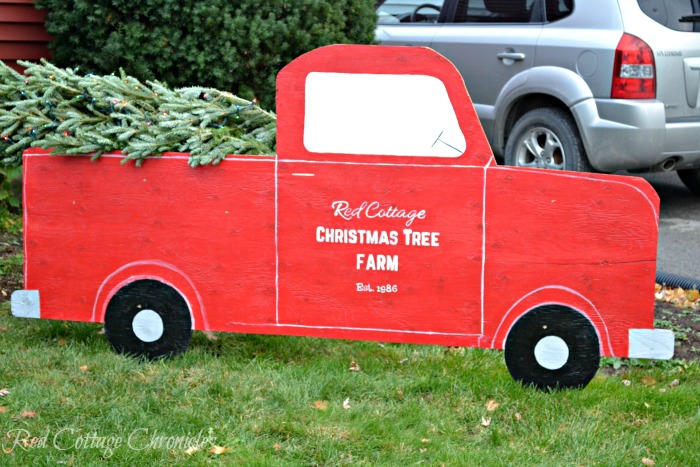 Now that it is all done, I think Tim has said about 100 times, "I really didn't think we would ever really make this happen".
Oh, ye of little faith!
Outdoor Christmas decorations in our neighborhood range from a yard full of blow up Christmas characters to simple lights on the eves and everything in between.
Our own outdoor Christmas decorations are, for the most part, quite traditional. Lots of lights of course, window boxes stuffed with greens and ribbons, a dressed up front porch with urns filled with greens, ribbons and dogwood, and a Christmas wreath on the door. We have already had lots of compliments from the neighbors with the addition of our DIY red truck and Christmas tree.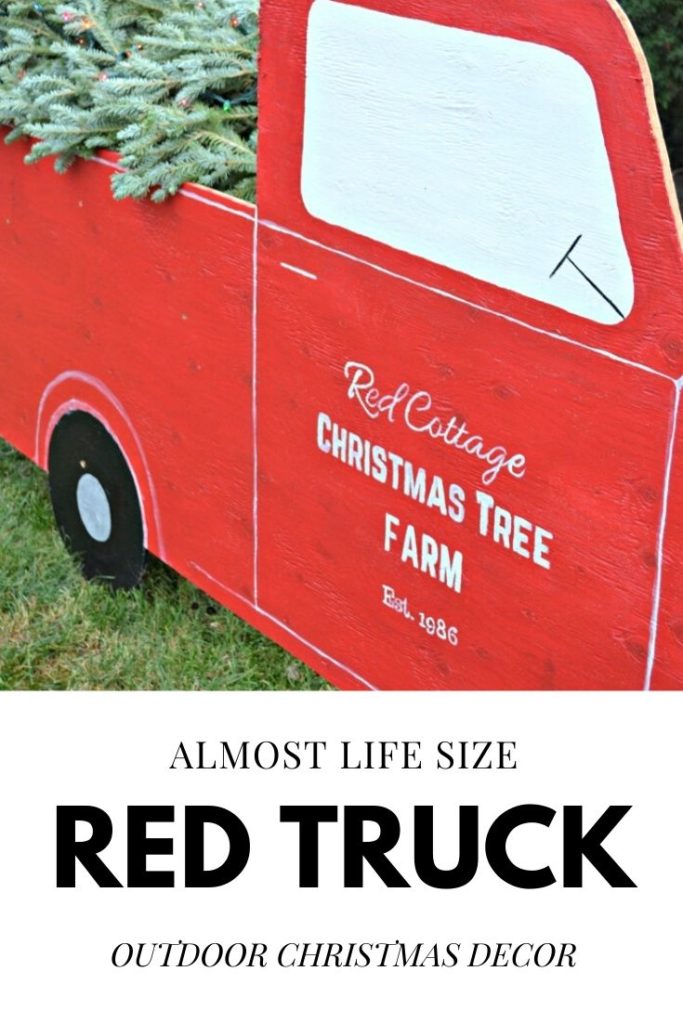 Now all we need is a nice blanket of snow and our outdoor Christmas decorations will be complete!
I have a ton of fun projects, recipes and gift ideas coming up in the lead up to the holiday season and I would hate for you to miss anything! You can sign up to subscribe to automatically receive an email notification when a new project is posted. Simply click here to get on the list! As a bonus I will send you your password to access our VIP printable library!
Until next time….