Looking for Valentine table decor with no red? Look no further than my bold and beautiful tablescape perfect for Valentine's Day!
I don't know about all of you, but if there has ever been a time for celebrating each and every "holiday", that time is now!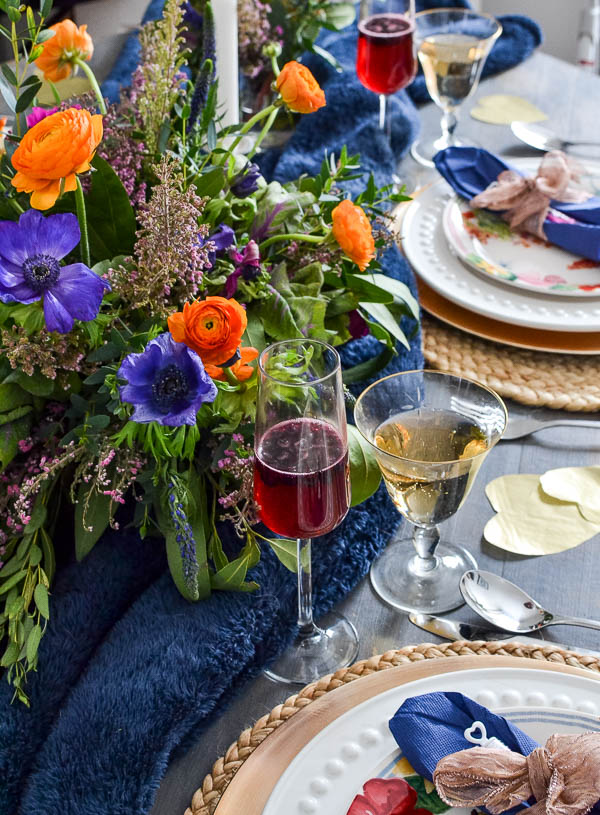 Joining me today are 20 of my table styling friends to share our Valentine's Day table decor! Thanks again to Chloe from Celebrate and Decorate for gathering us all together!
With so much going on in the world I find that having something to look forward to is essential for our mental health. And yes, something as simple as celebrating all the little holidays with whomever is in your household (or bubble) is a nice change of pace!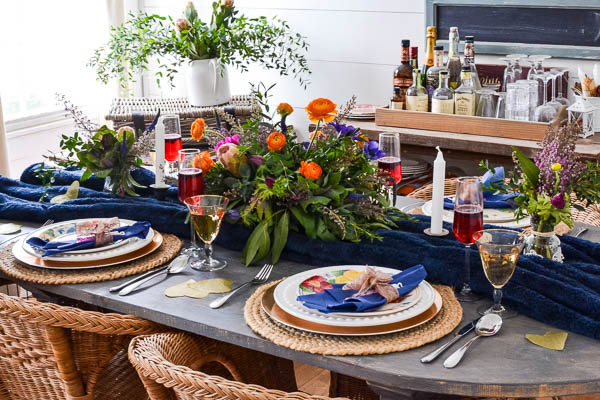 Why I prefer Valentine table decor with no red
Have I ever told you that red roses are my least favorite flower? True story. I am not a fan personally. Maybe it comes for my years working at a flower shop where every Valentine's Day we had to process and arrange thousands of long stem red roses!
Just like last year's Valentine's Day Table where pink was the star, this year I set out to design Valentine table decor with no red! And, I think I was pretty successful! Lots of cozy colours with just subtle hints of Valentine's.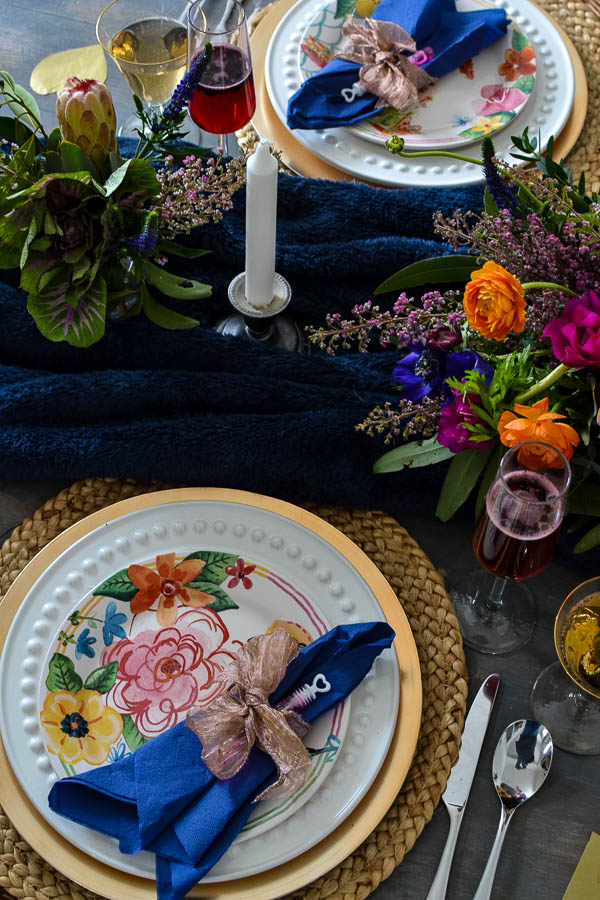 This post contains affiliate links. Should you decide to make a purchase through an affiliate link, I may receive a small commission with no increase to your cost!
It all started with this gorgeous centerpiece I created thanks to Holly Chapple's Living Life With Flowers! I couldn't help but fall in love with the deep jewel tones of the flowers and immediately knew it would become the focal point for table. The eye catching, almost moody colour pallet is perfect Valentine table decor with no red.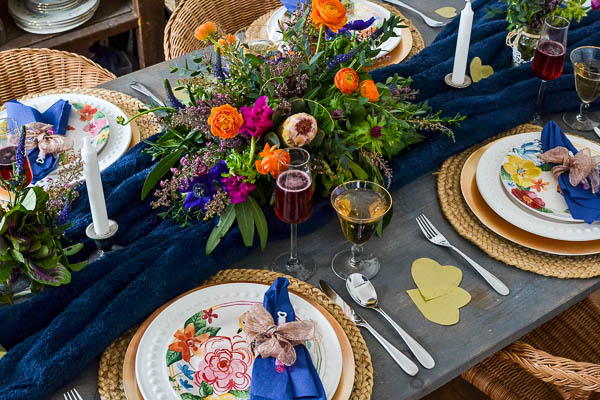 Styling a table with what you have!
Like most of my tables since early last year, I have had to be very resourceful, and use what I already have when styling my tables. We are back in lock-down in our area since December 26th, so hopping into our local HomeSense sadly is not an option.
I normally would not use something as bulky as a plush throw blanket for a table runner, but it was the perfect shade of navy blue. Plus, when it was arranged just so, it really didn't over power the table.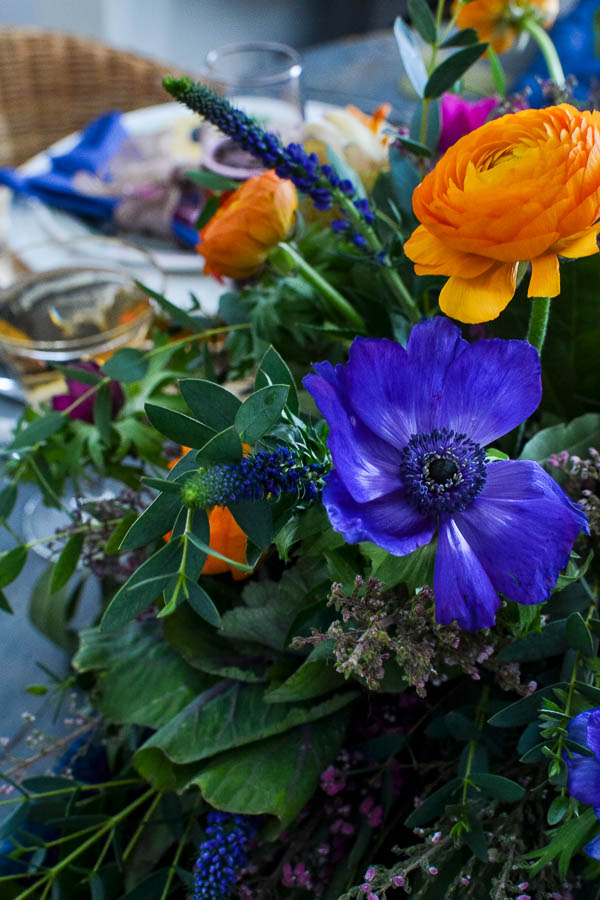 I had some left over flowers so I popped them into some small vases. Paired with two simple taper candles and the main centerpiece, they create a very eye catching table indeed!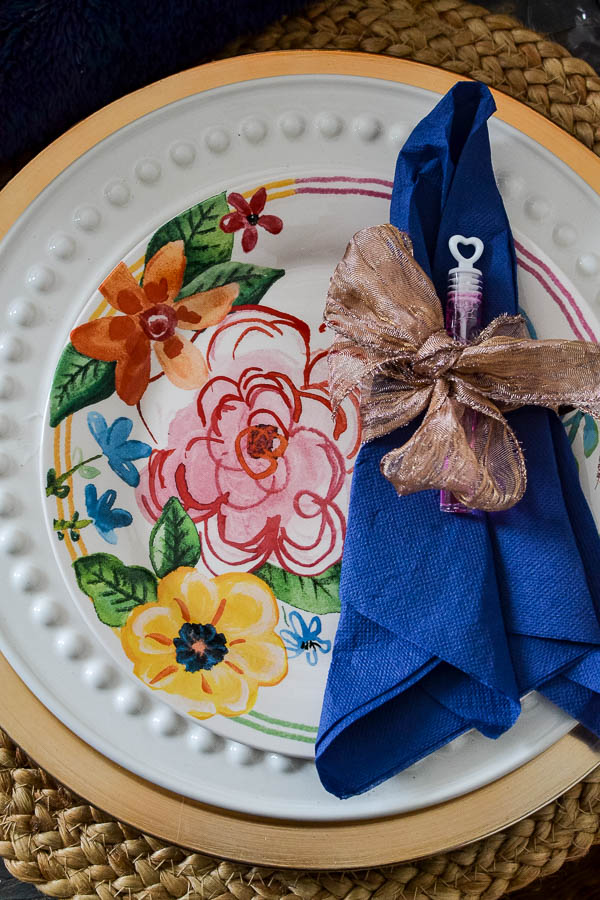 If you visited this spring tablescape, you might recognize the salad plates! I stragetically placed the deep blue napkins to cover the woodland creates on each plate. Thus leaving the bright and bold flowers to compliment overall theme.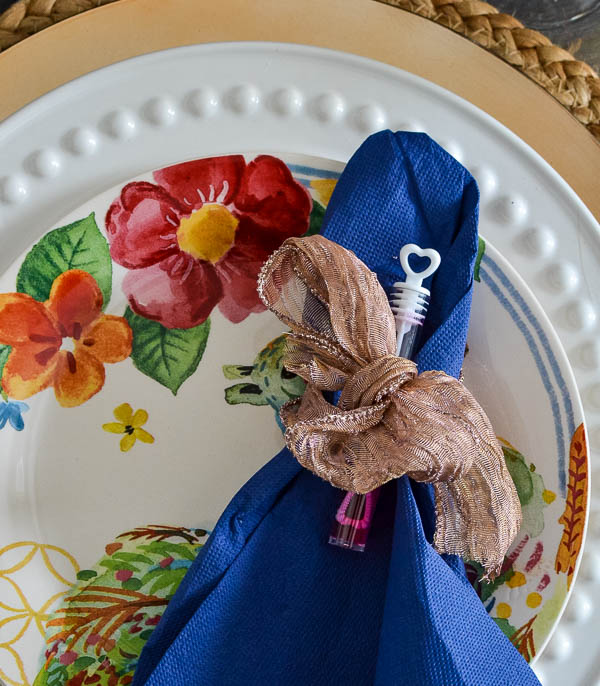 I repurposed a strand of the ribbon I used on this year's Victorian Christmas tree. I simply cut it into four equal pieces and tied a bow around each napkin. A little heart topped bottle of bubbles is tucked into each ribbon! How fun is that!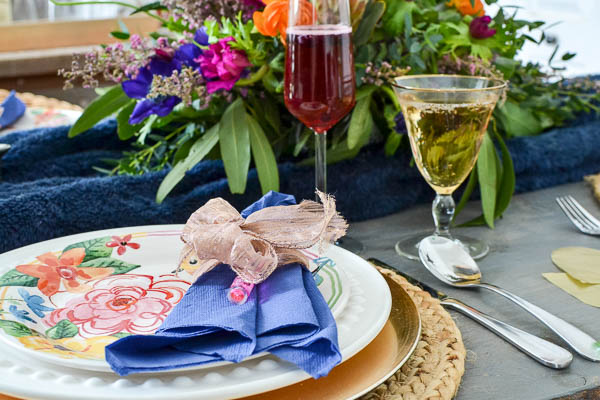 I stacked the colourful salad plates atop my favourite white pearl edged plates, purchased years ago from HomeSense. A rattan place mat and gold charger plates complete the plate stack.
My simple, everyday flatware complete each place setting.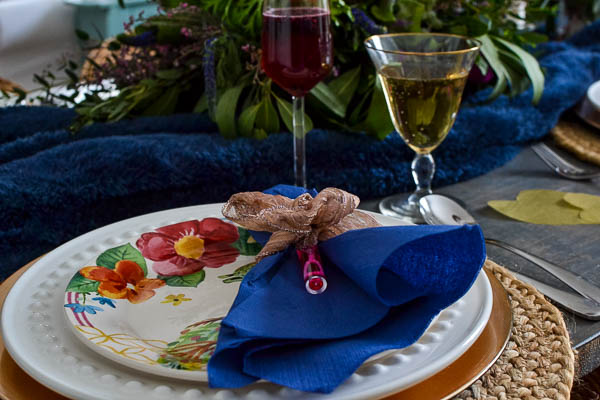 And, speaking of napkins. Would you believe these napkins are paper? From the dollar store! Yes they are. It pays to buy napkins, both cloth and paper whenever you see some that catch your eye. These ones feel almost like linen, but are a sturdy absorbent paper.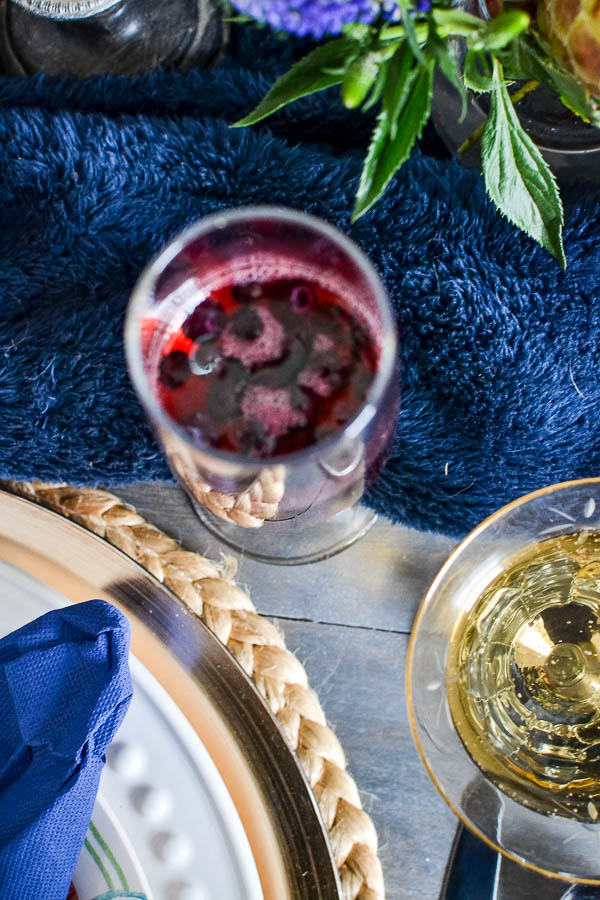 Beverages are always a great way to add colour to your table. Each place setting has a simple champagne flute filled with Cassis, ginger-ale and a few frozen blueberries. An elegant gold rimmed wine glass is filled with ginger-ale.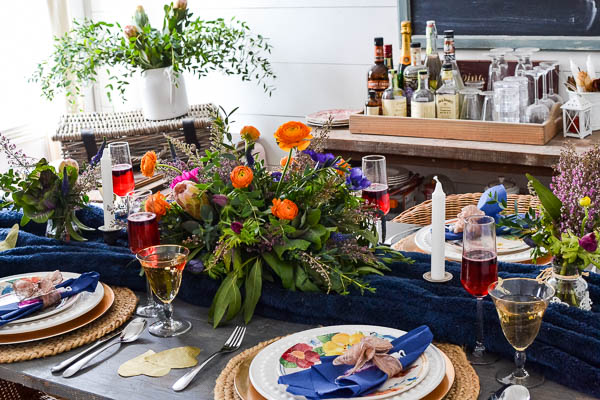 Gold hearts made with tissue paper from my gift wrapping stash give a subtle nod to the Valentine theme with a bit of whimsy.
While this would make a striking, cozy tablescape for any couple celebrating Valentine's Day, it is equally fitting for the family!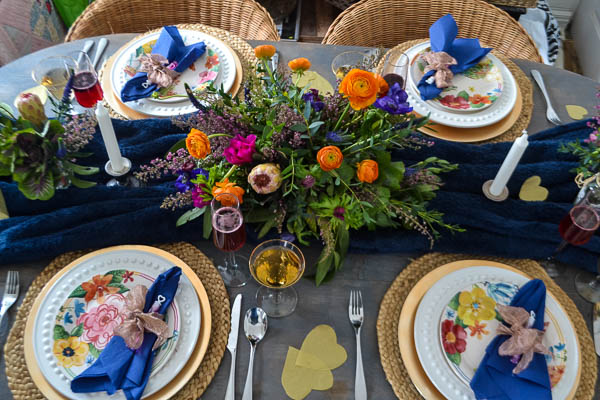 Maybe for the kids add some gold foil wrapped chocolates, or make homemade Banana Ice Cream Sundaes or Vanilla Bean Cupcakes and let the kids add the toppings!
I really hope you will join me in celebrating all the special (and even the ordinary) days this year by setting a pretty table! Starting with an extra special Valentine table without the colour red!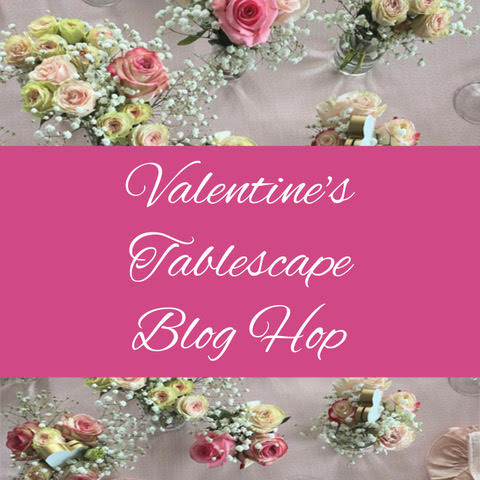 But, if traditional is more your thing, there is lots more Valentine's Day table decor ideas via the links below! I have no doubt you will be inspired to create a fun family table or romantic table for two!
Until next time….

Celebrate and Decorate
Home is Where the Boat Is
Design Morsels
Mantel and Table
Debbee's Buzz
Corner of Plaid and Paisley
Zucchini Sisters
The Painted Apron
Calypso in the Country
Living With Thanksgiving
Me and My Captain
Everyday Living
Our Crafty Mom
Sweet Sensations
My Thrift Store Addiction

Panoply
Red Cottage Chronicles
Belle Bleu Interiors
The Little Yellow Corner Store
My Hubbard Home