8 Tips for Setting A Fabulous Table
Since we are heading in to holiday season, which for many means a holiday dinner (or four) over the next two months I thought I would share some table setting essentials and 8 tips for setting a fabulous table.
I have been fortunate to join with a group of ladies who love tablescaping just as much as I do, and this week we are all sharing our ideas for a Thanksgiving table! I posted mine on Monday along with three other bloggers, and if you missed it you can see it here!
Dinner parties come in all styles and sizes. In our own home, since it is on the tiny side we tend do most of our entertaining during the summer when we can dine al fresco. However during the holiday season it is nice to host smaller groups of friends for dinner. On Christmas Eve we host a brunch for family and friends that can see as many as 20 people filling our home. In a post later this month I will be sharing my tips for organizing a holiday brunch!
This post contains affiliate links that help you easily find things I have referenced, as well as provides the chance that we may receive a small commission with no increased cost to you!
So, lets focus on 10 tips for setting the table for a sit down dinner today.
1. Table Setting Essentials
Having a some table setting essentials on hand provides the perfect base for any style of dinner party. These are things that in a pinch would give you a complete tablescape even if you had nothing else to add, but I assure you that if you follow the tips below you may already have everything you need!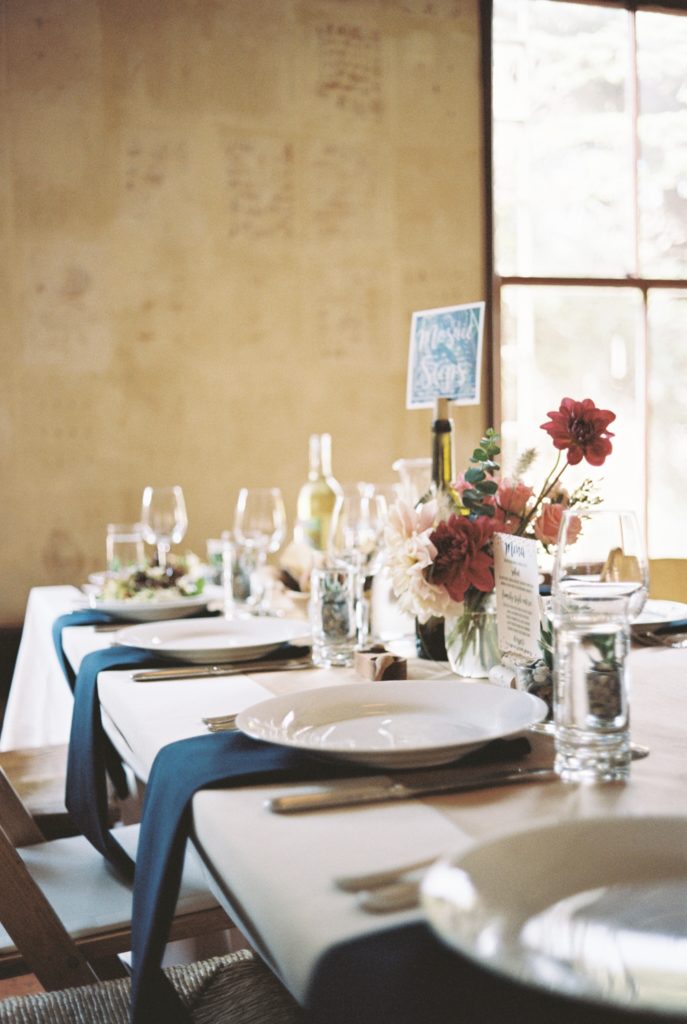 You don't need a fancy set of china to set a nice table. I am all about plain white dinnerware. White is classic and elegant, yet provide the perfect backdrop for a fun salad plate or colorful napkin to go with the theme of the evening. My white dinnerware is from Pier One. It is a simple classic white porcelain that can be purchased in sets of 8 dinner or salad plates, or bowls. What I love about this set, is that you can purchase just one plate or bowl at a time should one get broken.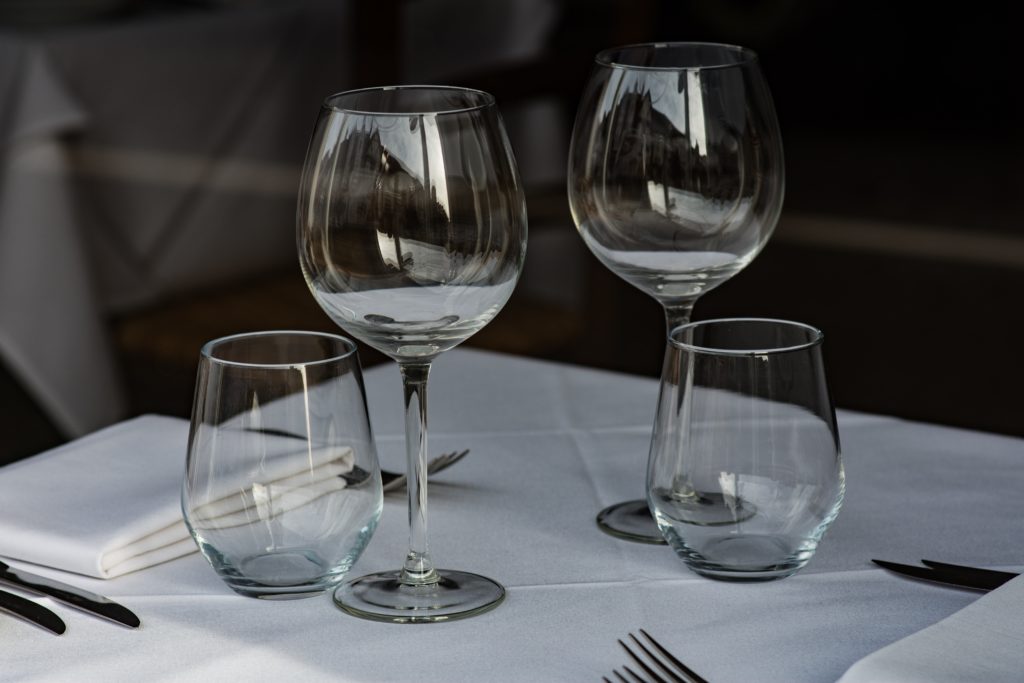 A nice set of wine glasses that can also serve as water goblets and even dessert dishese. I have several sets of wine glasses. While I do have one nice crystal set, my favorite gla123.
56ssware is from Ikea. I also picked up sets at yard and tag sales. An essential set of wine glasses is a classic style, which allows you to pair them with other glasses of a different style.
Finally, a nice set of flatware is that last thing you need in order to set a table. Your everyday flatware is perfectly acceptable, and I use mine often for my tablescapes. However it is nice to have a set tucked away that isn't used daily and hence has less chance of mysteriously loosing a piece here and there. It doesn't have to be expensive, and again a classic set is timeless and will go with anything. This set from Target is under $40. Tag and estate sales is also a great source of quality flatware sets!
2. Dressing The Table
Choosing the base of your table is the first decision you make when deciding on the theme or the overall feel of your table. Since our dinner parties are largely casual events, quite often I choose to leave our table undressed and just use place mats at each place setting. Most often though I choose a table runner that either goes with or sometimes sets the tone for the rest of the table décor.
A washable tablecloth. Bonus points for no-iron. As mentioned I rarely cover my entire table with a tablecloth, but there are times when I think covering my distinctly Farmhouse style table will add something to the overall appearance. A neutral color is best, such as white or off-white. Linen, is a nice choice as the weave of the fabric offers a bit of texture. You also could go with a tablecloth that has a subtle border like this one. Keep in mind that a clean white sheet works in a pinch.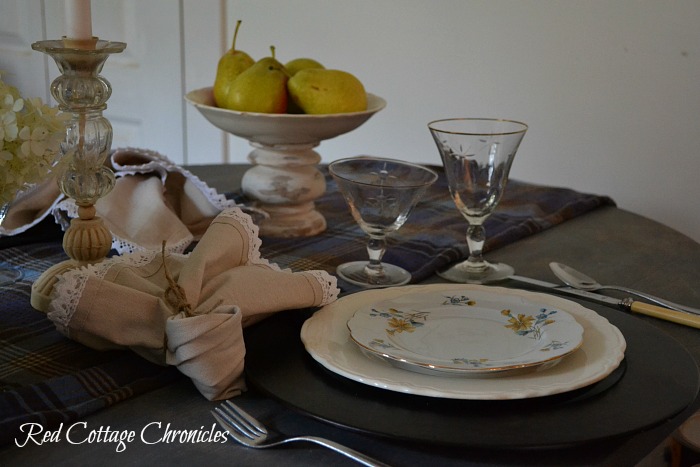 A tablecloth can also to double duty when folded to create a table runner like I did here!
I have to admit I have a bit of a "thing" for pretty table runners. Stores like Home Goods and Home Sense are great sources for seasonal table runners at excellent prices. Don't over look Target or Walmart, and even dollar stores!
Don't forget to think outside the box! Scarves make great table coverings. Blanket scarves are often big enough to cover a table and look great when laid diagonally leaving a bit of the table showing. Long narrow scarves make excellent table runners. Rolls of kraft paper, or even colorful gift wrap make great table runners that are super inexpensive.
I have even used an old curtain panel found in my Nana's attic that I couldn't bear to throw out for this table for two pictured below.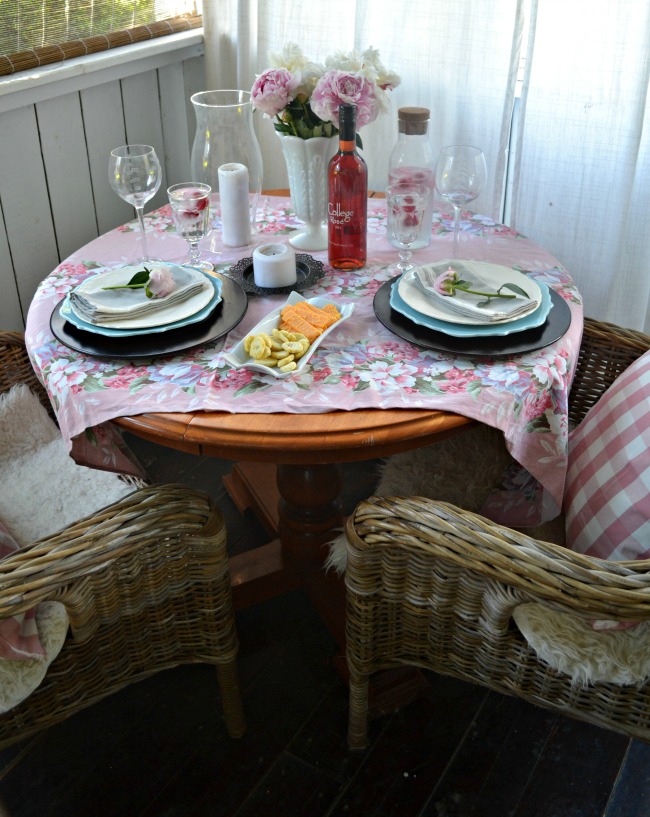 Place mats are a good choice to anchor the place setting and it is a good idea to have a couple of sets on hand in neutral colors like beige, navy blue and red.
3. Napkins, oh how I love napkins!
Napkins really could be an essential, but I think they deserve a category all their own! I collect napkins the way some woman collect shoes! They are such a wonder and inexpensive way to add colour and style to your table. If a classic white napkin can be made to be extra special by folding it one of the dozens of fancy possible ways.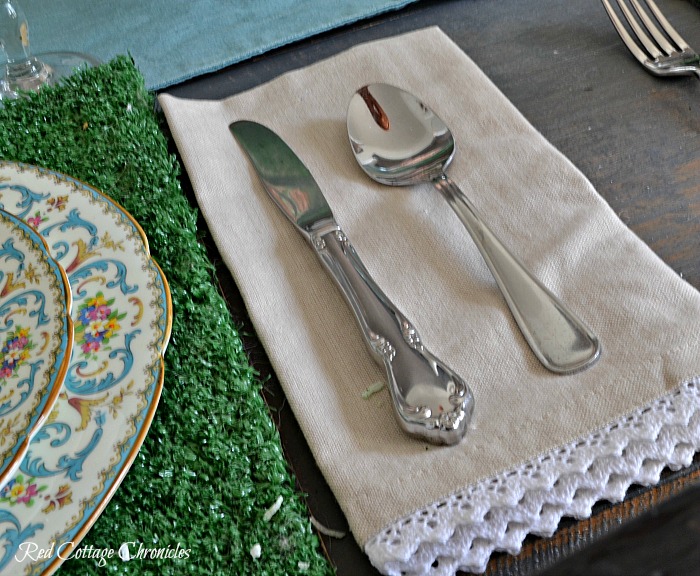 I love linen napkins for their texture and with every washing they become softer and more absorbent. You can't go wrong with a soft gray, a neutral beige, and a dark blue.
I have my eye on these beautiful buffalo checked napkins for Christmas, but they would work equally well with a cookout style dinner party in the backyard next summer!
Some of my favorite napkins are simply dish towels repurposed! Ikea is a great source, as is the dollar store and Target. They wash up easily, are large and absorbent.
4. Candlesticks & Candles
Candlesticks and candles are essential for creating ambiance. Classic brass, crystal or wood candlesticks all work very well. Thrift stores and yard sales are an excellent source for inexpensive candlesticks of many different styles. When choosing candles for your dinner party, just be sure to choose unscented candles. You don't want the fragrance of the candles to overpower the delicious aroma of the food.
5. Floral Centrepiece
Maybe the most bang for your buck when it comes to table settings. All of my favorite centrepieces have a stunning arrangement of flowers. There are so many options when using flowers on your table. If you aren't confident in your floral design skills, a simple pre-made grocery store bouquet or two works just fine, as does a potted plant set into a basket or other decorative vessel. I also like the trend of creating table runners with flowers and greens. Seeded eucalyptus and magnolia branches are perfect choices. Add in flowers that compliment the overall feel and color of the table. If you are going for a more rustic, farmhouse feel then daises would be a good choice. Something more formal you may choose roses or calla lilies.
Our Thanksgiving Table from last year I did a floral runner using eucalyptus, kale leaves, clips from our weeping cedar, tiny pumpkins, roses and carnations. You can place the floral stems in water picks to keep them fresh.

Looking for some beautiful floral centrepiece inspiration, follow @frankalexandernyc on Instagram! His centerpieces and event settings. I can't even!
6. Shop your house….and those of your neighbours!
The very first thing I do when I am creating a tablescape is look around my home to see what I have that will work for my theme. I always find a least a couple of things I can put to good use. However I know I can rely on my mom and my good friend Leslie to loan me things I don't have myself. Another good idea when there is something party specific that you know you likely won't use again is to rent it. Most communities have party or wedding planning shops that rent everything from linens, to dishes, to extra chairs.
In the photo above I really wanted some blue glasses to add a pop of blue to the table, but all the sets I could find were not worth the sticker price. I did however have a set of blue ball jars that I received as a gift last Christmas that worked perfectly for my vision.
7. Decorate with Food
I almost always include food in my tablescapes. Food serves a dual purpose, it looks nice and is part of the meal! Something as simple as picking up some cupcakes from the bakery or grocery store is low cost and saves you time. Or bake a loaf of sweet bread a few days ahead and freeze it.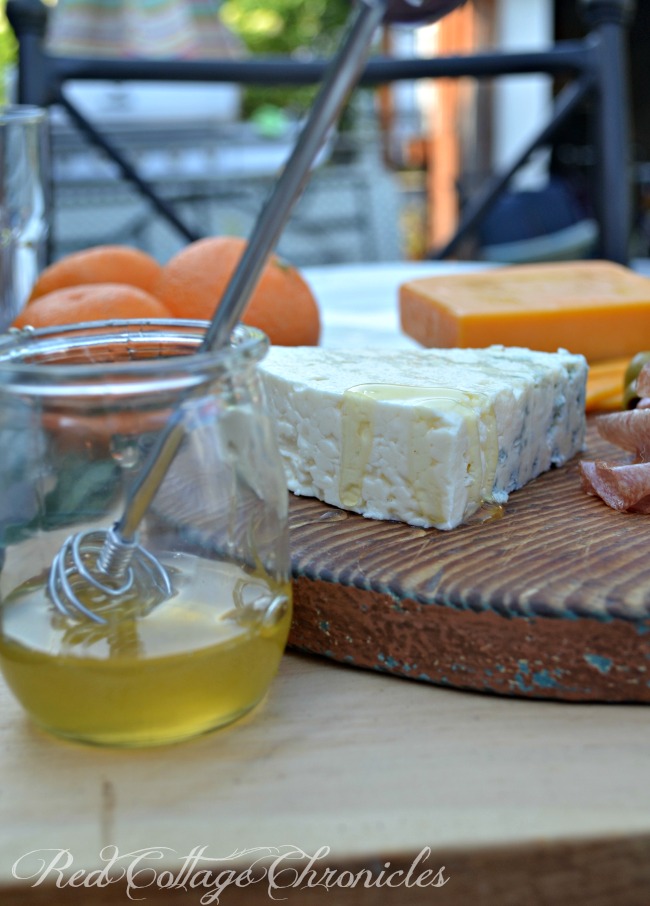 This Al Fresco tablescape featured a wine, fruit, a cheeseboard as the centrepiece and lemon loaf and lemonade down the centre of the table. I also purchased rustic dinner rolls for a mere 25 cents a piece which create visual interest and speak to the casual feel.
A perfect piece of fruit at each place setting can add a gorgeous pop of color to an elegant all white tablescape.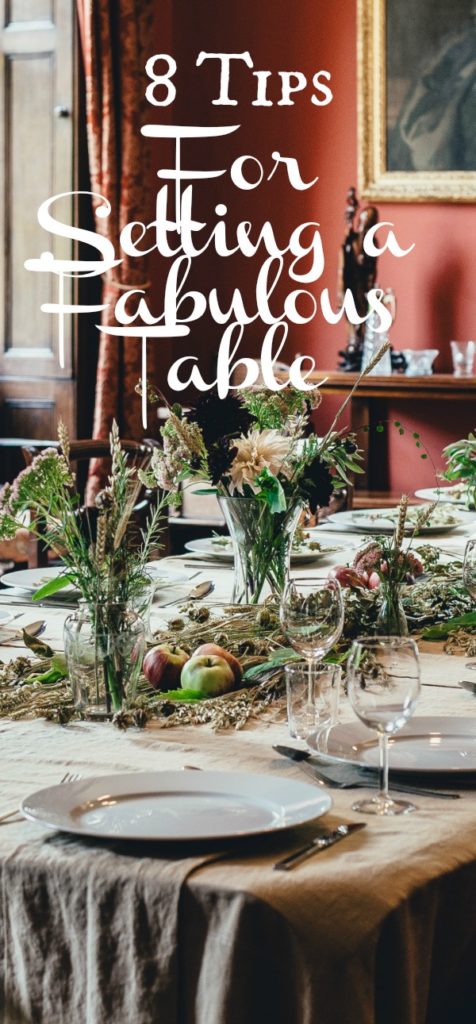 8. There is No Wrong Way To Set a Table
For me, creating a pretty tablescape is a way to express my creative side. An art, if you will. And with any art project the interpretation is wide open. The tablescape is just a visual cue to a meal that is going to be enjoyed with family or friends, which is really what it is all about.
Please remember that even if you have mismatched dinnerware or silverware, and don't own a tablecloth or a wine glass, that is perfectly okay! Throw a clean, pressed sheet over the table, set out what you have, add a paper napkin, good food and conversation with family and friends, and you have created a truly memorable dining experience!
Until next time…..