When I am planning a tablescape I often shop at thrift stores or borrow from family and friends when I don't already have what I am looking for on hand. Then, there are times when I want to use something nobody I know has. I certainly do not have a limitless budget! That is when I draw on my DIY skills! These easy DIY napkin rings cost less than $10 to make a set of four. And, to be honest, they don't require any skills at all!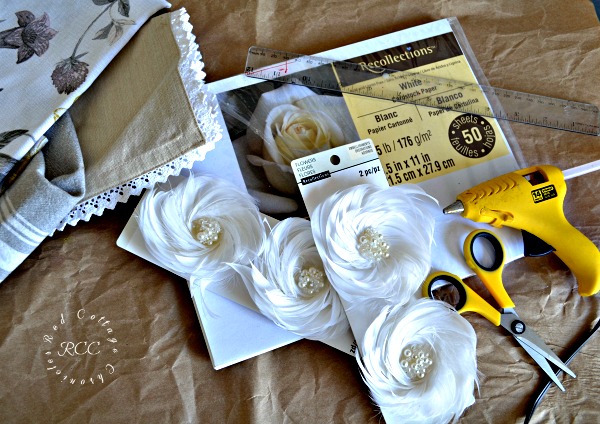 The best part is that they take just minutes to make. All you need is a hot glue gun, some heavy card stock and a flower or other embellishment.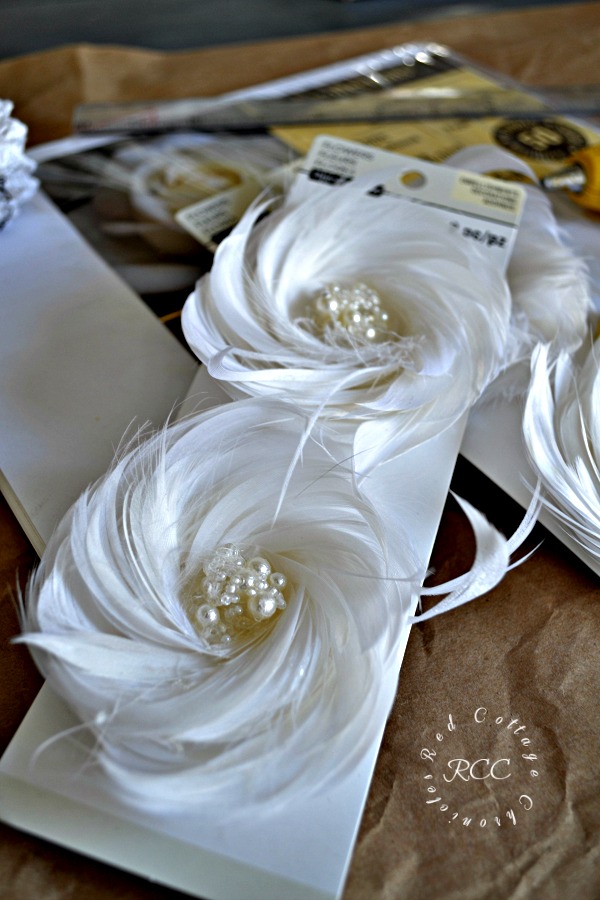 I picked up these pretty feather and pearl florets at Michael's (using a coupon they were just $3.50 for two). I chose to get them in white since I have a plethora of napkins in all different colors, making them very versatile. While they are a touch on the elegant side of style, I think they are equally fun and spring like. They remind me of little feather birds nests. Paired with pretty pastel colored napkins they would look fabulous for an Easter tablescape.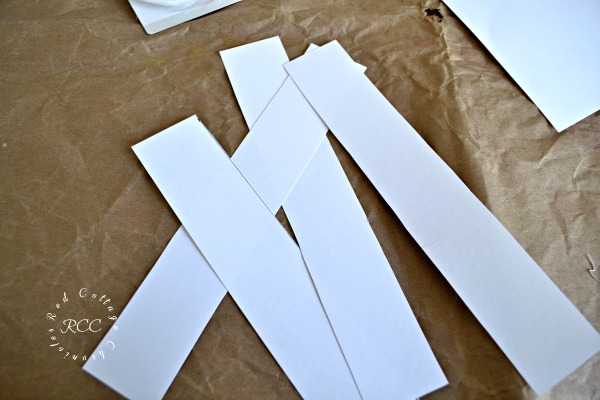 I had planned on buying some cheap plastic napkin rings from the dollar store, but they were nowhere to be found. I decided to use plain white heavy card stock I already had to create the ring. It did the trick, and once the feather flower embellishment was attached, you don't see any hint of the paper ring underneath.
I measured 1 1/2 inch strips across the width of the paper. I then formed a ring, overlapping the ends about an inch and glued in place with the hot glue gun. Take care not to burn your fingers when gluing into place. Let the glue set for a minute or two.
I then placed a dab of glue about the size of a dime onto the seam of the paper ring, centered the floret and pressed it into place. Again, be careful not to burn your fingers as you hold it in place until the glue sets. About 30 seconds or so.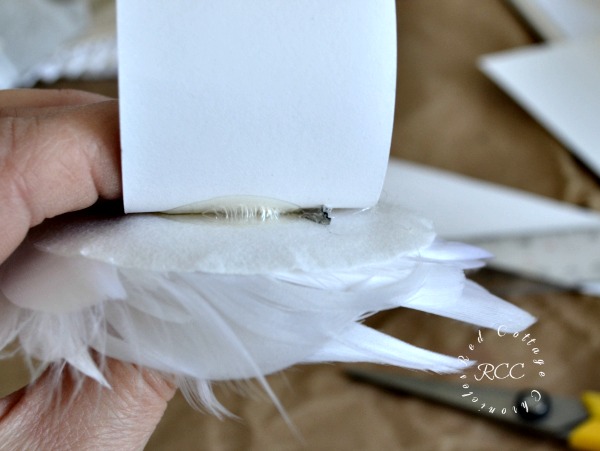 I set the rings aside for about 5 minutes to allow the glue to harden.
Then I simply gathered up one of my spring napkins and slid it into the ring. These napkins are fairly large, and they fit perfectly.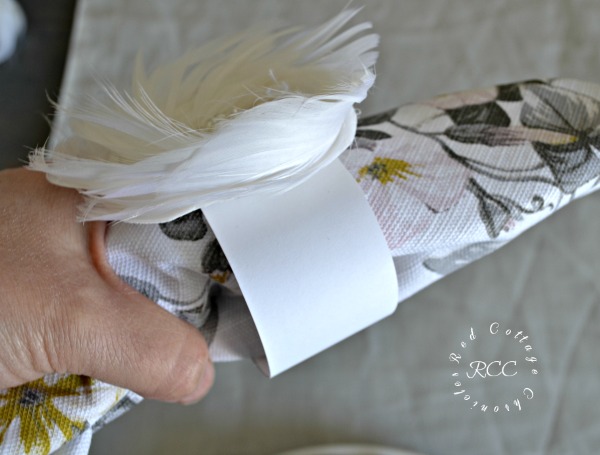 And there you have it! Easy DIY napkin rings that took about 10 minutes and less than $10 to make, yet look like a million bucks!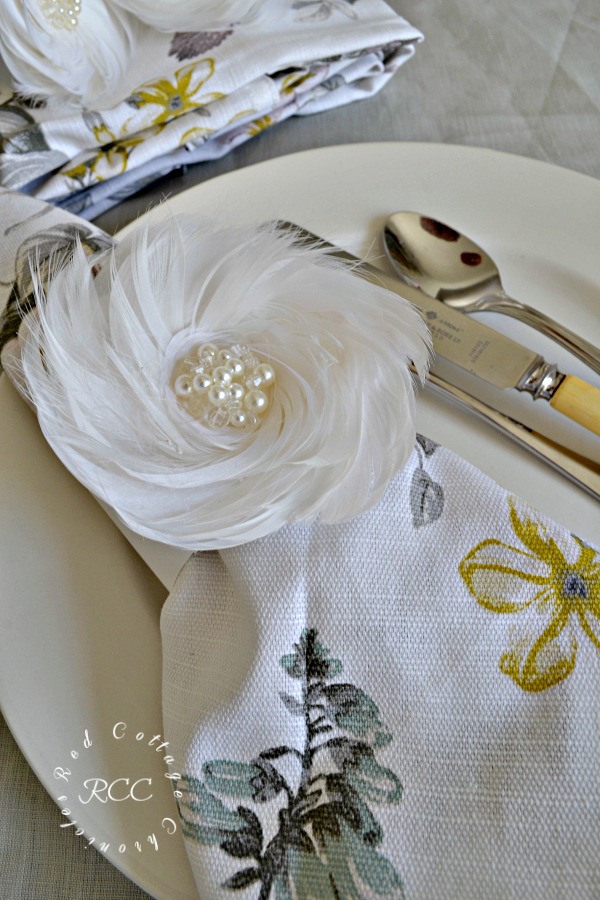 Don't they look like little birds nests filled with tiny eggs?!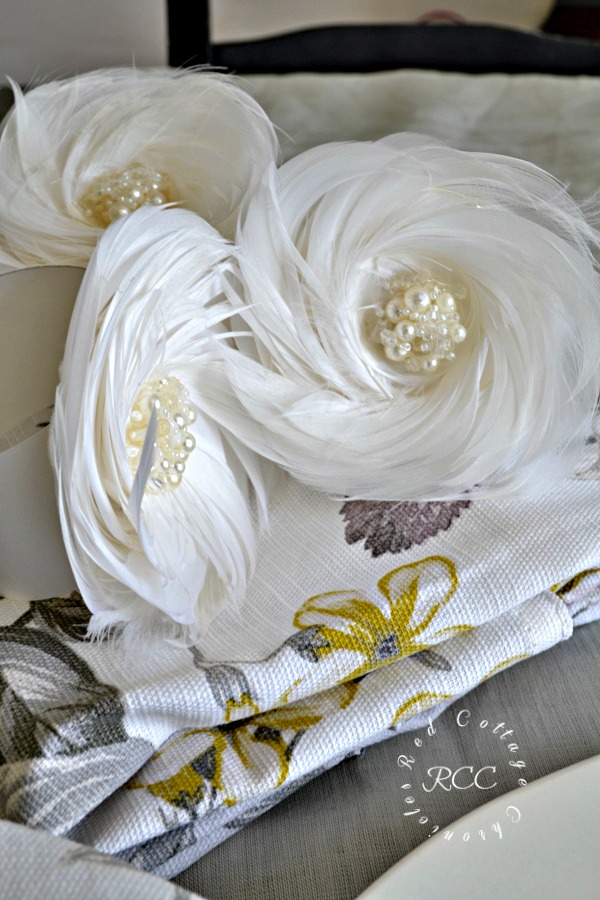 I have my mom working on making me some pink linen monogram napkins. For several years she belonged to a group called The Linen Sisters, who got together to sew linens for the church altar. They hemmed and embroidered them all by hand! I think these napkin rings will look fantastic with the napkins when they are done. I plan on using them for a spring tablescape next month!

Easy DIY Napkin Rings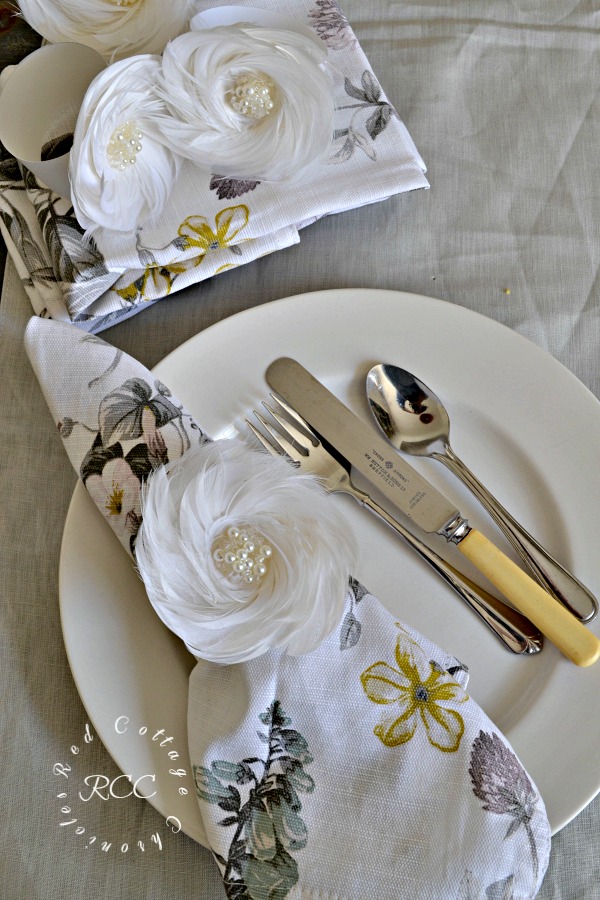 The part I love most about inexpensive craft projects like these DIY napkin rings is that even though I invested very little time or money, I have a set of napkin rings that will work for several occasions and through different seasons. Not to mention they look fantastic!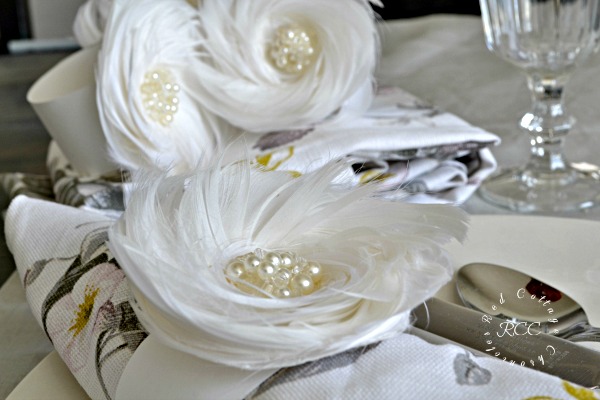 Thanks a bunch for stopping by today! I appreciate each and every visit, and your comments make my day! I hope I have sparked your imagination and inspired you to create your own DIY napkin rings!
Check out another DIY spring project that cost around $10 here
If you want to keep up-to-date with all the projects and goings on at our little Red Cottage simply subscribe by clicking here. You will only get an email when a new post goes live, and will also get your password to access our ever growing library of free printables.
Until next time…..