Now that it is officially summer, it is time to really kick this Summer Cocktail Series into gear! This past week we saw temperatures rise to 40 degrees celcius. I was ready to pack things in and move to the North Pole! A little drastic, but true! So, instead I whipped up an ice cold frozen strawberry watermelon white wine slushy!
If this is your first visit to Red Cottage Chronicles, welcome! We are in week 3 of a Summer Cocktail Series where a group of fabulous blogger friends feature a different cocktail each week. You can find my first two recipes here and here. All the links for this weeks' cocktails are at the end of this post, and trust me, you will want to visit them all!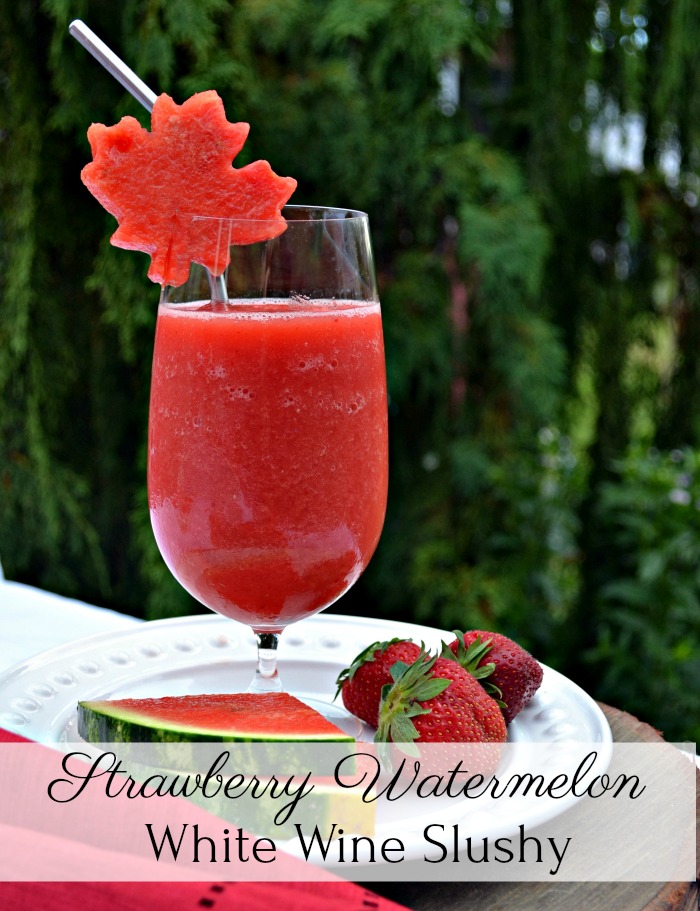 Living in wine country, there are endless possibilities when it comes to summer refreshment. And, it just so happens to be strawberry season here in Niagara! What better combination than frozen sweet strawberries, chunks of refreshing watermelon and a sweet white wine to cool down on a hot summer day.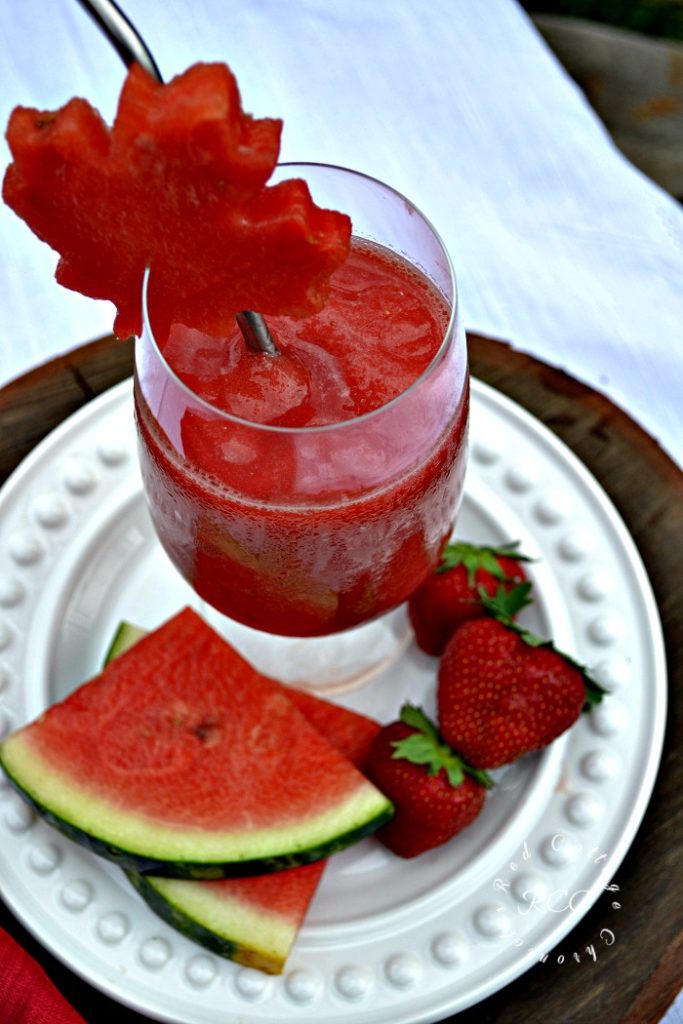 One of my favourite sweet wines comes from 13th Street Winery and is called 13 Degrees Below Zero! A blend of Riesling icewine and off-dry Riesling, it has just the right amount of sweetness for this summer cocktail. While this is a local wine, you can easily swap in any medium sweet wine that you enjoy. Or, to make this a mocktail simply use a good quality white grape juice!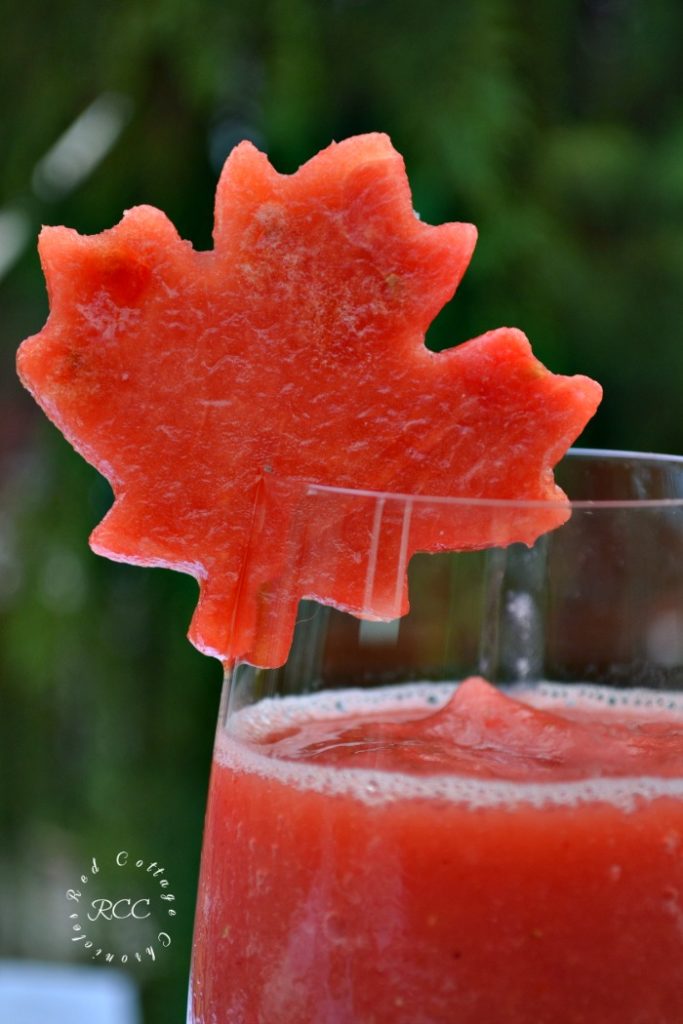 With Canada Day just a week away, I cut out a slice of watermelon with a maple leaf cookie cutter for a garnish! I think this is going to but a big hit on our long holiday weekend!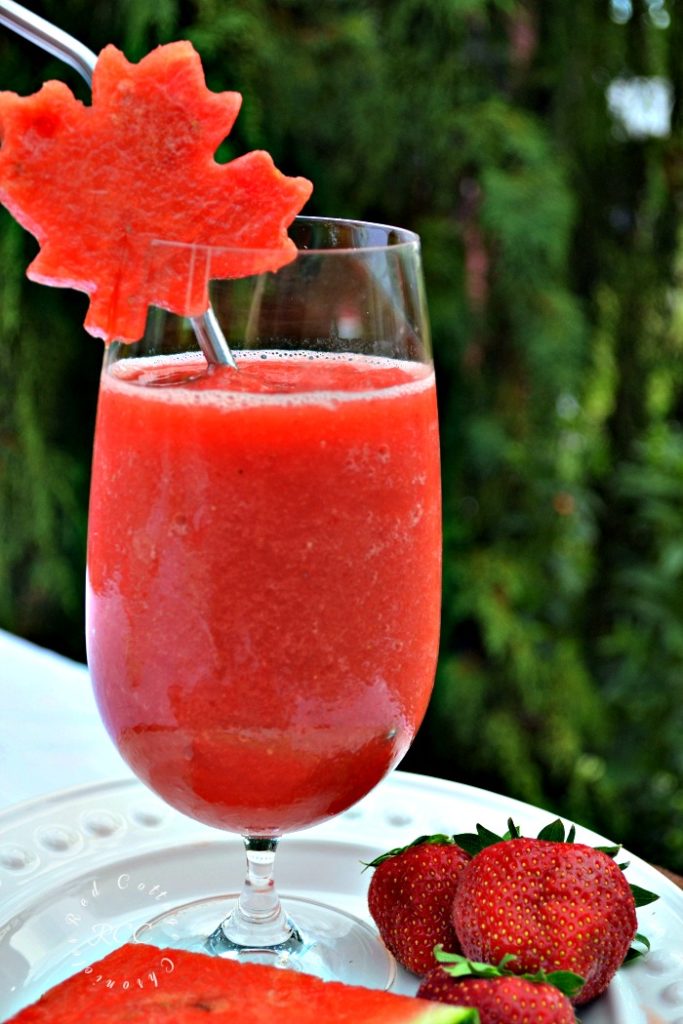 With activities and celebrations planned all weekend long, plus a forecast calling for it to be hot and humid, this strawberry watermelon white wine slushy will be just what I need to cool down!
And so much easier than moving to the North Pole!!
Strawberry Watermelon White Wine Slushy
1 1/2 cups sliced frozen strawberries
1 cup frozen small watermelon chunks
8 ounces medium-sweet white wine (or good quality grape juice for a mocktail version)
8 ounces club soda
Combine all ingredients in a high speed blender, adding more club soda if necessary, until slushy consistency. Pour into 2 to 3 large glasses and enjoy responsibly!
Oh, and don't forget to check out all the other delicious summer cocktail ideas below!
Until next time……



Aperol Spritz from Weekend Craft • Peach Bellini Pitcher from Creative Ramblings • Strawberry Watermelon White Wine Slushie from Red Cottage Chronicles • Dole Whip with Rum from A Turtle's Life for Me • Pink Moscato Lemonade from Happy Go Lucky • Tequila Sunrise from Family Around the Table • Grilled Pineapple Mojito from Upright and Caffeinated • Pink Hawaiian Cocktail from Daily DIY Life • Red White And Berry Patriotic Cocktail from Our Crafty Mom