Follow Maureen – Red Cottage Chronicles's board Homemade cleaning products on Pinterest.
This weekend the Mr. is busy with work and reffing a hockey tournament.  That means lots of time for me to get some deep cleaning and organizing done at home.
Having a clean home is important to all of us.  Having a clean home while keeping our families safe, and saving money is the icing on the cake.
My Homemade Cleaning Pinterest board is one of my favorites.
Since we are exposed to hundreds of chemicals each and every day, taking them out of the products that clean our home gives me a bit of piece of mind.  I mean, have you seen some of the warnings printed on the very things that we wipe our counters and clean our floors.
No. Thank. You!
I have ditched pretty much every commercial cleaner in my home and replaced it with a homemade version.  A few I have tried  have not produced the results I was hoping for, but I have found a few that are now mainstays in my cleaning cupboard
Essential oils are all over the web right now and it is pretty hard to ignore their benefits when it comes to disinfecting.  And they can make a home smell really good!
I have built my own little collection of pure essential oils and use them in my cleaning products as well as in a diffuser to purify the air.  I am not loyal to any one company and use different brands available locally.  In fact I get my lavender oil from NEOB right here in Niagara.  They also have Rose Geranium and Lemongrass essential oil.  I have also used Now brand and Aura Cacia and always have Frankincense, Rosemary, Tea Tree, Lemon, Orange, Lime, Lavender & Peppermint to name a few.  It just has to be 100% pure essential oil.  The bottles may be tiny, but they last a very long time!
Many of the homemade cleaning products don't require any essential oil at all.
One of my favorite from my Pinterest board is the stain remover using Hydrogen Peroxide and Dawn Dishwashing liquid.  My white slip covers were getting dingy and there were just some stains I couldn't get out.  I was going to buy a new set, but came across this and decided to give it a try.  My slip covers are now as white and bright as can be and I can keep the $150 in my own pocket!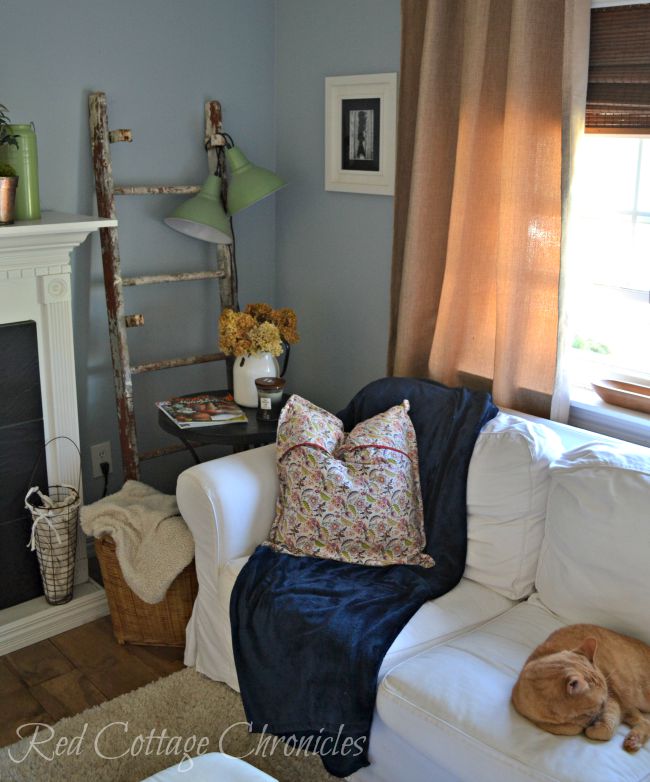 The one cleaning product that I tried homemade and was not at all satisfied with was homemade laundry detergent.  I have tried a couple of different "formula's" but they just did not get our clothes looking (or smelling) as clean as I would like.
I am in the process of trying to finding a natural laundry detergent and will be testing out a few.  If you have found a commercial made natural laundry detergent that really works to get clothes clean and smelling fresh please leave me a comment and let me know! I would love to give it a try.
In the meantime I invite you to follow my Homemade Clean Pinterest board and consider switching out some of the cleaners you use in your home.
Until next time…
Maureen