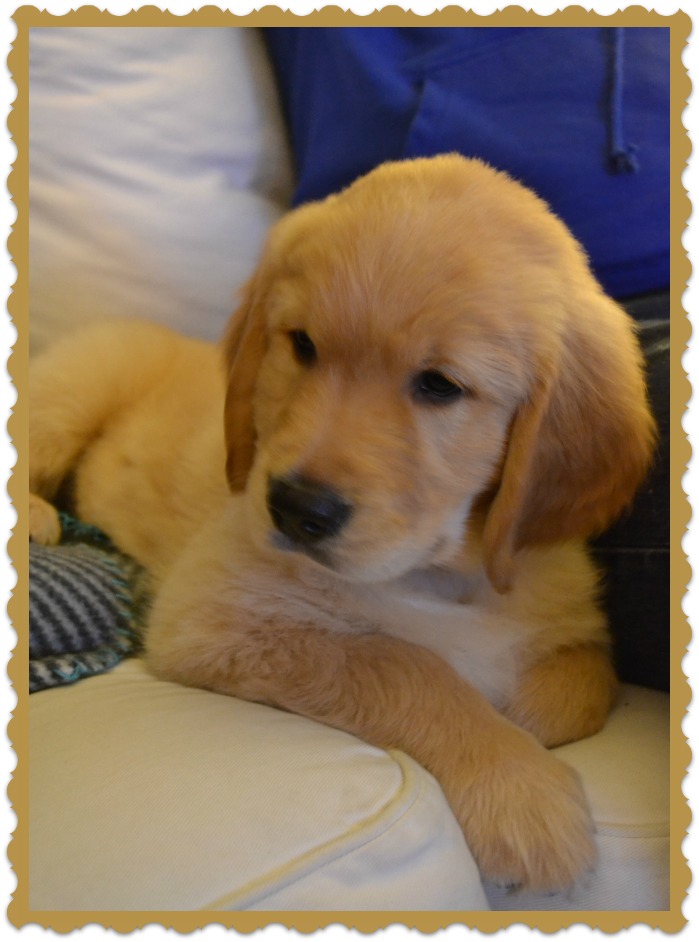 If you follow me on Instagram, you may have seen a picture or two of the addition to our family! The cutest little Golden Retriever puppy ever!
That would be Charlie, my daughter Samantha's new Golden Retriever puppy! He is such a sweet boy and Tripper took to him the minute he came in the door. They have been best pals ever since.
I can't believe I was able to keep him a secret since last September! Samantha didn't want anyone outside of our house to know about him until she brought him home on January 6th!
Keeping this a secret was truly a joint effort. Samantha purchased Charlie from Riverbend Golden Retrievers in nearby Welland, Ontario. The breeder, Jessica, is a friend of my sister's as they both have therapy dogs in Therapy Tails together, and they follow each other on Facebook. We had often heard about Otis (Charlie's dad) from Corrine. Otis is a gorgeous, and very big English golden retriever. Wilma is equally beautiful and has the softest and silkiest coat. Charlie has some very good genes indeed!
Jessica started to document the pregnancy of Wilma (Charlie's mom) right from confirmation she was indeed pregnant via their Facebook page. She gave regular updates as to how Wilma was doing along the way. She even live streamed their birth, and my sister was gushing about how she saw her friend Jessica's pups being born. The whole time Corrine was always giving us updates on how cute the pups were, etc., etc, little did she know we were following along as well, without ever actually "liking" the page so as not to raise suspicion!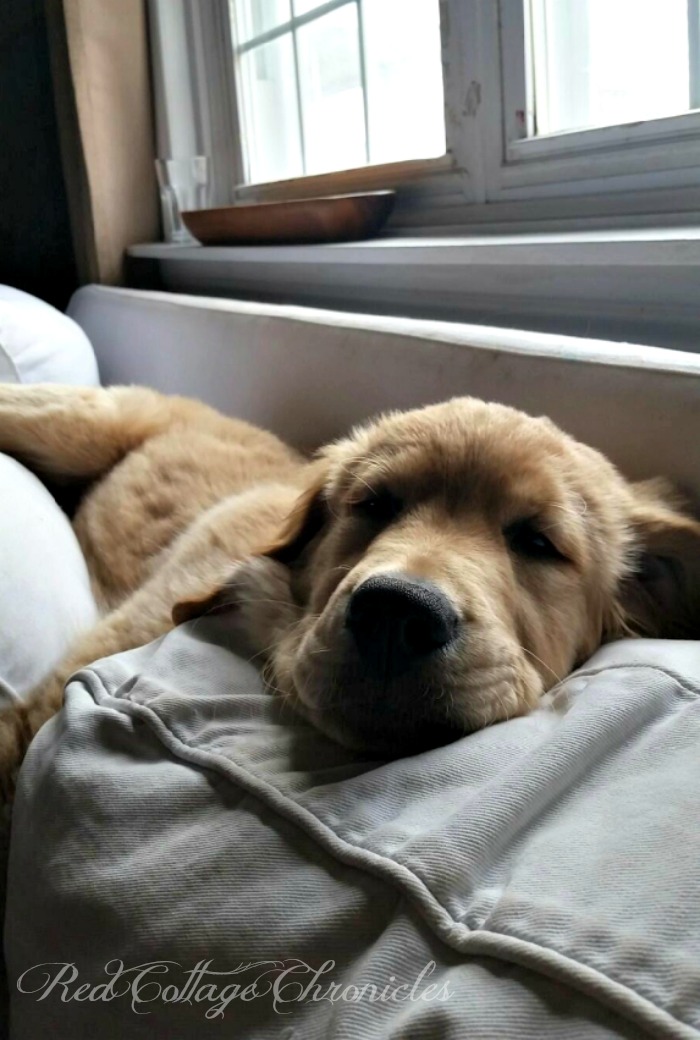 We had sworn Jessica to secrecy and told her it was going to be a surprise for everyone! She didn't breath a word. Even as she was posting pictures of each puppy with their forever home owners on the days they went home, she was kind enough to hold Samantha's back until later that day when the secret had been revealed.
There were times when we were actually visiting the pups that my sister (who rarely calls my cell phone) would call my cell phone for one reason or another. The very day we were pulling in the driveway to bring Charlie home, sure enough she called.
On the day we brought Charlie home Samantha texted everyone a picture of her new "baby" and within minutes the phone rang. It was Corrine wanting to know what the heck was going on at our house. We told her she would have to come over if she wanted to know. She was at our door pronto.
She truly could not believe that we had kept it a secret! Especially since she is the secret keeper in the family.
We had great fun telling her that not only had we kept it a secret, but we had known since September that Samantha would be getting one of Otis and Wilma's pups.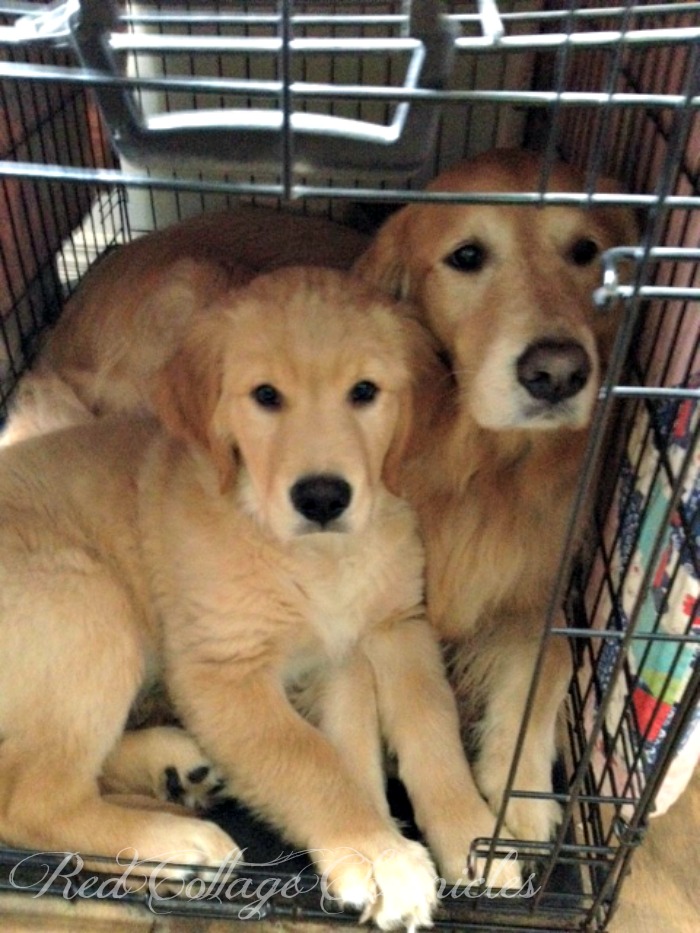 (Please excuse the less than par iPhone photo's. He is constantly on the go and I have to act quick because I never know when he will be on the move again!)
I can hardly believe Tripper is 4 years old already. It seems like just yesterday we were celebrating his first birthday!
Charlie loves to share Tripper's crate even though he has his own right there. I am not sure how Trip feels about it, but so far he hasn't tried to kick him out. He is growing like a bad weed so it is going to get really squishy in there pretty soon.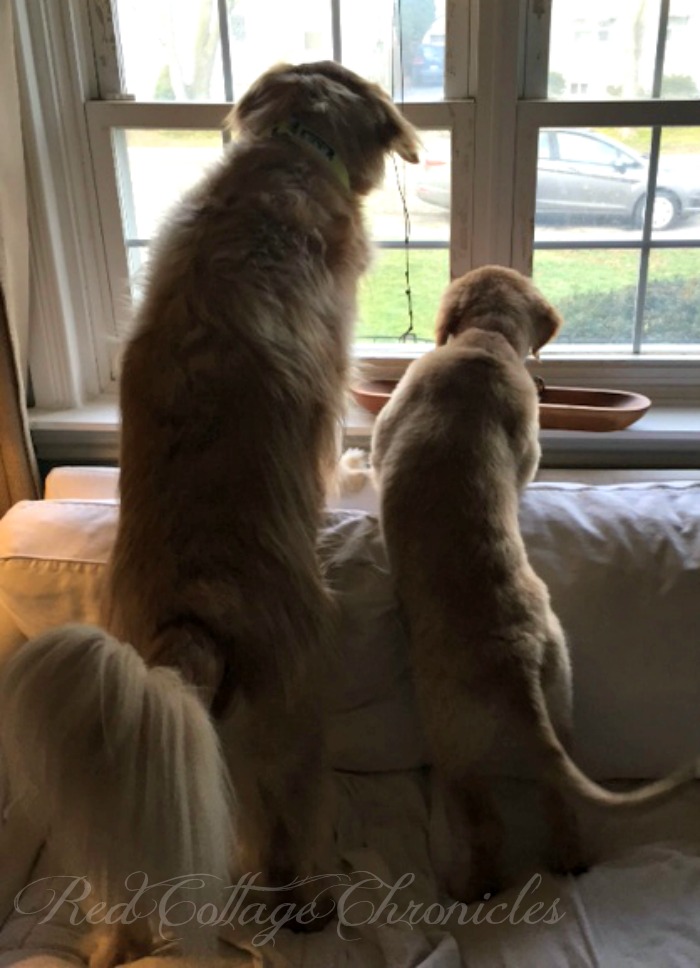 It's absolutely adorable how Charlie copies everything Tripper does. I am sure Charlie has no idea what he is looking at out the window, but since Tripper was doing it, he was too.
He is now 14 weeks old, has two weeks of obedience under his belt and is growing right before our eyes. Samantha always said she was going to carry him for just as long as she could. At about 33 pounds, those days are pretty much over. He is such a sweety though. He is a cuddly little bear who is enthusiastic with his greetings, so much so that he literally whines out loud!
When Samantha buys her own home sometime later this year and she and Charlie move out, I know I won't be the only one missing him. Samantha has already said that he will be back often for visits with Tripper and maybe even some sleep overs!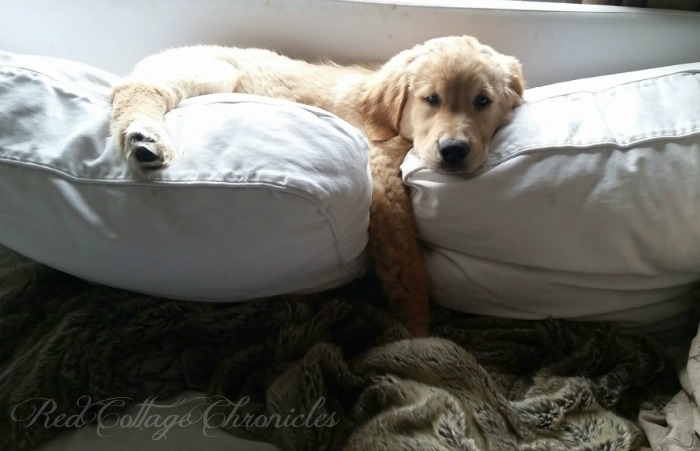 I have a feeling that not too far off in the future Tim will be wanting to get a new puppy of our own "to keep Tripper company" after Charlie moves out!