What a week!  Lets start with Monday.  My sister (who is Florida) gets the call we have been waiting for.  There is a bed ready for my aunt at the long term care facility she listed as her first choice!  Great news.  She will get the level of care that she needs for her health care in a safe, and trusted environment.  It is a beautiful residence with gorgeous gardens, a view of the marina and steps from the Shaw theatre. Lots of planned activities to keep her busy!  While my sister and mom orchestrated the logistics of the move from Florida, we carried out the physical packing and moving!
Fast forward to Wednesday!  My aunt moves to her new residence with the assistance of my nephew, and I felt horrible for not being there for her actual move, but my youngest, Samantha, was scheduled for surgery to remove her impacted wisdom teeth.  Talk about a nervous mama!  She had the choice of having done in the hospital or the surgeons office.  Either way an anesthetic is required. I choose the hospital…..she choose the surgeons office.  I relented.  After all, she is 23, but is a kid at heart!  Of course they were forecasting a blizzard today.  I mean really, is winter EVER going to end.
The day in pictures….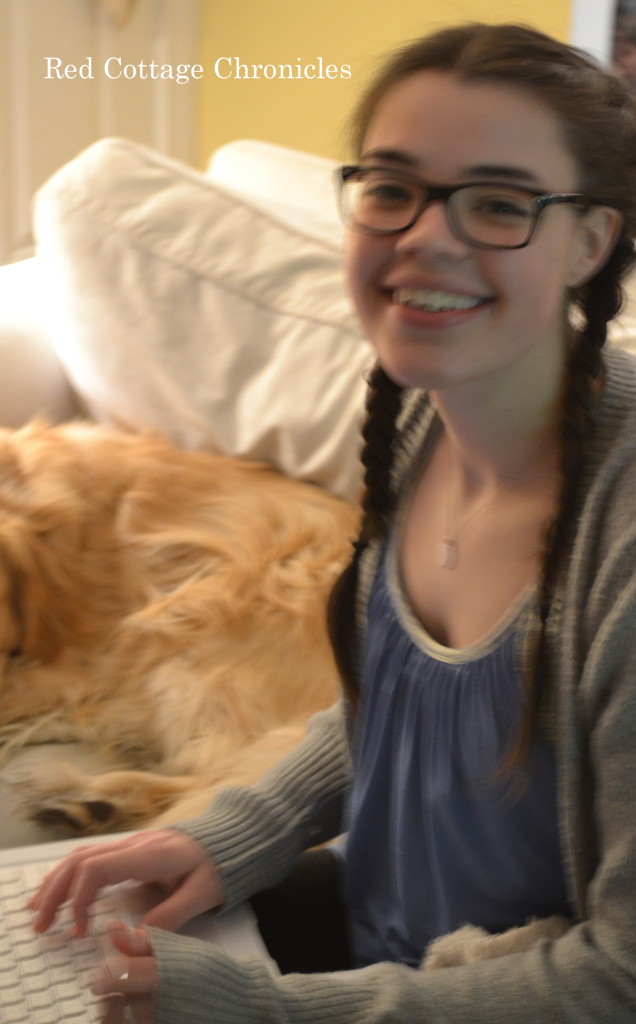 Right before we were ready to leave for the surgeons office.  Can you tell I was a little shaky!!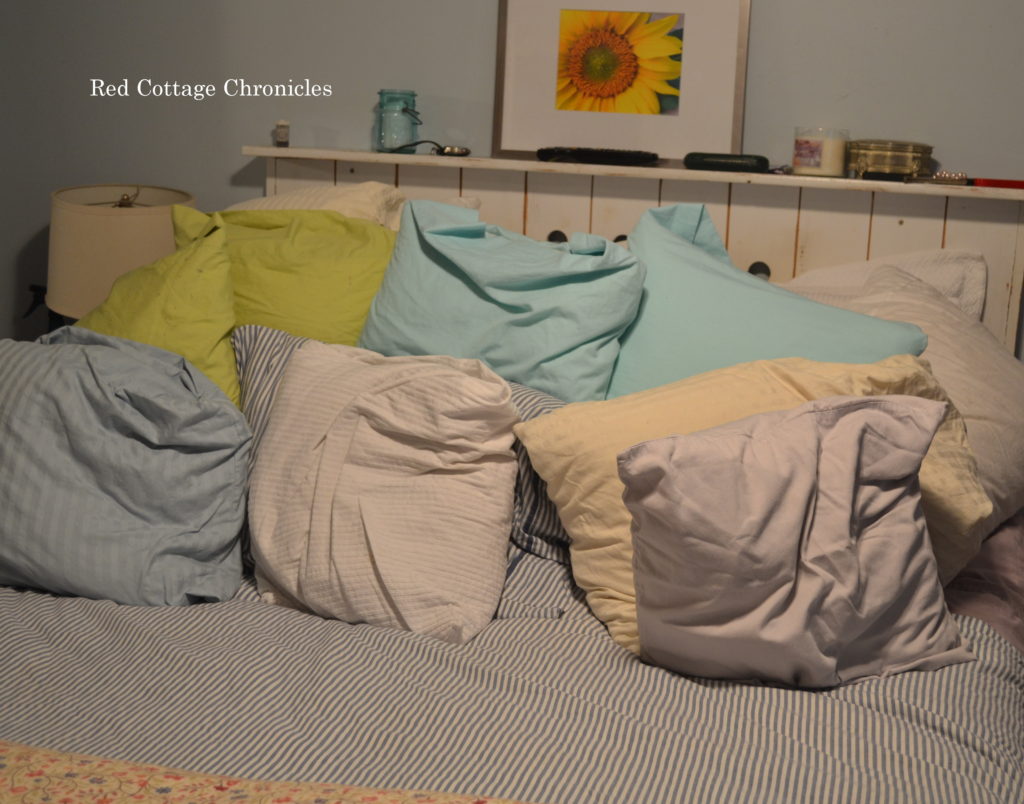 She took over my bed and stacked it up with pillows so she had a comfy place to "lounge" when she got home!  TV remote close at hand.
I finally was able to exhale when the nurse came out and told us she was in recovery and we could go sit with her! Everything went well and she was released 30 minutes later!  We head home in the middle of the blizzard.  Roads were terrible.  Had to stop for popsicles and gingerale.  I had lots of soft foods at home, but had not anticipated strict instructions to have only clear fluids for the first 24 hours!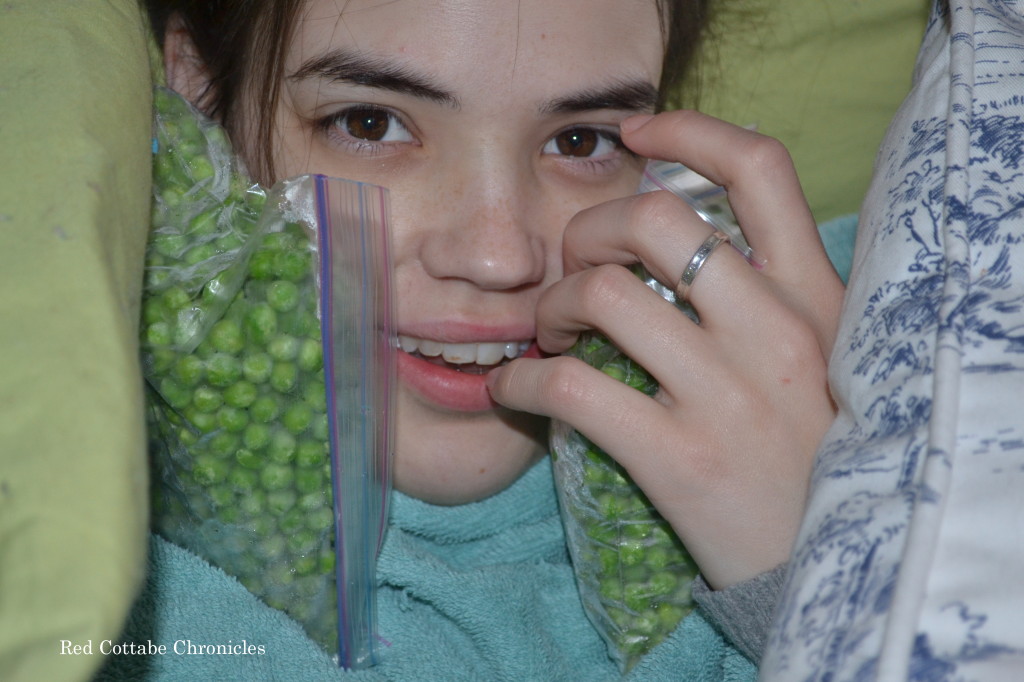 Frozen peas….20 minutes on…….20 minutes off!
I gave her some gingerale to drink, forgetting she was frozen, and it promptly poured out of her mouth and down her shirt!  It reminded me of Tim Allen in Christmas with the Kranks after he had the botox injections!  It was hard not to laugh.   A travel coffee mug with a sippy lid came in handy!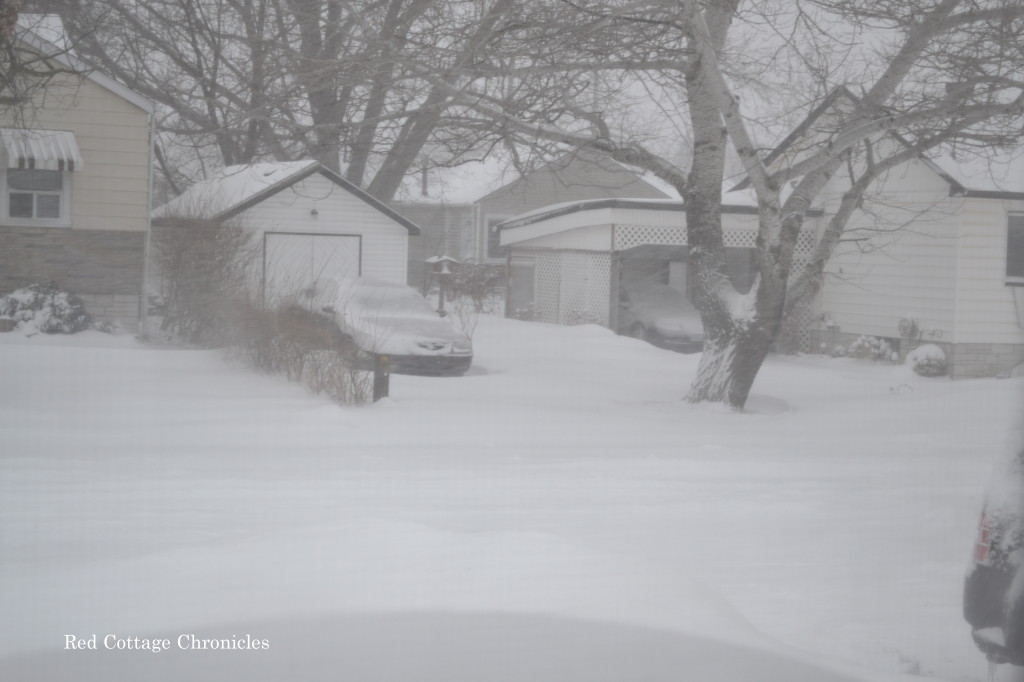 It snowed, sideways, all day!  There was 25+ centimeters on the ground by the time it ended late in the day.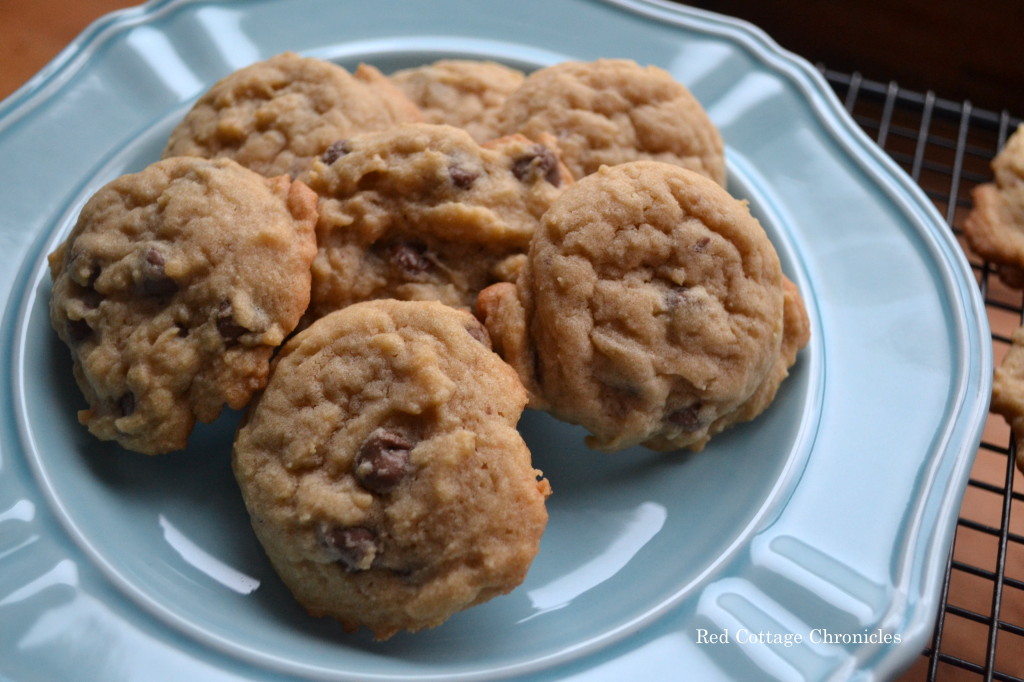 I did make some of my Mom's chocolate chip cookies though!  They are soft and chewing and full of milk chocolate!
After being outside snowblowing for 2 hours Tim was very happy to eat an entire plate of these family favorites.
Here it is Saturday and I think I am starting to relax.  Samantha is resting comfortably thanks to the ibuprofen.  I got down to see my Aunt's new digs last night.  She has a lovely, spacious private room with a view t
o the marina.  Her health care needs are finally being addressed, and in fact she slept for almost 24 hours straight!  I know she will thrive there.  She got a very warm welcome from her nurses and seems quite content!  The snow has been melting nicely with the sun and milder temps we have had the last two days.
I might even get to enjoy a cookie, or two!
Chewy Chocolate Chip Cookies
Prep time:
Cook time:
Total time:
Ingredients
1 cup soft butter
3/4 cup packed light brown sugar
3/4 cup granulated sugar
2 large eggs
1 tablespoon vanilla
2 3/4 cup all purpose flour
1 teaspoon baking soda
1/2 teaspoon salt
2 cups milk chocolate chips
Instructions
Preheat oven to 350 degrees
Beat butter until fluffy and light, add brown sugar and granulated sugar and beat well
Add eggs and vanilla and beat again
In a separate bowl whisk together the flour, baking soda and salt. Add to butter/sugar mixture and mix on low speed just until combined
Add chocolate chips and stir with a wooden spoon to incorporate
Drop by rounded tablespoons onto parchment lined baking sheets, allow room for cookies to spread
Bake for 8 to 10 minutes, just until edges are golden. DO NOT OVER BAKE.
Remove from oven and transfer to a cooling rack.
Enter your email address: