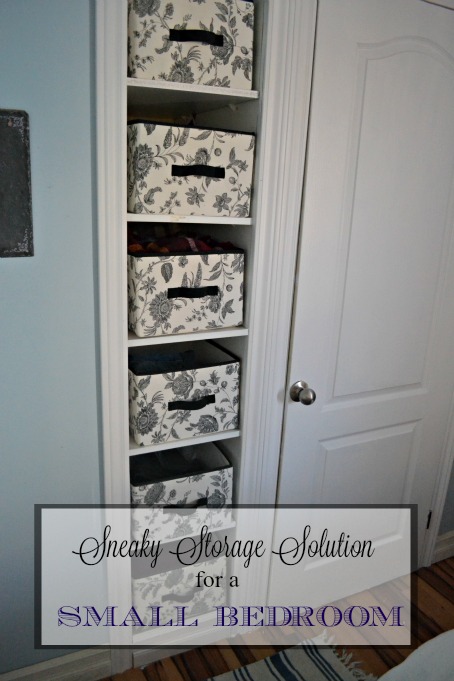 I can't help but laugh when I refer to our bedroom as the "Master Bedroom" While it is the main bedroom of our tiny home, it is only 10 feet by 12 feet with just enough room for one dresser, our queen size bed (oh, how I would love a king size bed!), and our night stands.
Our closet is equally tiny, and stuffed to capacity with Tim's clothes taking up more than 1/2 of the hanging space and his multitude of baseball caps taking up valuable shelf space!
With only space for one dresser, I knew I had to do something to add more storage.
As I sat on the bed one day looking around, trying to figure out how I could find more storage space, it hit me that the space between the bedroom door and the closet door, if opened up would be just as deep as the closet itself. It backs on to our little dining room, whose little closet fills the wall space on the other side of our closet.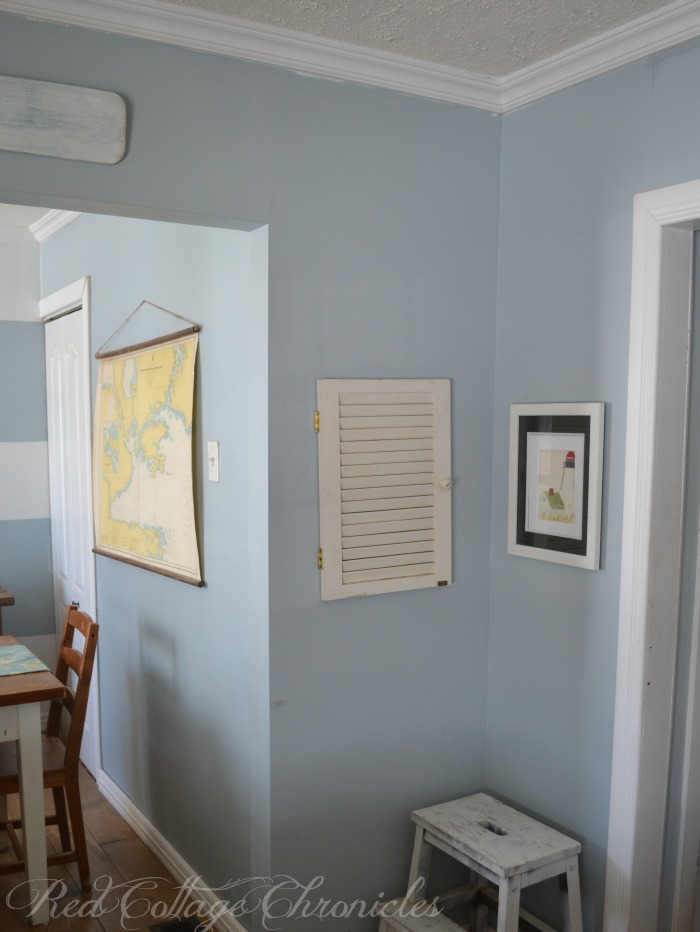 This is a look at the other side of the wall, from the dining room. You can see the closet at the far end, which backs up to the wall in our bedroom. Right beside that is the back of the closet in our bedroom. After some quick measurements I realized there was still a another couple of feet that backed up against this wall and was just solid wall on the bedroom side.
It just made sense to me that it was wasted space inside the bedroom! (I wish I had a before shot of the space before we put the shelves in, but we did this project a few years ago and I never thought I would be sharing it with anyone!)
There was enough wasted space stuck behind that wall that we Tim could build some floor to ceiling shelves. To keep things simple since this is a weight bearing wall, we created the space to fit between the existing wall studs.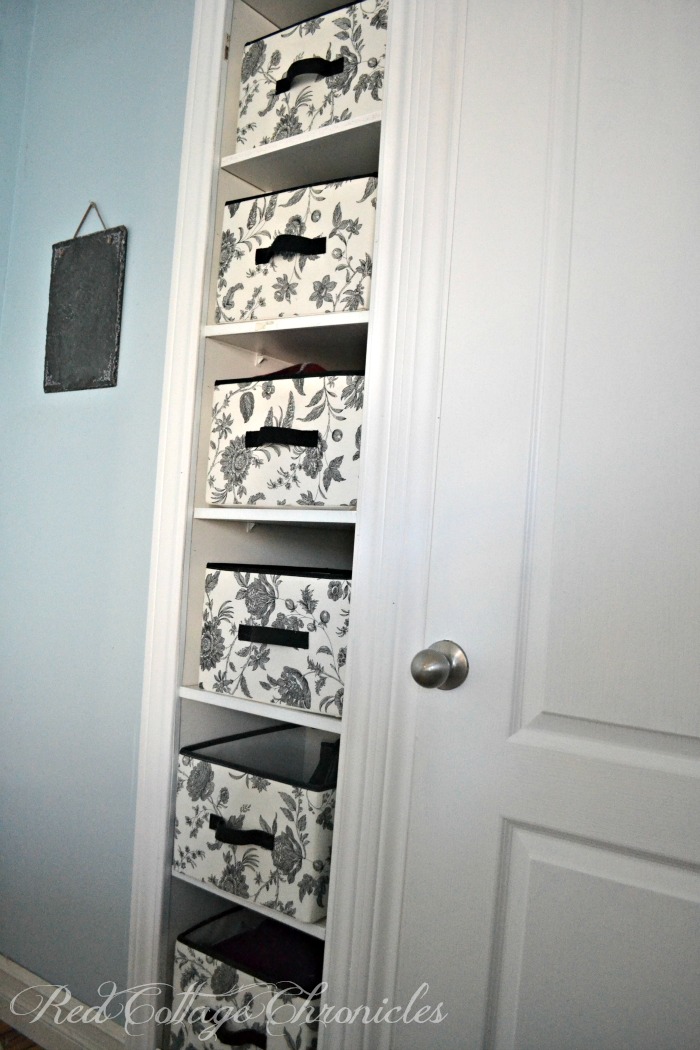 I found these cloth covered boxes that are the perfect width at Ikea and they were under $20 for all six of them. They are not as deep as the shelves are, but they work perfectly to fit my folded jeans and sweaters, and such. The space behind each drawer certainly doesn't go to waste as I store things in behind, like my hot rollers and off season shoes!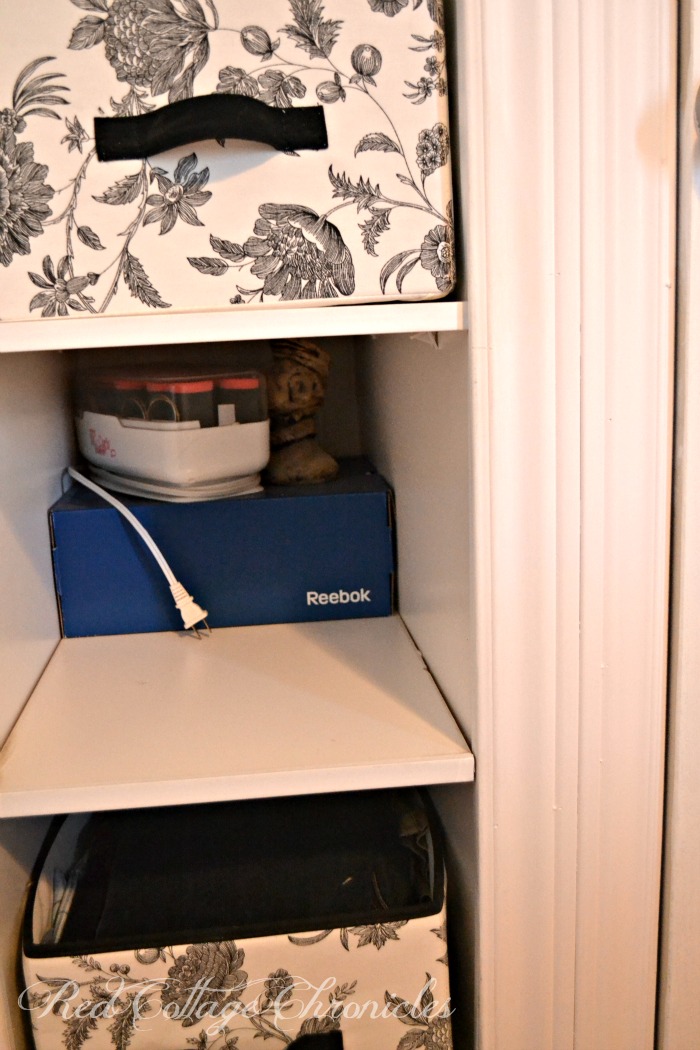 I am still on the look out for small wicker baskets that are deep, with straight sides that will fit the space, but whenever I come across ones I like they only have two or three and I need six!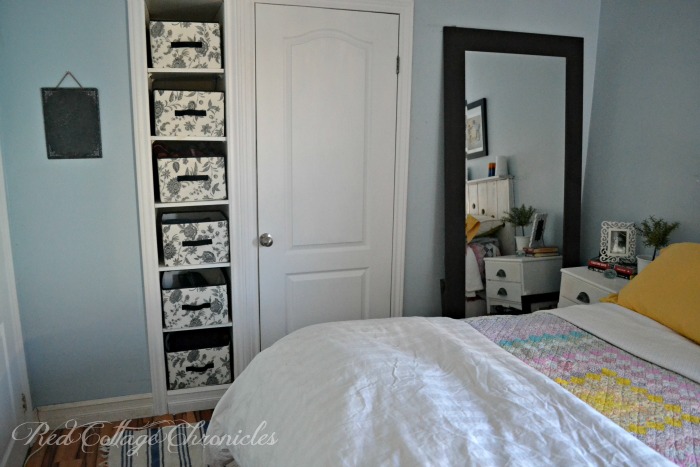 Living in a small home certainly has its' challenges when it comes to storage, but if you really put some thought into it and think outside the box, you never know what you will find.
While you might not have any open space hidden behind your walls, I challenge you to have a really hard look at possible spaces where you can sneak some storage in to your small spaces!
Be it a new recipe, an easy DIY, tips and tricks for home decor, or a full on room reno, don't miss out! Subscribe to Red Cottage Chronicles and stay up to date with all the happenings at our little cottage home!