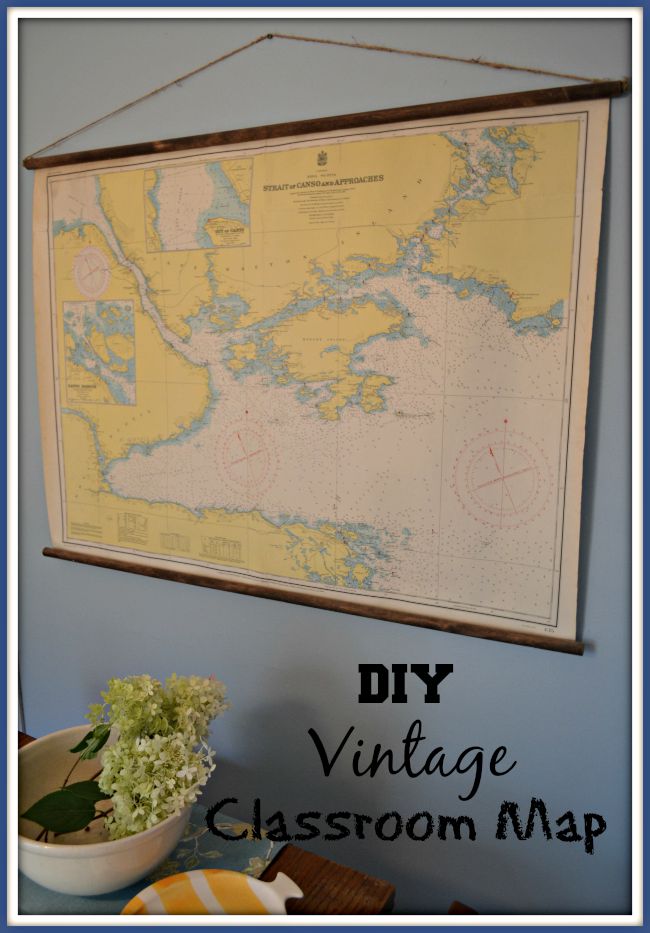 Who doesn't love searching Pinterest for inspiration and ideas!?
One of my inspiration boards on Pinterest is called "DIY Projects I can do".  This is where I pin all the projects that I know I can tackle myself without any help or input from the Mr.  (which usually means no power tools required!)
One of my favorite ways to decorate my home is to display family mementos from years gone by.  Working a little piece of family history into your decor warms a home like nothing else can.
It was probably more than a year ago that I found this pin that reminded of a vintage classroom map, and I new right away it was the perfect solution for hanging a vintage map from a collection my family has that belonged to my Poppa.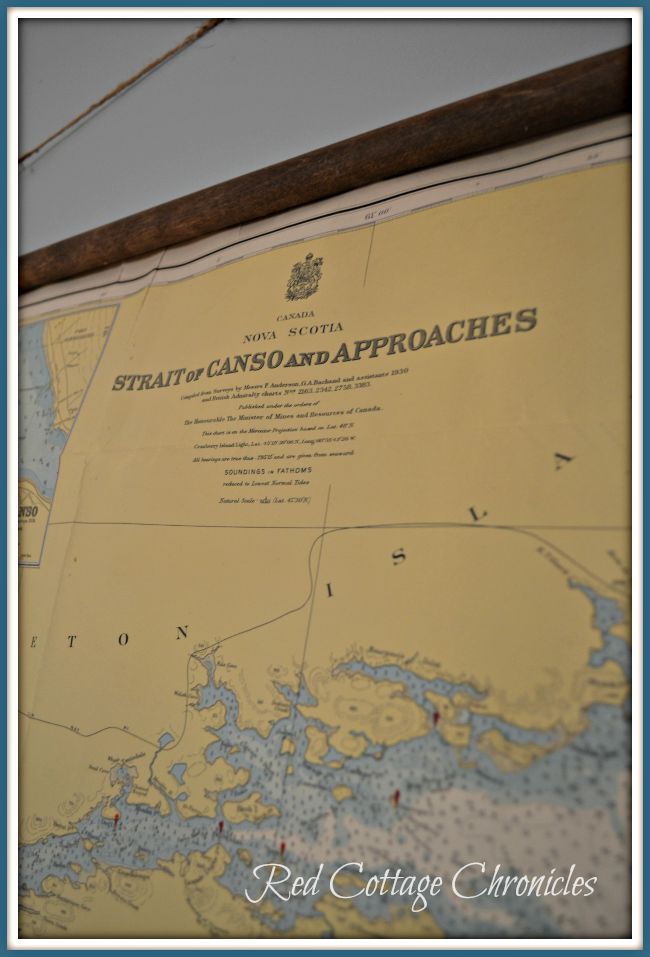 I could spend hours spilling over old family photos and mementos.  Some of my favorites belonged to Poppa (my mom's dad).
He was a mariner for most of his life.  Born in England he came to Canada at a young age and as soon as he was of age he started working on "the boats".
During the second world war he served in the Royal Canadian Naval Reserve.
After the war ended he returned to the boats, eventually working his way up to Captain where he travelled the great lakes between Quebec and Chicago, piloting his ship through some very obscure waters.  He even taught weather at the Mariners College.
He retired a Master Mariner.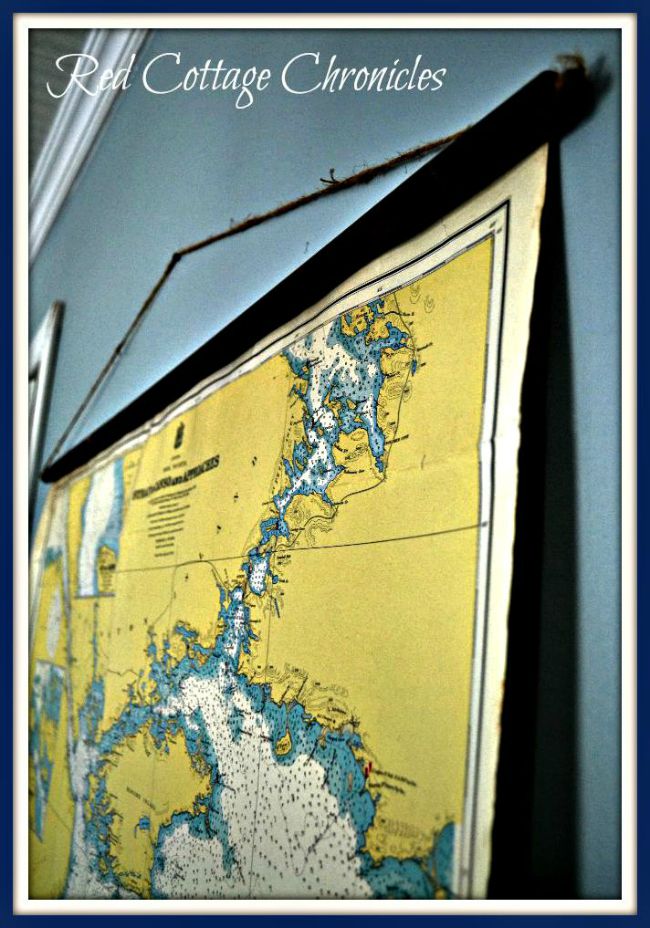 Many years ago when we were clearing out my grandparents house we came across a sleeve of Poppa's mariners maps and until now we kept them stored away.  They are really large and would cost a small fortune to frame.
Using the inspiration from Pinterest, I picked up two dowels for under $5.00 and stained them a dark brown that I had on hand.
I used clear packing tape to reinforce the edges all around the back of the map to help protect it from tearing and help it to hang flat as it had been rolled up tight for years.
I then stapled one dowel to the top of the map and one to the bottom using about 6 or 8 staples across each one.  I then placed another piece of clear packing tape along the top and bottom edge to cover the staples.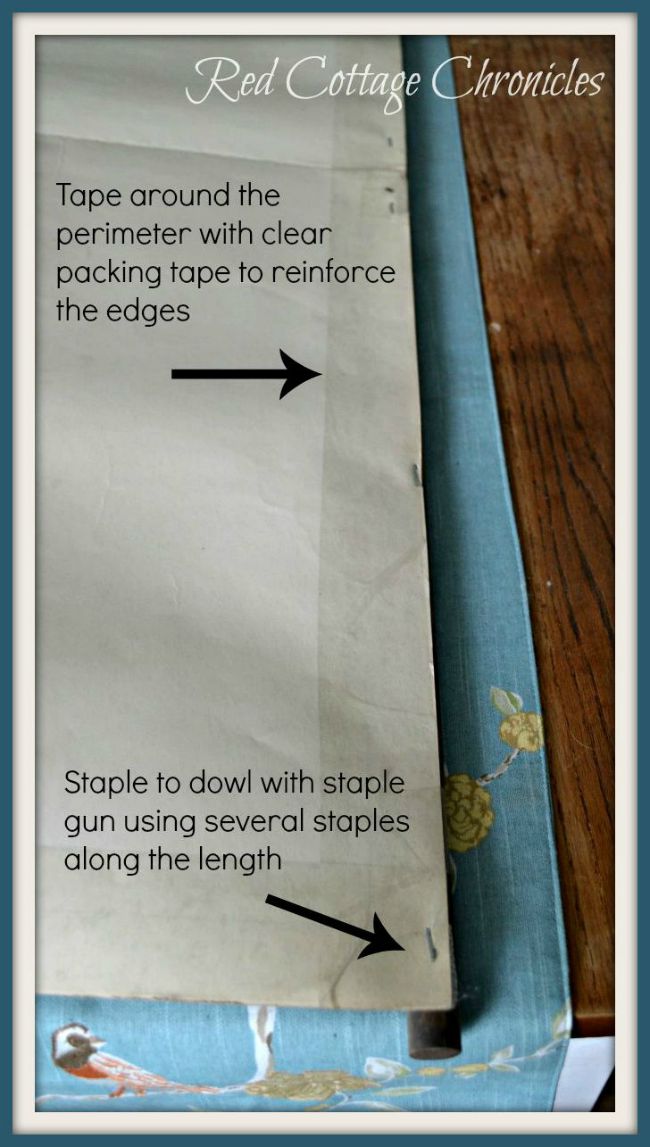 A small screw inserted to each end of the top dowel and then string from the dollar store was tied from one end to the other to hang the map on the wall.
Every time I look at the map it makes me smile.  It reminds me of my poppa and all the adventures and struggles he must have had on the water.  If you have ever heard the song The Edmund Fitzgerald you know travelling the Great Lakes in November is no fun!
I love how it looks like a vintage classroom map.  I think it is kind of fitting rather than being all formal in a frame behind glass.
And if I look at it for a minute or two I am sure I see a moose head with great big antlers!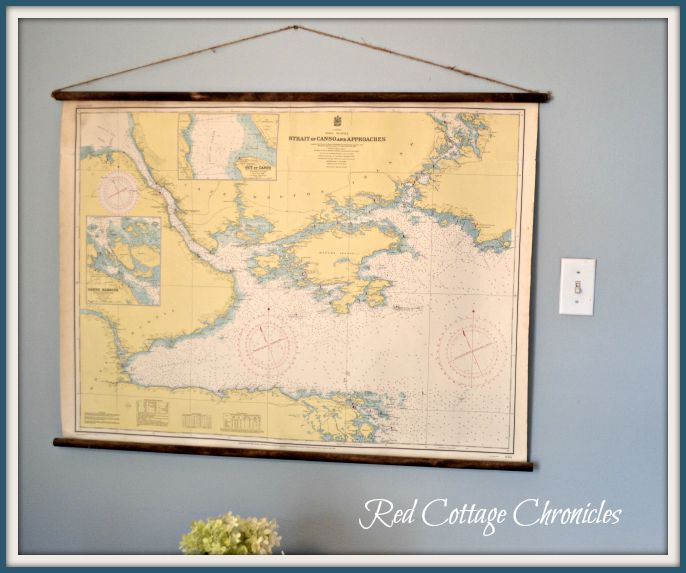 Do you see the moose!?
Until next time….
Maureen
If you are looking for project, home décor or recipe inspiration I would love to have you follow me on Pinterest.  Simply click right here!