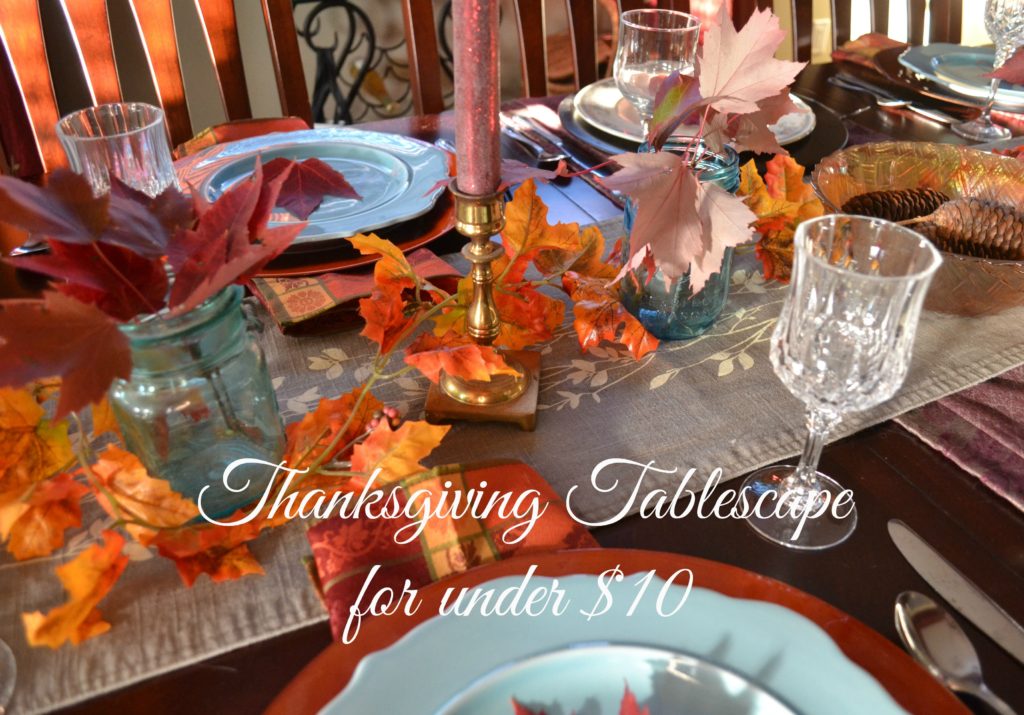 There is no need to spend a fortune on your Thanksgiving Tablescape. You can create a very pretty presentation for under $10.
My inspiration this year was the Niagara escarpment and it's gorgeous fall beauty. The trees are just beginning to change and the hues of reds, yellows and oranges dotted throughout still striking green is so pretty. In another couple of weeks it will be a solid display of orange, red and yellow!
My sister hosted Thanksgiving dinner, but since she is still recovering from surgery we were more than happy to handle all the details. We popped in the morning to get the Turkey in the oven, ran a few errands and then came back with my Mom to get everything else set!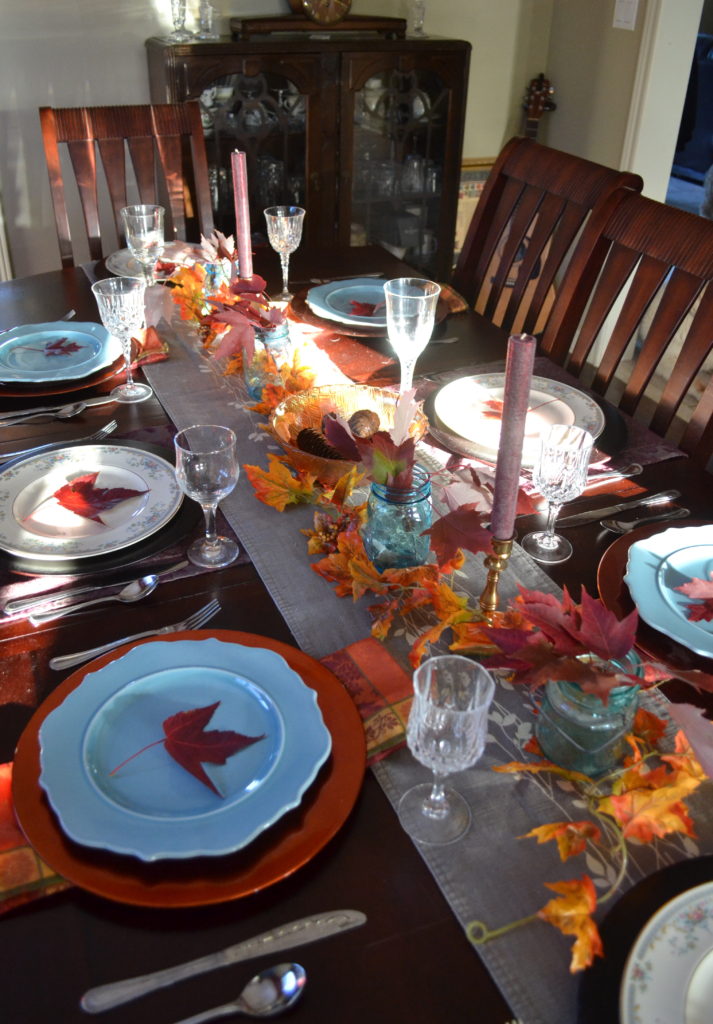 Before purchasing anything for your thanksgiving tablescape, shop your own home both indoors and out. Find a way to use what you have in a new way. I plucked some gorgeous red maple leaves from the trees in the front yard. I brought a table runner, my turquoise plates and ball jars and 4 wooden chargers from home. The only thing I purchased was 4 glossy orange chargers at Michaels for $1.00 each, and a package of 4 Thanksgiving napkins from Walmart for $3.98!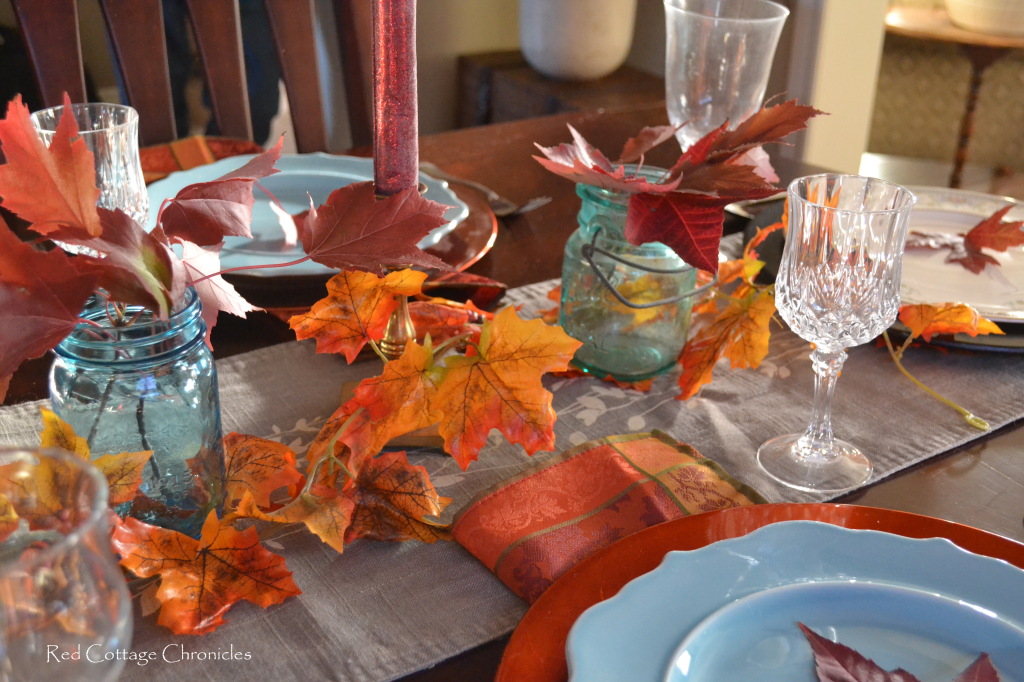 The maple leaf garland I borrowed from my sisters mantel. She also had some pretty red glittery candles and brass candlesticks to complete the look!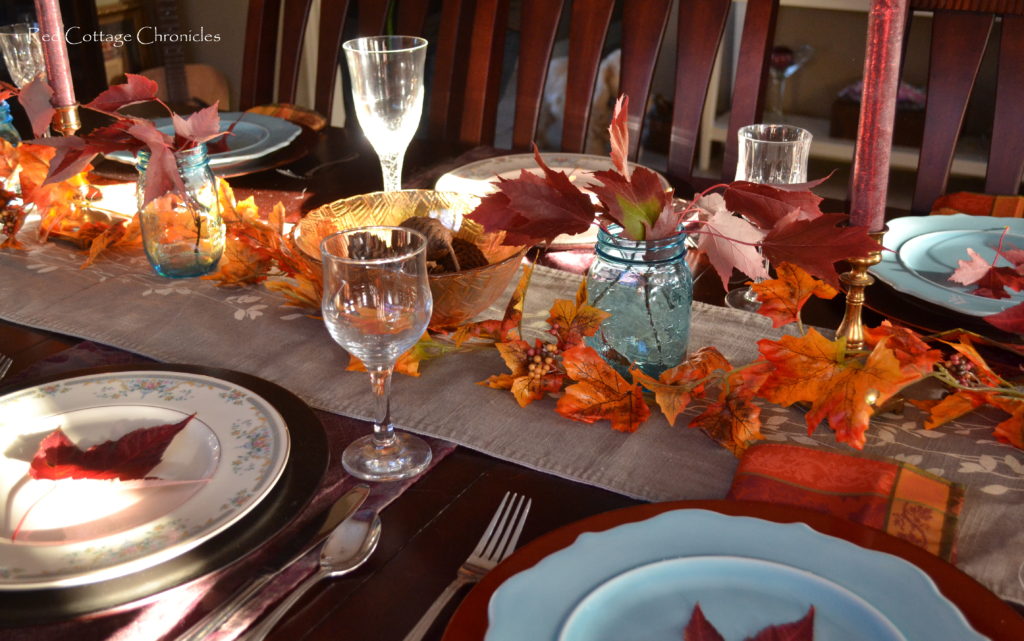 I used a few of my sisters good china plates. They are Royal Dalton in the pattern called Romance and the subtle turquoise floral border worked perfectly. I mixed matched the wine glasses and voila!
A pretty Thanksgiving table for under $10!
You can find more Thanksgiving and other seasonal tablescape ideas here.
Speaking of Thanksgiving, I am very thankful that you stopped by the blog today! I would love to have you subscribe, and as a little thanks I will send you your own password for our VIP printable library! You will only receive an email when a new post is available (2 to 3 times per week) or if I post a special newsletter with information I think you would like! Click here to get started!
Until next time…..