I am so happy it is fall! While I so enjoyed dining al fresco all summer, and the fun tablescapes I put together for outdoor entertaining, I am so glad to finally be bringing dining back inside. We finally get to enjoy our DIY harvest table.
This week I am so glad to be participating in a week long Autumn Tablescape Blog Hop with some very talented bloggers who share my passion for pretty table settings. Although today is the last day, you will want visit all the links down below starting with Monday. There is just so much unique inspiration to create your best autumn tablescape this year!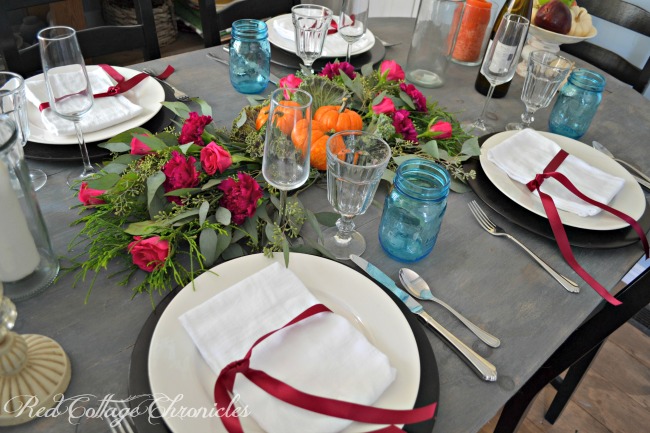 This season I have really embraced more jewel tones for autumn. I first did my autumn wreath using burgundy and orange I expanded on this with my autumn tablescape in those same tones. I added burgundy, a rich dark pink, and a touch of teal.
Like I did with my wreath, I used fresh greens as a base including seeded eucalyptus, a few clippings from a weeping cedar shrub in our yard, and a few leaves from the ornamental cabbage from the front porch. I also picked up some fresh flowers from the market. I had plenty to create my tablescape plus some for the mantel as well! All for less than $20.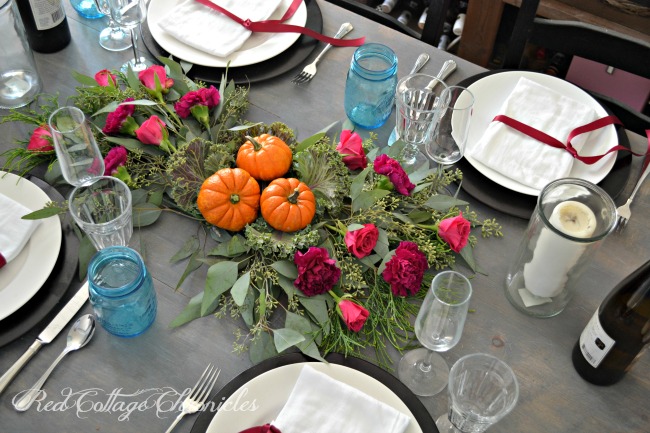 To create a pretty table for any season, I am a true believer in using what you already have. I used different glasses for wine, water and soft drinks. The wine and water glasses are staples from Ikea. They are inexpensive, and I always try to pick up a couple when I go in case of breakage. The Ball jars I use for everything from drinking glasses to overnight oatmeal.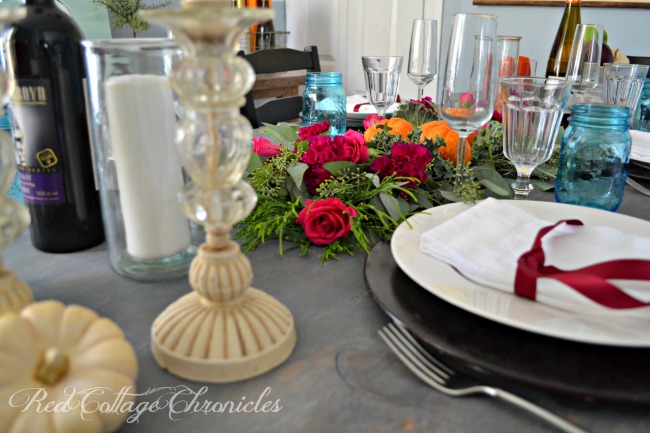 A few candles placed around will add a soft glow as the sun goes down and we linger over dessert and conversation.
A few apples and miniature white pumpkins are stacked up on the DIY cake plates upcycled from old candlesticks. They add a bit of colour and pay homage to the apple season!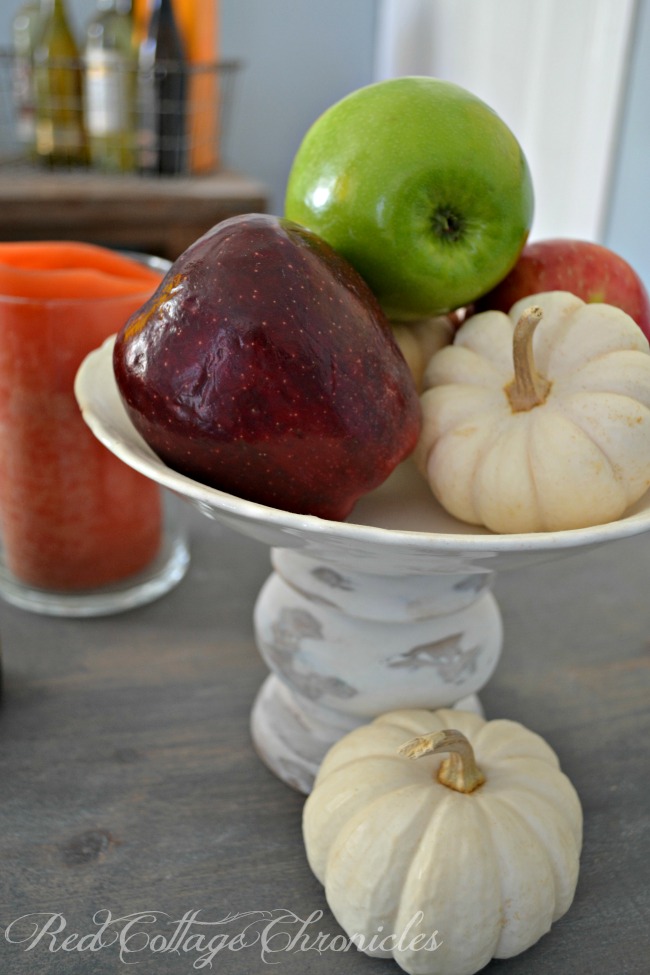 The napkins are simply plain white flour sack dish towels from Walmart. They come in a 5 pack and are under $8.00! I wrapped them with a piece of burgundy satin ribbon I had picked up at the dollar store.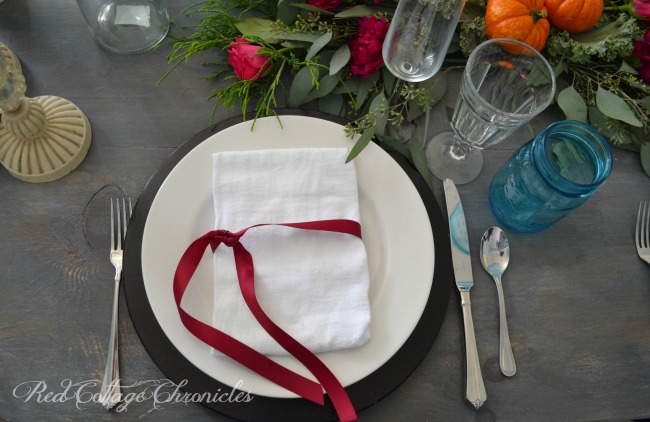 I used wood charger plates I have had for years and my everyday white dinnerware from Pier One Imports. My set of 12 is slowly dwindling down so I think it's time to stock up before Christmas!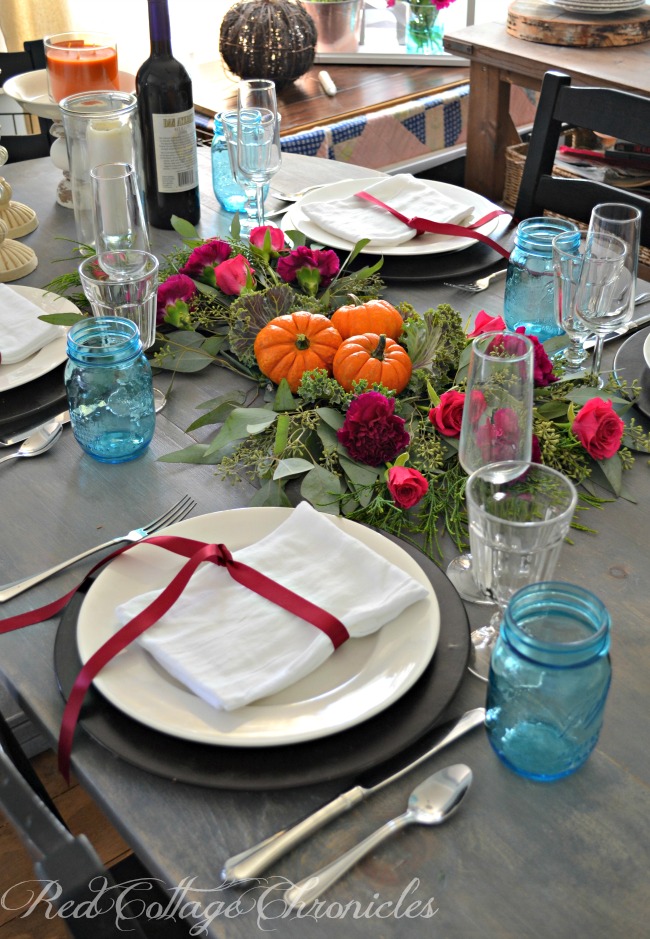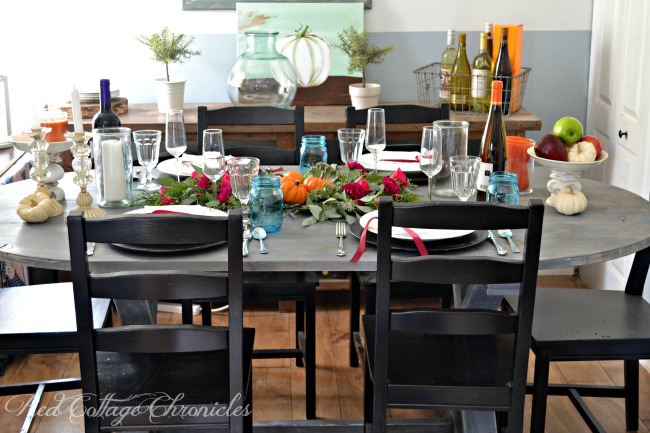 Thanksgiving is just over a week away here in Canada and families will be gathered around with family and friends. It only takes a few minutes, some simple dinnerware, candles and inexpensive flowers and greens from the market to set a pretty table.
Even if you have never made a big deal of your table before, or maybe it is just two of you celebrating a meal together, I encourage you to take the time and create your own autumn tablescape this year!
And, now on to the Autumn Tablescape Blog Hop!
Until next time….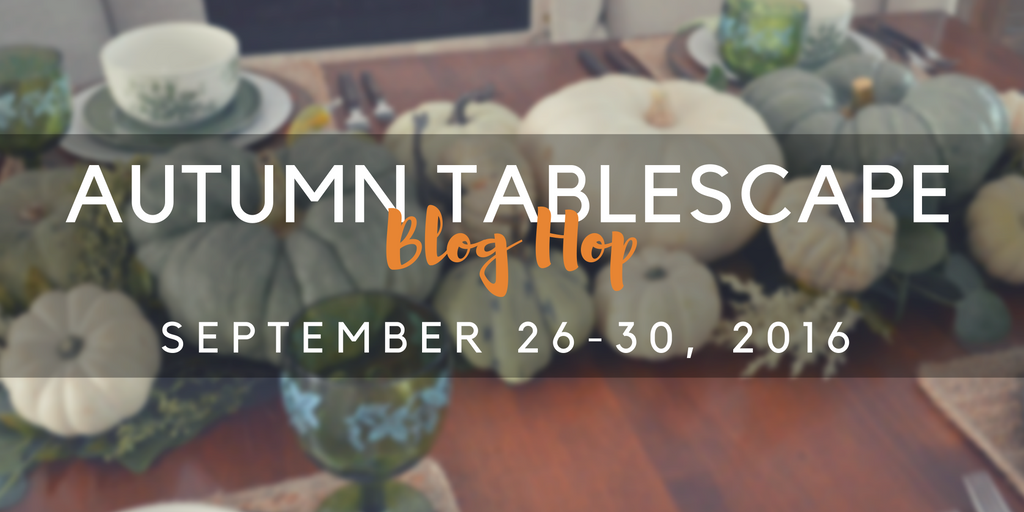 Autumn Tablescape Blog Hop Schedule