Each year a very dedicated group of ladies from my mothers church host a Mother and Daughter tea in the church hall.  These ladies, known as "The Linen Sisters" meet regularly to both create new altar linens as well as maintain those already in service.  Their sewing and embroidery skills are amazing, and they have even branched out and they now have orders from other churches needing new altar cloths.  They are a talented bunch for sure!
The "high tea" affair is a much anticipated event by young, old and in between.  Everyone dresses up in their "sunday best" and hats are encouraged.  I don't know about you but I love the chance to wear a fancy hat every now and then.  We have a local hat shop that is such fun to pop in to and try on the latest styles.  Everything from your standard winter toques, to full out Royal Ascot worthy hats and fascinators!
We totally embrace the afternoon and have a blast coming up with the "perfect" headwear for the day!
 My mom is one of the "Linen Sisters"!
She loves birds and blooms so this is the fascinator my daughter made for her!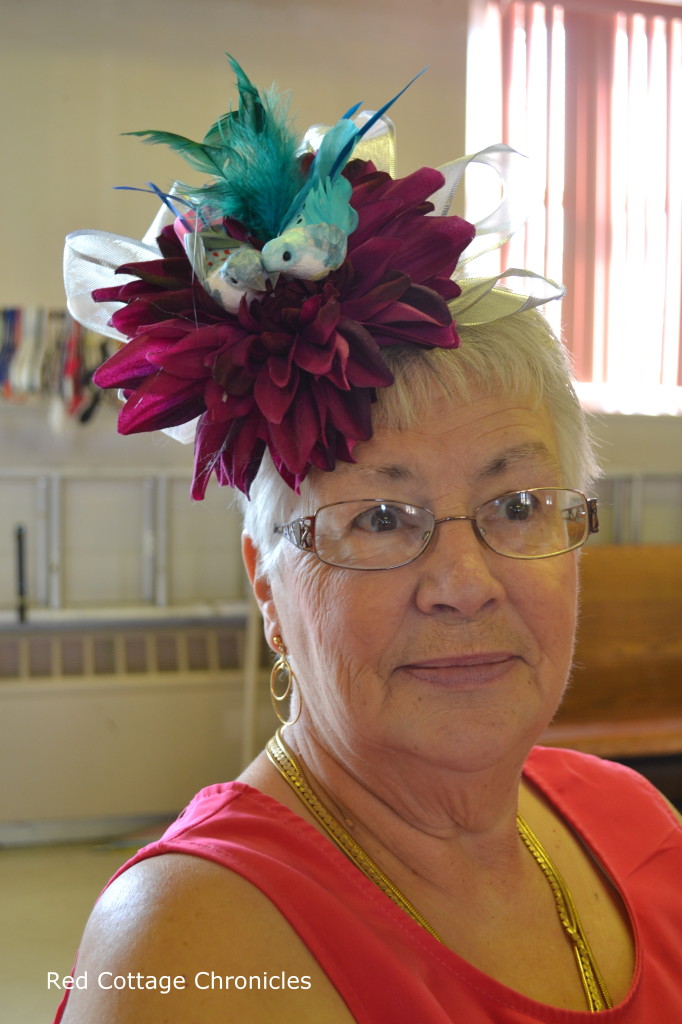 This is my daughter Sam.  She made all of the fascinators.  I just love hers.  It is totally her.  Quirky, fun and a free spirit!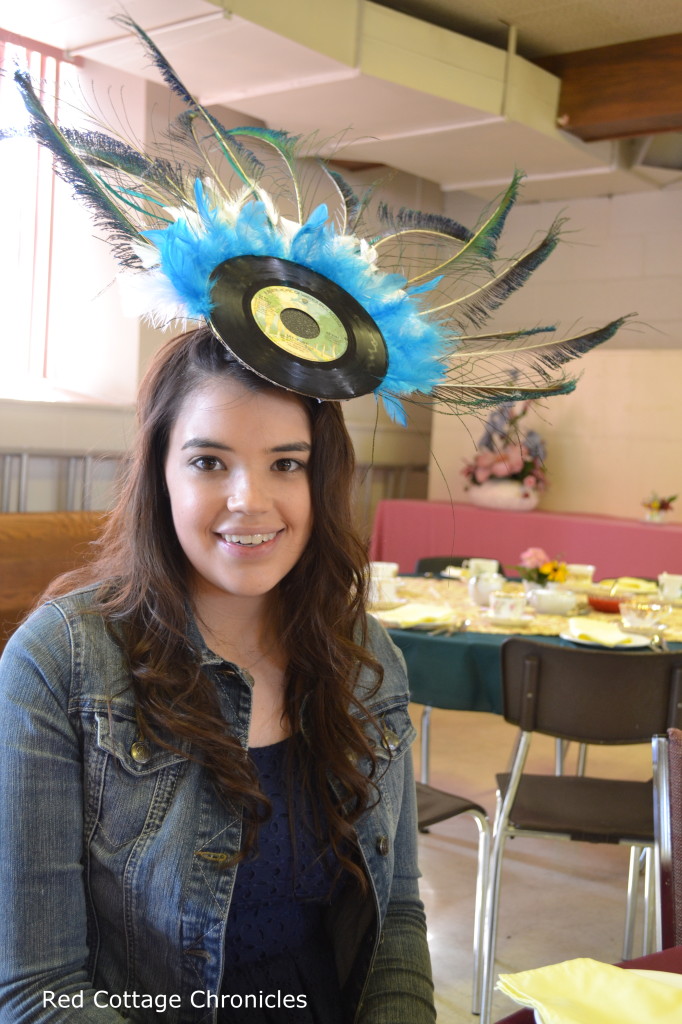 Sam's was voted the best "hat"!
Here are the four of us…..3 generations!  My oldest daughter Marlie, myself, my mom and Sam!  My girls love that my mom is game for anything.  All her grandchildren think she is the coolest!  Thanks to our friend Sandra Thomson for taking the photo for us!

Marlie's was made by creating fans with scrap book papers and she wanted a teacup and saucer added to the top.  Fun! Fun!
Here is a close-up of my fascinator!  It is covered in butterflies!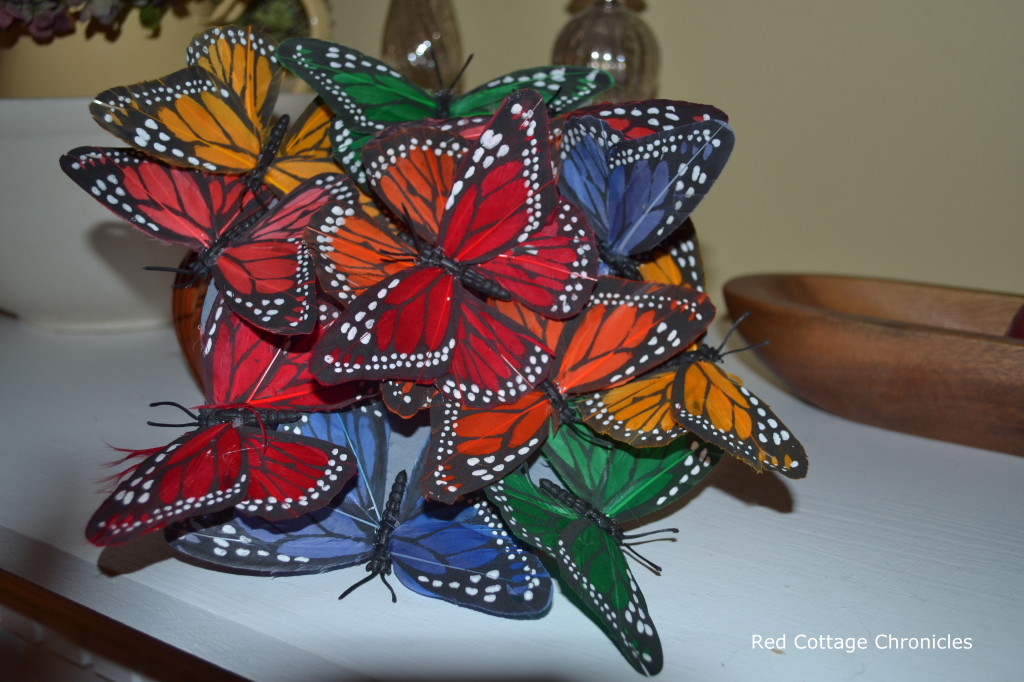 All together we might have spent about $30 on all four.  We shopped the dollar store, Goodwill for the old 45 record, Michaels (with 40% off coupons), and bulk barn for cake plates that acted as the bases for three out of the four.
The tables are set with fine china teacups, fancy linens and pretty teacup flower arrangements all made by the ladies themselves.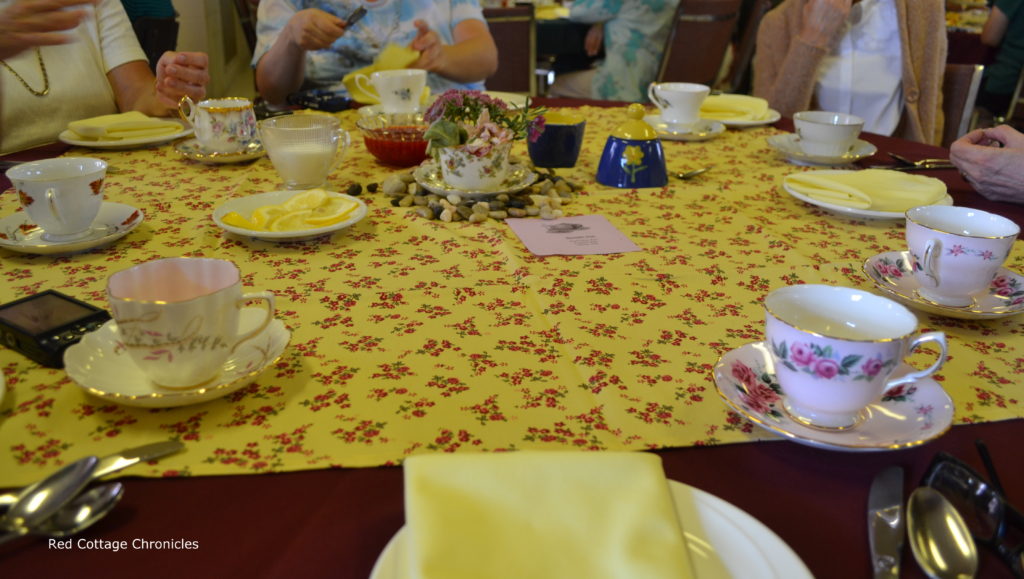 The afternoon started with our choice of tea.  I choose Lemon Zinger and added a slice of lemon for some extra zip.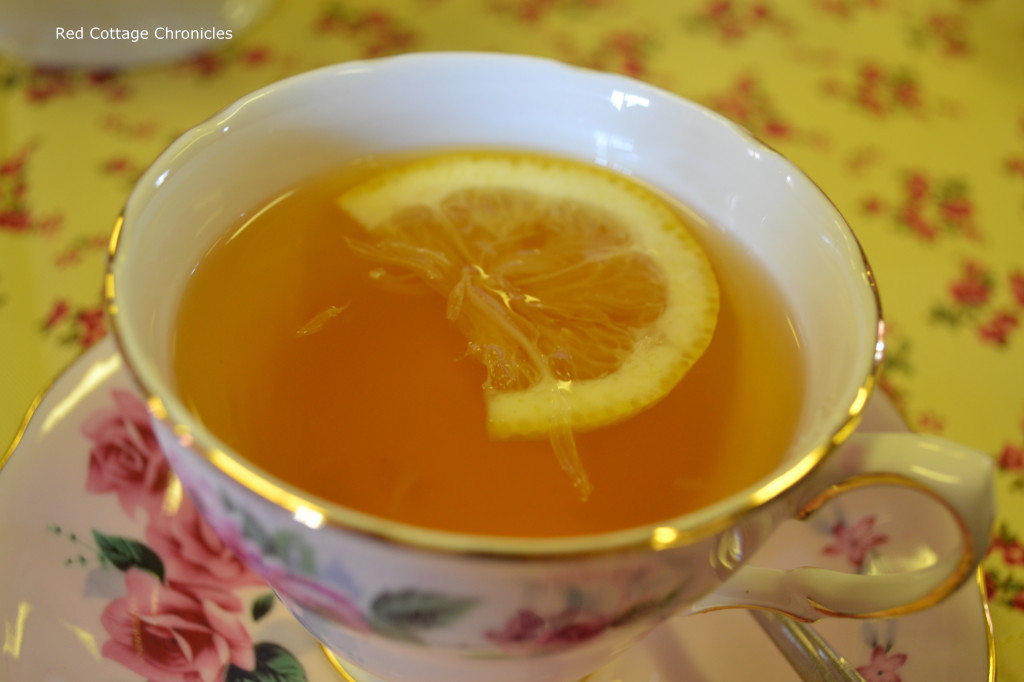 How pretty is that?!
No high tea is complete without homemade scones, clotted cream, homemade jam, and a wonderful assortment of sandwiches.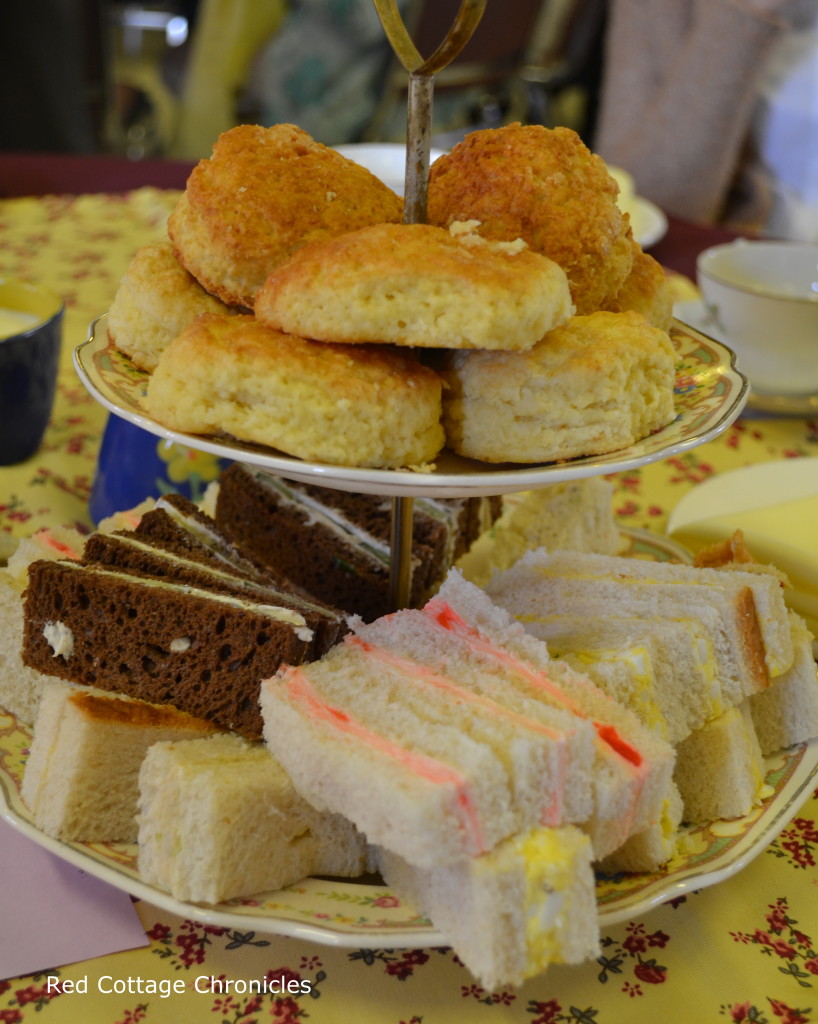 My favorite sandwiches were the ones with the pink filling, a mixture of cherries and cream cheese!
The men from the church act as our servers for the day, and one of the "Linen Sisters" has a son who is a chef, so he is in charge in the kitchen.  They serve the sandwiches, pour our tea, and keep our sweet tray full!
Speaking of sweet tray, we had a wonderful assortment to choose from.  I made the Lemon Meltaways you see right in front!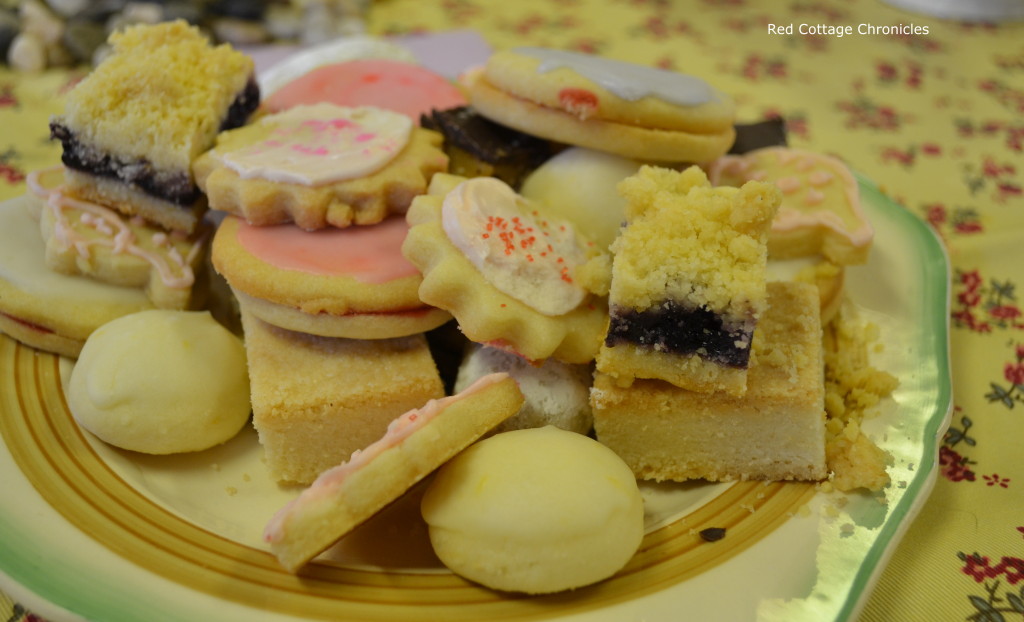 The key ingredient in these classic tea cookies is the corn starch, not to mention room temperature butter!  They are glazed with a tart lemon icing and really do melt in your mouth.
I love this recipe because it made 80 cookies in one batch.  The key to getting them perfect (and not crumbly) is to use room temperature butter.  I let my butter sit out overnight and made them first thing in the morning.  I cannot stress this enough.  I have made them and been too inpatient to wait for the butter to come to true room temperature.  They may look nice, but crumble like dust as soon as you pick them up.
Fascinators and Lemon Meltaways
Author:
Prep time:
Cook time:
Total time:
Ingredients
2 cups room temperature butter
2/3 cup confectioners sugar
2 teaspoons grated lemon zest
1/2 teaspoon vanilla extract
2 cups all purpose flour
1 1/2 cups cornstarch
For Frosting
1/3 cup room temperature butter
1 teaspoon grated lemon zest
1/2 cup lemon juice, freshly squeezed
4 cups confectioners sugar
Instructions
Preheat oven to 350 degrees
Beat butter until it appears creamy
Add powdered sugar and mix until light and fluffy
Add lemon zest and vanilla extract, beat well
Add flour and cornstarch and mix until well combined. The dough will slowly come together as you mix it.
Roll into approximately 1 inch balls and place on parchment lined baking sheet
Bake for 13 to 15 minutes, until bottom is light brown
Remove from oven and allow to cool for a few minutes before transferring to wire cooling rack – cookies are quite fragile and delicate when warm
Allow to cool completely before frosting
Combine all frosting ingredients, adding more or less than 1/2 cup lemon juice to get it thin enough to dip cookies
By hand, dip each cookie top side in frosting
Return to cooling rack to allow frosting to set
The afternoon was topped off with a few spirited games of Bingo!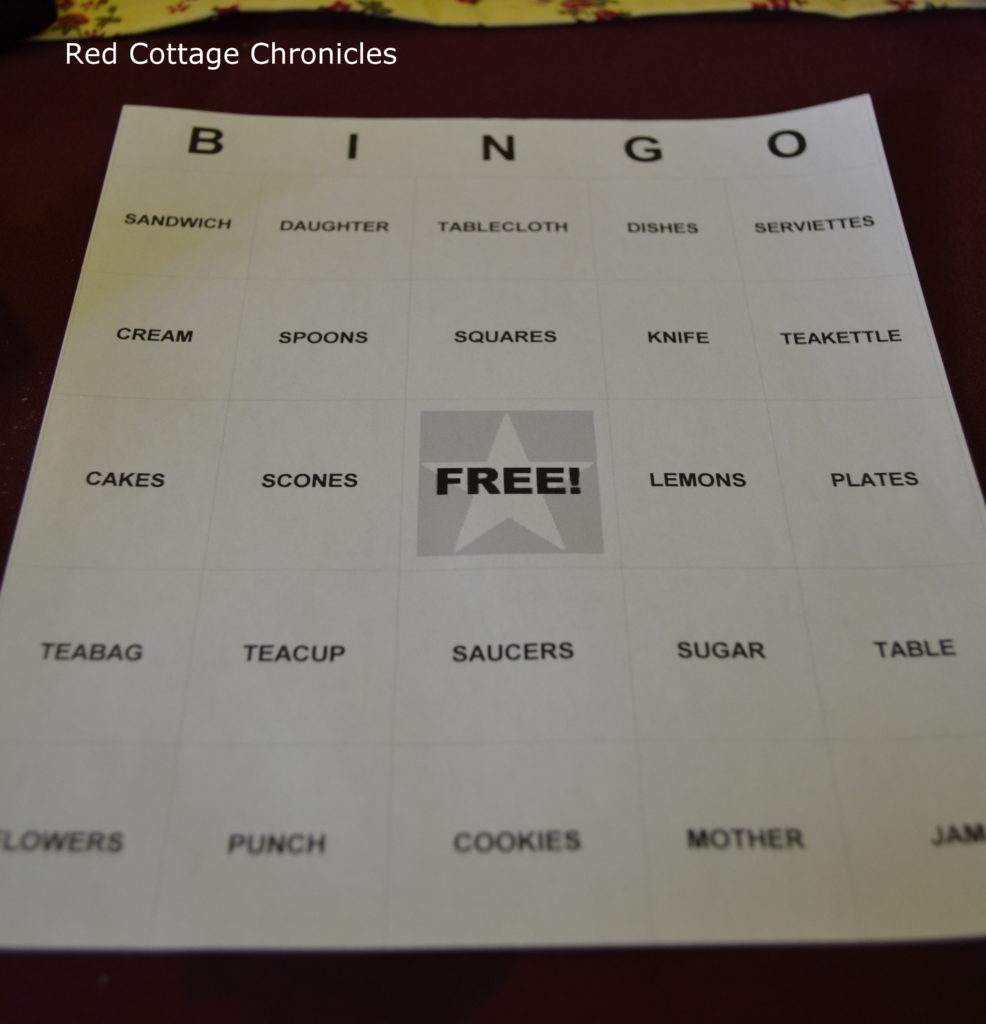 It was such a lovely day, and I am truly blessed to have two grown up girls who still like to spend time, have fun, and be dorky with their mom and nana!
Thank you "Linen Sisters" for a fun afternoon!