Last Friday evening I was busy making (and testing!) a Strawberry gin and tonic recipe, when my husband sent me a text. "Jimmy wants to know what you are making for me to bring to work tomorrow"! Apparently, he was thrilled when I responded with blueberry crumble cheesecake bars!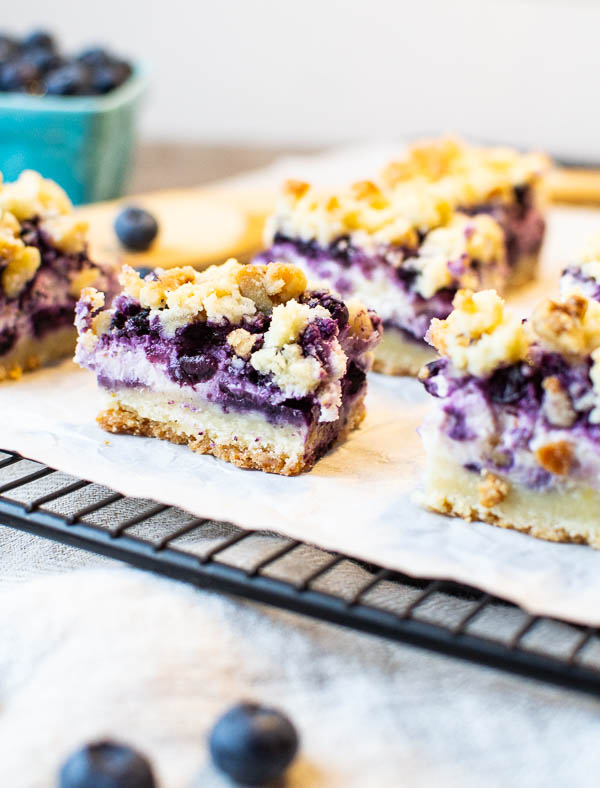 I think I have created a monster! Actually an entire group of monsters! When I decided to go back and take some baking classes at our local culinary college, my husband and his co-workers became the lucky recipients of all the goodies I baked in class every week.
Fast forward 8 years and I am still sending them treats. Some of their favorites are butter tarts and salted caramel puff pastry. I thought I would bake them something different. And, who doesn't love cheesecake? And, I had all the ingredients on hand.
These blueberry crumble cheesecake bars are made with frozen blueberries, making them easy to bake any time of year. The golden buttery shortbread crumble elevates them to a whole other level.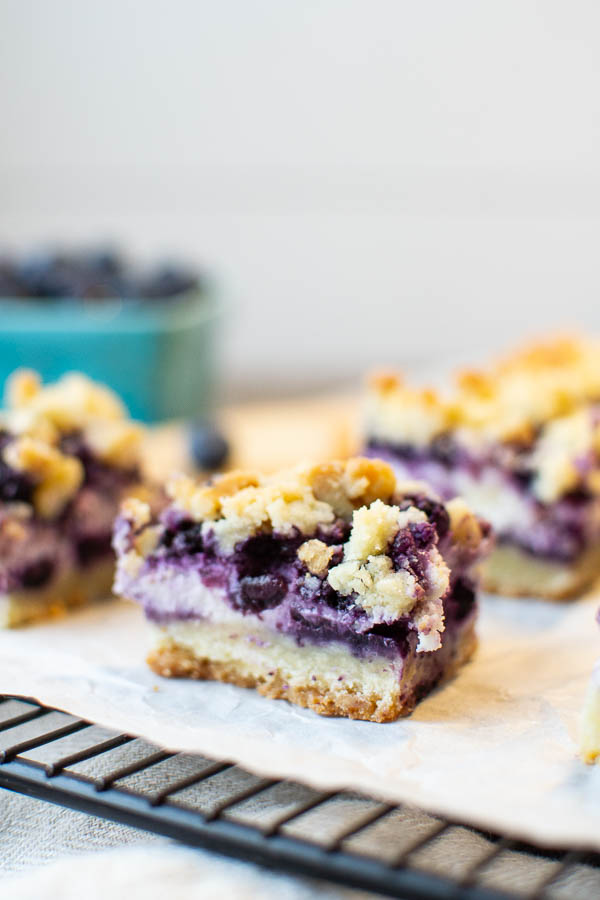 The cream cheese filling is blended with orange rind which gives it a subtle citrus flavor. I used low fat cream cheese and there was no sacrifice on flavor!
Apparently they were a huge hit, but I think they are getting a wee bit spoiled. I hear there has been a request for apple crisp! Oh well, I love to bake and I love to feed people. Everybody's is happy!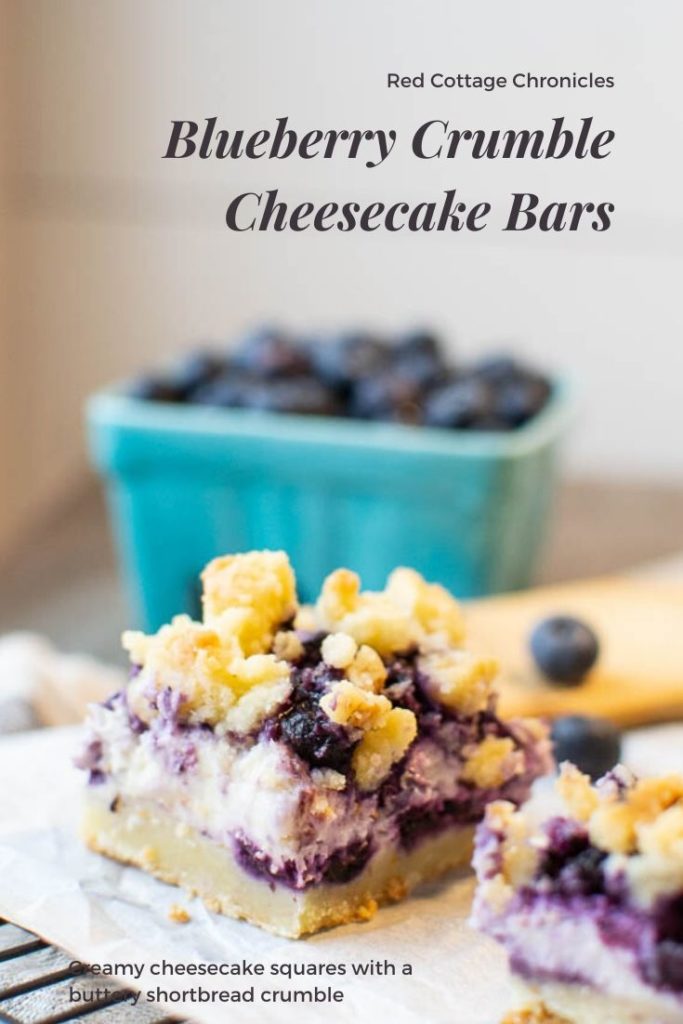 If you get a chance to bake a batch of these blueberry crumble cheesecake bars, I would love to know how you like them. Leave me a comment and let me know!
Be in the know! It may be a delicious recipe, a stunning tablescape, or decor tips to make your house a home! Simply click here to subscribe. I never sell or share your information, and you can unsubscribe at any time!
Until next time…..

Blueberry Cheesecake Bars
Author:
Prep time:
Cook time:
Total time:
From the Sweet and Savoury Bake Fest brochure
Ingredients
Base:
2 cups all purpose flour
1/2 cup sugar
1/2 teaspoon salt
1/2 cup chilled canola oil
Filling:
2 pkgs (8 oz each) plain cream cheese, I used light
1/2 cup sugar
1/4 cup whipping cream
2 teaspoon vanilla extract
2 teaspoon finely grated orange zest
2 eggs, well beaten
1 1/2 cups frozen blueberries, thawed
1/4 cup chopped almonds
Instructions
Preheat oven to 375 degrees. Line an 8″ baking pan with foil or parchment.
Base: stir flour with the sugar and salt. Drizzle with chilled oil and mix well with a wooden spoon until crumbly. Press 2/3 cup of this mixture into the bottom of prepared pan and bake for 15 minutes.
Filling: beat cream cheese, 1/2 cup sugar, whipping cream, vanilla and zest until smooth and creamy. Add beaten eggs and blend on low speed until combined.
To assemble: sprinkle half of the blueberries over prepared crust. Pour filling over blueberries smooth with spatula. Sprinkle with remaining blueberries. Mix chopped nuts with remaining crumb mixture and scatter over blueberries evenly.
Bake for 25 to 30 minutes or until cheesecake is just slightly jiggly in the centre. Chill completely to room temperature and then place in the refrigerator to chill before cutting and serving.