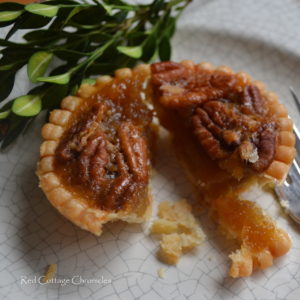 Preparing for the holidays can become overwhelming really fast. I am always looking for ways to cut down on the stress and time involved in preparation.
One thing I refuse to be stressed about is baking Christmas treats. I do admit I have a leg up because I really have a passion for baking. There are many, though, that cannot fathom the thought of getting into the kitchen. Whether you enjoy baking or would rather skip that part of the holidays, this easy tart recipe is for you.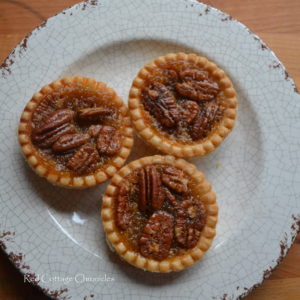 These easy Maple Pecan tarts help make Christmas baking really easy and really fast. The secret is pre-made tart shells. Nowhere in my rule book of baking does it say that pre-made tart shells are a criminal offence! I always pick up a package or two over the holidays to have in the freezer. Using frozen shells the prep time for these tarts is a mere 5 minutes!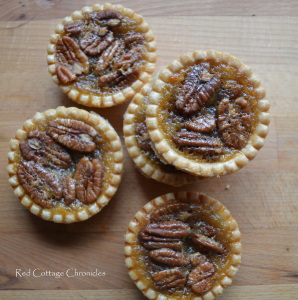 So, no guilt in using premade pastry for these maple tarts that bake up sweet and buttery. I find the Tenderflake brand to bake up really well, and hold any type of filling I care to put in them.
These pecan tarts aren't too runny so won't leave your guests with sticky hands! Which are a nightmare when they try to wipe them off with napkins that end up sticking to the sticky stuff on their hands instead of wiping it off and make an even worse mess with bits of napkin stuff all over themselves. (Can you tell this has happened at our house before!)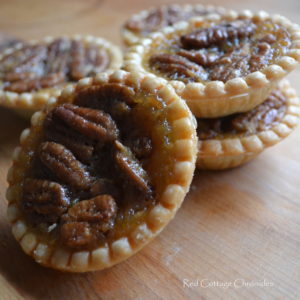 I have vowed not to let the prepping and planning get in the way of actually enjoying the season this year and have been so happy to have some inspiration in my inbox each morning. Ruth Soukup from Living Well Spending less is offering a 12 part series, 12 Days to a Stress Free Christmas!
Ruth has a gift of breaking it all down into small, practical steps to brought to via a short video sent to you by email each day. She touches on everything from setting goals, shopping for groceries, and getting the house in order. She also is offering a free holiday planner when you subscribe to the series!
What a blessing it has been to have this daily greeting to help me manage my time and keep my budget and sanity in check! There is still lots of time to get in on the inspiration, just click here to register! And then go whip up a batch of these Maple Pecan tarts, pop them in the freezer and enjoy one every morning with a cup of tea or coffee while you watch Ruth's 12 Days to a Stress Free Christmas video!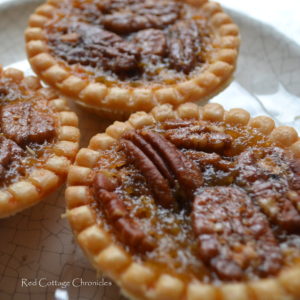 Enjoy!
Maple Pecan Tarts
2018-09-17 10:06:35
Ingredients
12 premade frozen tart shells
1/2 cup unsalted butter
1 cup brown sugar
1/2 pure maple syrup
2 eggs
1 tablespoon fresh lemon juice
1 teaspoon vanilla extract
pinch of salt
1/2 to 3/4 cup pecan halves
Instructions
Preheat oven to 400 degrees and arrange shells on parchment line baking sheet.
In a medium saucepan melt butter and brown sugar, heating until bubbly. Remove from heat.
In a large measuring cup with a pour spout whish together maple syrup, eggs, lemon juice, vanilla and salt.
Slowly whisk butter mixture into maple syrup mixture, whisking until well combined.
Place 4 to 5 pecan halves into the bottom of each tart shell.
Pour filling into tart shells until almost full.
Bake at 400 degrees for 10 minutes and then reduce heat to 375 degrees and continue baking for 15 minutes
Remove from oven and allow to cool.
Red Cottage Chronicles https://www.redcottagechronicles.com/
(Visited 125 times, 1 visits today)