Hazelnut Crusted Orange Chocolate Tart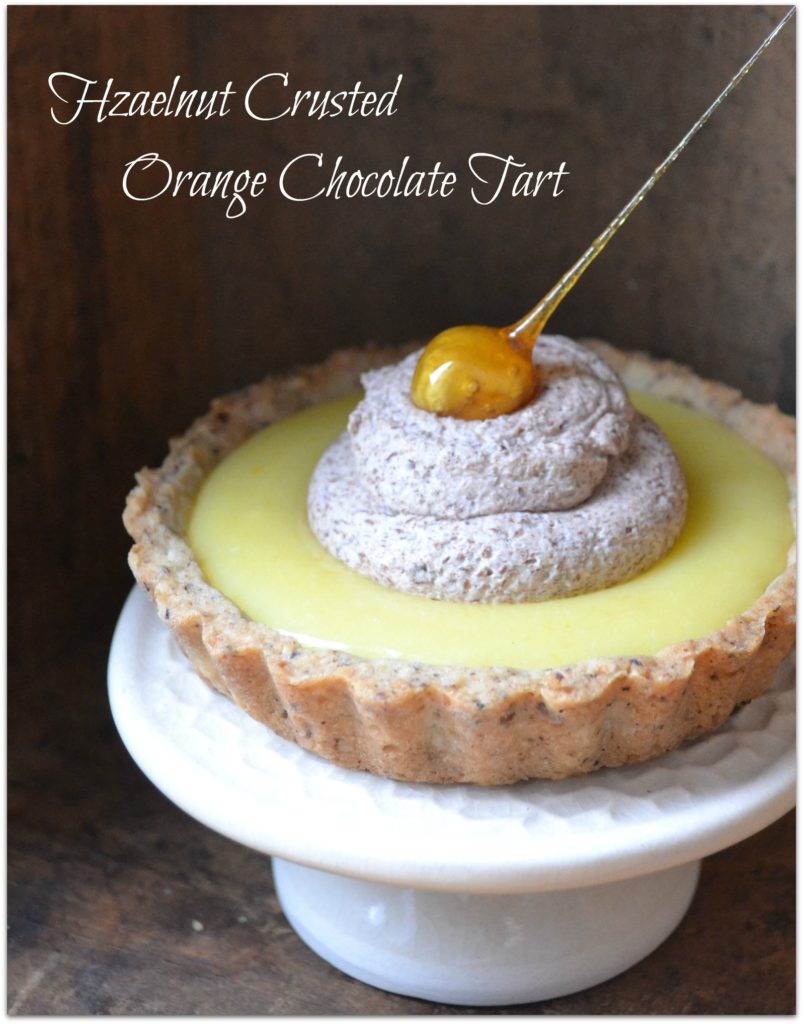 Oh, how I love this tart.  The smell of orange and chocolate together reminds me of my poppa.  Sounds strange, but it smells like the candy cupboard did at their house.  Still does, a little bit.  While the smell of that cupboard may have faded, the memories have not.  You see, my poppa (my mom's dad) was the captain of a lake ship called the Chicago Tribune.  It travelled between Quebec and Chicago.  He docked at loading dock of the  Chicago Tribune newspaper to unload their newsprint.  While the ship was being unloaded poppa would visit a  candy store next to the loading dock and stock up on candy to bring home for us!  The candy was kept in this same cupboard for all the years I can remember.  Long after he retired the cupboard still smelled of all the candy.  My nephew lives in the house now, so I can still open the double doors and stick my head in hoping to breath in the memories.  But I realized while I was cooking up some orange curd, and melting chocolate side by side that those memories are alive in my kitchen.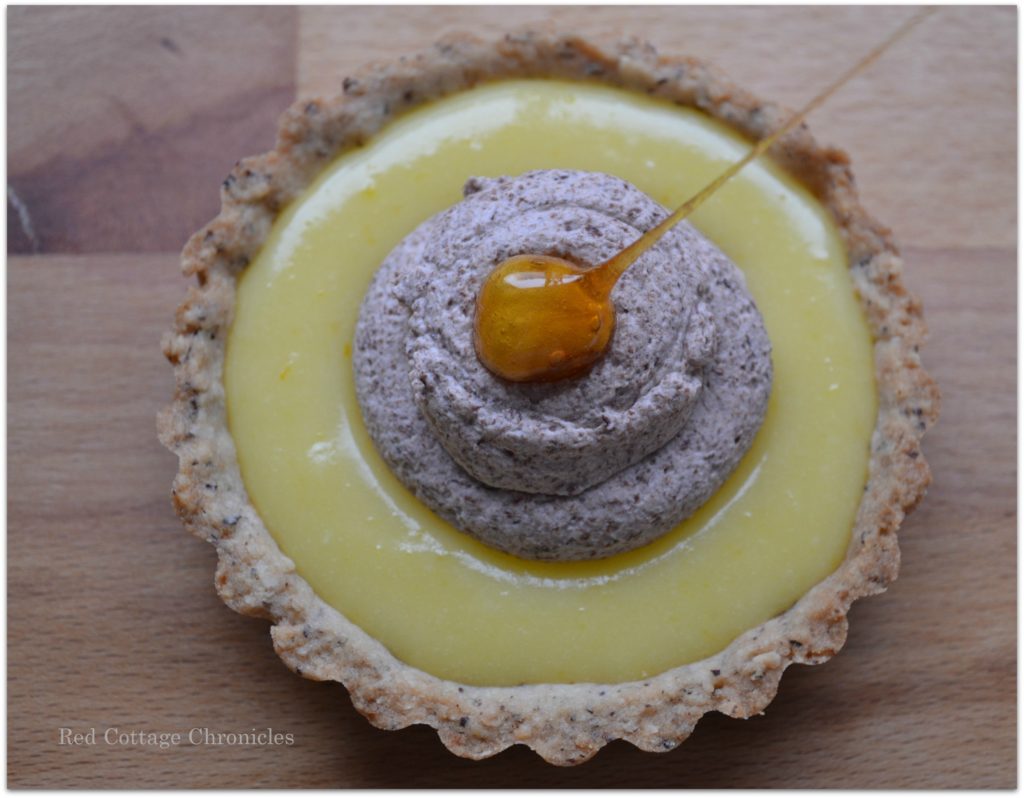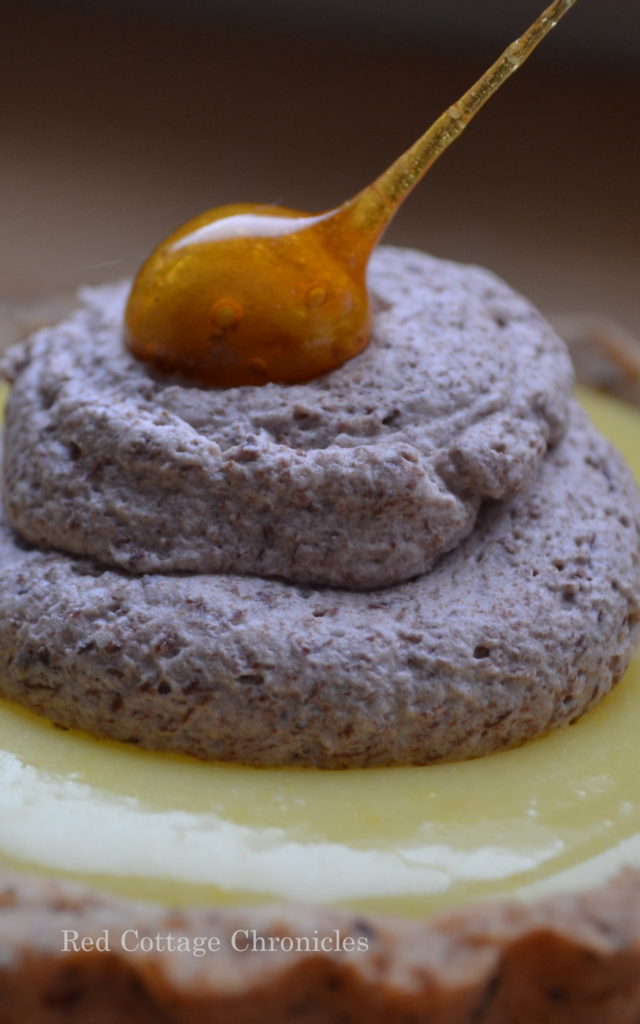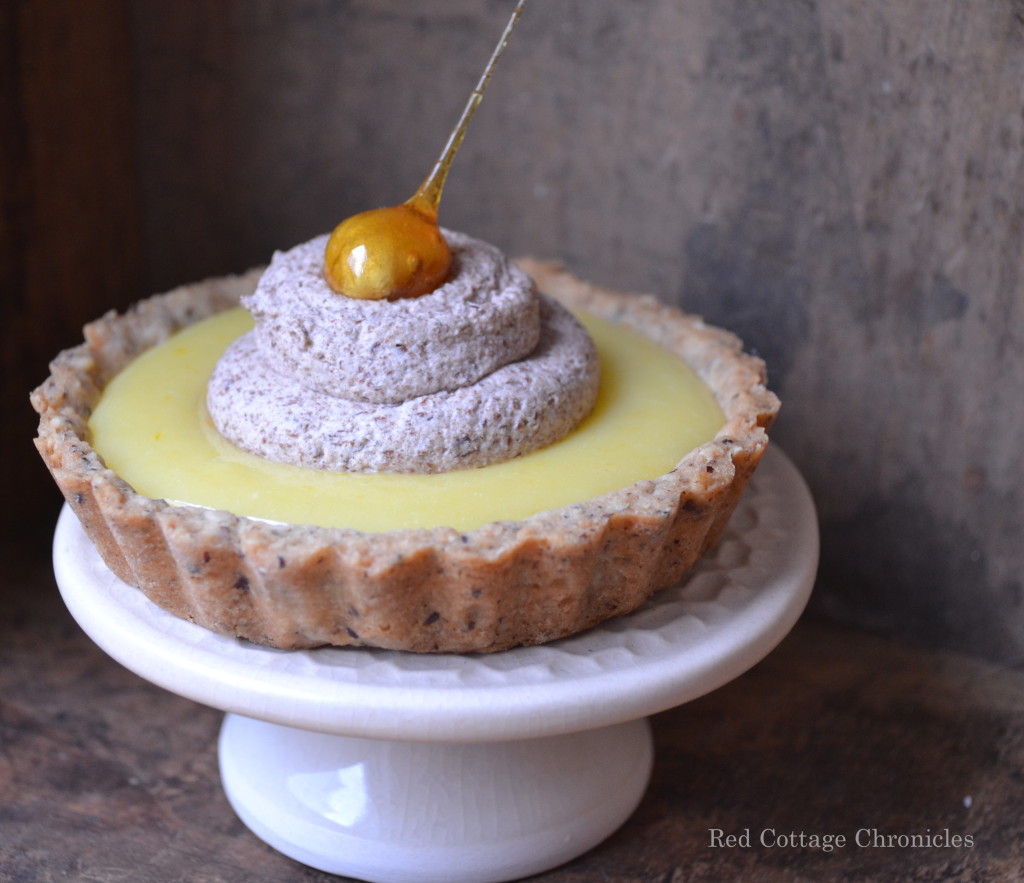 ENJOY!
Hazelnut Crusted Orange Chocolate Tart
Author:
Ingredients
CRUST:
1/2 cup unsalted butter, softened
2/3 cup confectioners sugar, sifted
1 vanilla bean
3 tablespoons ground almonds
1/4 teaspoon salt
1 large egg
1 cup all purpose flour
2/3 cup ground hazelnuts
FILLING
2/3 cup granulated sugar
1/2 cup fresh squeezed orange jucie
2 teaspoons finely grated orange zest
2 large egg yolks
1 large egg
1/2 cup unsalted butter at room temperature and cubed
TOPPING
1/2 cup 35% whipping cream
4 ounces dark chocolate, melted and cooled
3 teaspoons granulated sugar
Instructions
CRUST
In a large bowl beat butter and confectioners sugar and beat on low just to combine.
Split vanilla bean, scrape out seeds and add to sugar/butter mixture. Add ground almonds and salt and beat on low until ingredients are combine and smooth.
With a wooden spoon beat in egg.
Sift in flour and add ground hazelnuts and stir with wooden spoon just until combined.
Turn out onto a lightly floured surface, flatten into disk and wrap in plastic wrap.
Chill for 30 to 60 minutes.
FILLING
Whisk sugar, orange juice, egg yolks and while egg in a metal bowl.
Place bowl over pot of simmering water and gently whisk the mixture until thickened, about 15 to 20 minutes. You can step away now and again, and just whisk gently.
When the curd has thickened remove from heat and strain into a bowl, and whisk in butter until it is completely melted.
Chill curd until set, approximately 2 hours
TOPPING
Beat whipping cream on high just until it starts to thicken.
Add sugar and melted chocolate and continue whipping until thick.
ASSEMBLY
Preheat oven to 350 degrees.
Remove tart dough from fridge. Using 4 inch fluted tart shells with removable bottoms, roll dough and cut to fit. Place dough into tart pan and trim top edges if necessary. Place tart shells on a baking sheet and dock each with a fork.
Bake for 15 minutes and remove from oven to cool.
Spoon filling into each prepared tart shell and smooth with an off set spatula.
Fill a piping bag with chocolate whipped cream fitted with a large plain tip and pipe a mound of whipped cream into the centre of each tart.
Garnish as desired.
I garnished my tarts with shelled hazelnuts dipped in melted sugar.  Roast whole hazelnuts for 10 minutes.  Remove from oven and remove skins.  Insert a toothpick into the bottom of each one.   Prepare a piece of Styrofoam so that it hangs slightly over the edge of the counter, placing a heavy book on it to support it.   Heat 1/2 cup sugar over medium heat until melted, stirring with a wooden spoon.  Add an additional 1/2 cup sugar and continue stir and heat until it changes to a light amber liquidy paste and finally to a dark amber caramel color.  Remove from heat and set bottom of pot into a bowl of cold water to stop cooking process.  Remove from water and allow to sit for a moment.  Dip each hazelnut into caramel, remove and hand upside down by sticking toothpick into Styrofoam and allow it to form a long drip.  Allow to harden.  Trim length of drip if necessary.