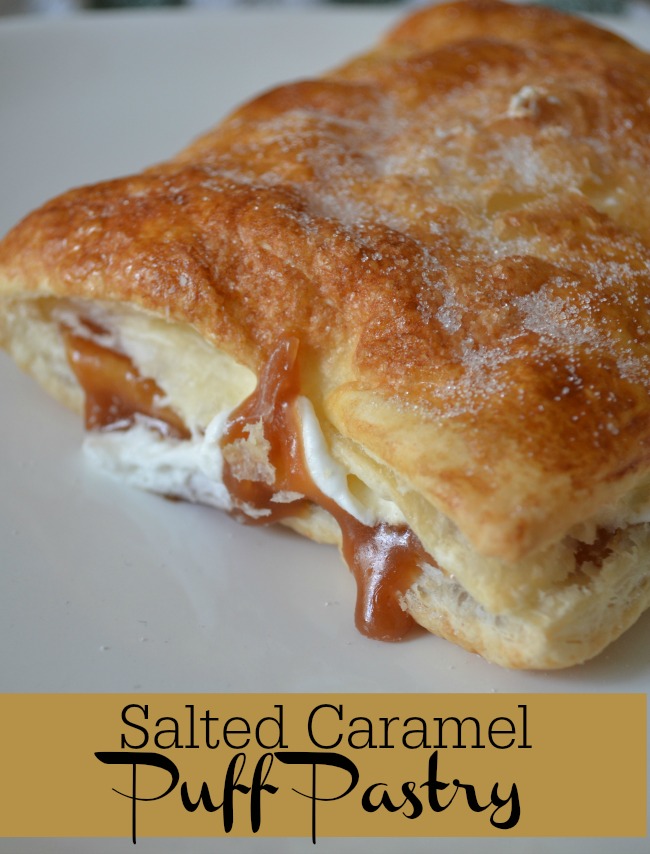 Salted Caramel. Smooth. Sweet. Salty. Creamy. I could go on and on. Let's just say I am hooked! This caramel puff pastry recipe is really easy and really delicious.
Crisp layers of buttery puff pastry envelope a homemade salted caramel sauce and fresh whipped cream.
Even with all that buttery goodness and sweet whipped cream, the star of this pastry is most definitely the salted caramel.
Everybody deserves a decadent treat now and again, and I could easily pop to the store and buy something sweet, gooey and delicious, but by baking them myself I can rest easy knowing exactly what is in these yummy goodies.
Sugar, butter, cream and salt and 10 minutes is all you need to make this versatile salted caramel sauce. A sheet of frozen puff pastry dough and heavy cream rounds out the ingredient list.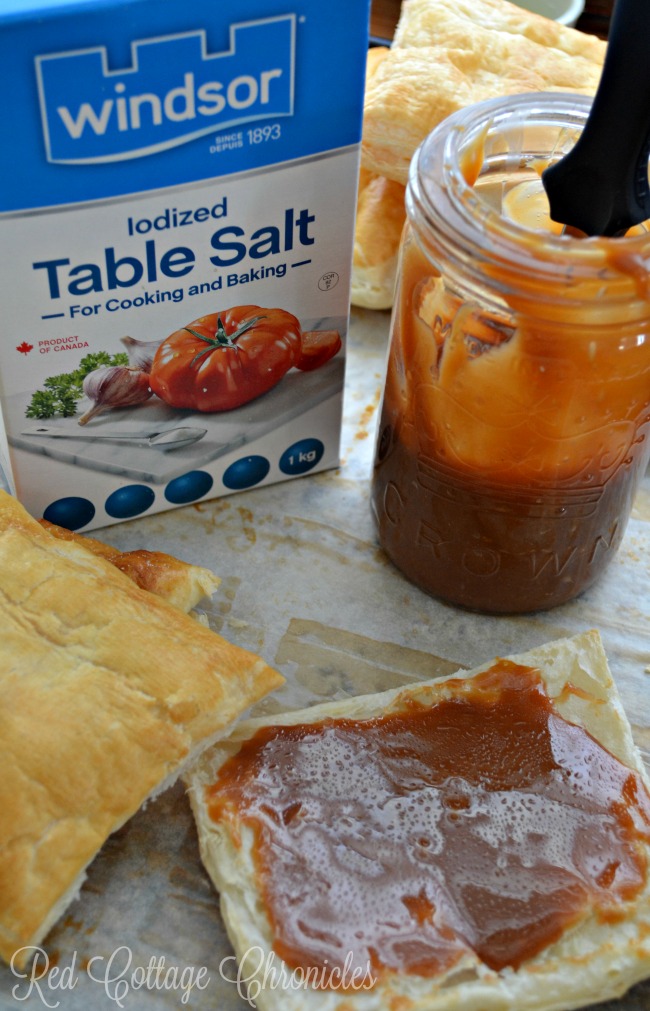 Windsor Table Salt is not just for the table anymore. It is the perfect salt for baking, with its fine granules that disappear into your recipe while enhancing the flavour like only a quality salt can do.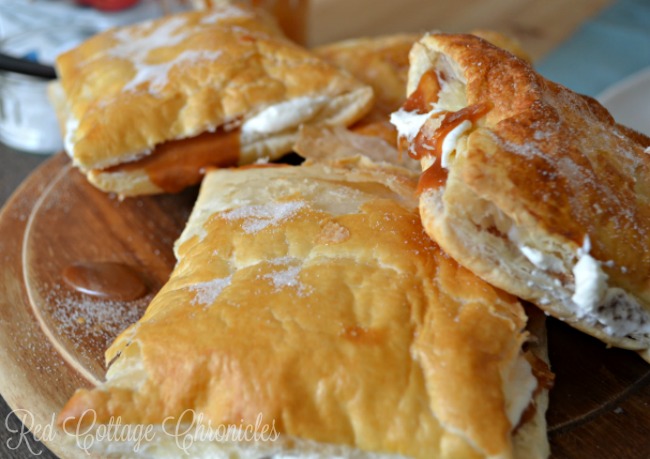 Windsor Salt has been a Canadian household staple for as long as I can remember. The immediately recognizable blue and gold dots remind me of my mom's kitchen.
After 10 years, Windsor Salt is undergoing a brand refresh! I am loving the new packaging with all those brightly coloured fresh veggies! Makes me want to whip up something fresh and delicious.
Just like their line of culinary salts elevate the flavours of our fresh ingredients, savory or sweet, the Windsor Salt Companies goal is to elevate the look and feel of their products. I think they have done just that.
A new modern look that resonates with today's families seeking to get back to home cooking with fresh local whole foods!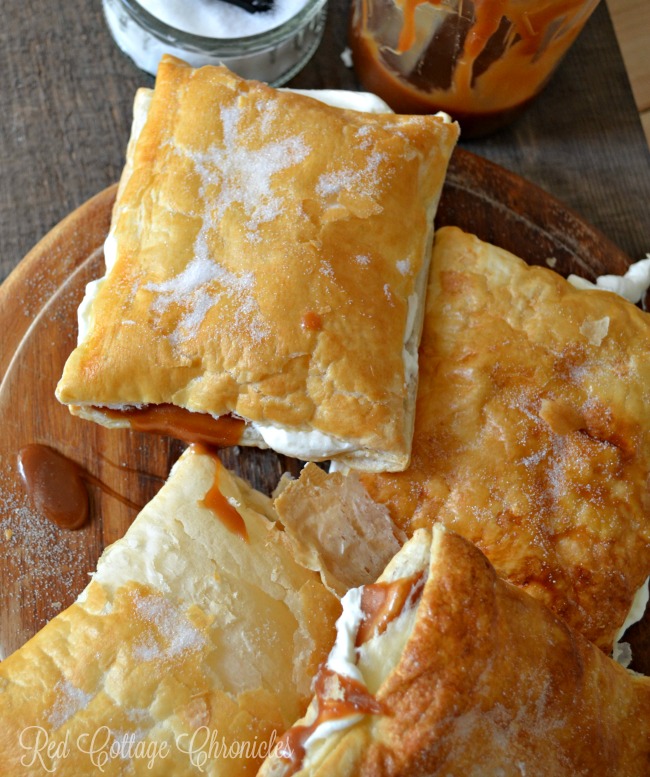 You can visit Windsor Salt here for fabulous recipes that make feeding our families delicious healthy meals really easy. Everything from main dishes, to sides, to sweets! There are lots of recipes to choose from.
Next week I share one of those recipes that I decided to customize just a bit. Mouthwatering. You won't want to miss it!
Until next time….
Maureen
*Disclosure Sharing recipes like this Salted Caramel Puff Pastry is what makes my day, and rest assured while Windsor Salt has sponsored this post, the opinions expressed are completely my own.
Salted Caramel Puff Pastry
2016-05-03 17:53:14
Serves 4
Ingredients
1 cup granulated sugar
6 tablespoons unsalted butter, cubed
1/2 + 1 cup heavy cream
1 tsp Windsor Table Salt
1 sheet frozen puff pastry dough (thawed but cold)
3 tablespoons sugar
Instructions
Pour sugar into a small heavy bottom saucepan set over medium high heat.
Stir sugar constantly until it is melted and a medium amber colour. It will first clump up into pea sized bits before finally melting and changing colour.
Carefully add the cubes of butter. The melted sugar will foam up as you add the butter; continue stirring until the butter is completely melted, about 2 minutes.
Slowly and carefully pour in 1/2 cup of the heavy cream, again the mixture will bubble and steam; allow it to boil for about a minute.
Remove from heat and add the salt. Set aside to allow to cool.
Meanwhile prepare the puff pastry by rolling it out and cutting into 4 quarters, brushing each quarter with an egg wash. Refrigerate for 20 minutes.
Remove from the refrigerator and bake for 10 to 12 minutes, until golden brown and well puffed; allow to cool.
Whip the remaining 1 cup of heavy cream and 3 tbsp sugar until stiff peaks form.
Carefully slice the pastries in half (top to bottom) and spread the bottom half with about 1 tablespoon of salted caramel sauce and a heaping tablespoon of whipped cream. Place top with remaining pastry half.
Notes
You can prepare the salted caramel sauce a day or two early. Simply refrigerate until ready to use and heat up in the microwave or saucepan to make it easier to spread.
Red Cottage Chronicles https://www.redcottagechronicles.com/