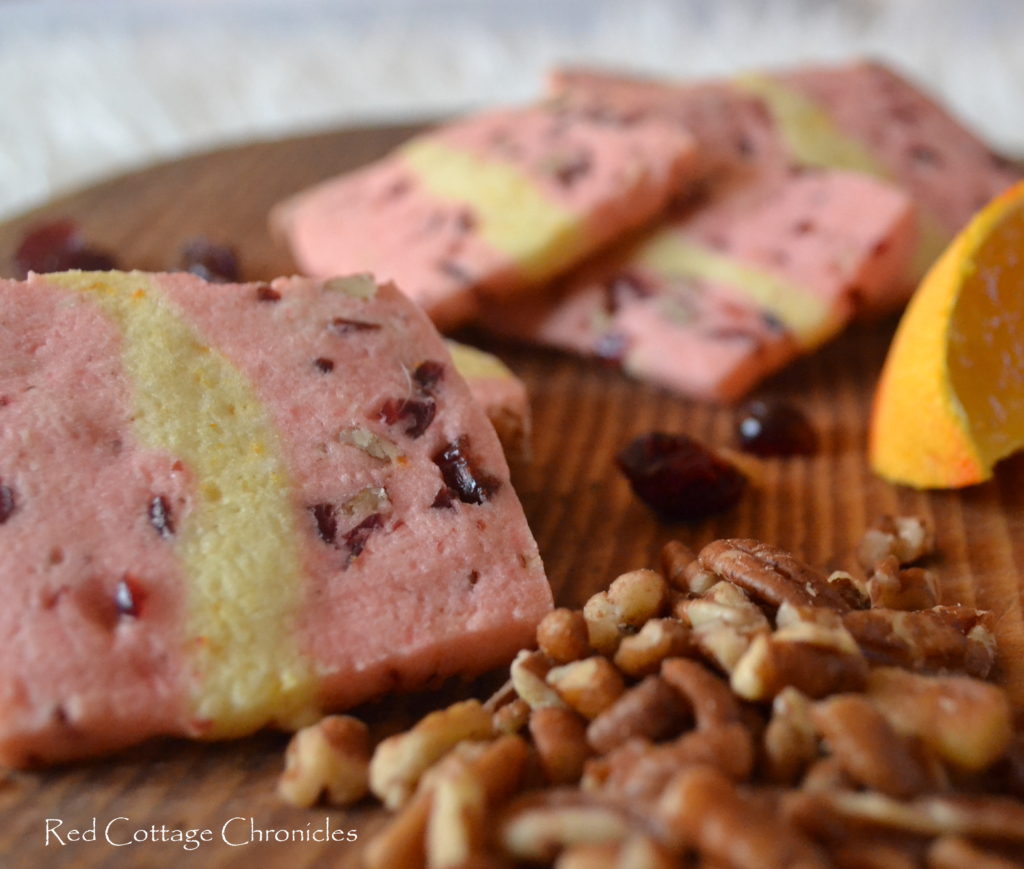 I cannot believe it is December 19th and I have just begun my Christmas baking!  No worries though.  I am up for a marathon baking session this weekend!
If you have never tried the cranberry orange flavour combination before, you must give these cookies a try.  They are so easy, but look so pretty all pink and creamy/orange colored and dotted with dried cranberries, chopped pecans and  orange zest!
When I start Planning my Christmas baking I always consider flavours as well as presentation.  I have seen many a cookie tray filled with brown and beige!  Don't get me wrong, I love chocolate as much as the next gal, but I love color on my trays.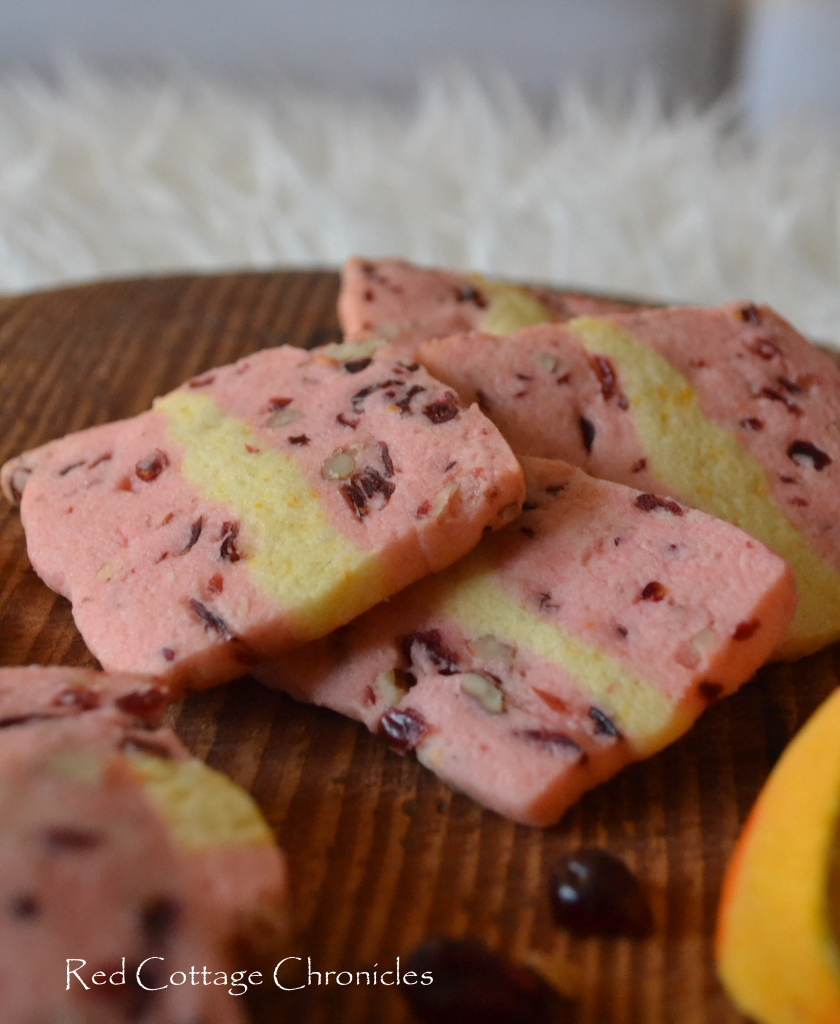 Sometimes the fancier colourful cookies and squares can look a bit complicated, but these cranberry orange cookie slices are anything but difficult.
Simply mix the dough, set aside about a cup for the orange layer, add cranberries, pecans and food coloring to the remaining dough and divide it in half.  Layer the dough, cranberry-orange-cranberry, in a loaf pan.  Chill for 2 hours. Remove from pan, cut in half length wise, slice and bake!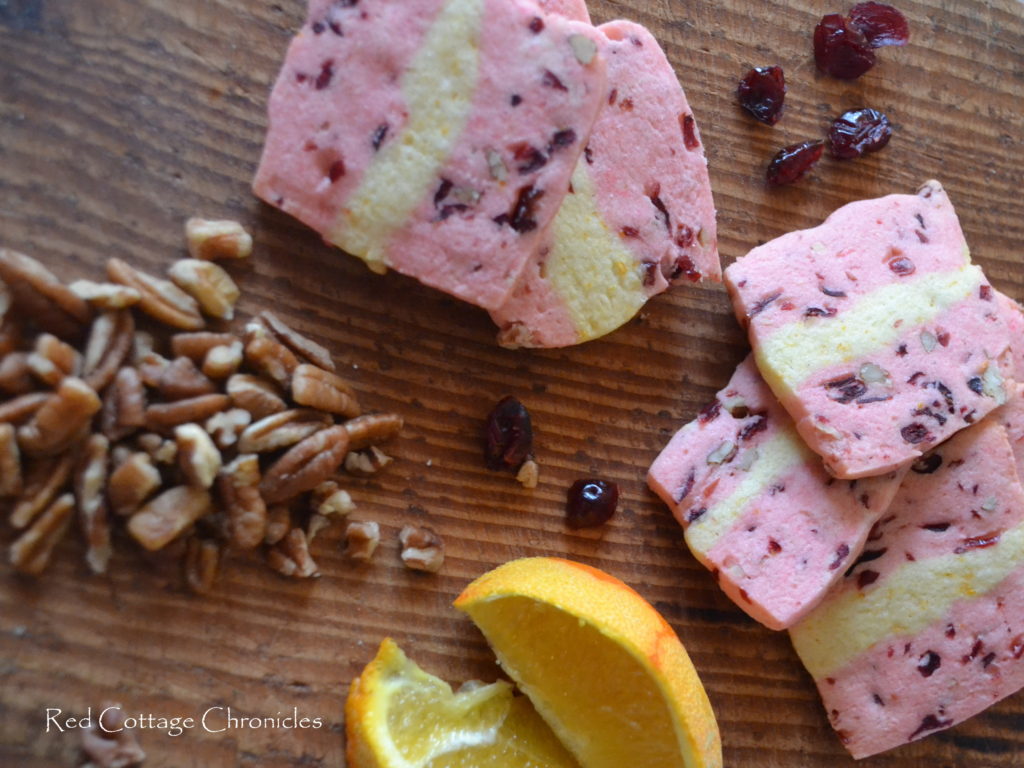 Not quite a shortbread, not quite a sugar cookie, just sweet and a bit tart and nutty!
I only have about 8 more kinds of cookies and squares to bake?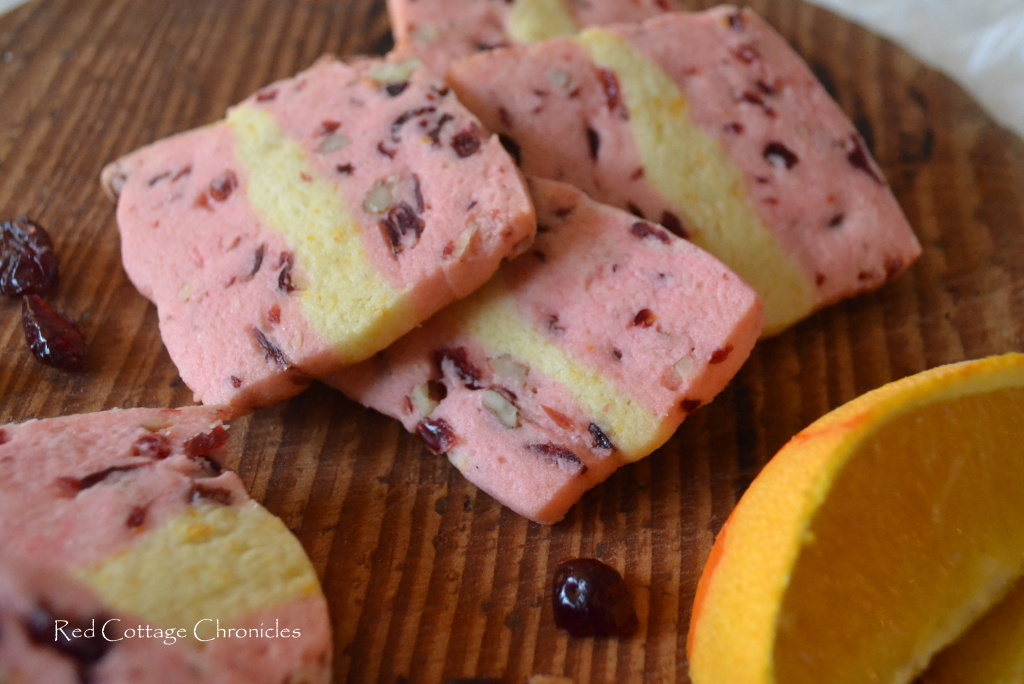 What at are your favourite things to bake for the holidays?
Until next time…….
Maureen
Subscribe to Red Cottage Chronicles and get an email every time a new post goes live!
Cranberry Orange Cookie Slices
Author:
Prep time:
Cook time:
Total time:
Ingredients
1 cup softened butter
1 cup granulated sugar
1 large egg
2 tablespoons milk
1 teaspoon pure vanilla extract
3 cups all purpose flour
1 1/2 teaspoons baking powder
zest of one orange
2/3 cup chopped dried cranberries
1/4 cup chopped pecans
red food coloring
Instructions
Preheat oven to 375 degrees and line cookie sheets with parchment.
In the bowl of electric mixer (or a large bowl if using hand mixer), cream together butter and sugar until light and fluffy.
Add the egg, milk and vanilla and beat until well combined, scraping down the sides as necessary.
Remove 1 cup of cookie dough and add grated orange peel. Knead into dough until distributed throughout, and set aside.
To the remaining dough add cranberries, pecans and about 10 drops of food coloring and stir until just combined. Divide dough in half.
Line a loaf pan with parchment paper. Spread one half of cranberry dough into the bottom of pan and press down.
Add the orange dough on top of first layer, pressing down firmly and evenly.
Add remaining cranberry dough and press down firmly and evenly.
Cover the dough and chill for about 2 hours.
When dough is chilled and firm, remove from pan and peel away parchment paper.
Cut the loaf in half lengthwise.
Cut each half into 1/4 inch slices and place on parchment lined baking sheet, leaving room between each.
Bake at 375 degrees for 9 minutes. Remove from oven and transfer to cooling racks to cool completely.