Cilantro Lime Veggie Protein Wrap
Would you believe that I eat a plant based diet, but not a huge fan of veggies!? This yummy veggie protein wrap helps me get in my veggies and my protein!
Whether you are visiting my blog for the first time or are a regular reader, welcome! Always happy to have you!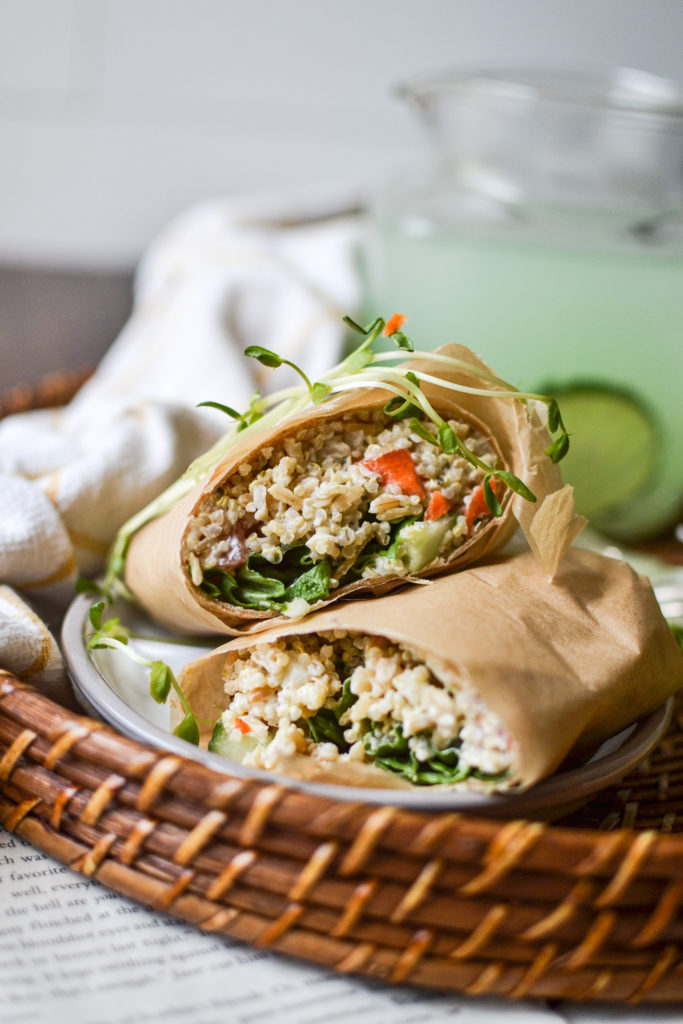 I am always searching for wrap ideas for lunch because they are easy to pack, are filling, and there are countless possibilities!
Have to admit….I was not a cilantro fan until I tried this! The cilantro flavor was actually very subtle and a nice compliment to the lime! Still not too sure how I feel about cilantro in other recipes, but I am definitely hooked on the sauce I made for this wrap!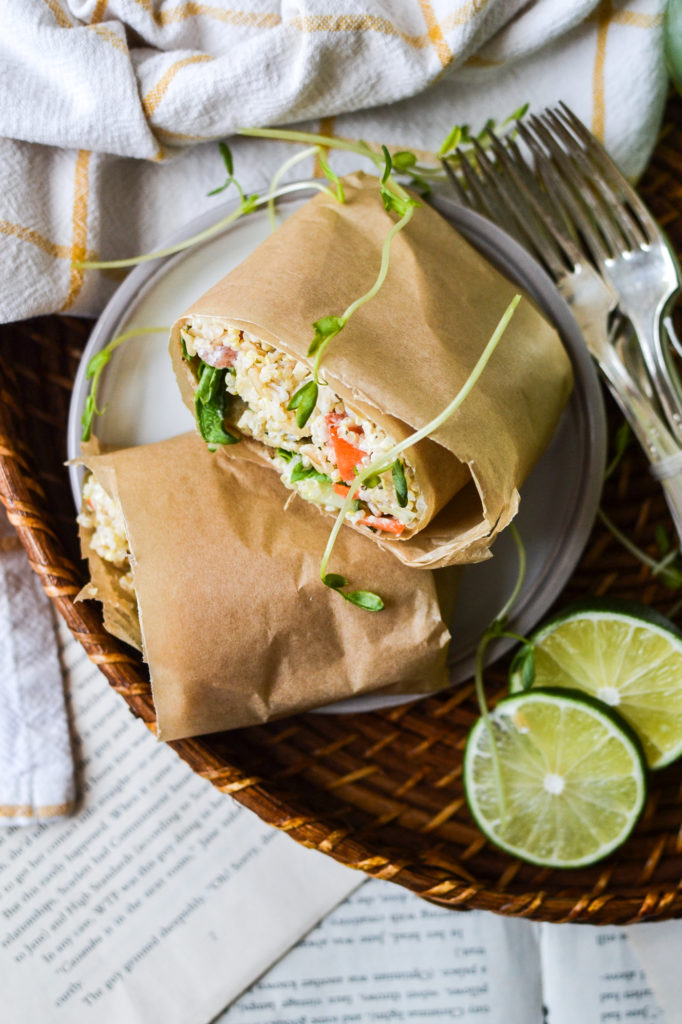 Using leftovers
This is perfect for using leftovers in a whole new way! I am notorious for cooking way to much rice, quinoa, insert other grains here!
Since I had a little of both, I combined a cup of both rice and quinoa and, as an after thought, sprinkled in some hemp hearts to make the base of this protein wrap. I also added some chopped regular cooking onion, but red onion would work well too.
Wraps are perfect for using up the last bits of veggies too. I had a bit of cucumber and half a tomato that needed to be used up. To that I added some fresh leaf lettuce and diced carrots.
High Protein Wrap Fillings
There are countless ways to fill a wrap with excellent sources of protein, both meat and meatless!
These include:
chicken, beef strips, tuna
chic peas, lentils, beans
rice, quinoa, hemp hearts
Plain unsweetened greek yogurt based sauce
Brown rice and quinoa, and hemp hearts are what give this veggie wrap its' plant protein. The greek yogurt in the cilantro lime sauce is an added bonus!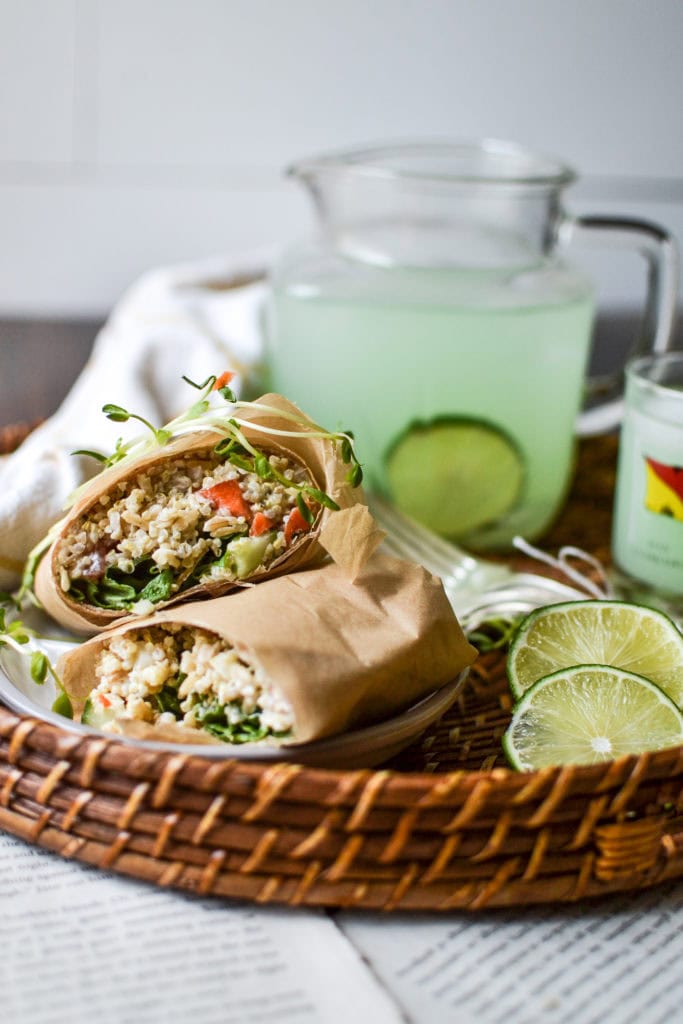 So, how did I manage to get a full serving of veggies into this one wrap? Especially since I am super picky about the veggies I do eat!
What veggies are best for veggie wraps
The list of veggies that work well in wraps is really endless. Sturdy leaf lettuce, bell peppers, chopped or shredded carrots, fresh chopped broccoli are all great choices. Sproats are another nutritious addition.
As referenced above, the wraps make an excellent way to use up those bits of leftover veggies!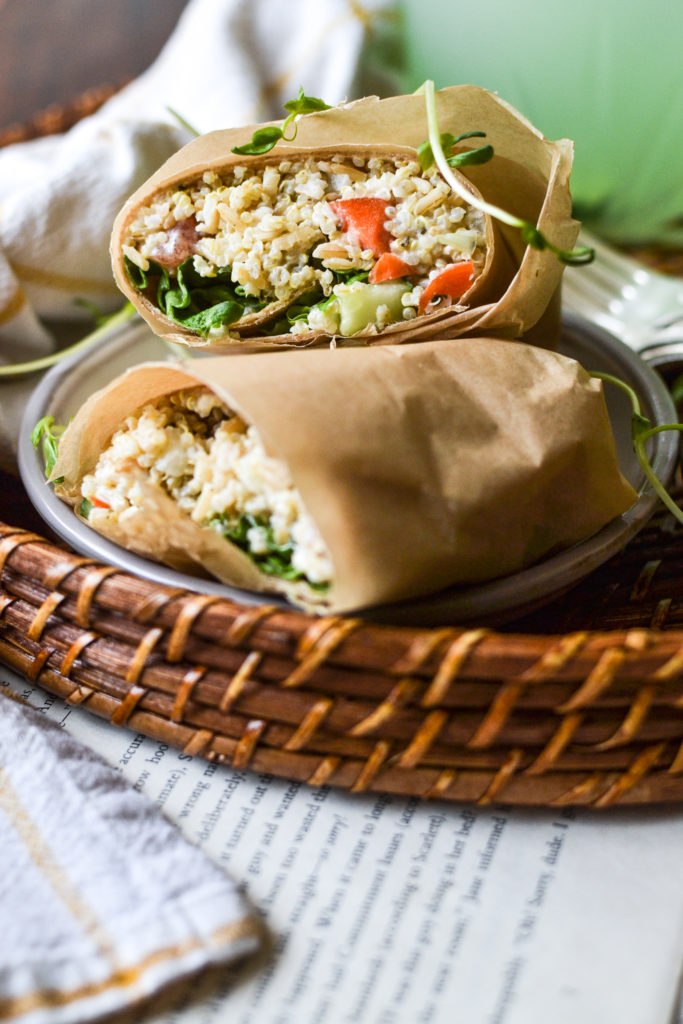 Would you believe I have packed almost a full cup of veggies into this little bundle! I used a mix of chopped cucumbers, chopped tomato, chopped red pepper, leaf lettuce, and onion.
Be careful to balance the amount of veggies with the size of your wrap! Too often I have tried to stuff too much in and ended up with a messy torn wrap that won't stay closed!
Homemade Cilantro Lime Sauce
Make your own cilantro lime sauce by mixing a half cup mayo, 1/4 cup plain Greek yogurt, chopped dried cilantro, 1 clove of garlic, minced, and the juice of one or two limes. I use a partially dried chopped cilantro found in the produce section of the grocery store, but you could use fresh or dried.
*This post contains affiliate links. Should you make a purchase through an affiliate link I may earn a small commission at no additional cost to you!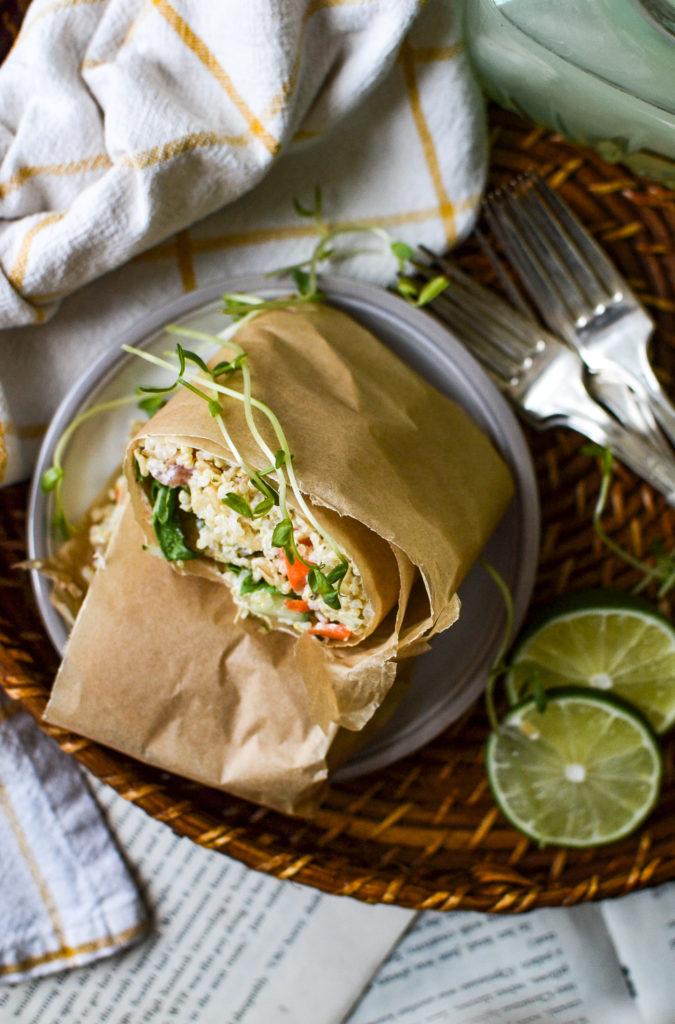 Tips for making the best vegetable protein wraps
assemble the wrap the same day you plan to eat it to avoid a mushy or soggy wrap.
chop your veggies a day or too before and store them in the refrigerator until ready to use
plan a dinner during the week that uses rice or quinoa and make extra to use for your wraps
another time saving tip is to use a commercially prepared sauce such as Hellman's Cilantro Lime Sauce or Brianna's Cilantro Lime Dressing
How to assemble a wrap using a tortilla
Watch the video to see how I make this veggie protein wrap!
Did I mention how cute it looks on an adorable round wicker tray with a glass of lemon lime punch! I have had this on repeat already and enjoyed it out on the deck for an easy warm weather lunch!
PIN IT FOR LATER! SHARING MY CONTENT IS ALWAYS APPRECIATED!
OR, PRINT THE RECIPE DOWN BELOW!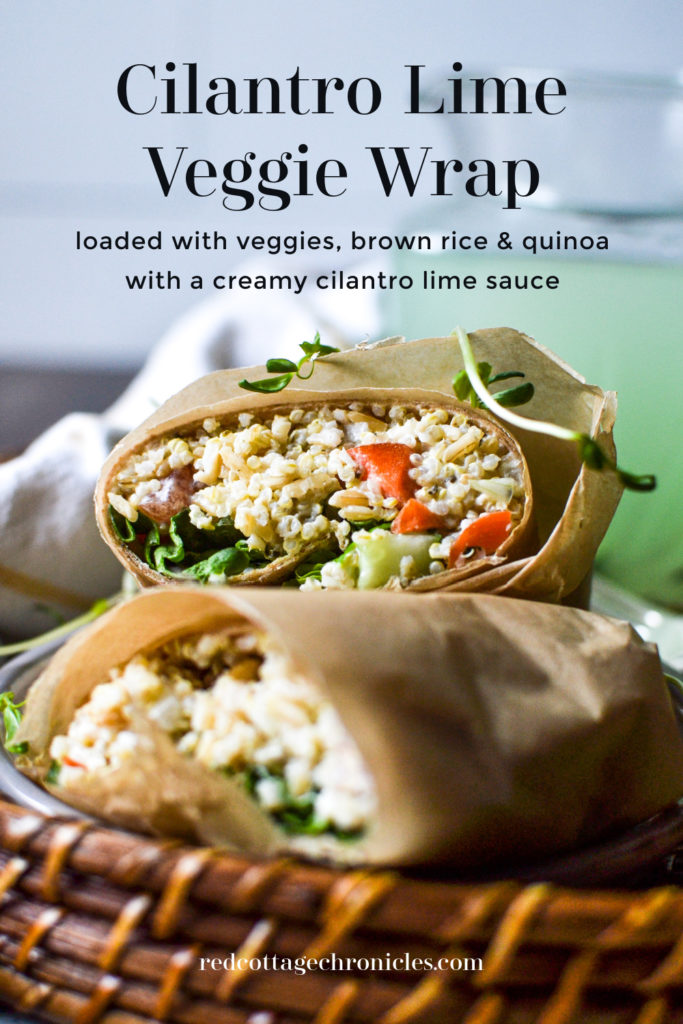 Other rice recipes I think you will enjoy!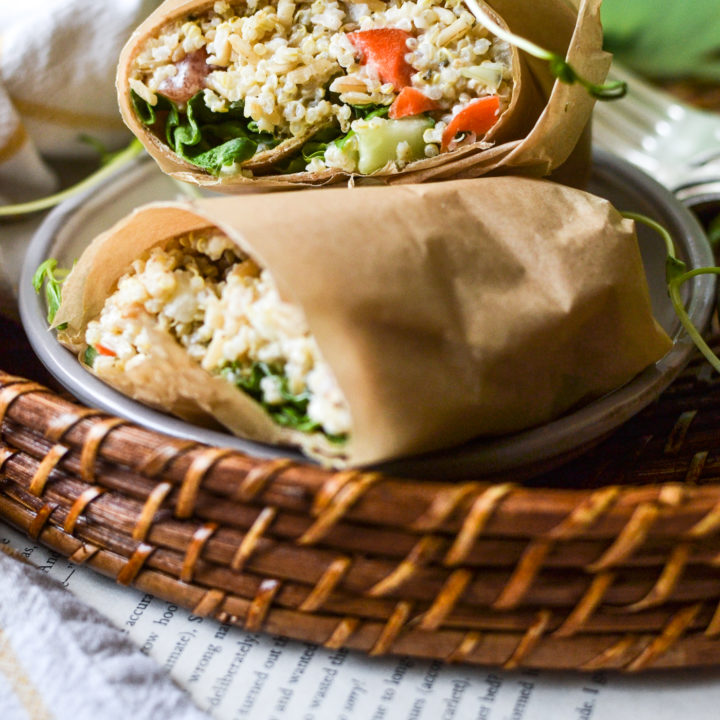 Loaded Cilantro & Lime Veggie Protein Wrap
These yummy protein wraps are stuffed with brown rice and quinoa with a touch of hemp hearts, and lots of fresh veggies. Perfect for packing into lunch boxes and picnic baskets!
Ingredients
4 large whole grain tortillas
1 cup cooked brown rice
1 cup cooked quinoa
4 tablespoons hemp hearts
1 half large onion, chopped
3-4 cups chopped veggies such as bell pepper, broccoli, carrots and cucumber
4-8 lettuce leaves
Cilantro Lime Sauce
Instructions
In a medium bowl combine rice, quinoa, and hemp hearts and stir to combine well. Add chopped onions and stir until combined.
Add 2 heaping tablespoons of cilantro lime sauce to the rice mixture and stir to combine.
To assemble wraps, spread a tablespoon of cilantro lime sauce down the centre of the tortilla leaving an couple of inches at either end. Spoon on a heaping half cup of the rice mixture over the sauce. Divide the chopped veggies amongst the 4 wraps, arranging them on top of the rice. Top with lettuce leaves.
Tuck in either side of the wrap and roll the wrap over the mixture to close! Wrap in parchment paper to keep the wrap tightly closed.
Notes
This is a great recipe for using up left over brown rice and quinoa. Allow more time to prepare the wraps if you are cooking the rice and quinoa and allow to cool a bit before assembling the wraps.