Chocolate Peanut Butter Sandwich Cookies
There is nothing quite like the combination of chocolate and peanut butter!  I used to love those Reece commercials where someone with a chocolate bar "accidently" bumps into someone eating out of a jar of peanut butter!  I would be the one with the jar of peanut butter. And yes, I have been known to dip a piece of chocolate in!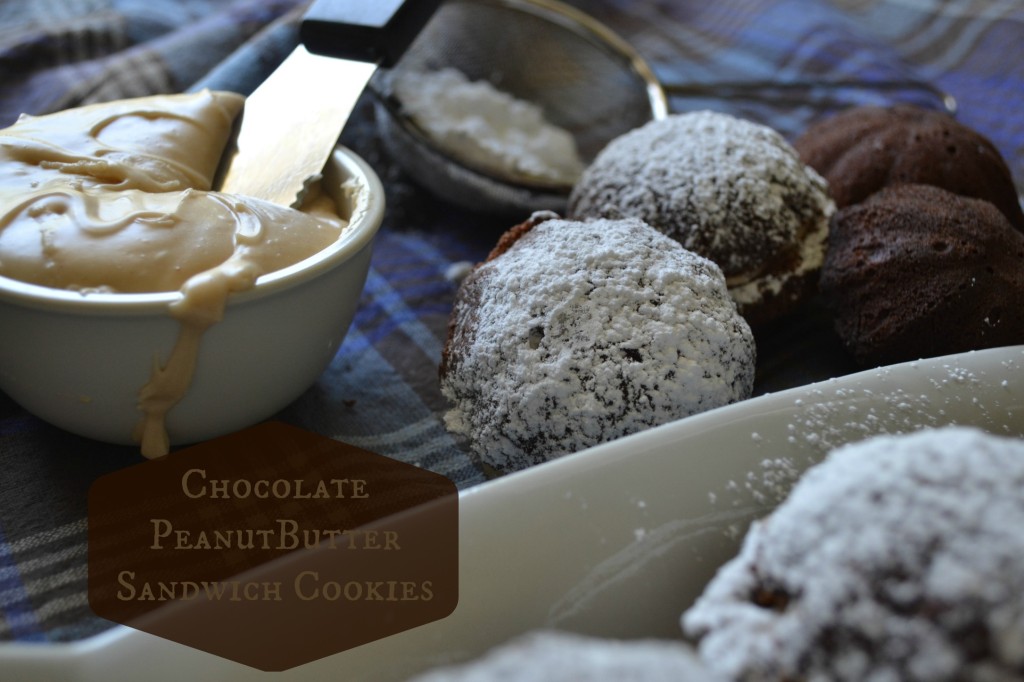 My friend picked up me some wonderful vintage baking tins when she was out and about.  She knows me well!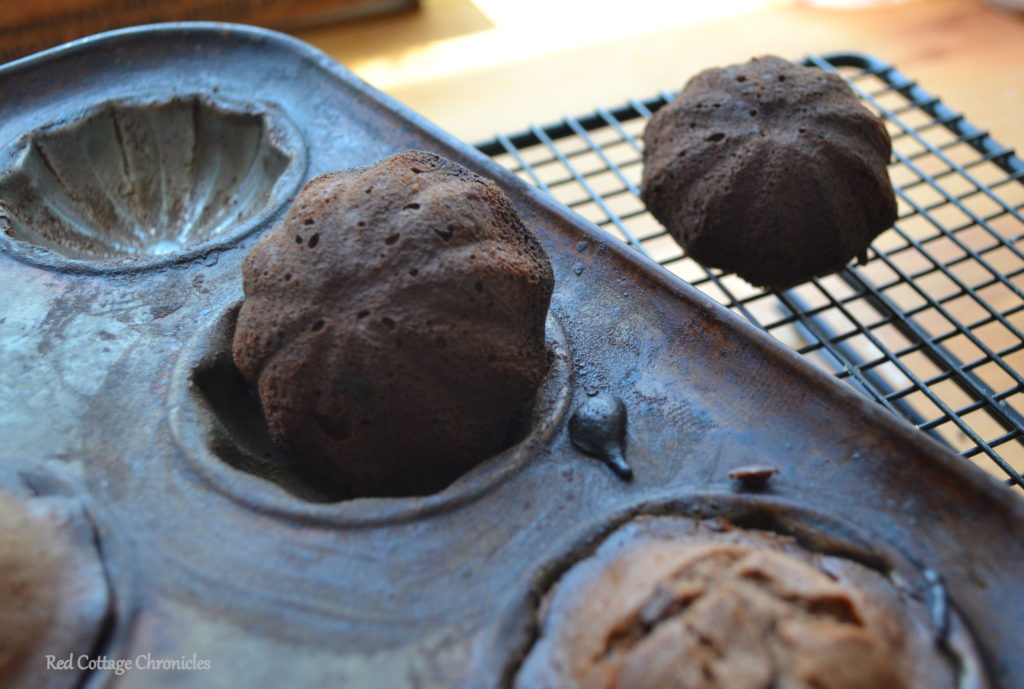 I couldn't wait to use them.  While not quite madeleine pans, they are similar but a bit deeper.  The madeleine batter worked well and I filled them almost to the top to get a good raise.
Be warned, the prepared batter has to sit for two hours at room temperature before baking, so plan accordingly!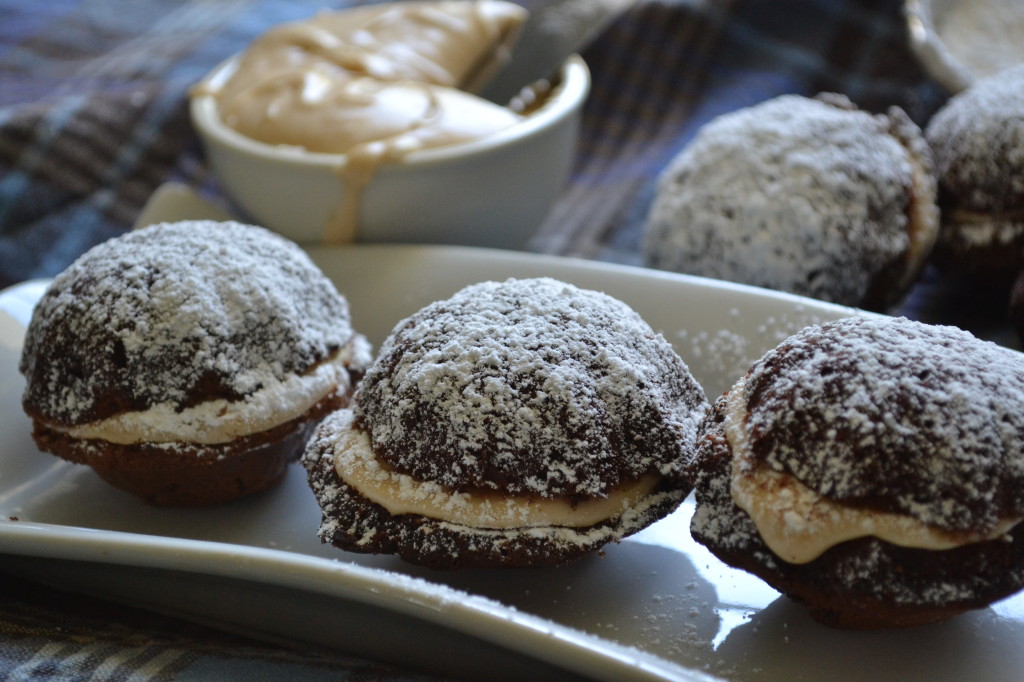 Fill them with peanut butter filling made simply with peanut butter, confectioners sugar and milk!
Dust with confectioners sugar and there you have it!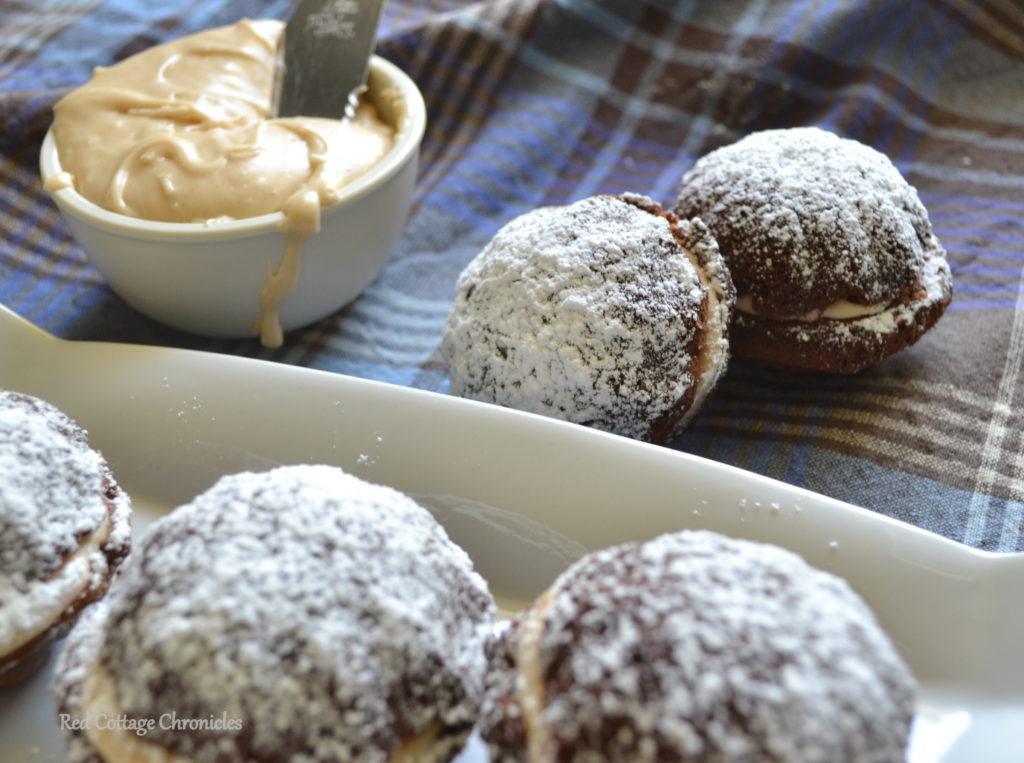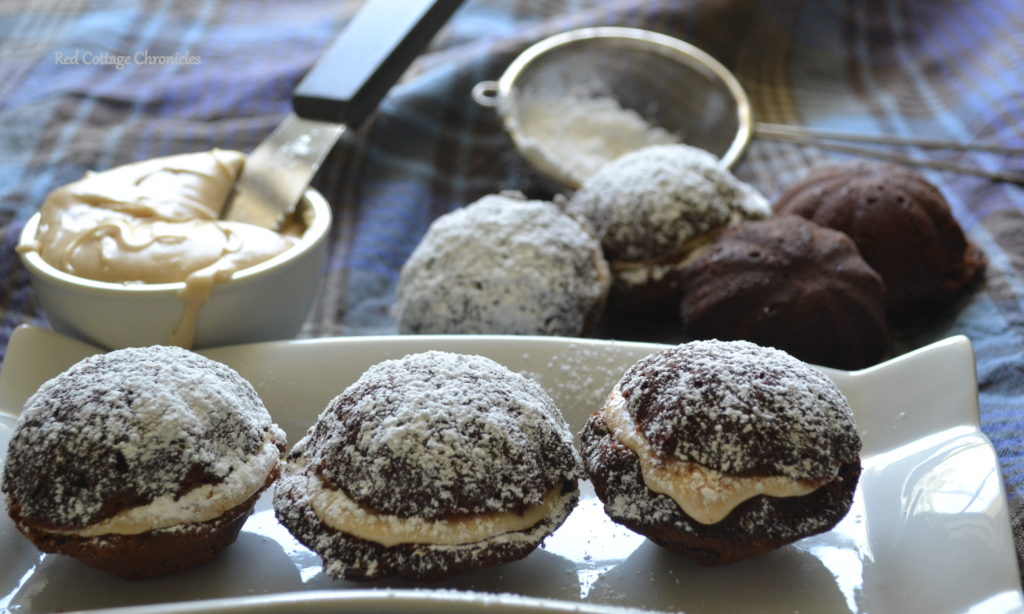 Did I mention the were Double-Chocolate?!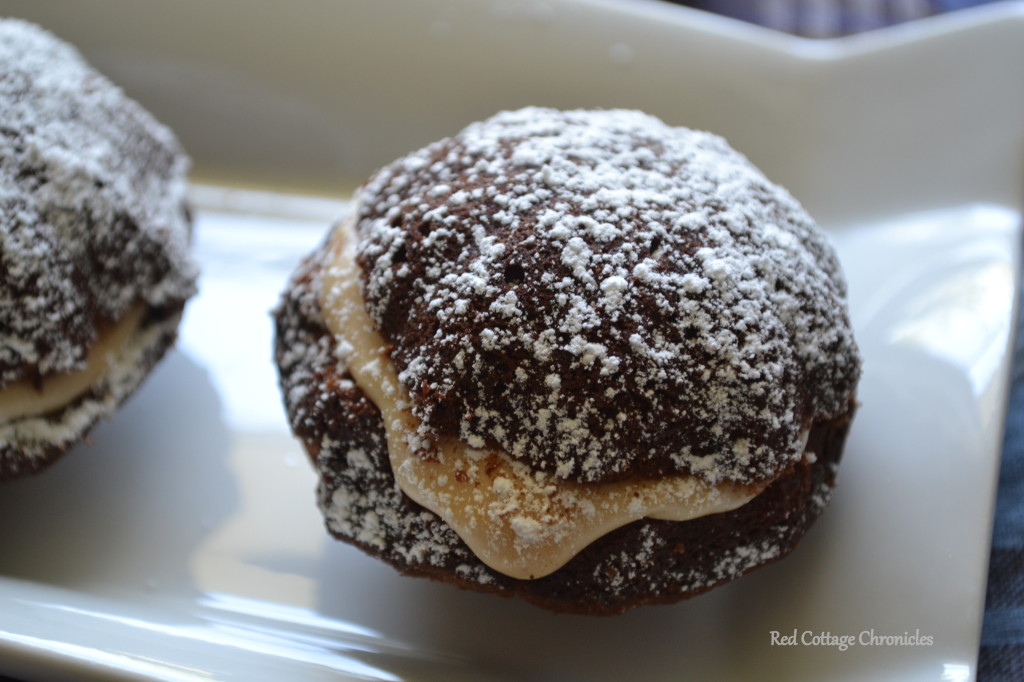 ENJOY!
Chocolate Peanut Butter Sandwich Cookies
Prep time:
Cook time:
Total time:
Ingredients
1 stick plus 1 tbsp. butter
1 1/2 ounces semi-sweet chocolate, chopped into small bits
2 eggs, room temperature
1 teaspoon pure vanilla extract
1/4 cup plus 2 tablespoons granulated sugar
2 tablespoons honey
1 cup plus 1 tablespoon all purpose flour
1 teaspoon baking powder
3 tablespoons unsweetened cocoa powder
FILLING
2 cups confectioners sugar, sifted
1/2 cup smooth peanut butter
1/4 cup milk
Instructions
Melt butter and cook until browned. Strain through fine sieve and cool slightly.
Whisk together eggs, vanilla and sugar until sugar is dissolved. Whisk in honey.
Sift the flour, baking powder and cocoa into a medium sized bowl.
Add the egg mixture into the flour mixture and stir just until combined and smooth.
Stir in the chocolate bits.
Cover with plastic wrap and let stand at room temperature for two hours.
Beat peanut butter and confectioners sugar, adding just enough milk to get a smooth but thick filling. Refrigerate.
Preheat oven to 425 degrees.
Spoon batter into generously buttered madeleine cups, mini muffin tins or other decorative baking tins just until about 2/3 full.
Bake for approximately 12 minutes. Remove from pans to cooling rack to cool completely.
Using a serrated knife cut each cookie in half to make two "sandwich" halves. Spread one side with peanut butter filling and top with second half. Sprinkle with confectioners sugar.
Want to keep up with the Red Cottage?  Subscribe and get updates by email!
Delivered by FeedBurner