Looking for elegant Halloween tablescape ideas? This one is one part spooky, on part elegant and one part black magic!
These themed tablescapes are one of my favourite blog posts. And, I think it has become one of yours too! Several times a year I join some very talented table stylists as we share our vision for a themed tablescape. This time it is of course, Halloween! Thank you to Rita from Panolpy for always being our gracious host! Find all the links below.
Would you ever guess that Halloween is not my favourite holiday? But, I do believe in celebrating all the things, and I do enjoy any excuse to style an elegant table!
This post contains affiliate links. If you click the link and choose to make a purchase I may receive a small commission with no change in the cost to you. As always, I only recommend products that I have or would purchase for myself.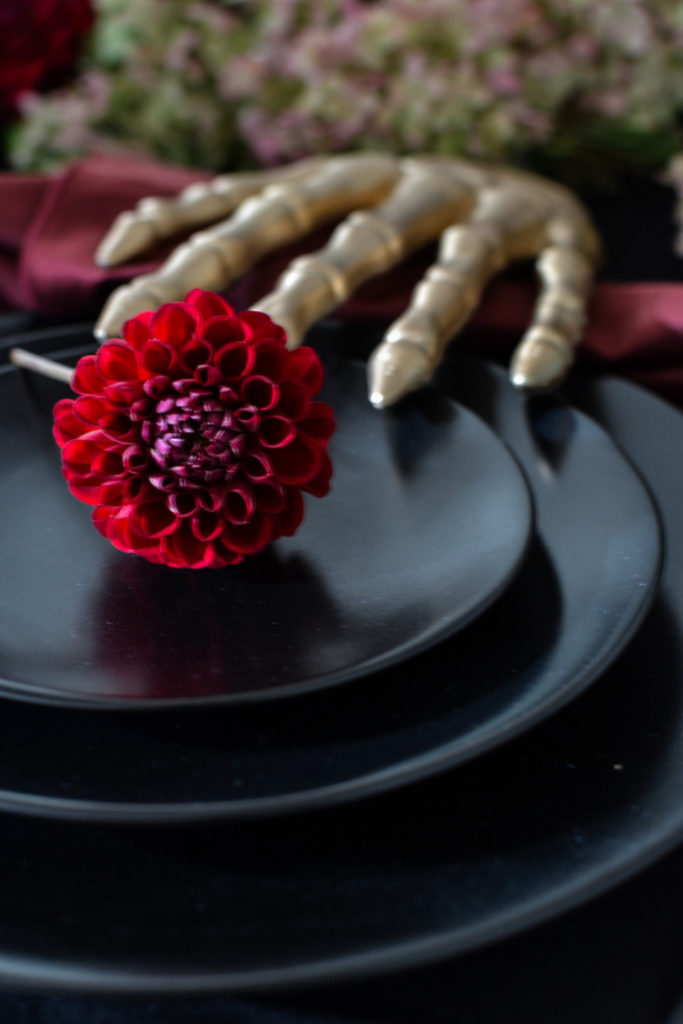 Is there anything more elegant than black? That little black dress or a classic black tuxedo. Both conjure up visions of elegance. These are things that came to mind when I starting to plan this tablescape.
Well, that and black magic chocolates!!
And, of course, Halloween is thought to be a mystical time of year. All the ghosts, witches and spirits!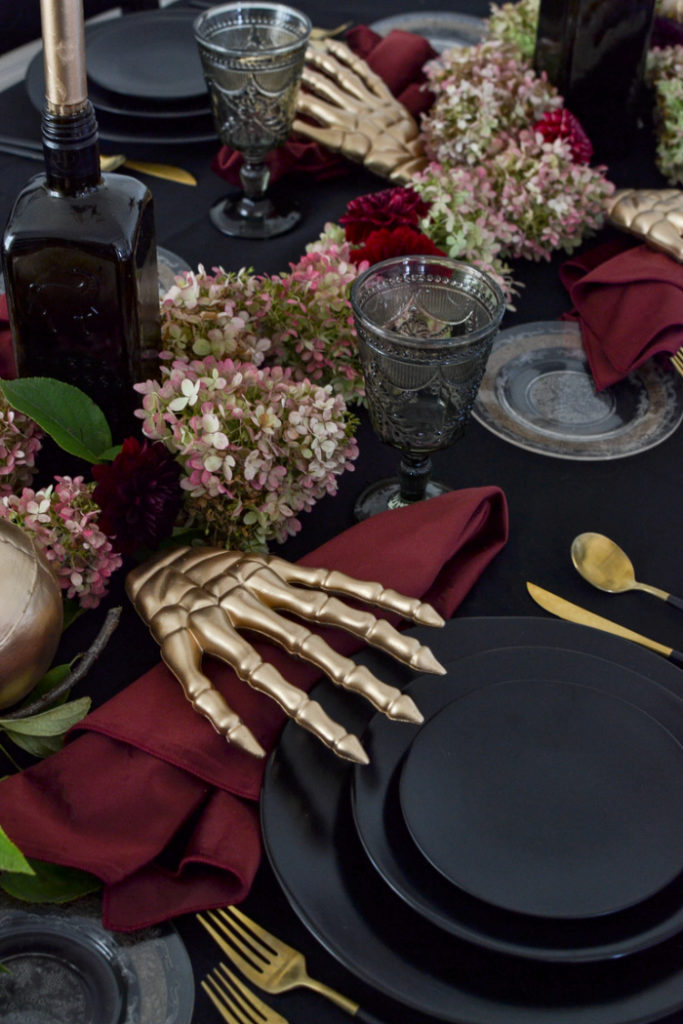 The basics for an elegant Halloween tablescape
a monochromatic color scheme
one or two elements that add a pop of colour
French cut glassware
fresh flowers, always
incorporate Halloween themed accents in keeping with the overall color and feel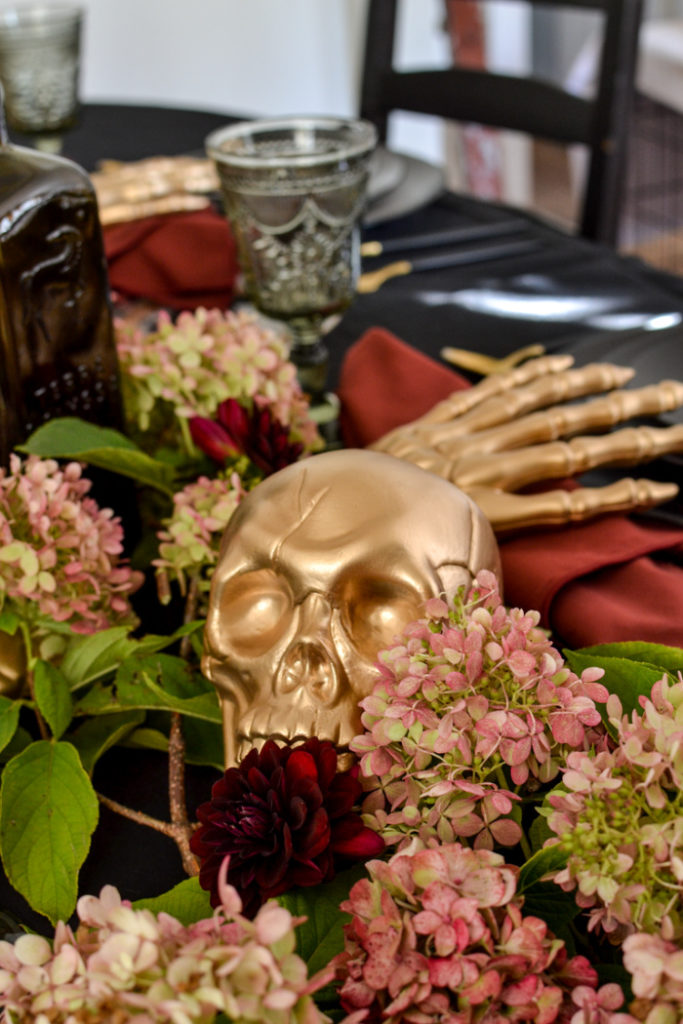 I spray painted plastic skulls from the dollar store in metallic gold for a very inexpensive nod to Halloween. It adds a touch of spook while still aligning with the overall elegant theme of the table.
For a no-cost centrepiece, I clipped several hydrangea blooms that have turned the perfect shades of deep pink and arranged them down the centre of the table. A few dark burgundy dahlia blooms are tucked amongst the hydrangeas to add to the dark and moody feel.
When I styled this Halloween tablescape I had purchased a couple of yards of black polyester fabric to use as a tablecloth. It washes well and cost me under $10.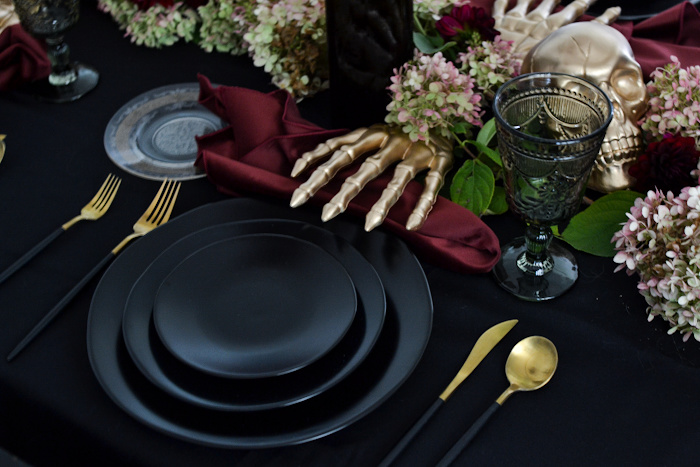 I am a big advocate for renting when I know I won't get regular use out of a product when styling a table. That was the case for these black plates. I knew I wouldn't use them enough to warrant the cost of a full set, so renting was the best option for me.
Same was true for the flatware. I am in the market for a quality set like the ones I rented, but they are a bit spendy for 8 place settings, so I opted to rent. At around $3 per place setting it was very affordable! But, this flatware set is on my wish list for future purchase.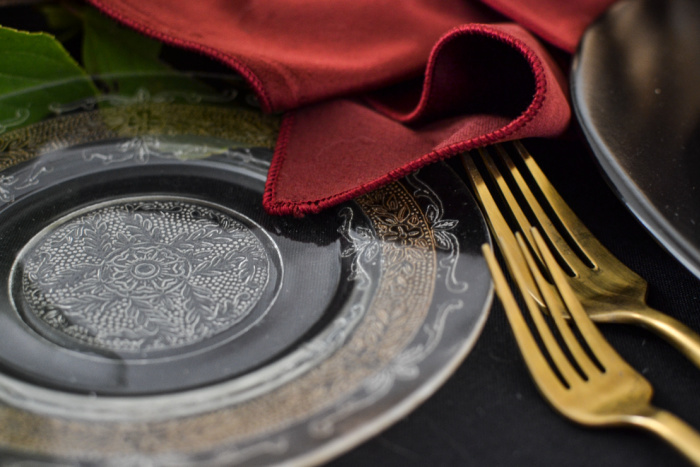 I used gold embellished crystal side plates that belonged to my Nana. The clear glass allows the black of the tablecloth to show through, and the gold rim is keeping with the overall black, gold and burgundy.
The Merlot coloured velvet napkins add a real luxurious touch. Thankfully they are only velvet on one side. If you read this post, you will know that velvet is not a favourite of mine!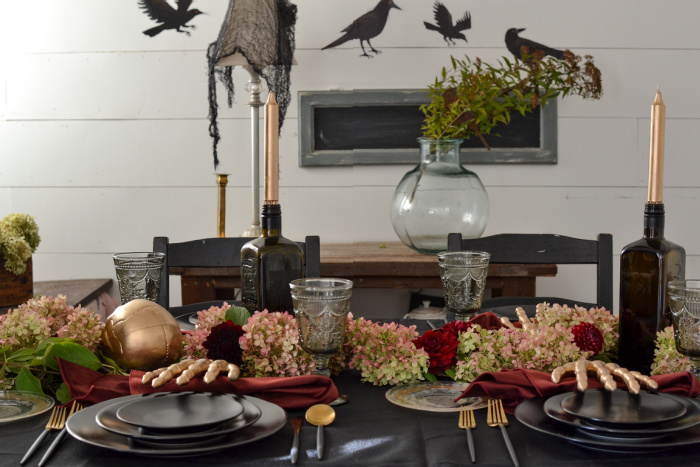 Pressed glass goblets in the colour smoke, and the pattern is called Debutante complete each place setting. Imagine how gorgeous they will look when filled with Merlot.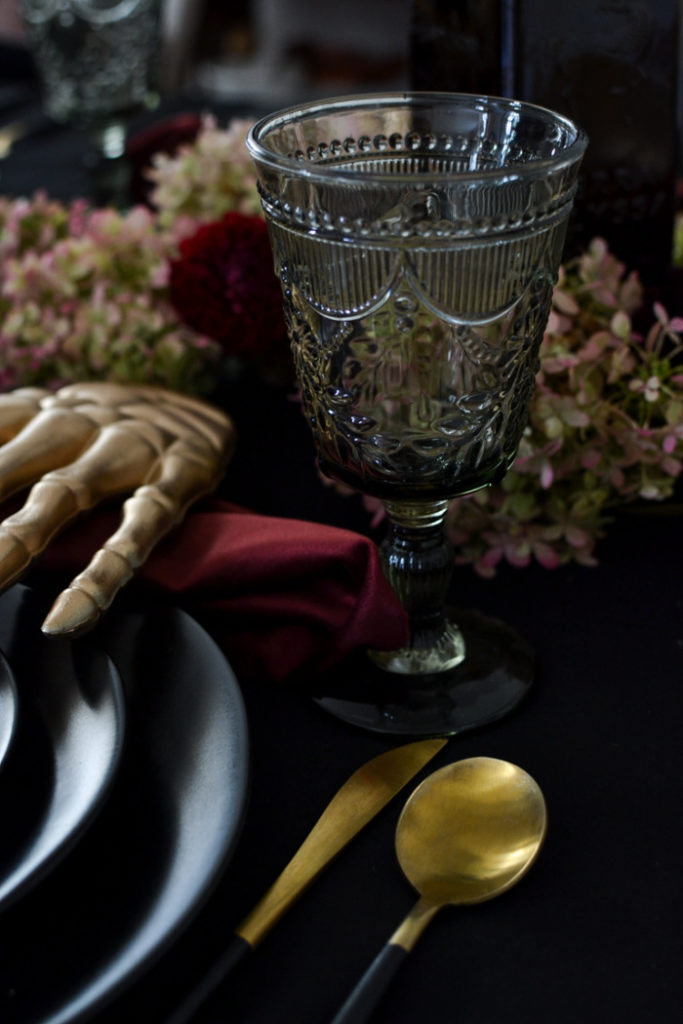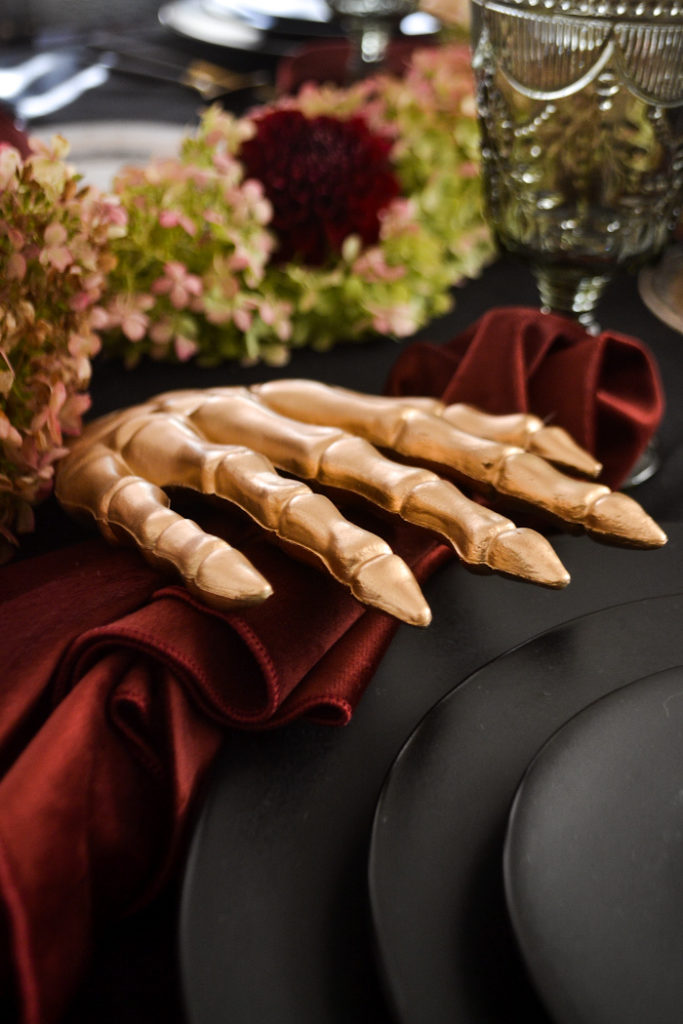 After deciding on the overall black theme of this elegant Halloween tablescape, the next step was to choose the accent colours. Gold was an easy pick, and I thought the rich colour of burgundy really complimented the gold.
Spray painting skeleton hands metallic gold adds just that touch of spooky to the place setting!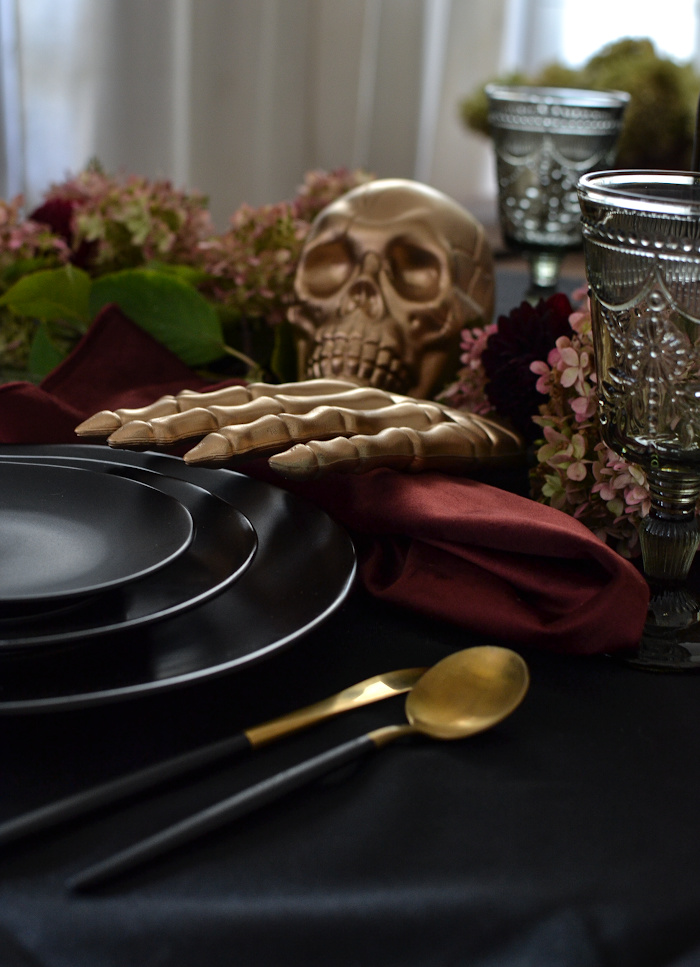 A gold painted skull nestled amongst the dried hydrangea blooms keep watch over the festivities!
I can't help but think how perfect this would be for a Halloween themed wedding!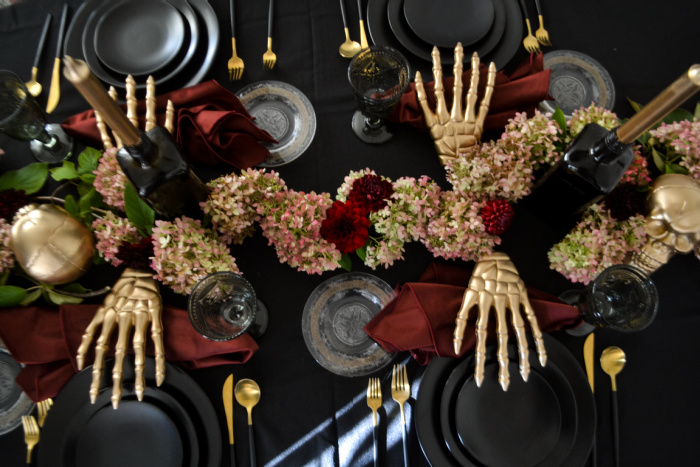 Even though it isn't my favourite day of the year, I think I have captured the spirit of all hallows eve and hopefully have given you some elegant Halloween tablescape ideas that you can incorporate into your own ghoulish table decor!
For more table styling inspiration for all occasions be sure to visit my collection of tablescapes!
Now, for more fun Halloween inspiration be sure to visit all the links below and make the most of this Halloween!
Until next time……

Pandora's Box – Black, White and BOO
Panoply – hOWLoween Tablescape
Home is Where the Boat Is – Happy Haunting Tablescape
Hyacinths for the Soul – Whooo's Ready for Halloween?
Debbee's Buzz – Batty Black, White and Purple Halloween Table
The Sweet Sensations – Ghoulish Glam for Halloween
Everyday Living – No Tricks, Only Treats
Corner of Plaid and Paisley – Halloween Tablescape – Got That Feeling Someone is Watching You?
Life and Linda – Happy Hallow-Queens Party
Tablescapes at Twenty-One – The Spider & the Fly
Zucchini Sisters – Halloween Tablescape Featuring Creepy Plastic Spiders
Bluesky at Home – Halloween Tablescape Ideas for the Patio
The Bookish Dilettante – Halloween Tablescape Blog Hop
My Hubbard Home – Festive Halloween Party Decor Ideas
Dinner at Eight – A Haunted Table for Halloween
Red Cottage Chronicles – Black Magic Halloween Tablescape
The Painted Apron – Set the Scene, It's Almost Time for Halloween!
Me and My Captain – Halloween Tablescape