I really do love my little house, but some days I just want bigger.  Since I know that is not to be, it is high time I put my energy into the home we are so truly blessed to have.
My current project is our dining room.
I shared with you some inspiration photos recently.  Sadly, the chairs at the auction were not meant to be.  They auctioned the table and chairs as a set.  Had I been in the market for a table of that style I would have jumped on it.  The entire set went for only $250.00!  Deal, I know.  But since I have nowhere to store a table I don't want until I could sell it I really couldn't justify spending money on something I didn't want or need.  I will continue the hunt for the perfect chair.
For now I turn my attention to the table I have.  It is time this baby got a new look!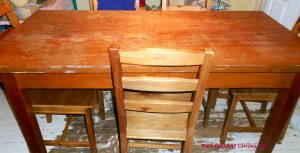 This is the table as it is now.  It was a desk long forgotten in my Aunt's basement.  It actually seats 6 very nicely.
The chairs are from an Ikea set that we had bought for my daughter when she went away to college.
I plan to paint it a shade of white using a chalk paint recipe found here.  I will  give it a sanding here and there to get a more weathered look before sealing it with wax.
l
Via
This is the look I am going for.  Kind of french country-ish!  Kind of liking those covered chairs too.
Tell me, what do you think…..do you like the look of the covered chairs?  The key would be to get a cover in the right color.  Not bright white, but a more worn grain sack look.
Decisions! Decisions!
In the meantime I will need my energy and what better to give you energy than sugar….I will be baking some lemon raspberry muffins tonight and will post the recipe tomorrow!