Looking for an easy biscuit recipe made without milk? Make these easy drop biscuits with sour cream! Ready for the oven in just 5 minutes with just a few simple ingredients!
While these delicious buttery biscuits are good all year long, they are especially delicious during late spring and summer when fruit and berries start to come into season.
These sour cream biscuits also are delicious made with savoury add-ins like sharp cheese or fresh dill.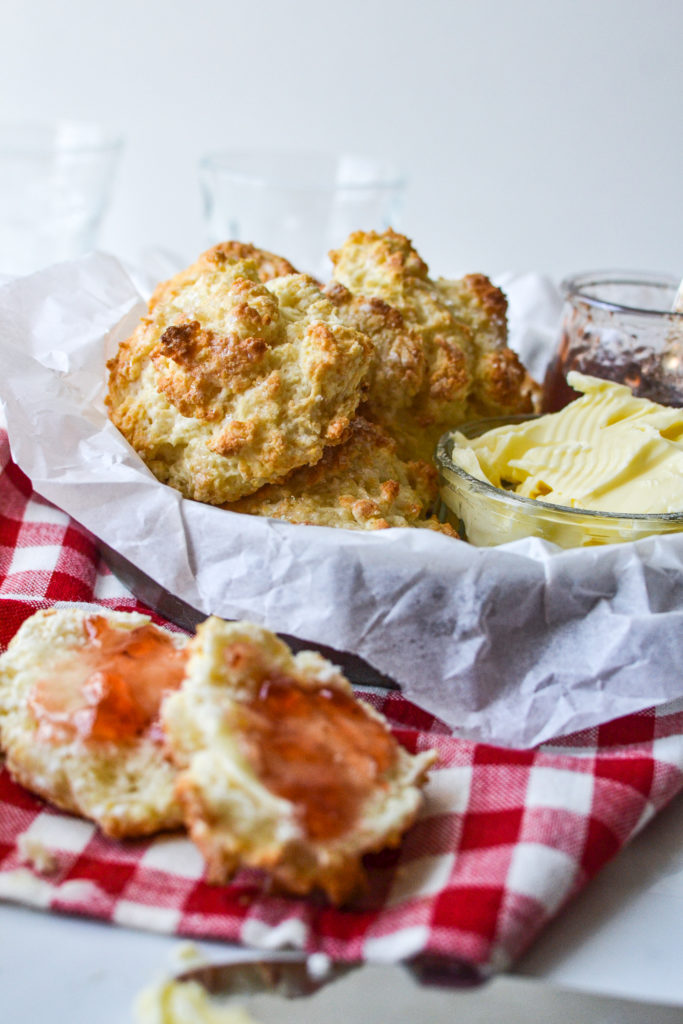 What is a drop biscuit
Quite simply, a drop biscuit is an easy alternative to rolled tea biscuits. Made with a thicker, sticky dough that is dropped onto a baking sheet by spoonfuls and baked. No need to roll.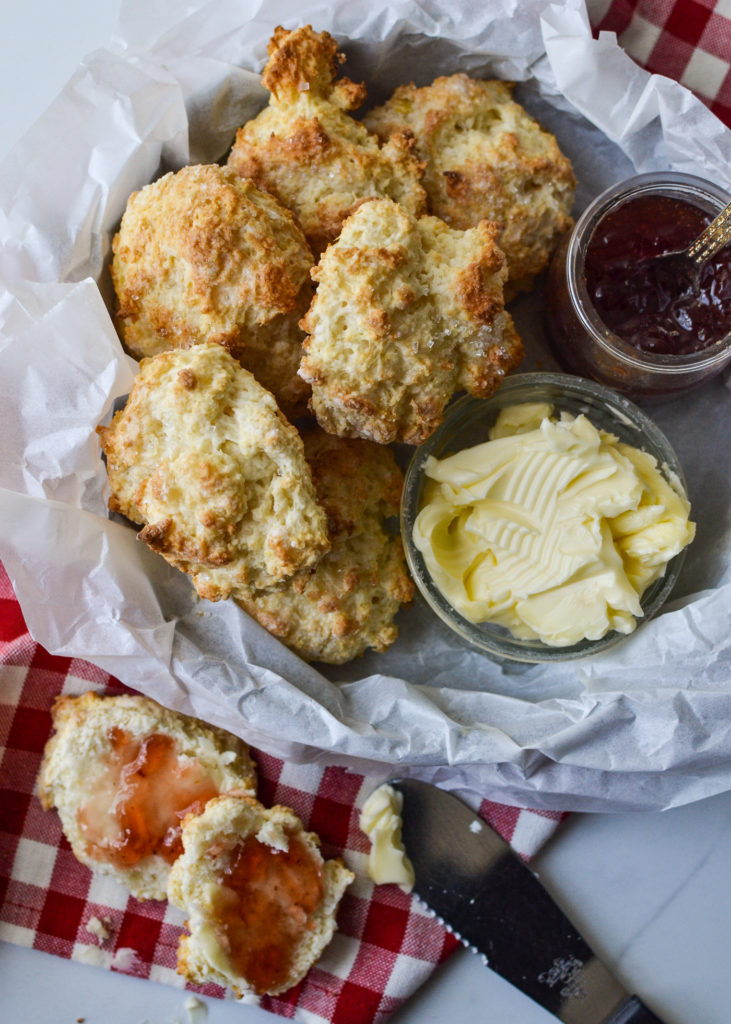 What is the difference between a tea biscuit and drop biscuit
The biggest difference between the two is that drop biscuits contain less milk (and in the case of this recipe – no milk) than tea biscuits. Tea biscuits are made from a dough that is rolled and cut into rounds before baking.
Drop biscuits are not as symmetrical and smooth as rolled biscuits, but you can smooth the tops a bit with the back of a spoon before baking
Prep time is less than with the tea biscuits since you can skip the rolling and cutting step
I find that drop biscuits have a bit more crumb than tea biscuits
What do you serve drop biscuits with?
My favourite way to serve drop biscuits is with butter and homemade jam, but the possibilities are really endless. Both savoury and sweet options.
soups and stews
roast chicken
anything that is served with gravy
they make a great addition to a summer barbecue
homemade jam
cream cheese and fresh fruit
butter and a little drizzle of honey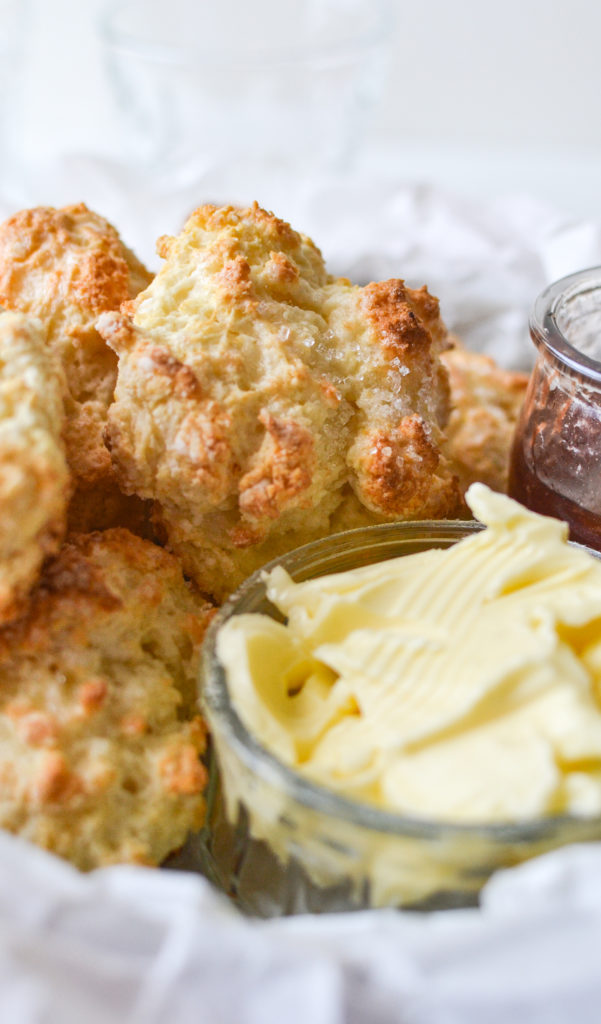 How to make drop biscuits without milk
These drop biscuits don't require any milk, and instead bake up nice and moist using sour cream!
Step One – gather and measure your ingredients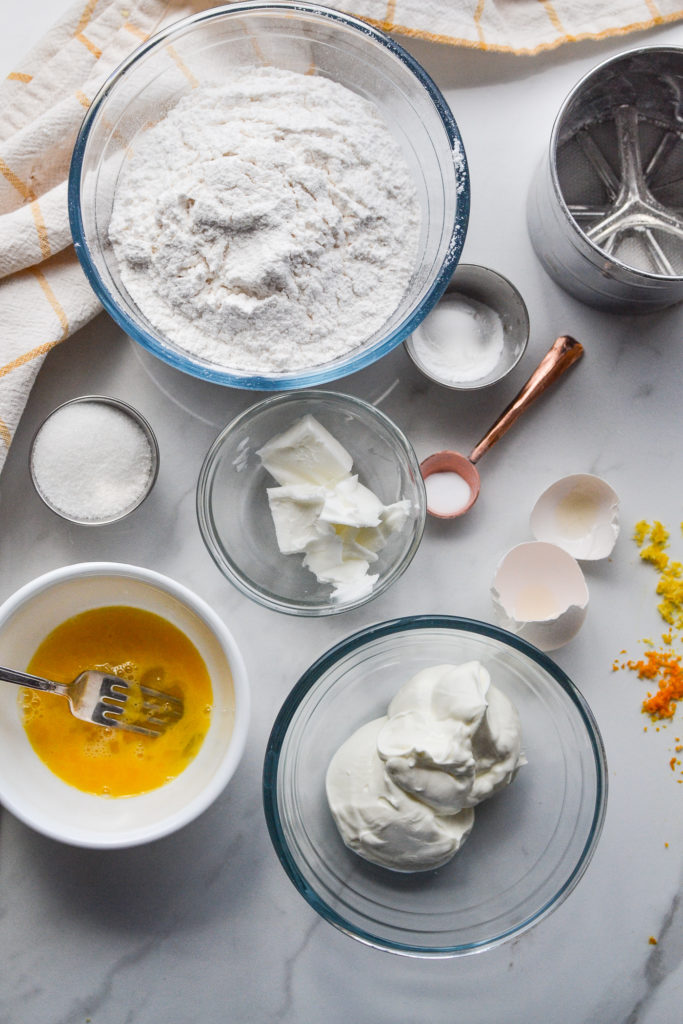 Step 2 – Combine flour, sugar salt and baking powder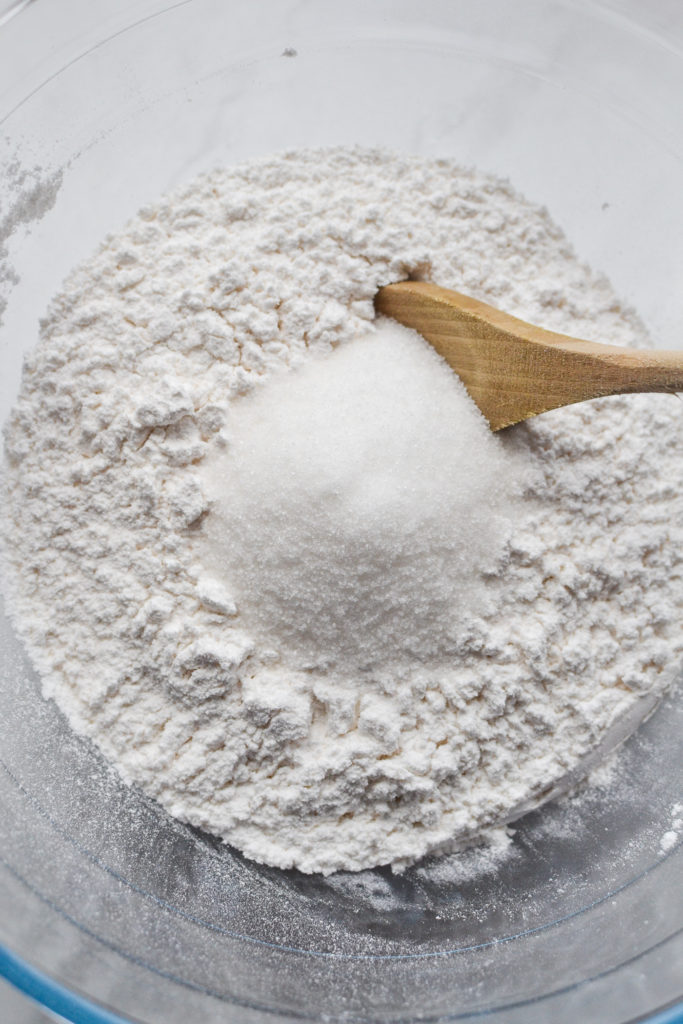 Step 3 – Using clean hands, rub shortening into the flour mixture to evenly distribute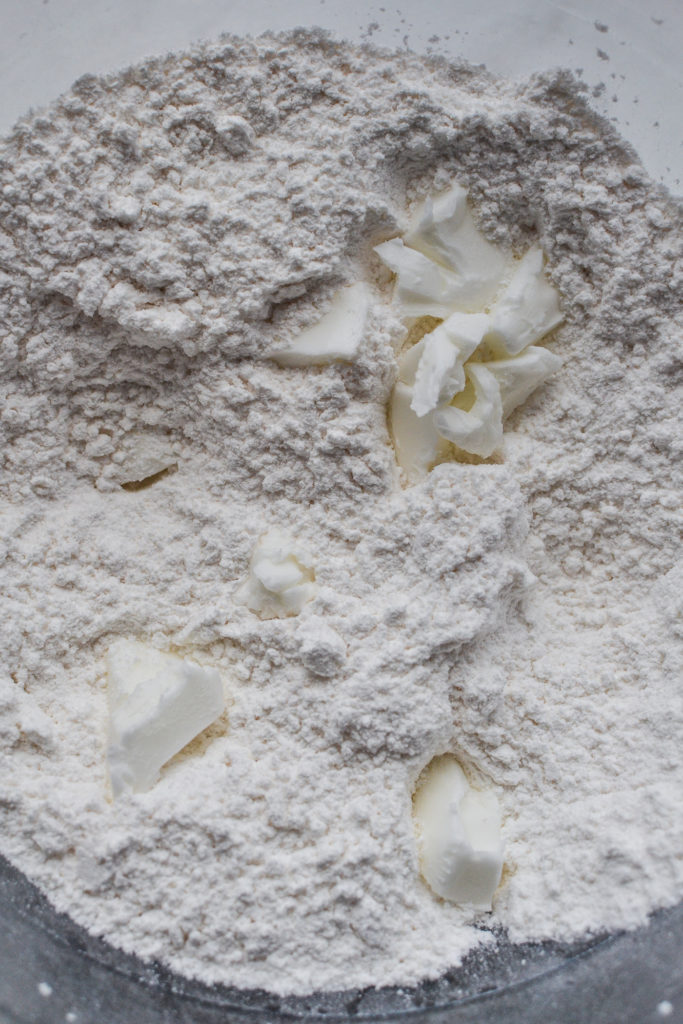 Step 4 – Make a well into the middle of the four/shortening mixture, and add egg and sour cream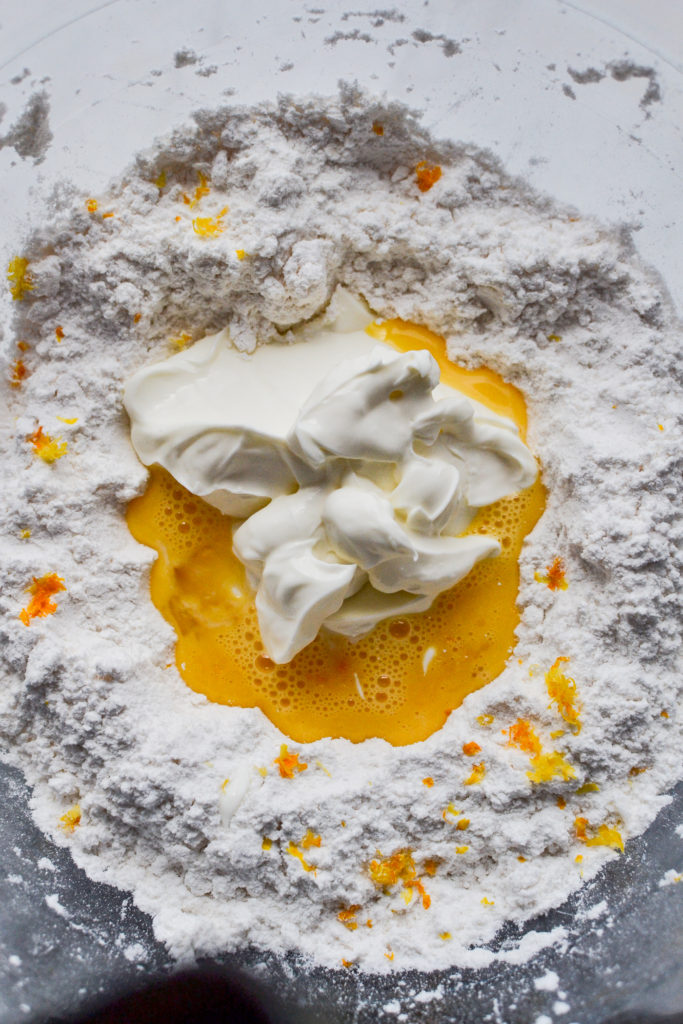 Step 5 – Using a wooden spoons fold the ingredients together just until combined.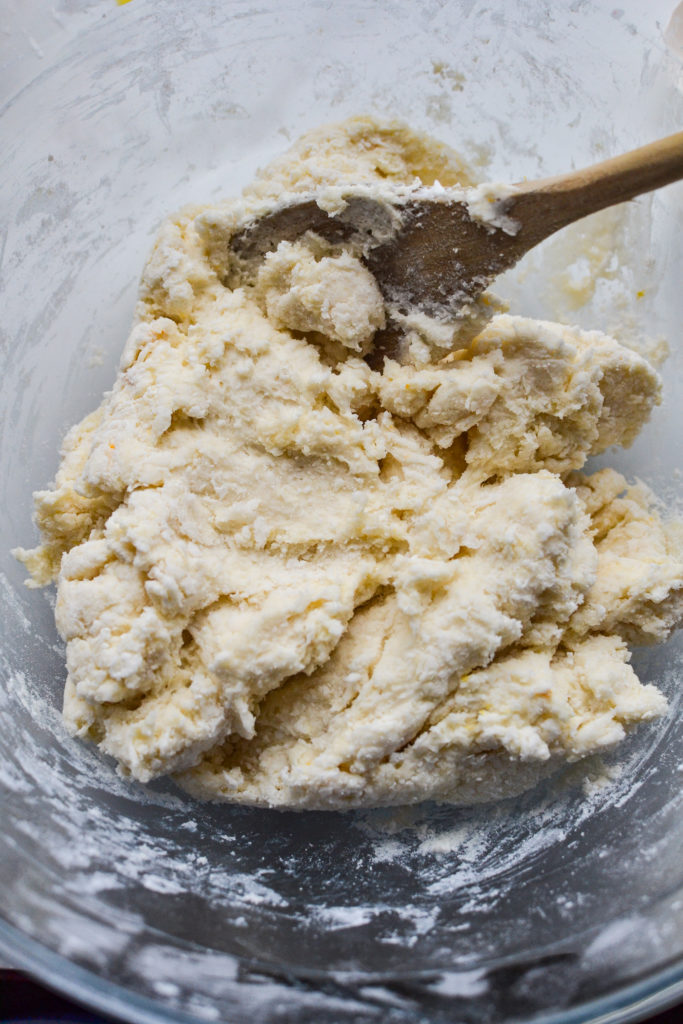 Step 6 – Drop by large spoonful onto prepared baking sheet (parchment or non-stick baking mat) and bake at 450 degrees until golden brown, about 15 minutes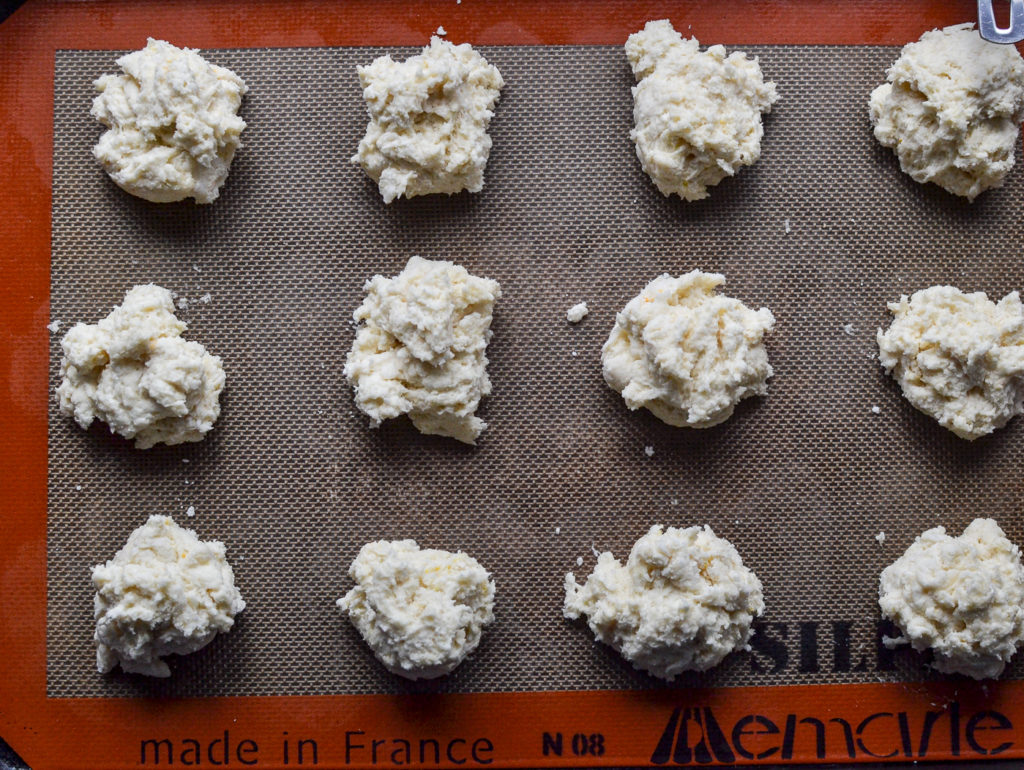 And, that's all there is to it! Fresh biscuits ready in minutes.
See the full recipe for these easy sour cream biscuits is below, or Pin It for later!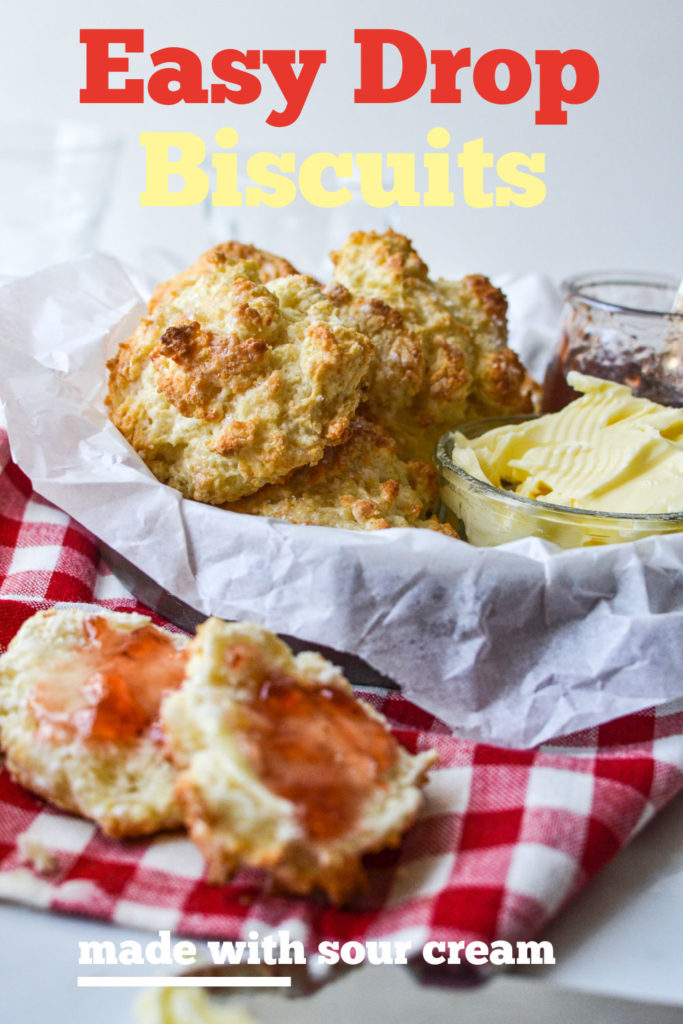 More biscuit recipes you will love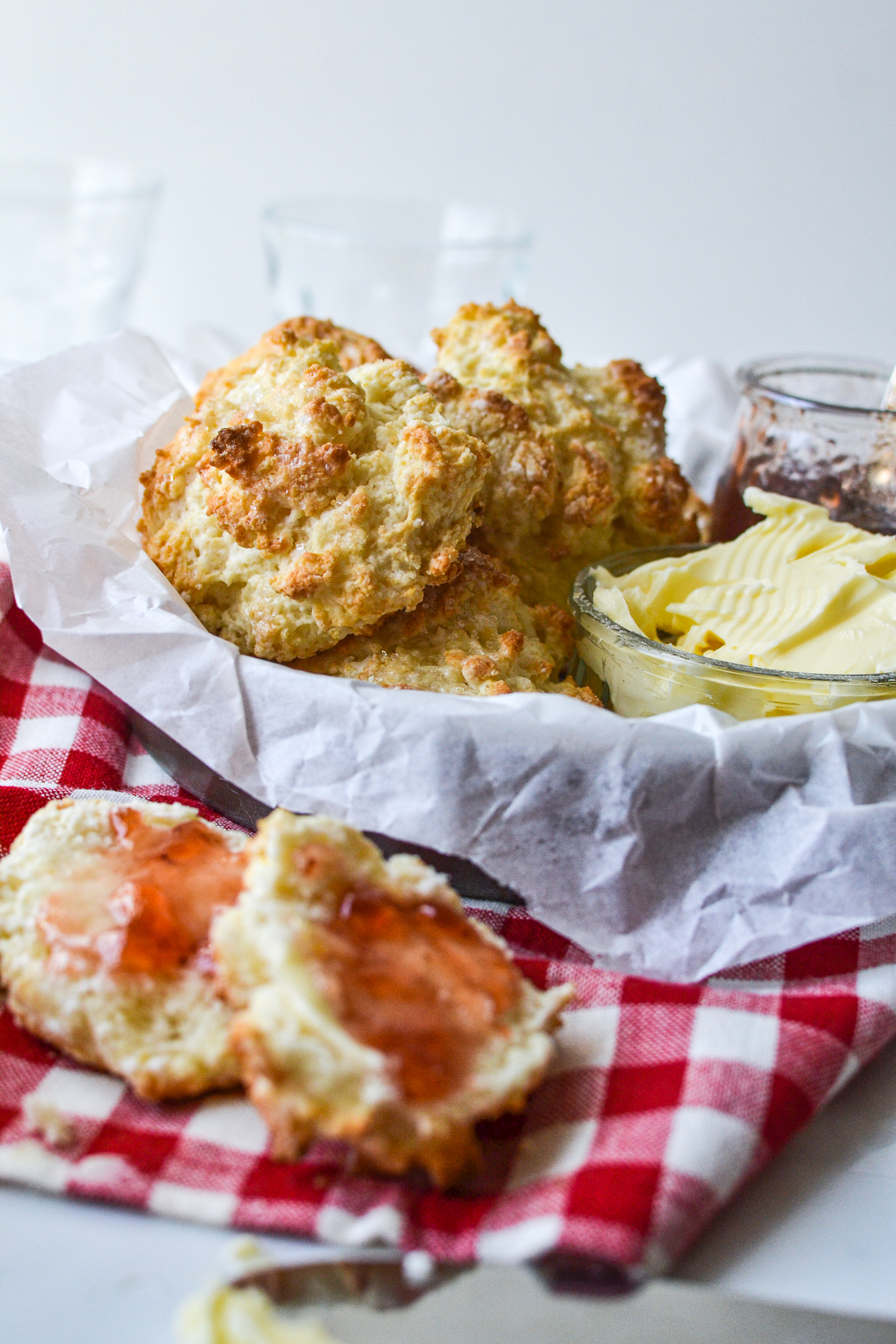 Easy Drop Biscuits
These easy drop biscuits are made without milk and instead use sour cream and result in a delicioius moist biscuits that can be served with savoury or sweet toppings!
Ingredients
2 cups pastry flour
3 teaspoons baking powder
1/4 teaspoon baking soda
1/2 teaspoon salt
3 tablespoons shortening, chilled
3 tablespoons granulated sugar
1 egg, well beaten
2/3 cup sour cream
Instructions
Preheat oven to 450 degrees. Line baking sheet with parchment or baking mat.
Sift all together into a large bowl flour, baking soda, baking powder and salt.
Cut in with pastry cutter the chilled shortening. Add sugar and stir to combine.
Make a well in the centre of the flour mixture and add beaten egg and sour cream.
Mix lightly until well combined.
Drop by large spoonfuls, placing well apart on prepared baking sheet.
Bake at 450 degrees for 12-15 minutes or until golden on top.
Remove from oven and enjoy warm or allow to cool and store in air tight container for up to three days.
Notes
I prefer to use my clean hands to rub the cold shortening into the flour mixture instead of a pastry cutter.
If you find you need a little extra liquid to get ingredients to come together, add a teaspoon of cold water to the mix.
For a touch of sweetness add some grated orange peel if you like.
Recommended Products
As an Amazon Associate and member of other affiliate programs, I earn from qualifying purchases.