I just love the flakey French pastry called pain au chocolat. What I don't love is how long they take to make. That was until I decided it was perfectly okay to take a shortcut!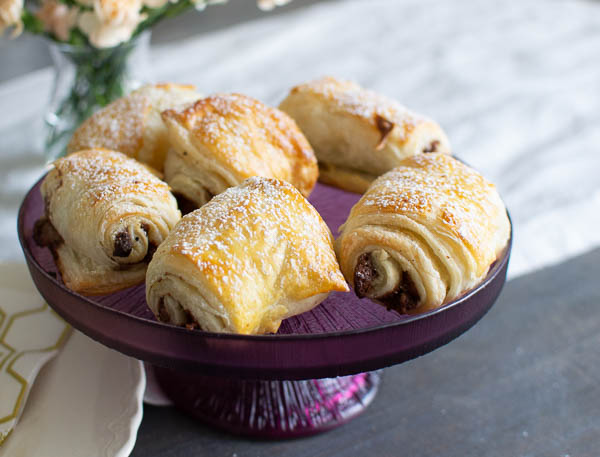 What shortcut you ask? Frozen puff pastry! There was a time when I would never have considered using frozen puff pastry, but not anymore! A good quality frozen puff pastry can produce an incredibly delicious pain au chocolat with barely any effort.
Now, don't get me wrong. I do still enjoy making puff pastry from scratch sometimes. But, knowing that I can whip out some frozen pastry to thaw in the fridge overnight and then bake up a fresh batch of these yummy French inspired treats in the morning really can't be beat!
On one of our grocery shopping trips, I was tempted to buy some already made chocolate croissants from the bakery counter. That was until I saw the price. For the price of just two pastries I was able to buy a package of frozen puff pastry. I already had chocolate at home.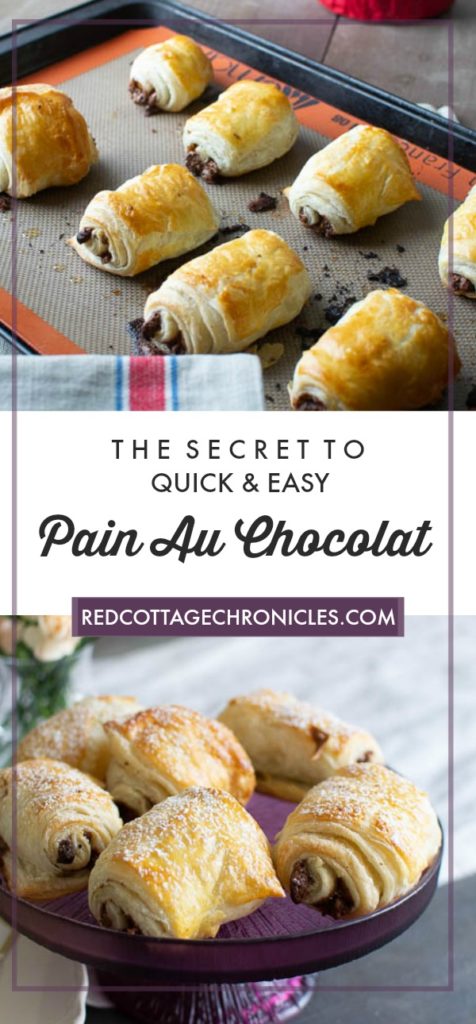 I made 8 pastries for what it would have cost me to buy 2 from the bakery. The best part is I was able to enjoy them warm from the oven!
How to make Pain Au Chocolat in 3 easy steps
Step One – Prepare thawed pastry
Preheat oven to 425 degrees (or temperature indicated on your puff pastry package)
The pastry I purchase comes in a package of 2 "blocks" so I need to roll out the puff pastry to measure about 12 x 6 inches.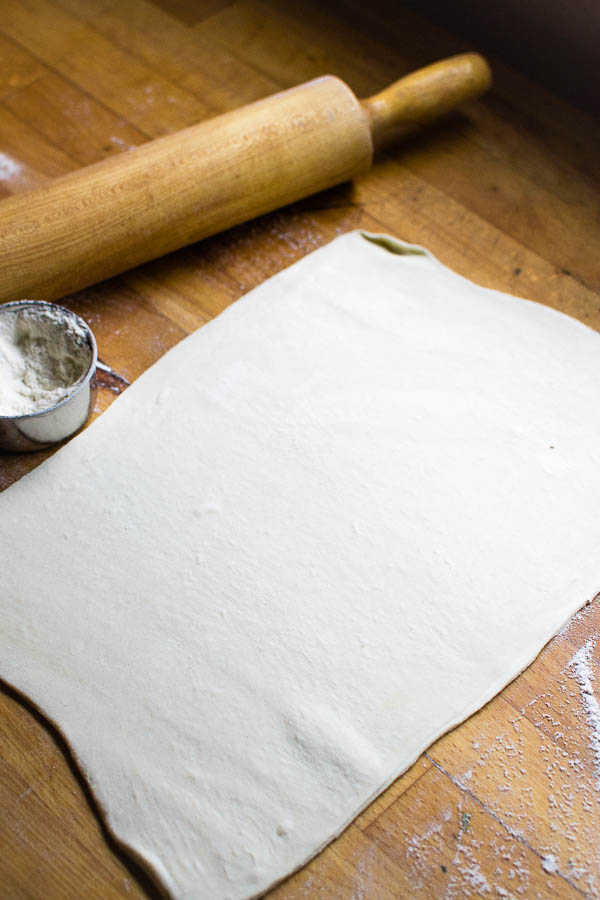 Using a sharp knife cut, along the long side, into four equal strips.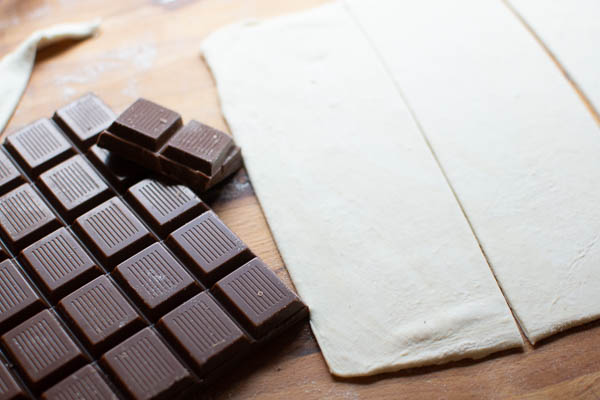 Step Two – the chocolat
If you are really particular, you can use chocolate batons made specifically for pain au chocolat. But any good quality dark chocolate will do just fine.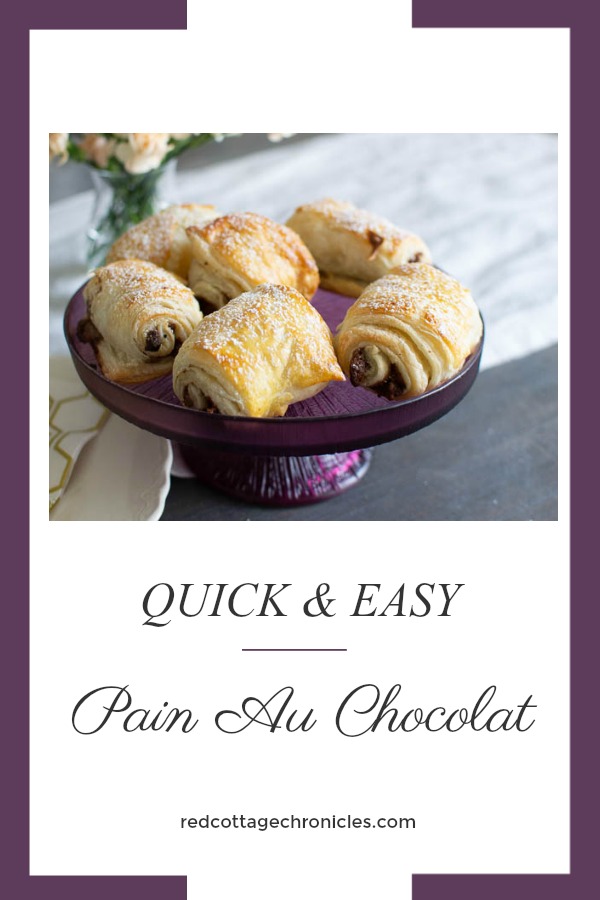 Place one piece of chocolate along the short edge of the pastry dough and roll once. Add a second piece of chocolate and roll right to the end.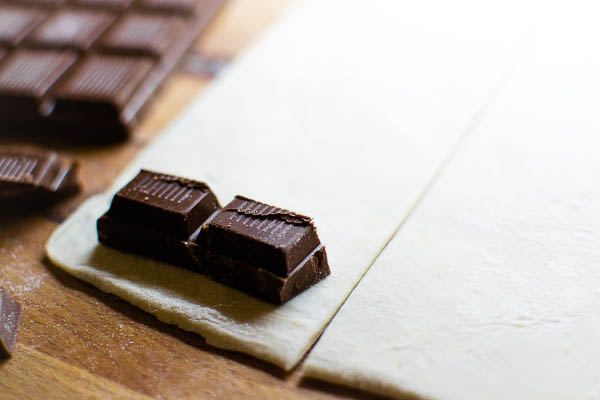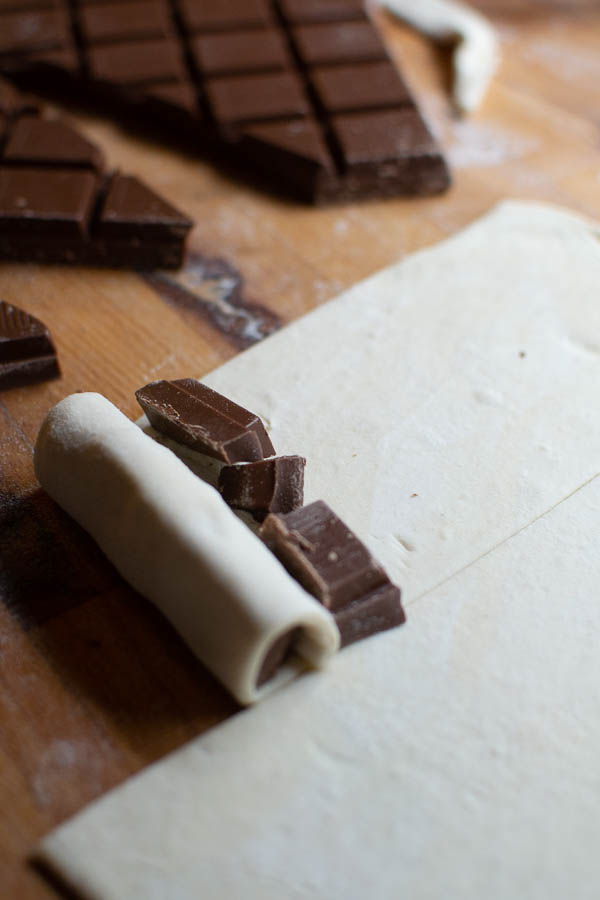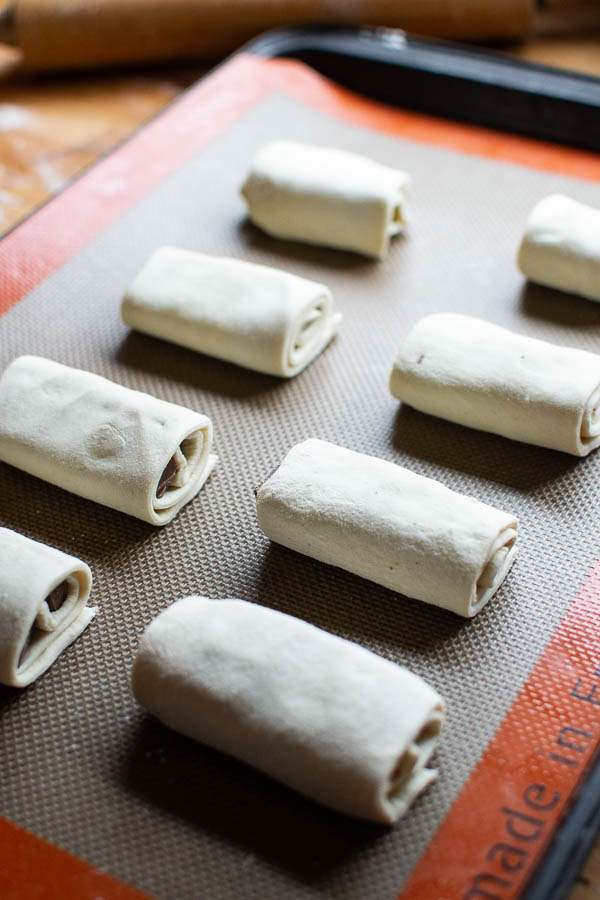 Arrange on a cookie sheet lined with a Silpat mat (or parchment paper) and brush with an egg beaten with a splash of milk.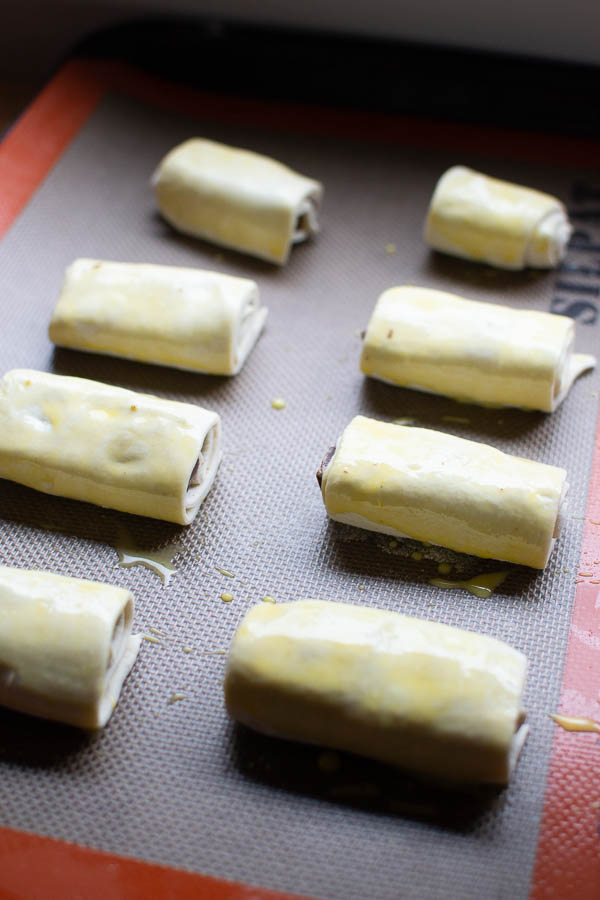 Step 3 – Bake for about 12-15 minutes, until puffy and browned. Keeping an eye on them while they bake.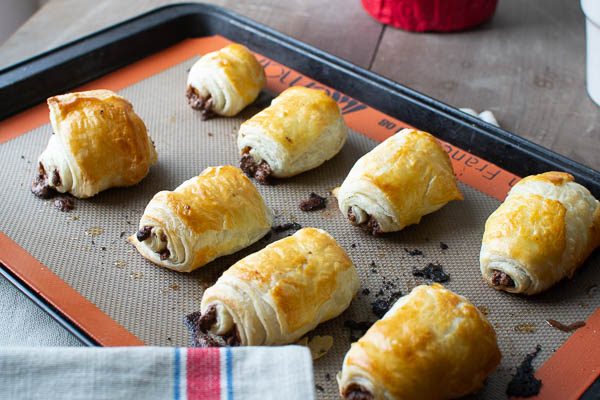 Allow to cool somewhat and sprinkle with confectioners sugar.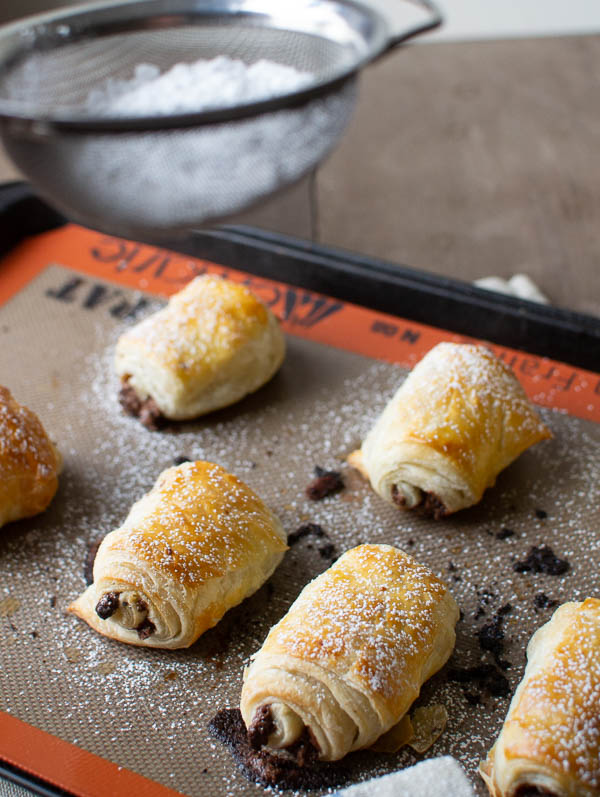 These are so yummy, nobody would guess you didn't make that flakey pastry from scratch!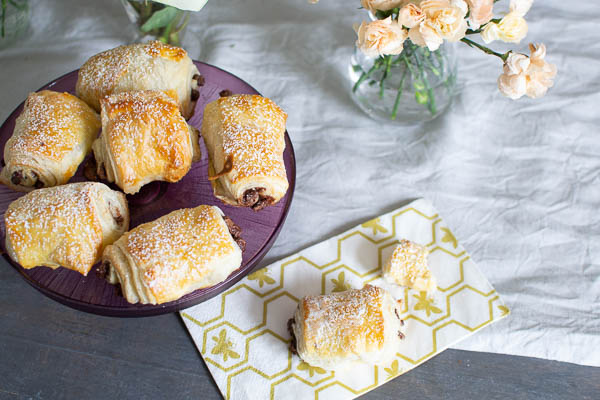 Nothing elevates a weekend breakfast than freshly baked pastries. Baking up a batch of these easy Pain au chocolat and serving them with a hot cup of coffee or tea will transport you to a patio outside a cute little Patisserie in Paris!
Hosting a brunch, or a get together with the girls? Bake up a batch of these and impress them with your baking prowess! I won't tell if you don't!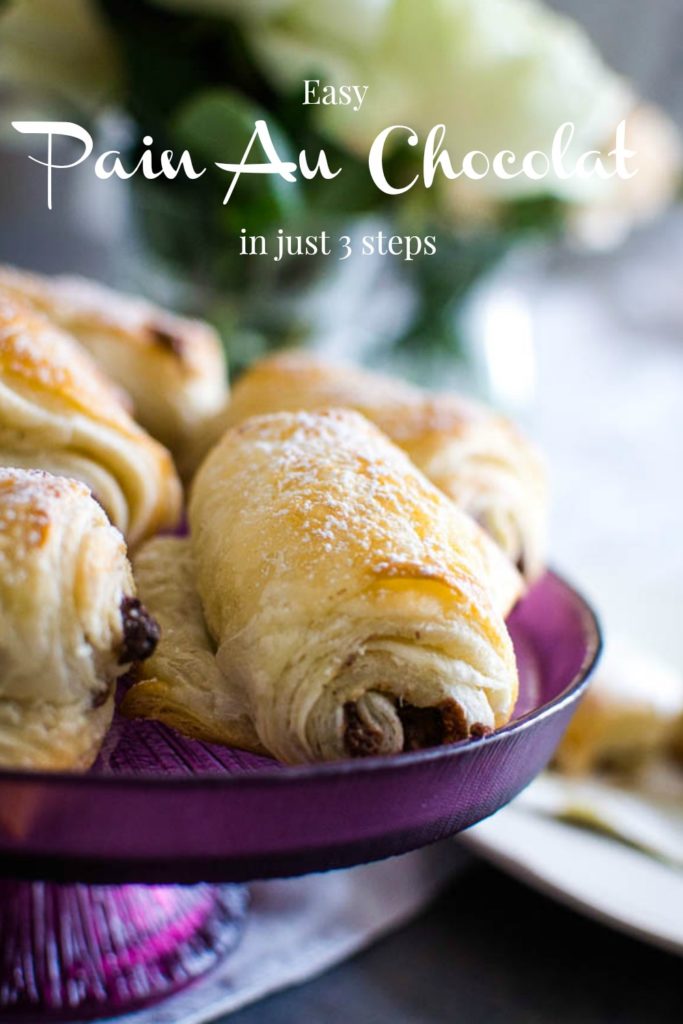 You might want to try these salted caramel puff pastry squares! One of the most populr "recipes" here at Red Cottage Chronicles and also made with frozen puff pastry dough!
Be in the know! It may be a delicious recipe, a stunning tablescape, or decor tips to make your house a home! Simply click here to subscribe. I never sell or share your information, and you can unsubscribe at any time!
Until next time….