This shop has been compensated by Collective Bias, Inc. and its advertiser. All opinions are mine alone #NewYearNewCloset #CollectiveBias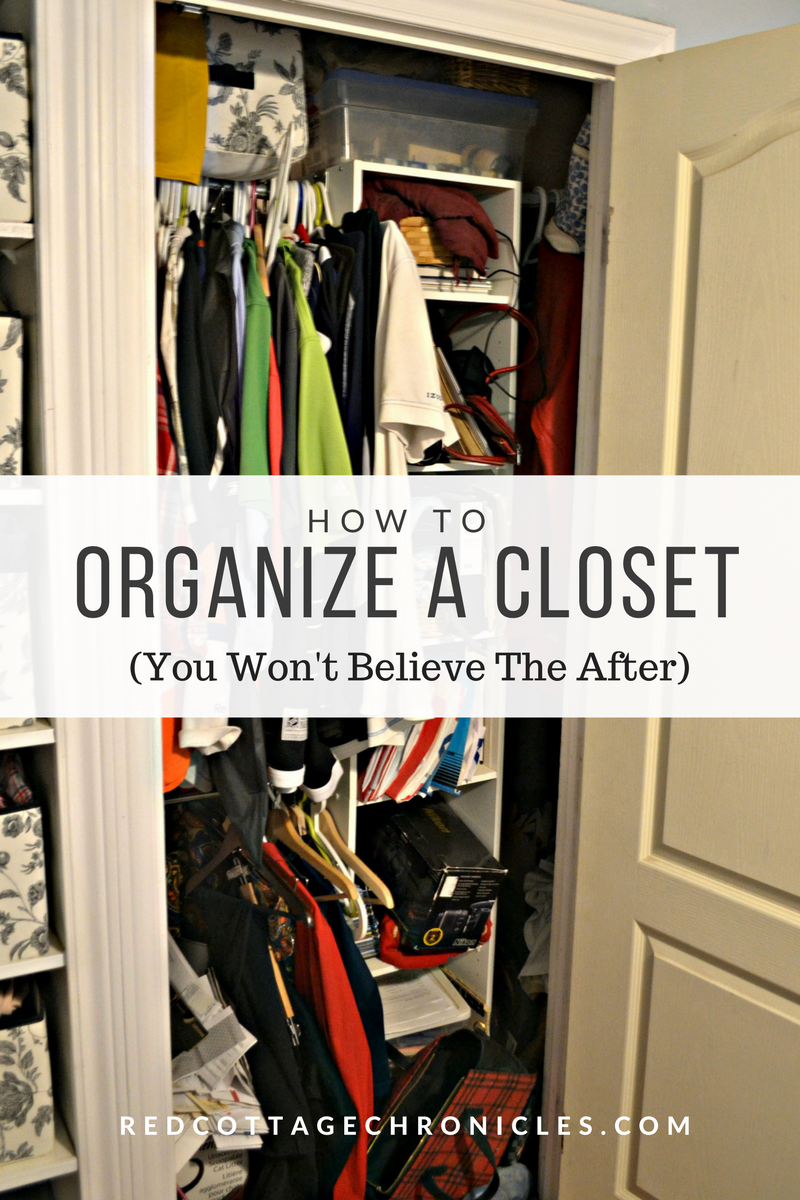 If you are still on pace to keep your New Year's goals raise your hand! I have to admit I am even impressing myself on my quest to live a simpler, organized and less stressful life in 2017!
You will never guess what I did on Boxing Day. While everyone else was at the shopping malls loading up on "stuff" I decided it was time to tackle some closet organization, and am I ever glad I did. Ten days later and I am still smiling when I open my bedroom closet door. No more fishing through that mess looking for something to wear.
Getting organized in the New Year is often on many people's list of goals and I cannot believe how much an organized closet with a place for everything, and everything in its' place has made a difference in making our lives easier. I can find anything I need at a glance, not to mention how much easier it is to put the laundry away!
If you have been around the Red Cottage for any length of time, you know that we live in a really small space. Like under 1000 square feet small. Anyone who is "space challenged" knows that utilizing every possible inch of storage space is essential. You can tell by the before picture, I was not exactly making the most of the tiny closet in my bedroom.
Let's take another look at the mess that I called our closet before, shall we! (I cannot believe I am actually showing this photo. And no, I am not a hoarder! It is simply the lack of not knowing what to do with something, so putting it where nobody will see it!)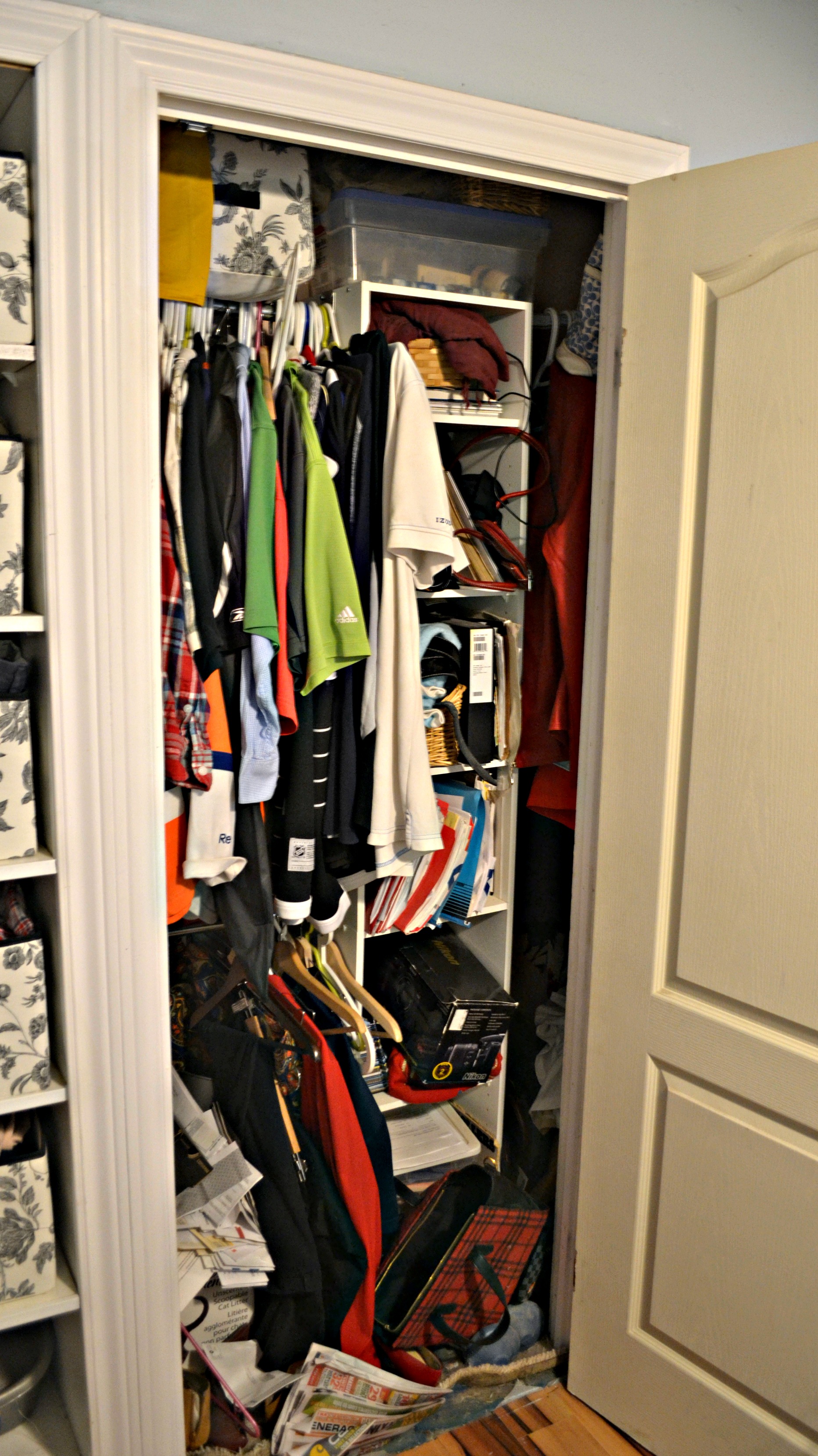 I am sure you can understand why when I was given the opportunity to try one of the Rubbermaid® Configurations® Custom Closet Kits I was a very happy camper!
I really didn't think that there was a closet organization system on the market that would fit my tiny closet. And, without the need for cutting to fit! Our tiny bedroom closet measures just 3 1/2 feet wide, but has ample height. The Rubbermaid Configurations Custom Closet Kits lets you make efficient use of the vertical space as well. With telescoping rods and expanding shelves it was so easy to install.
As excited as I was about installing our new closet system, I was not excited about cleaning the closet out. I was determined to get this project crossed off my list by the end of the day, so I resorted to my favourite organizing method…..
Keep * Giveaway * Toss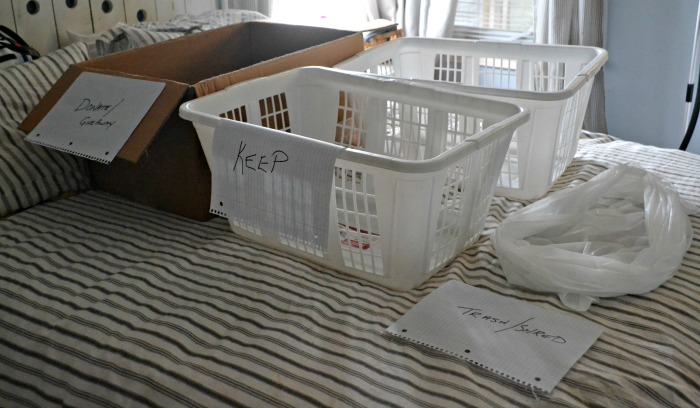 The keep, giveaway, and toss method is incredibly simple and gives you the chance to deal with everything right away. There is no "maybe" pile, so no procrastination allowed! Although, there was some back and forth as to how many hats was a reasonable amount for any man to own!
Just follow these steps to a more taming the clutter:
set out a large box and label it giveaway, making it easy to just close up the box when it was full and load it into the car for the nearest Goodwill to be donated
set out two clothes baskets to corral all the clothes, purses and shoes we would be keeping.
Finally a garbage bag to toss in the trash (and a recycling bin for any recyclable paper or plastics)
remove each item from the closet and place it in the appropriate bin
If you are not sure whether to keep or giveaway items, consider whether you have used it in the last six months, if it still fits, or if isn't in style anymore, no question it is a giveaway!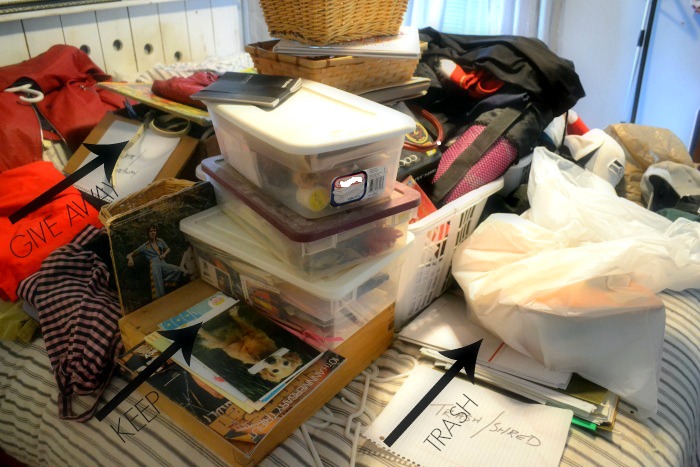 When it was all said and done, there was WAY more stuff in that closet then I even realized! One overflowing box of things we no longer needed or used got packed up and taken away for donation.
Two clothes baskets of clothes, shoes and purses to keep. Oh, and one Bay City Rollers album straight from Scotland which was non-negotiable! A couple of purses ended up in the giveaway box, but not my Bay City Rollers album.
I also managed to half fill a bag with trash, and fill a box with old paperwork that will be shredded.
When I looked at our empty closet a breathed a big sigh of relief. Since we had a bit of white paint left from another project, it took no time at all to give (most of it) it a quick coat of fresh white paint before we got started on the installation.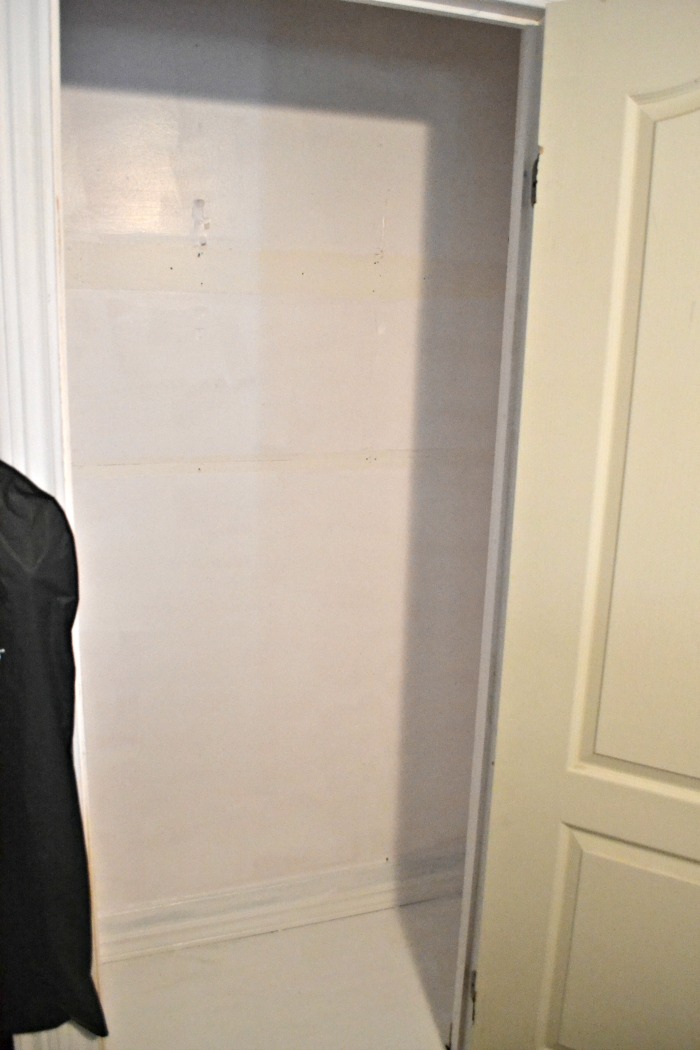 Rubbermaid Configurations Custom Closet Kits are available at Home Depot Canada and they have a great display with lots of information to help you select the kit that is right for your space.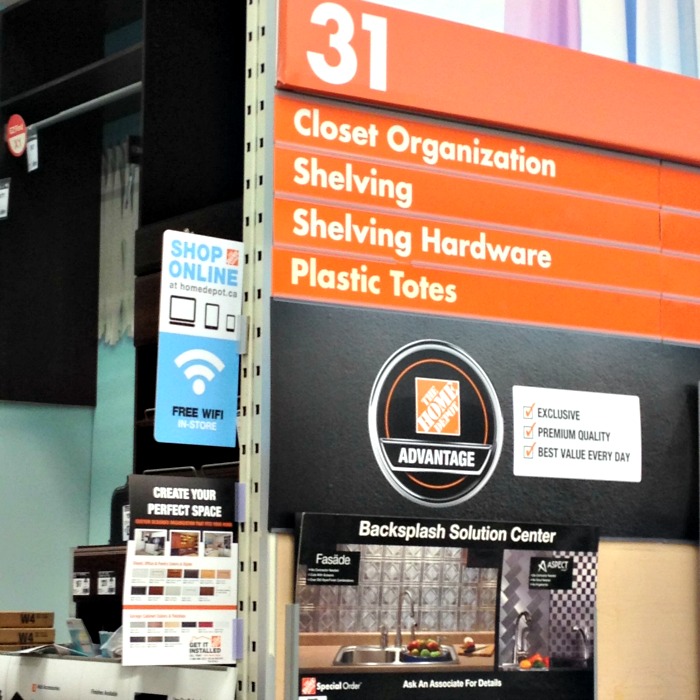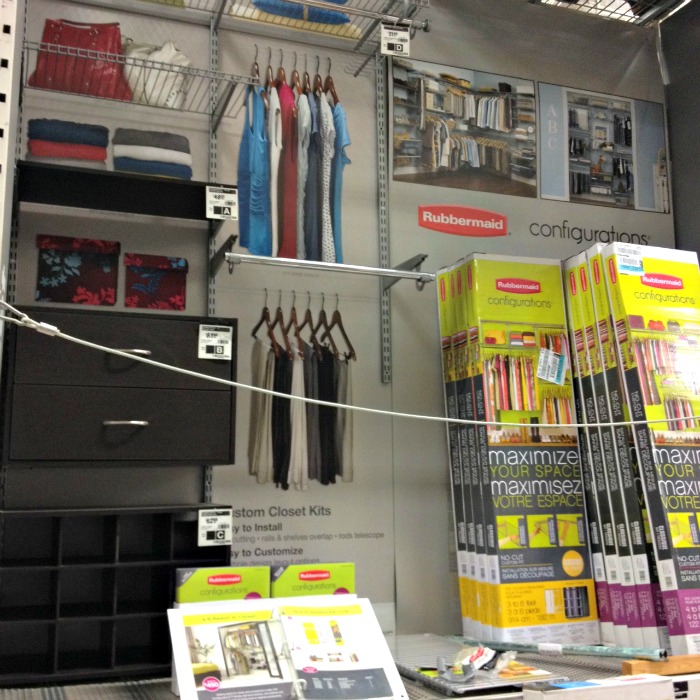 We used the 3-6 ft. Configurations kit, which adds up to 12 feet of shelving space and 10 feet of hanging space. It comes with easy to follow instructions, as well as all the necessary mounting hardware to install your system. I love the option of adding drawers or shoe storage units.
It actually took me longer to clean and sort the contents of the closet than it did install the new closet system.
We only needed a stud finder, a power drill/screwdriver, and a measuring tape.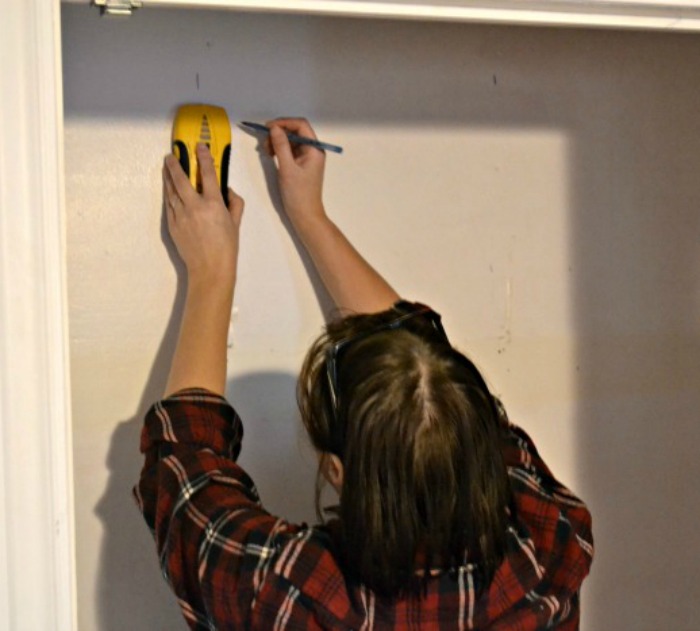 After locating the studs, we followed the step by step instructions, first installing the top horizontal bar at the recommended height of 86.5 inches. We then positioned the two outer vertical bar as per the instructions and because one did not line up with a stud, we used one of the anchors provided to ensure it was solid.
We then snapped the brackets into place and installed the long shelf across them, adjusting so they fit perfectly across the width of our closet. No cutting to fit required!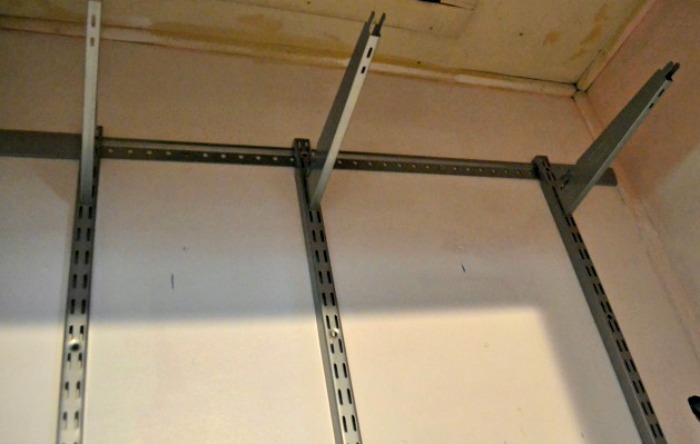 Next, we measured the height that we felt would work best for our needs and installed the brackets and shorter shelf. The hardware which holds the hanging bars where attached in mere seconds, and then I adjusted the telescoping rods to fit and put them into place.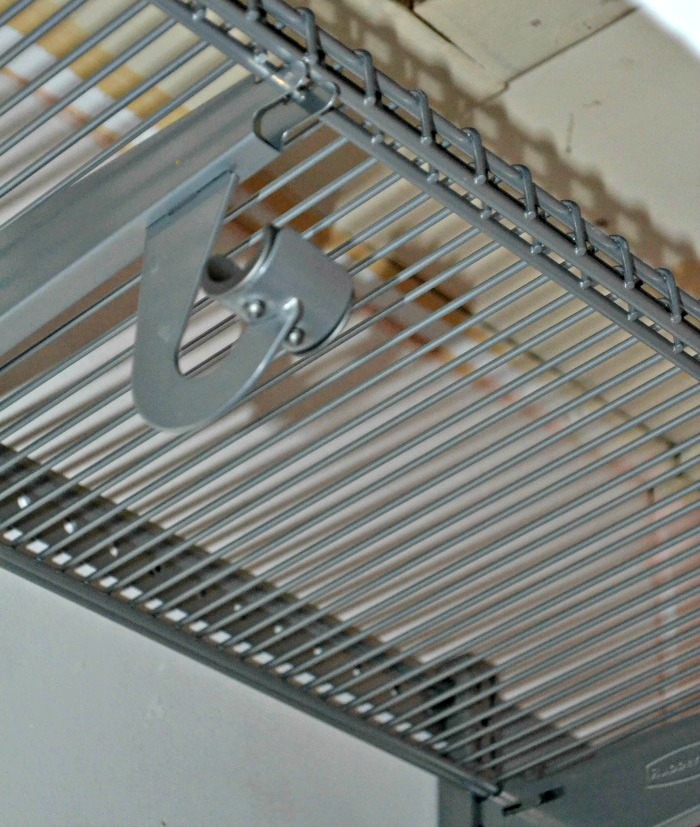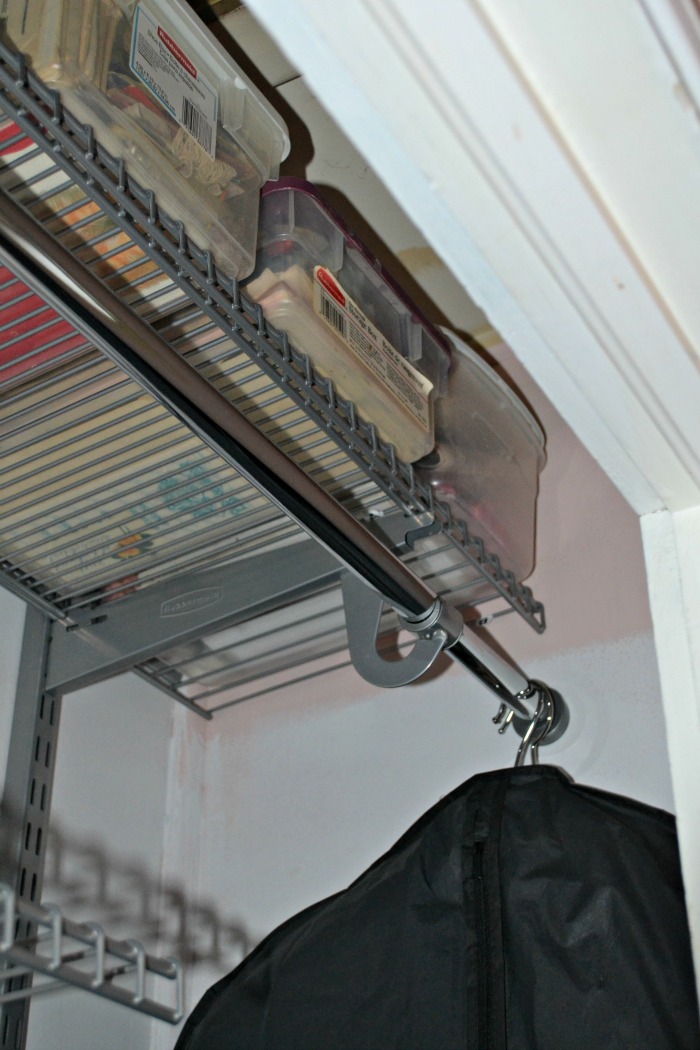 What I love about how the brackets to hold the rod are designed, is that you can slide hangers right from one end of the rod to the other without the bracket getting in the way. Small thing, but it is a feature I like.
The only thing left to do was to load it back up with all the things in our "keep" pile!
I cannot believe the difference. Never did I think I would have such an organized, dare I say spacious, bedroom closet!
Drum roll please………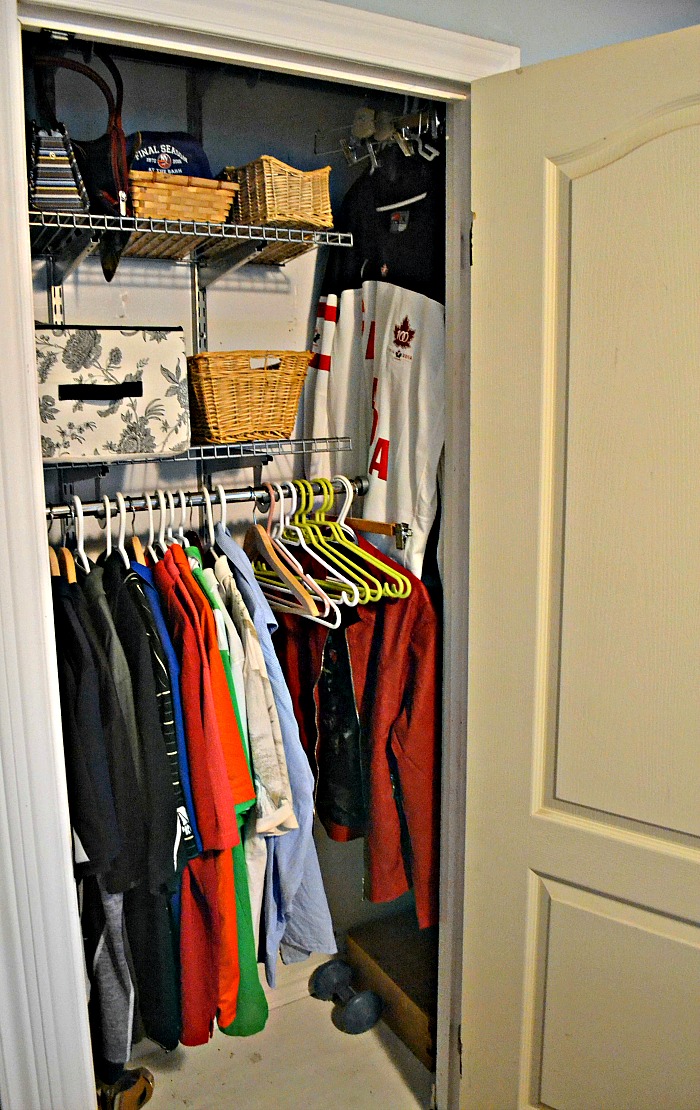 Unbelievable, isn't it. I think I need more shoes! Just look at all that floor space!
We wanted the right side of the closet, to hang our longer things, such as my dresses, dress pants, longer coats and of course Tim's collection of hockey jerseys.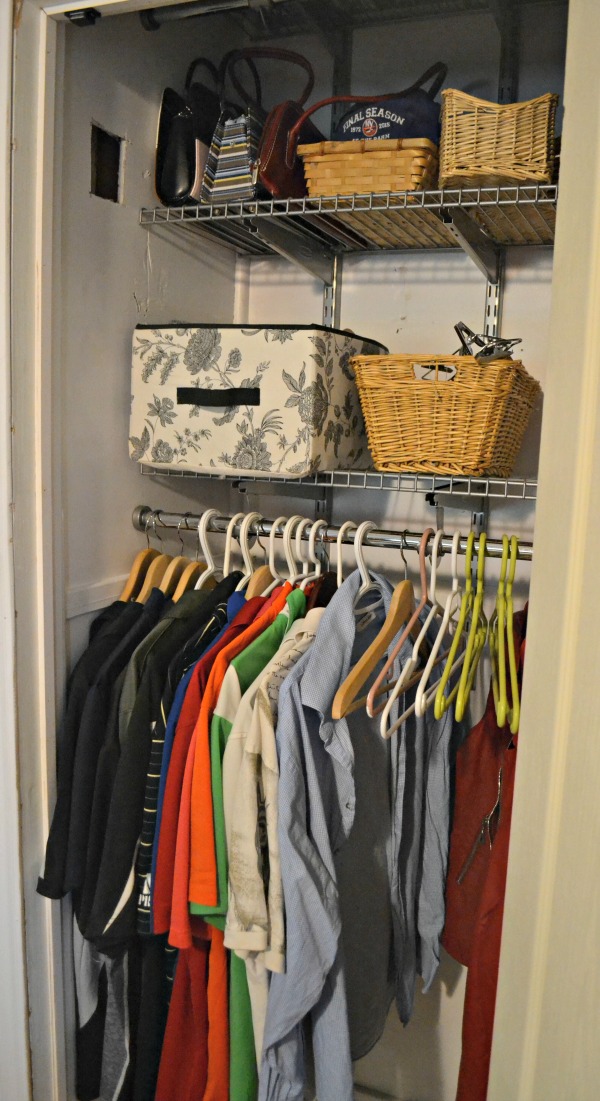 The shorter bar on the left holds all the shirts, shorter jackets and such. A fabric bin fits nicely on the shelf and holds folded sweaters to bulky for our drawers, but not meant to be hung up. Easy to reach wicker baskets coral things like Tim's multitude of hats, and my belts and scarves.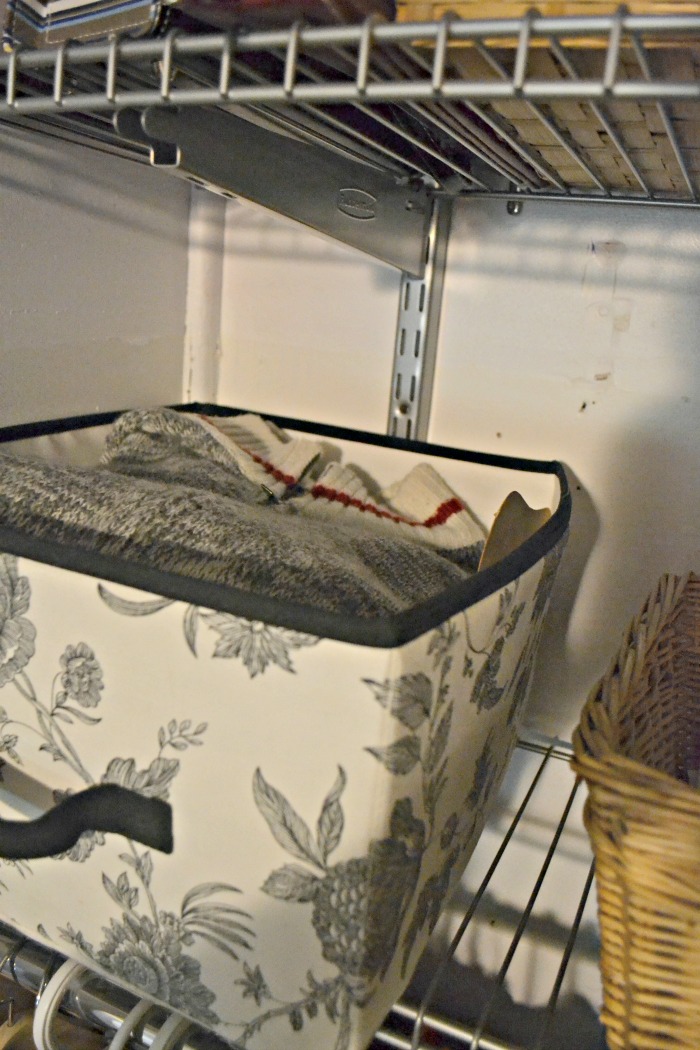 There is plenty of space for my purses and they are no longer stuffed up on top of bars, or on the floor.
The very top shelf holds bins with keepsakes, paperwork like warranties and other things we don't need to access very often, but are still nice and organized and easy to reach.
What I love about the Rubbermaid Configurations Custom Closet Kits, is that I can reconfigure them as need be, and I can add Configurations accessories to fit our needs. If you have a walk-in closet, the Configurations kits work equally well at organizing and maximizing your space.
Here is the before and after, side by side! I feel like every time I open the closet door, music should play and a bright ray of light shine out!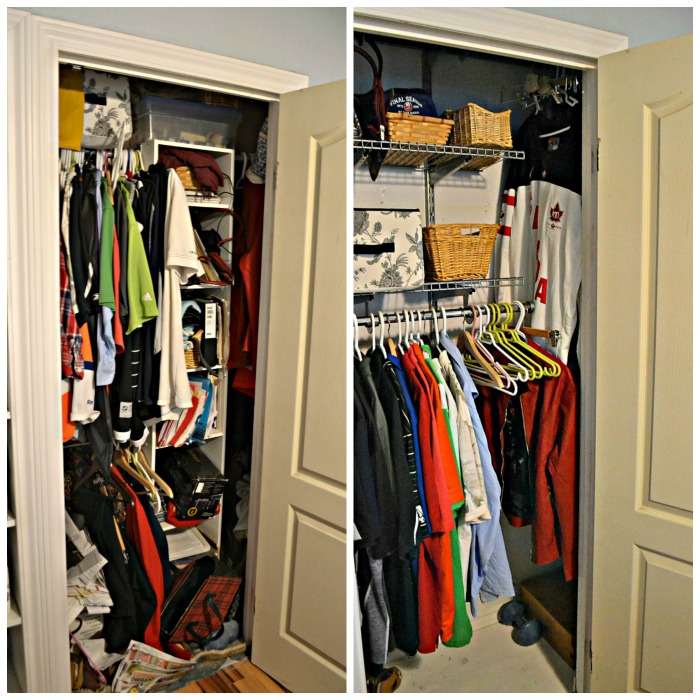 Is it your goal to get more organized in this year? For a limited time (until February 15, 2017) you can purchase a Rubbermaid Configurations Closet Kit at Home Depot for a new lower price! Now is the time to cross closet organization off your to-do list! Rubbermaid's Closet Designer is a great tool to help you plan your own closet configuration before buying!
Until next time…..