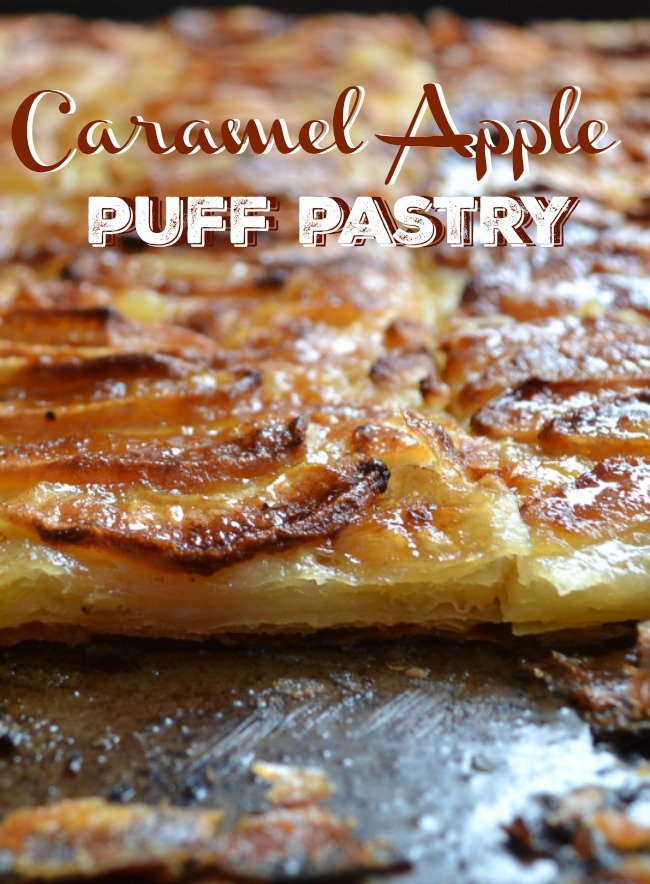 This year one thing I am going to strive for is the return of Sunday dinner.
Having had 2 weeks off over the Christmas holidays both Tim and I have been dreading the return to our day jobs.  The last few days we have spent way too much time feeling sorry for ourselves for having to go to back to work, when it suddenly struck me that we really needed to adjust our attitude.
Instead of complaining about going back to work we really needed to be rejoicing in the fact we have good paying jobs to return to.
When we got to talking about it a bit more, we realized that what we really needed to be doing is to spending the time we are not at work doing things that bring us joy.  We need to get back to making the most of our leisure time.
Hence my goal of planning a special Sunday dinner.  Whether it is just Tim and I or a whole table full of friends and family, sitting down for dinner on Sunday brings me joy!
Of course that means a delicious dessert to end the meal is a must!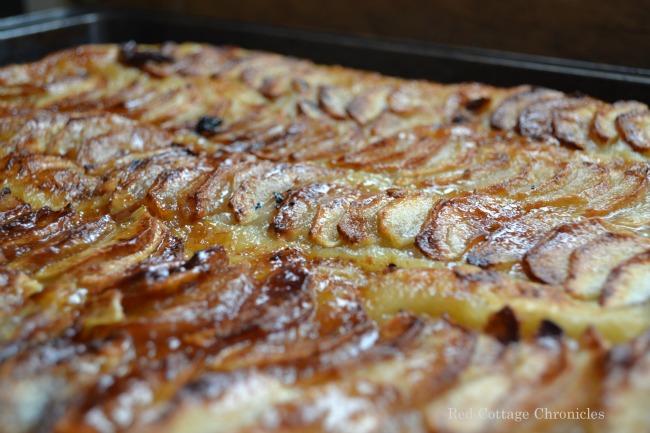 When I signed up for a baking class at our local community college a few years ago, the one thing I was most intimidated by was puff pastry.  I had heard it was a tedious process involving butter, lots of rolling, folding and measuring.  Well, imagine my surprise when it turned out to be one of my favorite!
I don't always have the time to make puff pastry from scratch as was the case with this Caramelized Apple Puff Pastry, I often will use the pre-made pastry found in the freezer section of the grocery store.
This simple, yet show stopping crispy apple puff pastry tart takes only 4 ingredients and the result is a bakery quality caramelized tart.  Adapted from a recipe by James Patterson, it takes about 20 minutes of prep time and then after filling the house with that sweet caramel apple aroma for about 50 minutes it is ready to enjoy!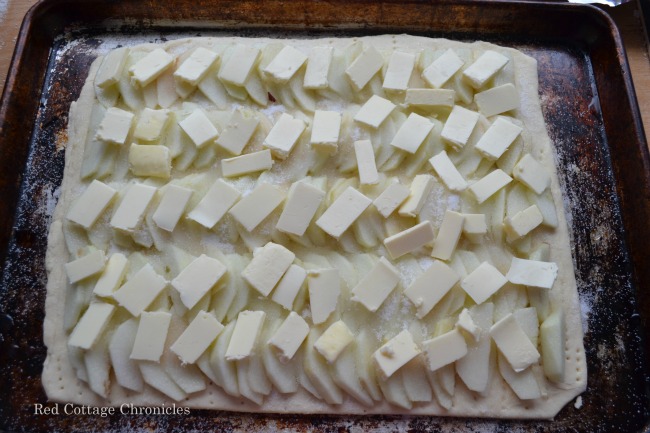 Going into the oven…….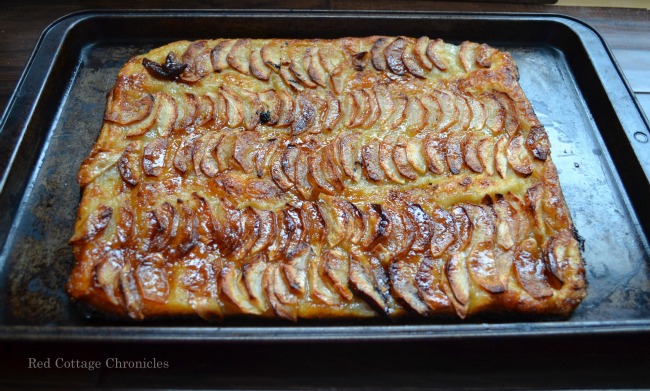 ……and out of the oven!
Sunday dinner doesn't have to be fancy at all.  In fact, one of my favorite's is this Sweet and Sour Steak that I make in the slow cooker.  Just add family & friends around the table and a sweet dessert and I am ready to face Monday morning feeling relaxed.
Especially if I can get somebody else to do the dishes!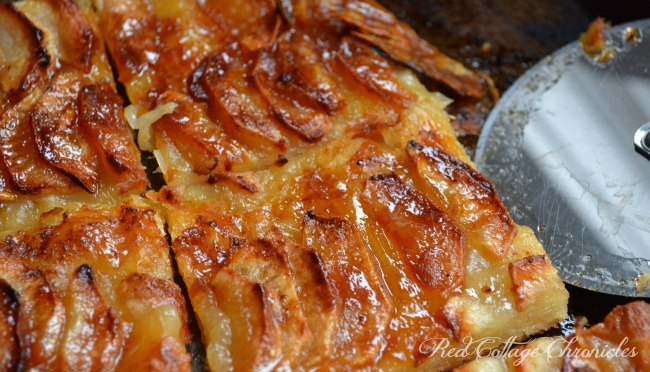 I challenge you to bring back Sunday dinner at your house!  Remember, it doesn't have to be fancy, just gather some family or friends and make sure you have a sweet dessert to finish it off.  What do you think?  Are you willing to give it a try?
Until next time….
Maureen
Caramelized Apple Puff Pastry
Author:
Prep time:
Cook time:
Total time:
Ingredients
1 sheet frozen puff pastry dough (thawed)
4 to 5 large McIntosh (or other baking) apples of your choice
2/3 cup granulated sugar
1/2 cup cold butter, sliced thin
Instructions
Preheat oven to 425 degrees
Sprinkle bottom of a large rimmed baking sheet with cold water to protect the bottom of the tart from burning.
Roll the dough to about 12 by 15 inches and transfer to the baking sheet. Trim dough to about 11 by 14 inches and poke it all over with a fork to prevent it from puffing up too much in the oven.
Peel, core and slice the apples thinly. Arrange over the prepared dough in four long rows.
Sprinkle the entire tart evenly with the granulated sugar and then arrange sliced butter over the top.
Bake for 20 minutes and then check to ensure the tart hasn't puffed to the point where it is pushing the apples off. If this happens, simply poke the dough with a sharp knife to deflate and using the knife, carefully arrange apples back onto the tart.
Continue baking for an additional 30 minutes, checking every once in awhile for excess puffing and rearrange apples if necessary. Remove from oven when the edges are a deep golden brown.
Slide a large metal spatula under the tart to loosen and then slice into squares and serve.