How to Style an Easter Table the Kids Will Love
An Easter table that combines the sophistication of adults, but also is the perfect kids Easter table with some fun surprises for the little ones and adults alike!
Once again I am joining Chloe from Celebrate and Decorate as she hosts another fabulous tablescape! You will find links to over 20 fun Easter tablescapes at the end of this post. Trust me, you will not want to miss a single one!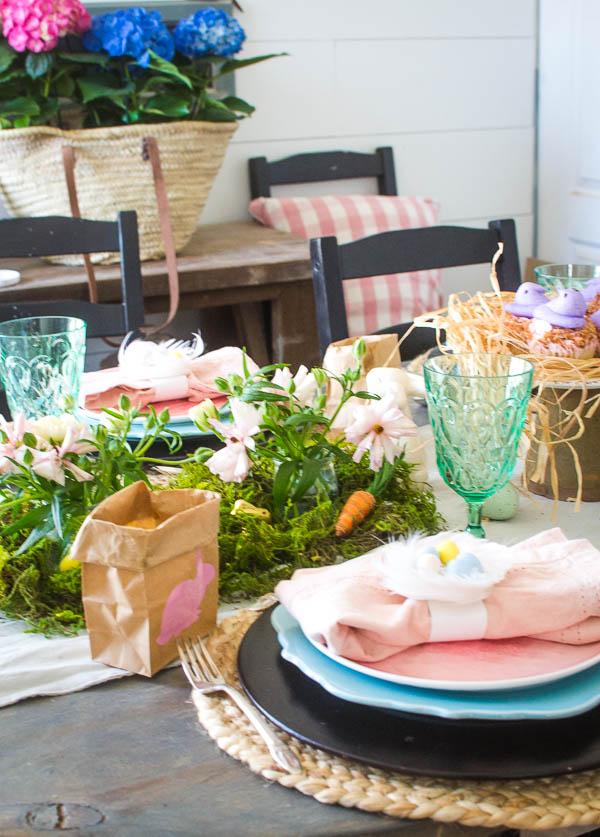 I think we can all remember those time's during a holiday meal when you shared a little table with your siblings or cousins while the adults filled up the dining table!
This year, it is unlikely we will be having Easter dinner with our extended family. However, this means kids and adults alike will all be dining at the same table!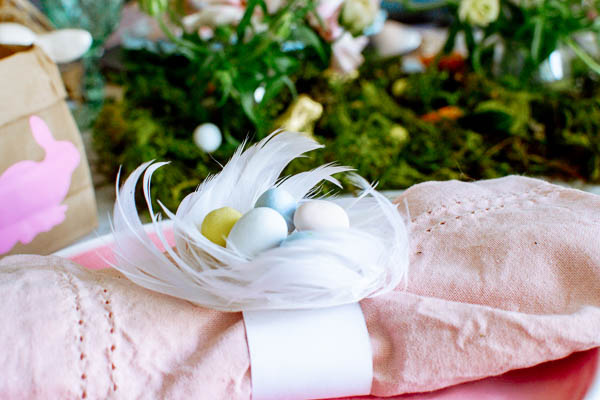 I decided to set a whimsical kids Easter table that the adults will enjoy too!
I love the challenge of creating this table given, with the exception of grocery stores and a no-contact flower farm, I had to really shop the house to bring this table to life.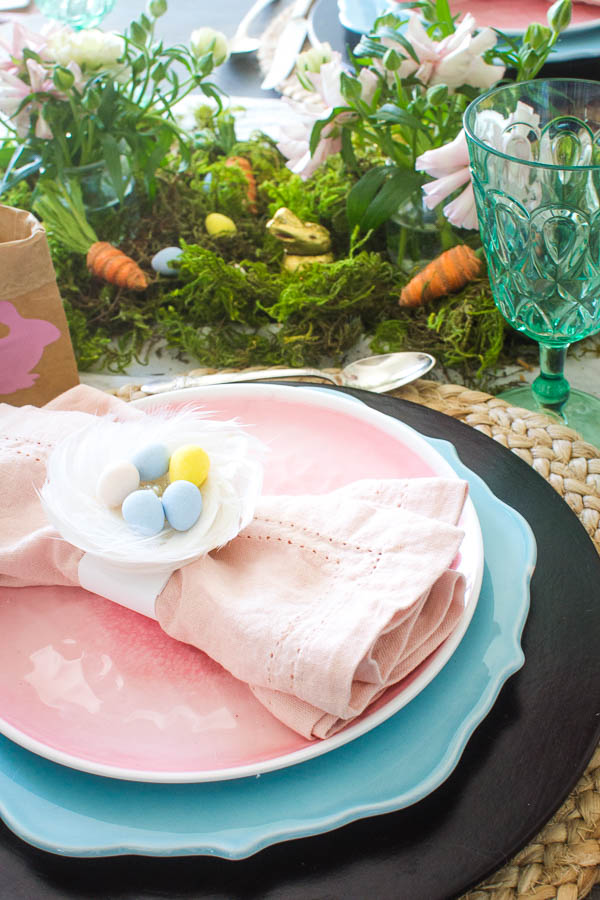 I had a whole other vision for this table, but had to put my thinking cap on and rustle around my craft room to see what I could come up with. I am pretty please with how it turned out.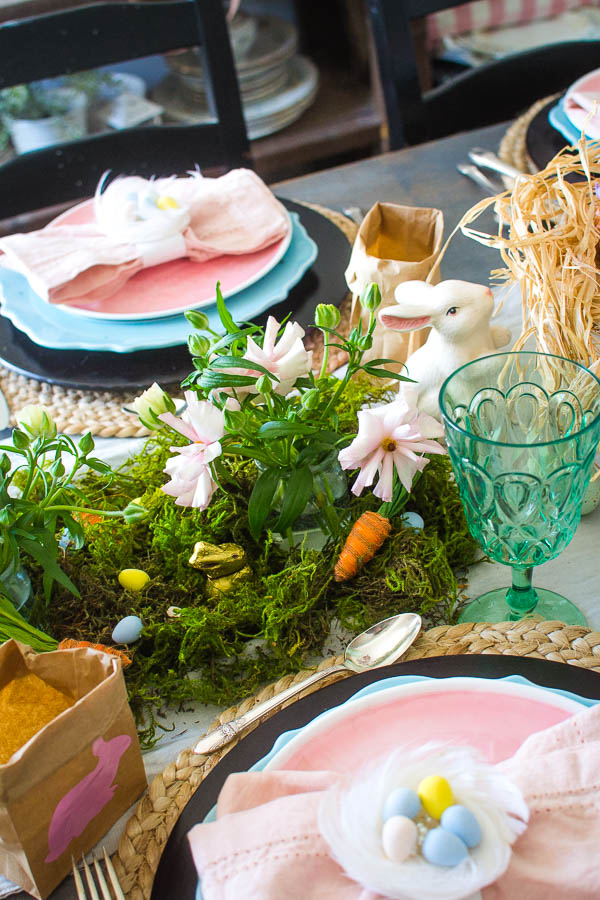 My daughter organized my craft room a couple of weeks ago, which made it easy to spot things that I could use to create a fun Easter table with that kids would love.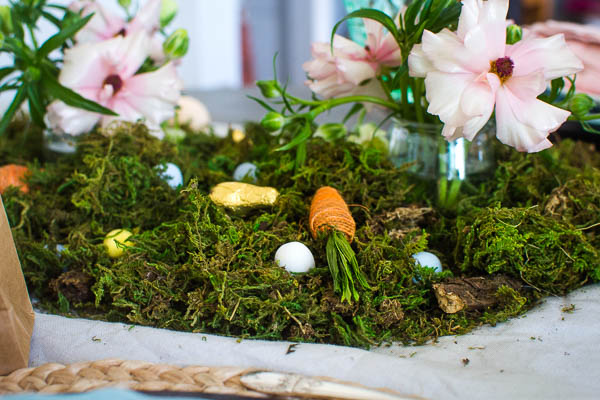 I spotted two half filled bags of dried moss, which became my inspiration. At either end of the table, in the centre, I created a "meadow" using the moss. I tucked in little straw carrots that I had purchased a while ago.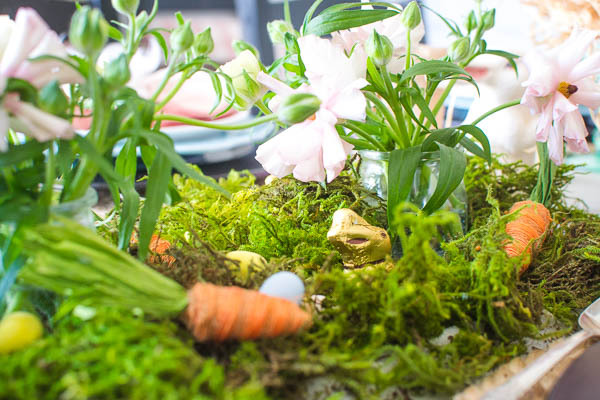 When I put in my last grocery pick up order, I included some Lindt mini gold bunnies and mini eggs. Tucked amongst the moss, the kids can "hunt" for the treats during dinner!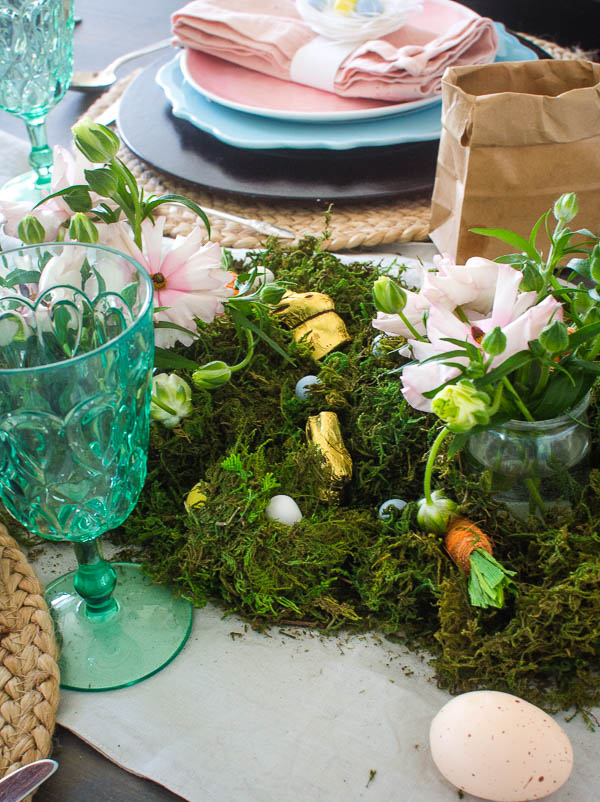 If you follow me on Instagram, you will know that we have many flower greenhouses that have resorted to creating no-contact drive through flower stands to help sell off their spring stock.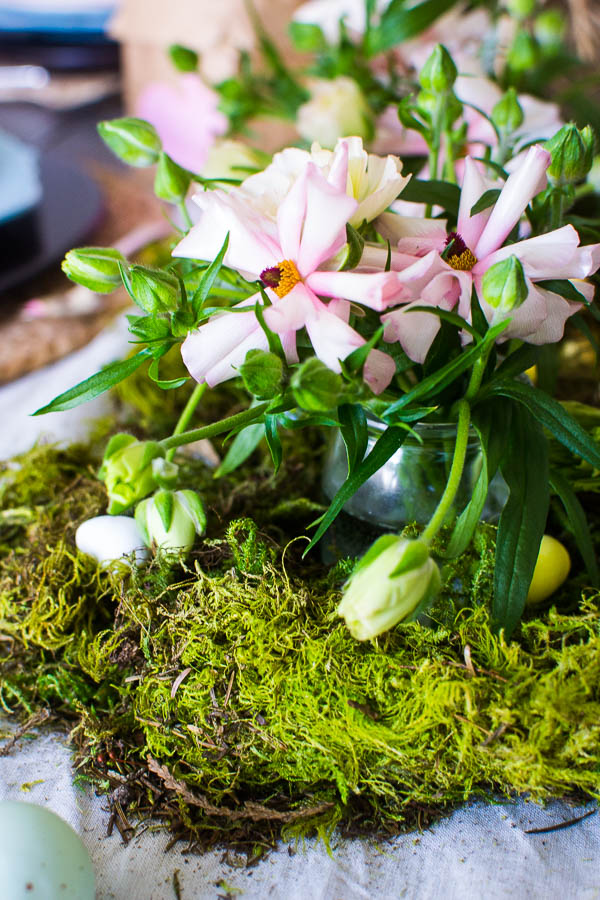 I purchased these pink anemones at one such stand, put them into little glass yogurt jars, and then tucked them amongst the moss. This was just want each little "meadow" needed to become a whimsical centerpiece.
I used my everyday blue plates stacked on top of my favorite jute placemats and dark wood chargers. Each is topped with a pink melamine plate.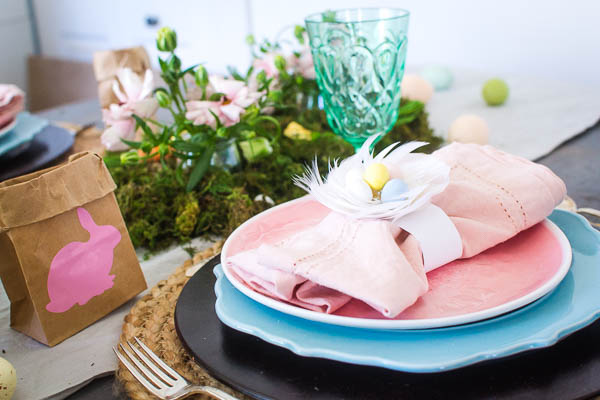 Green plastic water goblets I forgot I even had, are perfect for this table.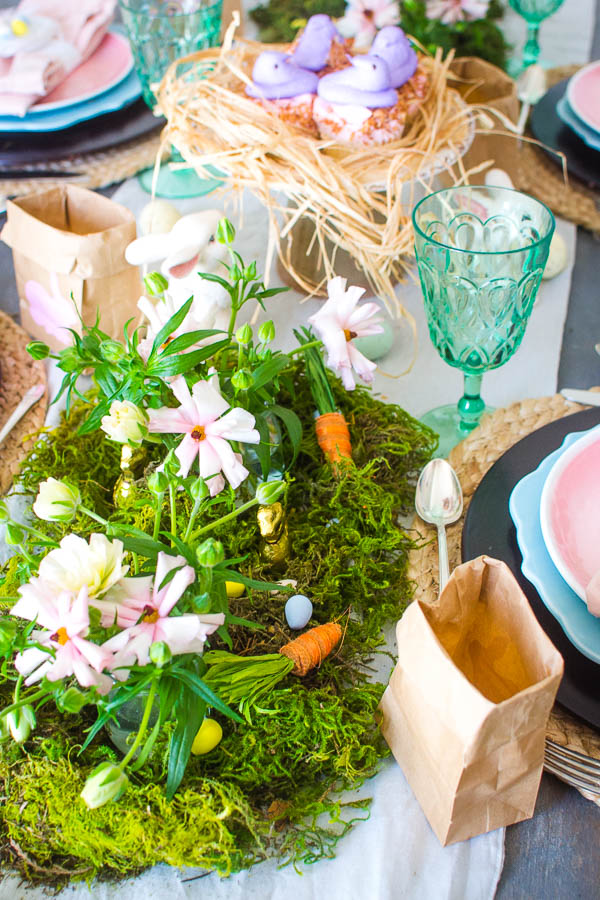 An upside down moss covered flower pot is topped with a plate to create a cake stand. Simple vanilla cupcakes made from scratch, frosted with pink frosting and adorned with toasted coconut and purple peeps will be dessert!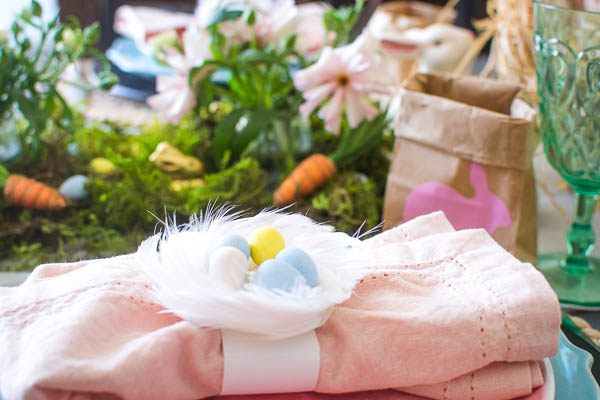 I repurposed these DIY napkin rings. I simply filled each feather "nest" with mini candy eggs! Each holds a simply folded pink hemstitched napkin.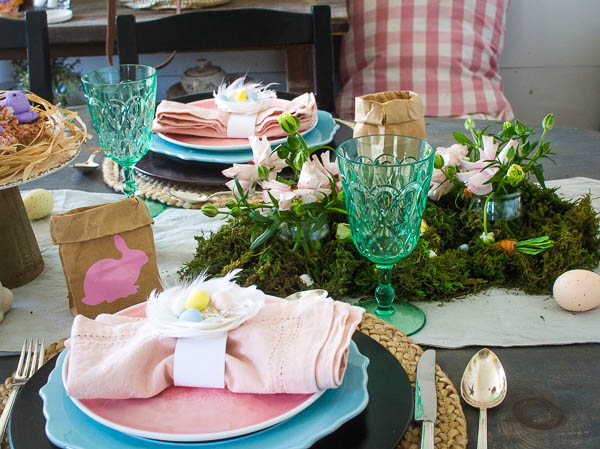 I used my Cricut to cut tiny pink bunny stickers, and placed each one on little brown paper bags. It is amazing what you can find when you really look! These four little bags were found at the bottom of a tin bread box filled with all kinds of stuff I didn't know I had!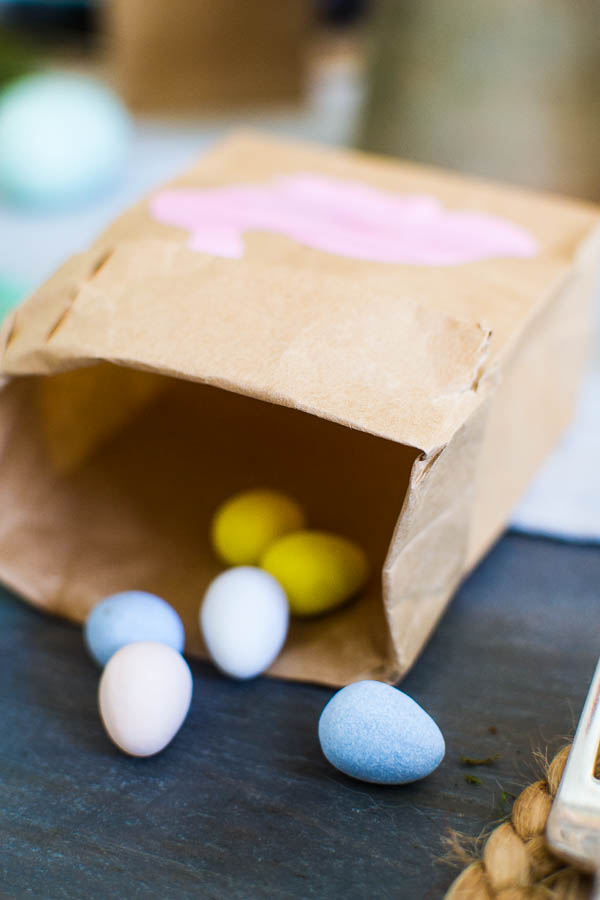 They are perfect for filling up with all the goodies hiding around the table!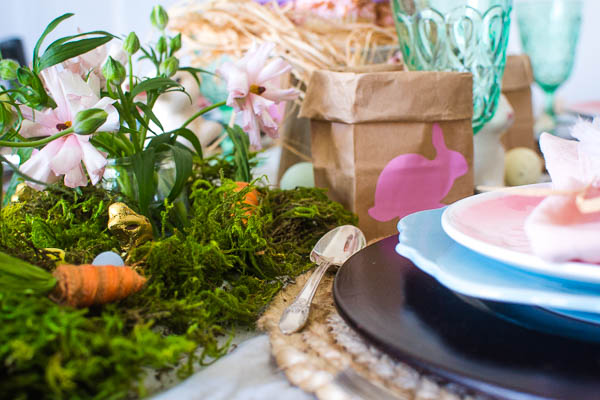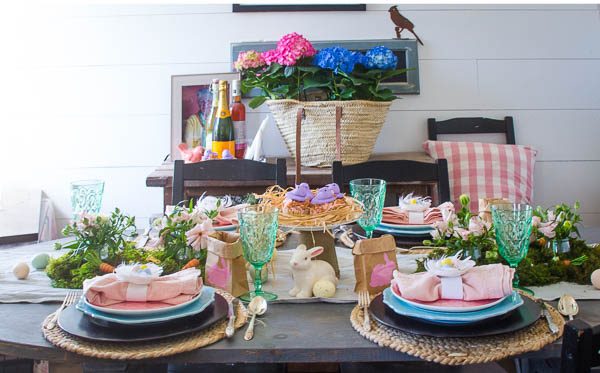 That concludes the tour of my whimsical kids Easter table! I hope I have inspired you to look around your home and have some fun creating a table for your family this Easter.
Come Easter dinner, I know I will have fun being the adult at the kid's table this year!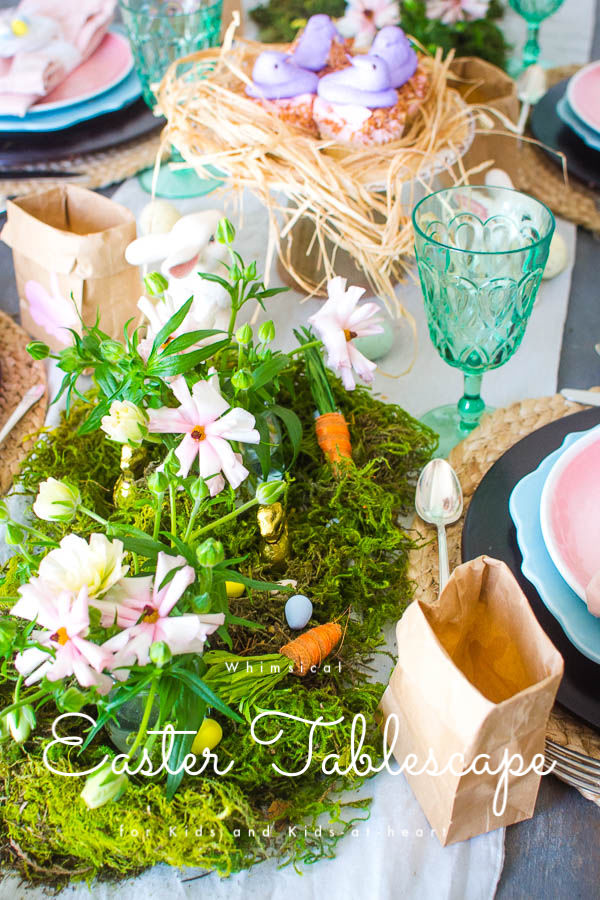 Be in the know! It may be a delicious recipe, a stunning tablescape, or decor tips to make your house a home! Simply click here to subscribe. I never sell or share your information, and you can unsubscribe at any time!

Now it is time to explore all the other Easter tablescape links! Scroll down and enjoy!
Celebrate & Decorate
Panoply
Create With Cynthia
Home is Where the Boat Is
Debbee's Buzz
Belle Blue Interiors
Everyday Living
Life and Linda
At Home with Jemma
The Painted Apron
Home and Gardening with Liz
Harbour Breeze Home
Our Crafty Mom
Zucchini Sisters
Red Cottage Chronicles
My Thrift Store Addiction
White Arrows Home
Corner of Plaid and Paisley
Southern Nell Gracious Living
My Family Thyme
Blue Sky at Home
Intelligent Domestications
Living with Thanksgiving
The Little Yellow Corner Store
Design Morsels
Calypso in the Country