What a difference a week makes! Today the sun was shining and temperatures reached 12 degrees. It actually feels like spring. I think we are all anxious for spring to really settle in and are embracing decorating our homes for the season. With Easter on the doorstep I am delighted to be sharing my easy spring table decor as part of a blog hop full of beautiful spring tablescapes to inspire you, whether you are hosting a crowd or just a few! If you are just hopping over from visiting Meg at Green With Decor, welcome, I am so glad you stopped by.
There are 25 incredibly talented bloggers sharing their spring tablescapes this week, so be sure to check out all the links at the end of this post. You don't want to miss all the spring table decor ideas.
If you visited last week, you may have seen another tablescape I did for spring. I went in an entirely different direction this time. Instead of lots of bright colors, I wanted a softer, neutral toned table with just a pop of soft colour.
The only thing I bought to decorate the table this week was a $6 bunch of pink tulips for the centre of the table. I snipped the heads of some Ranunculus that were left from last week, and placed them on the white plates to add a bit of dimension.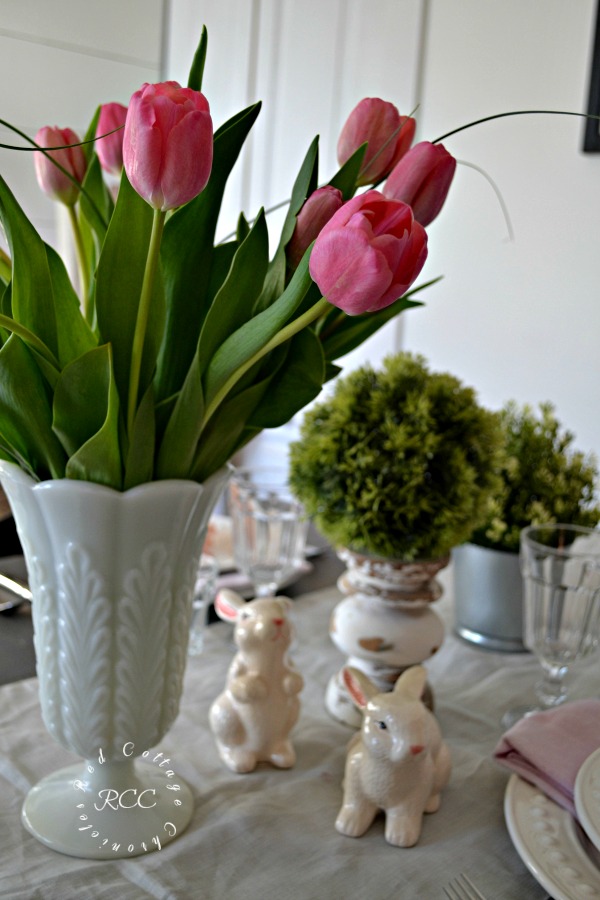 The white plates are our everyday plates. I picked them up at Home Sense, and they are a lovely heavy white porcelain. I love white plates, and the detailed edge of these plates add just a little something.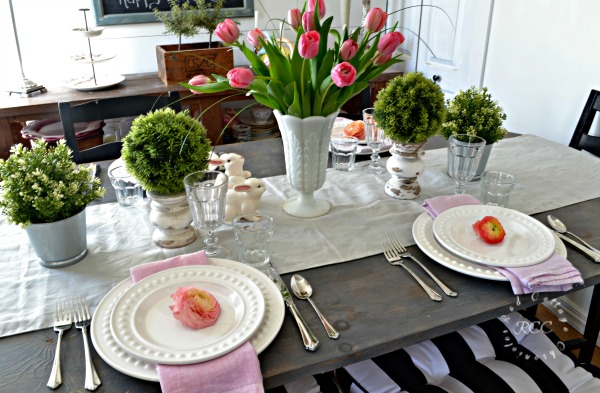 Since nothing is really blooming outside yet, we are enjoying watching everything green up. I pulled from my collection of faux plants to bring some of that green to the table. The two on either end are from Ikea, and just placed in tin pots. The two faux green balls are from the dollar store. I have had them for years. I placed them on some candlesticks I upcycled from a thrift store. They usually hold a plate on top and make the cutest little mini cake stands, but this time I just wanted to use them to add a bit of height and contrast for the greenery.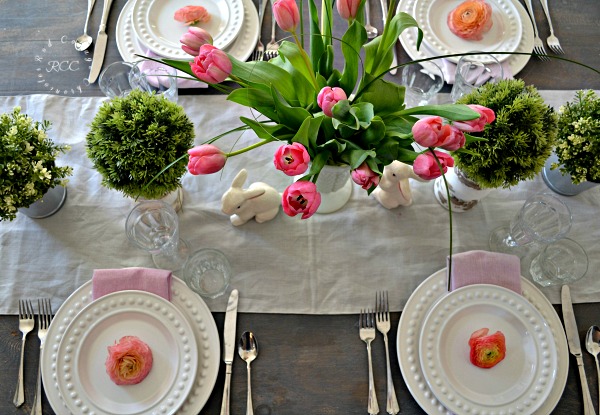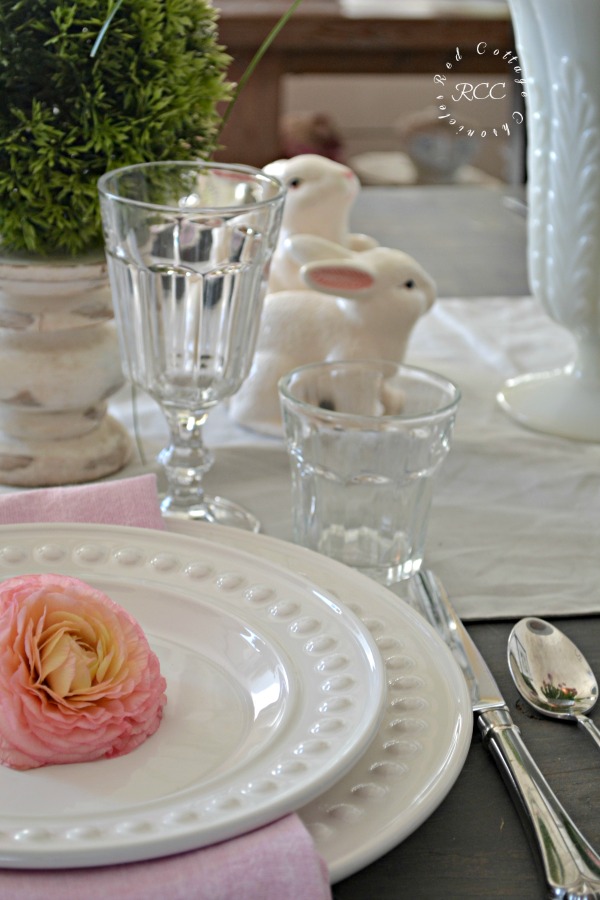 I also used our everyday glassware. Also from Ikea, it is super inexpensive and always in stock making it easy to replace when a piece gets broken.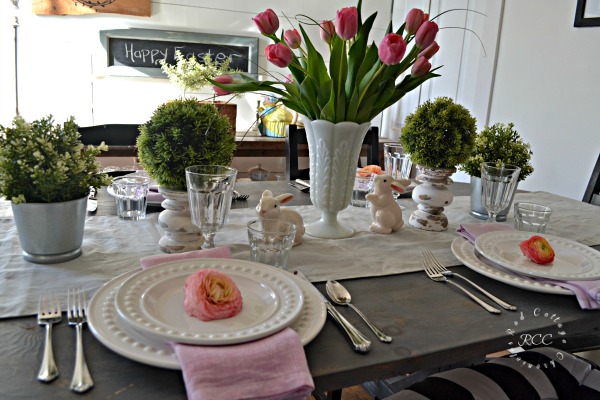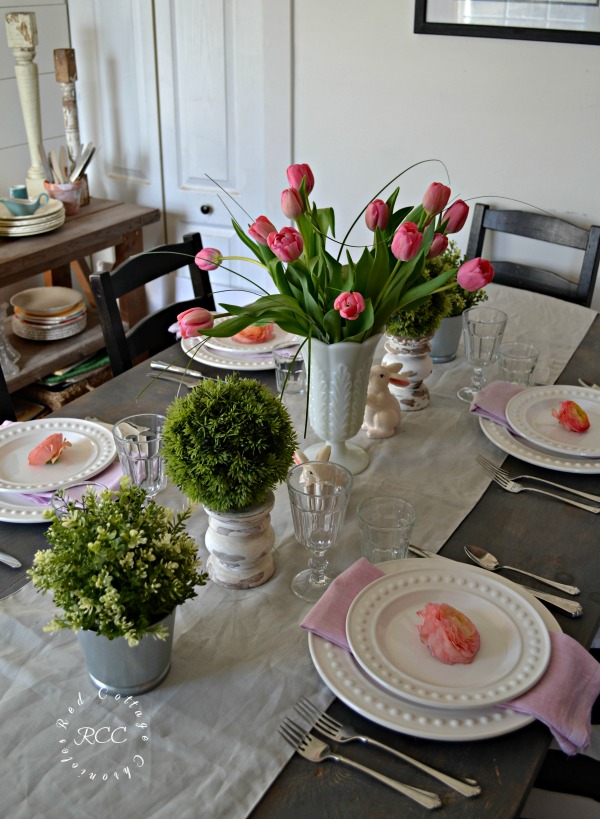 I resorted to "making" my own napkins. I have a bit of a thing for napkins, and I am running out of room to store them all. I had a new package of grain sack kitchen towels from Walmart and decided to die them a blush pink using some strawberry tea bags! Sometimes you just have to do what you have to do! After soaking them in very strong tea for about 10 minutes, I threw them in the dryer and then ironed them to set the color.
How is that for easy spring table decor!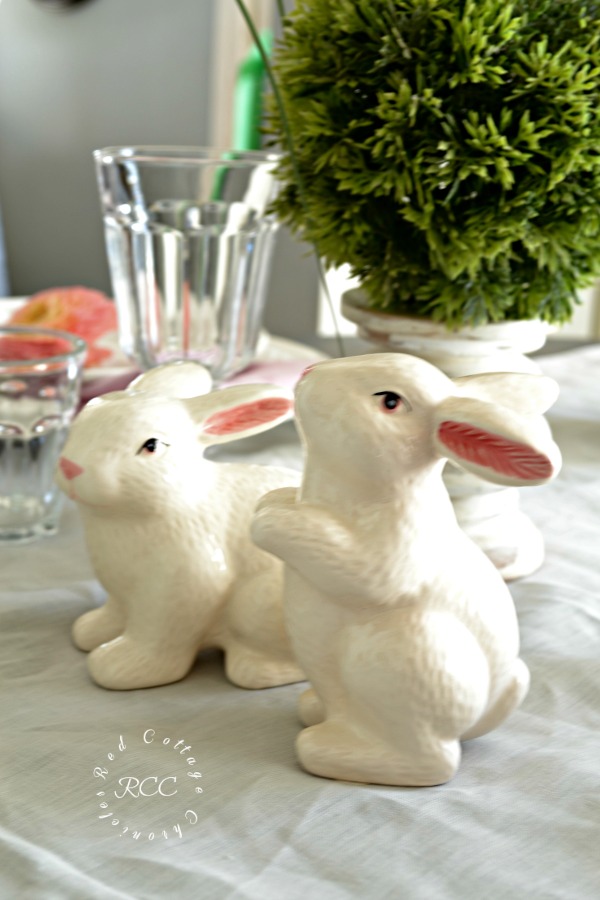 A couple of dollar store bunnies are finding their way all over the house this Easter! I couldn't resist adding them to the table.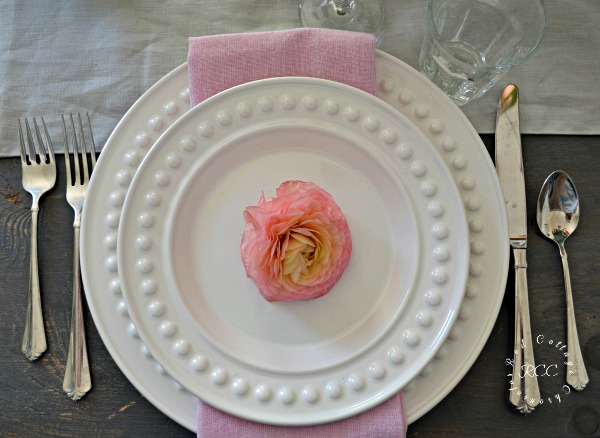 Thank you for visiting today! If you take anything away from today's post, I hope it is that you come to realize that tablescapes don't have to be complicated or fussy. Just pull together what pleases you from around your home, pick up a bunch of fresh flowers and most of all, slow down and enjoy the beauty of a pretty table and all the people who gather around it!
Up next is Samantha from Little Bits Of Home to see her gorgeous spring table decor! Links to all the bloggers are below, you won't want to miss anyone!