So, you bought some grocery store flowers. Now what? Today I am going to show you how to arrange grocery store flowers so they look like they came from a florist!
At the top of my shopping list every week is fresh flowers. Even this time of year when my garden is producing some showy blooms I still pick up a bouquet or two from the market or the store. I rarely spend more than $10-12 dollars this time of year and I think it is an affordable luxury we all deserve.
Knowing how to arrange grocery store flowers like a pro is always good to know whether you are just decorating your home, entertaining or giving them as a gift. I can assure you it is as simple as could be.
Flowering arranging isn't want it used to be, and I couldn't be happier. Gone are the symmetrical styled bouquets and in their place are free style arrangements with an anything goes kind of look. A look that evokes casual, rustic and farmhouse style. And, depending on the type of flowers you purchase they can go with any style.
I promise I am working on my video skills so I can bring you video tutorials on flowering arranging (and other things!), but for now I have photographed the steps I take to create a custom bouquet from grocery store flowers and garden clippings!
How to Arrange Grocery Store Flowers
This week I choose some soft pink roses, deep pink ranunculus, and white chrysanthemums.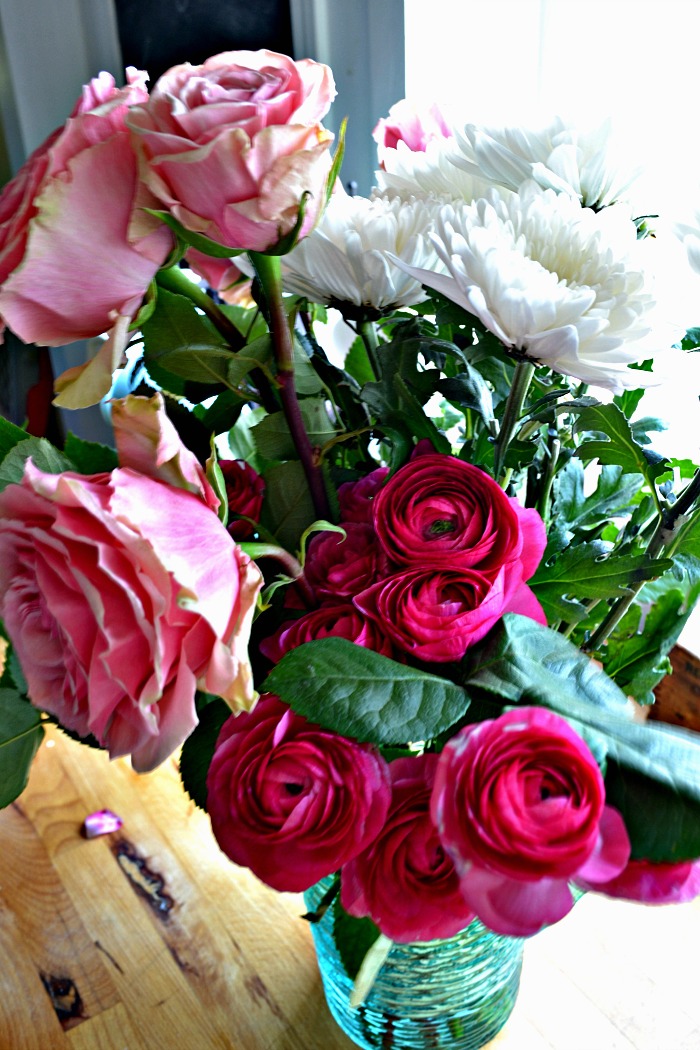 After you have chosen your flowers, take a wander around your yard (or a maybe even a neighbours yard if you ask nicely) and clip whatever greenery that catches your eye. I clipped a few stems of peony leaves, some soft and willowy greenery from a shrub in the yard, and some Queen Anne's Lace and Lamb's Ear that grows wild in the parks around us.
Choose a vessel that goes with your overall style. I have a couple of these enamel jugs I picked up at flea markets and use them often.
Begin by filling your vase with the greenery to create a base that will also serve to hold the flower stems in place. I started with the peony leaves and the wispy branches, then filled in with the Lamb's Ear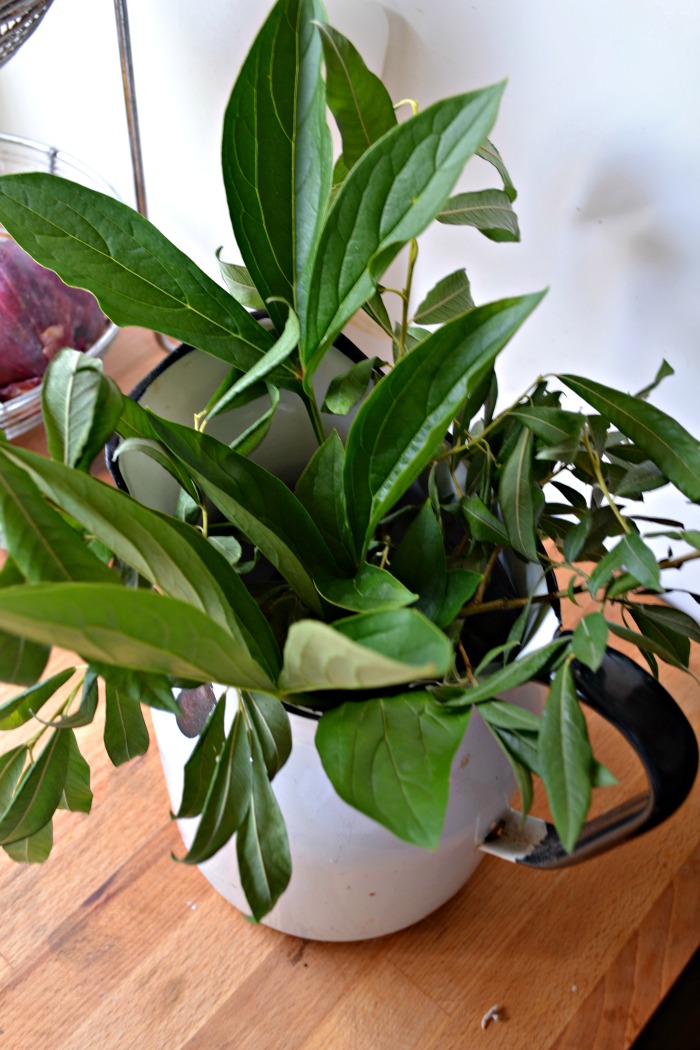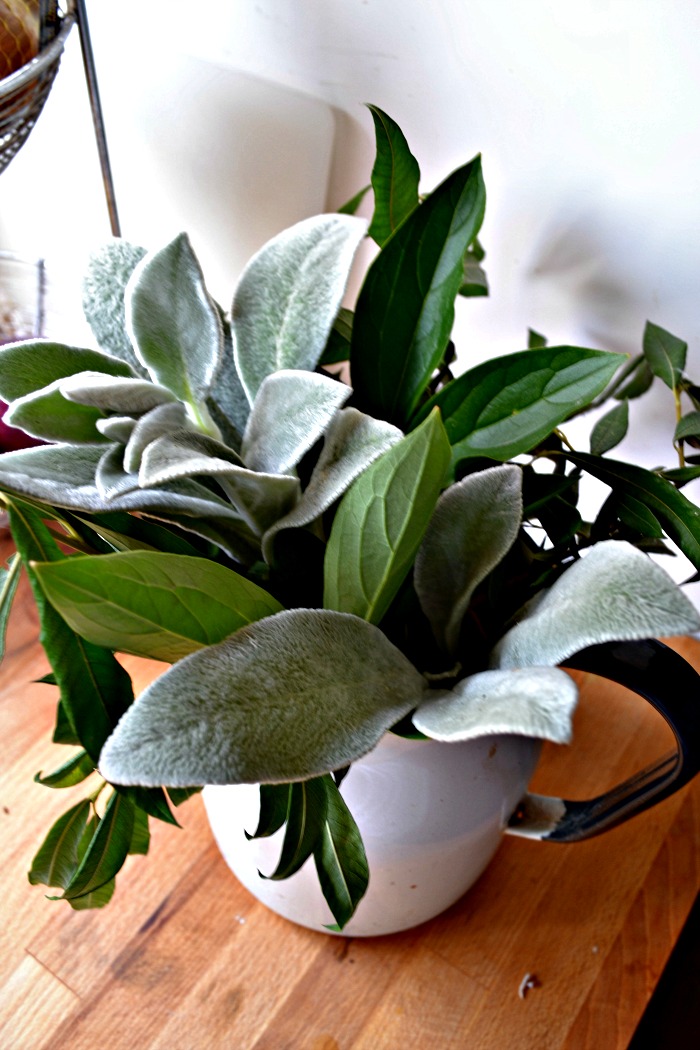 You can see that you will now have a nice solid base and are ready to add in some blooms.
Tip # 1 Start with the largest blooms and fill in with the smaller ones
I picked the roses for their size and their colour, however I wanted to open them up to show just how gorgeous they were. This is really easy to do by holding the stem upside down between the palms of your hands and rub your palms together. The bloom will open up and fan out easily.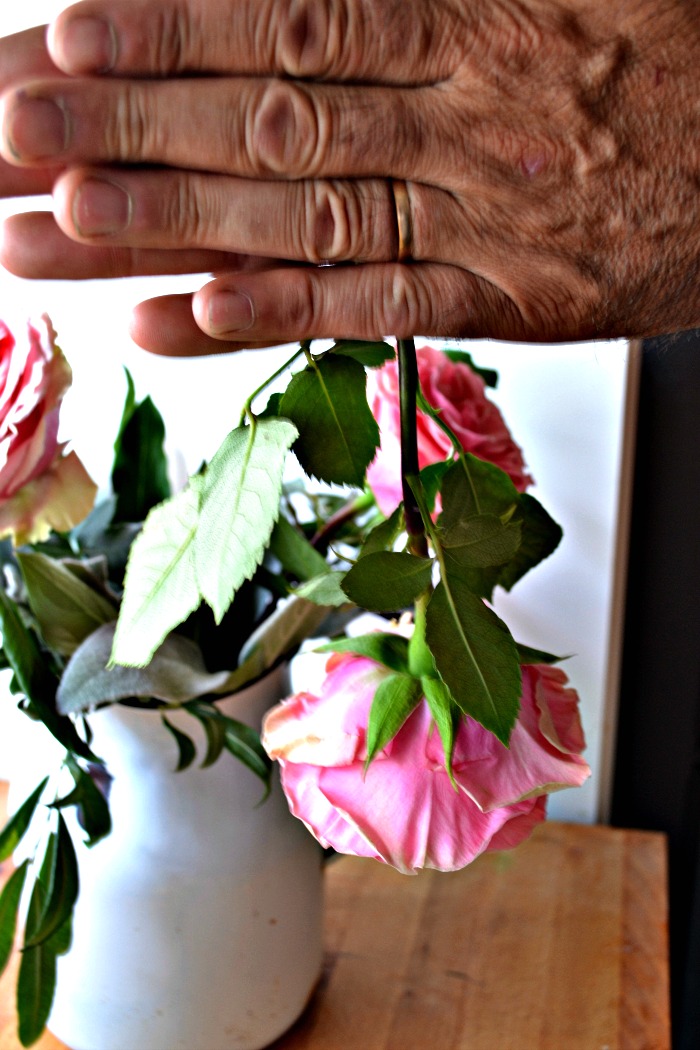 Tip # 2 Always strip off any leaves that may sit below the water line.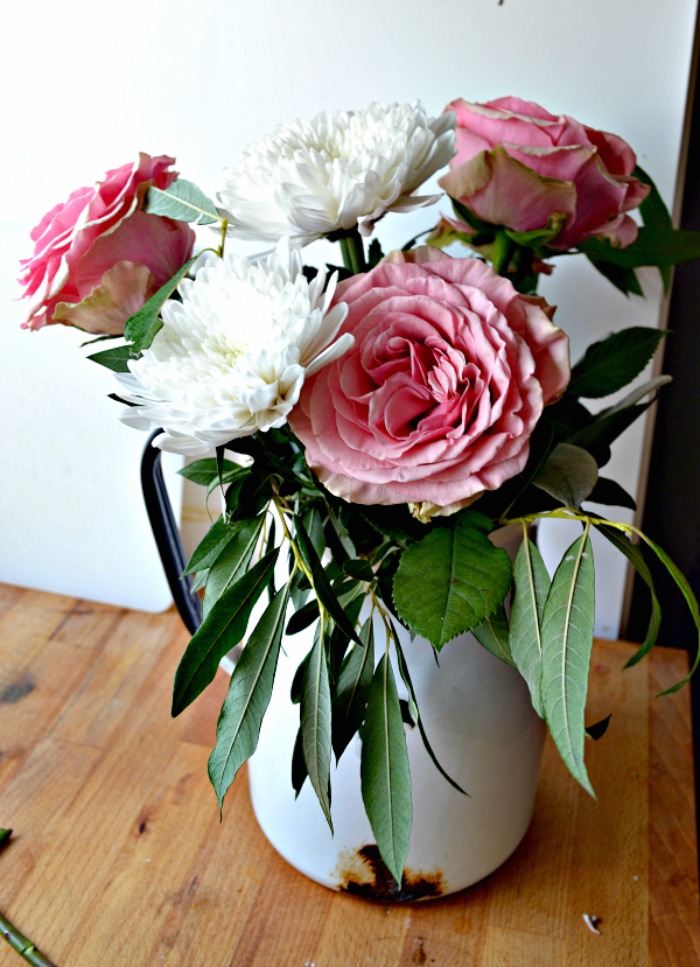 I started by arranging 3 of the large roses amongst the greenery and then added in the mums. You will notice that I have cut the blooms at different heights. Some tucked down closer to the greens and some sitting up a bit taller.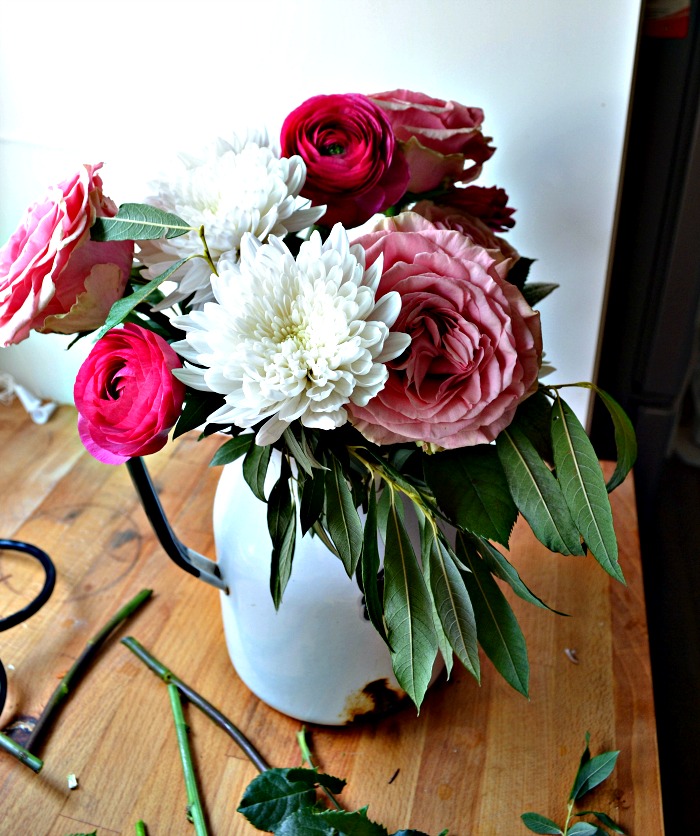 After you are happy with the arrangement of the larger blooms (and there is no right or wrong – as long as it is pleasing to your eye), begin to fill in with the smaller blooms. In this case it is the bright pink ranunculus. Again I tucked some down into the arrangement and others are tall, adding dimension to the arrangement.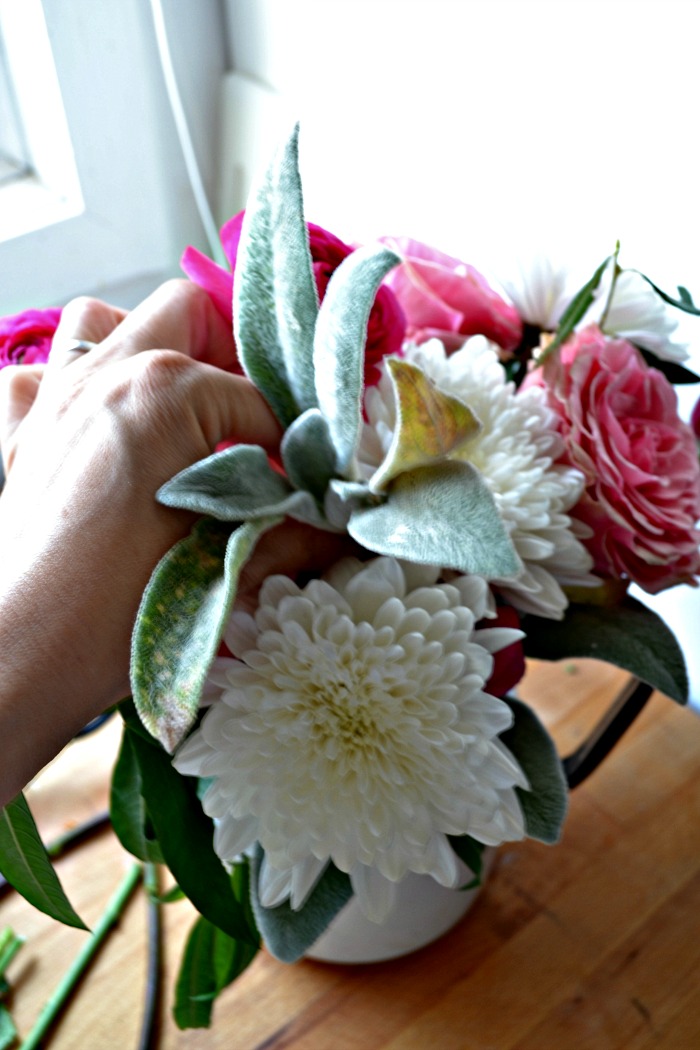 Be sure to turn your arrangement around as you work to view it from all sides. Sometimes it will mean you move a bloom or two from one place to another, to achieve the look you want.
Once you are happy with the number of blooms in your arrangement, you can fill in any spaces or gaps with more greenery. This is why I love Lamb's Ear because it is perfect for filling in the gaps and still looking really nice.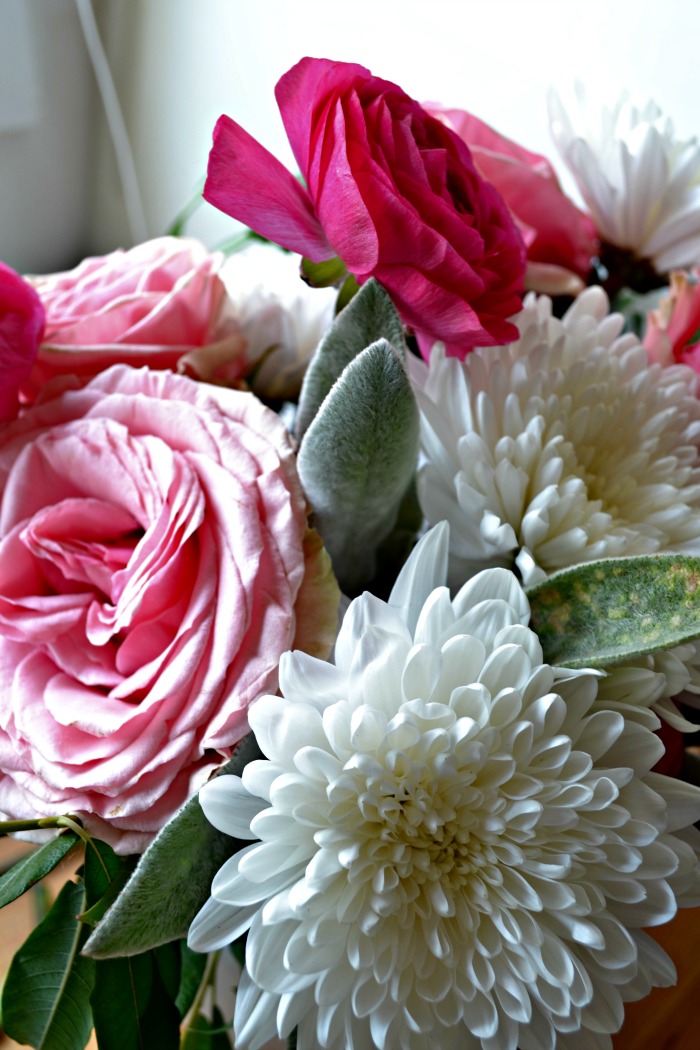 Because it is someone on the "floppy" side, I tuck the Lamb's Ear down and leave just a bit of the petals sticking up. This also serves to add further dimension and interest to your arrangement.
In my opinion, by adding in blooms and greens of different heights your arrangement will have a very organic look which is exactly what makes it your own!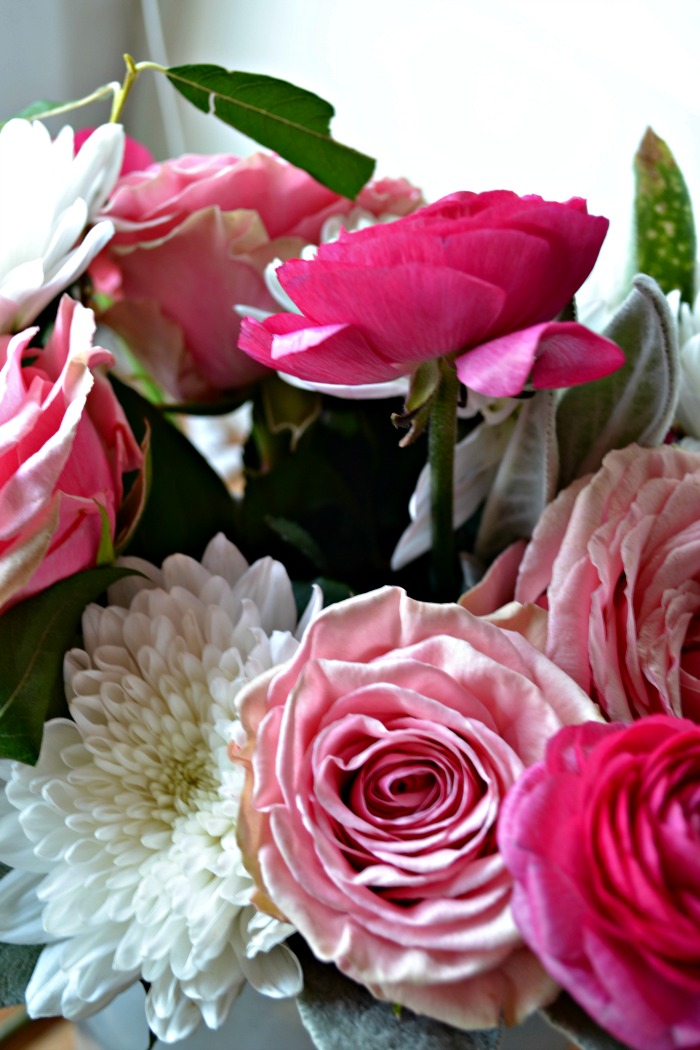 Tip # 3 Don't be afraid to move blooms around in the arrangement instead of adding in too many
In the above photo you will notice the stem of the ranunculus sticks out like a sore thumb! I didn't want to add any more flowers, so I filled in the gap by adding a bit of green and moving a smaller ranunculus to fill in that spot.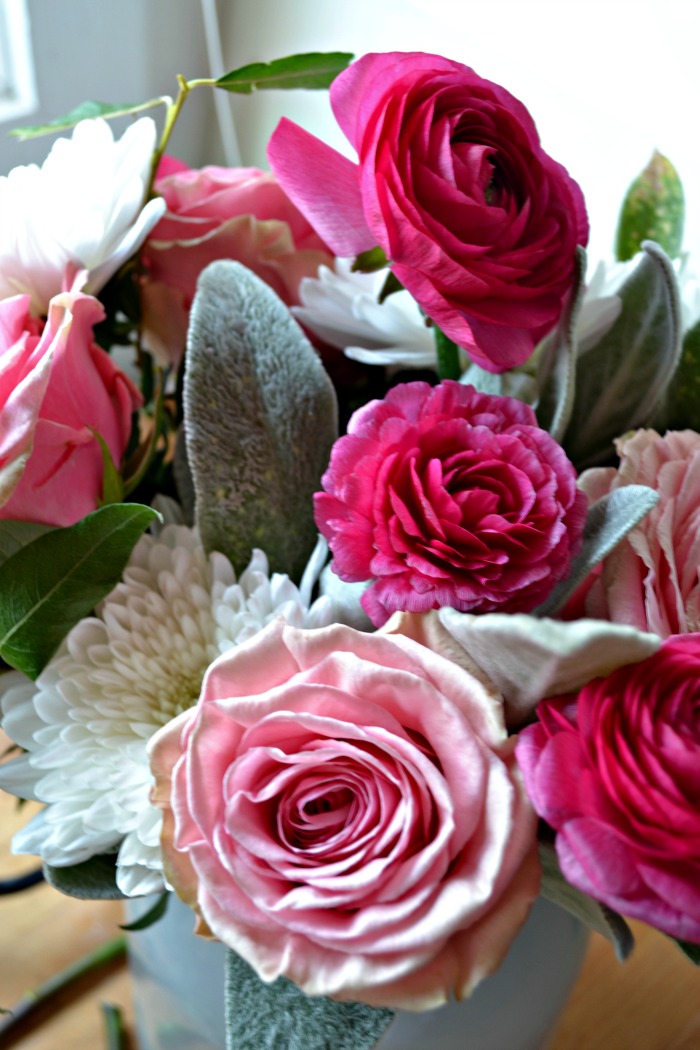 Tip # 4 You are not going for perfection. Remember, you are not going for perfect symmetry. Arranging flowers should make you happy, not frustrated!
I added in a few stems of Queen Anne's Lace and called it a day!
Take a step back and admire your beautiful new arrangement! Tweak it if you feel the need, but don't over think it! My guess is it is simply gorgeous just the way it is!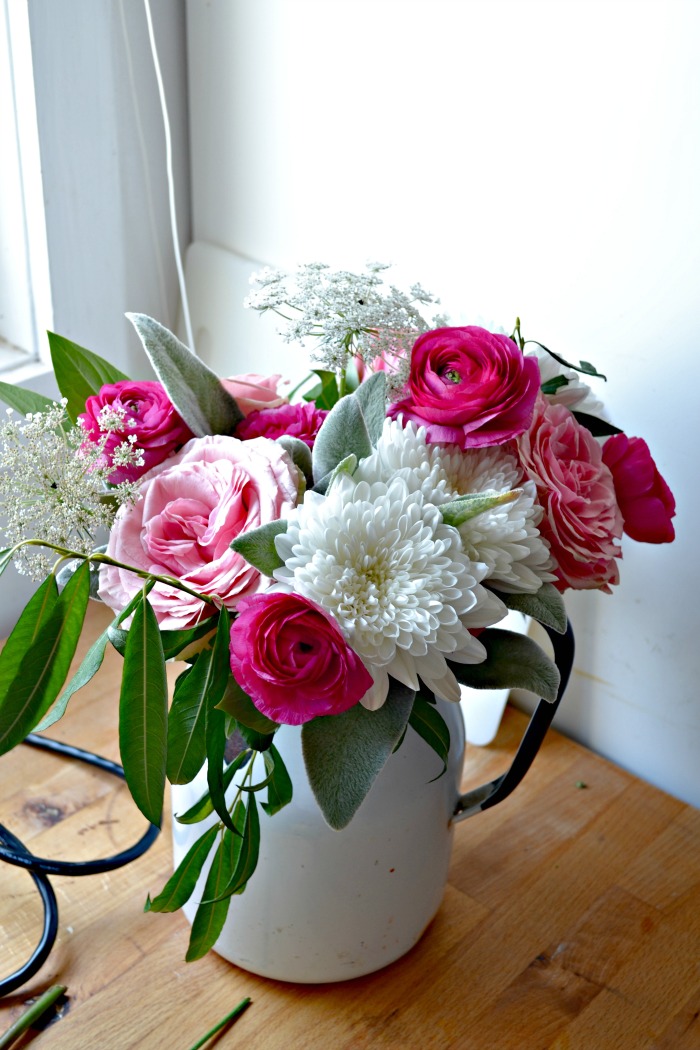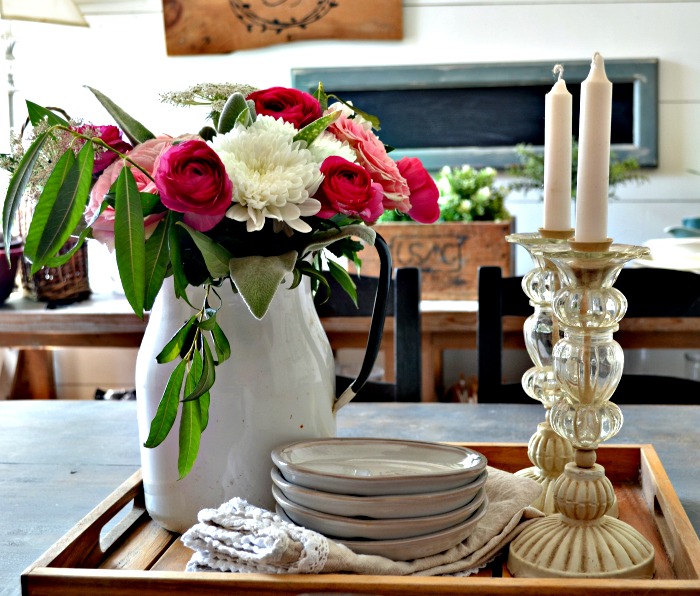 Tip # 5 Be sure to check the water level every day, and change the water every 3 days or so to ensure a long lasting arrangement.
And, that is how you arrange grocery store flowers like a pro!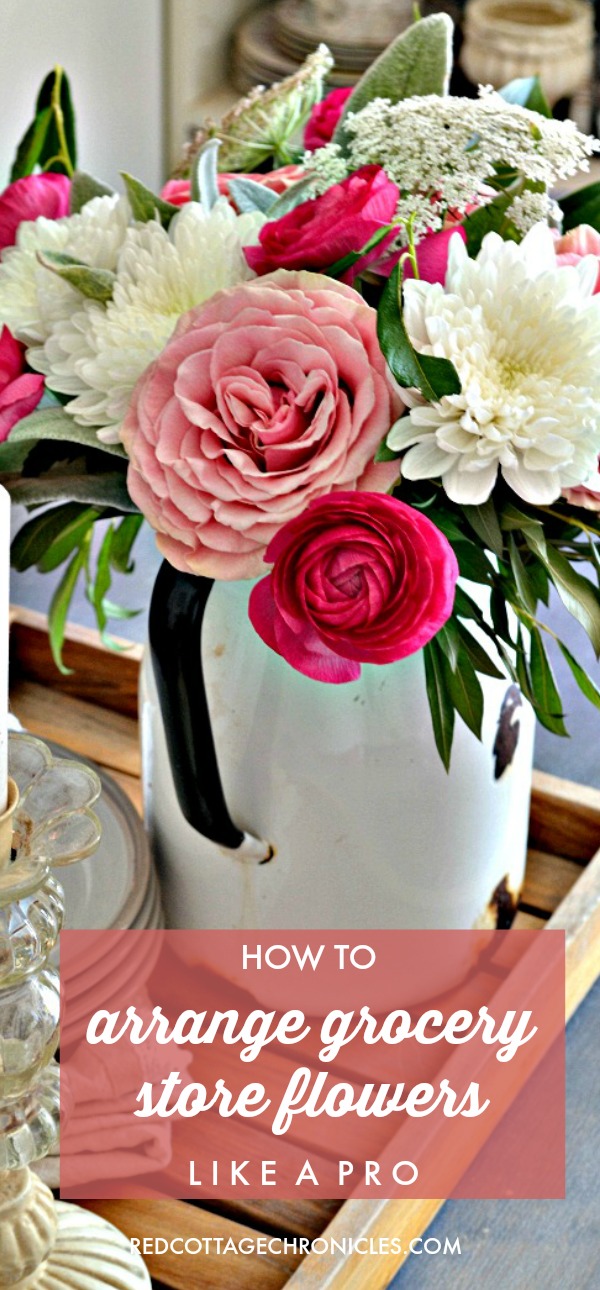 What are you waiting for? Next time you are at the grocery store treat yourself to a couple of bunches of flowers and create your own beautiful bouquet!
Until next time….