This week kicks off a monthly series featuring Mason jars. I am joining a group of wonderful craft and DIY bloggers each month to share Mason jar craft ideas. This month our theme was fall!
All the links are at the bottom of this post, but first up is my Mason Jar Vase.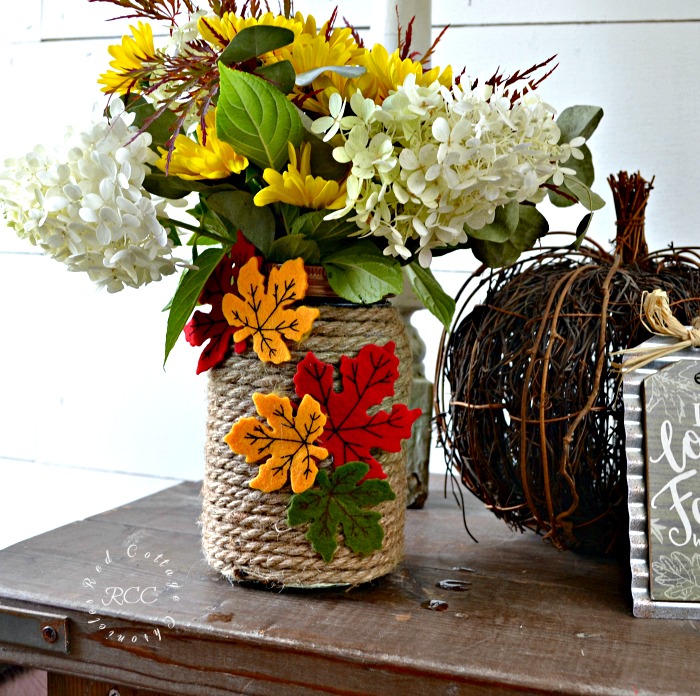 I don't really consider myself the crafty type. In fact, I think this project is the last "craft" I did. DIY I do. Decorate, I do. But, I really want to channel my inner crafter more often and I think this is just the challenge is just the thing to do that.
Autumn has always been my favourite season. I was that student who, by the beginning of August was already excited about the arrival of Labour Day. School would start again. I could finally put on jeans again. And knowing I could slip into a cozy sweater again brought a smile to my face.
You have to agree, there is just something about the fresh fall air. This summer has been over-the-top hot and humid.
We have noticed that we rarely see any neighbours outside, and have not even once noticed the smell of a grill being fired up. It seems everyone is indoors to keep cool in their air conditioned homes.
I have already started to add a few subtle touches of fall to our home. One of which is bringing flowers in the shades of fall, so it wasn't hard to decide exactly what I was going to do with my Mason jar.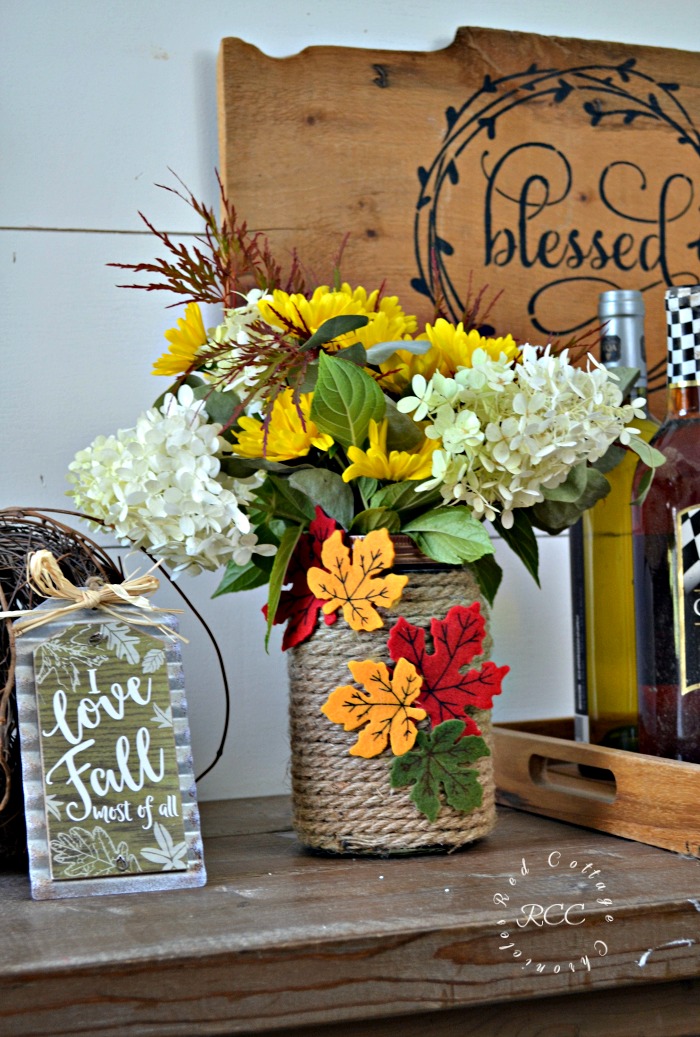 A vase of course!
This post contains affiliate links. If you make a purchase through an affiliate link I may earn a small commission!
The beauty of these Mason jar craft ideas that we are sharing today is that they cost very little money to make. I purchased most of my supplies at a local dollar store, however I like to provide these links in case you can't find what you need locally.
To make this Mason Jar Vase you will need:
Begin by laying your jar on its' side and apply a small strip of glue to the bottom edge.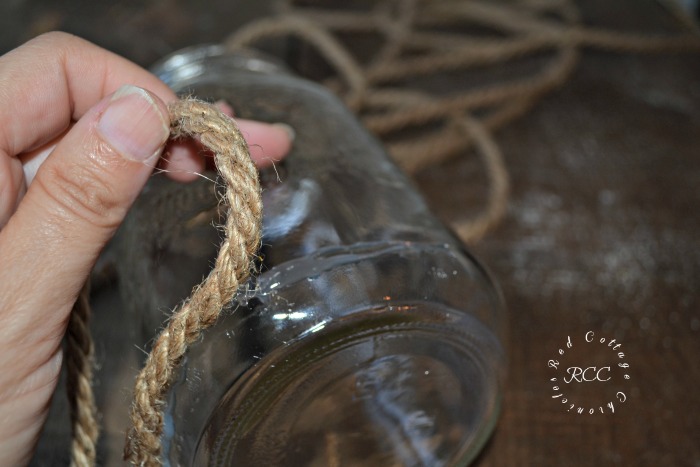 Carefully press the twine onto the glue. Repeat until you have one full row of twine glued into place.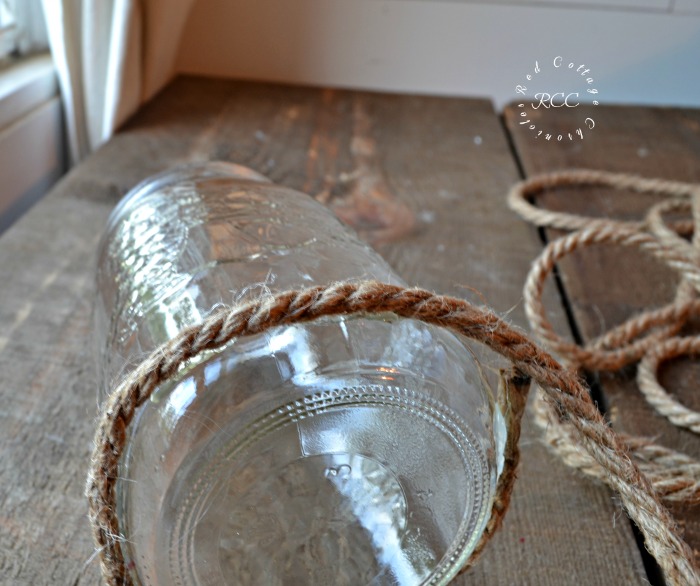 Continue to wind the twine around the jar, pulling it tightly, and pushing in to place as necessary to avoid any gaps between rows. Every two rows, or so, place a bead of glue and press he twine in place.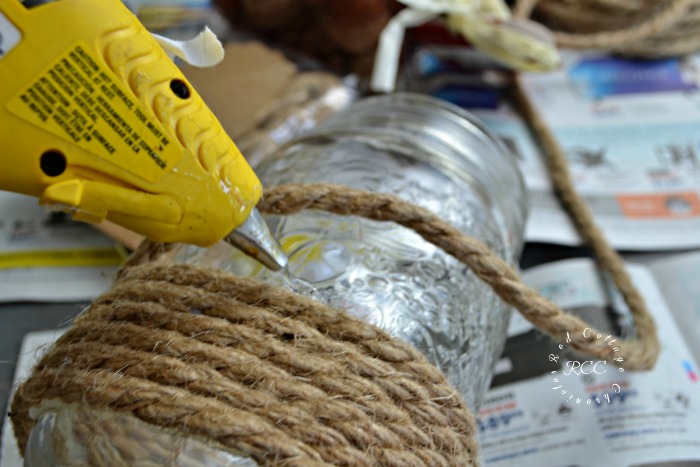 Again, continue this all the way to the top, stopping just under the lid threads.
Be sure to pull the twine tightly as you go, and push down into place if you notice gaps between rows.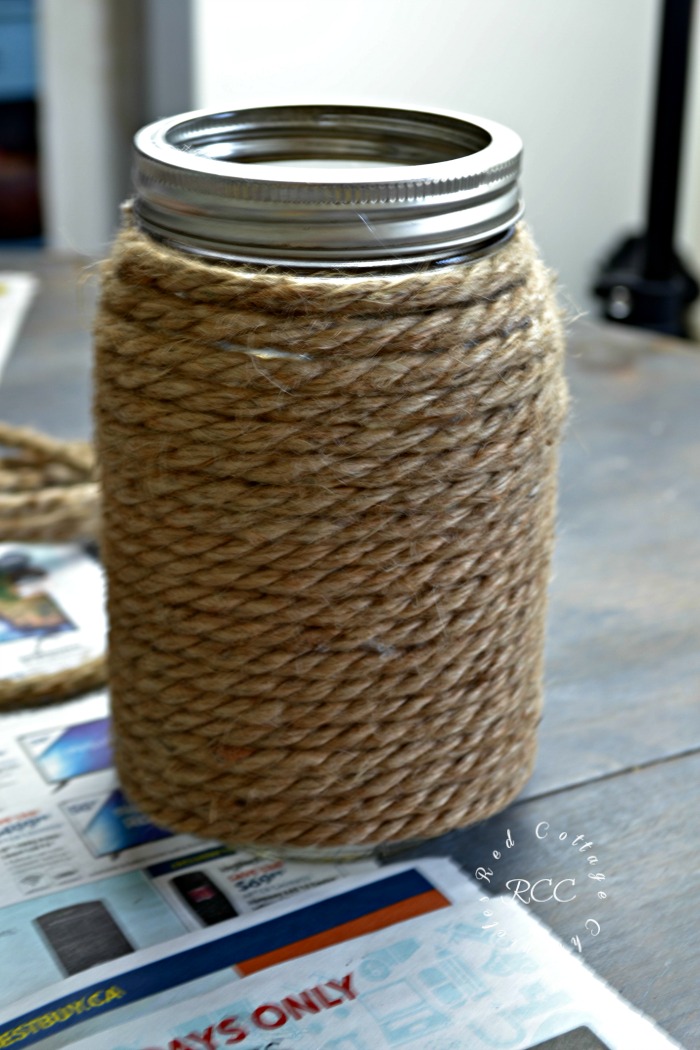 If you plan to paint your rim, and forgot to do it at the beginning (like I did), remove it from the jar and do so in a well ventilated area. Allow to dry completely before putting it back on.
Again, with your jar on its' side, place the felt leaves in a pattern that is pleasing to you. I decided on a cluster of three offset to one side, and another cluster of two at the top rim.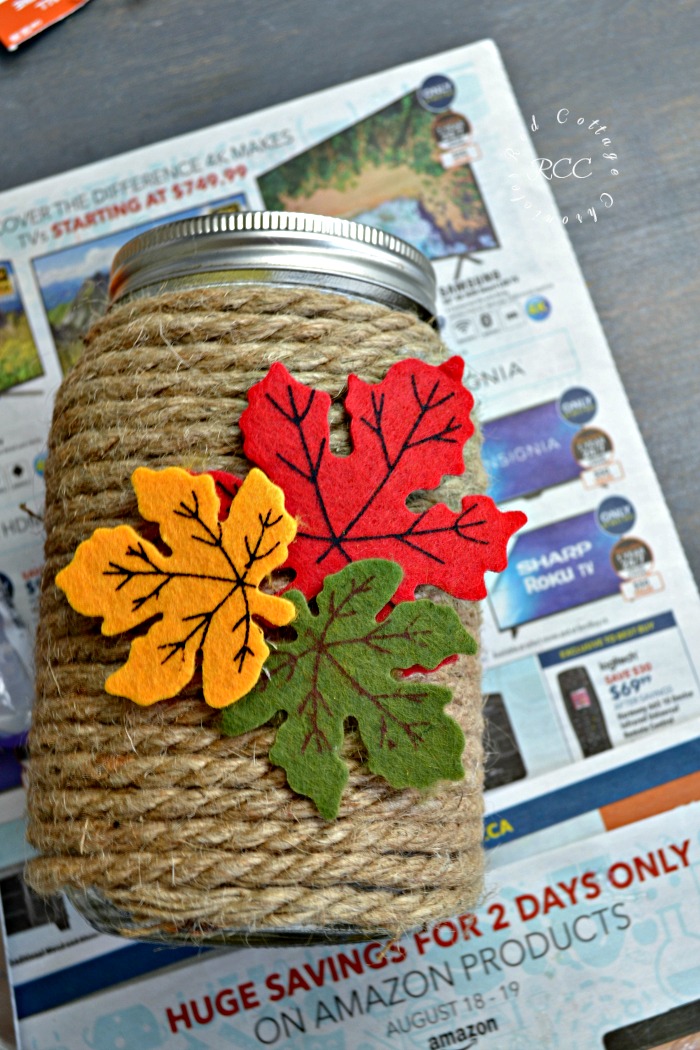 Once you are happy with the arrangement, glue the leaves into place.
That's it. That is all there is to it.
In less than 10 minutes and for under $5 you have an easy Mason jar vase.
I filled it with Limelight Hydrangea, and Japanese Red Maple leaves from my garden, and some yellow daisies from the grocery store. I had some silver dollar eucalyptus leftover from last week, and I tucked it in here and there for some additional autumn colour.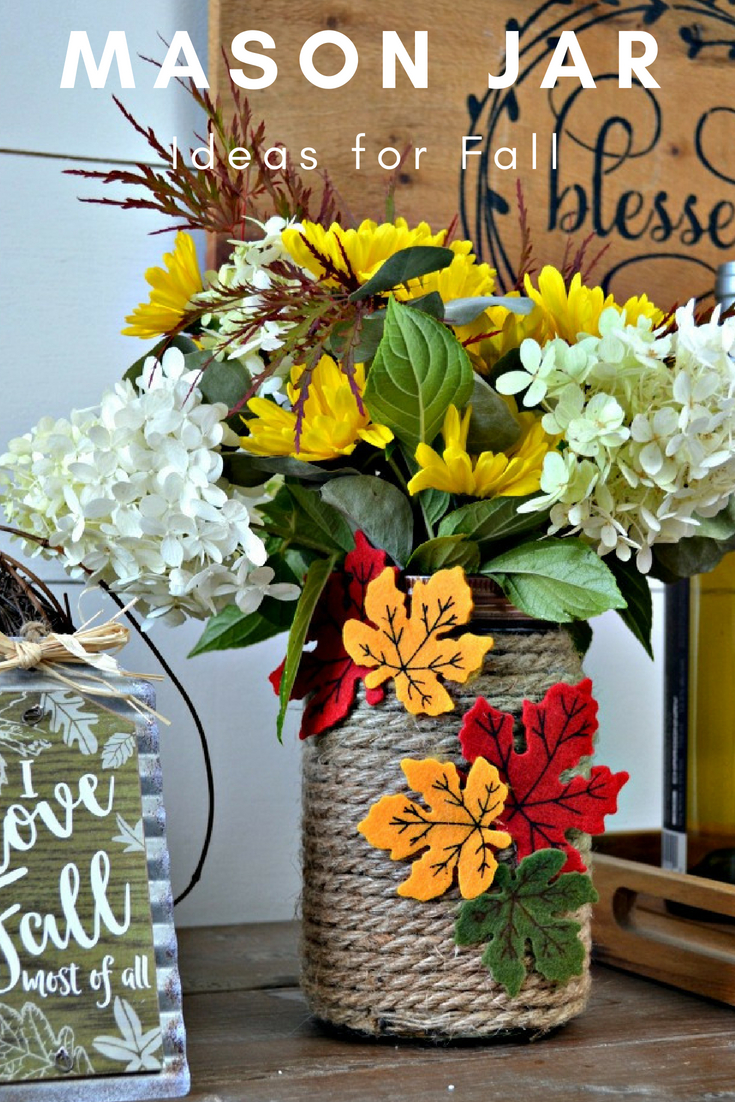 While this Mason jar project does certainly make the perfect vase for autumn flowers, it looks equally as charming adding a touch of fall in to kitchen!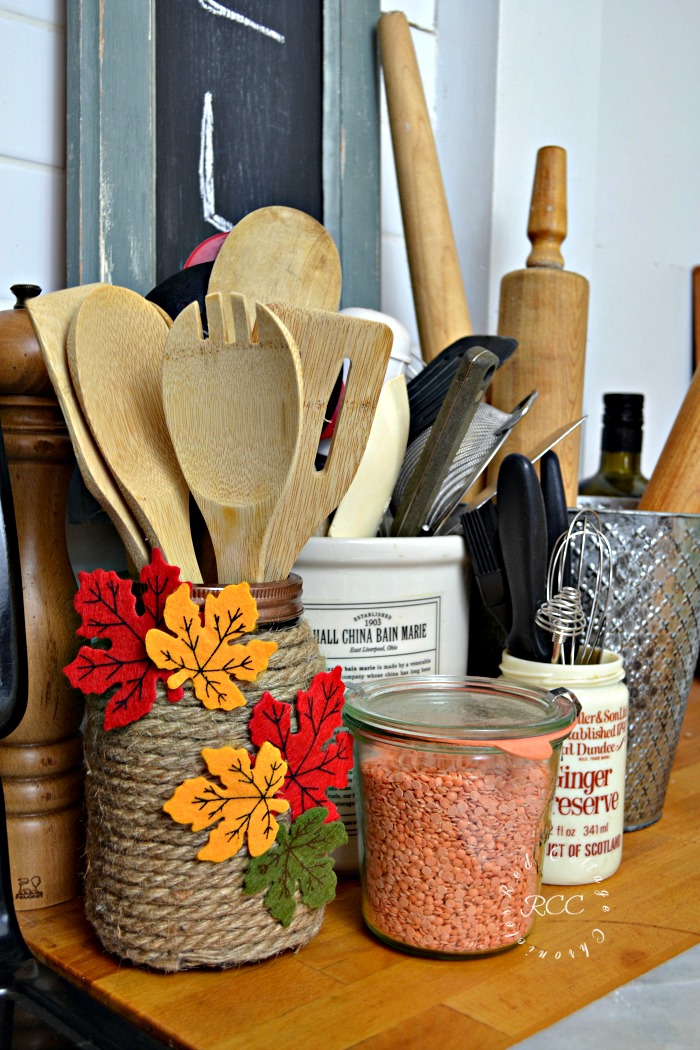 I am starting to think that maybe I am just a little bit crafty!!
What I know for sure is the ladies who are also sharing Mason Jar Craft Ideas for fall this week are definitely crafty! Just check out the links below to see all the autumn inspiration!
Until next time…..


Orange Buffalo Check Painted Mason Jar from Weekend Craft • Fall Mason Jar Craft Ideas from Red Cottage Chronicles • Apple Sugar Scrub from Happy Go Lucky • How to Make a Wooden Mason Jar from Create & Babble • Painted Plaid Mason Jar For Fall from Daily DIY Life • Easy To Make Mr & Mrs Scarecrow Mason Jar from Our Crafty Mom • Fall Leaf Mason Jar from Creative Ramblings • Fall Mason Jar Hanging Bird Feeder from Michelle James Designs