There is nothing quite as luxurious as dining alfresco on a warm summer evening. Today I am delighted to be part of a week-long blog hop hosted by Chloe from Celebrate and Decorate! Alfresco tablescape ideas is the theme this week and you will not be disappointed by the impressive range of ideas from all the bloggers this week. All the links are down below, and be sure to check back each day as the they go live!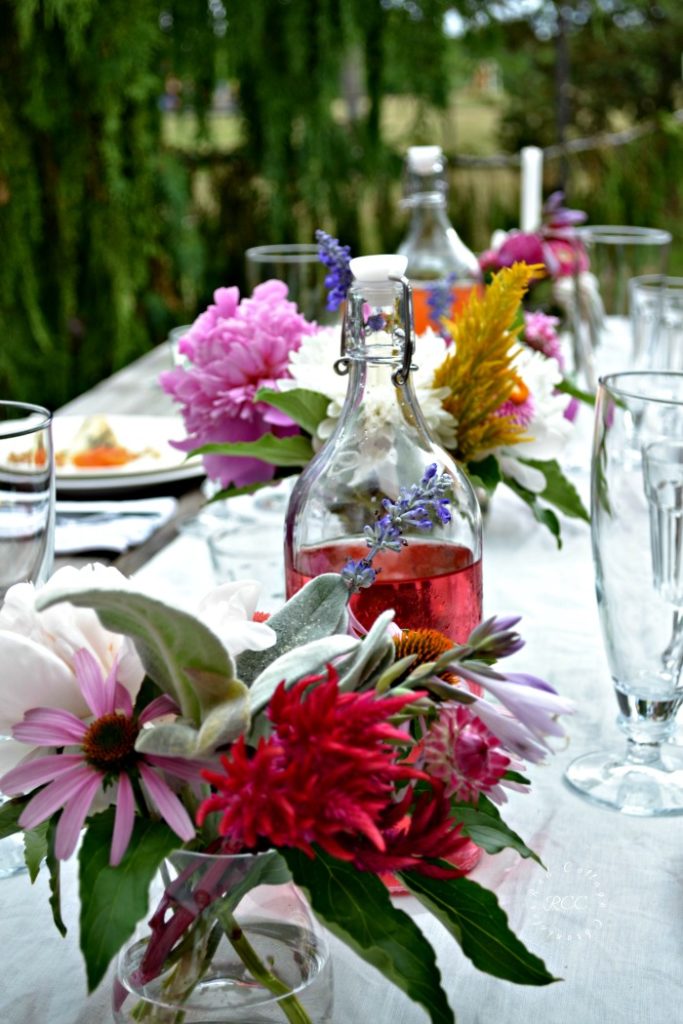 While it is well known that summer is my least favourite season, living in such a small home, summer gives us a chance to spread out and enjoy an evening of entertaining or a simple outdoor dinner for just us.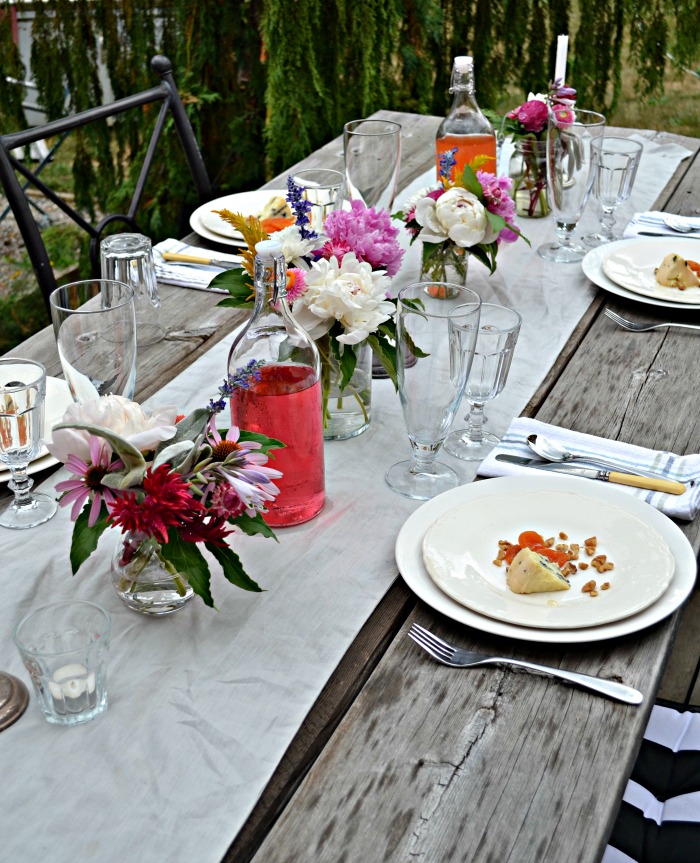 I almost feel guilty about calling this a tablescape, simply because I think it encompasses all the things dining alfresco represents. Easy, relaxed and slow. I have always though the table decor should be effortless so as to enhance atmosphere that the natural landscape provides.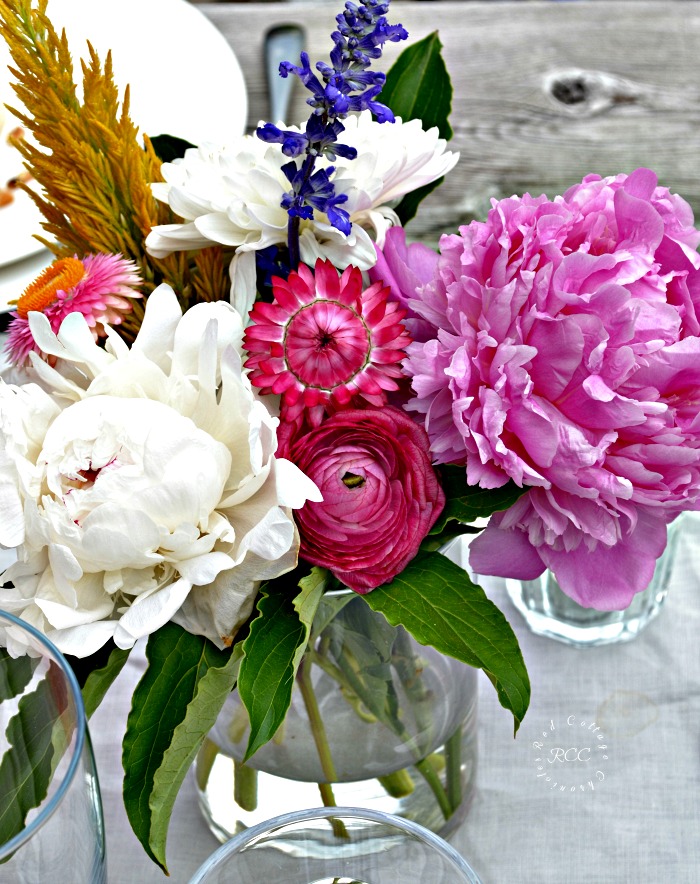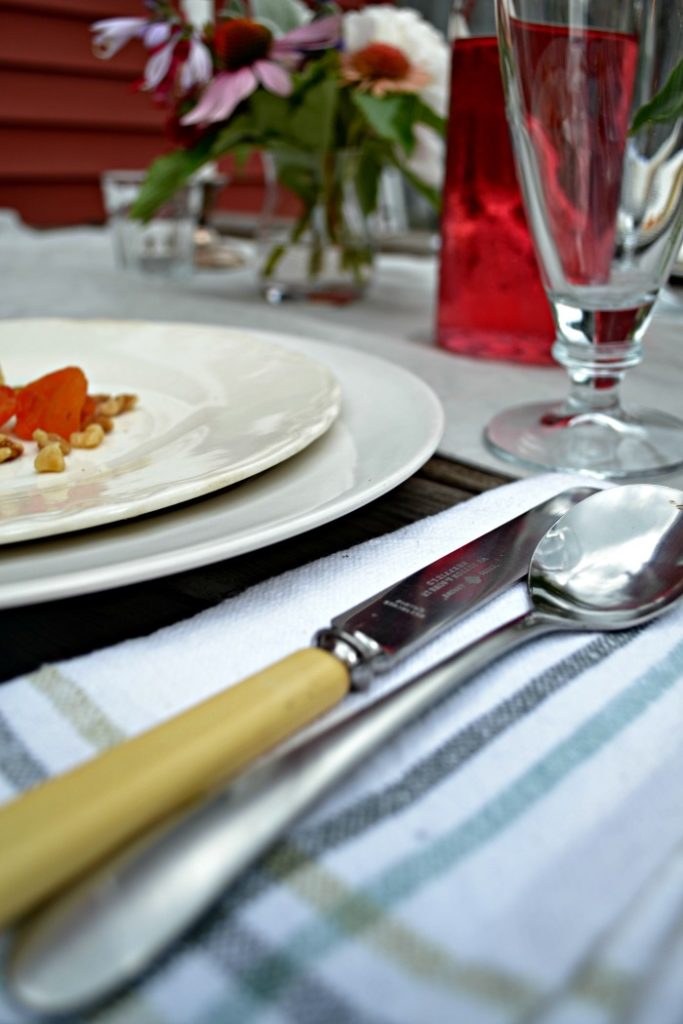 It gives us all the chance to enjoy the chirping of the birds and watching them dart in and out of the birdhouses nearby. To listen to the fountain spilling into the pond in the background of animated conversation that can go on into the wee hours! I treat each alfresco meal a simple luxury that need not be forced or too fussy.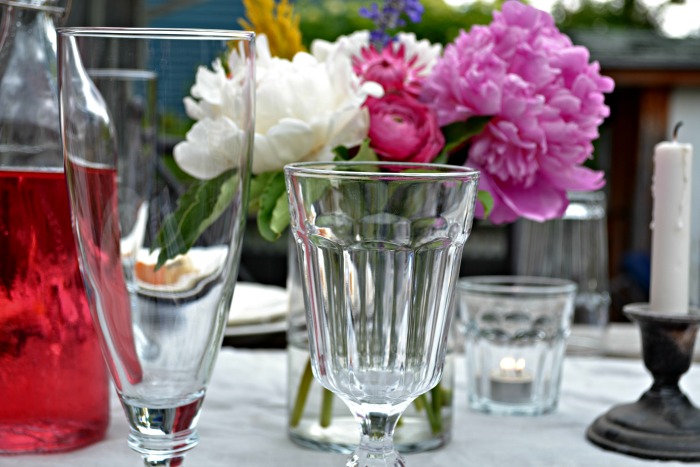 Simple white plate stack, cotton napkins and mixing antique flatware with brand new. Simple Ikea wine glasses paired with thrift store finds make sure everyone at the table has plenty to drink. Be it sparkling water, chilled juice or wine.
When dining out doors I rarely use a tablecloth, instead allowing the weathered wood of our harvest table to show. A simple linen runner is the backdrop to simple bouquets made by "arranging" market flowers into little glass jars and bottles.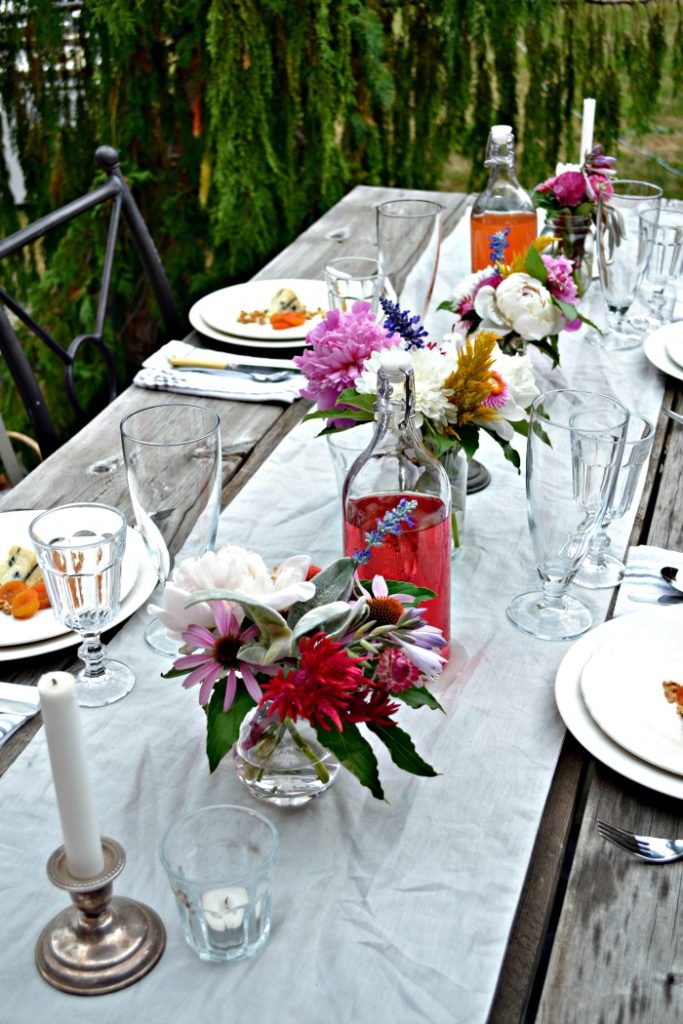 Chilled beverages are served chilled in Ikea bottles. Juice glasses hold tealight candles and mismatched candle sticks hold simple white tapers.
I decided to serve a plated appetizer of Stilton blue cheese drizzled in with honey, dried apricots and a sprinkled of toasted walnuts.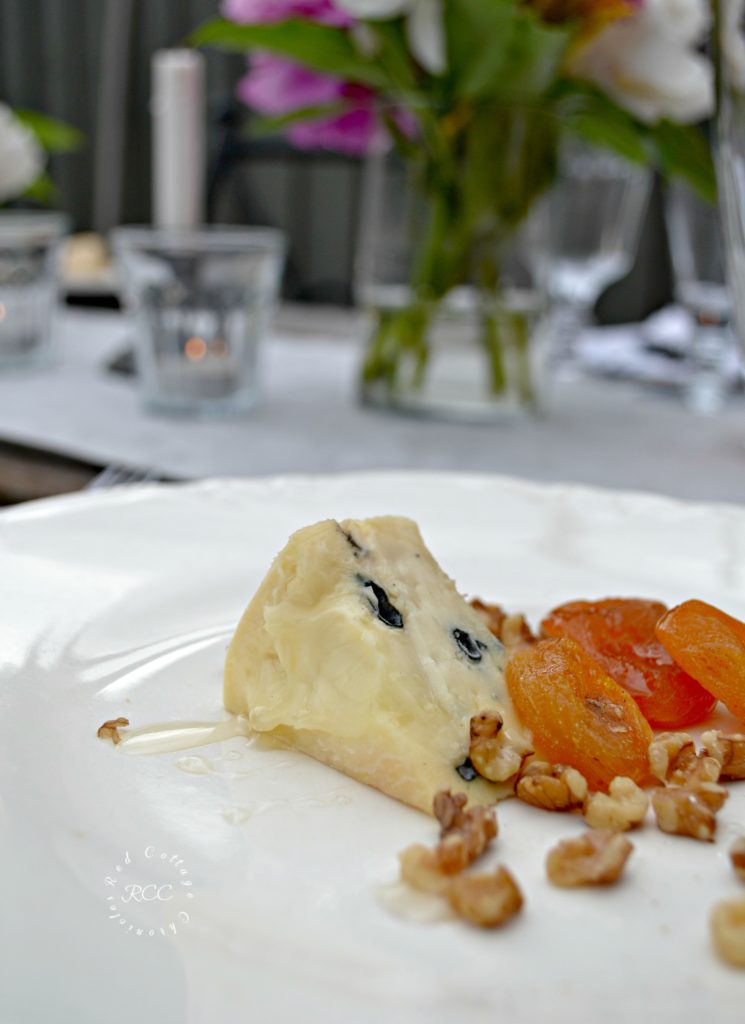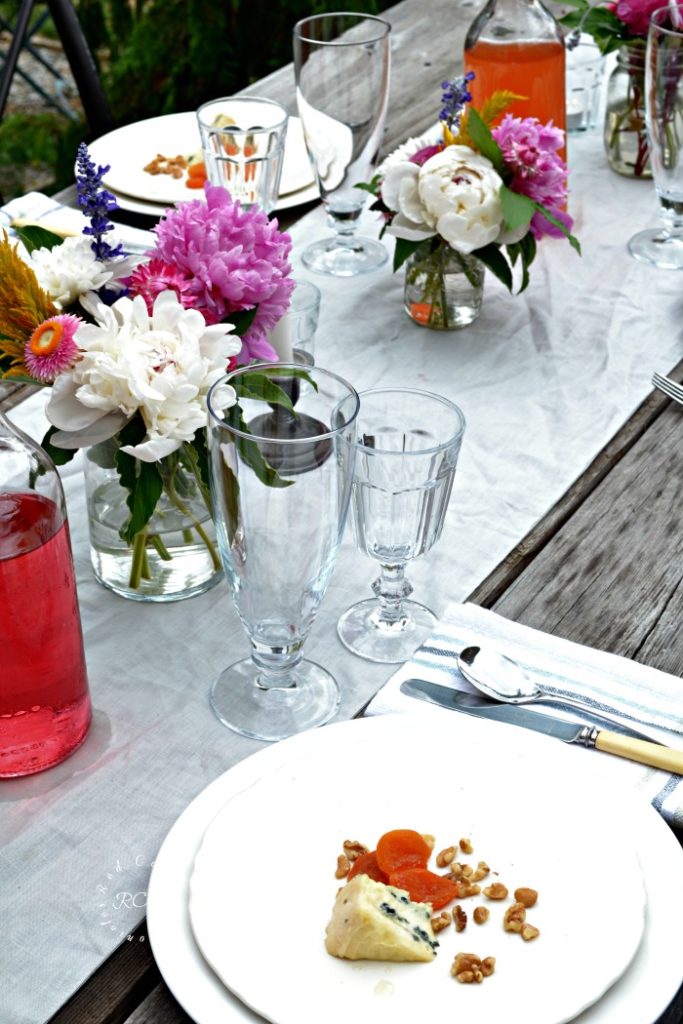 It has been so incredibly hot and humid here this summer, but by evening a bit of a breeze had settled in. The sun had moved over to the front of the house, so it made for a comfortable evening.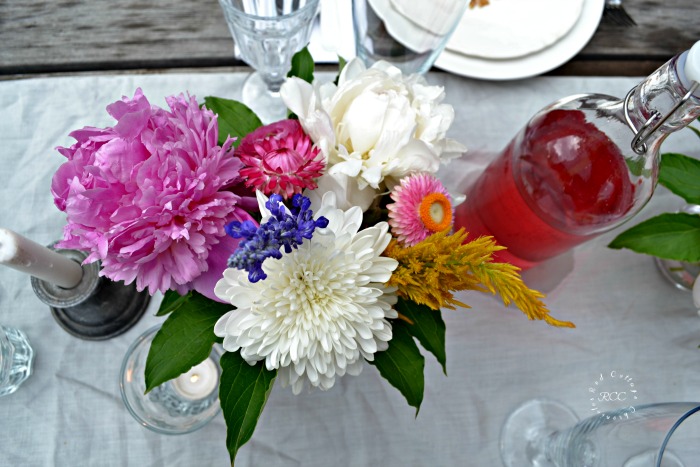 My husband commented recently how quiet the neighbourhood as been with neighbours choosing to stay indoors in the air conditioning rather than spend any more time than necessary outside. One more reason to dine outdoors late into the evening when the sun is going down and the temperatures cool off a bit!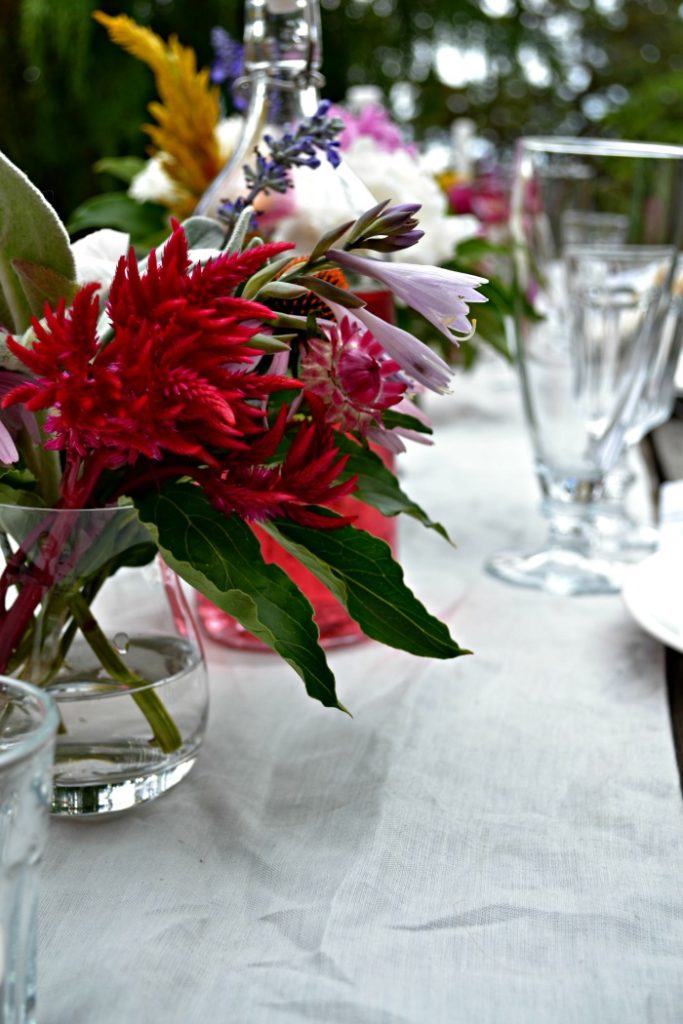 Sometimes it is just the Mr and I enjoying a dinner outdoors, and these dinners usually end up being the best. We spend time dreaming and planning, and scribbling landscape plans on scrap paper.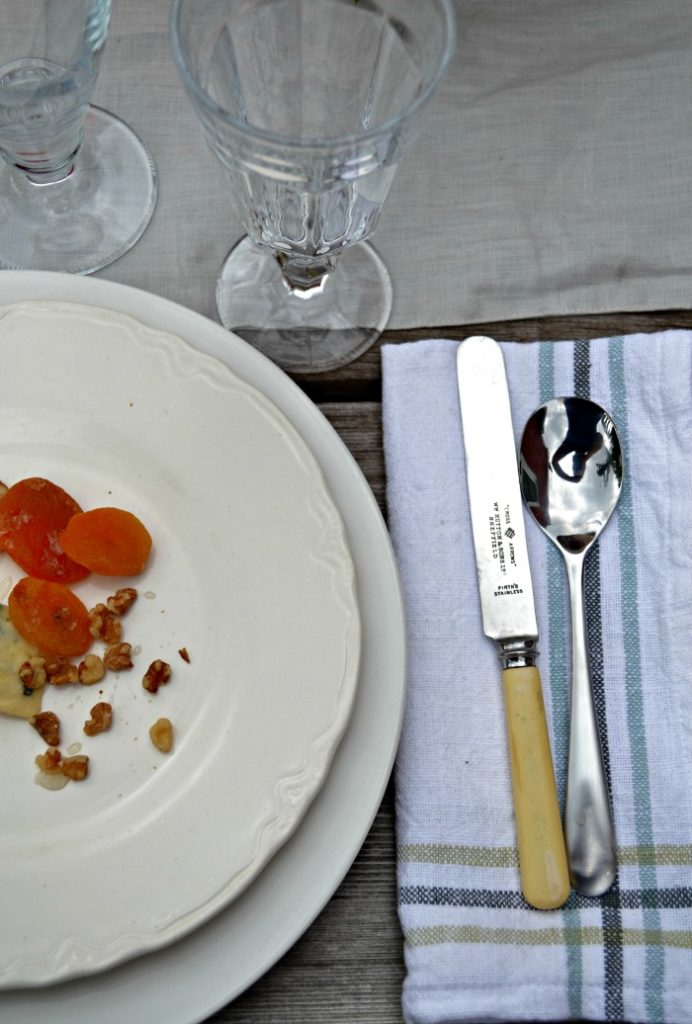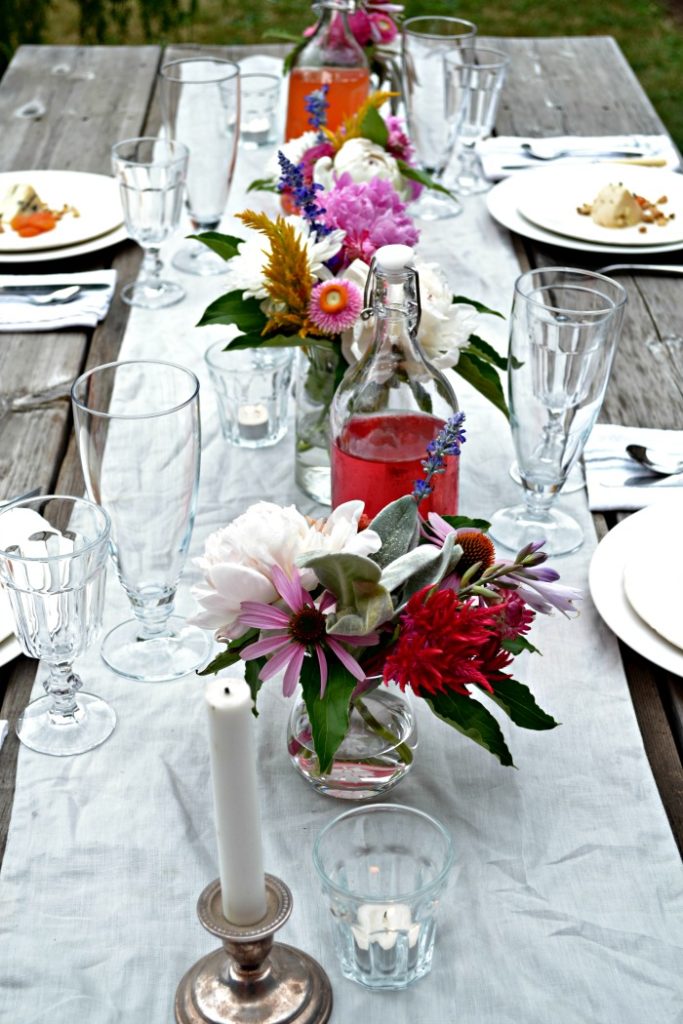 Just a few more pictures! I am so pleased with how the flowers were super easy, yet make such a pretty statement!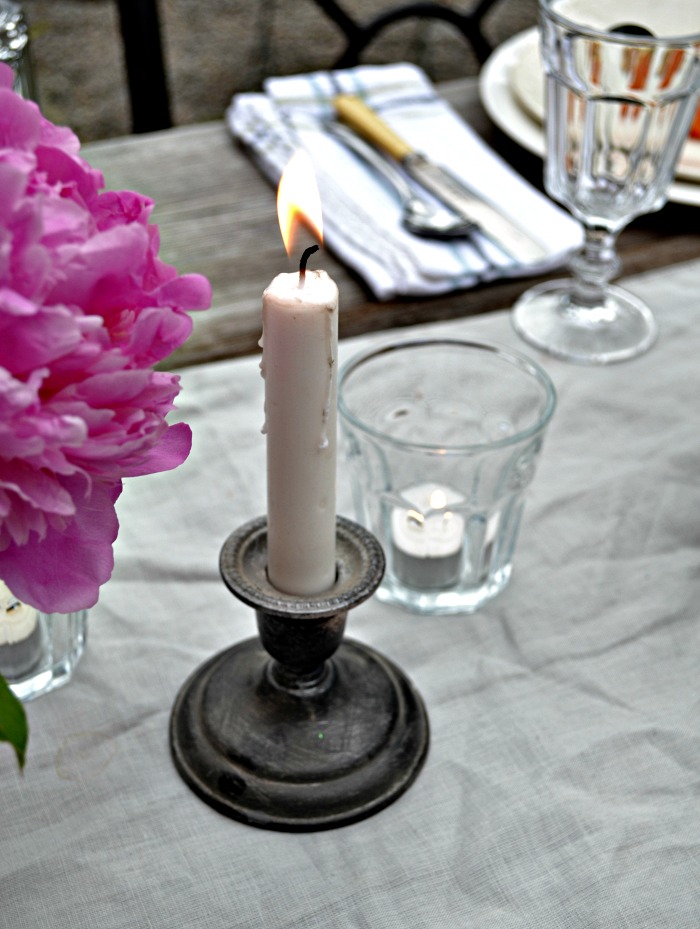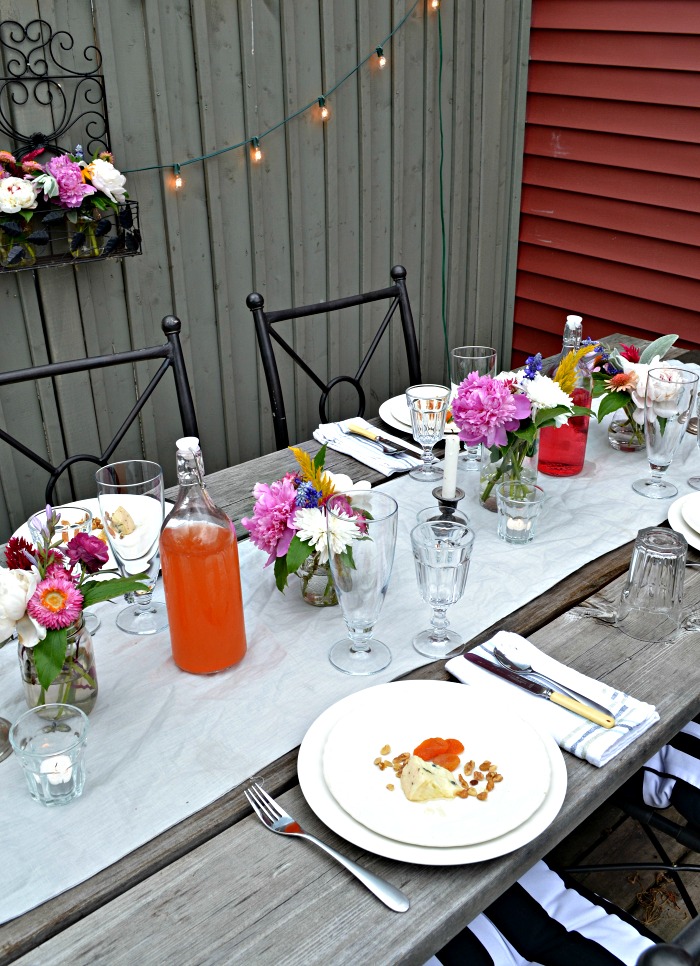 I spent only $20 at the market on two bunches of peonies and 1 mixed bunch and really got my moneys worth. Since rain was forecast for Sunday, I brought them all in and scattered them across our dining room table to enjoy!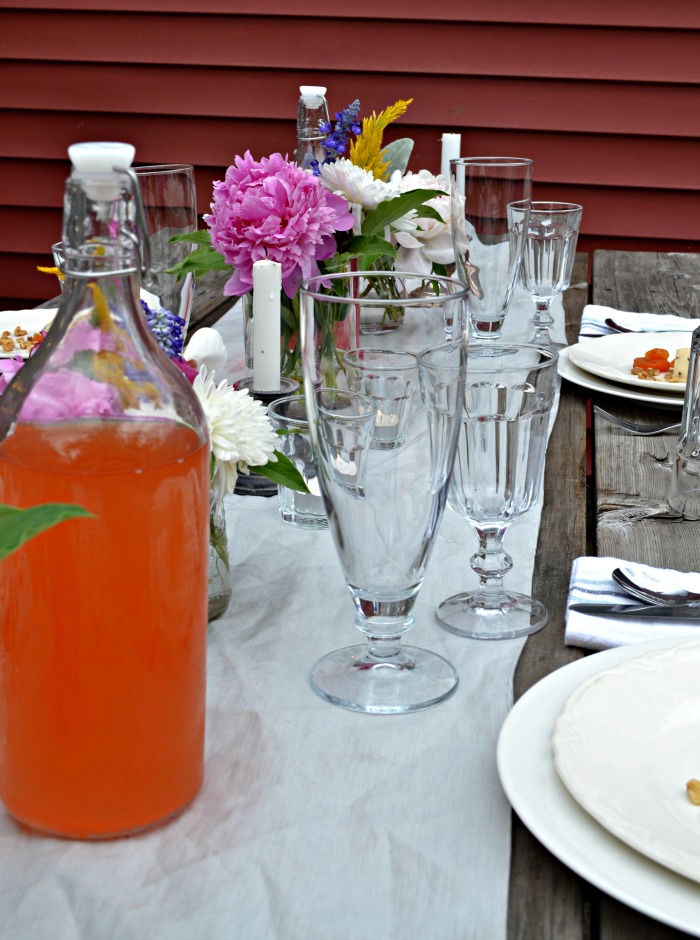 I really must post a photo of the table at the end of a meal! While it is messy and full, to me it still looks beautiful as it represents a time well had!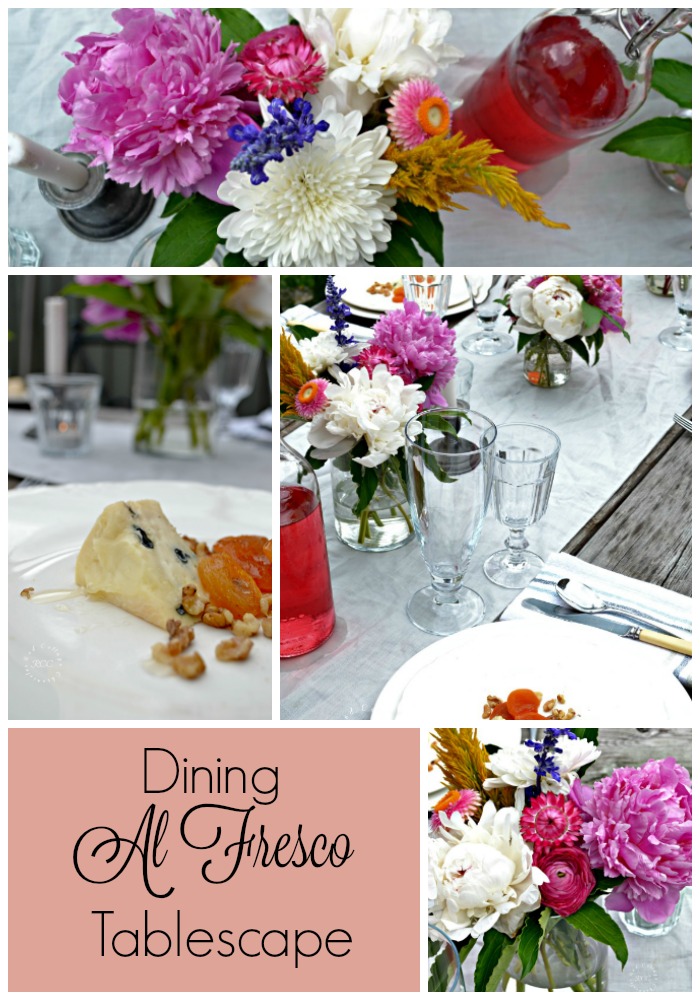 Whether you plan a gathering for two or twenty-two, always create table decor that speaks to you. If easy and relaxed is your thing like me, perfect. With all the talented bloggers participating in this weeks' blog hop there is no shortage of alfresco tablescape inspiration.
For more tablescape inspiration, be sure to subscribe for updates! Simply click here, enter your information and as a bonus I will send you your password to access or VIP printable library!
Until next time….

Monday

Home is Where The Boat Is
Everyday Living
A casa di Bianca
Living With Thanksgiving

Tuesday

Corner of Plaid and Paisley
Me and My Captain
PMQ for Two
At Home With Jemma

Wednesday
Red Cottage Chronicles
Life and Linda
Bluesky at Home
The Painted Apron

Thursday
Panoply
Belle Bleu Interiors
Our Crafty Mom
Celebrate and Decorate

Friday
Debbee's buzz
Simple Nature Decor
From My Carolina Home
My French Twist