When I enrolled in the baking program at a local culinary college I was so eager to learn how to make fancy tarts and beautiful desserts. Imagine my surprise when one of my favourite recipes turned out to be for zucchini bread. Not just any zucchini bread, but the very best zucchini bread I have ever tasted!
I am a huge fan of quick breads. This Orange Cranberry Loaf is another one that I bake often. They are called quick breads for a reason!!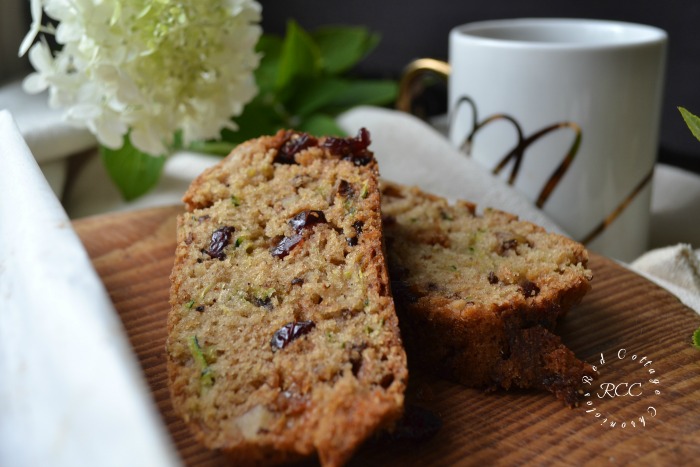 Zucchini bread is such a low cost quick bread. For less than a dollars worth of zucchini, flour, sugar, eggs, some dried cranberries and walnuts, the end result is two large loaves of moist and delicious bread. Not to mention I know every ingredient that goes into it.
You will need two loaf pans for this recipe. One of my loaf pans is stoneware and the other metal but about the same size. They both bake up a nice large bread.
Although I know I could easily polish off a couple of slices warm from the oven, I practiced restraint and just had one! This zucchini bread freezes well, and makes the perfect treat to pack in lunches. We are long since past school days, but you could easily omit the nuts if your children's school is nut free! Just add some raisins or other dried fruit instead.
Although we have a month or so left until it is officially autumn, I am already thinking ahead to my favourite season of the year. What better way to cozy up the house then by baking up this hearty bread. What better way to spend a chilly autumn day then to bake up a fresh loaf and enjoy warm from the oven.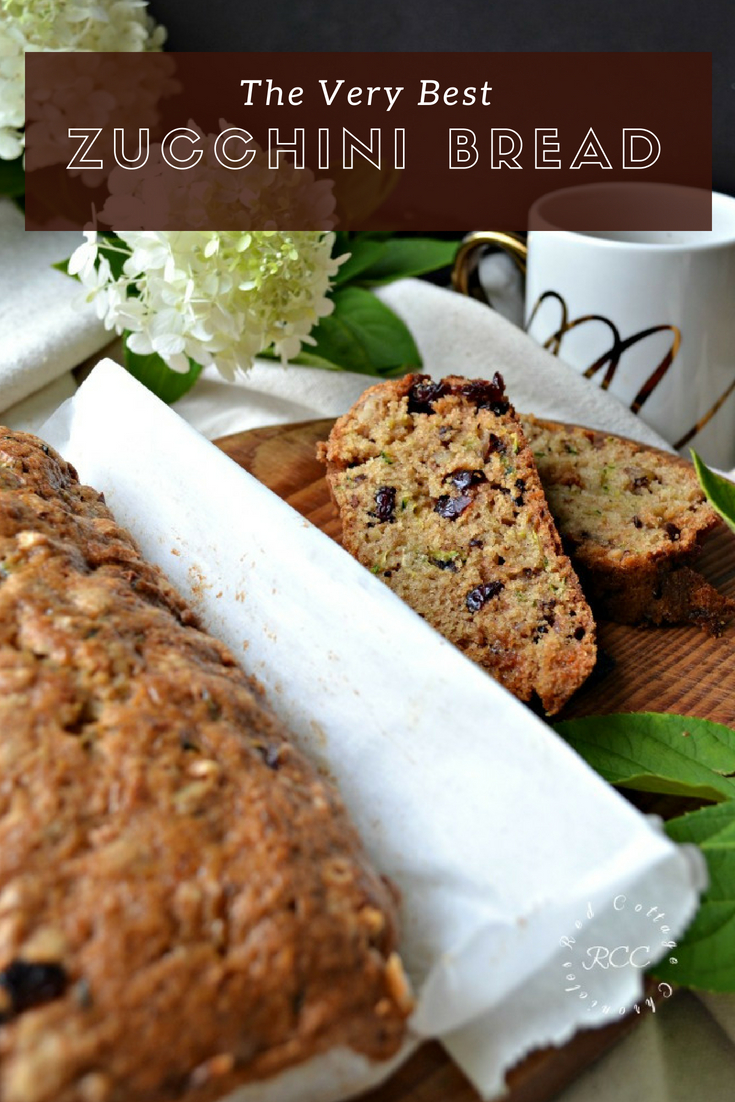 Other cozy recipes for autumn
On that note, it is time to brew a cup of tea and have just one more slice!
Until next time….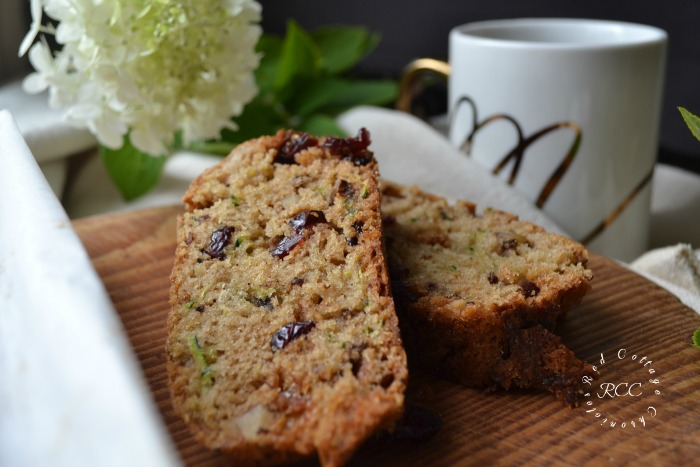 The Very Best Zucchini Bread
2018-08-08 12:20:37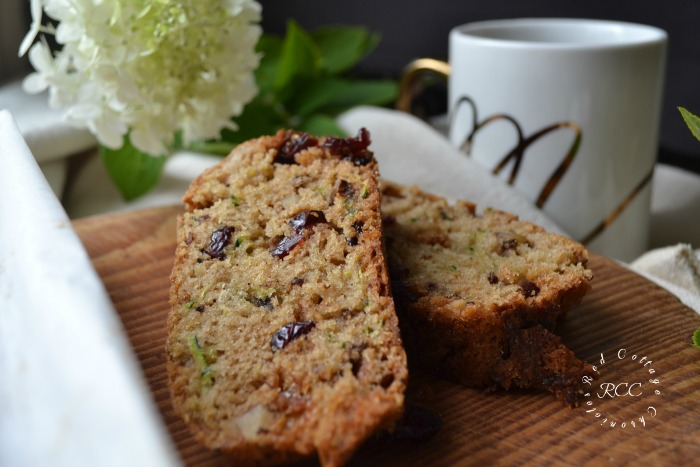 Ingredients
3 1/4 cups all purpose flour
1 teaspoon baking powder
1 teaspoon baking soda
1 teaspoon cinnamon
1 teaspoon nutmeg
1 teaspoon salt
3 large eggs
scant 1 cup vegetable oil
2 cups granulated sugar
1 teaspoon vanilla
2 1/2 grated zucchini (2 heaping cups - 335 grams)
1 heaping cup dried cranberries
1 level cup chopped walnuts
Instructions
Preheat oven to 350 degrees. Spray 2 loaf pans with non-stick spray and line with parchment.
In a large bowl sift together the flower, baking powder, baking soda, cinnamon, nutmeg, and salt. Set aside
In a separate large mixing bowl whisk eggs. Add in the oil, sugar and vanilla and continue to whisk until well combined.
Add the flour mixture to the egg mixture and stir well until combined. Batter will be thick.
Gently fold in zucchini, cranberries and nuts just until combined.
Transfer batter to two prepared loaf pans.
Bake for 60-65 minutes (until toothpick comes out clean).
Remove of oven and cool in pans for 5 minutes until turning out onto to cool completely.
Red Cottage Chronicles https://www.redcottagechronicles.com/